9 Best Pens for Tattoo Stencils: [Tested & Reviewed]
Tattoo markers or pens have become a bit irrelevant over the past few years. Thanks to tattoo stencil machines, the use of these pens and markers has been reduced to simple marking work. Many artists now choose to digitally produce artwork and use the tattoo stencil machine to create stencils that don't need these pens.
However, this doesn't make the tattoo pens and markers obsolete. A tattoo artist needs to master drawing by hand, and the most talented artists are used to adjusting and creating stencils on the fly for clients. If you want to be a great tattoo artist, then these pens and markers are your best friends.
To help you choose the right marker or pen for your needs, I've compiled a list of the 9 best pens for tattoo stencils. Without further ado, let's dive in!
9 Best Pens For Tattoo Stencils Review
For my list, I've selected the tattoo pens and markers based on the following categories.
Ink Color: I'll discuss what exact shade of the ink, and how visible it is during the tattooing process.
Line Width: I'll mention how wide the lines from the pen are, and if you can control it.
Performance: I'll talk about ink flow and resistance.
Dry Time: I'll mention how long the ink takes to dry.
Permanence: I'll explain if the ink wipes off easily or stays on well during tattooing.
Price: I'll talk about the price and package contents.
Verdict: I'll determine the pen or marker's overall value, and compare it with the market average.
I'll also talk about why and how a new tattoo artist should incorporate tattoo pens and markers into their workflow after the list. So, make sure to read all the way.
1. Medline DYNJSM02 Surgical Skin Markers

Medline DYNJSM02 surgical skin markers are the most popular tattoo pens in the market. The tattoo pens are knowns for their permanence, performance, long reserves, and fine lines. The tattoo pens are latex free and come with sterilized ink that kills bacteria.
Ink Color
The ink produced by Medline DYNJSM02 surgical skin markers is of Jacarta color. The ink is a deep, rich ink that stands out during the tattooing process.
This color comes from the Gentian Violet contained within the ink. Gentian Violet is an antiseptic dye that's used to treat fungal infections. This makes the Medline markers safe for stencil and marking, and it can also prevent infection while applied. However, this dye is also a skin irritant for some clients, and it's not universally applicable.
Line Width
The line width of the Medline markers is similar to that of a fine nib on a pen. The upstroke and downstrokes are similar and have a width of 0.35 mm. Medline markers are capable of good accuracy and finer lines than most. However, pressing down or any other action fails to produce any line variations.
Performance
The Medline markers are smooth on the skin. The ink flow is similar to that of a gel or rollerball pen with the same nib width. There is no resistance or scratchy feeling while you're working with the markers.
Dry Time
The dry time needed for the marker ink to take hold is around 3-5 minutes. This is much less compared to the time needed for machine-made stencils to take hold and dry up. This can cause light smudging while you're working on your stencil.
Permanence
The Gentian Violet contained within the ink is highly resistant to removal efforts. The ink can stay on the skin for weeks once it takes hold. Unfortunately, this property is a problematic one. Gentian Violet tends to permanently stain skin ulcers or wounds if applied.
Thankfully the marker line width is too narrow to impact the coloration of your tattoos. If you're doing outlining work or a script tattoo, it's best to stay away from the marker.
Price
You can get 50 Medline DYNJSM02 surgical skin markers for around $54. This makes each marker cost around $1.08. The markers contain a lot of ink, and they can be reused. The package also contains 6" rulers and labels.
Pros
Antiseptic ink.
Moderate dry time.
Good color for stencils.
Good level of longevity.
Good line width for accuracy.
Good value.
Cons
Gentian Violet can cause permanent staining.
No line variation.
Not safe for all skins.
Light smudging can happen.
Verdict
Even with the shortcomings that Medline DYNJSM02 surgical skin markers have, they are worthy of being the market leader. In typical use, the markers are antiseptic, smooth flowing, long-lasting, and reusable. Combined with the price, these markers are a bargain.
2. ZXUEZHENG Surgical Tip Skin Markers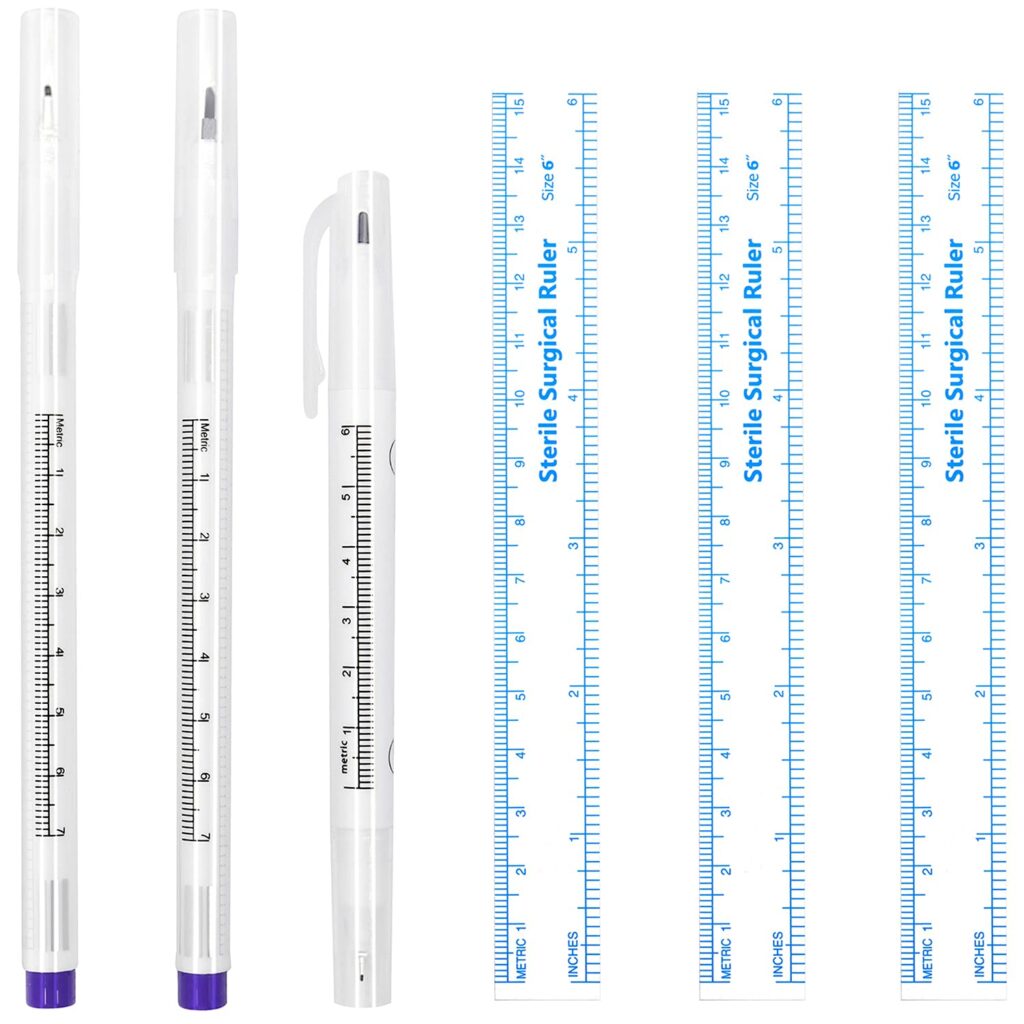 ZXUEZHENG is another trusted name in the medical and tattoo market. Like Medline, the company produces markers that are skin safe, and don't come off easily. Unlike Medline, the markers don't cause permanent staining. However, the ink does not have any antiseptic qualities.
Ink Color
The ink of ZXUEZHENG skin markers is a Shiny Navy color. It's a bright, saturated blue color that is good for marking and highlighting but struggles to be visible if colorful tattoo inks are used.
Line Width
There are a total of 3 markers in the package, and 1 of them has double heads. The heads for that pen come in widths of 0.5 mm and 1 mm. The other 2 come with a 0.5 mm head and a 1 mm head only.
The smaller head's output has a line width that is similar to a medium nib on a pen. This head is capable of producing fine lines, but not as fine as Medline.
On the other hand, the 1 mm head produces broad lines like stubbed nibs do. This head is good for broad outlining, but its use cases are very niche for stencils and marking.
Performance
The 0.5 mm head has a decent ink flow, with no resistance or scratchiness. The ink flow's a little more than optimal, and it widens the lines a bit beyond what the ideal output should be. The 1 mm head has a generous ink flow, and it affects the line width. Depending on the ink flow, the lines can broaden up to what a 1.25 mm tip would produce.
Dry Time
The required dry time for ZXUEZHENG markers differs based on which head is used. With the 0.5 mm head, the dry time is around 2 minutes, and light smudges will happen before drying. However, the 1 mm head's lines will take 7-8 minutes to properly dry up, and will cause heavy smudging before drying.
Permanence
ZXUEZHENG markers don't have the level of tenacity that Medline has. However, the ink holds on to the skin reasonably well and comes off with low concentration acid alcohol. It will not wipe off during the process, and once done you can apply alcohol to rub it off.
Price
ZXUEZHENG surgical skin tip markers come with 3 pcs, and 1 of these has 2 heads. The package also comes with paper rulers, and the pens themselves have ink-level windows with rulers.  The markers contain a decent volume of ink, but it doesn't have disinfectant properties. This package will cost between $7- $9.
Pros
Non-toxic ink.
Good color for black ink tattoos.
Double tips allow line variation.
Good longevity once it takes hold.
Has ink windows for checking ink levels.
Cons
Line variation is restricted.
Long dry time for the 1mm head.
Not every pen has double heads.
Not a good value.
1 mm head causes heavy smudging.
Verdict
The value for the set falls drastically, as each pen costs over $2. You cannot reuse them without much precaution, as the ink is only non-toxic. Having control over line width is great, but the 1 mm head is inconsistent. Yet, the product is a market leader thanks to its great performance and non-toxic nature.
3.  Tondaus Surgical Marker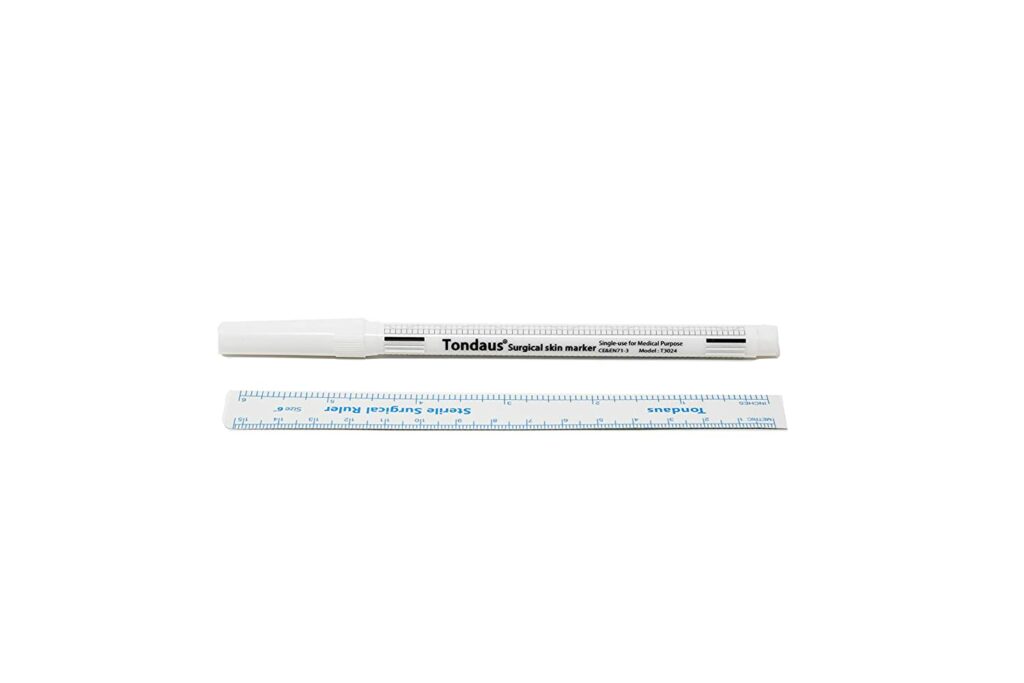 Tondaus is a company that features a Gentian dye-based tattoo marker. The antiseptic nature of the marker makes it an ideal tattoo pen to use for artists with sensitive clients. It comes especially recommended for clients who want permanent eye makeup.
Ink color
The color of Tondaus surgical marker's ink is a Strong White. This color is an eye-searing bright white that provides great visibility for stencils and markings during tattooing.
Line Width
The marker comes with 2 tips on its 2 ends, one with a 0.35 mm tip and the other with 0.30 mm. This makes the marker produce fine to extra fine lines. It's great for outlining and stencil work around the eyes, lips, and other sensitive, small areas of the body.
Performance
The 0.35 mm tip of the marker has a slightly scratchy sensation as you work on the skin. The resistance is understated, and the ink flow isn't too dry. However, the 0.30 mm tip has a stronger scratchy feeling and puts up an annoying resistance on the skin. The ink flow is very thin and almost dry, which is good for its intended purpose but adds to the scratchiness.
Dry Time
The ink dries very fast thanks to the thin lining. You can expect the ink to dry up within 1 minute. The fine tip will smudge if you rub it immediately, but the extra fine tip will resist smudging immediately after.
Permanence
The marker ink holds well thanks to the Gentian dye. The ink will stay on while tattooing and will last for weeks on its own. However, the ink will come off if you use green soap. This is the perfect degree of permanence that you need for tattooing.
Price
Tondaus surgical marker is sold as a single unit for around $8. This makes the marker very expensive, but you pay the price for its unparalleled performance in a niche situation. It still doesn't fully justify the price, as the ink volume is also low.
Pros
Antiseptic ink.
Fast drying.
Bright white that's good for stencils.
Thin tip that's made for sensitive skin marking.
Dual tipped marker provides line variation.
Persistent ink that holds on long.
Smudge resistant.
Cons
High cost per marker.
Low ink volume.
Restriction line variation.
Verdict
Tondaus surgical markers are meant for use around sensitive regions and permanent makeup mostly. The white Gentian dye is bright enough to spot even with thin lines and has the antiseptic property needed for sensitive skin. Another benefit of the dye is that it is reusable, which makes sense with how little ink is used each time. For its niche uses, the marker is the best in class.
4. Viscot Mini XL Surgical Markers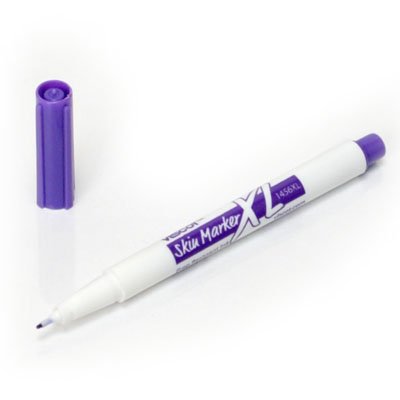 Viscot's surgical markers are well known for their vivid color that stands out during permanent makeup procedures and the fine yet firm lining. The brand creates these markers with the right amount of ink volume to be disposable after one use.
Ink color
The color of the Viscot surgical markers is a vivid Fantasy Purple. It's a supersaturated, powerful, bright purple that stands out during tattooing and permanent makeup work.
Line Width
The marker is marketed as an ultrafine marker, and it is correct. While the tip is of similar width to a 0.7 mm tipped ballpoint pen, the line width of the marker is similar to that of 0.30 mm. The line is unwavering and consistent, leaving no room for line variation.
Performance
The marker works smoothly without any resistance mostly but feels a bit scratchy at times. The ink flow is similar to that of a ballpoint pen. The marker doesn't have any burping or bleeding issues.
Dry Time
Viscot markers have a quick dry time, only taking 1-2 minutes to properly take hold. You won't have issues with smudging while it dries, and even during the tattooing process.
Permanence
Viscot markers won't rub off during tattooing and resist removal with stencil prep chemicals. The marker ink also stays for weeks on the skin, although the markings will fade over time. However, this marker struggles with oily skin. It bleeds and can't hold on to the client's skin if the oil isn't wiped off.
Price
The cost of a 25-pack of Viscot Mini XL surgical markers comes to approximately $38. You have to pay $1.25 for each marker, and this isn't a good price by volume. These markers are meant to be a one-and-done deal, so they don't contain much ink.
Pros
Non-toxic.
Designed to be single use.
Color is good for stencils.
Persistent ink.
Quick drying.
Smudge resistant.
Cons
Slightly overpriced.
Scratchy ink flow.
No line variation.
Struggles with oily skin.
Verdict
Viscot Mini XL surgical markers are quite well designed. The marker ink is non-toxic but doesn't have any disinfectant properties. So, the entire package is designed to be disposable after one use. However, the price doesn't suit this mindset, which is a big deal-breaker for many.
5. Skin Companion Twin Tip Tattoo Pens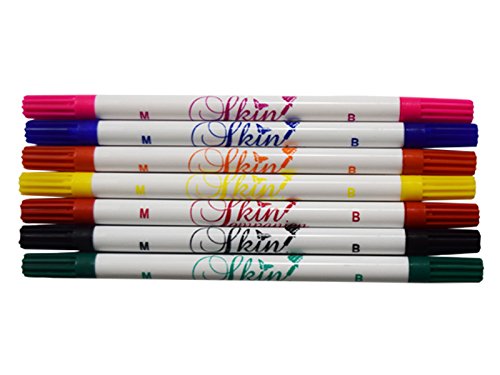 Skin Companion's Tattoo Pens are designed for creating semi-permanent tattoos. These carry skin-friendly ink for personal use but make excellent tattoo pens for stencils and marking as well. The package comes in 7 colors, which provides a good range for creating temporary tattoos.
Ink color
The package for Skin Companion Twin Tip tattoo pens contains 7 colors. I've discussed each color here.
Red: This marker's ink is a deep Coke Red.
Orange: The ink matches Dallas Fort Worth International Airport Orange. The color is a bold, bright, vivid orange that serves well as a highlighting ink for small areas.
Green: The ink comes close to Emerald Clear Green.
Black: The Black ink is a Classy Black.
Pink: The ink registers as Charity Pink.
Blue: The Blue color matches a Blue Grotto.
Yellow: The ink comes close to Ultra Yellow. This ink is great for highlighting, stencils, and marking for black tattoos, as the color is very bright.
Line Width
Each Skin Companion tattoo pen comes with 2 tips, one fine, and the other medium. The intention is to use the fine for lining and the medium for filling in spaces. The fine tip is 0.35 mm, and the medium is 0.70 mm.
The fine tip behaves more like a medium fine, producing consistent lines that are a tad thick. The medium tip applies broad strokes that can be widened further when pressure is applied. This lets the medium tip function quite well for its intended purpose.
Performance
The ink flow for both tips is a bit more than optimal. However, the ink flows smoothly and has no issues with scratchiness or resistance. The ink doesn't bleed on most skin types and doesn't dry up suddenly, causing inconsistent lining.
Dry Time
The ink flow causes a delay in the dry time. You'll have to wait for 3-5 minutes for the tattoo ink to take hold. The ink will smudge before that time, and it can still smudge a little if you have filled in a large area after drying.
Permanence
The ink holds on pretty well once it has had time to dry. It will last for days on the skin, but layers of color will be stripped off when showering. For tattooing and permanent makeup, the Orange and Yellow colors are good choices, and don't smudge too much from prepping solutions. The ink will come off when alcohol swabs or nail paint removers are applied.
Price
The Skin Companion Twin Tip tattoo pens come in a set of 7 colors, and you have to pay around $15 for them. This puts the price of each marker over $2, which isn't a great performance price.
Pros
Skin-friendly ink.
Multiple colors.
Orange and Yellow colors are okay for stencils.
Dual tipped and provides line variation.
Medium tip can widen line on pressure.
Cons
Meant more for temporary tattooing.
Only two colors are good for stencils.
Most colors will smudge from prep solutions.
High cost per marker.
Long dry time, especially for the medium tip.
Verdict
Skin Companion Twin Tip tattoo pens are a good option for personal temporary tattoos. However, the pen ink is only skin-friendly, and not antiseptic. You can't reuse them on anyone else for stencils and marking. This is a waste of ink and makes the package ill-designed and costly.
6. Vanli's Temporary Tattoo Pens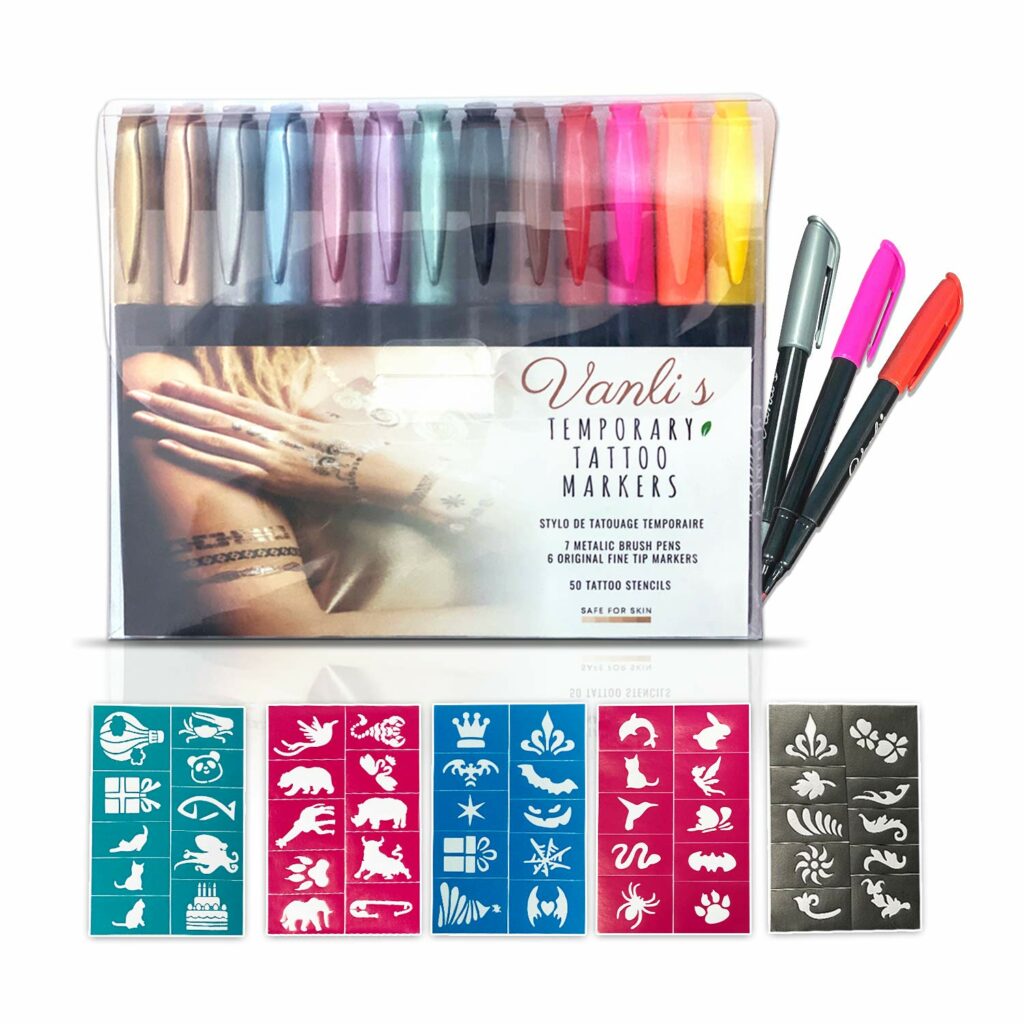 Vanli's Temporary Tattoo pens are made for personal use for people of all ages. The pack comes with over 50 stencils that you can pick and use, making this an ideal pack for temporary tattoos. The ink used is non-toxic, so it's usable for most people of all ages.
Ink color
Vanli's Temporary Tattoo Pens come in a pack of 13 colors. I've described each of them here. Vanil doesn't have any official designation for their colors, so I'll flag these by the matching Pantone colors.
Pale Robin Egg Blue: This color is a pale green that works great for temporary tattoos.
Light Greyish Magenta: This is a bright shade of red that is very eye-catching.
Dark Brown-Tangelo: This is a problematic color as it's unsuited for use for brown and dark skin tones.
Parrot Pink: This is the opposite of Dark Brown-Tangelo. The color stands out greatly on brown and dark skin tones.
Dark Tan: This color is a somewhat deep green that lacks intensity.
Maximum Blue: It's an extremely bright and intense shade of blue that stands out. This is a great color for stencils and markings.
Cadet Grey: The color is a muted grey that's good for shading and undertone work for temporary tattoos.
Tumbleweed: It's essentially a flesh color that can help cover up blemishes and work for portrait-style temporary tattoos.
Arsenic: It's a weak, pale, faded black color that hardly stands out.
Persian Rose: This color is intense, vivid, deep, and bright. It's the only color in the pack that's persistent enough to use for stencils.
Tart Orange: It is a bright, deep orange that lacks intensity.
Safety Orange: This is the brighter, intense orange color, but it lacks the depth of Tart Orange.
Peridot: It's a very bright, intense, and vivid yellow color that is almost eye-searing in intensity.
Line Width
Vanli's Temporary Tattoo pens have a 0.5 mm tip, which produces medium lines. The pens have a semi-soft tip, which can widen the line a hair with pressure.
Performance
The pens have a smooth performance, but the ink flow is a little less than ideal. The center of the lines runs a bit darker than the edges. There are no issues with burping, scratchiness, or drying out in the middle of working.
Dry Time
The lines dry up almost instantly. However, vigorous rubbing can still produce smudges and remove the ink from the skin. Drying doesn't truly help the ink to take hold of the skin.
Permanence
This ink is designed to be easy to come off. Washing with soap and water will remove it, and it lasts for barely half a day. Sweat and oil will dilute and smudge the ink and remove it. Tattoos made with Vanli's Temporary Tattoo pens will start as intense and vivid but will be fading layer by layer over the hours and lose their luster.
Price
You get 13 Vanli's Temporary Tattoo pens and 50 stencils in one pack for approximately $30. The cost for each tattoo pen comes to over $2 if you don't consider the stencils. The pens have a decent volume of ink, which makes the price a good bargain. However, the ink quality and volume aren't designed for tattoo stencil work, so it may not matter.
Pros
Wide range of colors.
Over 50 stencils.
Semi-soft tip with small line variation.
Near instant dry time.
Decent volume of ink.
Persian Rose can be used for stencils.
Good price.
Cons
Designed to come off easily.
Mostly meant for temporary tattoos.
Not usable for stencils for most colors.
Smudging happens even after drying.
Verdict
Vanli's Temporary Tattoo pens are designed for personal use. The set is a good practice option or a cheap method for young artists to start. These pens have the least longevity and have no use for stencils. Yet, the possibility of practicing for cheap isn't something to dismiss.
7. Sharpie Retractable Permanent Markers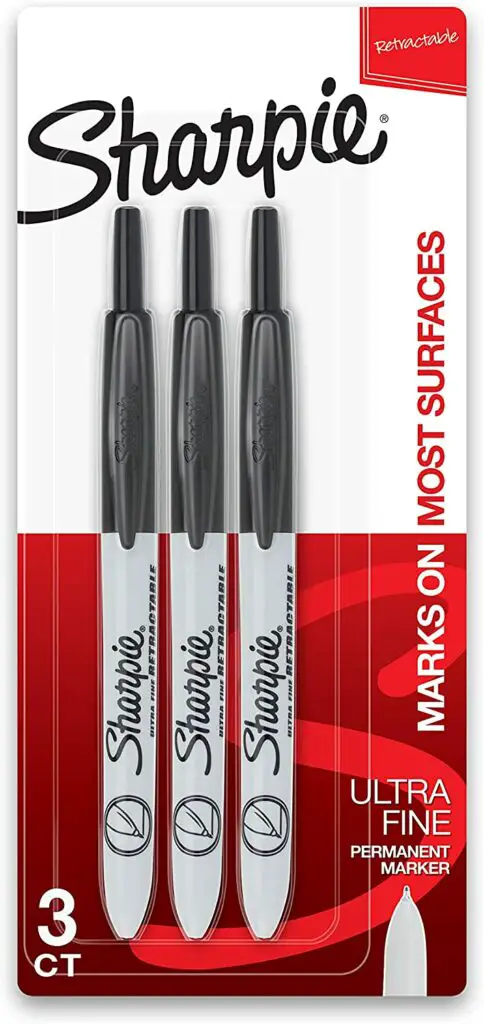 Sharpie is a household name when it comes to markers and it's for their consistency and great performance. Their permanent retractable markers have a design that requires no caps, and the ink is resilient enough to outlast washes up to a month. The ink is non-toxic, so it is usable for permanent makeup marking and black temporary tattooing.
Ink color
The markers' ink is a rich Elegant Black. It's a deep, matte black that stands out on the skin boldly, regardless of skin type.
Line Width
The Sharpie Retractable Permanent markers have a 0.35 mm tip, which produces fine lines with consistency. Pressing down only damages the tip, and doesn't create any line variations.
Performance
The ink flow of Sharpie Retractable Permanent markers is smooth and without interruption. There is hardly any resistance or scratchiness. The ink doesn't dry up or stopper during prolonged usage.
Dry Time
Sharpie markers dry almost instantly. The marker ink takes hold strongly on the skin and doesn't smudge.
Permanence
Sharpie Retractable Permanent markers' ink can take hold on the most non-organic surface instantly and become permanent. On your skin, the marker ink becomes semi-permanent, lasting up to a month even with vigorous washing. The permanence and bold color make the ink a good choice for stencil work.
Price
A 3-pack of Sharpie Retractable Permanent markers will cost you around $7. Each marker will cost around $2.5 or so. For the volume of ink you get, this is a good price. However, other than personal use, these markers shouldn't be used on different clients' skin, rendering that moot.
Pros
Non-toxic ink.
Great deep, rich black that's good for color stencils.
Very persistent on skin.
Instant dry time.
Good price for ink volume.
Smudge resistant.
Cons
No line variation.
Not reusable on different clients.
Potential ink waste.
Verdict
Sharpie Retractable Permanent markers are great quality markers at a good price for young artists who need to practice on their skin. They can draw stencils and temporary tattoos on themselves, or work on projects that cover a great area of skin. However, the marker ink isn't disinfectant, and it's not approved for permanent makeup work. So, the value of the marker mostly lies in practice.
8. BIC BodyMark Temporary Tattoo Markers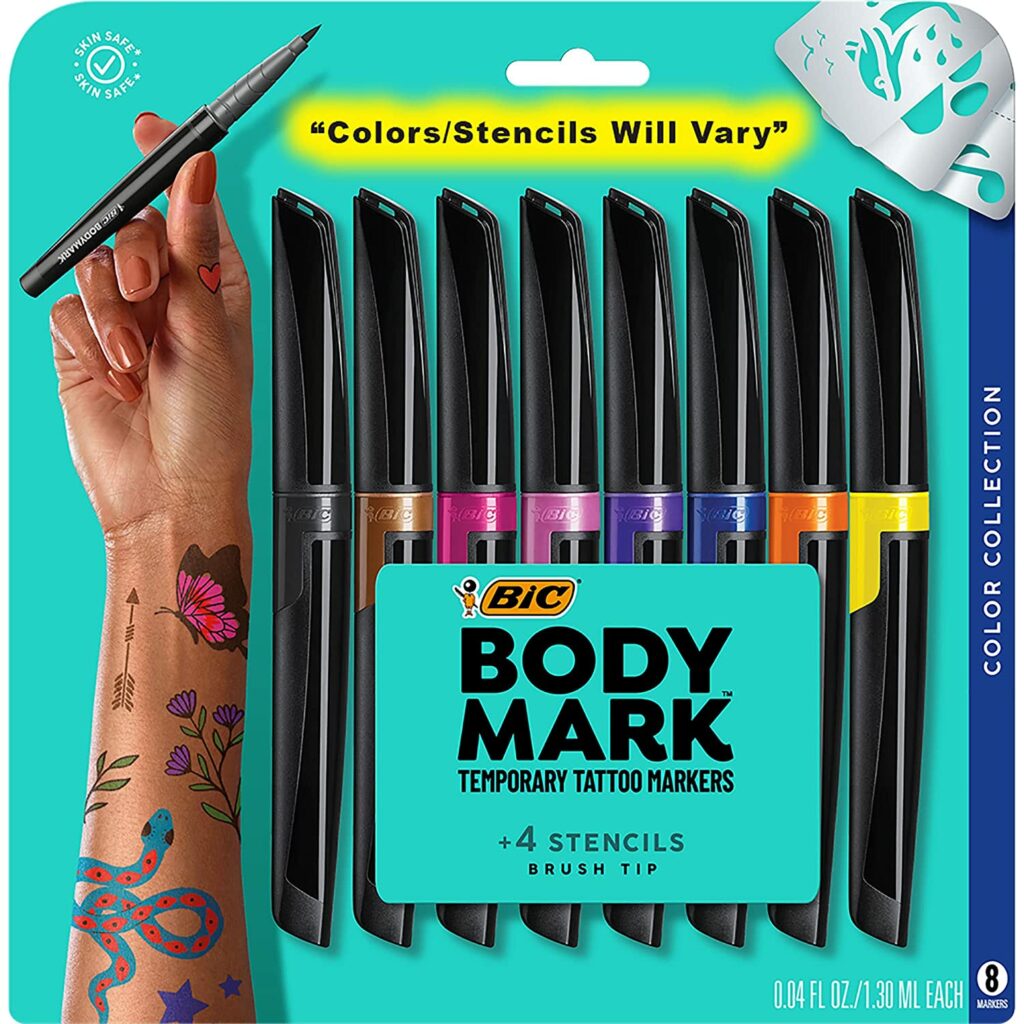 BIC's BodyMark line is exclusively made for personal temporary tattoos. The markers come with do-it-yourself stencils that allow someone to create a wide collection of tattoos on their skin. The stencils differ for each pack, and so do the colors. While it is for personal use, it makes great practice for young artists.
Ink color
The ink colors are randomized in each packet. You get 8 colors in each. However, there are a few common colors that you will likely get in the packet. I'll talk about them here.
Black: The Black color registers as Davy's Grey. This is a faded greyish tone that is not great for stencil or marking but still works great for outlining in temporary tattoos.
Brown: This color matches the Liver (Dogs). This is another deep color that works great for temporary tattoos, but it doesn't work for stencils and marking.
Blue: The color is close to Indigo (Rainbow). This color is deep and dark, but it's still decent enough to stand out when used for stencils and marking. However, the color is also good for temporary tattoos across all shades.
These are the colors that show up the most within each pack. The colors aren't designed to stand out against other clashing colors, but to work on all skin tones with decent performance.
Line Width
The lines drawn by the markers are of medium width. The tip of the markers is 0.5 mm, and they are soft tips. The soft tips allow room for a little line width variance, allowing the markers to reach near broad strokes. Also, light strokes with BodyMark markers can narrow to a medium fine range.
Performance
BodyMark markers are smooth flowing, with no issues regarding resistance. The markers' soft tips leave no room for scratchiness. However, the ink flow can problematically increase if too much pressure is applied.
Dry Time
The dry time for these markers is a bit long, around 5-7 minutes. The ink in the markers can smudge easily, even after drying.
Permanence
BIC BodyMark markers are designed to wash off easily. Soap water, makeup removers, rubbing alcohol, and facial scrubs will easily wash off the ink. The intended use for the markers is to wash off easily so you can play around with new stencils and tattoos.
Price
BIC BodyMark Temporary Tattoo markers assorted 8-pack will cost you around $35. The price for each marker comes to $4.5 or above. However, the package also contains 4 random stencils for tattooing. Considering the intention of the package, ink volume, and quality, the price is somewhat justifiable.
Pros
Skin-friendly ink.
Multiple colors.
Soft tips allow good control of line variation.
Comes with stencils.
Good ink volume.
Quality packaging.
Cons
Assorted colors and stencils.
Long dry time.
Smudges after drying.
Washes off too easily.
Not meant for stencils.
Verdict
BIC BodyMark is not a product meant for stencils and marking for tattooing. It focuses on creating temporary tattoos easily, and it achieves stellar results for all skin tones. You can use the package for learning how to draw on human skin. However, the assorted nature of colors and stencils is a letdown.
9. Hildbrandt Dual Tip Surgical Markers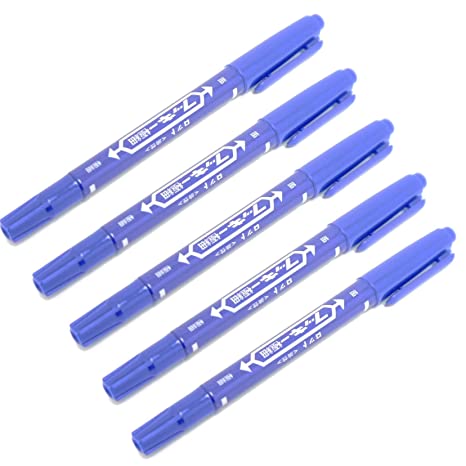 Hildbrandt isn't as well known as the previously mentioned brands, but it has carved out a position for itself. The markers retailed by the brand are of medical grade, and they are smudge resistant. These are specifically manufactured for stencil and marking work.
Ink color
The ink in Hildbrandt markers produces an Orient Blue. The color has issues standing out on stencils and marking drawn on dark and brown skin tones.
Line Width
The markers come with 2 tips, one fine and the other broad. The fine marker is 0.30 mm, producing lines as ballpoint pens produce. The broad head is 0.5 mm and produces medium lines without pressure. It will produce broad strokes with pressure and widen the lines when moving downwards or diagonally.
Performance
The marker's fine tip produces a scratchy sensation when used, but the ink flow isn't staggered. However, the broad head has been reported to dry out after a while of use. It also has rare cases of burping, where it spurts out ink.
Dry Time
The lines from the fine tip dry almost immediately. On the other hand, the broad tip causes wet ink spots, which take up to 8 minutes to dry.
Permanence
Hildbrandt marker's ink is made to resist smudging from prepping solutions. But the ink's performance isn't consistent according to many users. For some, the ink bleeds heavily and smudges when prepping solutions are applied.
Price
5 Hildbrandt Dual Tip surgical markers cost around $6. The markers each cost $1.2, which is okay for the amount of ink each marker contains. But the inconsistency in performance and issues with skin tones work against the price.
Pros
Double tipped with moderate line variation.
Quick drying fine tip.
Smudge resistant.
Good price.
Cons
Medium tip has burping and stoppering issues.
Medium tip leaves wet splotches.
Ink color struggles on dark and brown skin tones.
Inconsistent performance.
Verdict
Hildbrandt Dual Tip surgical markers are inconsistent in performance, but the percentage of failed products hasn't exceeded tolerable limits. For pale skin, this marker works quite well, with a perfect ink color that stands on the skin tone. The marker isn't reusable, but for stencil work the price-to-volume ratio is decent.
How to Choose The Best Pens for Tattoo Stencils?
You can expect that any market-leading tattoo pen or surgical marker will do the job for you, and you don't need to search any further. You aren't wrong, but you can't carve out a path of your own this way. To create tattoos that are unique and carry your mark, you need tools that suit your needs just right.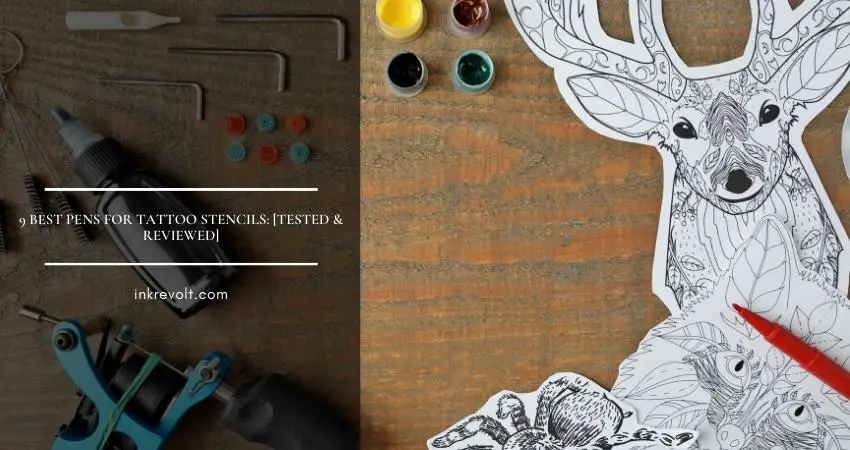 To pick out your best pens for tattoo stencils, you have to prioritize a few factors above the rest. I'm going to talk about the most common factors here. You should add any factors and issues that you consider to be important to this list.
Safety
Safety is paramount when you're making stencils with pens. Many skin-safe markers have non-toxic inks that are meant for topical use. Perforating the skin with these inks on can cause infections. Also, not all markers carry disinfectant ink, so you have to toss them out after a single use.
Try to prioritize the tattoo pens and surgical markers that carry antiseptic dyes. Or you can go for a good brand that has a low cost and ink volume per marker so you don't waste ink if you toss them.
Ink Color
You want a bold, intense, color contrasting your client's skin tone. Deep colors will fade into dark and brown skin tones, while brighter colors will fade into pale skin. Try using colors such as blue, yellow, or orange.
Permanence
The stencil ink should resist prep materials. The ink should not smudge, dry reasonably fast, and not bleed.
Price and Usability
As a business, it's wise to save where you can. It makes sense to use tattoo pens and surgical markers that match the brief. If you want a disposable marker, then you need to find one that has a low price and ink volume. If you're looking for reusability, then antiseptic dye-based pens and markers that cost a bit but have decent ink volume should be your target. No matter what, ensure that you're not compromising on quality and client safety.
Comfort
This is an aspect that most artists will not consider. You'll be using these pens and markers for extended periods. If they don't comfortably fit in your hands, and you have to struggle to grasp them, you're set for hand cramps and carpal tunnels. These are career-ruining issues that you do not want.
To avoid these, you want pens and markers that fit your hand reasonably well. Look at the dimension's description box for each pen and marker on the websites, and confirm you can work with them. Buy one, and check the shape.
You won't find the perfect marker or pen on the market. There will be issues that you have to compromise with. But conduct your research and find the best pens that tick the most boxes.
Additional Read: How to make a tattoo stencil?
Surgical Marker or Tattoo Pens Use Cases
Although this article is about the best pens for tattoo stencils, tattoo pens and surgical markers aren't in vogue universally in the body art industry. Tattoo stencil machines and digital artwork software have started to creep up on the market. Now artists don't have to hand draw the concept, or even their own artwork.
However, the days of using tattoo pens or surgical markers are far from over.  There are many use cases for these where digital media and machines haven't caught up, and possibly never will. I'm mentioning the core uses for them, so you can integrate them into your practice and work.
Training
If you want to be a tattoo artist, then you have to have the dexterity, decisiveness, speed, and sense for it. There are no other ways to go about it than practicing by hand. And the safest method to start with is to create stencils and artwork with tattoo pens and surgical markers.
Permanent Makeup Work
For permanent makeup or PMU for short, you need surgical markers and tattoo pens. There's no other alternative for marking the skin, and no printed-out stencil can help you. Doing PMU by eye can cause misalignments, issues with color blending, and tattooing more than the designated spot.
Convincing a Client
A client may be unsure sometimes. They are interested in getting a tattoo but are hesitating. They aren't certain about the design and coloring or cannot decide if getting tattooed is a good idea. Some clients will doubt a young artist's prowess.
No matter the reason, giving them a temporary tattoo can help. The tattoos will showcase your ability, and help the clients make up their minds. You can also help them understand how they can prepare themselves for the real deal.
Freestyling
This is a very debated issue and for good reason. Expert tattoo artists will advise you to not freestyle your tattoos. However, freestyling the stencil on your client's skin, or adjusting base stencils on the skin isn't ill-advised. These practices can help expand your horizon and increase your skill.
Challenging your dexterity, consistency, and speed every now and then will only improve your performance. You'll need to take your client's consent first, of course.
Temporary Tattooing
Some people are into tattoos but hate permanent ones. Maybe their workspace conditions or lifestyle doesn't allow it. They might be more interested in trying new art frequently. Also, some can't get tattooed for skin conditions.
Whatever the cause may be, professionally done temporary tattoos have a market. It is a niche market, but you can always start as one. Or you keep doing temporary tattoos and make stencils for tattoo studios.
Now that you know what the range of use cases for tattoo pens and surgical markers are, let's look at how you can pick your best pens for tattoo stencils.
Final Verdict
Looking for the best pens for tattoo stencils can be a confusing process. You'll want to pick out the recommended ones on marketplaces or pick the first ones you find when you Google them. But this can be a quick mistake that leads to a career-ruining choice.
It's common for tattoo artists to not have any time on their hands. You want to ensure you made the best decision, but you don't have the time to check. So, I'll help you out by giving you some recommendations TLDR style.
If you want to ensure overall performance, safety, and permanence then go for Tondaus Surgical markers. These markers carry Gentian dye, which is antiseptic but doesn't have staining issues. The white stands out quite well if you draw your stencil with it, and it has a narrow tip that works well for permanent makeup on the lips and near the eyes.
If you want a cheap, disposable, reliable solution, use Viscot Mini XL Surgical markers. These are a bit overpriced, but they have non-toxic ink with little volume that can be tossed after each use. The cost can be brought down by buying in bulk, and you can reduce ink waste.
If you want to create long-lasting temporary tattoos instead, then go for Sharpie Retractable Permanent Markers. These can last on the skin for a long period, up to a month. The ink can resist vigorous washing without losing pigments, and the tip of the marker is fine enough for intricate scripts and patterns.
For temporary tattoos that come off easily, you can use Vanil's Temporary Tattoo markers. These markers are the perfect practice tool, as any work comes off with a wash. The markers have good value and come with stencils that you can try to use to get some inspiration. Also, you can find clients and friends to practice drawing on for cheap.
Tattoo pens and surgical markers are the best trainers for young artists and valuable tools for experts. If you want to produce tattoos of excellent quality, then you have to find tools you can trust. So, don't skip research and testing when you look for the best pens for tattoo stencils. If you can't afford to, then at least read articles like this that provide thorough breakdowns.
We are sorry that this post was not useful for you!
Let us improve this post!
Tell us how we can improve this post?