Can You Use Dermasil Lotion on A Tattoo?- Here's The Fact
Dermasil is a well-known lotion brand, and perhaps you have used it too when your skin got really dry. But when it comes to using this lotion on your tattoo, you most likely wonder, "can I use Dermasil lotion on a tattoo?"
Yes, you can use Dermasil lotion on a tattoo. Dermasil lotion doesn't contain Lanolin, a substance that ruins the healing process of a tattoo. This lotion can also make the healing process of a tattoo smoother. 
Using lotion on a tattoo is even a crucial part; it aids in the healing process. Keep reading to find more interesting details about the topic.
Does Tattooed Skin Have Different Moisturizing Needs?
You might have felt the difference between freshly tattooed skin and non-tattooed skin. This is because tattooing is done by injuring the skin. Which, in turn, starts a healing process.
Similar to human skin in colder climates, tattooed skin is typically more flaky and dry after the procedure. You can compare the skin during a colder climate with this tattooed skin.
Skin that has recently undergone tattooing should be moisturized and treated gently. A moisturizer with higher viscosity is required for skin with tattoos to prevent excessive dryness and damage to the skin.
This means that you need to use thicker moisturizers than regular ones. Usually, lotions are emulsions or have low viscosity. This might be good for normal skin, but a thin lotion or thin moisturizer is not ideal for tattooed skin.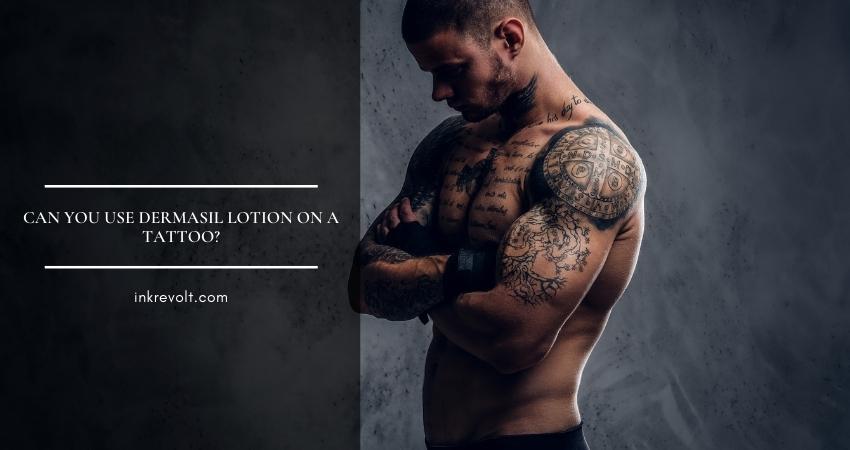 You still might wonder why we use lotions on tattoos in the first place. That is, why use lotion on tattoos? Well, there are some reasons why lotions are used on tattoos. Such as…
Hydration and Calming Qualities: A fresh tattoo heavily damages your skin when it first starts to heal. Your skin might become extremely dry while it heals itself. This dryness can lead you to feel irritation and itching, as well as the cracking and bleeding of scabs. After applying the lotion to a tattoo, the skin starts to absorb it, rehydrating the region       and making it more elastic and supple. This helps to accelerate the healing process while also avoiding any uncomfortable side effects.
Nourishment: Your skin, during the healing process, will need a specific combination of nutrition and vitamins that it can absorb. By using lotion, you will be able to ensure this particular need of your skin.
Capacity to Boost Appearance: A tattoo will start to peel once it has reached a specific stage of the healing process. Large pieces of skin break loose and hang down from the area of your body where your healed tattoo is, making this peeling highly unpleasant. Applying lotion can assist in covering up peeling skin, as its slightly damp texture can help to fold down the loose ends and keep it pinned firmly to your body, making it look less unsightly. However, don't ever pull loose skin off from a tattoo.
Can You Use Dermasil Lotion on A Tattoo?
You already know you need a lotion with higher viscosity for your tattoo. Dermasil lotion can be put into this category of moisturizers. But the question must be answered is, "is dermasil good for tattoos?"
Yes, it is. Compared to many lotions that are present in the market, Dermasil might be one of the few ones that are good for tattoos. This is because this lotion doesn't contain Lanolin.
Lanoline is considered to be good for skins and is extracted from animal fat. This material can be compared to Vaseline, but it is quite different. What wrong with the element is that it also causes the tattoo ink to smudge.
This lotion is specially made to repair skin damage, and it is very effective. Aloe vera and vitamin E are the major ingredients of this lotion, which will accelerate the healing of your tattoo.
What is Dermasil Lotion Used for?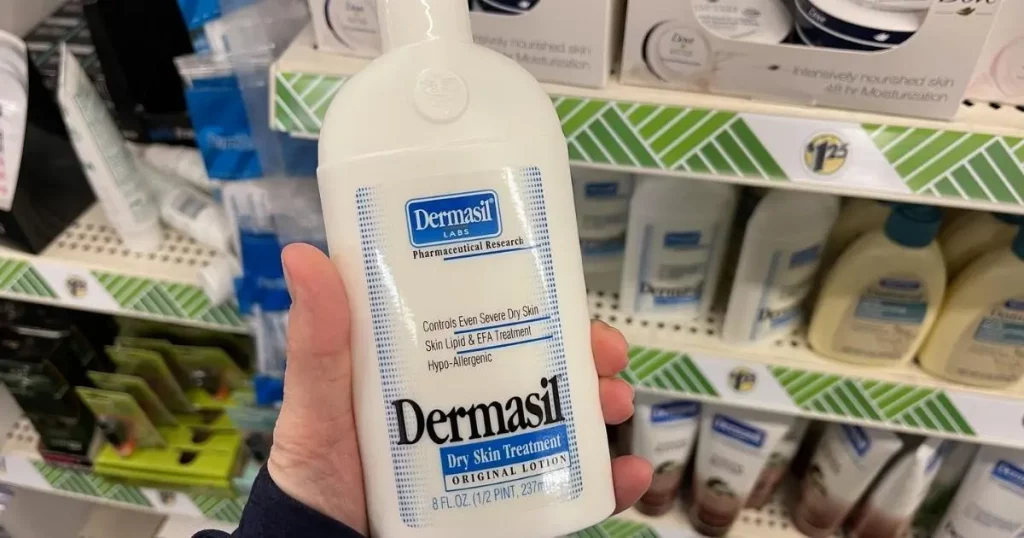 Dermasil lotion is not just used on tattooed skin; rather, it can be used for other purposes as well.
This lotion can help with various dry skin symptoms, including chapped skin, flaking, roughness, redness, irritation, and itching. It also provides temporary relief and protection for chapped or cracked skin.
This is advantageous since cold wind and cold climate can cause the skin to become dry. Therefore, you can use it even after your tattoo heals up.
What is the best lotion to use on a new tattoo?
There are plenty of lotions out there in the market that you might get confused about which one to choose. We have come up with some great options in different price ranges. Hope the list is going to help you out.
| | | |
| --- | --- | --- |
| Product Name | Reason To Get | Where to get |
| Dermasil Dry Skin Treatment Original Lotion | Does not contain Lanolin and cures rashes and other irritations. | Click here |
| Eucerin Daily Hydration Lotion | Contains SPF that saves your tattoos from the Sun. | Click here |
| Lubriderm Daily Moisture Lotion | Non-Greasy, super hydrating, and does not give any scent. | Click here |
| H2Ocean Aquatat Moisturizer. | It doesn't contain any unnecessary chemicals and is ideal for tattooed skin. | Click here |
| Aveeno Daily Moisturizing Body Lotion | Contains palm seed oil and vitamins A, B, C, D, and E that heal tattoos without clogging the pores. | Click here |
| After Inked Tattoo Moisturizer and Aftercare Lotion | Comes with a special formula containing grapeseed oil for new tattoos. | Click here |
Is There Any Homemade Tattoo Aftercare Lotion?
Yes, there are some homemade tattoo aftercare lotions that you might use on your new tattoo.
Our team has developed the perfect homemade aftercare lotion that you can make yourself. Check it out if you don't want a store-bought lotion to heal your new tattoo.
Ingredients:
1 cup grapeseed oil
1 cup shea butter
Half cup vegetable glycerin
⅓ cup coconut water
4 tablespoons jojoba oil
4 tablespoons Vitamin E (tocopherol)
2 tablespoons orange essential oil
2 tablespoons stearic acid
1 tablespoon natural white beeswax
Step-by-Step instructions
Step 01: In your MagicalButter machine, combine all the ingredients and close the cover.
Step 02: Select 160°F by pressing the Temperature button, and then push the 1 Hour/Oil button.
Step 03: After the cycle has over, unplug the device from the outlet and take the appliance's head off.
Step 04: Allow the lotion to cool in the machine. Recover the lid after it has solidified, then push the
Step 05: Blend/Clean button. By doing this, you may whip the lotion into the most gorgeously creamy consistency.
Step 06: Place the lotion in the chosen sterilized container.
This lotion will develop a moisturizing barrier that is calming, durable, and protective against moisture loss.
What Should You Not Put On A Tattoo?
To protect your newly got delicate tattoo, you should know the things you cannot put on your tattoo. Here you go with some:
Hot Water
Avoid cleaning your new tattoo with hot water; use warm water instead. Your pores will be opened by hot water, making your new tattoo vulnerable to bacterial illness and ink leaking.
Avoid directly soaking your new tattoo in water and avoiding soaking it.
Petroleum-based products
block the skin's surface when applied, preventing natural ventilation. Petroleum suffocates and prevents the skin from evaporating moisture.
This may clog pores and result in whiteheads, blackheads, and pimples. Or even worse, encourage bacteria and fungus to develop by providing a warm, damp condition.
Sunlight
Avoid direct sunlight. If you can, try to avoid getting too much sun on your tattoo. If you really must be around, pick a sunscreen designed specifically for tattoos that have a minimum of 30 SPF.
Scented Soaps
Avoid any and all scented soaps for cleaning your fresh tattoo. Fragrance causes irritation to the sensitive area of a new tattoo. Use only unscented, antibacterial soaps on the area for the first few weeks to keep it clean.
Medicated Ointments
Although this might seem a good idea, using medicated ointments will make your tattoo heal fast. However, this ointment actually draws ink away from your skin and keeps it on the surface, thanks to the zinc and other ingredients.
Avoid applying medicinal ointments on your tattoo because doing so will cause it to fade.
Frequently Asked Questions
Can you over-moisturize a tattoo?
Well, you should not. Although moisturizing the tattooed skin is one of the most important steps, you should take after getting a tattoo.
The healing process, however, could be slowed down if you apply too much moisturizer to your tattoo or forget to completely dry it after washing. Over-moisturizing your tattoo might result in a variety of problems.
It might potentially result in an infection and slow down the healing process. All of this might cause your tattoo to become damaged, forcing you to live with a less-than-ideal tattoo for many years.
Does it matter what lotion you use on a tattoo?
Yes, it does. For about two weeks, you should apply lotion to a fresh tattoo three to six times per day (although good skincare is always necessary, and the majority of tattoo enthusiasts apply lotion to their tattoos every day for life!).
The best moisturizer to use is a lotion that is preferably odorless.
When to add lotion to a tattoo?
As soon as your tattoo begins to dry out, not before, you should begin hydrating it. This typically requires 1-3 days after getting your tattoo. Make sure to use antibacterial soap properly to wash and dry your tattoo and to pick the right lotion.
Additional Read: How often should you apply lotion on a new tattoo
Conclusion
Taking care of your tattoo is very important for ensuring the best version of the tattoo. In this article, "Can you use Dermasil lotion on a tattoo?", you have seen why Dermasil is safe for your tattoo.
As well as, we have also pointed out why using lotion on tattoos matters. Furthermore, a list of lotions that works best on tattoos has also been added to this article.
Moreover, you have also read about making your own lotion at home through this article. And lastly, you have been warned about the things that should not be put on a tattoo.
We are sorry that this post was not useful for you!
Let us improve this post!
Tell us how we can improve this post?