Can You Use Dove Soap On My Tattoo?
Dove soap is a widely popular soap brand, known for its moisturizing and gentle formula. But how is this soap for tattooed skin? Can you use dove soap on my tattoo?
Yes, you can. Dove is a gentle and moisturizing soap that won't irritate or dry out your skin. In fact, it can help to soothe and hydrate your tattoo, promoting faster healing and preventing peeling or itching. Just make sure to use lukewarm water and avoid scrubbing too hard. Overall, Dove soap is a great option for tattoo aftercare and maintaining healthy, clean skin.
In this article, we will explore this question in-depth and provide you with all the information you need to keep your tattoo clean and healthy.
What Type Of Dove Bar Soap Should You Use On Your Tattoo?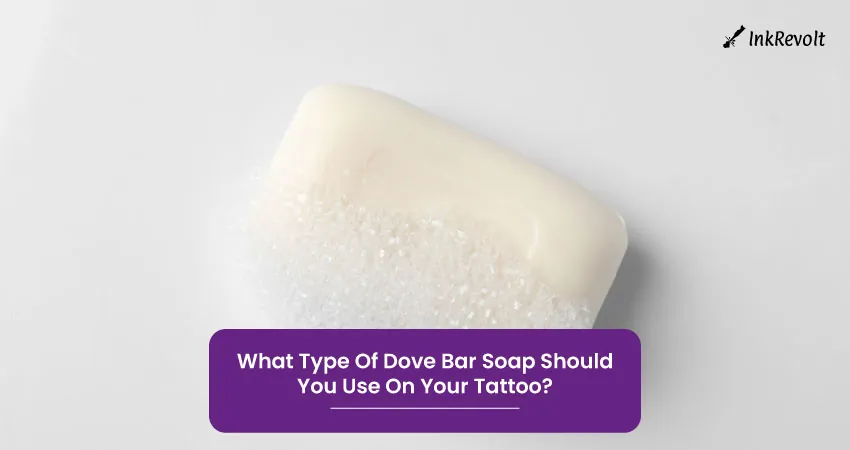 The type of Dove bar soap you should use on your tattoo depends on several factors, including your skin type, the size and location of your tattoo, and the type of ink used. In general, it's best to opt for a mild, fragrance-free soap that won't cause irritation or allergic reactions.
Look for a Dove soap that is labelled as gentle or hypoallergenic, as these are less likely to contain harsh ingredients that can strip your skin of its natural oils and moisture.
Some popular types of Dove bar soap that are safe to use on tattoos include the Original Beauty Bar, Sensitive Skin Beauty Bar, and Purely Pampering Shea Butter Beauty Bar. These soaps are designed to be gentle and moisturizing, making them a great choice for keeping your tattoo clean without drying out your skin or causing irritation.
How Often Should You Wash Your Tattoo With Dove Bar Soap?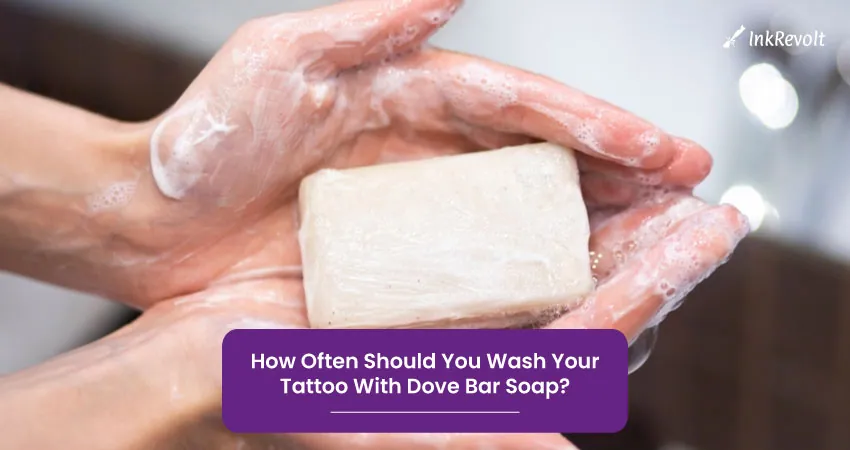 Once you've chosen the right type of Dove bar soap for your tattoo, the next question is how often you should be washing it. In general, it's recommended to wash your new tattoo 2-3 times per day for the first few weeks after getting inked. This helps to keep the area clean and free from bacteria, which can lead to infection.
When using Dove bar soap on your tattoo, be sure to lather gently and avoid scrubbing the area too vigorously. Use lukewarm water and a clean, soft cloth or your fingertips to gently wash the tattoo, being careful not to soak it for too long. After washing, pat the area dry with a clean towel and avoid rubbing or scratching it.
As your tattoo heals, you can gradually reduce the frequency of washing to once per day or every other day. However, it's important to keep the area clean and free from sweat, dirt, and other irritants that can cause infection or slow down the healing process. Always follow the aftercare instructions provided by your tattoo artist, and consult with a dermatologist if you experience any unusual symptoms or reactions.
Is Dove Soap Good For New Tattoos?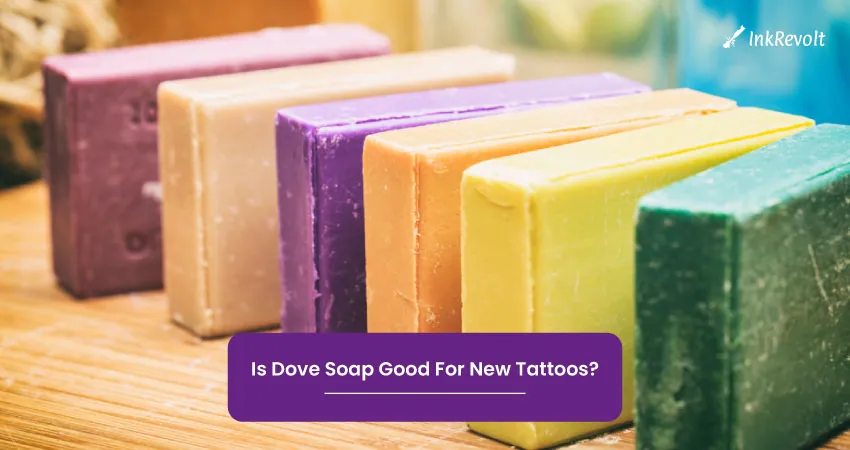 Yes, Dove soap can be a great choice for washing new tattoos, as long as you choose the right type of soap and use it according to the instructions provided. Dove bar soaps are known for their gentle, moisturizing formulas that are free from harsh chemicals and fragrances, making them a safe and effective choice for cleaning sensitive skin.
Using Dove soap on your new tattoo can help to keep the area clean and free from bacteria, which can lead to infection and other complications. It can also help to soothe and moisturize the skin, reducing inflammation and discomfort during the healing process.
However, it's important to choose a soap that is specifically designed for sensitive skin or labelled as hypoallergenic, as some Dove soaps may contain ingredients that can be harsh or irritating to freshly tattooed skin.
Also, note that you must not use any washcloth or loofah while cleaning your tattooed skin with dove soap as they can harbour bacteria and make things worse for the skin.
In general, it's always best to consult with your tattoo artist or a dermatologist to determine the best aftercare routine for your specific tattoo and skin type. They may recommend a specific brand or type of soap that is best suited to your needs or provide additional tips and advice for caring for your new ink.
Which Dove Soap Is Best For Tattoos?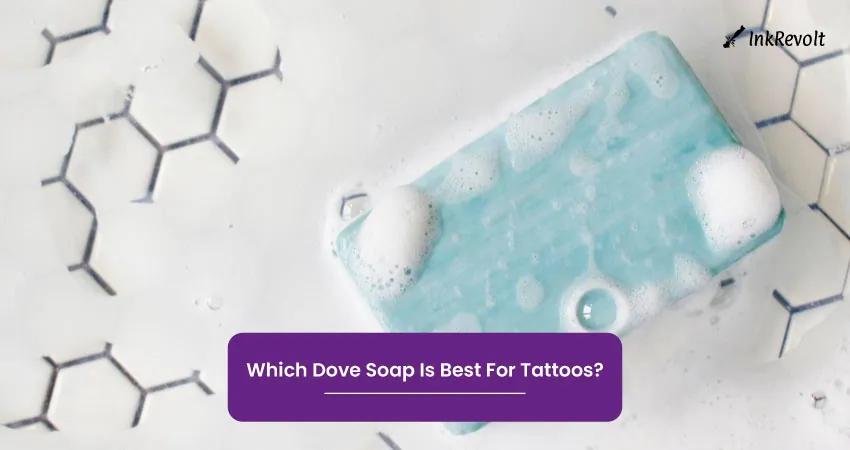 Here are some of the best Dove soaps that are often recommended for tattoo aftercare and an explanation of their rationales:
In conclusion, the best Dove soap for tattoos depends on your skin type and personal preferences. However, make sure to choose a gentle and moisturizing soap that does not irritate or damage your tattooed skin.
Is Dove Bar Soap Sulfate Free?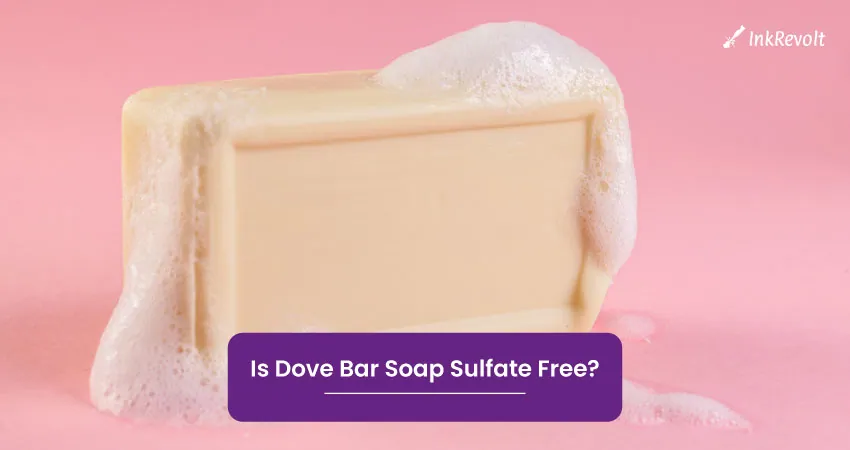 No, Dove Bar Soap is not completely sulfate-free. It contains Sodium Lauroyl Isethionate, which is a sulfate-based surfactant that helps in creating lather and removing dirt and oil from the skin. However, this sulfate is milder and less harsh than the commonly used Sodium Lauryl Sulfate (SLS) and Sodium Laureth Sulfate (SLES), which can cause skin irritation and dryness.
Dove Bar Soap also contains other ingredients such as stearic acid, palmitic acid, and lauric acid, which are natural fatty acids that help in moisturizing and nourishing the skin. Additionally, the soap is pH-balanced and gentle, making it suitable for those with sensitive or dry skin.
Overall, while Dove Bar Soap is not completely sulfate-free, it uses a milder sulfate and includes other nourishing ingredients that benefit the skin.
Do Doctors Recommend Dove Soap?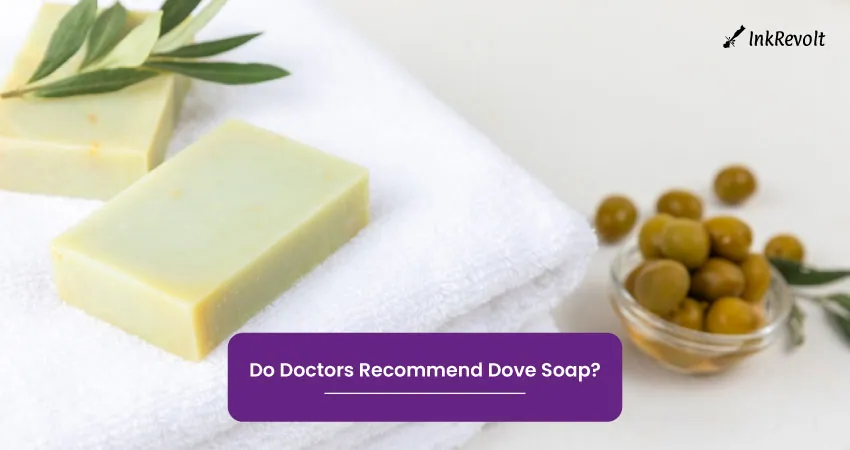 In general, doctors and dermatologists recommend using mild and non-irritating soap for the skin. Soap with harsh chemicals, fragrances, and dyes can dry out and irritate the skin, causing rashes, redness, and itching.
Dove soap, being a mild and gentle cleanser, can be a good option for people with sensitive skin, eczema, or other skin conditions.
However, it's important to note that different people have different skin types and skin conditions, and what works for one person may not work for another. So, doctors may recommend different skincare products depending on an individual's skin type and condition.
In summary, while Dove soap may be a good option for people with sensitive skin, it's always best to consult a doctor or dermatologist before using any new skincare product. They can recommend the most suitable product for your skin type and condition.
Reasons Why Dove Soap Is A Good On Tattoos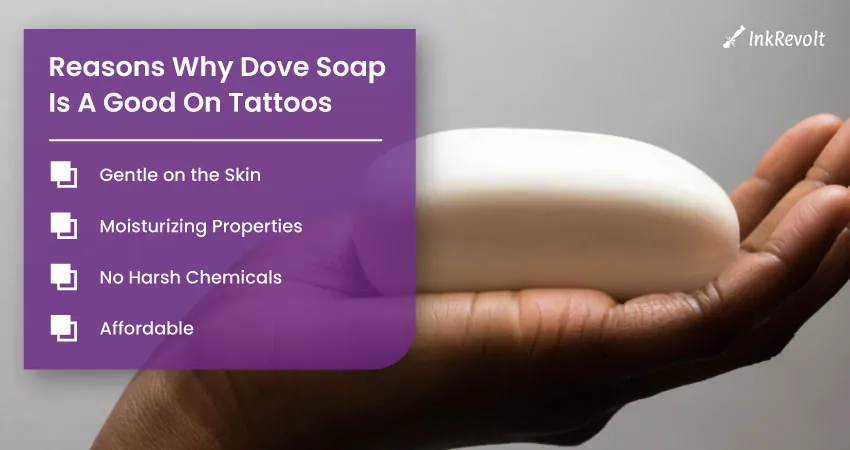 Reasons why Dove Soap is a good option for tattoos are given below:
Gentle on the Skin
Dove soap is well known for its gentle cleansing properties that do not harm the skin. This makes it an excellent choice for tattoos, as it does not strip away the natural oils that protect and heal the skin. Its mild formula is less likely to cause irritation or inflammation on sensitive tattooed skin, and it helps maintain the tattoo's colours and texture over time.
Moisturizing Properties
Unlike regular soaps that can leave the skin dry and itchy, Dove soap contains moisturizing agents that leave the skin feeling soft, smooth, and hydrated. This makes it a great option for tattoo aftercare, as it helps to prevent the skin from becoming dry or flaky, which can lead to scabbing and damage to the tattooed area.
No Harsh Chemicals
Dove soap is free from harsh chemicals such as sulfates, parabens, and phthalates. These ingredients can damage the skin's natural barrier, leading to irritation and inflammation. By choosing Dove soap, you can be assured that you are using a product that is free from these harmful ingredients, which is important when caring for a new tattoo.
Affordable
Dove soap is a widely available and affordable option for tattoo aftercare. Unlike specialized tattoo care products that can be expensive, Dove soap is a cost-effective option that can be easily found in most drugstores and supermarkets.
Alternatives To Dove Soaps For Tattoos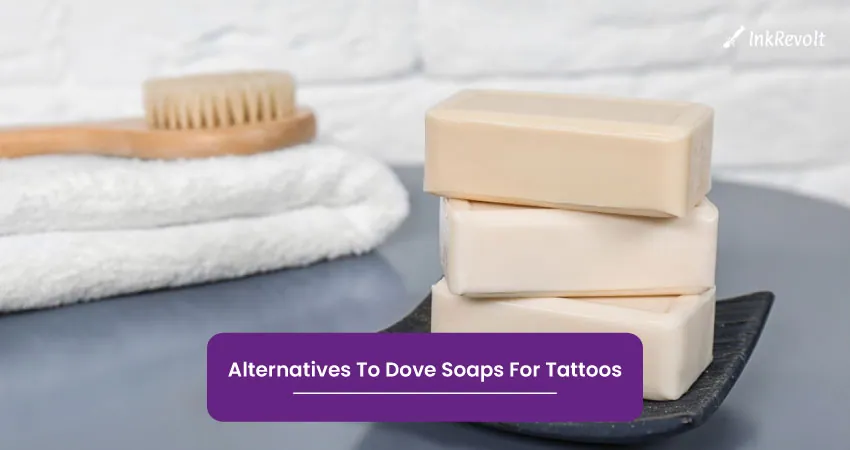 When looking for an alternative to Dove soap for tattoos, it's important to choose a gentle cleanser that does not contain any harsh chemicals or fragrances that can irritate the skin. Look for products that are hypoallergenic, fragrance-free, and formulated for sensitive skin. 
Frequently Asked Questions
Should I moisturize my tattoo after washing it with Dove soap?
Yes, it's important to moisturize your tattoo after washing it with Dove soap. This helps to keep the skin hydrated and promotes healing. Be sure to use a fragrance-free, non-comedogenic moisturizer.
Will Dove soap irritate my tattoo?
No, Dove soap is gentle and mild, so it should not irritate your tattoo. However, everyone's skin is different, so it's important to pay attention to any signs of irritation or discomfort.
Can I use other soaps on my tattoo besides Dove?
It's best to use a mild, fragrance-free soap on your tattoo to avoid irritation. Dove soap is a good option, but there are other mild soaps available that can also be used.
Can Dove soap cause my tattoo to fade?
No, Dove soap is not known to cause tattoos to fade. However, exposure to the sun and other environmental factors can cause tattoos to fade over time.
We are sorry that this post was not useful for you!
Let us improve this post!
Tell us how we can improve this post?