How To Remove Eyebrow Tattoo At Home? [4 Easy Methods]
Do you regret getting your eyebrow tattoos done and want the tattoos removed? Well, you can always remove your eyebrow tattoos. But some people don't want to go to a salon again and spend money to remove their eyebrow tattoos.
Most people don't want the added risk of irritation, pain, and aftercare of microblading and laser treatments. There is an easy solution to avoid all these issues while still removing the eyebrow tattoos. You can simply remove the eyebrow tattoos at home. But how to remove eyebrow tattoo at home?
To remove eyebrow tattoos at home, you can use salt, lemon, aloe vera, hydrogen peroxide solution, etc. Proper use of all these ingredients ensures you have natural eyebrow tattoo removal right at home. You don't have to worry about spending too much time or money either.
Let's look at the methods for how to remove eyebrow tattoo at home:
How To Remove Eyebrow Tattoo At Home: 4 Methods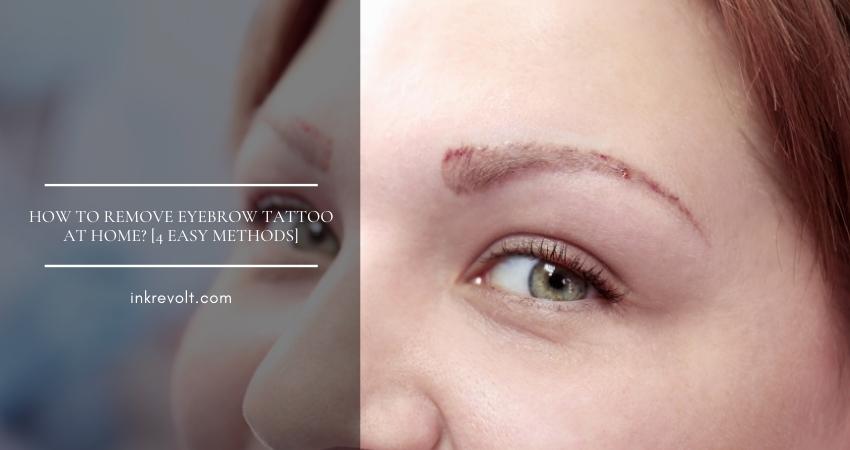 Method 1: Removing Eyebrow Tattoo With Salt
Among the most popular ways of eliminating permanent eyebrows, salt removal is one. This erasing permanent tattoo technique works in two ways:
Applying salt on the skin and gently exfoliating it away.
Using salt to attach to the dyes of permanent inks and draw the pigment out of the layers of skin.
Note: Although this method can be done at home, unless you are 100 percent sure you can follow all the guidelines, don't try to do this at home.
Pros Of Salt Eyebrow Tattoo Removal
In some cases, salt removal is better than any other tattoo removal method. Because:
Salt removal treatment is less irritating to the skin, so it's ideal for those who have sensitive skin.
It is less abrasive than any other removal technique that is used for eyebrow tattoo removal.
It is far less unpleasant compared to laser removal and other methods.
This treatment has a higher likelihood of keeping your skin intact.
It is recommended for those with darker complexions since it reduces the chance of hypo-pigmentation.
Cons Of Salt Eyebrow Tattoo Removal
Salt tattoo removal also comes with its cons. Although they are not as big as the other methods, you should still be aware of them. The cons are:
There is a greater danger of infection since the skin's natural protective surface has been disturbed.
The scrubbing in this method can cause scarring and over-exfoliation of the skin.
Using salt directly on the skin can cause hypopigmentation.
Care For Your Skin When You Are Doing The Salt Removal Technique
To completely remove your eyebrow tattoo with salt, you will need more than one session of this treatment. So in between the sessions, it's very important that you take care of your skin properly. You also need to take care of your eyebrows when they're healing. So what you need to do is:
Use clean water and a very basic non-alcoholic soap to wash the eyebrows.
In the recovery period, you need to use the prescribed ointments on your scabs and other aftercare products. Make sure the aftercare products are not too much, but just enough to cover the area.
Don't pick at your skin or the scabs. Any sort of rubbing or pinching will irritate the skin more.
Don't use any sort of makeup on your eyebrows while you are healing or in between sessions.
Method 2: Removing Eyebrow Tattoo With Lemon
Lemon is widely recognized and used as the most effective approach for removing or lightening tattoos. Because the natural acid it carries makes it an organic bleaching agent, which helps lighten the tattoos.
Method 3: Removing Eyebrow Tattoo Using Aloe Vera
Because of the therapeutic qualities of aloe vera, it is an excellent home cure for a variety of skin issues. The benefits also include tattoo removal. That sounds a bit false, right? Well, no, it's completely true.
So pure aloe vera is able to clear the tattoo pigment when combined with the "Paederia Tomentosa" and Vitamin E. For this to work, you will need to gently apply the mixture into the skin daily until you see your eyebrow tattoo fade.
You should also rub the tattoo's eyebrows with skin exfoliation particles, mixing them with the aloe vera gel. The exploitation particle will help remove the dead cells while aloe vera does its job of lightening.
Method 4: Using Hydrogen Peroxide To Remove Eyebrow Tattoo
Exfoliation combined with hydrogen peroxide is seen working wonders to progressively and naturally erase the tattoo ink from the eyebrows.
The reason this method works so well is that the exfoliation will eliminate the dead skin, whereas hydrogen peroxide will work as a lightening agent in the area with its bleaching effects.
Using a solution of 3% hydrogen peroxide is safe for your skin and eyebrows. Now take a cotton swab, dip it into the liquid hydrogen peroxide solution, and then dab it on the regions of the eyebrow that you want to brighten.
Is Home-Done Eyebrow Tattoo Removal Better Than Other Tattoo Removal Techniques?
All the eyebrow tattoo removal techniques have their cons, as do any other tattoo removal techniques, no matter if they are home-done or in other ways. But the home-done removal techniques have fewer disadvantages compared to modern techniques.
However, you will see modern-day techniques purposefully highlighting the nonexistent disadvantages of home tattoo removal techniques to promote their business. The cons of these modern eyebrow tattoo removal techniques are:
There is a high risk of infection and irritation with modern techniques.
Other procedure causes pain and discomfort (they can be eased a bit by using anesthesia).
Some procedures cause scarring on the skin.
Some people end up with hypopigmentation.
In laser treatment, there is a risk of eye irritation and burning.
So, the home-done tattoos are very safe and cheap in comparison to these methods. Just be gentle with your skin and you are good to go for removing eyebrow tattoos at home.
Additional Read: How to lighten tattooed eyebrow
Final Verdict
Now you know all the possible methods of removing your undesired eyebrow tattoos at home. Just follow all the suggestions and care for your skin the way it's mentioned, and you will see your eyebrow tattoos gradually lightening. Continuously using one of the above-mentioned methods will achieve your natural tattoo removal.
Not only do you save precious time and money by doing these procedures at home, but also you will be able to save yourself from the pain and infection of modern techniques.
We are sorry that this post was not useful for you!
Let us improve this post!
Tell us how we can improve this post?