9 Best At Home Tattoo Removal Laser Machines: Reviews And Buyer's Guide
Getting a tattoo on a whim is a pretty common thing people do. Some get tattoos because they loved an eccentric design, whereas some do that out of love for their beloved ones (don't get me started on that!).
But you know what happens after a while when things do not go right or your taste changes, and suddenly you do not want to have that tattoo anymore. Then again, removing a tattoo is more challenging than getting one. The key reason is you will find many ways to get rid of a tattoo only to discover most of them do not work. And the ones that work and are available to you are extremely expensive.
So, I did some extensive research to come up with something fruitful and affordable. And guess what? I did find something! I have got a lot of laser devices that you can use AT HOME to remove your tattoos.
Each of the devices I will review today is the best at-home tattoo removal laser. Keep up with me if you are exhausted with your old tattoo and are eager to have a new one in place of it!
9 Best At Home Laser Tattoo Removal Machines: Reviewed
I am going to talk a little about laser tattoo removal devices in general. The laser devices remove your tattoos by heating the tattoo ink and breaking it down. When the ink gets heated and split into small fragments, it starts to disappear.
However, they remove not only your tattoos but also undesired dark spots and freckles. At least they reduce them if they cannot wholly laser them out. What's more, they even cleanse your skin and give it a healthy and natural glow.
And you get to do all of that at your home, spending a lot less than you typically have to for tattoo removal! Let's get started then, shall we?
1. NEATCELL Wireless Picosecond Pen – Best Handheld Tattoo Removal Machine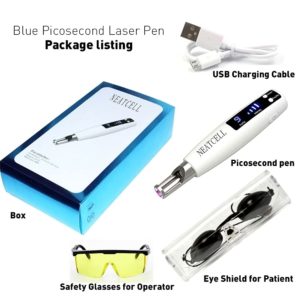 NEATCELL picosecond pen is the number one choice of many people for laser tattoo removal machine. Its efficient operation method will put an end to all your worries regarding your impulsive tattoo decisions!
Why We Selected It in Our Top List
Operation Method
The NEATCELL picosecond pen resolves your melanin into small particles effectively to reduce the melanin deposits, tattoo ink, freckles, and dark spots. In the process of doing so, it promotes your skin metabolism, refines, and leaves it glowing naturally.
If you have delicate skin, do not worry. NEATCELL designed the device particularly to treat people with sensitive skin. It will not cause allergies.
Procedure Safety
The laser tattoo removal pen works safely, using a high-tech procedure that involves functions of electric ion carbonization. That turns the voltage discharge instantly into electric ion heat to carbonize.
It keeps your natural skin intact while removing the tattoo. You may feel some pain, but that is nothing severe.
The pulse width of the device is short, which is why it rarely produces heat and light effects. However, long-term usage may cause them.
Others
The device is wireless. You have to power it with USB charging. Its energy output is stable, and the battery life is long enough.
Operating it is simple. Anyone can do it. It comes with additional essentials to make the process even simpler for you. NEATCELL will send you an eye shield, a safety glass, a charging cable, and an instruction manual in simple English with the picosecond laser tattoo removal pen. Besides, it will email you another manual with more details and some videos on operating the device.
On another note, remember to clean it after use. Then keep it somewhere safe to prevent contamination.
Pros
High-tech operation method
Safe application
Original skin unharmed
Natural glow
Anti-allergic
Wireless and easy to use
Additional accessories
Videos and detailed instructions
Cons
The instruction manual in the package may be no real help.
2. Bio-Avance Laser – Best Tattoo Removal Laser Machine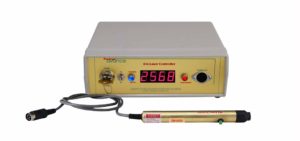 The laser kit from Biotechnique Avance removes your tattoos and freckles AND betters your skin than it used to be. You can use it at your home. If you have a professional clinic, you can run it there as well.
Why We Selected It in Our Top List
Operation Method
The laser laser tattoo removal machine has three cooling operations to dissolve the heat and penetrate the inner skin. The internal particles absorb the light particles fast and maximize the tattoo elimination process.
Procedure Safety
The device guarantees you maximum safety. It will vanish your tattoo without leaving a trace on your skin. You will need to apply it three to five times to remove at least 85% of your entire tattoo.
The aftermath of the process will improve your skin tone and texture. Plus, you can use that to remove pigments from your lip lines and eyebrows.
Others
The laser pen comes with a beauty treatment device, instructions, treatment gel, and protective eyewear. It is basically for removing permanent tattoos, but you can use it for other beauty treatments too.
Using the device is no rocket science. It has an internal handle that helps you use it with stability. It also features an infrared light that makes the tattooed area more visible to you during the procedure.
The manufacturer offers you a 90-day money-back guarantee without any condition.
Pros
Stable and easy to use
Versatile performance
Three cooling functions
Fast removal process
Improvement of skin tone and texture
Money-back guarantee
Skin tissues unharmed
Value for money
Cons
You have to use liquid with the liquid inlet for better electricity activation.
3. Mini Portable Laser Tattoo Removal Machine by Biotechnique Advance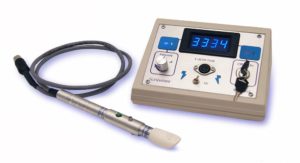 Why We Selected It in Our Top List
The third laser device to be reviewed is also from Bio-Avance. Although each of the two is in the list of best laser tattoo removal machines, they have distinguishable features. To know all about them, read the review below.
Procedure Safety
The mini and portable laser tattoo removal machine is one of the safest ones of its kind. You will get professional performance from it at your home. To get the best output, use it with tattoo removal creams.
It is risk-free and worthwhile, just like you have been searching all this time. And a bonus – you will get smooth and glowy skin. Moreover, you can use it on your face, neck, and body.
Others
The device is multitasking, having a use for various purposes. People typically apply it to remove permanent tattoos, whereas some have it to perform different beauty treatments. If you buy it, you can keep it either at your home or your office.
It is wise to select a device that has extra supplies and accessories. This laser machine from Bio-Avance is one like that. It is cost-efficient enough to save your budget. The items you get with it are a beauty treatment device, eye gear to protect your eyes, and an instruction manual.
Pros
Easy to use
An instruction manual to enhance its functionalities
Well-made with solid and long-lasting material
Versatile performance
Applicable to face, neck, and body areas
Suitable for home and salon both
Cons
The price can be a bit steep.
4. DONSU Laser Tattoo Removal Machine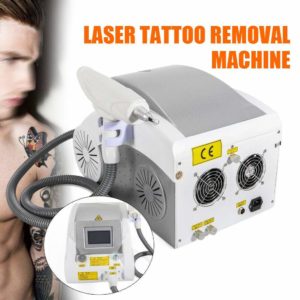 The price of the last one may cause some of you to cross it from your top picks. But that is okay. I have better options for you, of which DONSU is one. Brace yourself for another best at home laser tattoo removal machine!
Why We Selected It in Our Top List
Operation Method
The treatment of the device on tattoos works on different kinds of pigments. It effectively deals with the endogenous and exogenous pigmentation lesions created by mixed colorants. It has three cooling functions to dissipate the heat faster.
Procedure Safety
Many users hesitate to buy a laser device, fearing it will give them scars. If you are one of them, bid your fear goodbye because the DONSU laser tattoo removal machine will not do that to you. It will not even damage the tissues of your skin.
Others
As extra essentials, there are three pieces of working heads to remove color pigmentation and freckles (one), dark pigments and tattoos (two), and control oil, remove blackheads, etc. (three) in the package.
The design of the machine is not complicated at all. You will learn to manage it quickly. And you can use it everywhere from your home to your parlor.
Pros
Simple design and highly manageable
Healthy skin with no scars or injuries
Three cooling functions
Capable of cleaning eyebrows, dark spots, and lip liners
Eligible for use at home, clinics, and shops
Delicate performance
Affordable
Cons
Its weight is more than 15 kilograms, which makes it immovable.
5. Youruo Laser Tattoo Removal Machine
A distinct feature of the Youruo laser tattoo removal machine is that it will rid you of lasting stains and birthmarks! "Okay. But I want my tattoos gone! Will it do that?" Yes, of course, it will. Otherwise, how would it find itself on my list here?
Why We Selected It in Our Top List
Operation Method
There are three cooling operation methods that the device runs to dissipate the heat faster. It treats both endogenous and exogenous pigmentations that mixed dyes form. That means you get to have all different skin conditions caused by your tattoo ink treated swiftly and smoothly.
What I like most about the device is its infrared light to indicate the spot. If you can utilize it properly, it will increase the accuracy of removing the tattoo or mark quickly.
Procedure Safety
The device does its work with proper care. It makes sure your skin remains unaffected by the pigmentation removal while avoiding leaving any scar.
You can safely use its multi-functionality to remove blue and black pigments from your lip liners, eyeliners, and eyebrows, not to mention tattoos as well. Another unique feature of the Youruo machine is that it will laser out your birthmarks, vascular lesion, vasodilation, and age marks.
Others
Along with the laser machine, there will be a pair of light-resistant glasses, a brace, an eye mask, a funnel, a foot pedal, a power cable, and three operating head accessories in the whole package. All of the components combined will make the process perfectly organized and safe for you.
Here is a point to note: you must fill the instrument with water to switch on the power.  Add the water inlet to the overflow and keep them open. After filling the overflow with water, close it. But do not close the water inlet. That will disrupt the air circulation.
Pros
Capable of removing tattoos and different skin conditions
Faster heat dissipation
Multifunctional
Eligible for use at home and professional settings
No skin injuries or scars
Cons
The weight of the whole package is 23 KG.
6. BuWiz – Best Laser Tattoo Removal Pen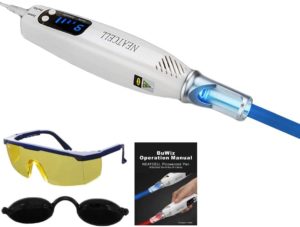 The one I will review now is the upgraded version of the BuWiz laser pen. It has more stability with an extended lifespan. Isn't that something all of you are looking for in the best tattoo removal laser machine?
Why We Selected It in Our Top List
Operation Method
The picosecond laser device will break your melanin deposits down to small particles. That, in turn, will increase your skin metabolism, wiping off your dark spots, tattoos, and freckles.
The machine has rapid power and energy to split your dark pigments directly. So, it takes fewer times than other devices to have visible effects.
Procedure Safety
The procedure is not entirely painless. But the pain is not severe, either.
Remember to cover the spot with something to protect it from water when you take a shower. Tear it off afterward.
Others
The picosecond pen will bring you a pair of protective glasses, a pair of operator glasses, a piece of protective paper, a power adapter, a short manual with instructions, a detailed manual, and three operation videos (via email) with itself.
The glasses are highly significant to keep you safe during the removal. And the detailed instructions and videos will walk you in on the process and make it easy peasy for you.
Pros
Picosecond pen
Lightweight and portable
Higher power and energy
Stable output
Safe and risk-free
Detailed instructions and videos
Cons
As the upgraded version, it should have been more lasting.
7. BuWiz Blue Light Tattoo Removal Laser Pen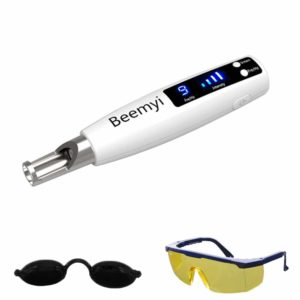 This laser pen from BuWiz is cordless and one of the most convenient devices for removing tattoos and dark spots. If you have liked the last one, you will like this one too.
Why We Selected It in Our Top List
Operation Method
The operation method of this pen is pretty much the same as that of the last one. So I am not going to repeat the details. But what I should let you know is that the pen is wireless and runs on lithium batteries. That means you can rely on its power sufficiency.
The device is adjustable, too. You can notch it up or down for nine levels.
Safety Procedure
BuWiz is careful about its customers. It designed both of its devices to perform without leaving permanent scars. On top of that, they give your skin additional nourishment in the form of natural radiance.
However, you have to use it properly to stay safe, which takes us to the next section of the review.
Others
The package is also almost the same as the last one, except that you will get one operation video instead of three. Do not ever forget to wear an eye shield and safety glasses when you are at it. That is the number one rule to mitigate the risks.
After you have finished, clean the device to prevent it from getting contaminated.
Pros
Picosecond pen
Lightweight, wireless, and portable
Safe and risk-free
Flexible adjustments
Highly convenient
Powerful battery
Detailed instructions and videos
Cons
The directions in the manuals may seem vague to some users.
8. 4Yang Tattoo Removal Laser Pen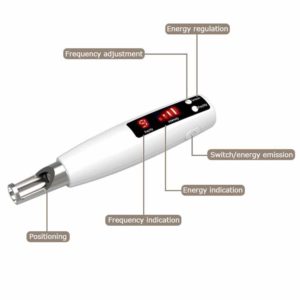 The laser pen from the brand 4Yang is wholesome. It has all the things that you want and beyond that. Scroll down to find out more about it.
Why We Selected It in Our Top List
Operation Method
The 4Yang laser has three different modes with four adjustable speed levels. That gives it an edge to fulfil various requirements. It is powerful enough to hit your tattoo ink and destroy it directly while treating your melanin. So, with this device, your treatment time will be comparatively short.
Procedure Safety
The pen decreases your spots and nourishes your skin internally. That means your skin will not only glow on the outside but also remain healthy on the inside. To stay safe, learn to use it properly first and remember to wear the eye mask in the package.
Others
4Yang made the picosecond pen with durable plastic, which guarantees that you will get value for your money. Its weight is not heavy at all. You can carry it everywhere you go.
The manufacturer is very flexible about their post-sale service. If there is anything wrong with the device, you can demand your money back or get a replacement.
It will come fully charged to you, ready for instant use. It will also have a color box, an eye mask, a USB cable, and a manual.
Pros
Picosecond pen
Shorter treatment time
Adjustable speed levels
Three modes
Lightweight and convenient
Value for money
Sturdy material
Reliable post-sale service
Cons
The manual is not much of a help.
9. Bio-Avance Professional Tattoo Removal Laser Machine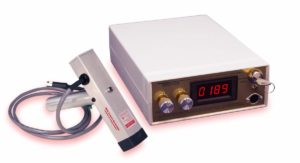 Here is another Bio-Avance laser tattoo removal machine to end the review section today. Although it is 'at-home' tattoo removal laser, it is becoming increasingly popular among professionals due to its eligibility to function in professional settings like salons. And guess what? The price is budget-friendly!
Why We Selected It in Our Top List
Operation Method
The operation methods of different Bio-Avance are similar to one another. But what makes this one stand out is its professional setting. Due to adopting the latest technologies, the working method of the device is faster and better.
Procedure Safety
The performance of the device is unmatched. It does its job splendidly. You will not even recognize after the procedure that you ever had a tattoo. Even more, it has proven to tighten the skin by erasing wrinkles.
Others
The laser tattoo removal machine is multifunctional and can work on the face, body, and neck areas, both at a salon or home. Although its primary task is to remove permanent tattoos, it also specializes in a wide range of beauty treatments.
The package of the machine includes a beauty treatment device, a pair of protective eyewear, a treatment gel, and instructions. If you ever choose to return it, do it within the first three months to get your money back.
Pros
Professional grade output
Suitable for home and salon
Application of new and modern technologies
Expert at various beauty treatments
Affordable
Lesser wrinkles and tighter skin
Money-back guarantee for the first 90 days
Best when used by experts
Cons
Not easy to use for new users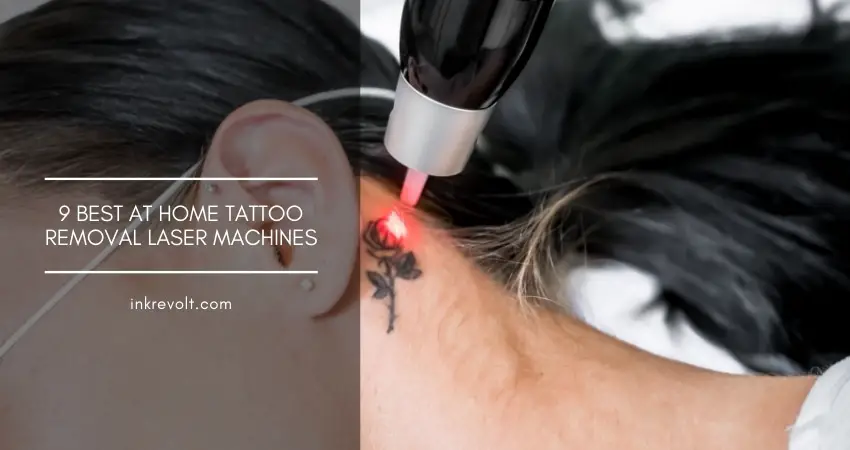 Read More: How Laser Tattoo Removal Works
How To Choose The Best At Home Tattoo Removal Laser?
You have known enough about laser machines. Now it is time to learn about the aspects that will find you the best laser tattoo removal machine. It does not matter what budget you can afford because as long as you understand what you have to find, you can always manage the best one within your affordability.
Functions
The functions vary from one laser to another. The ones that perform a single task are less expensive than the multifunctional ones. They will only remove your tattoos. But the versatile devices remove tattoos, hairs, black spots and do other beauty treatments.
Although the multifunctional devices are better, if your purpose is only tattoo removal, you can go for one with a single function. The perfect at-home tattoo removal is the one that does its performance with expertise.
Technology
What technology your laser adopts tells you about its efficiency. Many devices, at present, use picosecond and nanosecond technologies that are the newest and latest. You can change the wavelengths in various ranges with them. So, it is best if you get one of them.
Specifications
Look for the power, pulse, and wavelength when you select a laser device. Wavelengths are for removing different colors. So, you should pick one that allows you to adjust the range. Another thing is power consumption. A high level of energy means the device is efficient. The pulse rate indicates how many shots you can fire each time.
Other than these specifications, see what additional accessories the package offers. The best one should come with everything essential to maintain the highest safety.
Ease To Use
Always, always choose a device that you will not have to struggle to use. There are some laser devices only for professionals. If you are a newbie, it will not be easy for you to operate those. Even if those are significantly better than others, get yourself one with ease of use.
Budget
No one plans to make a poor purchase decision with their money. When you are about to select a product, you need to consider its durability. In the case of a tattoo removal device, it is simple to understand if it is long-lasting or not.
First, examine the material construction and quality. A well-constructed device will last a long time.
Other than that, you can also check out if it comes with a warranty. That will provide you with additional assurance.
Frequently Asked Questions
Removing a tattoo is as big a deal as getting one, if not bigger. So I am sure you guys have a lot of queries. Look below to find the most asked ones answered.
Does it hurt during the tattoo removal process?
Yes, it does to some extent, which varies from one device to another. Your skin is also a factor here.
Which color of the tattoo is the most difficult to remove?
Green. The general rule is that the higher the color contrast between your skin and your tattoo pigment, the better and faster the outcome.
Is it even safe to remove a tattoo?
What are the side effects of tattoo removal?
People typically experience redness, itchiness, blistering, and scabbing after removing a tattoo.
Will the tattoo removal process damage my skin?
That is highly unlikely if you strictly follow the post-removal skin-care advice. Besides, the laser device you use will matter, too.
Will Tattoo Removal have negative impacts on my liver?
The liver eliminates most of the removed ink. When your laser device splits the ink into particles, your white blood cells will take them away. Your liver will process the particles so that your digestive system can excrete them from your body. So, not having a sufficient time gap between the sessions can be very stressful on your body. That may lead to potential health issues.
That is why it is of the highest concern that you schedule the sessions with your tattoo removal specialist so that the process does not become excessively taxing on your internal body system.
How long should the time gap between the Tattoo Removal sessions be to keep one's body system safe?
Generally, people take six weeks time gap between the sessions to keep it safe.
Final Verdict
The final verdict is going to be brief. But I will not confuse you, promise. I have enlisted nine devices in total, each the best at-home tattoo removal device. Each has its unique characteristics, but their common ground is that they all have safe and efficient operation methods with desirable results. Plus, all of them are multifunctional.
So, I am going to give my opinion based on budget, users, and other criteria.
Summary
For those with a budget, DONSU and Bio-Avance professional laser devices would be a great choice. The second one is perfect for professionals.
For newbies, I prefer DONSU. The second Bio-Avance machine will also return you good value for money.
If you are a wireless device lover, you got to try either the NEATCELL or the BuWiz ones. They run on batteries and are travel-friendly. For sensitive skin, NEATCELL is the best at-home tattoo removal laser.
If you want fast results, YouRuo is the way to go. It dissipates the heat and vanishes the spot fast. From that aspect, DONSU and Bio-Avance are also in my top preferences.
Removing tattoos worries many people because of safety issues, but using a laser device is one of the safest ways to do that. Finding a well-functioning machine impacts the process to a large extent. I hope today's discussion will help you in that regard.
Thank you for reading. Good luck and happy purchasing!
We are sorry that this post was not useful for you!
Let us improve this post!
Tell us how we can improve this post?