Neatcell Picosecond Laser Pen Review: [Features, Pros & Cons]
Some of your clients might want to get rid of their old tattoos rather than get new ones. So, as a professional tattoo artist, you should have a reliable device to remove unwanted tattoos. In our Neatcell Picosecond Laser Pen review, we will introduce you to the Neatcell Picosecond Laser Pen, which excels at eliminating tattoos and unwanted marks from your skin.
Tattoo removal might sound simple enough, but trust us, it has its fair share of difficulty. Without using the right tools, the removal attempt could be lengthy, expensive, and painful for the client. For this reason, it is important to buy a high-quality tattoo removal machine for your parlor.
In this article, we will go through the details that made Neatcell Picosecond Laser Pen earn the trust of countless tattoo artists when it comes to tattoo removal. Keep on reading to discover what makes the product a must-have in your toolkit.
Introducing The Neatcell Picosecond Laser Pen
The Neatcell Picosecond Laser Pen is the ultimate tattoo and mark removal tool. The machine deploys laser technology to break down the ink pigments and remove them from the skin. The process happens so fast that you would barely feel anything while using the device. On top of that, it will not leave any additional scars on the skin.
The device comes in two variants. One emits red light, and the other emits blue light. Since blue light has smaller wavelengths (450-495nm) than red light (620-795nm), the blue light version is stronger. The red laser pen is best for removing black tattoos, and the blue pen is recommended for vibrant ones.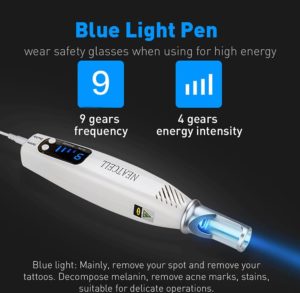 Let's take a look at the specifications of the Neatcell Picosecond Laser Pen.
Neatcell Picosecond Laser Pen Specs
Manufacturer: Neatcell
Material: ABS Plastic
Voltage: 100-200V
Weight: 450g
Black Eye Shield: 1 piece.
Protective Paper: 1 Piece.
Color: White
 Who Is This Product For?
The Neatcell Picosecond Laser Pen should be on the wishlist of anyone looking to remove tattoos or scars from their skins.
Buying the Neatcell Picosecond Laser Pen would be a great idea if
You are looking for a cheaper and easier alternative to conventional laser tattoo removal.
You want to eliminate undesired marks from your skin at the comfort of your home.
You want a durable tattoo removal machine for professional use.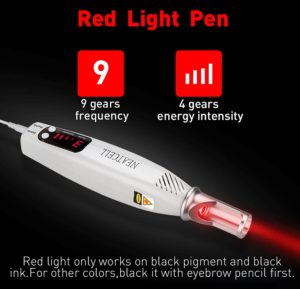 What Problems You Might Face?
The Neatcell Picosecond Laser Pen is an effective tattoo removal tool that is also quite easy to operate. That said, it might not be the best solution to your problems in following circumstances:
You are expecting immediate results. The Neatcell Picosecond Laser Pen would require 6 to 8 sessions spread across a number of days. If you want to remove the marks faster, you have to seek other options.
You have a colorful tattoo and you are trying to remove it without professional supervision. While the blue laser pen is quite effective, you might not be able to operate it properly. So, there could be leftover marks.
Pros & Cons
Reasons to get
Red light and blue light versions for dealing with black and colored tattoos separately.
Reduces the cost of tattoo and scar removal.
Breaks up ink particles and makes them easier to remove.
Minimal skin irritation.
Effective in treating dark spots and freckles.
Reasons to avoid
The treatment time could be longer than ideal since you would need multiple sessions to wipe off the marks completely.
Neatcell Picosecond Laser Pen Review: Features And Benefits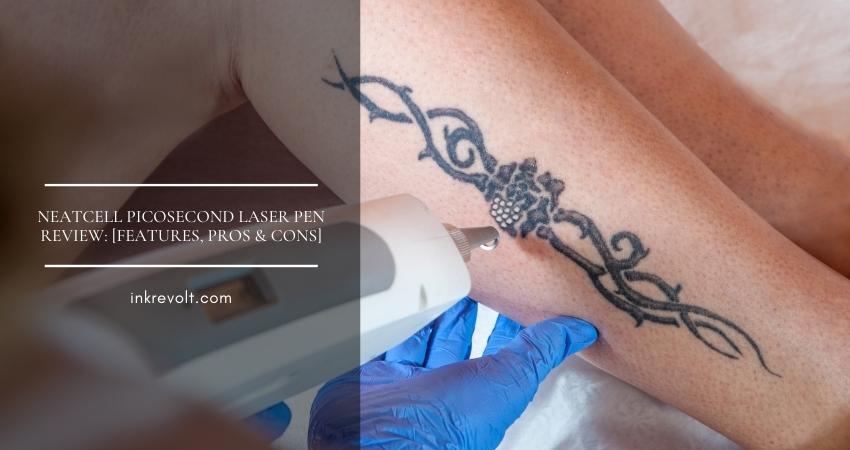 Safety
When used correctly, Neatcell is completely safe. The entire procedure is virtually risk-free and effective. The Neatcell Picosecond Laser packs just enough power to eliminate unwanted skin marks. It is very unlikely to cause any skin damage. Having said all that, we would still advise you to exercise some caution while using the machine.
Be sure to put on the protective glass before using the machine. If you are using a different eye gear, make sure it comes with the proper laser rating to prevent blue and red light laser rays from getting into your eyes. Laser exposure might have severe long-term effects on your cornea. So, be careful while using the device.
Another thing you need to be mindful of is not to let the laser beam sit at one point of your skin for prolonged periods. You should keep the pen moving and cover the entire area of the tattoo or the scar you want to remove. Don't keep the beam fixed at a point for more than one or two seconds.
Blue And Red Laser Versions
It is safer to use the red laser version if you want to remove a single color tattoo or dark spots. Since it comes with higher wavelengths, the red laser has less frequency and is far less abrasive to the skin than its blue counterpart.
The blue version is necessary, however, when the red laser beam fails to make a bite. Tattoos which are drawn with a mixed assortment of colors require a more intense effort and the blue light pen provides that extra punch.
Since you have the option to choose between the two, you can pick the one that suits your situation the best. If you are a professional tattoo practitioner, you would need both since you would be working with a wide range of clientele.
Gives You Healthier Skin
The Neatcell Laser Pen successfully reduces melanin to particulate form. As a result, skin metabolism improves. Breaking down melanin build-ups is essential for minimizing dark spots and freckles. Using the Neatcell Laser Pen, you can expect a healthy shine on your skin.
Closing Remarks
In our Neatcell Laser Pen review, we tried to highlight the features that make it so effective in removing tattoos and treating other skin conditions. It is fairly easy to use, but we would advise you to make time and read the user manual before using the machine. If you are patient, you will be satisfied with the results this machine can deliver.
We are sorry that this post was not useful for you!
Let us improve this post!
Tell us how we can improve this post?