10 Best Tattoo Armrests Reviews: [Our Top Picks]
Among all the things tattoo artists must have in their studios, a fully adjustable and comfortable armrest is one. If your clients cannot relax their arms, the movement will impact the entire process of your artwork. So, you have to prioritize it as much as your needles, devices, and inks.
What matters most about a tattoo armrest is its adjustment settings, which will give you lots of inclining angles and allow you to accommodate different people of different weights and sizes. With that, you will have to look for other features as well. Do you think I just made it harder for you? Well, not really, because I have picked the 10 best tattoo armrests for you with all the details you need to know!
The reviews will entail the features, strengths, and weaknesses of the products. Then a buying guide will follow to introduce the best tattoo armrest to you. Afterward, I will conclude with my final verdict before answering the frequently asked questions.
Best Tattoo Armrest: Top 3 Compared
The first part of the review includes a brief introduction about some of the armrests to give you an overall idea about what you will see next. I summarized the information in the table below.
Maximum Weight Capability
Maximum Weight Capability
Maximum Weight Capability
Maximum Weight Capability
As an Amazon Associate InkRevolt earns from qualifying purchases.
Top 10 Best Tattoo Armrests Reviews
1. New Star Tattoo Armrest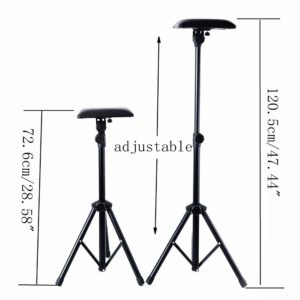 New Star Tattoo is one of the most trusted brands because of its product stability and quality. The name of the company alone assures you of getting the best product. However, you are not going to skip the first review of today for that, are you?
Why We Selected It in Our Top List
Design And Material
The company designed it to be the most flexible furniture for you. You can fold it after use and take it wherever you go. Installing it is no concern. Besides, if you have a tiny studio, it will save you some storage too.
The tripod stand provides the armrest adequate stability. Its legs are of metal, and they have rubber ends, so they do not slip and protect your floor.
Adjustment
The height of the armrest is 72.6 cm that you can adjust up to 120.5 cm. The cushion is also adjustable at 180 degrees. Again, you will not have to say no to your clients, thinking your armrest will not suit their physique.
Frame And Padding
The frame has a firm build of metal, while the padding is soft and adjustable. The first one extends the armrest's resilience, and the latter enhances its comfortability. You can use the cushion for arms, wrists, hands, legs, shoulders, or feet.
Pros
Fully adjustable height
Ease to assemble, use, and place
Soft and comfy padding
Non-slip, steady legs with rubber ends
Foldable, lightweight, portable, and travel-friendly
Cons
The stand may become wobbly once you extend the legs fully.
2. CAKMSMAO Tattoo Armrest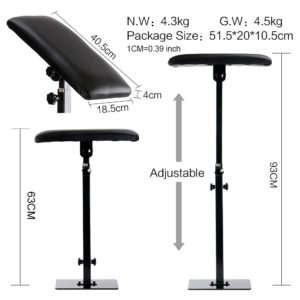 If you have a hard time remembering the brand name, give up already. Only remember that it is an excellent armrest with a cross base. However, that is not the only feature of it though. Read below to find out more amazing features about another best tattoo armrests!
Why We Selected It in Our Top List
Weight And Material
The armrest weighs 2.3 kg because of its iron base. Besides, I ought to tell you that the iron stand is what amplifies its carrying capacity, which is 200 KG. You can let your clients rest their legs and arms on it without fearing it to slip suddenly.
The cushion is all leather with 4 cm thick padding to comfort your legs, feet, and arms.
Adjustment
You can adjust the height of the furniture and use its cushion with some twisted buttons. You can raise the stand from 65 cm to 110 cm while the seat is adjustable beyond 180-degree.
Others
The cushion and base package includes one wrench, four non-slip mats with a black base, and a pack of five screws for the installation process.
You can remove its padded cover if you want. That will make cleaning it easier for you, which is one of the many things you will love about the armrest. Maintaining it is quick and effortless. You can also take care of the cushion simply by wiping it off with towels.
The same goes for assembling it. You will need only three minutes to prepare it for use. Above all, the armrest allows you to ensure client comfort by adapting your work surface to their skin. Tattooists widely use it in their studios and salons.
Pros
Simple to assemble
Quick and low maintenance
High carrying capacity
Adjustable stand and cushion
Cons
It may become rusty after some time.
3. TOPINCN Professional Tattoo Armrest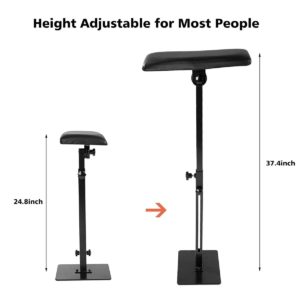 Most high-quality products cost you a bunch of money, which is not unacceptable. But it is a problem for artists who look for quality products with a flat pocket. That, again, is normal because everyone looks for quality regardless of their affordability. Aiming to give them a big smile, TOPINCN made a pro-quality tattoo armrest with a very friendly budget!
Why We Selected It in Our Top List
Material
The armrest has metal desk legs, which keep it from slipping while carrying high weight. Its cushion has pulpy padding to make your clients perfectly accommodated.
Adjustment
The cushion and the stand both are adjustable. You can extend the height from 63 cm to 95 cm and adjust the seat higher than 180-degree.
Others
It is the best tattoo armrest for professional tattooists who own a salon. If you have only started as a professional or are running on a budget, purchasing the armrest will be one of the wisest decisions for you.
Pros
Desk metal legs
Suitable for professional requirements
Adjustable base and seat
Budget-friendly
Cons
Poor lifespan. You may have to switch to another one after a while.
4. DNYSYSJ Tattoo Armrest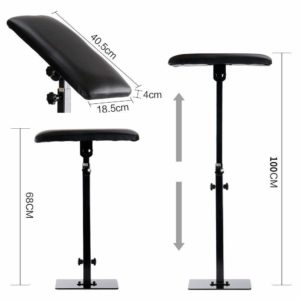 A little spoiler before you check out the review: the adjustment settings of this tattoo armrest are higher than the previous ones!
Why We Selected It in Our Top List
Weight And Material
The weight of the armrest is more than 4 kilograms. But it is still portable and space-saving. All credit goes to its compact design.
Besides, its firm iron-made stand can support high loads, and its PU leather cushion will make your clients feel homely.
Adjustment
The angle of the cushioning adjustment goes above 180-degree. Remember the other adjustment I told you about earlier? It is about the height. It is extendable from 68 cm to 100 cm!
Others
Along with the attractive features, there is a demotivating one you should be aware of – setting up the armrest. You will have a hard time figuring that out because it does not come with instructions.
Pros
Highly flexible stand
Portable and space-saving
Capable of performing for a long time
Cons
The padding may not be well-stitched.
Setting it up is not a simple task.
5. Zerone Tattoo Armrest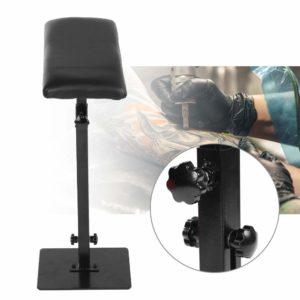 Here is another piece of equipment with professional standards to make tattooing more convenient and enjoyable for you, pros!
Why We Selected It in Our Top List
Weight And Material
The iron-base armrest weighs around 4 KG. If you are looking for a lightweight armrest, the Zerone one may not be the best one for you. Still, look at the features below because they can change your mind!
Adjustment
You can raise the height of the stand from 63 cm to as high as 95 cm. And if you require, you can adjust the angle as much as you want, even if it is more than 180-degree.
Others
To help you install the armrest, the brand sends additional accessories like three mounting brackets, a bracket panel, and a bag of screws with the armrest.
If you have a home office or a small studio, you can place the Zerone armrest there. It will add a comfy look to the entire interior. It will also go with big salons. You can transport it wherever you want and keep it aside when you do not need it.
Pros
A modest addition to any studio interior
Portable and foldable
Professional equipment
Metal legs capable of carrying high weights
Cons
The weight can be a bit heavy
6. InkBed Deluxe Tattoo Armrest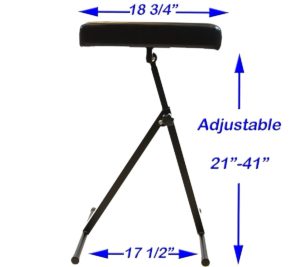 Some of you must have been waiting for InkBed to appear on the scene, I am sure. Hurry up, read about the attributes, and check how many of them tick off your preset criteria!
Why We Selected It in Our Top List
Size And Adjustment
The armrest has a generous size of 18.75-inch length, 4-inch width, and 4-inch depth. Its height is 21 inches, which goes above 41. InkBed made the adjustment settings very flexible for your clients' convenience.
Its upgraded ball-and-socket mechanism offers your clients higher adjustment options. The cushion has two separate tension knobs that you can use to adjust and lock your ideal angle securely.
Material And Others
The armrest has a frame of steel and a thick cushion of PU leather with 4-inch padding. You only have to wipe it off to maintain it.
InkBed has a good reputation for being customer-friendly. Knock them to receive their fast response if you have any problem with the armrest.
Pros
Upgraded technology
Adjustments with high flexibility
Low maintenance
Quality materials
Prompt customer service
Cons
You cannot lower the padding that much, which can be problematic for tattooists.
7. LiFuJunDong Tattoo Armrest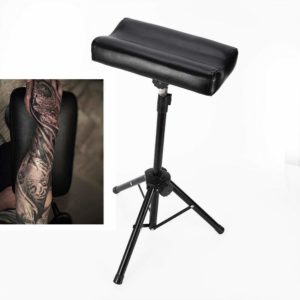 The LiFuJunDong tattoo armrest is slightly pricier than most of the ones you have already seen. But do not let that get on your nerve because it will provide you superior value for your money.
Why We Selected It in Our Top List
Material
If some of the previous ones weigh more than you would prefer, this one will surely cheer you up. It weighs nearly 3.2 KG, and that too because of its iron steel legs that can support 150 KG at once.
The cushion padding of the thick, enlarged, and compressed sponge will give your feet and hands the comfort they require. LiFuJunDong used the upgraded sponge version to provide you the ultimate relief.
Adjustment
The actual height is 70 centimeters. You can expand it up to 100. Turn its bolt to adjust the stand as per your comfort level.
And for the angle adjustment, rotate the buckle design. You can keep it in different directions at your convenience.
Others
The tripod is firm, stable, and easy to fix. It has a screw fixing mechanism that reduces the gap of the brackets.
The armrest is a versatile product, usable for resting your hands, arms, wrists, feet, legs, and shoulders, making itself a must-have for today's tattoo artists.
LiFuJunDong warrants its active assistance in any case of problems. If you find yourself at sea while installing or even operating it, contact LiFuJunDong and get your problem solved right away.
Pros
Thick and well-stitched cushion with upgraded sponge version
Easy to carry
Stable tripod with triangular fixation
Easy adjustments
Warranty available
Cons
A tad pricier
More stability needed
8. DNYSYSJ Heavy Duty Tattoo Armrest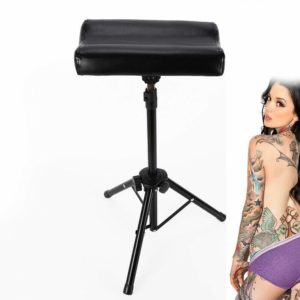 Two DNYSYSJ armrests made their place on my review list. Pay attention while you read this one's review to keep yourself from getting confused!
Why We Selected It in Our Top List
Material And Weight
The manufacturer made the armrest with iron steel. Combined with the black color, the iron steel gives it a sturdy look and magnifies its capabilities. Besides, it protects the armrest from getting rusty.
The armrest has anti-slip metal legs that are tremendously stable and can bear 150 KG of weight at best.
Overall, it is a cozy and relaxing item to rest your feet, arms, legs, hands, and wrists.
Adjustment
You can increase the height of the armrest stand from 27.5 inches to 39.4 inches. Although you might have preferred a higher extension, I am sure you will be glad to know that you can adjust the cushion to any angle to suit your tattoo work.
Others
It is one of the simplest armrests to install, fold, carry around, store, and maintain. If you have a busy schedule with no spare time to assemble and clean equipment often, you should immediately grab this one.
Pros
Premium quality
Non-slip tripod stand
Metal legs featuring rubber ends
Highly convenient for professional artists
Cons
The height adjustment should have had a higher range.
9. Greensen Tattoo Armrest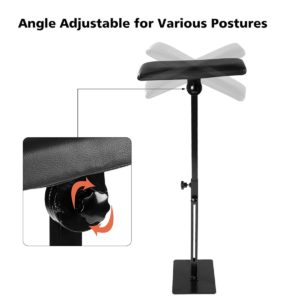 We are almost at the end of the review section. Be sure to keep your patience high because I still have a couple of armrests to review!
Why We Selected It in Our Top List
Material And Weight
The armrest weighs nearly 4 KG with its metal legs. If your studio requires a lighter one, you can check out the small-sized one. The steel frame makes it anti-slippery and keeps it firm while in use.
Adjustment
The height adjustment allows you to change it from 63 cm to 95 cm. For the cushion angle, you can get it above 180 degrees. You can adjust the armrest in any way and every way to keep yourself in supreme comfort.
Others
Tattooists use the armrest widely because of its affordability. Another reason is that you can set up the base with the cushion pretty quickly. The package has some accessories like screws and handles to speed up the process. If you have any queries while buying or using the armrest, contact the manufacturer to get a fast response.
Pros
Portable
Available in two sizes
Not expensive at all
Anti-slippery
10. BoTaiDaHong Tattoo Armrest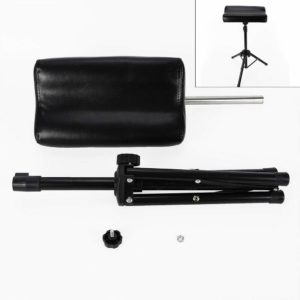 Here goes the last tattoo armrest review. The price may not be up to your expectation. But the product will be beyond your expectation, that is for sure.
Why We Selected It in Our Top List
Material And Weight
The material of the armrest is iron which makes it heavy duty. The frame solidifies it, giving it a longer lifespan.
The lightweight furniture weighs only 3.2 KG. It has metal legs that have rubber ends. The legs support it to put up with 150 KG, and the rubber ends make sure they do not slip while doing so.
Adjustment
The height adjustment ranges from 55 cm to 85 cm. You can adjust the cushioning to any suitable angle.
The cushion is well-stitched, filled with soft padding, and designed uniquely to soothe your body and mind in a quickie.
Others
The armrest is portable, requiring easy upkeep. You will need nothing additional except for a regular towel to take care of it.
Whenever you need any professional guidance to use the armrest properly, you can ask for that from BoTaiDaHong. It is very cordial with its customers and always ready to provide them the best solutions.
Pros
Low weight and portable
Metal legs
Well-stitched cushioning with soft padding
Low maintenance
Professional advice from the manufacturer
Cons
Pricey
Insufficiency in the height adjustment range
Additional Read:
How To Choose The Best Tattoo Armrest?
Like everything else, selecting the best tattoo armrest depends on a variety of determinants. It is not like the best one will always have those, but it is worth trying to find one that meets most of them.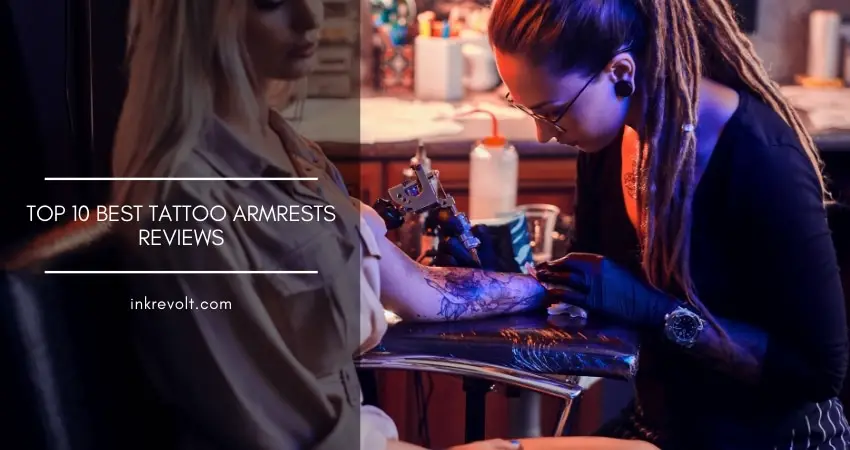 Budget
You do not need to save a lot of money to buy a tattoo armrest. Most of them are available at a budget-friendly price. They are not more expensive than the rest of your tattoo equipment.
They have fundamental characteristics with attractive features. But if I have to say something about quality, I will say that it has a direct and positive relationship with how much you want to pay for the armrest.
And I would suggest you prioritize quality because you will have to use it frequently since arm tattoos are popular. So, it is best if you keep your purse open for it because a good armrest requires low upkeep and serves for years.
Material
Companies make armrests with different materials. However, since the process of tattooing needs to be sterile, safe, and clean, the best armrest should have a frame of metal.
You may get armrests with hardwood bases, but I recommend metal because it is solid and sterile.
For cushioning, always choose softer materials. The synthetic ones are fantastic because they last longer.
Adjustment Settings
The more flexibility your armrest has, the more convenient tattooing will become for you.
For example, some armrests have a fixed height. They do not let you change it as per your client's height. That means you can provide your service to only people of the same tallness.
On the other hand, an armrest with adjustable height settings would let you serve people of different heights. The same applies to cushioning adjustment.
Some armrests have adjustment settings with more flexibility, some with less. You should get a more flexible one so your clients are comfortable and your work becomes more manageable.
Frequently Asked Questions
Have a glance at the most frequently asked questions, even if you do not have one. They are full of essential information about the best tattoo armrest.
Is an armrest really important for a tattoo salon?
Yes, it is. One of the most common body parts to have tattoos is the arm. You will get many clients wanting to get tattoos on their arms. If you do not have an armrest, they will have to put their arms either on their body or somewhere else. And that is tiring and painful.
What is the most important factor for any tattoo armrest?
Comfort. The main reason for having an armrest is to provide your clients comfort. If it cannot do that, there is no point in buying it in the first place.
Are the cheap tattoo armrests not worth it at all?
They are, as long as they have flexible adjustment settings and give you comfort. However, they will become shaky and can break apart soon.
Final Verdict
If you have read all the reviews, you know by now that the armrests do not have majorly distinguishable features among them. They mostly vary based on their price and quality, following which I will give my final verdict.
For outstanding quality, you may look into New Tattoo Store, InkBed, BoTaiHaDong, and LiFuJunDong. Their prices may be higher, but so will be their quality.
But I will not dishearten you. I have included other products that are not expensive but assure you the minimum criteria of good quality service. You can check out the rest to find the best tattoo armrest for yourself.
There are some heavyweight armrests and some lightweight. Some are for small studios, some for big, and some for both. Go through their features, remember the important points from the buying guide, understand what you need for your clients, and get one for yourself.
That is all for today. I hope you enjoyed the read and found it helpful. Good luck and happy purchasing!
We are sorry that this post was not useful for you!
Let us improve this post!
Tell us how we can improve this post?