Best Tattoo Chairs, Stools And Tattoo Beds For Tattoo Artists And Clients
Getting a new tattoo is exciting, of course. But it can often be highly tiring for both the tattoo artist and the client. Completing a tattoo takes hours of relentless tattooing, hence, sitting. That means the tattoo parlor needs to have comfy and high-quality furniture.
If you own a tattoo parlor, you have already guessed what I mean to say. Chairs with poor quality can make you exhausted faster, causing severe back, leg, and arm pain. On the contrary, a comfortable chair is adjustable, conforms to your body, and feels comfortable.
Same is applicable for the sitting arrangement of your clients. So, if you think the furniture in your tattoo parlor needs some upgrade, look nowhere else because I got your back.
In the following sections, I will introduce you to some of the best tattoo chairs for both tattoo artists and clients. Let's dig in!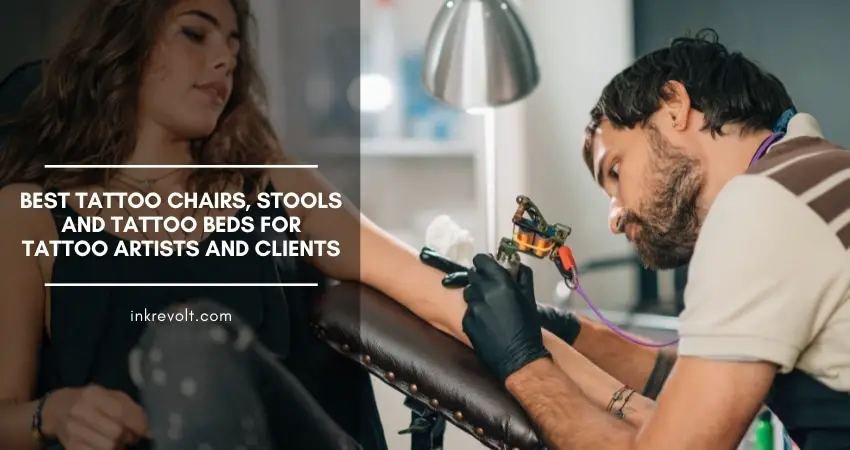 Best Tattoo Artist Chairs: Top Five Picks Compared
Before telling about this section, let me inform you, I will review more than five chairs. And each of them is the best chair in each respective category. Then why am I making this section with 5 picks? Well, to give you a short overview, so you can understand what you will see in the reviews.
For Tattooists Or Clients?
Frame / Seat Material
Powder-Coating Aluminum (Frame), PU Leather (Seat)
As an Amazon Associate InkRevolt earns from qualifying purchases.
I hope you have not stopped here. It was just the trailer. There are going to be many more products with a lot more information. Keep reading!
Best Chairs And Stools For Tattoo Artists: Reviewed
Since it differs between artists and clients, I decided to categorize the furniture based on its users. So, first, I will review five chairs and stools for tattoo artists.
1. InkBed Back Support Technician Stool – Best Tattoo Stool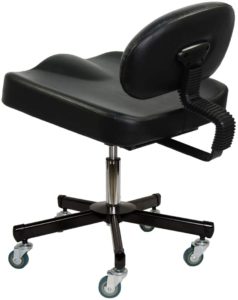 InkBed is a Seattle-based company, which aims to make better chairs and stools for tattoo artists. They were not satisfied with the esthetician beds and steno stools in the market because they were not comfortable enough for long tattoo sessions.
So, they came up with innovative chairs and stools, developed them, and got their best tattoo artist chair – the ErgoStrad.
Why We Selected It in Our Top List
Frame, Shape, And Capability
The frame of the chair is metal-made. It has a rectangular shape.
It has a wide base of 22 inches to support a weight of 300 pounds at maximum.
Adjustment
Its adjustable height is twenty to twenty-five inches. The sliding backrest of the tattooing chair is adjustable up to five inches, a feature that makes the chair distinguishable from others. It helps you find your ideal position and provides lumbar support.
Others
The chair features sculpted memory foam with a thickness of three inches. You can easily wipe it clean.
By the way, did I tell you it will roll to anywhere you have to work?
Pros
Very comfortable
An adjustable sliding backrest
Provides lumbar support
Low maintenance
Rolls everywhere
Cons
Nada! It is indeed the best tattoo artist chair.
2. InkBed Chest And Backrest Support – Best Ergonomic Tattoo Artist Chair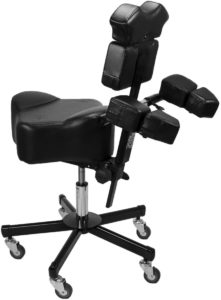 I think the first InkBed tattoo artist chair has already managed to grab your attention. While that lasts, let me review another tattoo artist chair by InkBed. You will love it like the previous one, if not more.
Why We Selected It in Our Top List
Capability And Adjustment
You can adjust the chair from twenty-three to twenty-eight inches. The backrest is adjustable as well. The backrest features a headrest that you can remove if you want. Its width doubles and becomes an armrest when you keep your chin on it while sitting backward. You have to use the armrest either backward or forward.
Others
The memory foam in the chair is six inches thick, while the thickness of the armrests is three inches. Everything is water-resistant, which requires low maintenance for the chair.
The chair is capable of handling three hundred pounds of weight. It rolls with five wheels with a wide and stable base.
Pros
Very supportive
Highly thick memory foam
Water-resistant
A backrest with an armrest
Cons
It does not go down low enough when you have to tattoo specific body parts without having to back-breakingly bend over.
It is not that affordable.
3. Tat Tech Tattoo Stool – Best Tattoo Artist Stool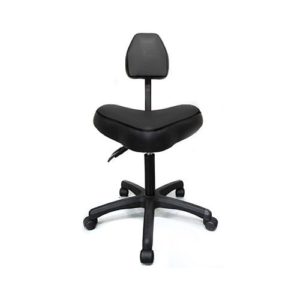 Did the InkBed tattoo artist chairs prices upset you? Are you looking for a stool at a reasonable price? If yes, I got your back (again!). The Tat Tech stool has a cozy seat with a minimal backrest. Besides, it is a cost-effective choice for any tattoo artist running a tattoo shop.
Why We Selected It in Our Top List
Adjustment
You can lower or raise the seat from twenty to twenty-seven inches. The seat is sculpted, whose design helps to keep the blood circulation in your lower body well-maintained.
The stool has a tiny backrest that you can adjust up to ten inches. It will double and become a chest rest if you sit on it backward.
Others
The chair is exceptionally lightweight with only 19 pounds! Any tattoo artist owning a tattoo shop will find a perfect spot for it.
Pros
Lightweight
Affordable
Adjustable chest rest
Regulates blood circulation
Cons
Some may find it too tall to sit comfortably.
4. FRNIAMC Saddle Stool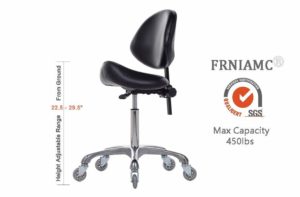 Do not sweat yourself if you cannot pronounce the brand name right. Look at the chair and its style and tell me if you don't like it!
Why We Selected It in Our Top List
Adjustment
You can adjust the chair from twenty to twenty-nine inches when you make tattoos while your client lies in a bed.
It keeps your posture right so that you can sit upright naturally. And in the process, it saves your back and neck from pain and stiffness. Even more, sitting on the stool, you will not get tired when you work long hours.
Others
This lightweight FRNIAMC stool can support 450 pounds at maximum. You will get a one-year guarantee with it.
There are five wheels made of nylon that move the chair quietly. Besides, it is easy to assemble. The frame material is aluminum, while the seat material is leather.
Pros
Lightweight
Prevents back and neck pain
Sets the posture
Very comfortable for long sessions
Capable of supporting 450 pounds
One-year guarantee
Quiet movement
Cons
The design of the chair may not agree well with everyone's physique.
5. CoVibrant Lockable Stool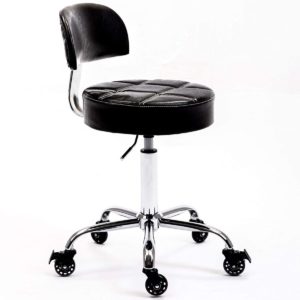 As the title says, you can lock the CoVibrant Stool. Many tattoo artists grow fond of it because of this feature.
Why We Selected It in Our Top List
Lock And Adjustment 
The stool's point of attraction is its lockability. You can knock down on its levers and lock two wheels. That gives you the advantage of sitting still in one position when you make tattoos, keeping your concentration undivided.
The height of the seat is adjustable up to 27 inches.
Foot Ring
If you decide to purchase the CoVibrant chair, be sure to get the upgraded version which has a foot ring. It will prevent your legs and feet from getting stiff.
Others
You can get it to support a maximum load of 300 pounds.
The cushion has a thickness of 3.75 inches. The brand used polyurethane leather to pad it. Your bottom will get the utmost comfort because of the thickness.
The chair weighs only 14.07 lbs and makes no noise while rolling on its wheels.
Pros
Lockable and comfortable
Thick cushion
Quiet movement
Foot ring in the new version
Cons
The lockability may give the impression that it will be suitable for differently-abled people. Unfortunately, it may not.
Best Tattoo Chairs And Tattoo Beds For Clients
The importance of finding the best tattoo chairs for clients and tattoo artists is equal because you and your client both have to sit for a long time for tattoos. So, you have to make sure that you both are in a comfortable position, which requires a great chair.
That is why I made a second list of the best client tattoo chairs and tattoo beds.
In this section, I will review the seven best tattoo client chairs. Do not neglect them, because your reputation depends a lot on how comfortable your clients are when they get tattoos from you!
1. Best Choice Products – Best Hydraulic Tattoo Chairs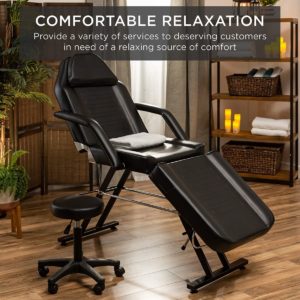 The Tattoo Chair by Best Choice Products is one of the best client tattoo chairs at the fairest bargain. Because of its multifunctionality and additional furniture pieces, it is the top preference of many tattoo artists.
Why We Selected It in Our Top List
Adjustment
The head cushion and the armrests both are adjustable. You can remove the head cushion if you want. It extends to a cradle to help clients breathe comfortably when lying face-down. Thus, it provides them relaxation.
You can also remove the armrests if you want more space. There is also a removable towel rack where you can keep some hand towels nearby.
The tattoo chair comes with an extra swivel stool featuring an adjustable faux leather cushioned stool. It gives your clients restriction-free comfort when you make tattoos on them.
Others
The highest amount of weight the chair can put up with is 500 lbs.
The brand used high-quality steel to build the chair frame. It has a sturdy design, made with faux leather. It will stay new and durable for years. Besides, you will not have to work much to keep it clean.
Pros
Additional hydraulic stool
Adjustable and removable armrests
Removable towel rack
Very relaxing
Multifunctioning – you can use it as a massage bed and a facial chair
Budget-friendly
High weight capability
Cons
Some tattoo artists may not be comfortable making tattoos sitting on a chair while their clients lie on this one.
2. InkBed Client Tattoo Bed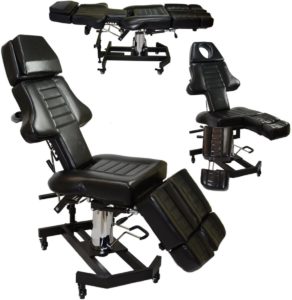 The next tattoo chair is from InkBed. I know that might demotivate you to look further because of the budget issue. But once you get to know what InkBed offers you, you will see how the price resonates with that.
Why We Selected It in Our Top List
Adjustment
The newly patented design of InkBed offers you removable headrests, swing-out leg rests, and a Cobra-style backrest. These adjustment features provide your back awe-inspiring comfort.
You can independently adjust the leg rests. That enables you to make tattoos on any area of one's legs. You can also extend them for taller clients.
There are also some adjustable footrests and hand-rests to keep your clients relaxed throughout the entire tattoo session. You can adjust all of them with a hydraulic lift pump to facilitate every type of customization you want.
Lockability
Yes, you can lock the wheels too! It increases mobility while the client rests on a secure and stable base.
Others
You can make it go flat so that your clients can lay flat when necessary. There is a headrest pillow that you can remove and open the face cradle, so your clients can lie with their faces down.
Pros
Many configurations and adjustments
Lockability
A strong base
Optional armrests
A hydraulic lift of 360-degree
It can go flat.
The leg rests are extendable.
Cons
All of that comes at a high price.
3. Giantex Tattoo Chair – Best Portable Chair For Tattoo Artist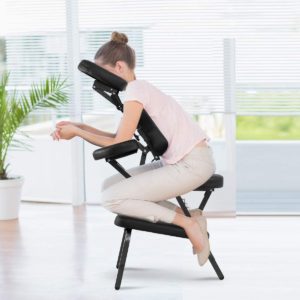 Many tattoo artists have to travel here and there to make tattoos. For them, it is essential to have all the equipment ready at hand, which is why their stuff needs to be light and portable. The Giantex tattoo chair falls into that category. If you are a traveler tattoo artist, you should consider having it.
Why We Selected It in Our Top List
Adjustment
The Giantex tattoo chair is a versatile piece of furniture with an adjustable seat, armrest, head support, and chest pad. Different clients with different body structures will fit right into the chair. It guarantees them a tattooing experience to remember.
To protect your studio floor, you will get footpads with the chair.
Material
The fundamental component of the product is PU leather. It is both oil-proof and water-proof. Hence, it will sustain for a long time. Also, you will not have to bother much about cleaning it.
On the other hand, the frame material is powder-coating aluminum that extends the chair's lifespan by a substantial margin.
Others
The chair has a simple yet elegant style that will match any house setting and studio setting. You can get it for business purposes and personal use. Weighing only 20 lbs itself, the chair can handle up to 350 lbs.
What makes it a lucrative choice for tattoo artists is that it has a flat design that lets you fold it. Besides, it comes with a bag where you can keep it. That makes this Giantex piece space-saving, easy to carry, and the perfect tattoo chair for traveling artists and artists with small studios.
However, just because it is portable and foldable does not mean it is small. Do not get that perception. The Giantex tattoo chair has a larger size than others.
Pros
Lightweight, portable, foldable, and versatile
Compact and space-saving
Footpads to keep the floor protected
Quality materials
Large size
Suitable for personal and business purposes
Cons
The packaging has room for improvement.
4. LCL Beauty Complete Tattoo Package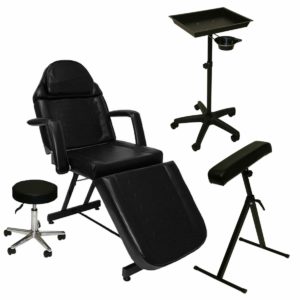 LCL Beauty has brought you a whole tattoo package that includes a client tattoo bed, a portable tray, and an artist chair! If you are looking for a chair for yourself and a bed for your clients, you should read the review. The package might be the perfect upgrade for your parlor.
Why We Selected It in Our Top List
Adjustment
The arms of the chair are removable. You will not need extra tools to do that. If you want to open the face cradle, you can remove the pillow attached to the headrest. The headrest is extendable by 6 inches, in case you have taller clients.
The reclining backrest and extending headrest are customizable as per your requirements.
Others
The bed has a base of welded steel. Buying it would be a prudent investment for anyone looking to get a long-term return because the bed is sturdy and capable of providing its service for years.
The padding of the seat is of four-inch high-density foam to comfort the clients. Its setting is simple. Anyone could set it up within minutes.
Pros
A complete package
Removable arms
Extendable headrest
Durable materials
Densely padding
Simple setup
Cons
It may be a little small for heavyweight people.
5. BestMassage Tattoo Chair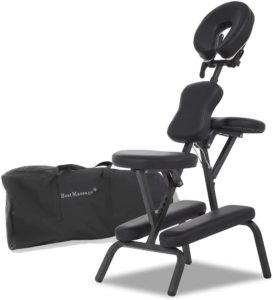 The company designed and manufactured this tattoo chair specifically for professional tattoo artists planning to redecorate their offices. But that does not mean beginners and apprentices cannot use it. They can also install it in their parlors or home offices.
Why We Selected It in Our Top List
Adjustment
The chair is versatile when it comes to changing positions as per body type. You can customize the height and angle of the headrest to have your clients rest on the chair comfortably. It has an adjustable design for different users with different body structures.
The chair itself is also customizable. You can change its height according to the comfort of your clients. The same applies to cushions, hand rests, leg pads, etc. When you set the angles right, your clients get the highest easement.
Material
The heavy-duty grade component makes the chair tremendously strong yet lightweight simultaneously. It has a finishing of high gloss powder-coating that keeps it sustainable for long periods.
The cover of the chair is of PU leather that protects it from oil and water. For the same reason, taking care of the chair will not be a matter of concern for you.
Others
The chair has a flat and compact design which lets you fold and keep it in a nylon carrying case. That makes sure it saves some space and does not get in the way of purchasing it if you have a small office. You can also take it with you anywhere since it weighs 23 lbs only.
You can assemble the chair within 3 minutes and that too without any tools! You will find everything you need to install in the carton. With a static capacity of  700 lbs, the chair can hold 300 lbs at once.
The chair has a padding of thick foam from which your clients will get physical and mental soothing.
Pros
Durable materials
Sustainable service
Flat and compact design
Suitable for professionals
Amazing experience for clients
Inclusion of an Oxford carrying bag
Cons
The headrest may not last long.
The chair is pretty expensive.
6. Malibu Electric Spa Treatment Table – Best Tattoo Table For Tattoo Shop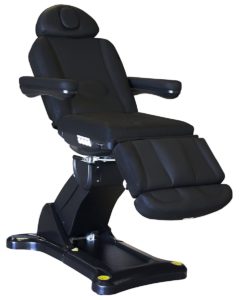 I know you are raising your eyebrows, wondering how a spa treatment table got here. Regardless of its name, it works excellent as a client tattoo table. Let's see what it offers us.
Why We Selected It in Our Top List
Adjustment
There are four motors in the table that you have to use for changing the backrest, set inclination, footrest, height, and other settings.
The table width is 33 inches with its armrest. But it will become 23 if you remove the armrest. The seat angle ranges from zero to ten degrees, while it is between zero and eighty-three degrees for the backrest angle. You can change the footrest angle from zero to eighty-five degrees.
The extensions for the footrest and headrest are around 5.5" and 3", respectively.
Others
The maximum weight capacity of the table is 350 lbs. The high quality of PU leather will make it effortless for you to do the maintenance work.
Do you know the brand will give you a remote control FOR FREE? No? Then why aren't you already checking it out?
Pros
Free remote control
Super-fiber PU leather
Low maintenance
Using motors to make adjustments
Cons
The price may go beyond the budget range for some users.
7. Aesthetic Tattoo Bed By Dir Store – Best Tattoo Bed For A Tattoo Shop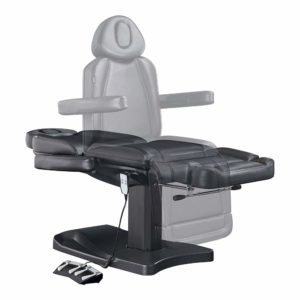 Dir Store made this tattoo bed thinking about everyone because you can use it for anything, be it for facial treatment or medical purposes. But you are here for a tattoo bed, I know. And Dir Store will not dishearten you. Read the review below.
Why We Selected It in Our Top List
Adjustment
The package of the tattoo bed includes a foot remote and a hand remote. Their function is to control the backrest and height adjustments. The other changes that you need to make for the armrest, footrest, foot extension, and headrest, you will have to do them manually. The headrest is multi-functioning, enabling functions like a breathing hole, flat surface, and raised pillow.
You can extend the headrest and the foot extension up to 7". The overall width reduction of the removable armrest is 24".
You can also get plastic covers and a paper holder additionally. They are usually available upon customer request.
Others
There will not be any hassle to assemble the tattoo bed as it will come assembled when you unbox it.
The steel frame of its structure gives it ideal stability to bear 400 lbs of weight at the highest. And the faux leather comforts the clients with its accommodating feature. In case you face any problem, do not forget to use the year-long warranty.
Pros
Two remote controls
Already assembled
Highly stable
Multi-purpose headrest
A one-year warranty
Cons
It is not lightweight and space-saving. So, it may not be suitable for small studios.
8. InkBed Client Tattoo Chair – Best Tattoo Chair For Client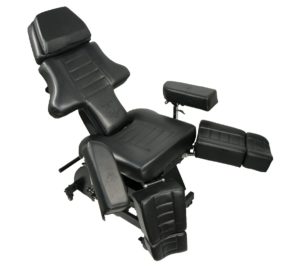 The first artist tattoo chair was from InkBed, and so is the last client tattoo chair. The new patented design has unique features that will earn you wholly satisfied customers. On top of that, you will get valuable equipment for free!
Why We Selected It in Our Top List
Adjustment
The patented design highlights a backrest with Cobra-style. Along with that, there will be leg rests that you can swing out and headrests that you can remove. Moreover, there will be hand rests and rear-facing footrests to keep your clients in complete coziness.
The leg rest design gets them out of your way to manage clear access to the back and shoulders of your clients.
The Cobra-style is to help them get their posture right for back-work. Because of it, you will not need an extra stool or chair.
The extensions of the leg rest and headrest are 7.5" and 7", respectively. The height adjustment ranges between 24.5" and 33" from seat to floor.
Imagine the comfort level your clients will be in when the combination of all the features is in action! I doubt they will want to leave your studio when the session ends!
Lastly, you will not have to use another chair if you need your clients to lie flat. The InkBed tattoo bed stands on a steady steel base that will allow them to do that.
Others
Remember the free stuff I talked about in the intro above? InkBed will give you a removable armrest without charging a penny for it. You can adjust it with height without needing an extra tool. It will enhance the overall stability of the bed.
The price is not very modest, I know. But be sure that you will do a good invest if you buy this tattooing chair.
Pros
Full access to the leg, back, and shoulder areas
Extra coziness
Flat surface
Free removable armrest
Extendable leg rest
Chair-straddle footrest
Cons
Pricey
Difficult to maintain
How To Choose The Right Tattoo Chair?
If you have read the reviews, you may have already chosen the right tattoo chair for your studio. Now you can take the help of the buying guide below to confirm your choice.
Be extra attentive if you are looking for an artist chair and a client chair both. The factors associated with your purchase determine what kind of experience your clients will get from your service by a large margin.
Build Quality And Material
Purchasing a piece of tattoo furniture is a crucial decision for any tattoo artist. For some, it may be a vast investment and hence, a matter of concern. However, while you calculate how much you are ready to pay for it, remember that your investment should be lasting enough.
One of the factors involved in quality is comfort. For tattoo artists, a chair is the same as an easel. The tattoo chairs for artist and client should be able to comfort them when they sit on it. They cannot spend time adjusting every time they use it.
Comfort is a chief concern for your clients, too. You cannot expect them to sit for hours with discomfort. That will only make them steer clear of your tattoo parlor.
The next factor is construction. The best tattoo chairs should be well-built with a durable seat and adjustable features. Then it can keep your clients relaxed and help you stay focused on your job.
You cannot keep quality off the table when you purchase a tattoo chair because it gives people a message. Your clients will notice what kind of equipment and furniture you use. Their perception will impact your reputation. So, even if you purchase a chair at a low price, confirm that it serves up to a modest standard.
Making It Easy For Yourself
As I already said, your comfort matters a lot. Feeling uncomfortable with your seat will make your job harder. And your clients will notice that.
Take some time and think about what kind of chair would make your work easier for you. If you have been a tattoo artist for some time, you can sort out your specific needs already.
For example, if the chair has removable armrests, you will have more space for working and creating. The tattoo chair should be capable of accommodating anyone of any size and shape. So, before confirming your purchase order, check what your selected tattoo chair offers.
However, note that a hydraulic chair is weighty. It will not be your first preference if you have to travel often.
The Space It's Going To Occupy
When you choose a tattoo chair, think about the space of your tattoo studio. Is it big? Or is it small?
If it is big, you can go for a heavyweight and large-sized tattoo chair. Otherwise, you should settle with a lightweight, foldable, and space-saving one.
If you get a heavy table or chair for your small parlor and fail to place it appropriately, it will cause disruptions while you work.
The tattoo chair should fit into your tattoo studio properly, matching the environment and giving off a calming vibe, instead of making your studio crammed with furniture and equipment.
Stability Of The Chair
Tattoo artists usually complain that their chairs are not that stable. Most of the time, it happens when the product quality is low.
But in other cases, when the user reclines the chair too further, it becomes unsteady and sometimes breaks down. That is not only a quality issue but also a safety concern.
Stability is a must for you to do your work perfectly and for your clients to sit in peace. A wobbly chair distracts both and carries risks.
Look for balance when you select a chair. It should be sturdy. You should not be stingy with it. Take it as an investment that will pay you off with its excellent service.
You can find a great chair at any price point like the ones I have reviewed above.
Value For Your Money 
It is your business for which you will invest. You know everything about your workload. You should aim to get the highest value in exchange for your money. So, select a tattoo chair that will tick off most of the criteria, if not all. No tattoo chairs are cheap. Even the least expensive one requires a good amount of money. Make your investment count by buying a chair that will serve most of your needs.
Frequently Asked Questions
Although I am pretty sure I have covered everything one needs to know about tattoo chairs, I picked some questions you ask most frequently and tried to answer them.
Is there any difference between a tattoo chair and a tattoo stool?
Yes. Stools are smaller than chairs. They have no headrests, backrests, and footrests. They are less comfortable for your clients. Also, they do not give you full access to all the body parts of your clients to make tattoos.
Which brand makes the best tattoo chair?
That is difficult to answer. But the most popular brand is InkBed. However, other brands also make tattoo furniture with various features.
Are hydraulic furniture any good?
Yes. The adjustable features of hydraulic furniture help you set the correct posture. Consequently, you can keep your undivided attention on tattooing, which makes them highly beneficial.
Final Verdict
The final verdict will be twofold – one for the artist's tattoo chair and another for the client's tattoo chair.
Each product of the InkBed is the perfect tattoo chair for tattoo artists. Their construction bears the signs of quality, elegance, and comfort. However, if you do not have the budget, you can look into the other three, especially the Tat Tech Tattoo Stool. It is both lightweight and affordable.
For your clients, you can get any chair or bed from the eight I reviewed. If InkBed is not your first choice, you can see the ones from Best Choice Products and Giantex. The BestMassage and Giantex client chairs are the perfect matches for small parlor owners and traveling artists.
On the other hand, if you are setting up your parlor or about to give it an entirely new look, you should check out the LCL Beauty complete package. It has everything you need to decorate your studio.
Above all, which one you will get for yourself is up to you. But if I had to give you advice on making the purchase, it would be to find one with standard features and quality and not let your budget get in the way of that. It is an investment you will not make often. So, it should be one that will last longer and give you satisfactory service because your reputation depends on it.
That is all for today. I hope you have found the article helpful and will soon find the best tattoo chairs for your studio.
All the best and happy purchasing!
We are sorry that this post was not useful for you!
Let us improve this post!
Tell us how we can improve this post?