15 Best Tattoo Power Supply: [Reviews & Buyer's Guide]
Name one essential thing to consider while buying a tattoo machine. (Hint: look at the title!)
Yes, it's the tattoo power supply. I have talked a lot about the tattoo machines. So, I thought, why don't I give some of my attention to other relevant parts of a tattoo machine as well? Hence, the idea of talking about the best tattoo power supplies appeared to me.
Because, again, you can't expect your tattoo machine to perform well if it does not have a well-built power supply. Now, how do you make sure of that? Answer: Research as much as you can, or EASIER, read this comprehensive article! It will shed light on every best tattoo power supply and best wireless tattoo power supply on the market.
That implies that I will review both types of power sources – regular ones that are wired and have no batteries and wireless ones that have no cords attach and run on batteries.
Brace yourself! Reviews are coming your way! But don't worry, they won't bore you. You will get valuable insights and detailed information about each device.
Best Tattoo Power Supplies: My Top 3 Picks Compared
I picked three tattoo power supplies and put their basic specs in the table below. Have a look before you get to the reviews.
Functioning time at 100% charge
Functioning time at 100% charge
Functioning time at 100% charge
Functioning time at 100% charge
As an Amazon Associate InkRevolt earns from qualifying purchases.
However, these are the top list from my point of view. But other notable products await you. Take your time to read all of them and make a list of your favorites!
Best Tattoo Power Supply Reviews (Regular)
There will be 15 tattoo power supplies reviews in total. I will review the regular ones first. Although I prefer wireless tattoo power supplies, I find the regular ones unbeatable when it comes to sturdy performance. So, I decided to talk about their characteristics, benefits, and drawbacks in my reviews. Besides, I will point out everything you need to know, from the technicalities to the ease of their usage.
1. Cheyenne Power Supply PU1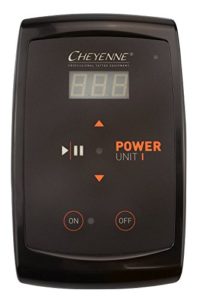 Cheyenne Tattoo Power Supply is one of the most dynamic tattoo power supplies out there. It comes with many attractive features like a touch screen, a digital display, a wall power cord, etc. Have a look at the review below.
Why We Selected It in Our Top List
Compatibility
The first thing I like about the power supply is its ease of use. You can set it up quickly with your tattoo machine.
It is compatible with all the Cheyenne Hawk machines. You can also have it function well with any standard coil or rotary machine.
Touch Screen and Digital Display
There is a touch screen with a digital display featured in the power supply. That makes it convenient for you to make voltage adjustments and regulations.
Built-In Cable Chip 
The Cheyenne tattoo power supply has a built-in starter chip that enables your device to run from 4V to 6V. It also allows a stroke frequency ranging from 60 to 160 strokes each second.
Portable And Compact 
The compact design of the tattoo power supply makes it durable and easy to carry. It is an ideal choice for those who frequently travel.
It also makes the tattooing process hygienic.
Single Output 
If there is one thing to complain about this Cheyenne product, I'd complain about its capability to support only one machine at a time. But if that does not concern you, you can safely rely on its performance.
Warranty 
Cheyenne offers a one-year warranty on this product. So, if you face any problem within a year, don't panic. Contact the manufacturing company, and they will solve the problem for you.
Pros
Compatible, lightweight, and portable
Easy to regulate and adjust the voltage level
Easy stroke regulation
A year-long warranty from the manufacturer
Cons
Unable to support more than one machine at the same time
2. Cheyenne Compact Power Supply PU4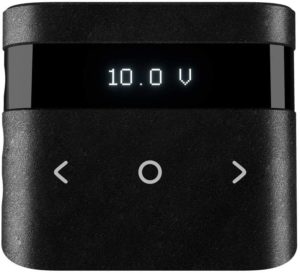 Cheyenne has developed its Compact Power Supply PU4 to cooperate with the most popular tattoo artists in the world to optimize tattooing. The brand designed the PU4 with ergonomics and top quality.
Why We Selected It in Our Top List
Compatibility
The PU4 is the first power supply ever to allow the artists to use it with the Cheyenne SOL devices. It also lets them exploit the SOL group's low-frequency advantage to the fullest.
Now, there is no reason for you to get upset if you do not own an SOL device. Despite being designed specifically for the SOLs, the PU4 is still compatible with other brands' machines. You will only need to get a different adapter cable for that.
Versatile And Customizable 
The compact equipment possesses a magnetic rear and bottom.
It also comes with a clip-attached stand that gives it a versatile setup and makes it customizable.
Two Modes
The PU4 offers you two types of modes to work with when you use a footswitch with it. The modes are momentary mode and latched mode.
If you choose the first one, you must press the footswitch during an entire session. If you choose the second one that facilitates continuous operation, you can press the footswitch from Time to Time during the session.
Other Features
What I love most about the PU4 is that it has four power units. Who wouldn't want it?!?
Besides, it has a stopwatch by which you get to time your tattoo procedures.
The output voltage of the power brick starts at 4.7v and goes as high as 12.5v with an increment of 0.1v. There are two options to view the frequency of stitch – a display with bar graphs or standard digits.
The power supply unit (PSU) weighs only 150 grams. Its ergonomic design stands for utmost comfort.
Pros
Lightweight and comfortable
Compatibility with SOL and other brands' tattoo machines
Two options to view stitch frequency
Four power units
Two modes
Magnetic rear and bottom
A stopwatch to time tattooing processes
Cons
Although Cheyenne allows you to use the PSU with other companies' machines, it does not provide you with a charger for that. I find that as a lacking that Cheyenne should improve.
3. Bronc – Best Professional Tattoo Power Supply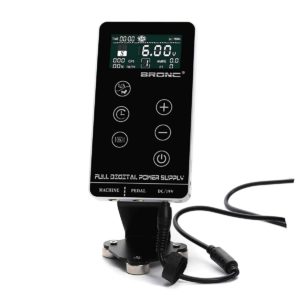 Many of you may not know that Bronc is not originally a US company. It is a US Trademark registered Asian brand. Bronc functions as a supplier of tattoo equipment. It has factories under its name. Besides, you may recognize it under the companies like Bigwasp and Hummingbird.
Regardless of its origin, the brand has been doing exceptionally well with its signature products. One of the products is the Professional PSU, a bestselling Bronc device. Apart from a PSU, there is a power cord and a holder part set in the package. There is also a manual with details of all the operating ways.
Why We Selected It in Our Top List
Economical 
The reason why the Bronc professional is so popular is its price. It is economical yet very reliable. From beginners to professionals, whoever has a fixed budget should get it for themselves.
LCD And Stopwatch
This Bronc piece features an LCD and a stopwatch.
The job of the LCD is to let you control the output level between 3v to 18v. And the stopwatch is for viewing that.
Screen Protector
The PS has a screen protector. You can peel it off and find that the screen does not have any scratches.
Other Features
The power supply is so stable and sturdy that it can operate adequately at 41° to 113°. Simply put, you can safely use it in most outdoor or professional settings. You can make tattoos even at concerts and festivals without getting worried about it overheating.
The machine will work on two modes – continuous mode and inching mode if you use a foot pedal. However, you have to buy the foot pedal additionally for that.
There is an overload system of protection that facilitates the regulation of incoming power while protecting internal electronics from unpredictable power spikes.
The highest level of output current for the PS is 3A with an accuracy of +/-0.1. I am not going to lie. I was a little surprised to see that in a PS at such a price range.
But I was in for more surprise. There is not only a warranty of 12 months but also a guarantee of satisfaction! That means, if you do not find the PS completely satisfactory, you can contact the manufacturer.
Overall, the product is more than worth giving a shot. I would gladly recommend it to either a beginner or one with a budget to maintain.
Pros
Easy operation
Tolerant of high temperature.
Two different modes
Strong protection system
LCD and stopwatch
An output current of 3A
A warranty with a guarantee of satisfaction
Cons
You have to buy an additional foot pedal to avail the modes.
There is a slight chance that you might receive an already scratched unit.
4. Hildbrandt Digital Tattoo Power Supply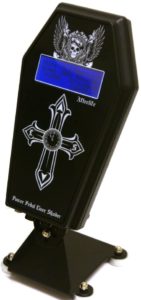 I would request you to click on the link below and see the Hildbrandt PS before reading the review. Because, well, the first impression has the most long-lasting effect, right? While you have found this excellent appearance of the PS appealing, let me let you in on its even more appealing features and specs.
Why We Selected It in Our Top List
Supporting Two Machines
The digital dual PS is capable of supporting a pair of tattoo machines simultaneously. You can easily plug in your liner device and shader device and have them set up in advance. It saves both your time and effort.
Memory Settings And Touchscreen 
Guess how many memory settings the Afterlife has? 3? 5? NOPE. SIX! That too for each device! It will hold the time and preset even when you keep it unplugged.
Then comes the touchscreen. It shows you everything, amps, voltage, runtime, duty cycle, speed, all of them!
Other Features
If you are worried about its safety, don't. It has got CE approval.
You can run it at worldwide voltage when connected with an adapter. The voltage changes are incremental at 0.1, 0.2, or 0.5 V step.
The adjustments of the voltage are incremental. You can increase and decrease them by 0.1v, 0.2v, or 0.5v.
To keep the surface of your workplace smooth, keep the unit on its stumps. You can also use suction cups instead.
Pros
Running two devices at once
Six memory settings
Time-saver
CE-approved
Cons
The unit does not have either a clip cord or a foot pedal. You have to spend some additional bucks to buy those.
5. Pirate Face Digital Power Supply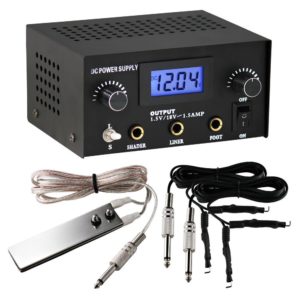 The power supply of Pirate Face is another digital system to support your tattoo machines. Though the company operates in the USA, it offers power cords that match the electrical outlet of any country. That is because the PS functions at worldwide voltage. Due to this enormous convenience, tattoo artists across the world often recommend this equipment.
Why We Selected It in Our Top List
Supporting Two Machines
The unit connects two devices – a liner and a shader. Using the switch flip, you can alternate between the devices and save your time. Either the liner or the shader will run, not both of them at the same time.
Digital Display, Dials, And Output 
The machine runs at any output level between 1.5v and 18v. The digital display and dials let you choose any level between the ranges. The current status is so stable and robust that it can back up any tattoo device in the market.
Other Features
The Pirate Face power supply is user-friendly. With a quality construct, it includes a clip cord and a foot pedal.
It is super flexible and can work anywhere where the voltage level ranges from 110v to 220v.
Pirate Face upgraded the foot pedal by making it with stainless steel. And the clip cord is 6 feet long. If you need the power cord connection to be compatible with the electrical outlet of your country, you have to put a special request for that.
Pros
Supporting two devices
Highly flexible
User-friendly
Budget-friendly
An upgraded foot pedal
Digital display
Capability to back up any tattoo device
Cons
You may need to do some repair work for the equipment over time.
6. Dragonhawk – Best Budget Tattoo Power Supply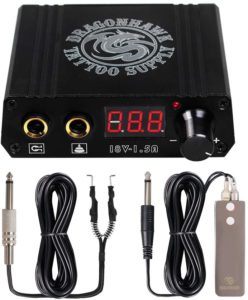 To start, I want to say that this one will cost you a considerable amount of money in exchange for its nifty and slick performance and beautiful appearance. I hope you haven't already scrolled down past this review after reading about its costliness. Thank you. Now, let me give you more reasons so that you fall in love with this masterpiece of Dragonhawk.
Why We Selected It in Our Top List
Digital LCD Touchscreen 
It will almost make you feel like it's a smartphone. Seriously!
However, Dragonhawk has designed this LCD touchscreen to handle the power supply of both the liner and the shader. Like the Pirate Face power supply, you have to press the button to switch from shader to liner and vice versa.
Voltage Settings  
Six different voltage settings are in the power unit, and they are preprogrammed. It has a DC connection with which you can adjust the output level from 3v to 18v.
Design
The most amazing part about the Dragonhawk PSU is its tablet/smartphone-inspired design. I mean, it made me forget about the clunky units that resemble music studios! And that makes it so simple yet inviting!
Any beginner or professional artist looking to buy a lightweight and comfy unit should grab this machine without thinking twice.
Other Features
The PS will work for both of your coil and rotary machines at equal efficiency without you having to switch its modes.
It provides consistent and smooth power output that enhances your machine's efficiency and reliability.
The package offers you a power supply, a foot pedal, a clip cord, and a power plug. You will get a plug that matches the electric outlet of your country.
To sum it up, you will have to struggle to find any flaw when it is a Dragonhawk tattoo machine or accessory. And this power unit will introduce you to the era of smartphones. Once you get in, there is no going back!
Pros
Lightweight and easy to use
Capable of handling liners and shaders at the same time
Accurate and fast activation
Adjustable voltage for liners and shaders both
Designed like a smartphone
LCD touchscreen
Cons
The price is well-justified. But I am still keeping it as a con because some tattooists may not afford it.
7. Dragon Art Digital Power Supply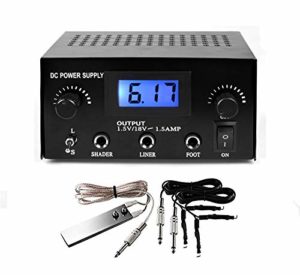 There are many dynamic power supplies available in the market. But unfortunately, not every beginner finds them equally user-friendly. Keeping that in mind, I decided to review this Dragon Art PS, especially for the new artists. I hope most of you will find it worth buying.
Why We Selected It in Our Top List
Digital LCD Display
The Dragon Art equipment comes with a digital LCD. The display shows you the voltage level and lets you change the modes (lining and shading). The dual power dials allow you to adjust and regulate the current output level that starts at 1.5v and ends at 18v.
Control
Beginners find a power supply hard to use when they cannot control it properly. Dragon Art solved that problem by making a machine with a low-profile (ultra) design. The design makes the unit easy to use and provides you with perfect control.
Other Features
Just because it is suitable for beginners does not mean it cannot perform professionally. It is a pro device built to provide service for a long time.
You will get two clip cords and a foot pedal made of stainless steel along with the power supply. Moreover, it has a built-in overload protection system that relieves you of safety concerns.
If you are still doubtful, let me assure you that there is nothing to lose. The manufacturer offers a satisfaction guarantee on this product. In case you do not think it is good enough after using it for a while, you will get your money back.
Pros
LCD
Better control
Overload protection system
Beginner-friendly
Uncostly
Money-back guarantee
Cons
The unit does not allow you to use two machines at once. You have to press the switch and alternate between them.
8. Tekpower Power Supply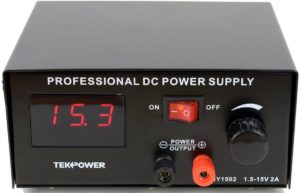 If you already know this power source, you might be thinking why I am reviewing it here. And you are right to believe that because it seems like this product is getting popular because of its use in hobby electronics and not tattooing.
But it is suitable for tattooing as well, and that is why it made it here. Let the rest of the review convince you about that.
Why We Selected It in Our Top List
LED Display
The Tekpower unit gets you an LCD screen so you can read the output level. There are banana plugs in its foot pedal, and they control and connect a secure lock to get the maximum power quality.
Voltage Level
The current output level of the machine is a fixed amount of two amps. However, you can adjust the voltage level from 1.5v to 15v. See, it has everything like a tattoo machine power supply!
Weight
The machine is lightweight and easy to handle. From your office to your traveling, it can work everywhere every day without giving you any troubles. It will make a fine addition to the other supplies of yours. Besides, although it has a durable design, it does not cost much.
Other Features 
The equipment has got approval from CE. It is safe for your use. It also has a year-long warranty. Furthermore, if you do not like it, you can avail of its money-back guarantee of one month.
Pros
Lightweight and travel-friendly
Digital LED display
A 12-month warranty
A 1-month money-back guarantee
Cons
Unfortunately, the machine does not include any additional stuff. It does not have any clip cord or foot pedal. You have to purchase them separately.
Best Wireless Tattoo Power Supply Reviews
Now, after reviewing eight regular power sources, I am moving on to the wireless ones. As they are rechargeable, wireless, and space-saving, they have got huge demand in the market.
1. Hawink Mini – Best Rechargeable Tattoo Power Supply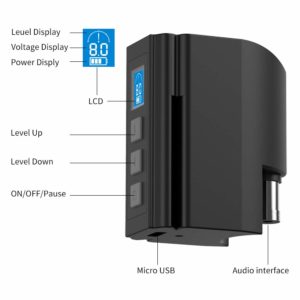 Here comes the one I have been waiting to discuss! This Hawink Mini Rechargeable Power Supply is a wireless device, and it is an absolute slayer! Wait till you find more about it.
Why We Selected It in Our Top List
Battery 
The mini PS has a Lithium battery with 2400mAh! It runs at a voltage range from 4.5v and 11v. Depending on the motor and voltage level, it can operate for more than 7 hours with 100% charge.
If you have two packs of these, you can smoothly finish an entire day of tattoo session!
Here's a little tip: if you want to increase the battery lifespan, make sure you charge and then discharge it once a while. Do it at least once every month. It's even better if you can do it more than once.
Digital LED Display
You can see and read the output level in its digital display that will give you accurate results.
Other Features
The weight of the machine might make some artists uncomfortable. But the quality will surely make up for that. Being wireless, this type of machine makes the hassle of working with cords go away.
It is also a solid performer. It supports your tattoo machine efficiently that contributes to impeccable tattoo designs.
You can check out the instructions to learn more about its usage in detail.
Pros
Wireless
A robust and long-lasting Lithium battery
Digital LED display
High quality
Admirable performance
Cons
It is heavy.
The voltage increment is 1.5v. Some tattoo artists might prefer it if it was less than that.
2. Illusionist Mini Rechargeable – Best Digital Tattoo Power Supply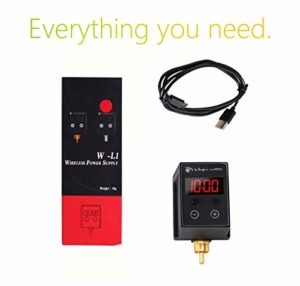 The Illusionist Mini Rechargeable Power Supply is another wireless power unit that has mind-blowing features. Remember the cons I discussed in the last review? Well, Illusionist has come up with its mini-unit that is free of all those problems!
Why We Selected It in Our Top List
Battery 
The battery of the Illusionist mini has a large capacity of 1950mah. It will last for 5 to 8 hours, varying with different voltage levels. Three hours is enough for it to get ultimately charged.
Voltage 
The lowest voltage level of the power supply is 4v, and the highest level is 11v. You can land on any level between them.
What's more, it has an increment of 0.1v! As I said, it would blow your mind!
Weight And Design
For those looking for wireless and lightweight power supplies, this power source should be on the top of your list. Its weight is only 2.4 ounces. Its cube design facilitates an intense gravity center that helps your hand keep more balance.
Other Features
The unit's build has a polycarbonate casing that works like a shock-absorbing system when you drop it accidentally. Also, it will not let there be any scratch on the body.
It contains a USB charging cable of Type C. Therefore, you can start tattooing just after unboxing it.
Pros
Lightweight and accommodating design
Polycarbonate casing
1v voltage increment
Large battery capacity
Cons
The power supply cannot work with the Cheyenne devices.
3. Mast U1 Rechargeable – Best Tattoo Power Supply For Rotary Machine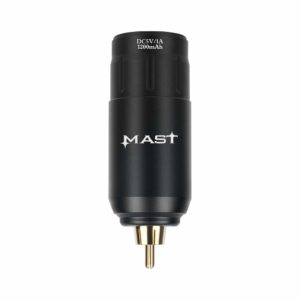 The Mast U1 power supply is one of the most positively reviewed wireless units in the market. It works with most of the RCA rotary machines.
Artists adore this beauty because of its ease of handling and portability. But that's not all of it. Glance below to know more about this product.
Why We Selected It in Our Top List
Battery
The Mast Battery is one with a capacity of 1200mah. It takes 3 to 6 hours to gain 100% recharge.
Five indicator lights represent the status of the battery capacity. When the charge is complete, the lights stay on while the overshoot protection takes place.
Voltage 
This wireless equipment has different levels of voltage so that it can fit all the tattoo styles.
The starting voltage of the unit is 10v that is automatically set. You can choose any voltage level between 6v and 11v according to the need of your device. The increment of the voltage is 1v.
Machine Compatibility 
It concerns many artists if a particular PS is compatible with their tattoo machines. Well, that should be the least of your concerns if you have a Mast U1. It gets along with every standard RCA tattoo pen.
However, to get the best out of it, the manufacture recommends using it with must shuttle and mast tour pro rotary tattoo machines.
Other Features
It is smooth and straightforward to use this machine. Pressing and holding the power option on the top of it is all that you need to do.
Pros
No complex setup
Flexible and comfortable
Overshoot protection
Excellent quality
Cons
The absence of any warranty might demotivate you to buy this. In case the machine starts malfunctioning, you won't have any choice except to purchase a new one. However, with its durability, you can expect to use it for long.
4. Yilong Professional Mini – Best Affordable Tattoo Power Supply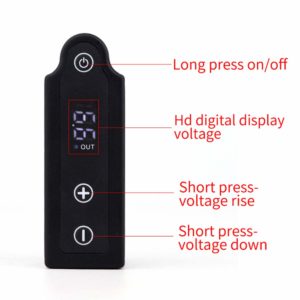 Many hobbyists and enthusiasts are unsure whether the profession of making tattoos is right for them or not, whether they should seriously consider becoming a pro. Hence, to give it a trial, they look for really inexpensive accessories that will do their thing and assist the artists in their work.
Thinking about them, I selected the Yilong Professional Mini Power Supply. It is wireless, and so hobbyists will find it highly manageable. At the same time, it is one of the most affordable devices available. I mean, any artist could bag it.
Before I get into the details, let me assure you that it is as good a machine as it is supposed to be at its price.
Why We Selected It in Our Top List
Battery
I always say how quality matters in every aspect when we are about to make a purchase decision. Even when I recommend you some inexpensive tattoo equipment, I make sure that you get the minimum standard value from the products.
The Yilong product is one of them. It runs on a Lithium battery. See, it's not always true that low price indicates cheap quality.
In exchange for 1 hour for complete recharge, the battery serves you for 3 hours at a stretch.
Digital LED Display
You might have noticed that most of the products reviewed so far have got either an LCD or an LED display. Since it comes at a lesser price than most of those machines do, you might have expected that you'd have to miss the feature in the Yilong mini.
But no. Yilong made sure you get to have a digital LED display that will give you real-time voltage display whenever you want.
Voltage Control 
The output of this mini-unit starts to range between 4.2v and 12v. You can change the voltage level with an increment of 0.3v. You have to make a long press on the button and switch it on or off. To change the voltage levels, click twice.
Design 
The build of the wireless unit is of plastic. I know that it may not be what you look for in a device like this. But it has a great design. It is small in size and weight. You can take it with you whenever and wherever you want. It is very accommodating for artists that often do outdoor works.
Other Features
The PS has both options for you to choose from a DC connection and an RCA connection. You can pick whichever suits your tattoo device. The unit lets tattoo pens and rotary machines run without any clip cords.
The package includes a wireless power source and a piece of USB cable. It has no foot pedals.
Pros
Neither large nor heavy
Capable of handling outdoor tasks
Perfect for beginners
Digital LED display
Option to choose from DC and RCA
Highly affordable
Dependable service
Cons
The material of its build may be a concern for some users.
It cannot run continuously for more than 3 hours.
5. Ambition – Best Professional Wireless Tattoo Power Supply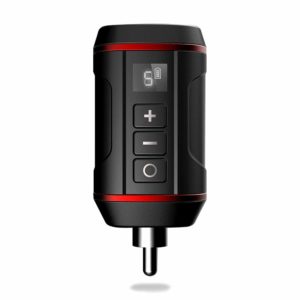 The Ambition Professional Wireless Mini Power Supply is a genuine match for professional artists who want a first-class quality power supply, even beginners who are ambitious about the profession and are sure to give it a go. In my opinion, it is the best wireless tattoo power supply. And the features it contains are fantastic.
But enough with me being crazy about it. I ought to tell you why you should be crazy about it as well, right?
Why We Selected It in Our Top List
Battery
The PSU has built-in first-rate lithium batteries with 3x600mah quality. 3.7v is their working voltage, and 2A is their output current level.
The machine has the advantage of fast charging to get the batteries ready with full charge within 1.5 to 2 hours.
The average voltage level is 8v, at which it can work around 6 hours stably and efficiently without any break.
Digital LED Display 
Its LED display exhibits the output voltages that correspond to the input level (5v to 12v). You can adjust them within a blink.
Material
If you have to travel often to do tattoo works, the Ambition mini is a match for you again. Ambition made the power source with exclusive insulating plastic and aluminum alloy. It is tiny and portable.
Other Features
The power supply will work with most of the tattoo pens, liners, and shaders. You will get a power unit and its USB cable in the package. Ambition supplies require USB cables to recharge.
Pros
High-quality construct
Powerful batteries
As tiny as 73 grams
Full charge within a short time
Digital LED display
Highly flexible
Cons
NO CONS! YES! I get a con-free product once in a blue moon! I hope now you approve of my obsessive behavior about the Ambition mini!
6. Hawink Rechargeable Tattoo Supply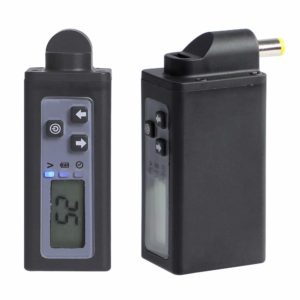 You have already read a review about a Hawink mini wireless power supply. While this one will resemble the other one in some ways, it has its unique characteristics. Therefore, it deserves your attention as well.
Why We Selected It in Our Top List
Battery
The machine has a Lithium battery that has a 2000mah battery capacity. Varying from one voltage level to another, it can perform nonstop for approximately 8 hours when it has a full charge.
A pair of the battery will smoothly get you through a whole tattoo day.
For a longer lifespan, this battery also needs to be charged and discharged each month at least one time.
Digital LED Display
The unit has an LED display that will show you the correct voltage reading whenever you want. The voltage level varies from 5v to 12v.
If you can recall, the other one had a voltage increment of 1.50. But this one had a .10 increment. That's much better.
Other Features 
The PSU does not weigh too much. But if you are only into featherweight machines, you better avoid it. However, its quality is super.
All in all, the Hawink mini delivers a praiseworthy performance and contributes to the performance of your tattoo device.
For further details, you can follow the instructions.
Pros
Lithium battery with high capacity
Nonstop performance for 8 hours approx.
.10 voltage increment
Value for money
Cons
Its weight might be a concern for some users.
7. Yuelong Tattoo Kit With A Wireless Power Supply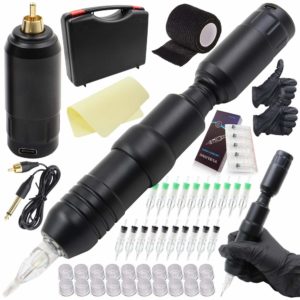 Yes, it is a tattoo kit. And no, it was not supposed to be here. But it has a power supply which I found too good to skip. Let me explain why.
Why We Selected It in Our Top List
Versatile
Yuelong designed the power supply to fulfill all your tattoo requirements. It also shows you the remaining amount of energy of the battery. At 1A, the battery will perform for nearly 4 hours. At 8v, it will perform for as much as 8 hours.
Voltage Adjustment
The power button has a voltage adjustment option that varies from 6v to 11v. You can change it with a 1v increment.
Other Features
The power source works efficiently by transmitting high-quality power.
It weighs little. So, it won't become burdensome when you travel with it. It enables rotary pens to function without any foot pedals or clip cords. That makes it more user-friendly.
Apart from protection for output short-circuit, it also features protection for dual input charging.
Pros
Only 57 grams
Portable and durable
Rigorous protection system
Cons
You can buy it only if you have a rotary machine.
If it goes dead, you have to connect it with its charger to get it running.
You cannot use it while putting it for recharge.
How To Choose The Best Tattoo Power Supply?
This section is a buying guide to simplify your shopping process. It will make your purchase a lot easier if you are new to this because the guide will tell you essential things about power supplies. If you are a professional, I'd still suggest you read it. There may still be specific components about which you should learn.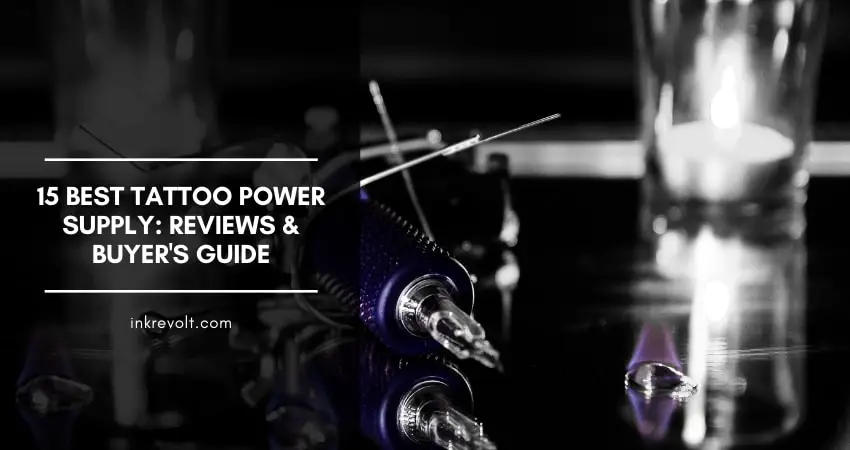 The Types Of Tattoo Power Supplies
There are two kinds of power supplies – digital and analog.
That is nothing that should confuse you. Almost all machines have their digital and analog versions. However, you can use both types of power supplies when it is a tattoo machine.
If you can read and understand electrical values and are good at dealing with analog devices, an analog PS will be of much use at providing steady readings.
However, if you can't read power values and voltage levels or if doing so seems problematic to you, you can go for the digital version. A digital power unit will tell you the voltage and power when you power your tattoo device off. It is professional and works with more accuracy.
Many digital units feature a touchscreen LED display that makes the whole settings more spontaneous than the outdated devices would do.
Next time you go to the market, remember to notice both regulated and unregulated power supplies. Digital PSUs are available in both models. But a regulated digital PSU will cost you more than an unregulated one. Nevertheless, I'd recommend a regulated model because it provides flawless results enabling you to check it while working instead of checking the screen now and then in the middle of a tattoo session.
Along with these two types, there are wireless PSUs as well. The wireless ones are a savior when you have a small tattoo studio. As they are wire-free, they save you the trouble of clearing the clutters of wires.
That is why they are becoming more popular each day. But the thing is, the wire-free advantage comes at the price of performance. I don't mean to imply that they are not good. It's just they cannot take much load, like hooking three or four devices to them. But they are still the best option for artists who prioritize comfort and want to save space.
Finally, there are also power units with dual power. Companies manufacture them, targeting the professionals mainly. As the name suggests, a PSU can typically handle two machines simultaneously in one session. It usually supports separate lining machines and shading machines.
So, that's pretty much all about the power supply types. Let's move on to the next thing to discuss, voltage.
Output Voltage
The voltage is of paramount importance when choosing the best tattoo power supply or the best wireless tattoo power supply. Because the voltage level determines the amount of power that you will get. It also has enough significance since it is about powering the tattoo machines. The higher the voltage level, the more tattoo devices it can hook. (I will get back to it sometime later.)
Every tattoo machine offers you different voltage outputs, so you can choose whichever meets your demands best. Some units can host only 1.5v or 2v. On the contrary, some can run from 10v to 15v. Most of the machines run at this range of voltage.
You will also find some running at 18 or even 20v. Those machines are the strongest among all of them.
I should mention that just because you are looking for the best tattoo power supply does not necessarily mean that you must get a super-powerful PS. If you have one or two tattoo machines and have no equipment that requires high power energy, a PS with a lower voltage level will serve you most.
Do not forget that a higher voltage level also indicates that your clients might feel it if the device malfunctions. That means a PS can be a great tattoo power supply for you only if you select one aligning with the specs of your other equipment.
Finally, you have to follow the safety concerns and pick a regulated PS with a reasonable amount of power.
Your Tattoo Devices Matter Too
Again, looking for the best tattoo power supply requires you to realize that you can't just go for a power supply that has quality, attractive specs, and great reviews. Yes, those things are important because they help you to understand which ones are worth purchasing. But it is more vital for you to realize that companies manufacture every power supply for a specific kind of tattoo device.
That implies that some units will perform perfectly with coil machines but not with rotary machines and vice versa. I cannot stress it enough on the point that you must consider this. You will spend quite an amount of money on the power supply unit, and indeed you do not plan to replace it after a while. So, if you buy the wrong one or end up causing a malfunction, it will be tough for you to recover.
Therefore, always check what purpose your tattoo device serves and what kind of unit powers it.
While I am still on the subject, think about how many devices you want the PS to support. Some artists are comfortable with a single device to make lines and shades both. But some prefer one device for one particular task. So, they look for a power unit that can meet the requirements of individual devices to perform separate actions.
When you are checking out power supplies, check how many plugging spots they have. If you prefer two machines for two actions, choose a unit that is capable of handling them. That will make it comfortable for you to switch the devices while making a tattoo. I think clients that do not want to stay in the studio for a long time will also find it appreciable if you choose that option.
Display Screen
Many power sources feature a screen, although the older models do not. Nonetheless, the ones featuring a screen may have a readable one or a touchscreen using a LED or an LCD. You can choose either of them. But if you ask my opinion, I would recommend the touchscreen. It is very advantageous for users who find the power supply readings quite tricky.
Portability
Although some artists do not like portable equipment, they are very nifty to work in small-spaced studios. They are also helpful in outdoor settings. Besides, many companies are making wireless power supplies at present. They help you preserve your studio space for something else and avoid the messes of different wires that can often become troublesome and even cause interruptions during work.
If you still don't prefer wireless machines, I wouldn't press you to choose them because wired PSUs function equally great as I have just reviewed the best ones among them. The point here is that you should consider the criterion and see which one works better for you before you buy a power source – be that wired or wireless.
Price
There is usually nothing much to say about price when it comes to equipment. You know, quality and price, what a machine offers at which price, that is pretty much all.
But there is more to the market of tattoos. It is somewhat strange when you look at the prices of tattoo kits. That is because you may find a PSU so cheap as $25 only. On the contrary, you will also find some as pricey as $500! That is not only because there are many kinds of power supplies but also because there are regulated and unregulated devices, as you have already read earlier in the buying guide.
Unregulated power units are more user-friendly and budget-friendly for users that have already bought and used them. But unfortunately, they are not that safe to use because they cannot handle when power fluctuations occur. On the other hand, regulated units make up for the power fluctuations that occur when your machine operates.
It is up to you to make a budget and invest in getting a power unit accordingly. But, unless you aim to buy a super-portable device, you should buy a regulated and reliable PSU that is within your budget (considering it meets your demands). Otherwise, you would be setting a trap for yourself.
Frequently Asked Questions
Users, especially beginner artists, have a lot of questions about tattoo power supplies. Thinking of helping them out with that, I have gathered the most frequently asked questions that artists typically have. I will answer each of them below. I hope the answers help you.
Which one is better – getting one PS for one device or getting one PS that can handle more than one machine?
Though some artists set up individual machines – one for using liners and the other for using shaders, it is convenient to have a tattoo power supply. It enables you to connect two devices at once. Just a flip of the switch will do the job. This perk will eventually add up to your final tag of price.
What is the task of a foot pedal?
Which one is better – regulated or unregulated?
In my opinion, it is a regulated machine because it is the safest option. When you ensure safety, you provide each of your clients a good tattooing experience. You know how much importance that has.
What Should I Make Sure Of While Setting Up My PSU?
Setting up power supply is quite simple. I'm going to make a list to answer that. Here's what you should do:
1. Make sure you have connected the clip cord with the foot pedal in the proper manner.
2. Double-check the connection between your machine and the clip cord.
3. If everything is orderly, push on the pedal while holding the device in the tattooing hand.
4. If there is no immediate buzz, it probably indicates that you should increase the voltage. Slowly dial it up until there is a solid buzz.
What Is Perfect Voltage Setting For My Tattoo Power Unit?
To put it simply, the best practice while making lines is to run the machine from 7.5v to 8.5v. However, some prefer it at 6v. In the case of making shades, most of the artists use 8v to 10v.
How Do The Digital Power Supplies Differ From The Rest?
The all-digital power supplies work the same way, but without any knobs. Instead, there is a menu for navigation on their digital screens. You have to use the menu to set the level of voltage.
Apart from all that, if you want to save the presets for your most favorite machines, they will let you do that too. That keeps the devices ready to start working with only the press of a switch.
Final Verdict
I have talked about the 15 best tattoo power supplies, and I tried to be as detailed as possible to make it simple for you to comprehend. So, now that I am at the end and about to give my final verdict, I will try to keep it short and sweet.
From the aspects of battery capacity and functioning duration, you can look at my top 3 picks. If you find products having warranties more reliable, you can get Cheyenne, Bronc, or Tekpower PSU. They are also portable and easy to use.
Check out Bronc, Yilong, and Pirate Face power units if you want a decent machine within a good bargain.
There are also others that I am not going to mention here and prolong the ending. The title already says that it is about the best PSUs. So, each of the reviewed products is the best tattoo power supply from different aspects.
Again, read the buying guide thoroughly, figure out what you want from a power supply, what purposes it can serve, and then decide. Following those steps correctly plays a crucial role in making the best purchase decision.
That would be all this time. Thank you for keeping up with me.
We are sorry that this post was not useful for you!
Let us improve this post!
Tell us how we can improve this post?