Top 13 Best Wireless Tattoo Machines Reviews & Buyer's Guide
So far, I have talked about many tattoo machines. But today, it is going to be different because today, I'll be focusing only on wireless tattoo machines. Why?
The reason is none other than you, the tattooists. Most of you have to travel frequently for work purposes. Naturally, you'll prioritize a machine's portability when you purchase one. And a tattoo machine being wireless makes it more portable and user-friendly.
That is what gave us the thought of coming up with the best wireless tattoo machines. I'll review the tattoo machines. Once you get to know about all of them, you can decide on which one to purchase.
There are going to be loads of reviews. So, it's going to be a long read, sure. But it's also going to be one of your best reads, guaranteed!
Best Wireless Tattoo Machines: My Top 5 Picks Compared
The table below contains the major specs of 5 products that I thought are the best of the bests. It is basically to introduce you to them briefly. If you have no time to read the reviews or only want to learn about the champs, this table should serve you right.
Frame Materials
Stainless Steel Spring mechanism
Travel friendly construction
Aircraft Aluminum Alloy Enclosure
As an Amazon Associate InkRevolt earns from qualifying purchases.
However, that was only the beginning. I am going to review way more products than 5. Stay tuned unless you want to miss out on them.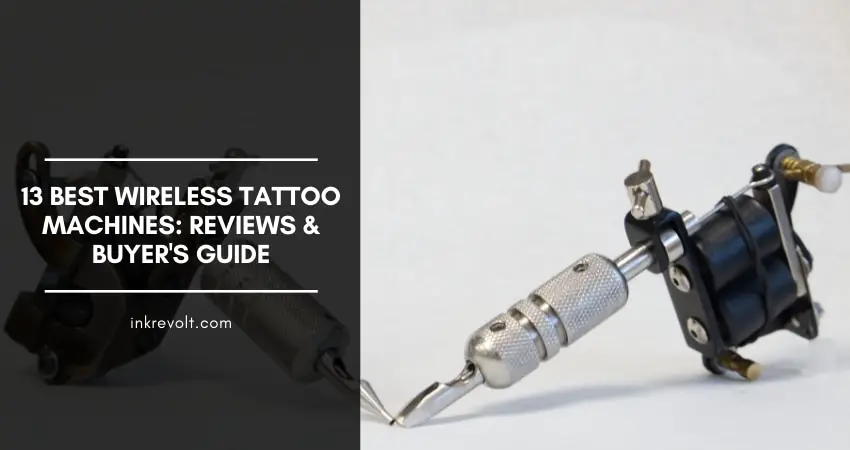 13 Best Wireless Tattoo Machines Reviews
I have picked the best 13 wireless tattoo machines for you. But you may wonder on what basis I chose them. Well, the primary criteria are performance, quality, and price. How user-friendly the product is, whether it has a quality motor or not, if it is durable, what a tattoo pen machine kit includes, what kind of tattooist should buy which tattoo machine – all of these topics (and more) will be in the following discussions.
I'll also bring in the plus points and the drawbacks that you should know beforehand. Moreover, I will break down the technical terms to make them more perceivable for you.
So, here I go!
1. Mast Archer – Best Rotary Pen Wireless Tattoo Machine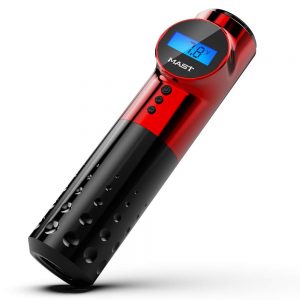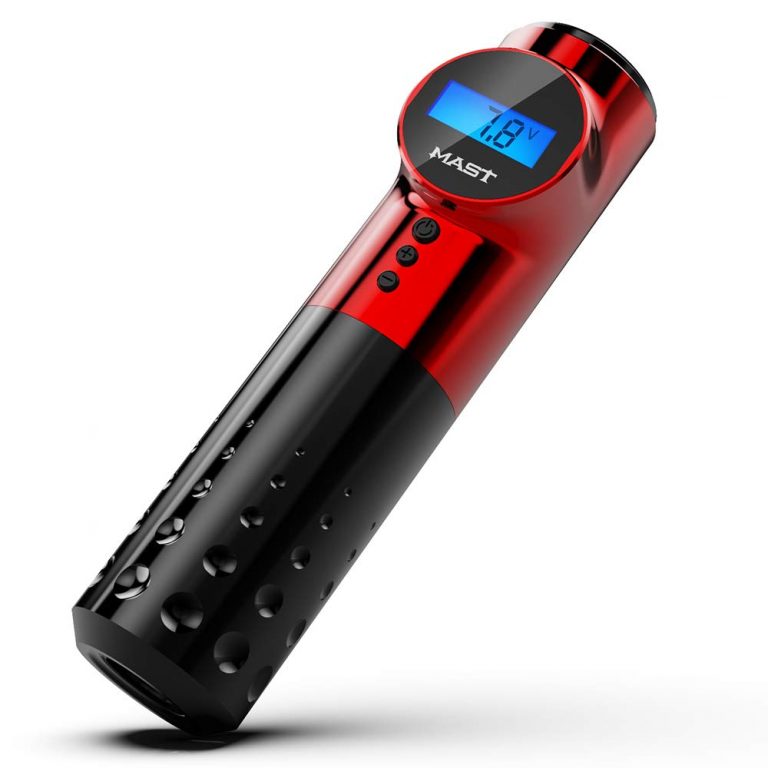 Mast Archer is another beautiful piece of Dragonhawk. You'll find it available at a reasonable budget. Beginners can give it a try.
The package includes a Mast Archer, a USB-C type charge cord, two substitutable grips, and a gift box.
Why We Selected It in Our Top List
Battery
The battery of the Archer is a wonder. It has a battery capacity of running 8 hours without showing any sign of trouble. What's more attractive is that you will need only a couple of hours to get it fully recharged.
Gear System
The device owns a leading-edge gear system that will deliver you silent, soft, and smooth operation.
Performance
You will be amused at its performance. It gently makes the ink transfer to the skin and makes sharp lines and shades. And it suits every skin type as well.
Voltage Range And LCD Screen
The operation voltage of the pen starts from 5v. Its highest working voltage is 12v which very few tattoo machines in the market have. At such voltage, you can try any tattoo work with it.
Besides, the pen has an LCD screen where you can see the read and change the voltage. It is a huge plus point for the Archer.
Substitutable Grips, Needle Depth, And Stroke Length
There are two substitutable grips that you can sterilize using an autoclave. The needle depth is adjustable like that of the Mast Tour pen. And the drill is the same – rotate the grip.
This wireless tattoo machine has a standard length of stroke which is 3.5mm.
And oh, it gets along with any cartridge needle.
Other Features
The tattoo machine is 186g. So, no. It is not that tiny. But surprisingly, it requires low maintenance. You can effortlessly cover and protect it.
Pros
Highly capable battery and gear system
Satisfactory performance
Adjustable needle depth
Low maintenance
Affordable
Voltage easily readable and changeable
Voltage range high enough to handle any tattoo work
Beginner-friendly
Cons
Seeing the plus and minus buttons can be difficult enough while wrapping the device to avoid any contamination.
Sadly, the Archer, while a true champ, is one of the chunkiest wireless tattoo machines. A lot of you may think it a huge drawback. But some getting used to can change the situation entirely.
2. Mast Tour – Best Wireless Rotary Pen Machine With Battery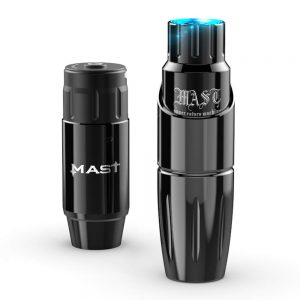 Even if you are a mere enthusiast, I am sure you have heard of Dragonhawk. You will see the name everywhere that is related to tattooing. That is because it makes world-class products. The Mast Tour Pen is one of them. It comes with a Mast Tour Pen and a Mast Wireless Battery. How about I start with this one?
Why We Selected It in Our Top List
Battery
The battery of the Mast Tour pen is mighty. It helps the wireless tattoo machine to stay balanced. It will provide you with uninterrupted service of at least 3 hours. To be 100% charged from 0%, it takes only 3 hours. You will get it with a cable for charging purposes.
The grip size is 25mm with which most of the artists should adjust. Plus, there is a power button at the end of the top. It lets you see the remainder of the battery charge.
Motor
The motor of a wireless tattoo machine tells a lot about it. The Mast Tour has a Japanese coreless motor. It is quiet and will serve for 3000 hours at the very least. It won't get hot. Nor will it give you headaches with any vibration. You can work comfortably with it.
Performance
The pen will generate precise lines. While it is an excellent grey and black shader, it rocks at color packing too. It can pack colors faster. This way, it ensures a less painful experience and more quality.
Needle Depth & Stroke Length
It is adjustable from 0mm to 4mm at max. You have to rotate the pen's battery to do so.
With a stroke length of 3.6mm and proper depth adjustment, you can be confident about making unique tattoo designs.
Other Features
The pen is as cute as 82 grams! It is always ready for you to carry and travel.
Pros
Tiny and travel-friendly
Adjustable needle depth
Efficient performance
Powerful battery and motor
Quiet functioning
Best healing results
Cons
If you have to be out traveling and tattooing where you won't get the time or chance to recharge the battery but need the battery to perform for most of the time, it is better to keep an extra battery for a backup option.
3. Stigma Rotary Tattoo Machine Pen Kit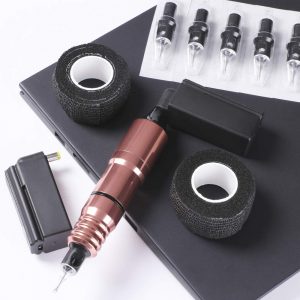 Stigma is renowned for making the most budget-friendly wireless tattoo machine kits like the EM125. It is a package of two batteries, one carrying case, twenty cartridge needles (pre-sterilized), and other essentials.
Why We Selected It in Our Top List
Battery
With a battery of 1500mAh, it provides good value for your money.
It also has a beneficial feature. It has indicator lights that tell you the voltage level. For example, if there is one light, the voltage level is at its lowest. When you see each of the five lights, it will indicate that the tattoo machine functions at its highest voltage level. At that level, it should last 3 hours, give or take.
Please note that you are strictly advised to run the device at more than its maximum working voltage (12V) for the sake of the tattoo machine itself and its power supply.
Here's my favorite thing about the Stigma tattoo machine: it has TWO batteries! That means you can work with one of them while recharging another. The indicator lights will also tell you when you should switch them. Impressive, right?
Motor And Gear System
The Stigma Wireless Tattoo Machine has a robust Japanese motor and a powerful gear system. So, you can be sure of getting silent and sound operation from it.
Performance
With everything that the machine comes with, you may have rightly guessed that you can depend on its performance. The Stigma is an absolute rocker when it comes to the lining work. If you are looking for a liner, you should check it out.
Other Features
The rotary device is very well-built with a frame of premium Space Aluminum. It weighs as little as two ounces. It won't be burdensome when you travel carrying it.
It has an adjustable needle depth of 0-4.5mm and a stroke length of 3mm. It adjusts with every cartridge needle. The needles are sterilized with gas and are packed individually.
Last but not least, it is CE-certified and offers a warranty of one year! It's a win for any buyer.
Pros
Attractive rose gold appearance
Lightweight
Two batteries with indicator lights
Compatibility with cartridge needles
A year-long warranty
Cons
Batteries may not sink well after a while.
You may have to replace the batteries since they do not last long.
The needles are not as standard as they should be.
4. Solong Rotary Wireless Tattoo Machine Kit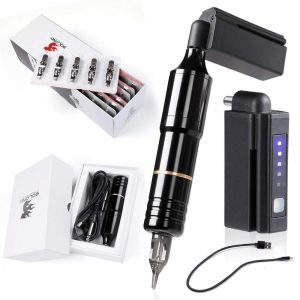 Solong is one of the most significant companies that manufacture tattoo equipment. Every Solong product will win your heart. Talk about this wireless Solong tattoo machine kit – it has 40 pieces of cartridge needles, a power supply, a foot pedal, a power cord, gloves, and other stuff.
Why We Selected It in Our Top List
Motor
The rotary tattoo pen is powerfully equipped with a 10w Taiwanese motor. It will last longer, stay unwarm, and vibrate a lot less than other machines while functioning. It has a stable and durable unibody.
Power Supply/Battery
The power supply of the kit is wireless. Hence, it is a rechargeable battery. It will provide you with accurate and quick voltage adjustments. It is efficient and will improve the stability of the wireless tattoo machine.
You can use the battery as a usual power supply so long as you connect it with the DC 5.5. If you want, you won't need to use it.
Besides, it is a 1500mAh battery. Don't expect a lot from it. It would be wise of you to keep a backup.
An advantage of the battery is its compatibility with other batteries that have the same DC connector.
Performance
The Solong pen pulls off beautiful lines, shades, and colors. It is a reliable performer.
Moreover, the pen is not only versatile at tattooing but also great for permanent makeup. Guess you didn't see that coming!
Other Features
The pen is built with Aircraft Aluminum Allow with anodized finishing. It will prevent the pen from scratching.
Besides, this lightweight machine has an ergonomic pattern. Solong made sure that you get to use a high-quality machine and that too with utmost comfort.
The needles are sterilized and packed separately. Their ink flow is better and adequately shaped.
The tattoo kit is also CE-certified. You will have the chance to avail its one-year warranty.
Pros
Comfortable to use and handle
A warranty of one year
Quality materials of the frame
Beginner-friendly
Better flow of the ink
Proper functioning at all three activities
Little to no sound or vibration
Exclusive motor
Cons
There are 40 needles in the kit. But they are not of different sizes.
5. Hawink's Corn Rotary Wireless Tattoo Machine Kit (EM136)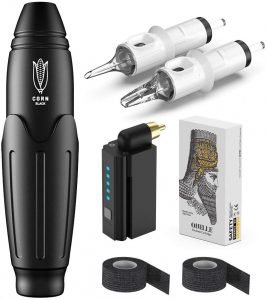 The Corn Tattoo Kit is one of the recent innovations of Hawink. I am sure you are wondering about the name. It came from the machine's barrel that has a shape like a corncob. And the kit includes wireless tattoo machines, a battery, needles, and grip tape wraps. Let's have a look at its review now.
Why We Selected It in Our Top List
Motor
The motor system of the Corn machine is quite impressive; I can tell you that. Its shaft rotation is smooth, and its torque is vigorous.
Battery
The Corn Pen has a rechargeable battery with an RCA cord connection. The capacity of the battery is 1500mAh. Depending on what the voltage level is, the battery can work for approximately 3 hours.
Performance
Following a much more precise tattooing procedure than the conventional ones, the machine performs perfectly. You will be amazed at its color packing.
It offers a lot more than it is supposed to in its price. Beginners looking for a piece of sturdy equipment to polish their skill should go for it without thinking twice.
Other Features
The Corn Pen is not heavy and is easy to manage.  It goes with every cartridge. Its lowest operating voltage is 7v, and its highest is 11v. If you operate it at more than its highest voltage level, you will cause mechanical wear and motor overheat. Therefore, be careful about the machine's operating voltage level.
Many buyers complain about getting products with damaged packaging and become upset when the producer does not do anything about it. But Hawink is different here. If you, by any chance, see that the tattoo kit delivered to you has damaged packaging, contact them ASAP. They will make the arrangements to replace your product.
Pros
Sturdy and user-friendly
Great value for money
Flexible replacement policy
Cons
You cannot expect to do well using the given battery, especially if you have to travel a lot. The battery does not last much longer. It will cause troubles during your long sessions abruptly if you do not have backup batteries.
6. Hawink Rotary Wireless Tattoo Machine Kit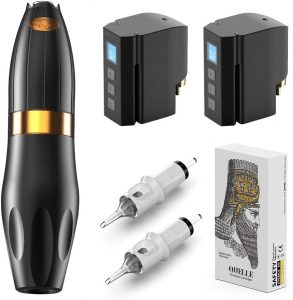 It is again a Hawink product. Yes, Hawink is that good!
This Hawink product has fantastic specs that you will love. To see if it fits your requirements, check out the review below.
Why We Selected It in Our Top List
Battery
The wireless tattoo machine comes with two batteries. It lets you travel and work in longer tattoo sessions without having to worry about the battery charge. You can always switch to the other machine when one needs to gain its full power back.
Motor
The coreless motor makes the machine as amazing as it is. Tattoo artists love this machine mostly because of its motor.
Performance
You can use the pen to make lines, shades, and colors. It will flawlessly do all of that. The pen, while super quiet and highly adjustable, hits the exact amount and makes lovely tattoos.
The pen transcends many other machines when it comes to doing small and intricate tattoo designs.
Professionals have a liking to the product. For beginners, it is nothing less than a treasure. It is everything they'd need to become a pro.
Operating Voltage
The operating voltage of the corn pen starts from 5V. It can run at a voltage level as high as 14v. That's a unique thing about this machine. You will find very few devices that can work at 14v.
However, note that just because it can handle 14v doesn't mean you can try an even higher voltage level. That will end up in unwanted circumstances.
Other Features
Although this Corn Pen has a simple setup, it weighs 168g. If you are used to using lesser-weight devices, you should not go for it. But if you are okay with giving it some time to become easy with it, you are more than welcome. It will not disappoint you in the long run.
Pros
Incredible performance
Suitable for beginners and professionals both
Two batteries
A motor with high power
Cons
Its weight may be a disadvantage for many tattooists.
The batteries are heavy too. When it is onboard with the wireless tattoo machine, users may fail to keep a balance while working.
7. HAWINK WE Wireless Tattoo Machine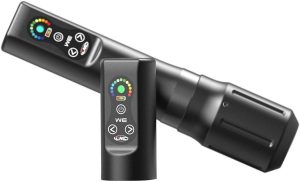 Hello from Hawink again. The CNC-M-WE is the first wireless tattoo machine made by Hawink. Many tattooists do not want to risk buying a cheap machine fearing it will provide disappointing service. The Hawink WE is here to prove them wrong. And here is how.
Why We Selected It in Our Top List
Battery
The wireless pen has a striking battery pack. It has rainbow LEDs that tell you the amount of charge left.
Unfortunately, its capacity is 900 mAh only. So, you can have it running for 3 hours, probably 3.5 hours at max. But if you look at the bright side, the pen has two batteries. That's a huge relief.
Another advantage is that the batteries take approximately 1.5 hours to be recharged. According to Hawink, the efficiency rate of the batter is around 85%. That's quite a lot, no?
Motor
The WE machine has a motor named WE. Hawink itself made the motor, and it is the shortest one they have made so far.
The energy consumption of the motor is much low. It is an energy saver that is meant to align with the green concept WE.
It is also helpful that the drive motor requires nothing much to function with almost no vibration. But there will be punches in plenty.
Performance
I would be overstating if I said it is the best machine of all. But it is not a poor-performing tattoo device either.
When you get something at a low price, there is a limit to what it will give you in return. And the WE device makes sure that whatever it gives you is worthy and more than what any other device would offer within the price range. I guess that that is something to settle for happily.
Other Features
Apart from one rotary pen and two pieces of batteries, the package also has a Type-C cord and a professional manual. The manual will come in handy for professionals, apprentices, and starters altogether.
With the battery on it, the machine weighs about 6.2 ounces (almost 176 grams). I usually don't recommend heavy machines. But I would vouch for this one. I highly appreciate how Hawink managed to introduce a product like this at this price. Also, Hawink frequently offers discounts on its products. Take note of that.
Even after that, Hawink gives the buyers a twelve-month warranty. Often tattoo artists who have a tight purse wish for something that wouldn't lack in quality. It seems like Hawink got their wish fulfilled.
Pros
Cheap in price yet standard in quality
Suitable for all types of tattoo artists
Two batteries with LEDs and a high rate of efficiency
An energy-saving motor
Cons
Not every user will find it comfortable to use because of its weight.
The lifespan of the batteries is not as long as one would have expected.
8. Ambition Rotary Tattoo Pen – Best Cordless Tattoo Machine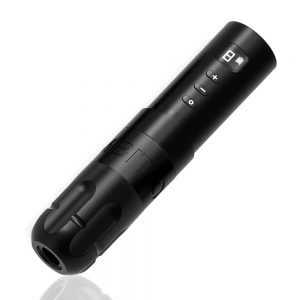 The Ambition wireless rotary tattoo machine is another piece of beauty. Due to its stunning appearance and dynamic characteristics, it has won accolades from tattoo artists.
The machine package includes a tattoo pen, a battery, a USB cable, and a box.
Why We Selected It in Our Top List
Battery
The capacity of the battery is 1800 mAh. It is the most powerful battery we have discussed so far. It is capable of working for 6 hours at most if you run it under 8v. Therefore, it should easily do the daily work. In addition to that, it does not take more than 2 hours to be fully recharged.
It has a visible LED gear screen that displays the charge level and the voltage level. It is pretty simple to view and adjust.
Motor
The wireless tattoo pen features a 9w brushless motor that is built in it. Its maximum speed is 10800 rpm. It will not bother you with a loud noise, nor will it start overheating during a long shift. Overall, it is steady, and you can count on it.
Performance
With a stroke length of 3.5mm, the Ambition works precisely and makes razor-sharp lines and shades. It has an advanced drive system that enables it to deliver soft, quiet, and smooth performance that results in ideal healing.
Another substantial benefit of the device is that it suits any skin. You can safely use it on your clients' skin without worrying whether the Ambition will cause any harm to them or not.
Other Features
It has a frame of aluminum alloy, and CNC carved shell. You can have it for rough use and disassemble it whenever you want.
The Ambition weighs more than 200 grams. But before you cancel your decision to buy it, know that it is very flexible to use. You can use the rotary pen to work on every tattoo style. If you are not terrible at using heavy devices, you should think about it.
Pros
Flexible
A battery with tremendous capacity
Admirable performance
Safe for every skin type
Eligible for rough use
No loud noise during operation
Cons
It may be too chunky to use for some users.
9. Solong Tattoo Kit Rotary Tattoo Machine Pen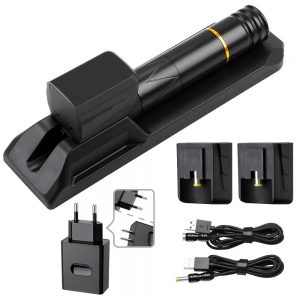 We already have introduced Solong to you folks. It is time we got another Solong product out of my collection. The Solong Rotary Machine Kit includes one piece of tattoo pen, two pieces of tattoo batteries, a base of tattoo pen, a USB cable, and a USB charging cable.
Why We Selected It in Our Top List
Battery
Machines that come with a pair of batteries have my extra attention, no wonder. This one is one of those machines.
Both of its lithium batteries are 760mAh in terms of capacity. They take only an hour to be recharged. They run at 6.4v-8.2v. Depending on the voltage level, they can operate for 2 to 3 hours.
They weigh 45 grams each, and their weight distribution balances well with the machine.
Pen Base
The wireless rotary machine has a pen base. The base is controlled magnetically. There is a magnetron switch in that base on which if you put the pen, the motor will stop working. When you pick that up, the motor will start again.
Motor And Performance
The device runs with a Japanese coreless motor with a sophisticated gear system that will ensure a noiseless and stable performance from the machine. It runs at a voltage control of level 9 from 6.4v to 8.2v.
The device is both a liner and a shader. It demonstrates superior performance at both types of works. While you make tattoos with it, your creativity will start to spark differently.
Other Features
Solong made sure of the quality of the machine from its top to bottom. Its frame is made with Aircraft Aluminum Alloy Enclosure. That makes the machine durable and flexible. You will feel very cozy while using it.
However, here is something you should seriously consider. Do not use different voltage adapters for this device. It comes with one for its own. Using other adapters may shorten the lifespan of the battery.
Also, have the battery charged and discharged each month. It is better if you can do it more than once. But once is a must.
Pros
Two batteries
Hi-tech motor and gear system
Quality materials
Long-lasting
Cons
The battery capacity is not much, so the batteries cannot operate for more than 3 hours.
10. M PMU Gold – Best Wireless Permanent Makeup Machine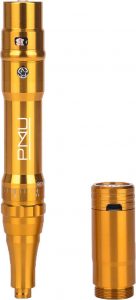 This wireless machine is slightly different from the other devices. It is a permanent makeup machine and one of the best of its kind. Yes, we have kept makeup devices here because many of you may be more interested in permanent makeup than in tattoos. So, we decided to have something for them too.
Now, back to the PMU machine. There is a makeup pen, a DC/AC adapter, a battery, and its charging line in the package. It has worldwide popularity among masters and trainers.
Why We Selected It in Our Top List
Battery
The pen has a lithium battery that runs for about 3 hours. You will have to give it at least a couple of hours to get fully recharged.
Performance
The makeup pen is a premium product. And it is wireless. So, if you are a tattooist who has become exhausted making tattoos with wired devices, close your eyes, and give this one a go. It is just the right thing for you.
It can do ombre powder brows, complex eyebrow tattoos, and any other permanent makeup you want. What is great about it is its quiet functioning. It will neither affect your concentration nor disturb your clients.
Other Features
The pen has an adjustable needle depth that ranges from 0mm to 2.5mm. Its speed limit starts at 8000 RPM and ends at 1600 RPM. You will get three options to adjust the speed. The highest one is 7200 RPM, the middle one is 68420 RPM, and the third one is 6300 RPM.
The AC adapter and the DC adapter's voltage levels vary from 100V to 240V and 4.2V to 1A.
Pros
Premium quality
Versatility
Adjustable needle protrusion
Noiseless performance
Featherweight
Available in different colors: black, gold, silver, and pink.
Cons
The battery charge does not last long.
11. Charme Princesse – Best Permanent Makeup Wireless Rotary Tattoo Machine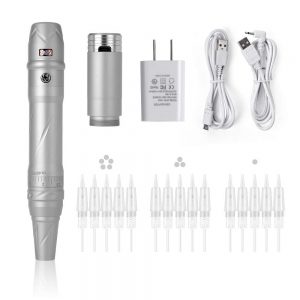 The name alone is enough to get someone hooked, right? But wait. You got to let it charm you with its performance. So, here is the review for you.
Why We Selected It in Our Top List
Battery And Motor
There is a piece of rechargeable battery with 900mAh capacity. Along with that, there is a control gadget. It allows you to work nonstop by switching the batteries.
It has an advanced German motor that enables the machine to work steadily for a long time at high speed without making any noise.
Switchable Gear And Rings
You can switch the gear at three levels: 7200r/min, 6840r/min, and 6300r/min.
The pen even lets you switch its scale ring. As a result, you can make precise stroke adjustments.
Performance
The Charme Princesse is a multifaceted machine. It will provide you with eye-popping MTS, lip, eyebrow, eyeliner, and small tattoo designs too! I already told you it's a charmer.
Other Features
The device has 15 needles of different sizes that are 1rl, 3rl, and 5rl. That ensures your freedom to make various types of designs.
It has a self-lock system that locks the needle head. The company has designed its frame with Aluminum Alloy. So, there is no need to worry about leaving sweat stains or fingerprints on the frame. Full of royal stuff, no?
Pros
Multifunctioning
Impeccable performance
Three gear levels
Switchable scale ring
Needles of different sizes
Self-lock system
Safe for using
Cons
The machine may start to get warm due to continuous use.
12. Pinkiou – Best Wireless Micro-Pigmentation Rechargeable Pen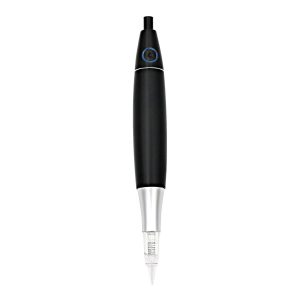 Pinkiou pen is another popular choice for everlasting tattoo designs. The package includes a lamination machine and a plug adapter.
The first thing most novices look for in a device is whether it is user-friendly or not. Well, dear beginners, you can safely get this one. However, do not forget to read the following details.
Why We Selected It in Our Top List
Battery
The battery of the pen is a lithium one. You can run it uninterruptedly for two hours. If you have to work daily and need a pen for rough use, it is for you.
Motor
The motor has a vigorous micro-pigmentation machine. It comes with three gears that enable the pen to run at 240v at max. Its velocity is 35,000 rpm. And you can control the velocity. It is what makes the device different from others.
Performance
The tool is ideal and professional. It can beautifully contour any face part like lips and brows. It can make tattoos as well. So, if you have taken it for a beginner device that cannot handle professional works, you are wrong.
Other Features
You know how an accidental button press can ruin things? To solve that problem, Pinkiou made two separate on and off buttons in its product.
The pen not only feels like an original pen but also resembles it a lot. The credit goes to its especially done ergonomic design and shape.
Pros
A new and different design
Stable, strong, and noiseless
On and off buttons
Comfort and quality together
Controllable velocity
Cons
The needles are not sharp enough.
13. BMX Rotary Tattoo Pen Machine Kit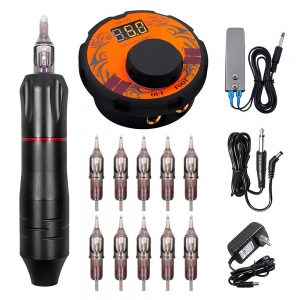 Many artists do not want to buy all the tattoo equipment separately. They look for a package that would bring them all the basic stuff together. Sadly, most of them have to be disappointed since a complete AND quality package is rare to find.
So, we found one of those rare beauties for you: BMX Rotary Tattoo Pen Machine Kit, my showstopper today! Along with the tattoo pen, the BMX kit gets you a foot pedal, a connection cord, a power cord, and ten cartridge needles.
And there is an instruction book for you too!
Why We Selected It in Our Top List
Motor
The 4.5w motor and the gear system both are terrific. These two work efficiently and almost noiselessly. You can make tattoos in a peaceful environment. And we all know the importance of the right environment for making tattoos.
Another significant feature of the machine is its handiwork. You do not have to worry about working in longer sessions. The tattoo pen will not cause any disruption by getting warm.
Performance
The BMX wireless rotary tattoo pen is an all-purpose tool that will fulfill all your lining, shading, and coloring needs expertly. The lines and shades will be neat. Packing color will become a piece of cake for you.
Power Supply
The power supply of the kit is the most highlighted part of the kit after the machine. You can adjust the frequency and intensity of the power as per your requirements.
It works stably between 6v and 9v. You can increase the voltage level by turning up per 0.1v clockwise or turning down per 0.1v.
To adjust the foot pedal, you will have to press the voltage button. If the light is on, it means the continuous mode is on. If otherwise, it indicates that the device is working under the switch mode.
However, there are no on and off buttons in the power supply. If you do not work with it for 5 minutes, it will automatically sink into the sleeping mode to lessen the power usage. The display will also be closed. If you touch it or switch on the voltage button, it will wake up and begin to perform again.
Other Features
The third most highlighted thing about the machine is its self-protection feature. It will disconnect the power immediately when the user operates it incorrectly. After that, you will have to touch it, and it will again start functioning normally.
You will not find the machine complex at all. It is super simple to manage and handle.
The weight of the machine is 130g. You can use it without putting in much effort. It has the shape of a rocket that gives it a different appearance and represents the producer's talent and creativity.
You will get a one-year warranty on this product. Along with that, there will be technical support whenever you need it. And that is for all your life. So, there is no risk in buying this kit. I hope that will rescue you from your indecision.
Pros
Dynamic motor and gear system
Very well-packaged
Reliable performance
Almost no noise and vibration
Unibody frame
Not heavy
Adaptable with every cartridge needle
Cons
You will have to buy ink and transfer papers separately. It may be a little disappointing in case you expected it to be a complete package. But considering the quality and service of the things the kit comes with, it is money spent well. That is for sure.
How To Choose The Best Wireless Tattoo Machine?
It is always challenging to choose one thing among many. It is even more challenging when you have the best options in front of you. So, before you begin to feel overwhelmed after reading 13 reviews (a big kudos to you for that), look at the guidelines below.
Read all of them carefully. They will help you a lot in setting your requirements. And once you realize what you want, you will be halfway through choosing the best wireless tattoo machine for yourself.
Battery Range
Before anything else, remember to always, ALWAYS consider the battery range while checking out a wireless tattoo machine. That requires to look into three criteria: the battery's running time while working, its charging time, and its lifespan or durability.
Among those three criteria, the most crucial thing is the battery's running time, I think. That only includes its functioning time, not its charging time.
It is of grave importance that you monitor any change occurring in power when you make tattoos. It could be a red flag that the battery is malfunctioning.
If that happens, I highly recommend you replace the battery with a fresh and fully charged one as early as you can.
Overall Weight
A wireless machine displays flexible usage and increased productivity as you do not have to handle bulky cords anymore.
However, since the battery takes the place of cords, it will add some weight to the machine. But if it is heavy, it will make the device feel heavy. As a consequence, it will become difficult for you to work with the machine.
Keep in your mind that you are buying a wireless tattoo machine to get rid of cords. But, to solve that, if getting a wireless device brings in another trouble, it will not be worth spending extra bucks.
So, do not consider the machine's weight only. Do check out the machine's overall weight when its battery and other stuff are attached to it.
Compatibility Of The Needle
Usually, sellers sell needles separately. Most of the tattoo devices have particular dimensions of needle protrusion. That is why they are not compatible with other needles.
The same applies to wireless tattoo machines. So, if you end up getting a device that requires no cord connections, I suggest you get some needles that are compatible with your device.
Also, you can ask your provider about tattoo needles that would adjust with your wireless device.
Compatibility Of The Machine
The compatibility of the machine comes after the compatibility of the needles. Some specifications only comply with wireless features.
For example, you will be surprised (if not frustrated) if you test a coil machine with the battery of a wireless device. The coil machine won't be able to respond well because of the mismatch.
The tattoo companies emphasize modifying their tattoo device models and creating wireless configurations with their rotary devices.
If you want to test your device, take into consideration that it must have an RCA connection.
Comfort
I have always put importance on comfort when it comes to the tattoo machine. I insist that you care about comfort when you think of buying a wireless tattoo machine. You will have spent your money on the right equipment only when it is more comfortable than its wired competitors.
Get a device that is easy to handle, one that will fit your style and will not compromise with your hand's speed. A device designed ergonomically with a good grip will provide you with a better and more comfortable user experience.
Machine Kit
Wireless Tattoo machines mostly come with a kit including batteries, foot pedal, adapters, charging lines, compatible needles, and tattoo guns. Their prices vary based on the additional parts as well as their quality.
It is a tradeoff that you have to make while selecting a wireless tattoo machine. A higher price will give you more functionality, and a lower price will contain essential features alone.
Buy whichever works for you. But do not do that at the cost of quality for some extra dollars.
The Power Supply
I've already mentioned that wireless devices are still in the stage of evolving. Thus, many models vary depending on the connections with their power supplies.
As they use battery packs, their power supply systems are more compliant and easier to use.
See how your wireless device connects to its adapters and whether plugging it in and using it with the battery are simple or not.
The most popular device models are those whose battery has the feature to adjust the voltage level. That is a pretty helpful feature.
On the contrary, other devices will allow you to use the same feature but with a different battery pack. It will be calibrated to run at your chosen voltage level.
The cordless system will identify which battery to use, and its controller will provide you with real-time voltage readings while running.
Frequently Asked Questions
Now, I will answer some of the questions that most of you usually ask. I hope that you find the answers beneficial.
What is a wireless tattoo machine?
A wireless tattoo machine is a battery-operated tattoo machine that does not require a power cord or any other form of physical connection. This allows tattoo artists to move freely and work with greater ease and comfort.
What are the benefits of using a wireless tattoo machine?
The benefits of using a wireless tattoo machine include greater mobility, improved comfort and ergonomics, reduced cord tangling, and less interference with the tattooing process. Wireless tattoo machines also tend to be quieter and lighter than traditional tattoo machines, which makes them ideal for long tattoo sessions.
What are the best wireless tattoo machines available on the market?
Some of the best wireless tattoo machines available on the market include the FK Irons Spektra Edge X, the Stigma Hyper V3, the Bishop Rotary Switchblade, and the Cheyenne Hawk Spirit.
How long does the battery last on a wireless tattoo machine?
The battery life of a wireless tattoo machine varies depending on the specific model and usage, but most wireless tattoo machines have a battery life of several hours.
What are the most important things to consider while buying a wireless tattoo machine?
Battery capacity and functions, overall weight, and if it serves all your purposes while maintaining the standard you expect – these are the most important things to consider while buying a wireless tattoo machine.
Does wireless tattoo machine have any disadvantages?
One or two, maybe. You'll need to keep an extra battery to have sufficient power so that you can finish a long session.
The battery will add weight to the wireless tattoo machine. But that will be nothing if you buy a lightweight device or if weight isn't a problem for you.
And running the battery when it's low will affect the needlework that again will affect the tattoo design. But it is not a real disadvantage as long as you treat it right.
Are wireless tattoo machines more expensive than traditional tattoo machines?
In general, wireless tattoo machines tend to be more expensive than traditional tattoo machines. However, the added cost is often offset by the benefits of using a wireless tattoo machine, such as improved comfort and ergonomics, reduced cord tangling, and less interference with the tattooing process.
Can I use regular tattoo needles with a wireless tattoo machine?
Yes, you can use regular tattoo needles with a wireless tattoo machine. However, it is important to choose a needle that is compatible with the specific wireless tattoo machine you are using.
Can I use traditional power supplies with a wireless tattoo machine?
No, you cannot use traditional power supplies with a wireless tattoo machine. Wireless tattoo machines are designed to be used with their own batteries and charging systems.
How do I clean and maintain my wireless tattoo machine?
Cleaning and maintaining your wireless tattoo machine involves regular cleaning of the machine, battery, and other components. It is important to follow the manufacturer's recommendations for cleaning and maintenance to ensure that your machine remains in good working condition.
Can I use a wireless tattoo machine for all types of tattoos?
Wireless tattoo machines can be used for a wide range of tattoo styles and techniques, but it is important to choose a machine that is specifically designed for the type of tattooing you are doing. Some wireless tattoo machines are better suited for lining, while others are better for shading or color packing.
Is there a warranty on wireless tattoo machines?
Most wireless tattoo machine manufacturers offer a warranty on their products, but the specifics of the warranty will vary depending on the brand and model. It is important to carefully review the warranty information before purchasing a wireless tattoo machine to ensure that you are protected against any potential defects or malfunctions.
Can I use a wireless tattoo machine for lining and shading?
Yes, some wireless tattoo machines are designed to be versatile and can be used for both lining and shading. However, it is important to choose a machine that is specifically designed for the type of tattooing you are doing, as some machines are better suited for one type of work over the other.
Can I use a wireless tattoo machine with a foot pedal?
Yes, most wireless tattoo machines can be used with a foot pedal to control the machine's on/off switch. This allows for more precise control over the machine and can help you achieve better results.
Can I travel with a wireless tattoo machine?
Yes, wireless tattoo machines are designed to be portable and can easily be taken with you on the go. However, it is important to check the specific regulations and requirements for carrying tattoo equipment on flights and in other locations.
How do I troubleshoot my wireless tattoo machine if it stops working?
If your wireless tattoo machine stops working, it is important to follow the manufacturer's recommendations for troubleshooting and repair. This may involve checking the battery, cleaning the machine, or contacting the manufacturer for support.
Can I use a wireless tattoo machine for both professional and personal use?
Yes, wireless tattoo machines can be used for both professional and personal use, depending on the specific model and your needs. However, it's important to choose a machine that is specifically designed for your level of experience and expertise, as well as the type of tattooing you want to do. Additionally, it's important to ensure that you have the necessary equipment, supplies, and training to use a wireless tattoo machine safely and effectively.
Final Verdict
Well, the end is here. I find it extremely hard to give my final verdict based on this many products. Every wireless tattoo gun I have reviewed today is worth trying. They have their uniqueness. And their price backs up their service rightly.
If you want a top-quality wireless tattoo machine from an overall aspect, the best ones for you would be Mast Tour, Mast Archer, Ambition, and Solong EM128 kit. You will not have to worry about their service. For permanent makeup, Charme Princesse is my first favorite, followed by Pinkiou.
If you prefer a kit that would bring you more than a machine and its battery, you'll surely like the BMX tattoo kit.
If battery capacity or battery number is your chief concern, Stigma EM125, Hawink WE, Solong EM128, and Ambition should be in your consideration. Mast Archer is mention-worthy too. They should be within your budget range.
For beginners, I would again recommend Mast Archer. You can also try Solong kit, Pinkiou, and Hawink Corn.
That's all for today. Hopefully, I was of assistance. Thanks for keeping up.
Happy purchasing and good luck making tattoos!
We are sorry that this post was not useful for you!
Let us improve this post!
Tell us how we can improve this post?