Hawink Rotary Pen Tattoo Machines: [Comparison & Review]
There are a large number of different tattoo machines available in the market. If you attempt to look for a classy and first-rate piece of equipment, you'll have to go for a Hawink tattoo pen. Hawink is one of the most excellent tattoo machine manufacturing brands in the industry.
In this Hawink Rotary Pen Tattoo Machine Review, I'll talk about two Hawink pens (Rotary Short Pen CNC-Q1 and Rotary Short Pen CNC-Q3-1). Hopefully, it will help you decide if you are looking to buy a quality tattoo machine.
There will be a table containing the machines' major characteristics before the review section comes up. Reading all of them, you will find the final verdict discussing how you should select which one.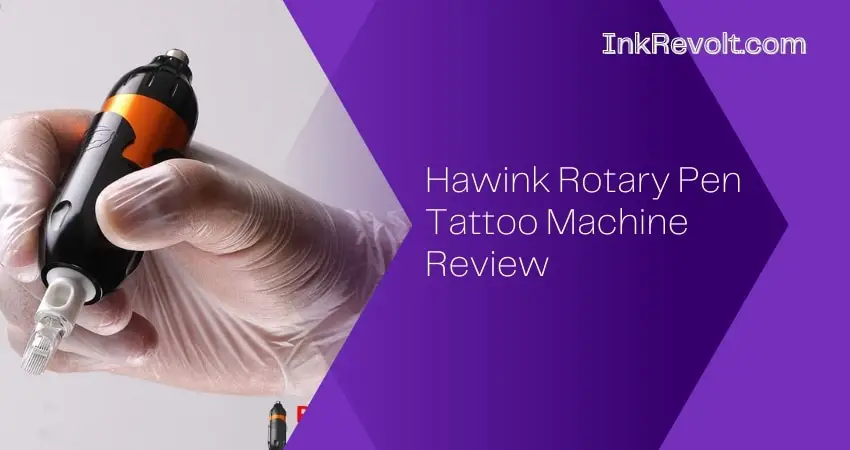 Best Hawink Rotary Pen Tattoo Machine Review: 2 Models Compared
So, here is the table. Looking at the table, you can gather some ideas about these two tattoo pens. It has all the essential information about them.
| Features and Specs | CNC-Q1 | CNC-Q3-1 |
| --- | --- | --- |
| Weight | 128g (0.28lbs) | 118g (0.26lbs) |
| Stroke | 4mm | 3.5mm |
| Cord Connection | RCA | RCA |
| Starting Voltage | 4V | 4V |
| Operating Voltage | 5V-10V | 5V-10V |
| Stitch Frequency | 25Hz-160Hz | 25Hz-160Hz |
| Carved by | Aluminum Alloy   (35mm aluminum alloy sleeve) | Aluminum Alloy   (32mm aluminum alloy sleeve) |
| Motor | Japanese Faulhaber | Japanese Faulhaber |
1. Rotary Short Pen CNC-Q1 (The Premium Choice)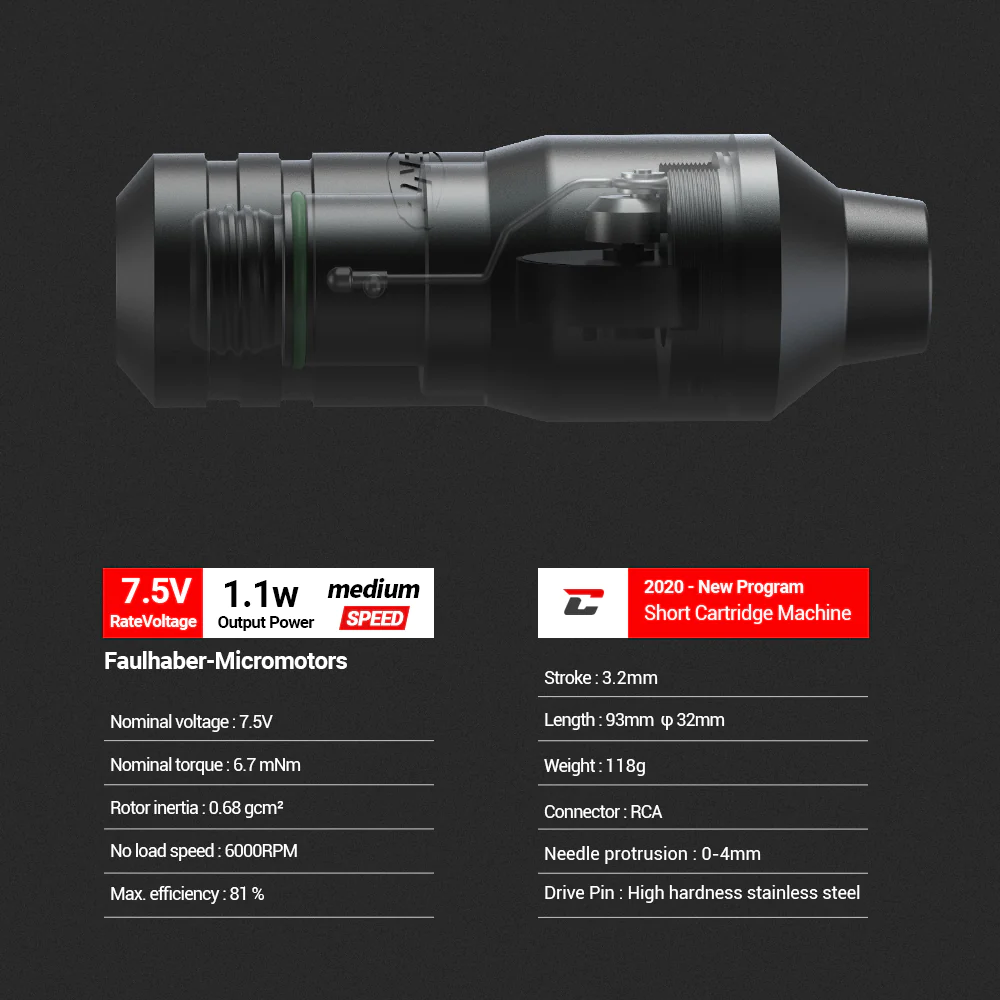 The first Hawink Rotary Pen Tattoo Machine review will be on the CNC-Q1. This pen has a powerful German motor. It makes the machine more sophisticated than other conventional ones.
From our testing we found that it does not make a loud noise. So, it's a perfect choice for tattoo artists that want to work in a quiet environment. This machine will help them focus better.
The frame of the pen is made of the aircraft aluminum alloy enclosure. Besides, because of its pen-like shape and small weight, it's pretty simple to manage. Therefore, you can work with it longer without feeling exhausted.
I've already mentioned its operating voltage, 5V to 10V. Don't go higher than that. It can cause mechanical wear and overheat.
However, this rotary tattoo machine runs gently and smoothly on every type of skin. It will give you sharp lines. It is also terrific for both coloring and shading. It works with most of the needle cartridges, and its needle depth is easily adjustable.
Another key feature of the pen is that it doesn't cause much irritation to the skin and hurts less. If you decide to buy this and your clients are satisfied with your service, you know who to thank, right? (Yes, I am talking about me! Haha.)
Joking apart. The pen is eligible for professional use. It's also beginner-friendly. If you are new in this field and planning to start with a high-quality machine from the beginning, you should think about this one.
Pros
Lightweight
Quiet operation
Topnotch quality
Easy to use and clean
Does not start overheating for a long time
Causes less irritation
Cons
Pricey
The maximum operating voltage is only 10V
2. Rotary Short Pen CNC-Q3-1 (Great Value for Money)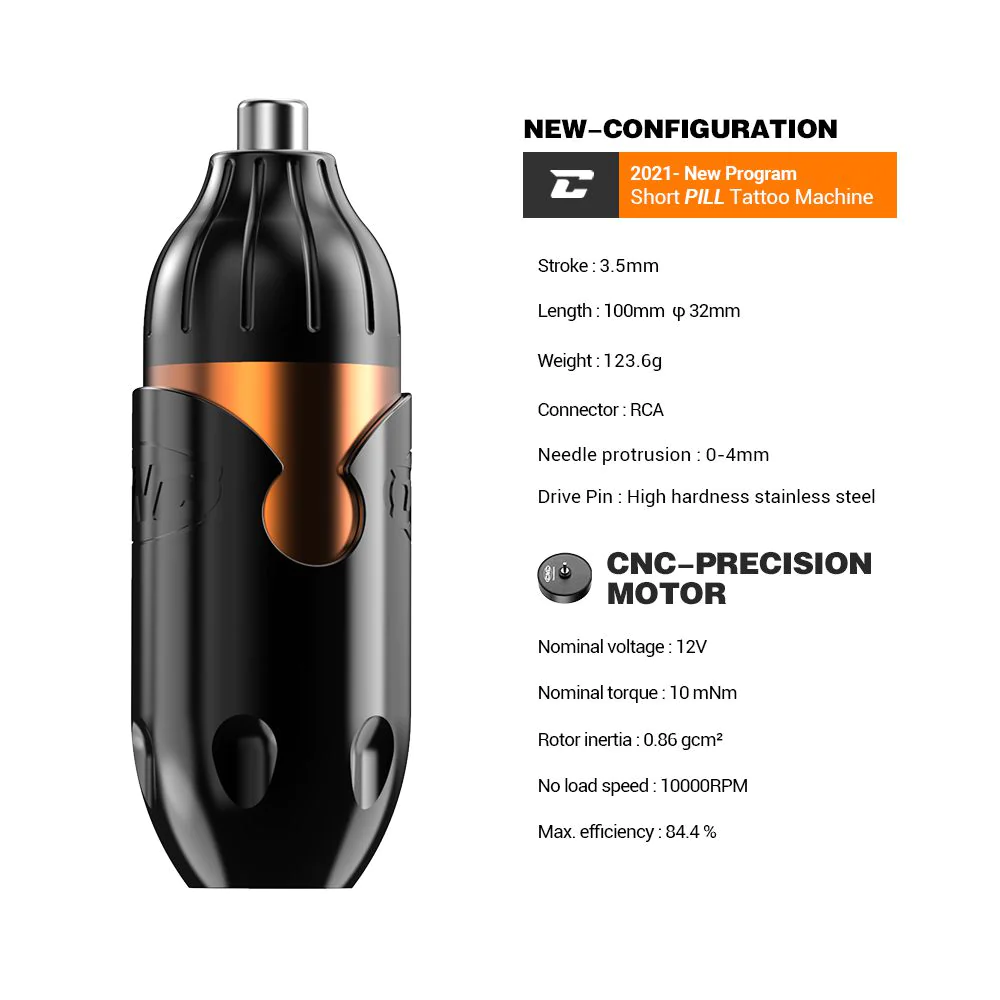 Let's move on to the second one, CNC-Q3-1. It's almost the same as the other one with one or two dissimilarities, such as it comes at a lesser price. How great is that!?
Powered by a German Faulhaber motor, it does not vibrate much like other typical tattoo machines. But it also guarantees you the high frequency and puncturing power.
You can effortlessly master this low maintenance, tiny little machine because it is highly stable and ergonomic-styled.
It also doesn't induce much discomfort in the skin. It will give you and your client both a comfortable experience.
If you're someone who sits through a task until it is complete, you can rely on this machine. It will hold steady as long as you keep working.
And here is a bonus for you: the sheer beauty of the pen's flawless appearance.
Pros
Stable, light, and efficient
Good at lining, shading, and coloring
Noiseless functioning
Causes less physical pain
Low maintenance
Does not get warm quickly
Cons
Crossing the maximum operating voltage (10V) can end up overheating the machine's motor
Artists with large hands may find it hard to handle the pen
Additional Read: Alternative Options
Final Verdict
To sum up the overall Hawink Rotary Pen Tattoo Machine review, the CNC-Q1 is of premium quality. It's outstanding from every aspect if you run it within its operating voltage. The only drawback is its price. If you think you can let go some extra bucks, do so. It will eventually pay off.
If it's a little too much to spend, you can purchase the CNC-Q3-1. It's like the affordable version of the CNC-Q1.
So, here's the final verdict: whichever Hawink you buy, you won't be disappointed by either of their performance.
Good luck and happy purchasing!
We are sorry that this post was not useful for you!
Let us improve this post!
Tell us how we can improve this post?