Top 10 Best Tattoo Machines To Serve All Your Requirements [Reviews & Buyer's Guide]
There are many many tattoo machines available in the market since their increasing popularity. While it is appreciable that new models are coming out once in a while, it also makes it somewhat inconvenient for the users. Don't get me wrong here.
The thing is, it is becoming increasingly difficult to choose one machine among so many. You can easily become overwhelmed while making a purchase decision.
That is why we have decided to filter the best tattoo machines and talk about them to save you from the suffering of indecision. If you are new to this area and plan to buy your first machine, you should check it out. And if you are a professional tattoo artist, it is for you as well. We have got you the best 10 tattoo machines that are highly recommended and admired by reputed tattoo artists.
Best Tattoo Machine: Top 5 Models Compared
Before you get to the review section, have a sneak peek at the table below. It is a comparison among the top 5 tattoo machines.
Stitch Frequency
115Hz-120Hz (Shader), 140Hz-150Hz (Liner)
Frame Material
Aircraft Aluminum Alloy Enclosure (35mm aluminum alloy sleeve)
Anodized Aircraft Aluminum
Billet Brass (CNC cut design)
As an Amazon Associate InkRevolt earns from qualifying purchases.
Top 10 Best Tattoo Machines Reviewed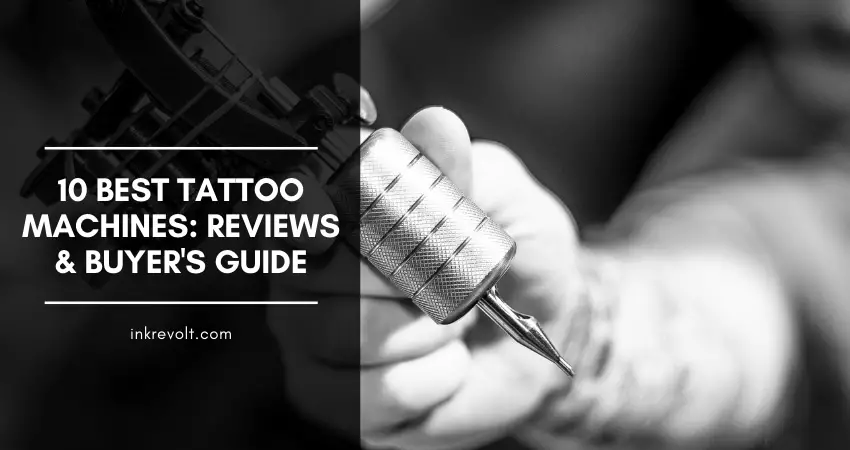 What service a tattoo machine will provide depends largely on its quality. But again, which tattoo machine will serve your purposes the most is determined by what you expect from the device and how much you are ready to spend for it.
That is why I will review the machines based on their features and your criteria. And yes, I got tattoo machine kits as well. Because first, I didn't want to disappoint those who came here looking for kits. Secondly, you never know that you may end up making your mind up for a tattoo kit despite planning to look for a machine.
The tattoo machines reviews will let you in on the details. The tattoo kit reviews will do the same, except there will be more details about the other parts of the kits.
Let's explore what awaits us, shall we?
1. Hawink CNC-Q1 – Best Rotary Tattoo Machine Pen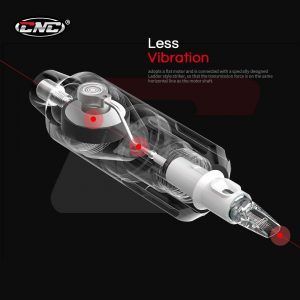 The first review will be on the Hawink Rotary Tattoo Pen Machine CNC-Q1. The machine comes at a price that might require you to elevate your budget ceiling. But do not let that dishearten you. It has incredible features that justify the price well enough.
Why We Selected It in Our Top List
Motor
The most important part of the machine is its motor – a German Faulhaber motor. The motor alone separates the CNC-Q1 from many other ordinary machines in the market.
Frame And Design
Hawink uses the aircraft aluminum alloy enclosure to make the frame of the pen. It adds up to the powerful appearance of the tattoo pen. Besides, Hawink designed the tattoo pen in ergonomic design to make you feel like you are holding a pen when you use the CNC-Q1. That makes it almost effortless to handle it. As a result, you can work hours without any exhaustion.
Performance
The CNC-Q1 is a silent worker. It makes no noise yet does excellent work. But notice that its operating voltage ranges from 5V to 10V. It will function properly as long as you run it within its operating range. If you go higher, there will be motor overheat as well as mechanical wear.
But do not take it the wrong way. The machine is highly efficient at what it does. It is equally good at lining, shading, and coloring.
What's more, you can use any needle cartridge with it and adjust the needle depth.
Skin Suitableness
A unique thing about the Hawink CNC-Q1 is its unique feature of irritating and hurting the skin a lot less, resulting in quicker healing. Therefore, it wouldn't be an exaggeration if I said that this pen guarantees your clients' satisfaction.
Users
Professional tattoo artists widely use the rotary pen. But if you are a serious enthusiast who wants to become a great tattoo artist someday, you are good to go for it.
Pros
Lightweight and user-friendly
Easy maintenance
Noiseless operation
High-quality
No, overheat for hours
Skin-friendly
Reduced pain and discomfort
Proper healing result
Cons
Not budget-friendly
Overheat and mechanical wear when run at more than 10V
2. Hummingbird Bronc – Best Premium Pen Machine For Tattoo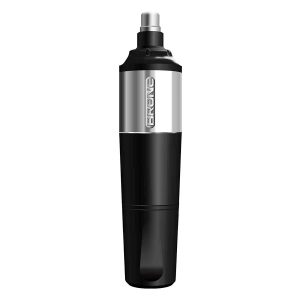 The Bronc Rotary Tattoo Machine is one of the best Hummingbird tattoo machines for tattooing. Tattoo Artists call it the game-changer? Wonder how it does so?
Why We Selected It in Our Top List
Motor
The Bronc tattoo pen has a Swiss-made nanotechnology motor. The motor ensures that the pen delivers smooth performance and lasts long.
Frame And Design
With the body of aircraft aluminum and the ergonomic design, the pen gives off a fountain pen vibe. So, it will be almost like you are using a chunky fountain pen. And it won't cause you any discomfort during longer sessions.
However, while it weighs 154g and is easy to manage, I wouldn't exactly call it lightweight. It is a little weightier than a lot of other tattoo pens. Despite that, you will be able to have enough control over the machine.
Performance
Bronc is also a 3-in-1 package. You can do all the lining, shading, and coloring with it. It also stays quiet while working.
Its needle depth is adjustable and is compatible with most of the needle cartridges.
Users
Tattoo Artists who are in the industry for a long time use the Bronc pen frequently. But that should in no way mean that it is only for professionals.
Give it a shot if you are a newbie. The machine has an easy setup. Usually, one needs to take some time to get used to a tattoo pen. But this one is different. You'll feel it the moment you start using it.
Additional Accessories
I have saved the best part for the last. So, here it is. The tattoo machine does not come alone. It brings you ADDITIONAL ACCESSORIES too!
Accessories like needle bars, O-rings, lubricants, a footswitch, a pencil tray, cartridge needles, etc., are included with the machine for the users' convenience. These are the other things that you need for using a tattoo pen.
This one is the first tattoo machine I have seen paired with a pile of different stuff. I am trying my hardest not to be biased, but isn't it fantastic?!?
Pros
Easy setup and quick adjustments
User-friendly
Quiet functioning
Inclusion of extra accessories
Quality materials
Adjustable needle depth
Compatibility with most of the cartridges
Cons
Some of you may think it to be challenging to control. But no worries. Give yourself a little time. It will grow on you eventually.
3. Dragonfly X2 – Best Tattoo Machine Gun for Lining & Shading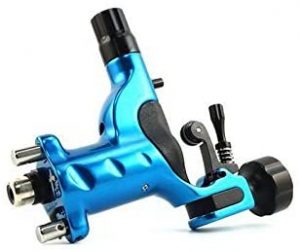 Dragonfly is one of the industry's leading companies because of its meticulously made tattoo machines, among which the Authentic X2 is one. It is shipped worldwide for its Grade-A quality.
Why We Selected It in Our Top List
Motor
This Dragonfly has an exclusive Swiss X2 motor which promises you high performance with a mechanical output of 6W. And that's not the end. It is incredibly energy efficient. Using the machine will cause an electricity reduction of 80%.
Frame And Design
Designed ergonomically, the frame of the rotary tattoo machine has a finishing of anodized aircraft aluminum. The most brilliant minds make this material in the field of science. Not every company uses this kind of material to make their devices.
Performance
The machine is a tremendous performer. You can be doubtless that it will serve your needs properly.
It has a cap with a built-in damper that keeps it from making a loud noise. That gives its adjustments more stability.
If you wonder if it is manageable or not, here's a fact for you: it is as weighty as 80 grams only!
Stroke Length
I am making an individual para about it because this rotary tattoo machine is different when it comes to stroke length. Because Dragonfly, being as cool as it gets, lets you customize the size by choosing from 3 given options: 2.6mm, 3.7mm, and 4.5mm.
What is even more convenient is that the lengths share only one eccenter. So, when you want to shift from one stroke length to another, just loosen a screw, twirl the eccenter, and select whichever option you want.
Needle Conversion
Since the machine can work with both cartridge needles and standard needles, you will need to convert from one to another. The process is pretty simple.
While using cartridge needles, look for a stay-up spring that you MUST remove to avoid any strain on the machine's motor so that it functions correctly. The frame has a lid that lets you access the spring very conveniently. Remove it and convert from cartridge to standard and vice versa.
Oil Lubricants
The Authentic X2 includes oil lubricants. It is the most effective anointing agent to maintain the fluidity of the machine's moving parts. You can take the needles out if you decide to use other ones. Just rotate them, and they will come out.
Pros
Super lightweight
Adjustable needle length
No need for rubber bands
Compatibility with both cartridge and standard needles
Compatibility with standard tubes and grips
Available in different colors like red, blue, lime, pink, black, and purple.
Oil lubricants to keep it fluid
Cons
It is not entirely noiseless.
Relevant:
4. Dragonhawk Coil Machines – Best Coil Liner & Shader Tattoo Machine in One Combo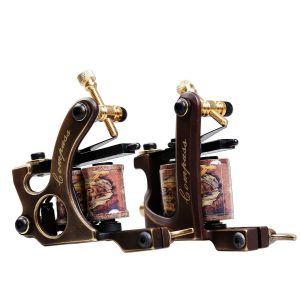 The headline already says that this machine is different from the 1st three that we have already discussed. Because it is a coil machine, and it has everything you can ask from this type of tattoo machine. That is why we have put it on the list of the best machines.
The package offers you two coil machines. One will do the lining and the other, shading.
Why We Selected It in Our Top List
Frame And Design
A CNC billet brass frame has been used to carve the frames of both machines. This material is quite impressive and ensures you that you can depend on them.
Performance
There are a straight circle liner and a straight shader in the Dragonhawk package. The liner has ten wrap coils, and the shader has eight wrap coils. They will help you make the smoothest tattoo designs.
Another mention-worthy fact is its price. You can get the machines at a very affordable price. Besides, if you buy the machines and do not like their performance, you can give them back. The manufacturers will give you your money back.
I hope that gives you a valid reason not to miss out on this must-have.
Users
The brass coil machines are highly suggested for beginners and apprentices. But a friendly heads-up: you may find it challenging to use them at first. So, a little mental preparation will help you go the extra mile. On the other hand, professionals will also find it worth buying.
Pros
Reasonable price
Highly durable
Satisfactory customer support
Guarantee of money back (100%!!!)
Cons
The machines are a bit weighty. But that will hardly matter when you get used to them.
If you like to work at a higher voltage, the machines are not for you. Their operating voltage is only 7V to 8V.
5. OneTattooWorld Handmade Cast Iron Tattoo Machine – Cheapest Coil Tattoo Machine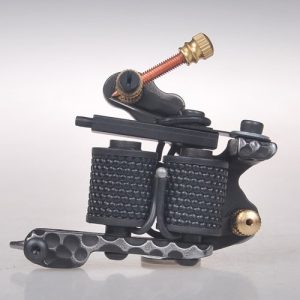 This machine is also a coil tattoo machine. It is simultaneously a shader and a liner. Let's glimpse through its features below.
Why We Selected It in Our Top List
Coil
The brand new machine has a manual of 10 laps made from a solenoid valve. And the coil has been made with the latest and most sophisticated technology. It has a robust rear magnetic and a steady bouncing.
Frame And Design
Low-carbon steel is the material used to make the machine's frame. The device is hand-assembled, yet it is just perfect.
It has a spring made with highly elastic composite material. That helps you stay unfatigued during long sessions. Furthermore, it also does not heat much when you use it for a long time.
Performance
It is a pro device with a running speed of 2500 R/minute. It will give your tattoos a professional look, be it lining or shading.
If you want a standard quality coil tattoo machine, give it a shot.
User-Friendly
The machine's weight is more than 200 grams. If you think you can handle it well, it is a friendly match for you because comfort is a critical matter for tattoo machines. Otherwise, I wouldn't recommend it.
Pros
Standard quality
Latest technology and excellent materials
Admirable performance
It does not overheat quickly
It does not make you tired
Cons
A lot of you might not be comfortable using a machine of this much weight.
6. Dragonhawk Mast Kit – Best Tattoo Pen Machine Kit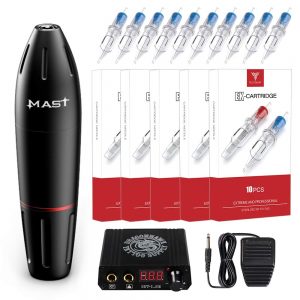 The mast pen is a bomb made by Dragonhawk. Now, if you think you have already found your tattoo machine, congrats! But don't blame me if you end up changing your mind after reading the Dragonhawk Mast Rotary Pen Machine Kit review.
Why We Selected It in Our Top List
Motor
A significant feature of the Mast pen is its supreme Mast motor.
The gear system of the machine is very reliable. Both of these contribute to the silent and splendid functioning of the tattoo pen.
Frame And Design
If you have already checked out the product, I am sure you have been amazed by its eye-catching appearance. The credit goes to space aluminum for that.
The pen of 12 centimeters is only 120 grams. You won't feel tired at all tattooing with it.
The company has designed the pen to imitate the grip and feel of an original pen. That makes the process of making tattoos way less exhausting, if not fun.
Performance
The performance of the Mast pen is topnotch. It gives you maximum control and accuracy and makes fantastic tattoo designs. Furthermore, you can try out different tattoo styles and tattoo techniques with it.
Adjustment
This rotary tattoo machine contains a tool to make a hard and soft adjustment. Just insert it into the needle's hole, rotate it, and adjust.
Remember that there is a top limit line. Crossing it might create undesired circumstances.
What It Includes
The tattoo kit package has a power supply, a carrying case, a foot pedal, etc.
The service of the power supply is decent. Connecting it won't sweat you at all. It will also keep the pen running at full pace.
The foot pedal and the carrying case are very helpful in transitioning.
The kit also brings you 50 cartridge needles of different sizes. The over-mold of the needle and plunger provides maximum control and stability. And the tip and membrane of the needles let you enjoy a fluid tattoo-making process.
Users
The kit is recommended chiefly for starter tattoo artists. They can practice with it to hone their tattooing skills.
Pros
Small, simple, innovative, and silent
Awesome tattoo designs
Almost no vibration
Suitable for all types of tattoos
Cons
The motor might get hot sooner than your expectation.
Additional Resource:
7. Dragonhawk Atom – Best Rotary Tattoo Machine Pen Kit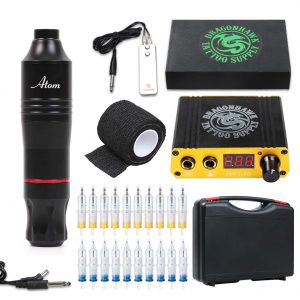 The Dragonhawk Rotary Tattoo Pen Machine Kit (Atom) is widely prevalent among tattoo artists. It has an inclusion of loads of tools to help you with practice. It is one of the best tattoo kits at a good bargain.
Why We Selected It in Our Top List
Frame And Design
Even at a low price, the company did not compromise with quality. They used anodized aluminum to make the frame of the machine. With a weight of only 135g, the pen will feel like a real pen to you. Besides, there will be less noise and vibration when you operate it.
Performance
Don't idle yourself with the idea that the pen vibrating less means it does not have enough power. Both the frequency and the puncturing power of the machine are high. It hits with power perfectly, and thus, it gives you unique colors and shades.
However, the rotary tattoo machine works with most of the cartridges. So, you won't have to change devices when you switch needles.
Needle Depth Adjustment
The needle depth of the Dragonhawk Atom pen is adjustable. That allows you to adjust it according to your convenience. You can change it from 0mm to a maximum of 4.5mm.
What The Kit Includes
The rotary tattoo machine kit comes with a power supply, a carrying case, some artificial skin to practice, transfer papers, gloves, etc. If you are a beginner tattoo artist, it will be a true companion that will guide you towards the next level of your preparation. You can make long strokes at 3.5mm and get done with the task within a short time.
Pros
Lightweight, precise, and smooth
Low noise
Efficient shading and coloring
Stable during continuous operation
Cons
The lining is not bad at all. But it indeed has room for improvement.
The machine is hard to clean.
8. Dragonhawk Complete Tattoo Kit – Best Coil Tattoo Machine Kit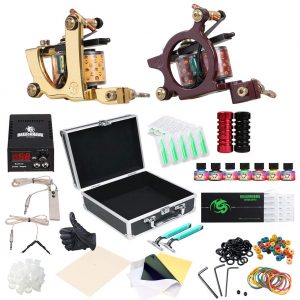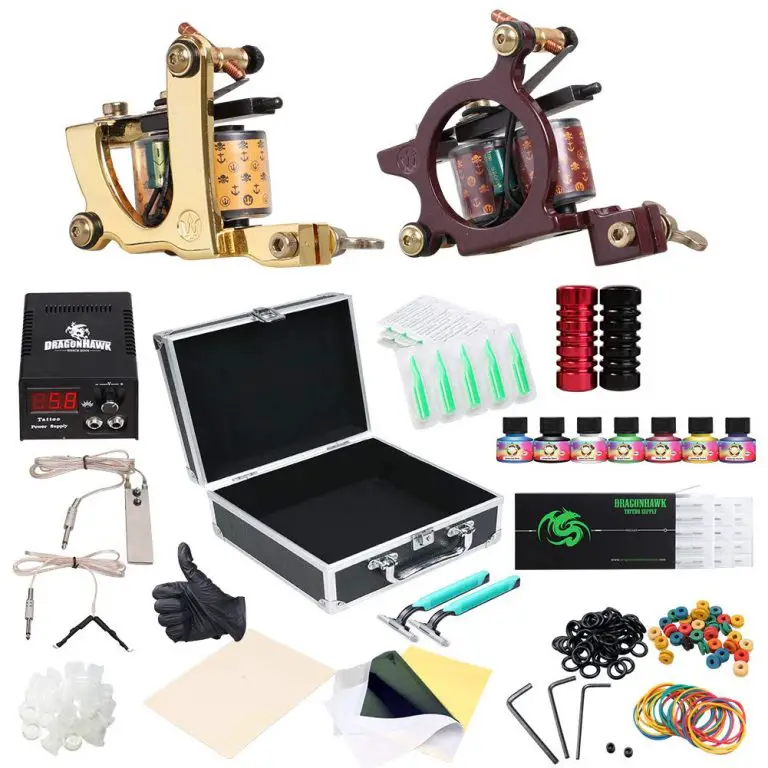 The kit is also from Dragonhawk. But it has two machines, and both of them are coil tattoo guns. If you prefer coil tattoo machines to rotary tattoo machines, you should pick this one. Let me tell you why.
Why We Selected It in Our Top List
Coils And Spring
The tattoo kit has a couple of pro coil machines: one to do lining and another to do shading. Each of the machines has ten wrap coils.
The materials of the machines are high-caliber composite materials. It is anti-fatigue and high-elastic. Therefore, you can spontaneously continue long-time tattoo sessions without worrying about getting tired and stopping in the middle.
Performance
The performance of the machines is excellent. Both excel at what they do. And the kit has everything in order. You can simply get it, open it up, and start tattooing then and there. Now, about that, see what the kit gets you.
What It Includes
The machines have a power supply, a clip cord, a foot pedal, a travel case, disposable tips, sterilized needles, transfer papers, practice skin, tattoo ink colors, tattoo grips, tattoo ink cups, and other supplies.
The power supply is LED-styled, and it provides accurate and fast activation or voltage adjustments.
The tattoo ink colors are immortal, bright, and safe for skin.
Users
The starters will get the most benefit out of the kit. However, professionals will enjoy it too.
Customer Service
The customer service Dragonhawk provides for this tattoo kit is beyond expectation. They are always there to help you with their professional advice.
Moreover, if you are worried about getting defective products, don't. That should be the least of your worries. Dragonhawk strictly tests each of the supplies before packaging. So, just chill!
Pros
Decent materials
Anti-fatigue spring
Admirable performance
LED-styled power supply
Safe colors
Prompt customer service
Affordable
Cons
The ink is best for practice purposes. It might not work well on natural skin.
9. Dragonhawk Tattoo Kit – Best Tattoo Machine Gun Kit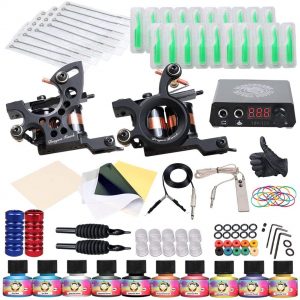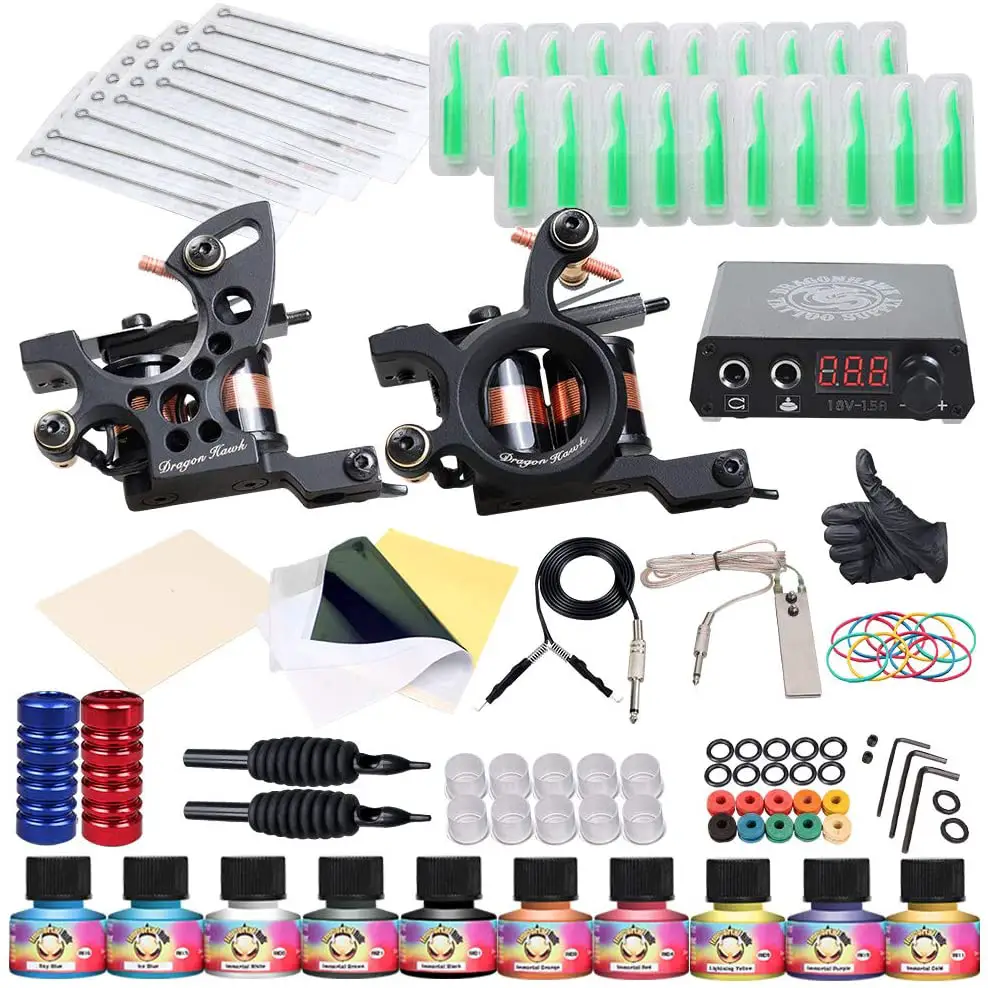 It is another complete Dragonhawk tattoo kit set that will sharpen your tattooing skills by giving you everything you need to practice. The kit is a Dragonhawk bestseller, and here is why.
Why We Selected It in Our Top List
Coils And Spring
Both of the machines have ten wrap copper coils. Made of superior quality materials, they are high-elastic. You can tune and adjust them easily. They will keep you unexhausted for a long time.
Performance
You'll like the machine's performance. It is user-friendly, affordable, and has an easy setup. Its kit box has a lot of accessories that will come in handy during your practice.
What It Includes
Dragonhawk gives you a suitable power supply along with the machine. The power supply contains a LED that shows the voltage output. It also has a clip cord and a foot pedal. It provides your tattoo gun with a stable, quick, and accurate level of current.
You can make adjustments with the voltage level as per your requirement by simply rotating the button.
There will be sterilized needles. They are totally safe, and their tips are packed separately.
Now, the most beautiful part: the kit offers you ten bottles of high-quality immortal ink! They are made and packed in the USA. Their colors are highly contrasting. They are safe and will not fade away. EVER.
And that's not the end, amigo. You will also get loads of other things like tattoo tips, transfer paper, ink cups, and others to give yourself a fresh start off to tattoo practice.
Users
The kit is mainly made for beginners. If you are thinking about buying a complete tattoo kit to learn tattooing through practice, get this Dragonhawk piece. You'll love it.
Pros
Copper coils and highly elastic spring
LED-styled power supply
Vibrant colors
Affordable and recommended for beginners
Cons
Not every accessory has equal quality.
10. Grinder Tattoo Kit by Pirate Face Tattoo – Best Beginner Tattoo Machine Kit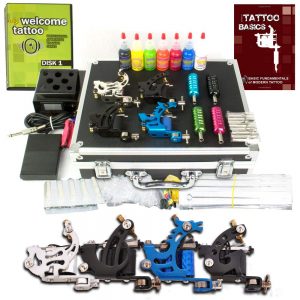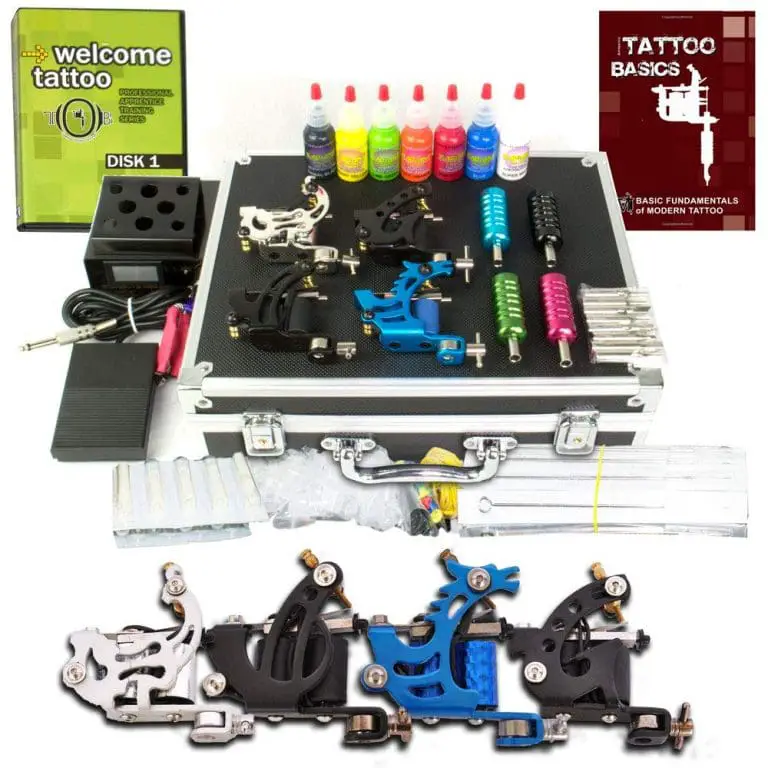 It is the final product to be reviewed today, yet one of my favorite ones. The Grinder Tattoo Kit by Pirate Face Tattoo has remarkable features and impressive specs. In case you are about to skip it, DON'T. You'll regret it big time.
Why We Selected It in Our Top List
Coils
Guess how many tattoo guns the kit has? FOUR. It has four coil tattoo machine guns. They are more powerful and valuable than most of the machines in the market. They are the star of the kit.
You can be tension-free about facing any trouble with them. Even if you do, remember that these machines have a six-month warranty.
Performance
You'll be amused at the performance of the machines. They make fabulous and striking tattoo designs. They don't overheat or stop working all of a sudden.
Also, they don't weigh much. That means you will be able to handle the devices quite effortlessly.
What It Includes
The kit has a power supply. While I won't claim that it is the best one out there, I can say without any doubt that it does a decent job. It is an LCD-styled supply. That makes it easily readable and better than the analog power supplies.
A foot pedal and a clip cord are also there, along with the supply.
The kit has seven bottles of different and radiant colors, all made and packed in the USA. The quality of the tattoo ink colors is acceptable. They have been made with natural ingredients. They will give you a sharp-edged color tone. Starters who want to make their professional color set should indeed try this kit.
There are at least 50 needles comprising of different sizes. You will also get ink cups, practice ink, book, an instructional DVD on basic tattoo fundamentals, cup holders, disposable gloves, and much other stuff in the package.
The kit has two types of needle tips. One is disposable, and the other is stainless steel. They will match the needles that come in the package. However, you might want to shift to disposable tubes because they require lower maintenance. But the ones in the kit aren't that bad for sure.
Users
A unique feature of the Pirate Face Tattoo Kit is that it is for EVERYONE. Seriously. It has everything to assist you to practice making tattoos. It also gets you an essential tattoo book AND a DVD so that the hobbyists get enough help during the beginning. Are you an apprentice? Get it. Take your skill to the next level. Are you a professional? Get it. Practice never goes in vain. You can always get better.
Pros
The best budget-friendly tattoo kit
Suitable for every type of user
The seven colors are blue, canary yellow, scarlet red, tribal black, lime green, super white, blue, etc.
It never stops working due to heating or other reasons
Compatible with cartridge needles
No loud noises
Cons
The practice skin is not that good.
The DVD may not be much beneficial. In that case, you can go for tutorial videos on YouTube. They will teach you what to do with which accessory to assemble the tattoo kit.
>>>Pirate Face Tattoo Kit Review<<<
Read our in-depth article about beginner tattoo machines.
How To Choose The Best Tattoo Machine? (Buyer's Guide)
Well. If you have gone through all the best tattoo machine reviews, you may have become confused about which one to purchase. And that is expected because there is a bunch of options open to you.
But don't you worry. Since we made all the reviews, we will take the responsibility to clear your confusion. We will share a comprehensive buying guide for you. The guide will give you all the directions based on which you will successfully choose the best tattoo machine for yourself.
Performance Is The Top Priority
In a list of criteria regarding a tattoo machine purchase, performance should be on the top. What type of performance you expect from a machine is of grave importance.
Keep it in your mind that there are machines that can do more than one task. Some devices can do lining, shading, and coloring all at once. But there is only a handful of them that are equally efficient at all of them.
So, first, decide which function you prioritize and then choose the machine accordingly.
Consider Comfort And Durability of The Machine
Please give comfort enough importance because you will never get along well with a machine if you are not comfortable with it, regardless of how efficient it is. It will eventually result in you making bad tattoos.
On the other hand, when you find comfort using a tattoo machine, you get to use the best of it. And the device also helps you get the highest level of your potential.
But, while looking for comfort, do not forget about durability. One should not make up for the other. Make sure you buy something user-friendly and will provide sturdy service for at least several years.
Never Neglect The Machine Quality
I probably didn't have to mention this one. I mean, who doesn't want quality in a product? But the reason I am talking about quality is that it has a substantial relationship with your career.
Do not buy any machine that is of low quality. A poor-performing tattoo machine can cause damage to the skin of your clients. And that can potentially scar your career for good.
The best machines should be sturdy at their performance. Simultaneously, they should also be easy to maintain, adjust, tune, and use. Choose them on the ground of these characteristics.
Power Source And Voltage Requirement of The Machine
A machine's power is what determines the needles' capability to work on the skin while tattooing. There are a lot of options for a power supply of a tattoo machine.
Every power supply has two versions: analog and digital. You can select either of them and get the unregulated or the regulated one.
If unregulated, an analog power supply will require you to fix the exact voltage level during each session. When it is a digital one, it ensures better accuracy and is less challenging to read.
The same applies to a regulated supply. But both of its versions are expensive. However, consider the entire collection of your tattoo machines while purchasing a power supply.
No matter which type of machine you buy, you should have the steadiest power supply to support more than one device at the same time.
The price of a power supply ranges typically from below $100 to above $400. Before you purchase one, read some reviews to find out which one fulfills most of your requirements.
Materials Of The Tattoo Machines
The best machine has a robust frame of durable materials like aluminum (makes the machine lightweight), bronze, and brass (makes the machine lasting but heavy).
A lasting frame makes sure that the tattoo machine does not breakdown in the midst of a tattooing process.
A durable frame prevents your device from breaking down while you are working. It also lets you keep working without getting your hand numb. Besides, heavy machines can cause you to suffer from carpal tunnel syndrome.
Thus, the frame's material plays a pivotal role here.
Price or Value For Money
Price is a very crucial factor. We all know that quality doesn't come cheap. But know that cheap doesn't refer to poor quality. You'll find likable tattoo machines that have standard quality at a reasonable price.
Again, read reviews. They will tell you about what to expect and what not to expect from which tattoo machine and help you set your specifications.
Consider Your Purpose
When you look for a machine, do not expect to find only one that will perform every activity. That will disappoint you. The more you progress, the more you need to explore different branches of the work. Hence, you will need different types of devices. Some machines are good for lining, some are good for shading. And you will find some that are suitable for both. So consider carefully what are the basic purposes.
Rotary Or Coil?
Coil machine gives you greater control and powerful thrusts. They can make flawless and intricate tattoo designs. Contrarily, rotary tattoo machines are fast, lightweight, quiet, and more beginner-friendly.
So, you see, they have their uniqueness and do not outperform each other, which again highlights the importance of using more than one machine. Check our guide on the best coil tattoo machines.
Read Next: Coil Vs. Rotary Tattoo Machines
Mistakes Commonly Made By Buyers
Even when you keep all the information in your mind to make a good purchase, it is not shocking to make mistakes. This part of the article will mention some common yet severe mistakes as a heads up so you can avoid them.
Due Diligence: Research And Reviews
Buying a machine from a store or online before researching or reading reviews about them is one of the most common mistakes. DO NOT DO THAT. Often, buyers have to pay for that. Bigtime.
It is highly recommended that you go through other people's reviews and find out the pros and cons of a tattoo machine, especially if you can't be entirely sure about its characteristics.
Shape And Size
Remember when I said that you should prioritize comfort? It is because many users tend to neglect that when they are about to buy a machine. Consequently, they end up buying too large or too heavy appliances.
But shape and size are more vital than they seem. If you think you should prioritize performance over shape and size, realize that it won't be of any use if you can't perform correctly with it in the first place.
Handling heavy devices makes it difficult for you to design tattoos, specifically when you need to move your hand frequently for the design.
Purchasing The Wrong Additions
Tattoo Artists often happen to purchase the wrong additions that are incompatible with their machines. For instance, coil machines require larger needle groupings, while rotary tattoo machines require smaller ones.
If you buy the smaller ones for your coil machines, they won't deliver the expected performance.
Understanding The Machine Voltage
Not understanding the machine voltage will lead to poor-quality tattoos. For example, the more coil wraps a machine has, the more machine voltage it will require. If you use a power supply that cannot support the voltage level your machine needs, you won't be able to make great tattoos.
Buying Hybrid Machines
Beginners often get the idea that hybrid machines nail at coloring, shading, and lining. But they DON'T. Please do not fall for them.
Price And Quality
Don't sacrifice quality for the sake of price. It will make you pay more in the future, whereas a significant one-time investment can solve the problems.
As a beginner, you may find the investment too much to afford. In that case, go for the inexpensive ones that guarantee commendable service.
Using Only One Machine
This one is a common and big mistake. The path to making impressive tattoos is to use various types of tattoo machines that are experts at specific functions.
Alternating one task for another with a machine having the wrong setup would not only damage your clients' skin but also ruin your reputation.
Frequently Asked Questions
Some of you still have some questions, I guess. So, I am going to answer some FAQs, hoping they will answer your questions.
How Much Is The Price Of A Good Tattoo Machine?
It may be anywhere between $50 and $1000, depending on its quality and functions. A tattoo gun might be cheaper. In that case, you'll have to spend money on needles and ink. On a relevant note, you can buy a tattoo kit with the necessary supplies.
How Does A Cheap Machine Differ From An Expensive One?
QUALITY. Unlike an expensive machine, a cheap one is not supposed to be made of high-quality materials. That is why most of the cheap ones are not as promising as the expensive ones.
Which One Is Better? Coil Or Rotary?
Although rotary tattoo machines are getting more popular nowadays, they cannot outdo coil tattoo machines from every aspect. It also varies from one type of tattoo artist to another. If you are a beginner, you should start with a rotary tattoo machine. But as you grow, you may need to try coil tattoo machines for different purposes.
How Long Is The Lifespan Of A Tattoo Machine?
It depends on many things. However, if maintained adequately, most of the tattoo machines will serve you for years.
Final Verdict
Phew! We are at last at the end. I won't keep you any longer. Here is my final verdict.
First of all, I didn't rank the products. Do not think that no. 1 product means it is the best and no. 5 means it is the least good of all.
Secondly, if you're a professional and looking for nothing but the absolute best, check out the Hawink CNC-Q1.
If you're an apprentice or beginner, try Dragonhawk brass coil machines, Dragonhawk complete tattoo kit (2 machines), and Dragonhawk Mast pen tattoo kit.
Suppose you're searching for a trustworthy machine within an acceptable price range. In that case, you should think about Dragonhawk brass coil tattoo machines, Dragonhawk complete tattoo kit (2 machine guns), and Grinder tattoo kit by Pirate Face Tattoo.
Lastly, match your criteria with the machines' specs and features. Read reviews. Do a lot of research. Learn as much as you can about the machines. Gather as much info as you can before you invest. Do not forget the common mistakes.
Once you're caught up with all of that, you are ready to buy the best tattoo machine for yourself.
Thank you for keeping up with me. Good luck and happy purchasing!
We are sorry that this post was not useful for you!
Let us improve this post!
Tell us how we can improve this post?