10 Best Tattoo Machines For Beginners: Extensive Reviews With Ultimate Buyer's Guide
I have always emphasized how vital it is for a tattoo artist to find a suitable tattoo machine for himself/herself. It is of the most vitality for none other than a beginning tattoo artist. If you cannot start with a perfect device for yourself, you will not get it to assist you in your work. Hence, you cannot grow your skill spontaneously.
The beginning is always the most challenging part of any journey. In this case, the first part begins with choosing a suitable tattoo machine. To make that easy for you, I have come up with the best tattoo machines for beginners today. They have all the features and characteristics of providing the service every beginner needs.
I will review each of them, describing why they are the best while also pointing out their drawbacks to give you a comprehensive understanding of them.
10 Best Tattoo Machines For Beginners Reviews
It is a short intro about the products I will review for you. There will be reviews of rotary machines and coil machines. Along with them, I will also discuss some beginner-friendly tattoo kits. They have tattoo machines and other items for practice purposes, meaning you will learn more than the devices. Have fun reading!
1. Dragonhawk Mast – Best Rotary Tattoo Machine For Beginners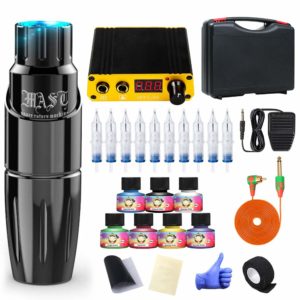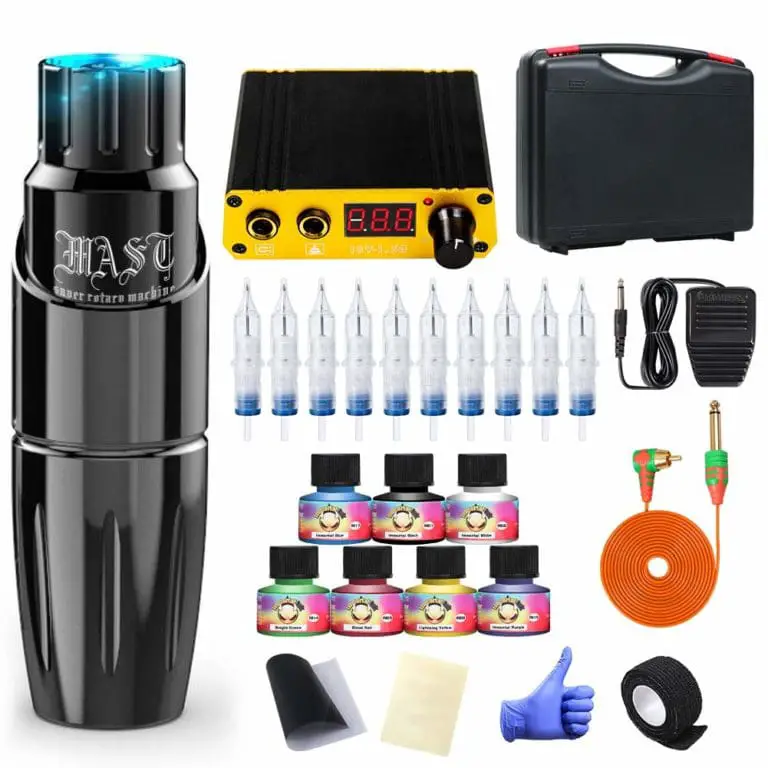 The name of the rotary tattoo machine in the Dragonhawk kit is Mast pen, which will bewilder you with its appearance first, and then performance. From the design to the lines and shades, the tattoo pen carries a touch of perfection everywhere. Ready to dig deep into it?
Why We Selected It in Our Top List
Design, Material, And Motor
The Mast pen has a customized Japanese motor installed in it. It is capable of performing for 3000 hours, of saying the least. It also has a developed gear system that prevents the tattoo machine from being loud while performing.
The device has a frame of aluminum, which keeps it from overheating when you work in long sessions.
Last yet significant, the tattoo machine is highly convenient to use and handle, thanks to its ergonomic design and pebble modeling. Even if you have little skill, you will forget that and become confident once you start working with the pen.
Performance
The device deals with the skin gently with powerful hits while creating precise lines, shades, and colors. Moreover, it can efficiently manage all the functions, which makes it needless for you to buy another tattoo machine.
Besides, it suits all types of skins. So there is nothing to worry about any side effects or skin discomfort if you make tattoos with the Mast Tattoo Pen.
The Kit
Along with the Mast, the kit has a carrying case, a power source, a machine box, a cord connection, a foot pedal, ink colors, practice skin, gloves, practice skin, cartridge needles, and others.
There are twenty cartridges with a diameter of 12, which are polished, safe, and long taper, ready to work for any purpose.
The plunger over-mold ensures control and stability. The membrane mechanism stops the ink from spitting back. You will have a much fluid procedure of tattooing because of the membrane.
The kit comes with most of the tattoo items required for practice purposes. You will not need to invest in additional accessories. With one of the finest tattoo machines for beginners, the kit will get you through your first phase of the destination in the most effective way.
Others
The tattoo machine is as light as a feather, weighing only 82 grams. You can pocket it and go anywhere to make tattoos. Artists traveling now and then will find that very advantageous.
The needle stroke of the pen is adjustable. That means you can change and adjust it as you like, allowing you to learn any and every style of tattooing.
The voltage level of the device ranges from 6v to 9v. So any cartridge needle will get along with it.
Lastly, safety is a significant concern for any tattoo artist, particularly for beginners. That is why Dragonhawk designed the tattoo needle curvatures to keep you safe from any injury.
Pros
Featherweight, stylish, and travel-friendly
Sound performance with no loud noise
Equipped with advanced motor and gear system
Ability to work long without overheating
Flexible with cartridge needles
Cons
The pen vibrates slightly. But it should not be a problem if you can get used to it.
2. Dragonhawk Atom – Best Rotary Pen Tattoo Machine For Beginners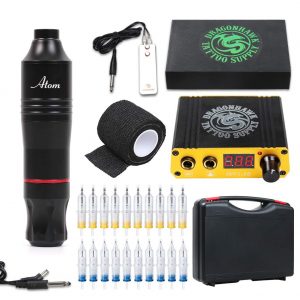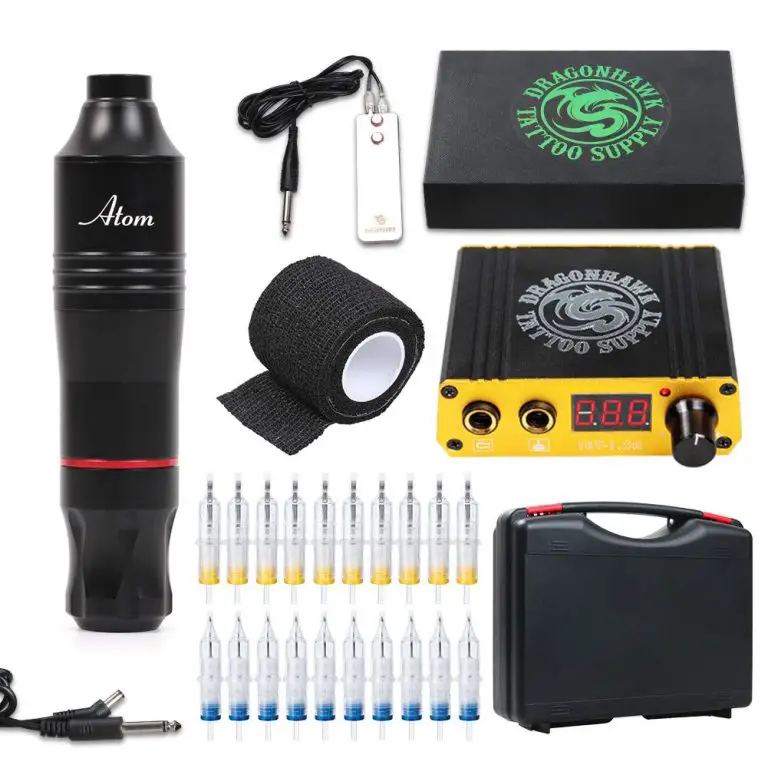 You already know about the Dragonhawk Mast tattoo kit. Now you will get introduced to the Dragonhawk Atom tattoo kit, which will give you a bittersweet confusion between these two. Let's have a look at what it has for you.
Why We Selected It in Our Top List
Design, Material, And Performance
The company made the tattoo machine frame with anodized aluminum with an ergonomic design. The design and the material give the tattoo machine durability and easy balance. Making tattoos with it seems like drawing with an actual pen, as you will see that.
Rotary machines are less loud in comparison to coil machines. But the Atom is almost quiet when it is running. But that does not mean that it lacks enough frequency and puncturing power capability. It does. Otherwise, how could it give you its flawless performance? Its lines are satisfactory. But the colors and shades are extraordinary.
The Kit
The Atom kit includes a rotary tattoo machine, a foot pedal, a power supply, a carrying case, a clip cord, twenty cartridge needles, transfer papers, and practice skin.
You have everything you need in the kit. It is very accommodating with the capability of polishing your skill to the next level.
Others
The Atom pen carries a weight of 135 grams, a wee bit heavier than many other rotaries. But that will not get in your way of self-improvement because you will have easy control and balance. It will also remain steady during long hours of practice.
Pros
Durable frame
User-friendly
Ergonomic design
Reasonable price
Solid performer
Not noisy at all
Cons
Cleaning the machine may not be easy for beginners.
The lining is not as great as the shading and coloring. But the beginners can make do with it just alright.
3. Grinder By Pirate Face Tattoo – Best Coil Tattoo Starter Kit For Beginners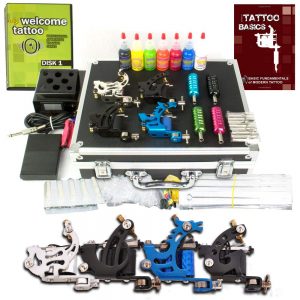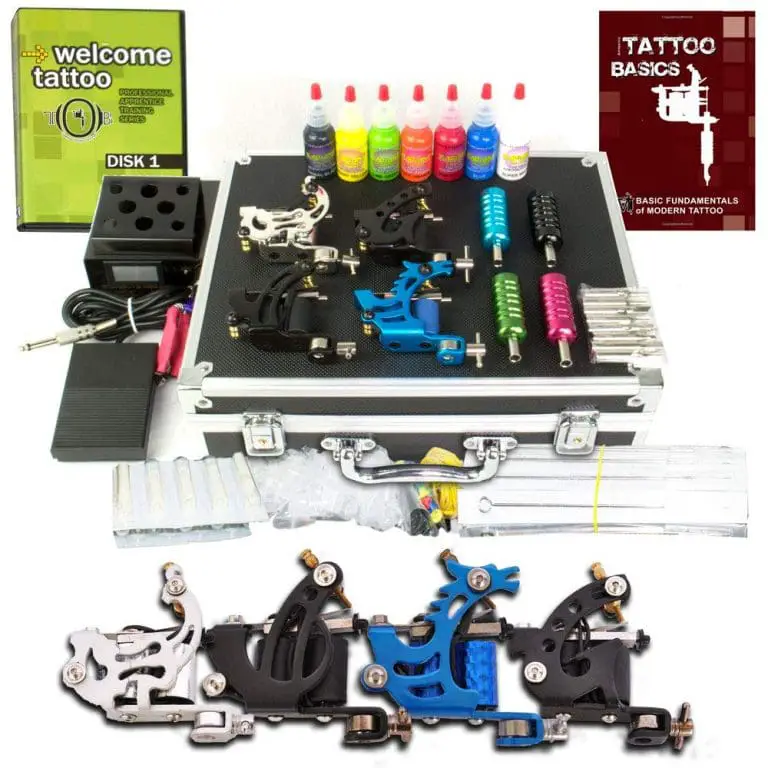 The Grinder Tattoo Kit by Pirate Face Tattoo is a coil kit, one you will love practicing with because it has many tattoo items with some of the best tattoo machines for beginners.
Why We Selected It in Our Top List
Design
Beginners are usually not encouraged to start with coil machines because they are heavy, difficult to balance, and require some skill to use.
But the Grinder tattoo machines are different because Pirate Face Tattoo meticulously designed them to weigh less and be easy to manage and maintain. When you unbox the kit and start running the devices, you will feel as if they were made for you. The design of the machines is what is so convincing and convenient about them being beginner-friendly.
Performance
The kit comes with FOUR coil machines! So you get two for lining and two for shading. That makes sure you can practice a lot for a long time with these devices.
The devices are excellent at making lines and shades. You can practice with them for as long as you want without getting them to overheat. They will enhance your skill, shape it, and grow you as a tattooist in the process.
The Kit
There are four coil machines, a foot pedal, a power unit, seven colors, practice skin, cup holders, fifty needles, disposable gloves, tattoo grips, a clip cord, a book on basic level tattooing, a 2-hour DVD, and others in the Grinder Kit.
The power unit that comes with the kit does not provide you the best service, to tell you the truth. But it indeed does a decent job, which should be enough for learners. Besides, it is LCD-styled. As a result, you can read and adjust the voltage levels easily.
The needles in the kit have different sizes, allowing you to do various tattoo works. There are two kinds of tips – one disposal, another made of stainless steel. You can use either of them with the needles.
I am not a fan of stainless steel needle tips because they are not easy maintenance. On the contrary, the disposable ones are easy to use. Since you are only beginning, you better go with them as they require less care. However, if you are comfortable using the other ones in the kit, you can keep using them. They are also good at the job.
The coil machines run with cartridge needles. So you can use most of them with the devices.
Another notable item of the kit is its colors. There are seven different colors made of natural ingredients without anything harmful. The colors are sterilized, vibrant, and solid. You can make the best use of them by creating a professional color set for yourself.
Others
Pirate Face Tattoo offers a customer-friendly post-sale service. If there is anything wrong with the kit, you can avail of the six-month warranty.
Tattooists in the learning phase cannot afford a high-budget kit, making it difficult to choose a quality product. That is why Pirate Face Tattoo brought this kit to them at the most reasonable price possible.
Pros
Easy to manage and maintain
Great performance
Perfect kit to practice and learn to make tattoos
Silent functioning
Ability to continue performing without overheating
Available at the most reasonable price
Seven unique colors – canary yellow, super white, scarlet red, tribal black, and others
Cons
The practice skin, while moderate, could have been better.
If you know very little about tattooing, you may not understand everything from the DVD in the kit. But there are numerous YouTube tutorials to help you with that. You can also learn the basics from the introductory book.
4. Dragonhawk Essence – Best Tattoo Gun Kit for Beginners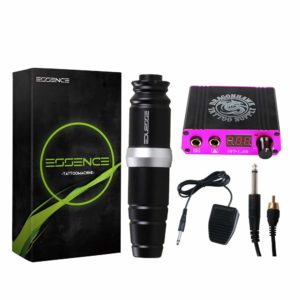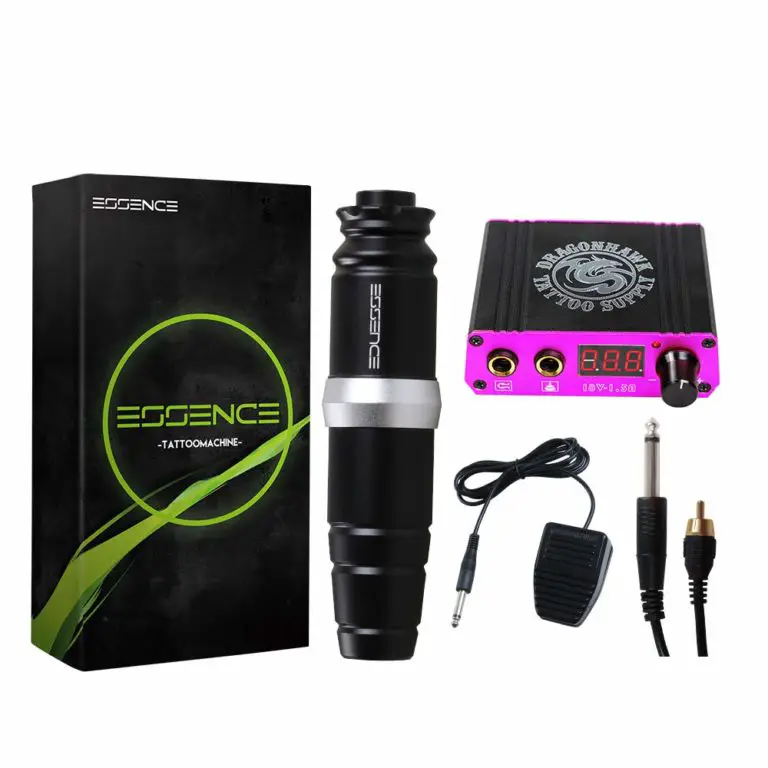 This Dragonhawk kit has the Essence pen, which, in my opinion, one of the best tattoo pens for beginners. One reason for that is it teaches you the essence of tattooing that is highly essential for beginners. The other reason is its professional performance.
Why We Selected It in Our Top List
Design, Motor, And Performance
Just like Mast and Atom, Dragonhawk also made Essence ergonomically. Its pen-shaped appearance smooths the way for holding and running it for you.
The high-powered gear system Japanese motor and keep the machine quiet while you run it. Besides, it does lines, shades, and colors all together and does each of them professionally. You can make tattoos of any shape and size with this rotary device.
The Kit
The box has the Essence pen, a cord connection, a power supply, and cartridge needles.
The power supply can activate voltage quickly and make accurate adjustments. It also enhances the performance of the Essence by generating consistent power output.
Moreover, any cartridge needle will sync with the machine.
Others
The Dragonhawk is most probably the most endearing brand to beginners. Because it does not compromise with its product quality and performance, simultaneously, it cares for beginners enough to charge a lower price than other brands.
If you have not already used a Dragonhawk machine or kit, do yourself a favor by buying the Essence kit. It is available and should be within your budget. It is not the most lightweight machine, but it sure can provide you the service you want.
Its lowest working voltage is 6v and the highest 9v. You may have liked it better if it had a higher voltage range. But at the price it comes, it is the best you can get. Also, remember, it performs like a pro with this voltage.
Pros
Highly affordable
A power source with prompt and precise voltage settings
Pen-shaped design
Pro performance at all functions
Cons
I think the motor should have been more lasting.
The kit has a leaflet carrying instructions about how you can use everything. However, it should have been more detailed for beginners.
5. Solong Complete Tattoo Kit – Best Coil Liner & Shader Tattoo Kit For Beginners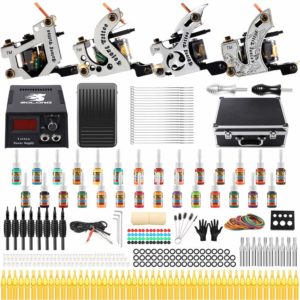 Beginners need to practice a lot until they master the tattooing skill. And when they have more than one machine, they can practice uninterruptedly for a long time. So, Solong assembled this coil tattoo kit with four devices to facilitate your learning. Here is more about it.
Why We Selected It in Our Top List
Machines And Their Performance
The ten-wrap coil guns have a carbon steel frame. They are not as heavy as other coil machines because Solong handmade them. But if you think 250 grams is too much for you, I won't suggest you go for them. However, if you are confident enough to work with them, give them a try. Balancing them is not challenging at all.
They make lines and shades fast with precision. They are high-powered and push your skin deeply to create a bright and lasting color.
The Kit
There are four coil devices, a digital power source, a clip cord, a foot pedal, fifty tattoo needles, sixty tattoo tips, ten tattoo grips, a hundred ink cups, twenty-eight colors, O-rings, an aluminum alloy carrying case, a paper manual, and other items in the Solong tattoo kit.
The LCD-styled power supply has an LCD screen where you can see all the voltage settings. Thus, it provides accurate voltage readings to match the tattoo rhythm. Also, with the LCD style, you can read and change voltage levels easier.
A power supply's first and foremost duty is to give you the correct voltage reading when the tattoo machine is at work. Next, you have to connect the cord connection and affix the device to the power unit to see your adjusted settings on the screen.
The ink colors are gamma-ray sterilized, natural, and safe. They have no harmful substance, so the scabbing is less than usual, giving you a faster healing result.
The kit is easy to set up. If you find it otherwise, resort to the manual. It breaks down the process in the simplest way.
Others
Some of you may hesitate to visit the link below, fearing the kit has a high price. Let me comfort you with the information that this Solong kit is one of the most inexpensive kits in the market. Solong could not have priced it less than it already did.
Furthermore, the kit is available everywhere. You will get it in both retail and wholesale shops. It is CR-certified and has a year-long warranty.
At last, a necessary reminder for you – do not use the machine at a voltage level of more than 12V. It may hamper its lifespan.
Pros
Simple to assemble
Lots of organic ink colors with no dangerous substance
No scars and faster healing
Affordable for anyone, available at any place
Direct help from the company in case of any problem with the kit
Cons
The company should focus more on the packaging.
Additional Read: Solong Tattoo Kit Review
6. Dragonhawk Extreme – Best Rotary Tattoo Machine For Color Packing For Beginners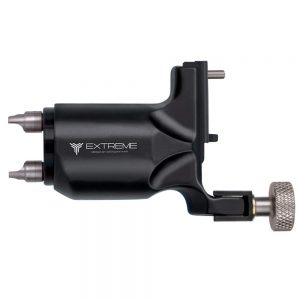 So many Dragonhawks are in here already, but I promise you, it is not the last. Dragonhawk has been overwhelming artists like you with its extraordinary and innovative tattoo equipment. And with the Extreme tattoo machine, Dragonhawk will wow you to the extreme with its charisma.
Why We Selected It in Our Top List
Design And Weight
The ergonomically designed Extreme rotary machine weighs nearly 175 grams, which is not unusually heavy for rotaries. However, the device is light enough with a resilient build of carbon.
Inside the machine, there is a high-quality slider system and a Japanese engine. The slider system helps to keep the needle locked and stable. The engine guarantees quality performance without loud noise and vibration.
Performance
If you want to practice daily for quite some time, you can purchase the Extreme. It is small in size and not heavy. It can also adapt with rough use.
On the other hand, the machine is a versatile performer. It is excellent with lining and shading both. Wait till it bewilders you with its deep black filling, gray and light black shading, and color packing.
Others
The machine box does not bring you the Extreme only but also additional items like a lube bottle, springs, and wrenches. As you already get them with the device, maintenance becomes less costly for you.
7 to 10 is the range of its working voltage levels. 8 to 9 is enough for lines. Switch it down by one or two voltages for shading.
Among other notable features, its needle has a stroke length of 3.5mm. Plus, the machine is available with a cord connection.
Pros
Dynamic engine
Versatile performance
No loud noise and vibration
Capable of performing daily for a long time
It features the slider system to keep the needle from hanging out in the middle of tattooing
Cons
The machine goes dead after performing for several months. You have to clean and lubricate it to get it alive. And you have to do it very often to keep it running.
7. Dragonhawk Horus Rotary Tattoo Machine Kit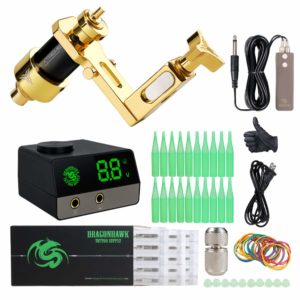 Although it is a Dragonhawk rotary machine kit, it is not similar to the rest of the Dragonhawk kits. But like the others, it succeeded in representing Dragonhawk with its uniqueness, quality, and performance in the most appropriate way possible.
Why We Selected It in Our Top List
Motor And Material
Dragonhawk equipped the Horus device with a customized Mast coreless motor that provides sufficient speed with high power for making tattoos. In addition, it uses higher torque and less voltage when it works.
The frame material of the Horus is pure brass. Being solid and anti-smudging, it can protect the machine against bumps. In addition, it offers silent and smooth performance at lower voltage levels and without any stalling.
Performance
The Horus is the fifth Dragonhawk machine on my list. That gives you enough idea about the performance of Dragonhawk machines.
So, I would like to add only its expertise at color packing and grey and black shades for the Horus device. The magnificent work it does will get you a step ahead of your fellow tattooists.
The Kit And Others
There are the Horus machine, a power supply, gloves, tattoo needles, a cord connection, etc., in the kit.
You can adjust the stroke length by loosening and tightening the screws. The machine can run at 10v, but the recommended operational voltage level is 7v to 9v.
Since it can run with any standard cartridge needle, you get the option to practice more versatile tattoo designs.
Pros
A frame of pure brass
Quiet operation without stalling
Compatibility with standard cartridges
Use of higher torque and lower voltage
Cons
There should have been more items in the package.
8. Dragonhawk Brass – Best Liner & Shader Coil Tattoo Machine Combo For Beginners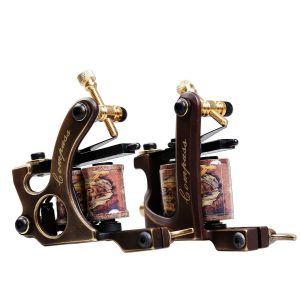 I have talked about Dragonhawk rotary machines and kits. This time, it is a pair of Dragonhawk coil machines. They are the last Dragonhawk pieces for today. See for yourself what the company has brought you.
Why We Selected It in Our Top List
Material And Performance
Both machines have been carved with a CNC billet brass frame. The quality of the material bears the sign of the machine's reliability.
One is a straight shader of the two brass coil machines, and the other is a straight liner. The shader comes with 8 wrap coils, and the liner has 10 wrap coils. Both of them work at 7v and 8v. So you can smoothly make fantastic tattoo designs with them.
Others
The way Dragonhawk has priced the machines, any beginner should be able to afford them. Nonetheless, if you happen to buy them and their performance disappoints you, contact Dragonhawk to get your money back. See, it is a risk-free purchase!
Although Dragonhawk made these brass devices targeting learners and beginners, I would still like to give you a friendly forewarning it may not be easy to practice with them initially. However, if you are mentally prepared beforehand, they will not catch you off guard, and you will do just fine with them.
Pros
Reliable and flexible
Not pricey at all
Friendly customer service
Full refund guarantee
Cons
Their weight is heavy. That will be a problem if you cannot adjust to it.
The machines are not good enough for those looking for one with a higher voltage level range.
9. Stigma Rotary – Best Wireless Tattoo Machine Kit For Beginners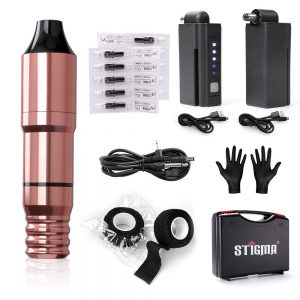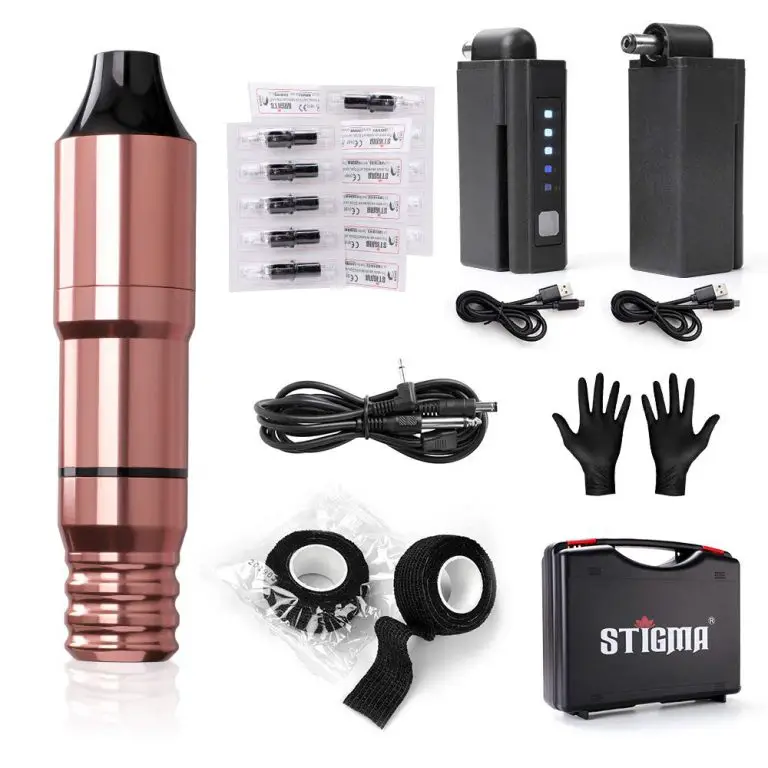 Okay, so I am concluding this article section with the Stigma kit. It is a rotary machine kit, a well-built one suitable for every beginner. In addition, it can give you a taste of the professional tattoo-making process. So here goes another review for one last time for today.
Why We Selected It in Our Top List
Motor And Material
Powered by a Japanese motor, the machine has a structure of aircraft aluminum alloy. Therefore, it is super lightweight and remains quiet and unheated during sessions.
Performance
The service of the machine will give you a professional user experience beforehand. It is an expert lining device with the caliber of carrying out shades and colors. It is one of the best machines for beginners who are interested in designing detailed tattoos.
To sustain the lifespan of the machine and its power supply, run it under 12v. Any higher than that can cause you trouble.
The Kit
The Stigma kit has a rotary device, a digital power source, twenty cartridge needles, a hundred disposable covers, an RCA cord connection, gloves, and a machine box.
The grip covers are sweatproof and waterproof, helping your hold stay stable and make beautiful tattoos.
The LCD power source is small and well-structured. Therefore, it can run for long periods.
You can adjust the needles easily and regularly. In addition, the machine is compatible with any cartridge needle in the market.
Others
If you doubt its conformity to the regulations of the EU, I am pleased to assure you that it has the CE certification.
Another important thing, it has a one-year warranty. So you will get a quick solution for any problem from the manufacturer.
Pros
Performs like a professional machine
Does not make a loud noise and start overheating during operation
Suitable for detailed artwork
CE-certified
A one-year warranty
Overall quality is satisfactory.
Cons
For its price, it should have come with more accessories.
10. Dragonfly Shader & Liner – Cheapest Rotary Tattoo Machine for Beginners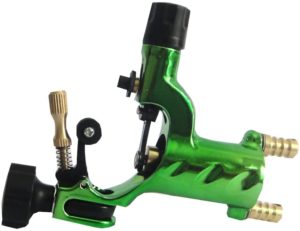 The first one to start the reviews is the Dragonfly rotary tattoo machine. It is a liner and a shader. Beginners who want to begin practicing with a mellow device to get a hold of tattooing will find it a wise choice for themselves.
Why We Selected It in Our Top List
Material And Weight
The machine has a hard-wearing frame of aluminum alloy. If you take care of it regularly, it will last for a considerable amount of time.
The total package weight of the machine is 130 grams, more or less. That tells us the device itself separately weighs less than that. Because of its lightness, any beginner can have a go with it without any trouble. It is one of the simplest devices to deal with for any beginner. Thus, it is an ideal option for them.
Performance
This high-performing device excels at lining and shading. In addition, it has excellent stability, which gives you better control over it.
However, it would be best if you let it rest for several minutes after working for one or two hours. Otherwise, it might cause damage to the machine.
Others
The machine works at any voltage level between 6v and 9v. If you run it at a higher level than 9v, it might cause mechanical wear. On another note, you can use the device with any standard needles, grips, tubes, and power units.
It makes very low vibrations and does not overheat soon. It also comes in two colors – green and blue. About the price, do not worry. There is no way it will be beyond your budget.
Pros
Small, lightweight, and inexpensive
Low vibration
The plainest device set up with the most effortless balance
Budget-friendly
Cons
Putting the machine at rest within every couple of hours can interrupt long tattoo sessions frequently.
It becomes hot quite quickly.
Gives a cheaply build feeling.
How To Choose The Best Tattoo Machines For Beginners?
This section of the article is a buying guide, a very vital part of the whole thing. It will talk about all the variables you must take into account before purchasing a tattoo machine. Therefore, I urge you to read it attentively because it will be your savior when the purchasing process scares you with confusion.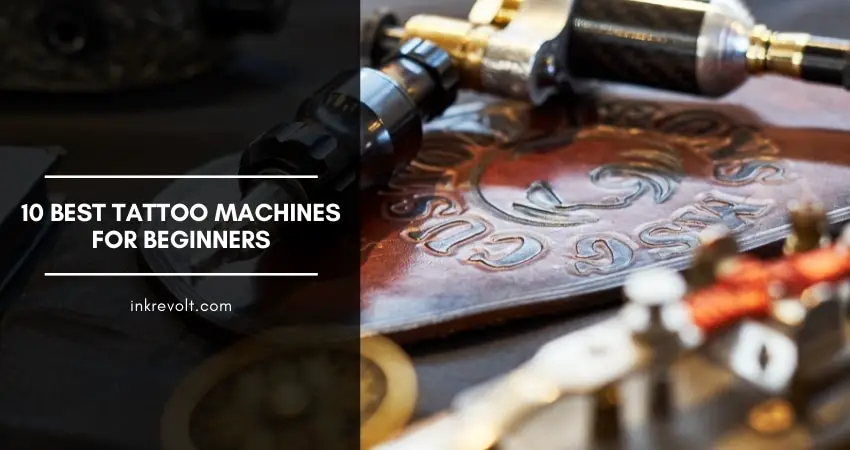 Relevant Articles:
You have already read bits about these two types of machines in this article. So I will not say much about it here. Rotaries are more for beginners, while professionals prefer coils.
The first one is more lightweight, has a more manageable setting and maintenance, delivers quieter performance, and requires you to have little to no prior skill. Professional artists do not mind the sound or vibration. Hence, they get along with coils pretty well.
But since coils are more capable of handling intricate and professional tasks, some manufacturers make them in a way to suit beginners, like the ones I have reviewed some machines here.
If you think you want to buy a coil machine, be sure that it suits you. Regardless of which type of device you buy, you should research as much as you can, gain knowledge about their functions and characteristics, understand which matches your skill level, and figure out which you should purchase.
Cheap Or Expensive?
There are tattoo machines of various price ranges. But it is obvious that you will pick one according to your budget. But, while doing that, also see if the device is cost-efficient. That means you have to find a machine that provides value for the money you spend on it, that delivers the performance it really promises.
Otherwise, be it cheap or expensive, it will fail to meet your expectations in the long run.
Material
If you want a lasting service from your tattoo machine, find one made of quality material. The perfect tattoo machines for beginners must have a solid construction to hold steady during operation. If they have a frame of cheap components, they will break down or malfunction in the middle of performing.
Quality And Performance
The quality and performance of a tattoo device have a positive relationship between each other. By these two factors, I mean a machine has to be well-built and efficient at tattooing while also being resilient and durable.
If it cannot guarantee any of that, it will fail to support you with your practice. And soon, you will have to get prepared to invest in another machine, which you never expected because no one plans to frequently make this kind of investment. So, get one that you can use for a long time.
Number Of Machines
Some devices can do either lining or shading, some, both. Whichever you prefer, see to it that it has expertise in what it does. For example, sometimes a liner cannot pull off perfect lines, while another machine can make excellent lines and shades both.
Besides, it is not like you will work with one or two machines forever unless you choose not to proceed with it professionally. The more you grow, the more you will need to upgrade your skill, for which you have to buy new machines. So, for now, just focus on getting one with adequate mastery in its area of function.
Weight and Ergonomics
As a beginner tattoo artist you might not be working several hours straight away but still it is advised to start with something comfortable and lightweight. It will help you to avoid wrist pain and carpal tunnel syndrome! Also learning would be fun with an ergonomic and light weight tattoo machine.
Beginner-Friendly
One of the purposes of keeping this article devoted entirely to the best machines for beginners is to introduce them to you because all the tattoo devices in the market are not equally beginner-friendly.
There are others for users with intermediate and professional skill levels. But, unfortunately, if you happen to buy one of those, you may fail to manage them properly, which can diminish your enthusiasm to a point where you may never gather the courage to start again.
So, I highly recommend you make sure what you plan to buy is a beginner-friendly machine. Some machines are beginner-friendly but may still be somewhat challenging for newcomers. (There is a pair of Dragonhawk products like that in the review section.) In that case, steer clear of them and look for easygoing ones.
Frequently Asked Questions
Below you will see some of the most frequently asked questions about the tattoo machines for beginners. I answered them intending to give you more insights other than the buying guide.
Which ones are the best tattoo machines for beginners?
You can consider the Mast kit or the Atom kit if you look for tattoo kits. If you are more into machines only, the Extreme would be an excellent option. The market has a lot of beginner friendly tattoo machines.
I have reviewed some of them in the article. Read them attentively, all the features, pros, and cons. Find out what makes one machine different from another. Figure out which particular characteristic you demand from it.
Is it more cost-effective to purchase a kit than a machine?
Yes. A tattoo kit is, of course, costlier than a tattoo gun. But it has all the essentials, so you don't need to invest in the extras individually, which would be more expensive.
And I would say it is also the better option for practice purposes. A kit box offers you everything you need for practice. If you don't want to practice, you better buy a tattoo gun instead.
Is the functional voltage level of tattoo devices fixed?
No. The devices usually have a range of working voltage levels. However, the correct voltage level depends on your tattoo device and the type of activity you perform with it. That is why you have to monitor it constantly.
What is a characteristic a device should have, regardless of its price and performance quality?
Its suitableness for beginners. It is a must from the perspective of a beginner. If he/she cannot use it comfortably, he/she will never be able to create perfect tattoos, no matter how high-performing the machine is.
How much is the price of a tattoo machine?
It depends on what a machine offers you in terms of functions and features. Some cost $50, while others are available at $800, $900, and beyond. Quality plays a huge role here, too.
Final Verdict
I am afraid it has been too overwhelming for you to take in so much information at once. So, I thought I would make a gist of the reviews here so that you can contemplate better and clearer before landing on a purchase decision. It will be short and sweet, I promise.
Out of ten products, six of them are from Dragonhawk. The reason is clear as daylight. Dragonhawk has some of the best tattoo machines for beginners. I find it hard to give you my preference.
For a coil machine, there is a couple of Dragonhawk coils that you could grab. But I would not suggest them to you if you have little to no experience at tattooing.
Then there are the Grinder, Solong, and Stigma kits and the Dragonfly rotary machine. The Dragonfly device is a kit with a modest price and the simplest setting. Any beginner can afford and manage it.
Among the kits, the Grinder is the best. It has four machines and many tattoo items & accessories. But if you do not want a coil kit, you can check out the Stigma one.
Good luck and happy purchasing!
We are sorry that this post was not useful for you!
Let us improve this post!
Tell us how we can improve this post?