Top 9 Best Tattoo Machine Brands For Beginners & Professionals
So far, I have discussed a lot of tattoo devices. There was also other tattoo equipment. That means I have introduced a slew of brands that offer you the best bunch of products. A brand offering you the best of something means it is also the best of its kind.
So, what makes them the best? What in their products makes them distinguishable from others? How come they are the ones people look for, not the others? I guess all of you thought about it at some point. I did, too. So I dug deep to figure out the answer. Hence, you are reading this article.
This time, it will not be about the products but the companies making them. Instead, I will answer the question I mentioned above about the best tattoo machine brands for beginners and professionals. So, if you are a beginner, you should already be excited to learn about the industry leaders. If you are a professional, wait till you see your favorite ones in the reviews.
Now, let's go ahead with it!
1. Dragonhawk
I hope many of you already saw it coming, if not all. I always say that even a new beginner should hear the name of this brand because it is that popular. But I wonder how many of you actually know its full name.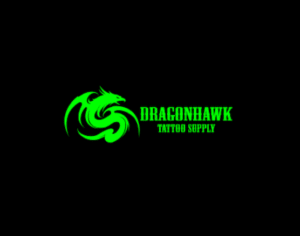 The company's full name is Shijiazhuang Dragonhawk Tattoo Supply Company Ltd. Two tattoo artists founded it two decades ago in 2001 with the mission of providing inexpensive tattoo accessories. However, they had to work for four years to launch their brand in the world market to accomplish their goal and got their trademark registered in 2004. Now it has warehouses in China, the USA, and European countries.
The company offers rotary and coil devices, tattoo ink and needles, tattoo kits for starters and professionals, body accessories, permanent makeup things, and other supplies.
In its journey of twenty years, the company grew more prominent and launched new products. But it never slipped from its original goal – providing artists with original and affordable tattoo equipment.
Dragonhawk has always ensured its products are within artists' budgets, especially beginners, while maintaining adequate quality to satisfy professionals. That is the first thing about Dragonhawk that makes it one of the best tattoo machine brands for beginners and professionals. Along with this, professionally divided departments, safe packaging, and standard operation keep the brand on the top.
Now, how about we look at some of the best Dragonhawk pieces? Bet you didn't see that coming! Enjoy!
Dragonhawk Mast Pen Rotary Tattoo Machine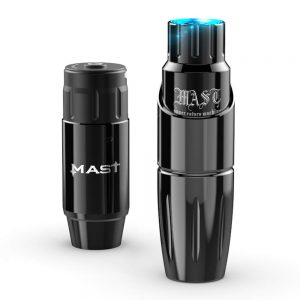 The Mast pen is one of the most admired rotary tattoo machines of Dragonhawk. First, this aluminum-bodied device is an ergonomic and pen-like machine that is lightweight, stylish, portable, safe, and compatible with any needle.
Secondly, it is equally excellent at lining and shading. If you want an ambidextrous tattoo pen, you will love it. And finally, its powerful motor and gear system enables it to work quietly.
Pros
Lightweight, flexible, ergonomic
High compatibility with needles
Capable of pulling of perfect lines and shades
Silent functioning
Safe and suitable for all skin types
Cons
The vibration can be a bit too much
Dragonhawk Atom Pen Rotary Tattoo Machine Kit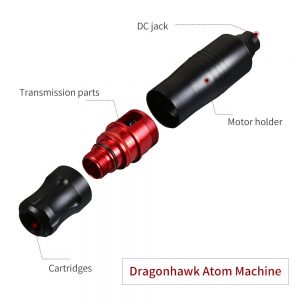 The Atom pen is the signature product of Dragonhawk. You buy it at an affordable price, and in exchange, you get the top-notch quality that will smoothen your tattoo career. The device is ergonomic, so it feels like an actual pen. Besides, it has an anodized aluminum of 135g.
But what's better than an Atom pen? A whole Atom pen kit! The package comes with a power unit, a carrying case, artificial skin, gloves, and transfer paper. For any beginner, it is the best option for practicing to become a professional artist.
Pros
Ergonomic and lightweight
Impressive shades and colors
Silent and steady performance
Reasonable price
Beginner-friendly
Overall satisfactory quality
Cons
The lines are not as precise as the shades and colors
High maintenance
Dragonhawk Mast Tour Rotary Tattoo Machine Kit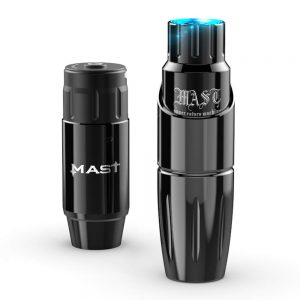 The Dragonhawk Mast Tour pen is one of the shortest, lightest, and high-performing tattoo machines available in the present market. It weighs only 82 grams and is very easy to use.
Moreover, its Japanese motor can serve you for at least 3000 hours without any trouble. About its performance, it smoothly transfers ink to your skin and makes flawless lines, grey and black shades, and colors.
The kit of the Mast Tour pen has a power unit, a carrying case, gloves, seven ink colors, needles, a cord connection, artificial skin, and others. Thus, it has everything necessary to begin tattooing.
Pros
Smart, compact, and efficient
Incredibly durable
Portable and travel-friendly
Exceptional membrane mechanism
Praiseworthy performance in all three areas
Cons
Slightly pricier than the other two
2. Cheyenne
Cheyenne started manufacturing professional tattoo accessories as per the highest global standards in 2006. The company is considered a brand of safe and high-quality supplies, known for reliable and robust ergonomic tattoo machines, needles, grips, and other practical accessories. What makes Cheyenne stand out among many is its technical capabilities.
The brand stands for technical excellence and innovation. It has revolutionized the industry and its market. While offering newer and more refined products over the years, the company has given safety, comfort, and hygiene a new dynamic.
Cheyenne wants you to compromise nothing when you work with its tattoo machines. That is why it tries relentlessly to bring innovation in its products, so you can let your artistic skills flourish through them. As a result, the Berlin-based company is now widespread worldwide and gaining more popularity each day because of its excellent products.
Cheyenne Hawk Pen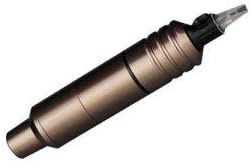 The Hawk Pen from Cheyenne got an award for its remarkable design because it bears Cheyenne's endeavor to introduce innovation to the fullest. In addition, its setup is manageable for beginners, while professionals like it because of its quality.
It comes with an excellent protection case that keeps it from rolling away from the user's hand during its operating time. There is a protective case with the device to keep it slip away from the artist's hand while functioning. It has also become clients' favorite by being medically hazardless.
Pros
Medically tested and safe
Customizable grips
Low vibration
Easy setup
A one-year warranty
Cons
The price tag is not cheap
Cheyenne Sol Nova Tattoo Machine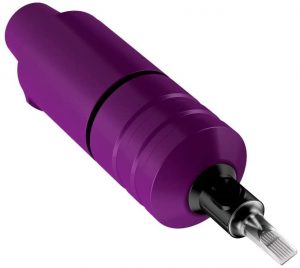 The Sol Nova Tattoo Machine is a mighty one that runs softly, quietly, and gently on your skin. It will not make the skin rough. Instead, it gives you a relaxing and quick healing process. Additionally, its sharp lines, soft shades, authentic colors, and dotwork prove tremendous accuracy and control over its work. The device fulfills all the health regulations as per the USA standards.
Pros
Ideal healing process
Accuracy and control in all the functions
Completely hygiene
Skin unharmed
Low vibration
Available in six colors
Softly treats the skin despite powerful hits
Cons
Price tag is not friendly for beginners
Cheyenne Sol Terra Tattoo Machine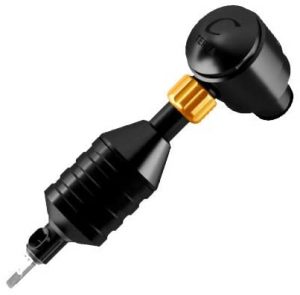 The Cheyenne Sol Terra Tattoo Machine offers you an unmatched tattooing experience, establishing a new height for angled tattoo devices in the market, introducing two settings named Hard and Sensi to give you two wholly different experiences.
The first one makes the machine a perfect liner, and the latter enables it to perform like a traditional coil device. On another note, the brushless motor of the machine lets artists control the settings to work more precisely, reduce pain, and quicken the healing process.
Pros
The quietest Cheyenne machine
Two different settings
Precision in performance
Reduced pain, faster healing
A one-year warranty
Cons
No exchange or return allowed
Cheyenne Compact Power Supply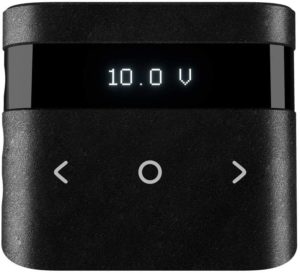 This compact and ergonomic power brick weighs only 150 grams. It is compatible with Cheyenne SOL-family devices for intuitive operation. It has two functional modes: one is continuous, and the other is momentary. It also features a stopwatch to measure the tattoo sessions' time.
Pros
Compact and easily portable
Two functional modes
Stopwatch to measure time
Compatible with other brand machines when used with an adapter
Full utilization of low-frequency operations
3. Bishop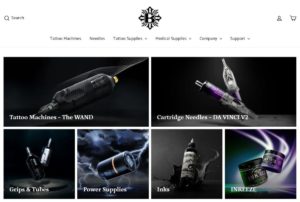 'Art is magic,' said Franco, the founder of Bishop. And that is the mantra of the brand. It treats its machines as art pieces. So you will find a touch of beauty and innovation in each of its product designs. It started its journey a decade ago, so you will see Bishop only got better with time if you trace it back.
While determined to provide artists with premium tattoo supplies, the brand strongly believes that every artist should have the affordability to find greatness. So even when Franco was suggested to increase the price, he didn't. Instead, the priority was always to ensure that every artist has accessibility to get the best option.
The common characteristics of the Bishop products are their first-class materials like Swiss motors, German bearings, Japanese medical-grade plastics, aircraft aluminum, etc. Furthermore, the company finishes the manufacturing process with American engineering.
Hence, while the quality stands high, the price remains reasonable. Finally, Bishop made its products more desired by offering a 12-month warranty with all of them.
Bishop Rotary Liner Wand Tattoo Machine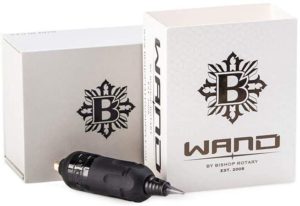 This rotary device is adept at performing various functions. First, it is equipped with a robust motor to establish high precision and stability in its work. Second, with its fast speed and torque, you can try out different tattoo styles with it. Lastly, the weight of the machine is so light that you can take it anywhere with you.
Pros
Almost weightless
Precise work
Maximum torque and speed
CNC-machined
Ergonomic design
Cons
Some users complained about the durability
New Bishop Rotary Tattoo Machine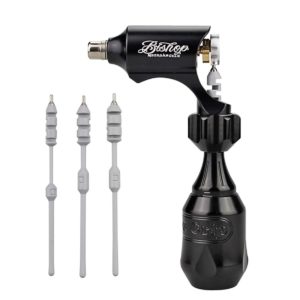 The dynamic Swiss motor system of the New Bishop Tattoo Device offers you reliable, silent, and vibration-free performance. It can perform continuously without getting warm after a while. Furthermore, it features an especial innovation mechanism to facilitate it to hit directly and firmly with sufficient softness. As a result, it packs faster, ensures standard quality, and causes less trauma.
Its operational voltage level ranges from 8v to 10v.
Pros
Standard performance
Lightweight and ergonomic pen-style machine
Low noise and vibration
Stays cool
Especial innovation mechanism
Cons
Its durability is not that impressive.
Bishop Fantom Rotary Tattoo Machine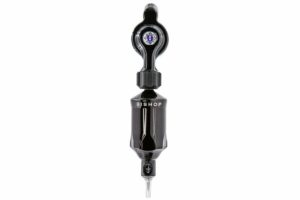 Of all the tattoo machines Bishop has made so far, the Fantom has to be the most innovative one. It is highly remarkable and admired for its lightweight build and optimal balance. The company made it with first-rated material aircraft aluminum. Plus, it has a high-end medical-grade customized motor.
The device includes plunger bars for grips of all sizes.
Pros
High-end customized motor
Cartridge machine
No lubrication needed
Perfect balance
A tiny weight of only 1.7 ounces
4. Hawink
Hawink is one of the front leaders of the industry, making the most sophisticated and advanced tattoo devices and supplies. Founded 13 years ago in 2008, the brand has gradually expanded into a tattoo supply company integrating manufacturing and sales.
Hawink does tremendous research before launching its products to keep them updated with the increasingly changing trends and demands. It designs new products every year and works on increasing their functions, uses, and performance.
The brand became the first-ever tattoo manufacturing company to introduce wireless tattoo devices and power supplies to the industry. That brought a revolutionary change in the tattoo arena and changed its focus to wireless machines.
Its world-class tattoo devices, kits, needles, ink, and other supplies with their capability to meet the ever-changing needs of artists make Hawink one of the best tattoo machine brands for beginners and professionals. While the company makes products on its own terms for artists, it also customizes them as per the artists' requirements. That's amazing, right? The company is so efficient at what it does that now it manufactures tattoo supplies to fulfill the specific demands of its customers.
Hawink Rotary Short Pen

The hybrid tattoo pen from Hawink is the closest thing that feels like a real pen. It has a mighty motor and a dashing appearance. Its performance is quiet, smooth, stable, and smooth. From beginners to professionals, every tattoo artist will find it worth using.
Pros
Silent performance
Easy maintenance
Stays unwarm during lengthy tattoo sessions
Suitable for all users
Less irritation, faster healing results
Cons
Chance of mechanical wear when used above 10v
Hawink Rotary Tattoo Machine Pen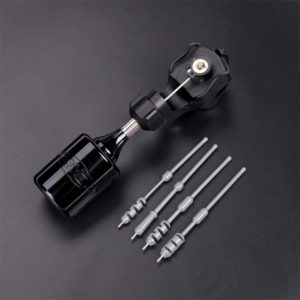 This versatile pen is an excellent option for making lines and shades altogether. Its material is aluminum alloy that makes it highly durable. Besides, the machine runs fast while maintaining stability during long sessions. It comes with a piece of tattoo grip and an RCA cord connection.
It weighs 240 grams, and its recommended starting voltage is 4V.
Pros
Versatile performance
Durable and steady
Value for money
Quality materials
Inclusion of cord and grip
Cons
A bit heavier compared to others
5. Solong
Solong Tattoo Supply is another top brand in the industry, founded by Yiwu City Solong Imp & Exp Co. Ltd in 2008. It is one of China's biggest tattoo equipment manufacturing companies, specializing in making and selling superior quality rotary tattoo devices, needles, needle cartridges, ink, kits, tips, disposable tubes, grips, power supplies, and every other thing you possibly imagine that involves tattooing.
Solong goes by only one rule: quality products, best service. The brand maintains integrity and professionalism in its business. It has an experienced R&D team to conduct thorough market analysis to keep it ahead of the business and trump the growing competition among other companies.
Over the years, its reputation became so widespread that it developed other brands like Tornado, Solong Tattoo, and Charme Princesse and is now running them with pride and success.
What makes Solong one of the best tattoo machine brands for beginners and professionals is its goal to offer customers high-quality and versatile products, professional and friendly service, and fast delivery. It does not matter if you bulk-buy or buy a single product from the company. It will treat you with the same priority because Solong wants to maintain a long-term relationship with its customers.
Solong Rotary Tattoo Pen Kit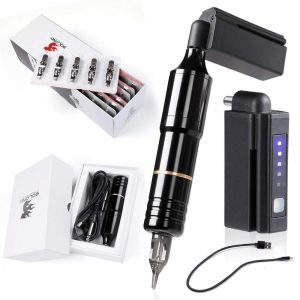 The Solong Rotary Tattoo Pen is made of aircraft aluminum alloy with an anodized finish. It has a rechargeable tattoo battery of 1500 mAh while also featuring a Taiwanese 10w motor. You can use this CE-certified CNC-machined device to make tattoos, eye lines, lip lines, permanent makeup, etc.
The kit has the machine, a battery, and fifty pieces of cartridge needles.
Pros
Wireless
Durable materials
A rechargeable battery
Capable of doing various functions for different purposes
Warranty available
Cons
No variation in needle sizes
Solong Rotary Tattoo Machine Kit EM138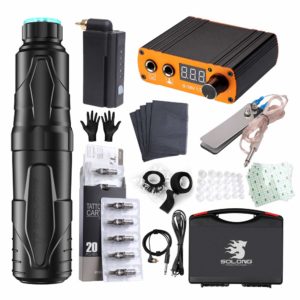 The material of the machine is high-quality space aluminum. Its operational voltage level starts from 5v to 14v, which is relatively uncommon in typical tattoo devices. Additionally, it has two power supplies of different types, so you get to use them interchangeably for more efficient tattooing.
Other than the mentioned accessories, the kit has needles of different sizes, a carrying case, tattoo tips, gloves, practice skin, etc.
Pros
Two power supplies
Large voltage range
CE-certification
Warranty available
Best for beginners
Solong Tattoo Kit EK129-1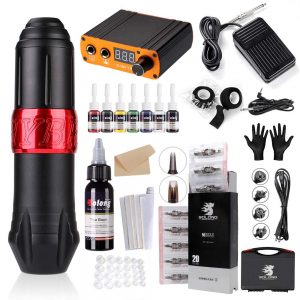 Solong made this kit intending to give you a better user experience. The device is easy to use, pen-style, and portable. Moreover, it has a power supply that you can adjust as per your requirements to get an accurate voltage reading. The power supply is so efficient that it contributes to the work improvement of the machine.
The device comes with a power connection, eight ink colors, a foot pedal, and other necessary tattoo stuff, along with the power supply.
Pros
Portable, easy setup
Efficient power supply
Accurate voltage reading
A one-year warranty
Overall reliable performance
Cons
Ink is for practice purposes only.
Additional Read: Solong Tattoo Kit Review
6. Stigma
The German-based brand set its foot in the tattoo industry with some passionate tattooists having two decades of experience managing their tattoo salons. Tattooist Artemis Rosakis pioneered, designed, and made the first generation of Stigma Rotary machines. He is the father and head developer of the company. He invented compact and silent tattoo devices, which bewitched lots of tattoo artists.
The primary goal of the brand is to focus on what tattooists want. Therefore, it develops its products with precision and excellence to make them the perfect companions for artists, which will pave the way for their improvement. Stigma uses the latest technology and hires professional artists to design the products because it takes one pro artist to know another's requirements. Simultaneously, the brand makes sure to launch specific tattoo supplies to suit the beginner artists' purposes.
Stigma has always been strongly determined to maintain the utmost quality in its products and services to give customers the best buying experience. As a result, the company never mass produces any device. Instead, it has its expert artists and engineers hand-assemble each device and test them meticulously before they reach you because you are its another main concern besides high-quality equipment.
Stigma Rotary Tattoo Kit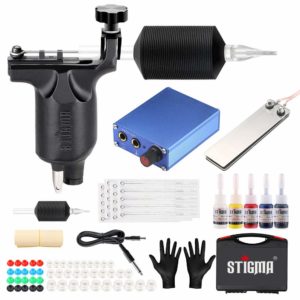 The rotary device in the kit is a wireless one with two batteries. It is CE-certified and has a 12-month warranty. 12v is as high as its voltage level goes. For lining, you will need 8v to 11v, whereas 6v to 9v is the range for shading.
Apart from the machine and its batteries, the kit offers you individually packaged and sterilized needles, a carrying box, a cord connection, etc. Of course, the device goes along with any cartridge needles.
Pros
1500 mAh battery capacity
Light, wireless, and reusable
Safe and sterilized needles
CE-certified
Warranty available
Cons
Batteries should have been more durable.
Stigma Complete Pro Tattoo Kit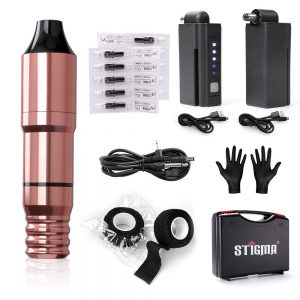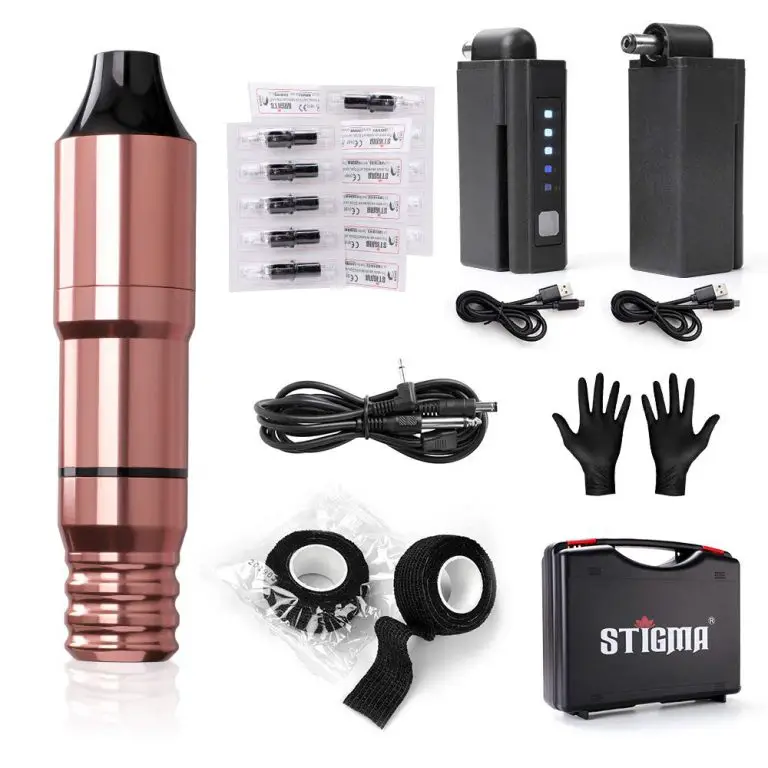 The kit comes with a pro Stigma device made with the latest technology. It has a 10w mighty motor, with which it performs flawlessly and shows equal excellence in shading and lining. Moreover, its simple setup makes it beginner-friendly.
The kit has five ink colors, silicon grips, needles of four sizes, tattoo tips, artificial skin, and others. It is a handy package to bring updates in your skills and styles.
Pros
A sturdy device
Admirable performance
Authentic ink colors
Different sizes of needles
A beginner-friendly kit
Cons
Ink colors are best for practice purposes only.
Additional Read: Pro Tattoo Kits
7. Bronc
Bronc is a professional tattoo supply manufacturing company with its own factories. I am sure you have heard of the brands Hummingbird and Bigwasp. They are the brands of Bronc.
It rigorously researches and tests its products while consulting with the best tattoo experts in the field.  Combining their experience and expertise with its manufacturing knowledge, Bronc creates outstanding and unique tattoo supplies for its customers.
Bronc constantly works on its products to get the best version of them, making your tattooing experience easier and more enjoyable.
But what's one thing that makes Bronc one of the sought-after and best tattoo machine brands for beginners and professionals? It's Bronc's fantastic service. Just as I said before, it scrutinizes its products thoroughly to leave it no chance that you get faulty or unfinished products after ordering. That is how much the brand values its customers.
Bronc Premium Quality Rotary Tattoo Pen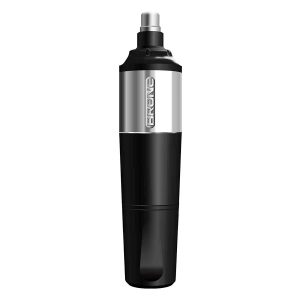 The Bronc Premium piece is a three-in-one allrounder package. You can make sharp lines, deep shades, and lively colors with it. On the other hand, it allows you to adjust its needle depth and has compatibility with most needle cartridges.
It is more suitable for professional artists. But beginners can try it, too.
Pros
Easy setup and quick adjustments
User-friendly
Quiet functioning
Inclusion of extra accessories
Quality materials
Adjustable needle depth
Cons
It takes time for some to get proper control over the device
Bronc Professional Tattoo Power Supply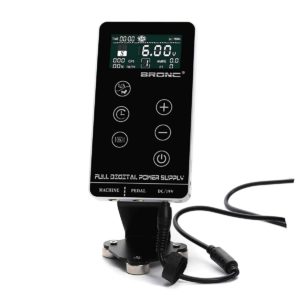 The best thing about the Bronc Power Supply is that it has a pretty affordable price within which it offers everything. It has a stopwatch and an LCD to control the output. It also features a screen protector. You can take it off and see that the screen has no scratches.
Pros
LCD and stopwatch
Memory mode presets
Easy function
Two different modes
A warranty with a satisfaction guarantee
Affordable price
Cons
A foot pedal to be bought additionally
8. Ink Machines
Ink Machine, based initially in Sweden, has a mission to supply the top products to the artists. If you lay your hands on Ink Machine products, you will feel the extra care it put in them, so you can use your freedom to the fullest to create art.
The notable thing about the brand is that it will take input from you and integrate it into their products to improve. I love how they take suggestions from their customers and implement them to give them a better experience. That tells you that Ink Machines is not an average supply company. You can trust and rely on it to provide you with the best tattoo machine to continue your career.
Dragonfly Authentic X2 Rotary Tattoo Machine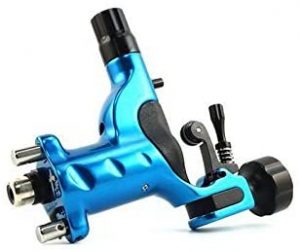 Ink Machines imports its authentic Dragonfly tattoo machines from Sweden. It is highly energy efficient with a rate of 86%. You can run it with any kind of cartridge and standard tattoo needles. The stroke lengths are adjustable, allowing you to pick one from 2.6mm, 3.7mm, and 4.5mm.
The device is available in several colors: crazy lime, demonic blue, evil black, deep purple, seductive pink, etc.
Pros
Imported from Sweden
Super energy efficient
Compatibility with cartridge and standard needles
Adjustable stroke lengths
Easy settings
Cons
The motor can be a bit noisy
Stingray X2 Rotary Tattoo Machine
The Stingray X2 Tattoo Machine, weighing only 85 grams, is a silent performer of decent quality. It works with any power supply with a 0v to 13v range. The hitting force of the device is adjustable. Its typical stopping position is upward.
It has a swiss motor and a mechanical output of 4mm. Its stroke length is 4 mm, made of stainless steel.
Pros
A Swiss motor
Excellent lines and shades
Compatibility with cartridge and standard needles
Silent functioning
High energy efficiency of 86%
Cons
The manual may not be easy to understand for beginners.
Scorpion Rotary Tattoo Machine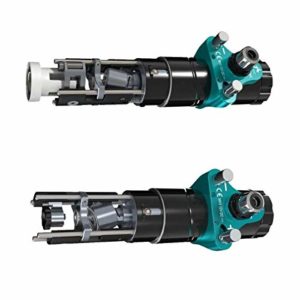 The machine comes with a mighty red magnet. It is particularly compatible with neo-cartridge needles and Scorpion grips. It is an ideal option if you have tough skin. You can also use it for needle inspections.
Pros
Hygienic and smooth tattooing
Magnetically fixed needles
A 4mm stroke length
Minimal skin damage
Quick ink saturation
Cons
Not much available information on the web
9. Workhorse Irons (WHI)
Workhorse Irons is a parent company with some of the best tattoo machine brands for beginners and professionals. It has a current lineup including Aaron Cain, Seth Ciferri, Chris Smith, Juan Puente, Mike Pike, and other reputed artisans. WHI always hires the expert to develop, design, and tune its products.
WHI claims to be the best in the trade because it has experience. It knows why you need your shader to go slower, how it can make it that way. The developers are adept at what they do, and they have their styles.
So, simply put, the brand does not recognize itself as a group of investors to make money off tattooing. Instead, it acknowledges itself as a bunch of tattooers contributing to what is best for the community.
You will get authentic handmade tattoo supplies from the company at a comparatively low price. However, that is not because their products are not high-quality. On the contrary, the manufacturing cost is lower since the builders use the same machinist, supply house, shipping agent, and foundry. Consequently, they can save expenses without compromising their integrity and product quality.
Joshua Bowers 2 Stroke Direct Drive+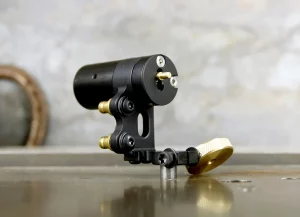 The phrase '2 stroke' in the device's name is there because it has two unique stroke characteristics, with which it does sharp lines, shades, colors, and black and grey work. The functional voltage level of the machine is between 3v and 6v. It weighs nearly 4.65 ounces and pushes all groupings with ease.
The tattoos you make with the device will have solid healing on any skin type.
Pros
Lightweight
Durable frame with an anodized finish
Unique strokes
A stroke length of 5 mm
Ideal healing results
Cons
The highest voltage level is limited to 6 only
Dan Kubin X Adam Ciferri Ghost Dog Revival Hybrid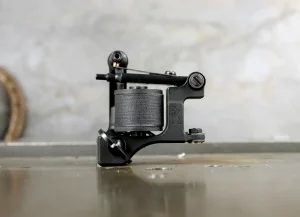 The ergonomics and overall multifaceted performance of the machine make it a hybrid masterpiece of Workhorse Irons. It has an especial spring setup that will remain unbroken for a long time. The device comes as a sturdy, fast shader. You can also run it as a medium-speed lining machine. It can perform at 10v at max, which means it is capable of handling large groupings.
If you want it to pack colors, take out the spring beneath the front one.
Pros
Sturdy and long-lasting
Liner and shader both
Compatible with large needle groupings
Made with precision and care
Changeable to a color packer
NEW Mike Pike PMA Direct Drive Rotary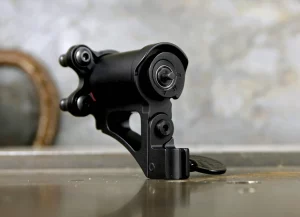 WHI used the best components in the production of the New Mike Pike, which made it smooth running, rock-solid, and consistently performing for years without causing any trouble. It has a high-end motor, a body of top-notch aluminum, and a multiway Cam capable of accommodating any strike. It is not heavy at all. So you can use it effortlessly for outdoor gigs. However, it will prove resilient enough when put to stand for long periods.
Pros
Capable of performing for years
Quality materials and technologically advanced
Effortlessly manageable
Light yet resilient
Inclusion of a clip cord connection
Cons
Best when used by professionals only
Frequently Asked Questions
Why is Dragonhawk so popular among artists?
That is because it always maintains quality in its products while charging you comparatively low. You don't always find tattoo machines with that combination.
How do pen-style machines from Dragonhawk, Cheyenne, and Hawink help beginner artists?
The mentioned companies are renowned for making devices feeling almost like an actual pen, especially for beginners. Pen-style machines are the easiest to use. They are ergonomic, so beginners get a hold of them pretty quickly. It also helps to bring variation in their work. Any starter working with it will be sure to have a great head start.
Is the quality of Solong tattoo machines satisfactory?
If you are asking that for beginners and intermediate-level tattooists, I would say yes. The brand builds its machines with properly organized components. It has already made a long-track record for serving with the highest standard. With Solong products, starters and apprentices can develop their skills with convenience and ease.
It also has world-class kits that any tattooist can practice with and hone their expertise. The Solong practice kits are exclusively what makes it one of the best tattoo machine brands for beginners and professionals.
Final Words
I have talked about the 9 best tattoo machine brands for beginners and professionals above. I have told you about their journey and how and why they became industry leaders.
To put it in a nutshell, continuous R&D, quality and price balance, and prioritizing users' demands are what set the brands at their peak. I hope you have enjoyed reading them as much as I have enjoyed writing about them.
Thank you & Happy Tattooing!
We are sorry that this post was not useful for you!
Let us improve this post!
Tell us how we can improve this post?