Solong Tattoo Kit Review: Perfect For Beginners?
Nowadays, practicing with a tattoo kit is easier than ever since there are a lot of tattoo kits on the market. Any tattoo enthusiast can make up his/her mind, buy a tattoo kit, and start practicing right away. But then again, how do you choose one when you have too many options?
Simple! Choose the Solong Kit! It is a great package that provides you with safe and stylish tattooing. That makes it a very good purchase for both beginners and professional artists.
To learn more about this terrific tattoo kit, check out this Solong tattoo kit review, where we will explain its pros and cons, functions, features, benefits, and other important stuff. Hopefully, this review will help you make a wise purchase decision.
So, let's dive in.
Introducing Solong Tattoo Kit
Solong, a large manufacturer of tattoo kits, is very popular among tattooists. The reason behind this is the products they make. Their tattoo kits are excellent and suitable for beginners, apprentices, and professionals – all types of artists.
This tattoo kit comes with several tattoo guns, premium colors, ink cups, rubber bands, rubber O-rings, color grommets, needles, disposable tattoo gloves, and a lot of other things that you will need to practice.
Here are some necessary specifications of the Solong Tattoo Kit.
Solong Tattoo Kit Specifications
Brand: Solong
Weight: 4.4 lbs
There are four pro-guns for lining and shading.
There are a foot pedal, a clip cord, and an LCD-styled power supply.
There are 54 premium colors.
You will find many more accessories in the kit besides 50 needles, 100 ink cups of different sizes, 60 tips, 10 grips for tattooing.
1 Tattoo Machine Kit Paper Manual The package also includes a paper manual about the tattoo machine kit.
Who Is This Product For?
I have already mentioned who this product is for in the beginning. But I am still going to discuss it so you realize if you should really go for it. Because a purchase decision pays off only when you do the calculation beforehand, right?
Go through the list below and see if any of them fits your situation. I am sure it will help you to get a step closer to finalizing your decision.
You have a low budget. You are just looking to explore this field to understand if it is suitable for you as a career.
You want to buy something for personal use.
You want the products to have the best quality at this price range.
Problems You Might Have To Face
The power supply & the engine may stop working sometimes.
The ink colors may come out within a short time. And when that happens, it will make it challenging for you to make a smooth tattoo.
Although professionals can use it for practice purposes, it is a better match for beginners.
Pros
The price is very affordable.
It has a lot of ink color options.
There is no substance in the kit that can cause harm to the skin.
The setup is effortless.
It comes with a one-year warranty.
Cons
The packaging is insufficient. It might damage the inks and machines inside.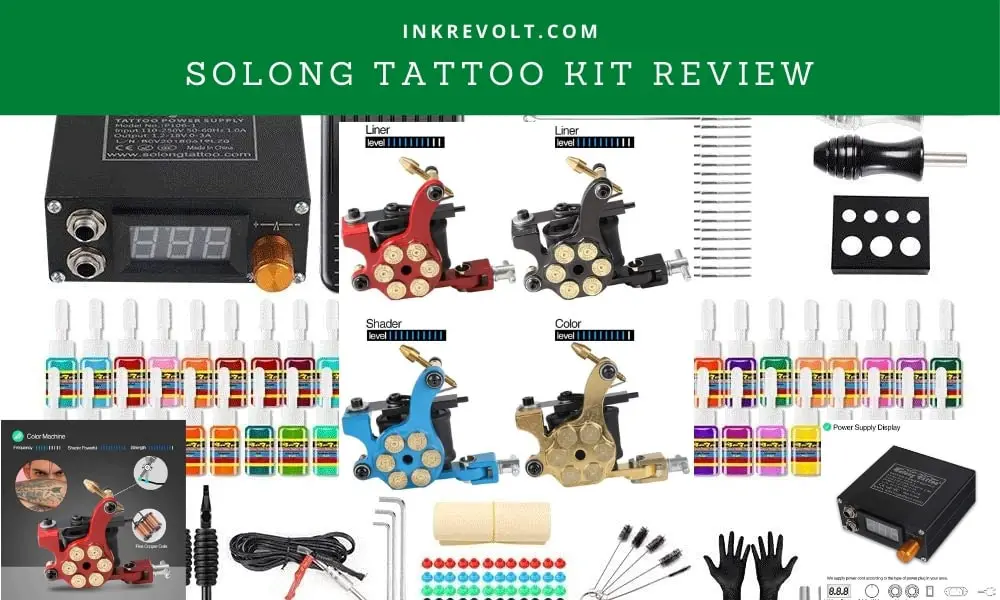 Solong Tattoo Kit Review: Features And Benefits
While it is true that you will not get much from a product for a certain amount of price (especially if it is low), it is also undeniable that what the Solong kit has to offer is way more than what its price tells you.
Let's go through the features and benefits of this product now.
Tattoo Machine
The kit comes with four ten wrap coil tattoo guns so you can do both shader and liner. Carbon steel has been used to make these handmade coil machines, and hence, they are very lightweight.
The machines work very fast and make precise marks. They are also powerful enough to penetrate into one's skin deeply. So this is beyond any doubt that you will have a lasting and robust color.
Besides, the weight of each of the machines is 250 grams only. This ensures that you will not feel exhausted while working with them for a more extended period of time. The voltage for each machine ranges from 4V to 12V.
Ink Colors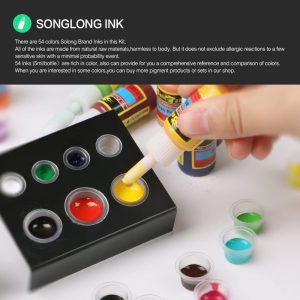 I am almost 100% sure that when you read the number of ink colors, you were surprised, no? Because this kit offers you FIFTY-FOUR vivacious and gamma-ray sterilized colors! Not getting surprised would be surprising!
Also, the colors are micro-dispersed, and so you can work with them efficiently.
Moreover, if you are vegan, there's a piece of good news for you: the colors are entirely vegan-friendly, and they do not contain any harmful substance.
After getting a tattoo design with this kit's ink, the process of healing becomes smooth since the ingredients are natural. It also means that there will cause no scarring because of less scabbing. After the healing process is over, you will have a bright and sharp tattoo.
LCD-styled Power Supply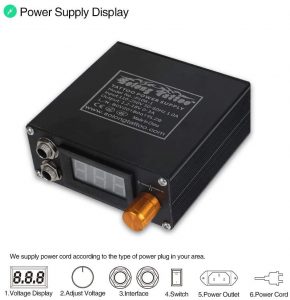 The power supply is digital, and it is relatively stable and robust.
With this power supply, there will come one clip cord and one top-foot controller. The settings will be there on your LCD screen.
A power supply's primary responsibility is to come up with a precise amount of voltage when a tattoo machine is functioning. You can use the clip cord and attach the tattoo gun to the power supply. The settings you adjust will show up on your LCD screen so you can do a perfect tattoo design.
Cheap And Available
Here's a fun business fact: this kit of Solong comes at such a low price that other companies had to cut down their kit prices to catch up with the company. So, it can be said that Solong gives you the highest quality kit at the lowest price possible.
Besides, the product is always in stock. You can get it at both wholesale and retail shops. So you see, when I said you could just make up your mind and get you a Solong kit in an instant, I didn't lie.
Special Features
Everything is included in the kit box, and the instructions about them are easy to follow. This will help you practice a lot before you go for tattooing on real skin.
There will be a nice carrying case too.
Alternatives You May Consider
Wrapping Up
This is all about the Solong tattoo kit review. It is the cheapest tattoo kit that will not disappoint you with its quality. It has excellent tattoo machines, a lot of sound colors, and reliable tattoo machines.
The best part about this kit is that it doesn't give you the 'low price means low quality' vibe like a lot of other cheap products. Yes, it's not 'extraordinary' tremendous, but it definitely gives you a lot more than you can expect at the same price from other products.
It lets you practice a lot and decide if you are really fit for this profession. If yes, you can advance with a higher-quality kit. If no, it's never a loss to have a fun experience, right?
I hope the review has helped you make the right decision.
>>>Check More Reviews & Today's Price on Amazon<<<
We are sorry that this post was not useful for you!
Let us improve this post!
Tell us how we can improve this post?