9 Best Tattoo Kits For Professional Tattoo Artists
A premium quality tattoo device is a must for making magnificent tattoos, of course. But what would make tattooing more convenient for you? A premium quality tattoo kit!
A tattoo kit contains almost every essential part needed in the entire process of making tattoos. You get a package of all the stuff and start making tattoos with that. In case of purchasing a tattoo machine, you have to spend on the other accessories separately. That requires more time and money. A tattoo gun kit is a massive help in this situation.
Therefore, today, I intend to introduce you all to the best tattoo kits ever. I will review them elaborately and display their strengths and weaknesses. There will also be a guide to tell you what to consider when you plan to buy a tattoo kit. Also, I will answer some questions on relevant issues about which you ask most frequently. Lastly, there will be my final verdict about the reviewed tattoo kits.
See, it sums up everything you need to know about the best tattoo gun kits. So, without further dillydally, I am going to start it now.
Best Tattoo Kit: My Top 3 Picks Compared
I made the table to give you a brief about the tattoo kits I found the worthiest of all. It's not like you'll necessarily have to think like that too. But I think it will give you an overall idea about the products.
Some Extras In The Kits
20 pieces of cartridges, 1 machine box, and foot pedal
50 needles, 60 tips, 100 cups, 1 paper manual, and 1 carrying case
50 needles and 1 introductory book on tattoo fundamentals
Some Extras In The Kits
20 pieces of cartridges, 1 machine box, and foot pedal
Some Extras In The Kits
50 needles, 60 tips, 100 cups, 1 paper manual, and 1 carrying case
Some Extras In The Kits
50 needles and 1 introductory book on tattoo fundamentals
As an Amazon Associate InkRevolt earns from qualifying purchases.
9 Best Tattoo Kits Reviews
In this article, there will be 9 tattoo kits reviews in total. Even if you're not into tattoo kits that much, I would still suggest you read them. These tattoo kits are from the best tattoo equipment manufacturing companies, and they are the daily companions of countless tattoo artists.
I can confidently tell you that learning about them will not be a waste of time for you.
1. Dragonhawk Tattoo Kit (Atom) – Best Tattoo Machine Kit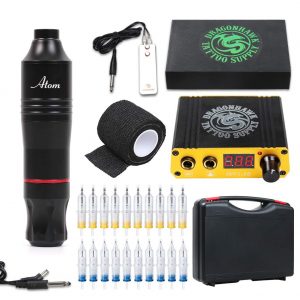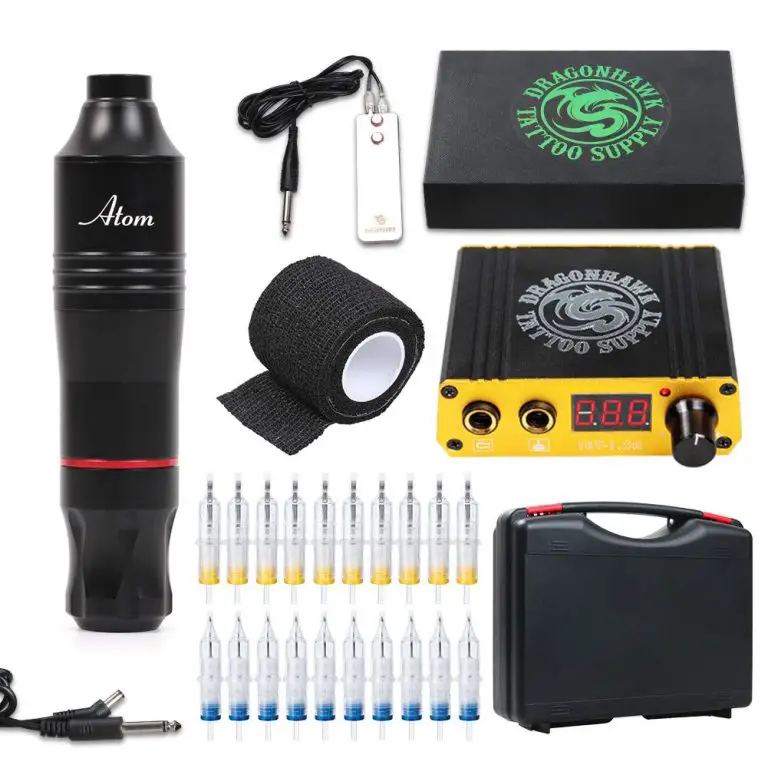 I am starting with one of the most sought-after tattoo pen machine kits on the market. It has an ergonomically designed pen that is ideal for working with comfort. Moreover, you will get it at a good deal of price.
Why We Selected It in Our Top List
Tattoo Machine And Its Performance
Despite charging low, Dragonhawk maintained utmost quality in its Atom tattoo pen. The company made the pen's frame with anodized aluminum.
It weighs 135g that is effortless to handle. Besides, it feels almost like a real pen. So, comfort is the first thing about it.
What's more, it won't interrupt your concentration by making a loud noise while you are working.
You can adjust the pen's needle depth as per your requirement. It is changeable from 0mm to 4.5mm.
As the tattoo machine does not make much sound, it often gives users an idea that it has insufficient power. In this case, you'd be wrong if you have the same idea. The rotary tattoo pen machine has high puncturing power and frequency, with which it creates beautiful shading and coloring.
Another advantage of the Atom is its compatibility with cartridges. You can use most of the cartridges with this device without any problem.
The stroke length of the pen is 3.5mm, allowing you to make long strokes and take less time to make a tattoo.
What The Rotary Tattoo Pen Machine Kit Includes
There is a carrying case, a digital power supply, latex gloves, transfer papers, artificial practice skin in the tattoo kit. It will guide any beginner towards the next step of becoming a professional.
Pros
Lightweight
Precise shades and colors
Less noisy
Stable during long sessions
Cons
The lining is not bad at all. But it indeed has room for improvement. I didn't talk about lining in the performance section because I thought it could be more improved, as the shading and coloring. However, it is still workable.
Cleaning the tattoo machine is no piece of cake.
2. Dragonhawk Complete Tattoo Kit (2 Coil Guns) – Best Cheap Tattoo Kit on Professional Level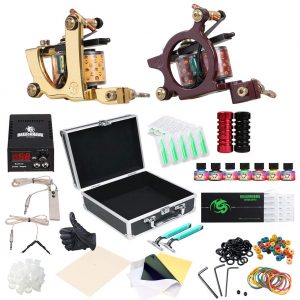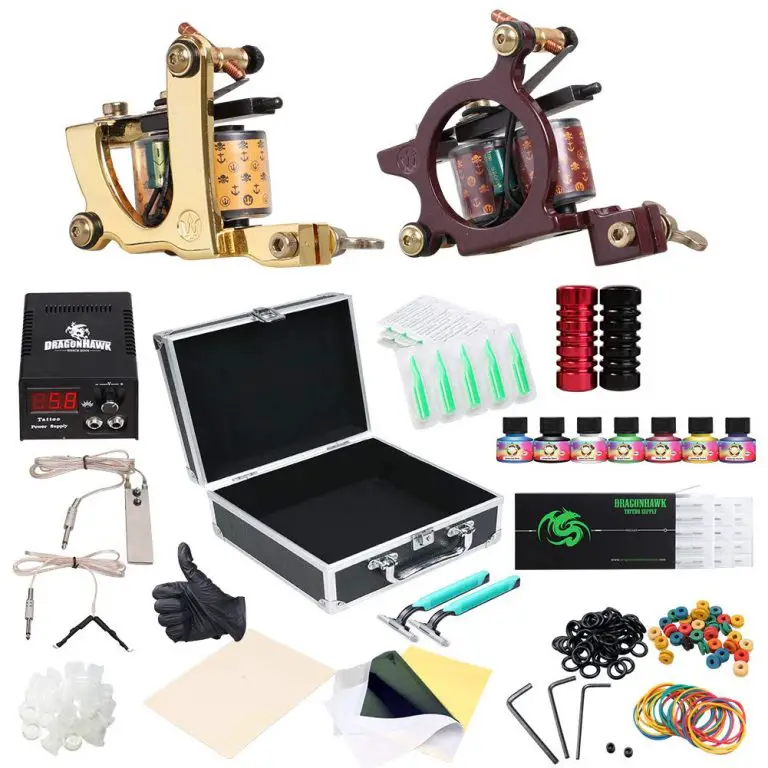 This complete tattoo kit is another Dragonhawk product. But unlike others of its kind, it offers you two guns, both of which are coil tattoo machines. Professional tattoo artists who are more into coil tattoo guns will take a liking to it. And beginners who want to try out coil tattoo machines can go for it. Because of its ease of use and affordability, it is perfect for beginners.
Why We Selected It in Our Top List
Coils And Spring 
The Dragonhawk Complete Tattoo Kit includes a pair of coil tattoo machines of pro-quality. One will do the lines, and the other will do the shades. They both have ten wrap coils.
Their materials are first-class composite materials. Its spring has two remarkable features that make it stand out among others – its high-elasticity and anti-tiredness. These features enable you to keep up with your long sessions without feeling tired after a while.
Performance
You'll love their performance. Since both tattoo machines are to do one specialized task, you will get professional service from them.
Plus, the tattoo kit gets you everything prepared. You can buy it, unbox it, and start making tattoos right away.
What The Tattoo Kit Includes
Apart from the mentioned qualities, I find the Dragonhawk Complete Tattoo Kit great for another reason – it is precisely what its title says – it's a complete package. It gives you a clip cord, a power supply, a travel case, a foot pedal, transfer papers, sterilized needles, tattoo ink cups, ink colors, tattoo grips, disposable tips, tattoo practice skin, and some more stuff.
See, you do not have to make more investments for additional accessories. The package comes with all of them.
Moreover, its accessories are of decent quality. For example, it has an LED-style power supply. It provides you with fast activation and voltage adjustments.
It also has immortal tattoo ink colors that are safe and bright. With them, you won't have to worry about any side effects.
Customer Service
We buyers often complain when we get into trouble with our product and do not get adequate response from the manufacturer. That situation makes things worse. I am happy to let you know that Dragonhawk is different and amazes you with its customer service. Whenever you need professional assistance or instructions, you can knock them and be sure to get help.
Besides, if you worry about getting a faulty product by any chance, do not panic. The company tests all of its products with scrutiny before they package them. Therefore, you should cross it off from your 'things that can go wrong' list.
Pros
Quality materials
Helpful for working long hours
Notable performance
LED-styled power supply
Budget-friendly
Amazing customer service
Safe and bright tattoo ink colors
Cons
The ink, while completely safe for skin, might not show expected performance on human skin. However, it is excellent for practicing.
3. Grinder Tattoo Kit By Pirate Face Tattoo – Best Tattoo Gun Kit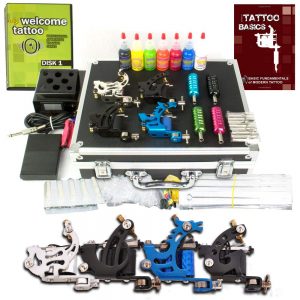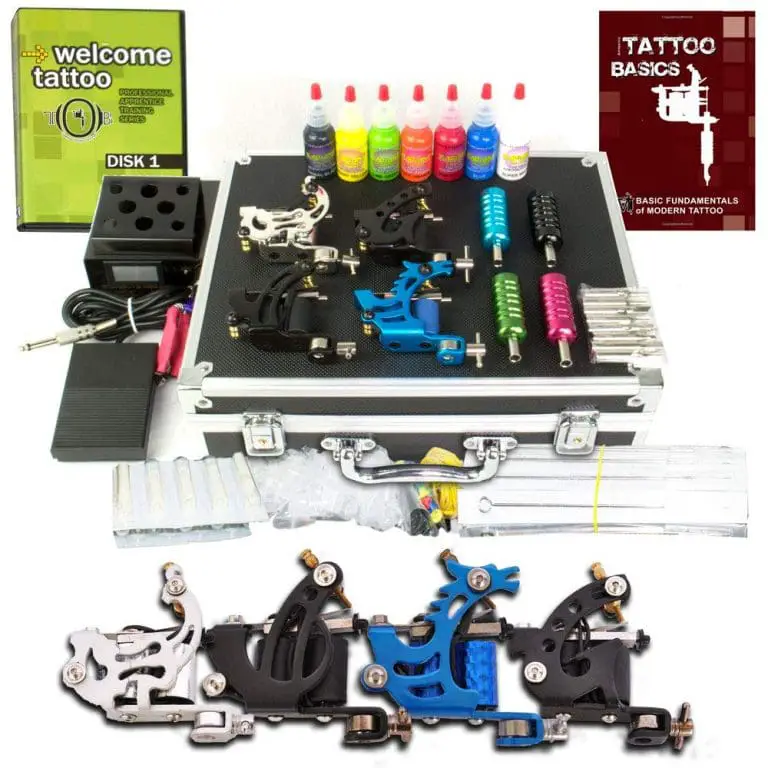 I usually prefer rotary tattoo machine kits to coil machine kits. But some of the coil machines have changed my mind with their incredible features. And the Grinder Tattoo Kit by Pirate Face Tattoo is one of them.
Why We Selected It in Our Top List
Tattoo Machines And Their Performance
So, why is it my favorite coil tattoo machine kit? Allow me to answer that by asking you a question. Do you know the number of tattoo machines it has? Not 2, nor 3. 4! It has four coil tattoo machines! And they are mightier than most of the tattoo guns out there.
Now, pardon my asking again, why wouldn't it be my favorite?!?
As I hope you've already guessed, the performance of the coil tattoo machine is fantastic. They will get you spellbinding tattoo designs. Also, you can run them for a long time without getting them to overheat.
The devices are lightweight enough. You can keep perfect balance while using them.
Just like their performance, the tattoo guns themselves are flawless. Notwithstanding that, if there is something wrong with them, you can use their 6-month warranty from Pirate Face Tattoo.
Users
Beginners often hesitate to select a tattoo kit, thinking that it might not suit their requirements. The same goes for a professional tattoo artist. But the Grinder Tattoo Kit has been made to assist every type of user in making tattoos.
There is even a DVD to help beginners out with the processes and pieces of stuff. From professional tattoo artist to starter, from apprentice to enthusiast, the tattoo kit will not disappoint anyone.
What The Tattoo Kit Includes
The Grinder by Pirate Face Tattoo will get you a power supply of moderate quality. It is not the most powerful power supply, but it is more efficient than the analog ones. Being LCD-styled, it makes the voltage readings easily understandable.
There is also a clip cord and a foot pedal in the tattoo kit.
Apart from those accessories, seven different color bottles will be in the tattoo kit. All of them were made as well as packed in the USA. Their ingredients are natural, and quality is acceptable. But you can make a fantastic professional set of colors with them. (That is especially suggested for beginners.)
The tattoo kit includes about 50 needles, and they have different sizes. There are also ink cups, practice skin, an introductory book on tattoo fundamentals, cup holders, and disposable gloves.
You will also get some tattoo needle tips. They are of two types – stainless steel ones and disposable ones. Both of them are compatible with the needles in the tattoo kit. However, I prefer disposable tubes because they are easier to maintain. If that's also the case with you, you can switch to them. Otherwise, stick to the ones in the package. They are helpful as well.
Pros
The most affordable professional tattoo gun kit
Perfect for all kinds of users
The names of the tattoo ink colors are blue, canary yellow, lime green, scarlet red, tribal black, super white, etc.
It does not stop functioning because of heating and other reasons
It works fine with most of the cartridge needles
Quiet and smooth operation
Cons
Although artificial skin is only for practice purposes, I think it could be better.
If you have just entered into the field, you may not understand everything from the DVD. But nothing to worry about that. You can watch YouTube tutorial videos. You will learn everything about a tattoo gun kit from scratch.
4. Solong Complete Tattoo Kit (2 Machines) – Best Tattoo Gun Kit For Lining & Shading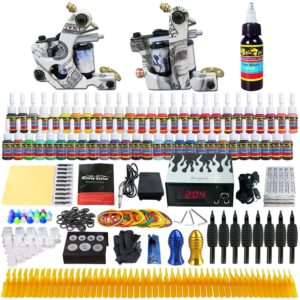 The tattoo kit to be reviewed now is from Solong that brought it to you at an affordable price but offers you more than you can expect. And, as if that were not enough, Solong included a couple of gifts in the kit as well. To know more, give its review a read.
Why We Selected It in Our Top List
Tattoo Machines And Their Performance
Solong kept two tattoo machines with ten wrap coils for lining and shading. The material used to make them is carbon steel which makes the tattoo machines light in weight.
Both of the devices are fast and efficient at making impeccable designs. They have enough power to hit one's skin deeply. That guarantees you long-lasting color.
The weight of the devices is not more than 250 grams, which is quite unusual with the old models. That gives you the advantage of working in long sessions comfortably.
Their voltage level ranges between 4v and 12v.
What The Tattoo Kit Includes
There are many accessories in the package: two ten wrap coil machines, ink colors for practicing, an LCD power supply, a foot pedal, a clip cord, 50 needles, 60 disposable tips, 100 cups, a paper manual, and a carrying case. I am going to discuss the most notable ones from them.
The Solong Complete Tattoo kit has a digital and stable power supply that brings a clip cord and a top-foot controller. You will see all the settings on the LCD screen.
A power supply is responsible for giving you the voltage readings accurately while a tattoo device is running. How precisely it can do that is often a concern of tattoo artist. But with the Solong equipment, you can be sure of getting accurate results.
About the tattoo ink colors – I was so surprised that I thought I was mistaken. How could you possibly get 54 ink colors at THIS price? But Solong wasn't kidding. It did make sure you get what you need to go on with your tattoo journey.
I think I should make it clear that the colors are not of cheap quality. They are gamma-ray sterilized and micro-dispersed. They will serve you just right.
Besides, another positive thing (calling out all the vegans)  about the colors is that they are vegan-friendly and free of any harmful element.
Since they're pure and natural, they help with the healing process. There will be less scabbing, resulting in smooth and scar-free healing. After it is over, there will be an attractive and fresh design.
Affordable And Available
Let me entertain you with a fun fact now. Solong charged a price for this tattoo kit so low that it made other manufacturers decrease the cost of their tattoo kits to survive the competition. That makes a clear point that Solong sells the most economical tattoo kit with the most standard quality.
Apart from that, you will always find it available in both retail and wholesale shops. It is one of the best professional tattoo gun kits I've seen so far.
That being said, while I'd still want you to keep reading the rest of the reviews, I couldn't blame you if you have already decided to get this tattoo kit.
Gift
As I said, Solong sends you a nice present through its kit box. It is a bottle of true black ink color! Isn't that wholesome?
Pros
Anyone can manage to buy this kit.
LCD-styled power supply
54 safe, natural, and vegan-friendly ink colors
A large number of accessories
A bottle of true black ink
Easy setup
Cons
I loved everything about the tattoo kit. I guess that is why the packaging bothered me a little. It should be good enough to keep everything inside it unharmed.
There is a slight chance that the power supply may malfunction at times.
Although professional tattoo artist can certainly give this one a try, I found it more suitable for beginner tattoo artists.
Read More: Solong Tattoo Kit Reviewed
5. Stigma Tattoo Kit – Best Rotary Tattoo Kit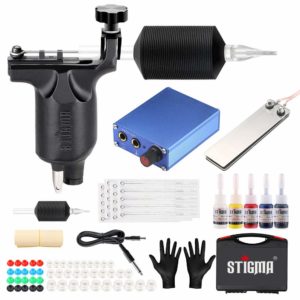 Since I have talked quite a lot about some of the best tattoo kits with coil devices, let me get back to one with a rotary machine. I am sure it will make a place in your mental note of the starter tattoo kits you have already considered worth buying.
Why We Selected It in Our Top List
Rotary Machine And Its Performance
The rotary tattoo kit has a rotary machine with the newest technology. It has a mighty motor of 10w. You will need big needles to work with it.
The device can handle both lining and shading with equal skillfulness. It has a simple setup. So, you won't have to struggle with getting control over it.
What The Tattoo Kit Includes
The Stigma rotary tattoo kit includes a rotary tattoo gun, five-color tattoo inks, disposable grips made of silicon, 20 needles, and other accessories to practice.
The needles are of different sizes – 3RL, 3RS, 5RL, and 5RS. You will get five pieces of each size.
And the colors have already gained popularity because of their quality. They turn out as good as expected.
Others
The company puts a DC cord or a clip cord in the packages because the machine is compatible with both of them. So, whichever you get, you can use the other one as well.
Furthermore, the tattoo kit is CE-approved with a year of warranty.
Pros
A sturdy rotary machine
Satisfactory performance
Quality ink colors
Different sizes of needles
A proper tattoo starter kit for beginners
Compatibility with DC and clip cords
Cons
The tattoo inks are only for practice. You have to buy them separately for your work purpose.
6. Wormhole Tattoo Kit – Best Coil Tattoo Kit For Beginners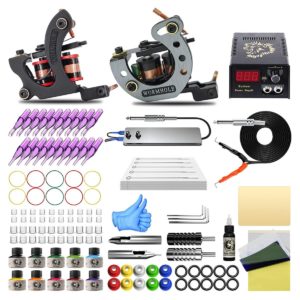 Now, back to the coil gun tattoo kits again. The Wormhole tattoo kits are, hands down, one of the best beginner-friendly starter tattoo kits. They contain everything for you to practice and provide stuff actually to help you learn about tattoo kits. I'd recommend beginners this one any day.
Why We Selected It in Our Top List
Coil Guns And Their Performance
The starter tattoo kit has an eight-wrap coil tattoo machine to do your lining works. It also has a ten-wrap to make shades. Both of their frames are of Iron. And their RPM is 6000-7200 R/MIN.
The lining device runs faster and creates sharp lines. On the other hand, the shading device does impressive shades. It is high power to hit deep into one's skin and pack long-lasting and vibrant colors.
What The Tattoo Kit Includes
Since its target customer is the starters, the Wormhole tattoo kit is full of necessary tattoo accessories like tattoo guns, a digital power supply, tattoo ink, a foot pedal, ink cups, needles, a clip cord, etc. There are also transfer paper, practice skin, ink colors, nitrile disposable gloves, tattoo grips, tattoo tubes, and even more.
You might wonder that it sounds like one of the best professional tattoo kits. And you are right. Wormhole made a professional tattoo kit targeting beginners to inspire them to practice with proper and authentic equipment. It also makes the kit equally demanding for learners and professionals.
There is also a beginner guide in every kit box. You will find all the instructions in the manual and set up your tattoo kit. Also, you can figure out how you can get free tattoo designs and a video tutorial teaching tattoos through that manual. If you find it vague or hard to learn from, you can contact the manufacturer and get direct guidance from them. I find that very thoughtful of Wormhole.
If there is any issue with the tattoo kit, contact Wormhole as soon as you can. It will fix the problem. Apart from that, the company gives you a warranty, and within the warranty period, it offers you product replacement service free of cost.
NOTE that the tattoo kit has a complex structure. You better not try to assemble and disassemble it on your own. If you do that and face trouble with the kit box, the company will not take any responsibilities. Therefore, the safe option is to follow the manual strictly and contact the company if the manual isn't much help.
Pros
A complete package
Professional tattoo kit for newbies
Outstanding service from the tattoo machines
Direct help with tattoo kit setup available
Product replacement service for free
Cons
You cannot use the tattoo kit to make tattoos on people. If you do so under no professional preparation or aftercare, it may infect and damage the skin. So, word of precaution – do not even try to use it for tattooing on human skin. For the best use, please keep it for practice only.
7. Dragonhawk Tattoo Kit (Mast Pen) – Best Tattoo Starter Kit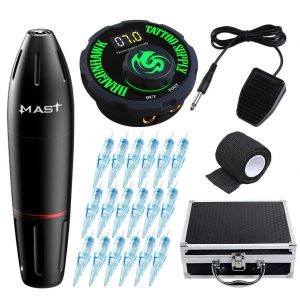 One of the top-selling products of Dragonhawk is its Mast Pen Rotary Machine. Everyone loves this beautiful device. Talk about love at first sight because that will happen to you when you see the tattoo machine. And you will love it again when you see its performance.
Today, I will talk about the rotary tattoo pen machine kit. YES. Dragonhawk made a tattoo kit with this pen machine!
Why We Selected It in Our Top List
The Tattoo Machine And Its Performance
The tattoo machine weighs 120 grams and is easily portable. Its ergonomic design and pebble modeling will make you feel like you are using a real pen to create tattoo designs. You can take it everywhere you want.
It has a powerful customized Japanese Mast motor. Along with the motor, the robust advanced gear system of the pen enables it to function without making noise. Therefore, it gives you the perfect environment to work.
The operational voltage level of the pen is 6v to 9v. It is compatible with any cartridge needles.
You do not have to worry about its safety. Its needle curvatures, made with strict safety protocol, prevent accidents and injuries.
The eye-catching design of the tattoo machine will give you a stable and advanced hold so that you can hold, control, and use it effortlessly.
The adjustable tattoo needle stroke of the pen makes it diverse. As a result, you can enjoy the freedom of experimenting with new tattoo techniques and styles.
Although I don't think it is necessary to talk about its performance after discussing its unique features, I should reassure you if you do not find it convincing enough. The pen is, in short, a little magic wand. It gently works on the skin and makes precise, sharp, and fantastic lines and grey and black shades. With it, you won't have to worry about skin suitableness. Any skin type will receive it well.
What The Tattoo Starter Kit Includes
Along with the Mast pen, the kit package includes a digital power supply, a carrying case, a DC cord, 20 pieces of cartridges, a foot pedal, and a tattoo machine box.
So, you get everything inside the box to make tattoo designs. It is a super flexible tattoo machine that can work for starters, apprentices, and professionals. If you are looking for an innovative and portable device with additional accessories at a great deal, this one would be an absolute win for you.
Pros
Lightweight, ergonomic, innovative, affordable, and stylish
The user will get easy control over the tattoo machine.
It works silently.
The aluminum body of the Mast pen keeps it from overheating soon.
It works fine with any cartridge needle
Any skin type will find it tolerable.
A beautiful gift box comes with the package – a perfect gift for anyone in this field.
Cons
Despite making no noise, the tattoo machine vibrates slightly. That may discomfort some users.
8. Solong Tattoo Kit (1 Machine) – Best Tattoo Machine Gun Kit On The Budget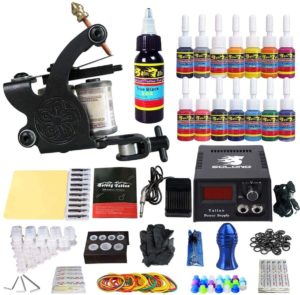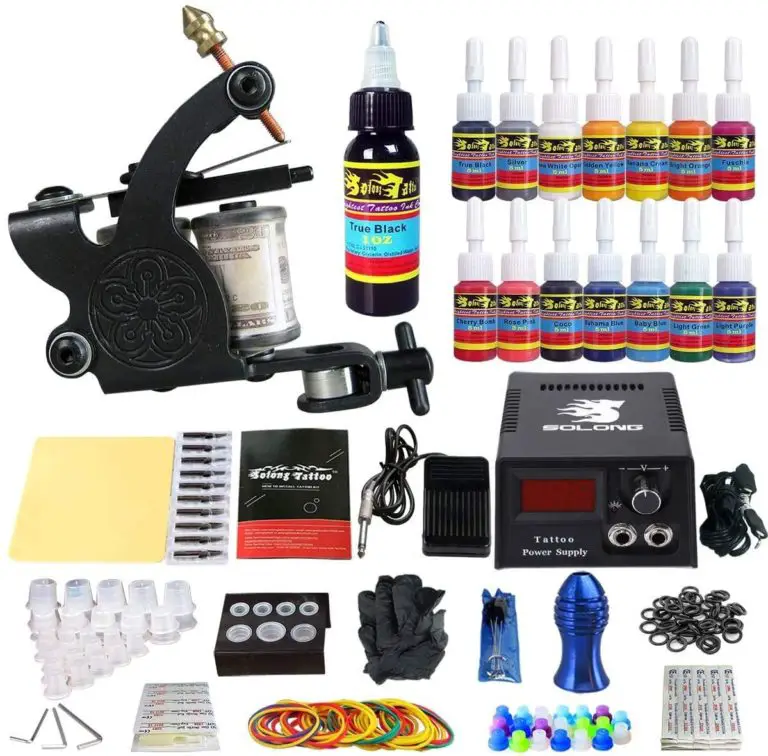 I've already reviewed a Solong tattoo kit. This one is also from Solong but with differences from the previous one. You see, the coil tattoo gun kits have outnumbered the rotary tattoo gun kits today. Despite preferring rotary machines, I could not help picking more and more coil tattoo kits. Credit goes to their completeness as a package and performance as a kit.
So, have a look at the Solong tattoo kit.
Why We Selected It in Our Top List
Coil Machine And Its Performance
First of all, the kit comes with one coil machine, a ten-wrap one, designed with the most advanced technology. Before you start doubting if it can handle lining and shading simultaneously (especially if you prefer two devices for two functions), I want to assure you that the coil machine can singlehandedly perform both of the functions, and that too satisfactorily enough.
With it, you'll need less time to make designs. If you already prefer an ambidextrous tattoo machine, you'll love it at once. If you don't but are curious to try, you should. Really. You can rely on it.
Also, it neither weighs much nor vibrates much. You can work nonstop for long periods without getting your hand sore. Being one of the best beginner tattoo kits, it gives them a perfect headstart in the career of tattooing.
What The Kit Includes
In this Solong kit, you will find a ten-wrap tattoo device, a digital power supply, a foot pedal, a clip cord, ink colors, practice skin, tattoo needles, tattoo tips, a tattoo grip, ink cups, a tattoo manual, and many other accessories.
Since the power supply is a digital one, reading and adjusting voltages will become more manageable for you.
It will generate consistent output and improve the performance and reliability of your tattoo machine.
Another bright side of the unit is that it can support both coil and rotary machines at the utmost efficiency. And you don't even need to switch its modes for that.
So, if you have got a rotary machine or plan to have one, you won't have to buy another power supply for that. I find that a very cost-effective feature of the kit.
Besides that, there are fourteen colors of tattoo ink, each of 5ml. The practice skin is perfect to practice making tattoos. You will also get a 30ml bottle of black ink! Isn't Solong a sweetheart?
The quality of the colors is topnotch. They're stable, pure, and easy to apply. They don't require much consumption of color.
The skin will take them in comfortably. With these positive and vibrant colors, you can make gorgeous and long-lasting shades.
The tattoo tips and needles are twenty in number. But the ink cups are as many as a hundred. The manual teaches a great deal about tattooing with the kit and will benefit beginners a lot.
Apart from that, Solong gives you a year-long warranty that lets you avail the service of free replacement. So, you know, if you buy it and find it malfunctioning after a while, there is nothing to blame yourself or regret your decision. You can always have it replaced.
Pros
Simple setup
Digital power supply
A teaching manual
Warranty with a free replacement policy
One tattoo machine with satisfactory performance in two areas
Cons
Only beginners, maybe apprentices at most, would find the kit helpful. I wouldn't recommend it to professionals.
9. Dragonhawk Complete Tattoo Kit L3 (2 Coil Guns)- Best Cheap Professional Tattoo Kits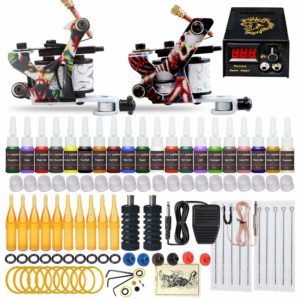 I started with a Dragonhawk kit and am going to end with a Dragonhawk kit. The first one was a rotary machine it and the last one is going to be a coil device kit.
There were two more Dragonhawk reviews in the middle, one of which has the same title as this one.  Do not get confused between the two. Despite one or two similarities, they are pretty different from each other. Now, off to the last and one of the best tattoo kits!
Why We Selected It in Our Top List
Coil Machines And Their Performance
The Dragonhawk Complete Tattoo kit includes a pair of ten-wrap coil devices. You can make lines with one and shades with the other.
I'd suggest the kit to those tattoo artists that are comfortable with two tattoo machines for each function. About the performance – among the nine tattoo kits reviewed here, four are from Dragonhawk alone, which should suffice for the performance of the tattoo machines.
They are well-constructed professional tattoo kits that will deliver you steady and consistent performance with wonderful tattoo designs.
They are user-friendly as well. You will not have to think about getting used to using the tattoo machines. They will grow on you the moment you start working with them.
What The Kit Includes
The Dragonhawk Complete Tattoo kit is a whole package of necessary tattoo items. It has two coil machines, a digital LED display, a foot pedal, ink colors, ink cups, a clip cord, tattoo needles, practice skin, etc.
The LED display smoothens the task for you to read and understand the voltage readings. You can also adjust them as per the machine's voltage range and your requirement.
There are 20 ink colors, and they contain no harmful substance. The other accessories are also neat and have quality.
Pros
User-friendly
Well-constructed
Professional service
An LED Display
Quality in all of the accessories
Cons
I couldn't found any solid con, to be honest. But I think beginner tattoo artists would consider it more dependable if the kit came with a warranty.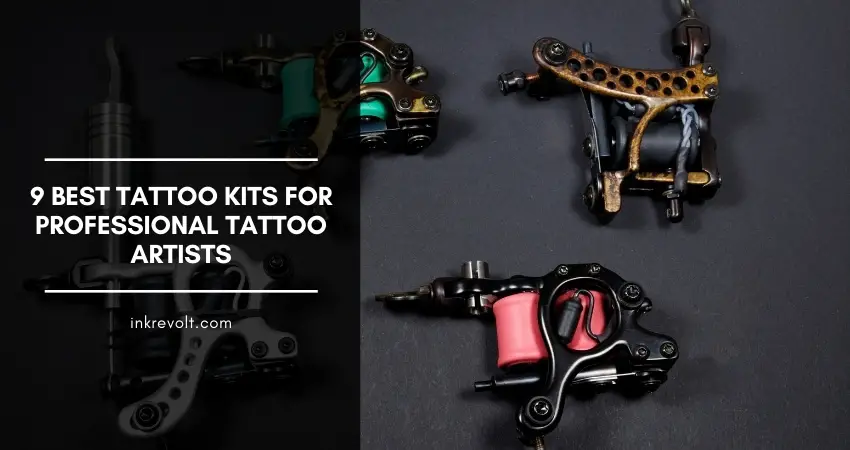 How To Choose The Best Tattoo Kit?
Choosing the best tattoo machine for yourself requires a lot of contemplation and research. To lend you a helping hand, I have come up with this section to give you an idea about the things you must think about before deciding on a tattoo machine.
Coil Machines VS Rotary Machines
The two kinds of tattoo devices work differently from each other. The functions of the coil machines are complicated, which is why many tattoo artists prefer using rotary ones. But deciding on which one to choose is utterly up to you.
To make the right decision, I suggest you learn more about their strengths and weaknesses. Let me enlighten you.
Many professional tattoo artists like coil devices more because they are more efficient at making intricate lines and shades. Their work is neater and more refined. They're equipped with sturdier motors that are essential for large groupings of needles.
You get to have better control over them. That authorizes you to make modifications to your tattoo machines easily.
What do you have to put up with to enjoy all their good sides? Their buzzing noise, number one. Handling them requires more skills and experience, meaning they are not well-suited for beginners. They are high maintenance and can create more skin damages than rotaries do.
The rotary machines solve the problems you may face with the coils to a large extent. First of all, you do not need to acquire pro-level skills to operate the rotaries. They are much quieter.
Maintaining rotaries is relatively simple. Besides, they cause lesser skin damages. Their colorwork is fast and consistent. You will get the best out of them if you use smaller groupings of needles.
On the contrary, the rotaries' needle movements are so fast that they often create stitched lines accidentally. Making shades and line depths with them is difficult. They have to go the entire stroke to finish the motion.
They are not much responsive to the skin as coils. And unfortunately, you will not get effective results from them with large groupings of needles.
These are the most critical characteristics and pros and cons of the two tattoo devices. I have laid them out especially for beginners, so they know what they will get when they buy a rotary tattoo machine kit or a coil tattoo machine kit.
Before selecting a tattoo kit, you've to decide which type of machine you want it to have. Beginners usually go with a rotary kit. But if you know, like really know how to handle a coil machine, you can, of course, get a coil kit. And if you are a professional that has used a coil kit for some time and wants to switch to the other one now, you should know what there will be for you.
The Needles And Tubes
As you may have already read in the reviews above, every tattoo kit offers different needles for tattooing. But they may have similarities in their appearance. If you're only beginning or looking for a low-cost product, the price could be a factor for you.
High-quality requires you to spend money on sterilizing equipment because you have to sterilize them before each use. In that case, you should consider the kits that have needles for one-time use. That will cut down the overhead.
You can use them for one time only to stop HIV and many types of infections from spreading. A sterile package will contain them in the box. So, they are hygienic to use.
The same applies to the tubes. Make sure that they are also for single-use so you can dispose of them after use.
The Ink
The ink is a crucial element of every tattoo kit. Its quality and quantity vary from one manufacturer to another and one color to another. You have to prioritize two things while considering the ink of a tattoo kit.
First, the best tattoo kit should offer you a wide variety of colors. Second, the colors should have standard quality. That implies that they should be safe for all skin types and retain their shades longer.
Also, the ink colors in the best tattoo kit are to have caps. That makes the applied ink seamless and gives them a more professional appearance.
Shaders And Liners
The liner machine does the tattoo outlines, and the shader one does shades and colors. They require different types of tattoo needle setups. The liner needs fewer needles set like a circle. Contrarily, the shader's needles have to be positioned like a straight line, resembling a comb. Moreover, a liner runs at a higher speed than a shader.
Some of the kits have both types of tattoo machines, and some have only one to do both lining and shading. Using two devices takes time to make tattoos. But using one often fails to create lines and shades equally beautiful.
If you like to have two devices to perform two tasks, choose a kit with a liner and a shader. If you are comfortable with one, choose a one-machine tattoo kit.
Sometimes a cheap kit with a machine pair won't deliver the expected performance when a one-machine kit with a higher price would make you fantastic tattoo designs. So, the main thing you should focus on is the performance of the devices. Whichever kit you purchase, be sure that its machine/s can perform according to your expectation.
Power Supply
The best professional tattoo gun kit should offer a digital power supply so you can read and adjust the voltage levels conveniently. Not that the analog ones are not good. It's just that anyone unfamiliar with the stuff will find it challenging to handle the analog power supply.
If you are familiar and know this sort of thing well enough, you can go for an analog power supply. Otherwise, find a kit with a digital power supply.
Apart from that, if you often have long sessions, you want to make your that your power supply provides you with sufficient power. So, regardless of the type you choose, you need to check the status of the foot pedal and the power load beforehand so that you can make speed adjustments for your tattoo device.
The Number Of Accessories
The more accessories you get in a kit, the more help you will get from it, the less you will have to spend on additional accessories. The best tattoo kit should be a complete box, offering you all the essential parts to practice tattooing. They are both helpful and cost-saving.
However, while that sounds get, don't forget about the quality. A kit offering you a small number of add-ons of high quality is way better than a kit with loads of add-ons of low quality. It would be best if you made a decision based on the accessories and their quality. And oh, look at the price as well.
Frequently Asked Questions
Here are the answers to the most frequently asked questions from people looking to buy a tattoo kit. I hope they also answer your queries if you have any.
How safe is it to purchase tattoo gun kits online?
Completely safe. It is like buying other things online – fast delivery, reliable, availability of many products to pick one from, worth the money, etc. Besides, many manufacturers offer an extensive warranty on their tattoo kits. They also check the products before sending them. So, you can buy from them without any serious concerns.
Do all the tattoo gun kits offer a warranty?
That entirely depends on the company. Sometimes companies offer a warranty on the whole kit, sometimes on the tattoo machine, sometimes on the machine with some additional parts. You will learn about it in detail in the guide of instructions. Check that out before ordering a purchase.
Is the operational voltage of the tattoo machines fixed?
No. The tattoo machines usually have a range of voltage levels. However, the appropriate voltage level depends on your tattoo device and the type of task you do with it. That is why you need to monitor the voltage level constantly.
Which one is the best tattoo kit for beginners?
There are a lot of beginner tattoo kits on the market. I have reviewed some of them in this article. Read them attentively, all the characteristics, advantages, and disadvantages. Find out what makes a kit different from the others. Find out which particular feature you are looking for in it.
What should I look for in a tattoo kit?
When choosing a tattoo kit, it's important to look for a high-quality tattoo machine that is reliable and easy to use. The kit should also include a variety of needle sizes and types, as well as high-quality tattoo ink. Other important considerations include the durability of the equipment and the overall value of the kit.
What safety precautions should I take when using a tattoo kit?
When using a tattoo kit, it is important to follow proper safety precautions to prevent infection and other health risks. This includes using sterile needles, disposing of used needles properly, wearing gloves, and sanitizing equipment between uses. It is also important to ensure that the tattooing area is clean and free of contaminants.
What brands are popular for tattoo kits?
Some popular brands for tattoo kits include Dragonhawk, Solong Tattoo, Pirate Face Tattoo, Hawink, and Wormhole Tattoo. These brands are known for their quality equipment and reliable performance.
What type of tattoo machines are included in tattoo kits?
Tattoo kits typically include either rotary or coil tattoo machines. Rotary machines are often preferred for their smooth and quiet operation, while coil machines are known for their power and versatility.
Can I customize my tattoo kit?
Yes, many tattoo supply retailers offer the option to customize your tattoo kit to fit your specific needs. This can include selecting different types of needles, ink colors, or even adding additional equipment.
What is the difference between a starter kit and a professional kit?
Starter kits are designed for beginners and typically include basic equipment and supplies needed to get started with tattooing. Professional kits, on the other hand, are geared towards experienced tattoo artists and may include more advanced equipment, a wider range of needles and ink colors, and other specialized tools.
Are there any regulations regarding the use of tattoo kits?
The regulations regarding the use of tattoo kits vary by location. In many places, it is required to be licensed or certified in order to perform tattoos. It is important to research and follow the regulations in your specific location to ensure you are operating legally and safely.
Final Verdict
I have reviewed 9 best tattoo gun kits, three of which are rotary machine kits, and the rest are coil machine kits.
To start with the verdict, I'd like to point out the Grinder Tattoo Kit by Pirate Face Tattoo. Of all the products I reviewed, it's the one with the most excellent deal. You get it at an incredibly budget-friendly price, and it gives you four machines and bunches of tattoo equipment. What's more, it's suitable for any tattoo artist, whether he is a professional or beginner.
Users preferring kits with warranties should try out the Solong with one machine, the Pirate Face, the Stigma, and the Wormhole kits.
Then comes the Dragonhawk kits. I think you've noticed that four out of the nine products are from Dragonhawk. They are the most demanded and trendiest kits in the market for their performance and quality. Some of them might be a little more expensive than others. But they are totally worth the money. They will give you no chance to regret buying them.
And about the affordability – the one uniformity I kept in the products is their affordability. They are available at more or less a good bargain.
Also, I reviewed two types of machine kits, thinking about beginners and professionals. Rotaries are more beginner-friendly than coils. And coils are more efficient at some functions than rotaries. Whichever you want to buy or switch to, learn about their features and functions in that I discussed. That way, you can never get the wrong one for you.
Thanks for keeping up. Good luck and happy purchasing!
We are sorry that this post was not useful for you!
Let us improve this post!
Tell us how we can improve this post?