13 Best Liner Tattoo Machines [Reviews & Buyer's Guide]
As a tattoo artist, I know the importance of having a reliable lining machine in my toolkit. The lining is the foundation of every tattoo, so it's crucial to have a machine that can create clean and precise outlines. That's why I've dedicated myself to finding the best lining tattoo machines on the market.
In this review, I'll be sharing my experiences with a range of different machines that are specifically designed for lining purposes. From their construction and design to their performance and durability, I'll provide you with all the information you need to make an informed decision about which liner tattoo machine is right for you. Whether you're a beginner or a seasoned pro, I hope that my review will help you find the perfect machine for your needs.
Best Tattoo Machine For Lining: Favorite 5 Compared
The five tattoo machines, while my favorites ones, are here on the table as a trailer for you to tell you beforehand about what you should expect from the reviews.
Users (Beginners or Professionals)
As an Amazon Associate InkRevolt earns from qualifying purchases.
Top 7 Best Coil Liner Tattoo Machines Reviews
I will review two types of liner tattoo machines – coil and rotary. Of the thirteen products, the first seven are coil tattoo machines.
Coils are heavy and have a complex setup. But experts love them because of their capability of creating complicated designs and other black works.
1. Vlad Blad Delicate Liner Tattoo Machine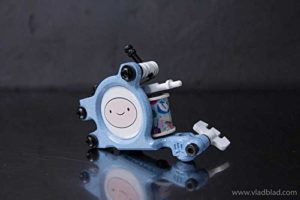 Vlad Blad Delicate Liner Tattoo Machine is the first best liner machine that I will introduce now. The brand Vlad Blad is a Russian tattoo equipment manufacturing company that has created a workhorse out of their iron-made coil liner in the most creative way possible.
Weight And Material
Artists who want to buy coil tattoo machines hesitate before buying because of the weight issue. But the Vlad Blad liner weighs only an ounce! That is because of its frame material, aluminum, which makes it durable and featherweight simultaneously.
It has a catchy circular shape with the Finn the human design that will grab your attention when you see it.
Performance
The delicate liner machine is excellent for any dotwork. For example, if you are doing a portrait, the Vlad Clad liner is your go-to device to do eyelashes and hair.
You can use it for any detailed work, and it will perform up to your demand. See the smiley on the tattoo machine? That is what you will see on your client's face when you line with the delicate.
Others
There is an armature bar in the liner that provides the inertia required to prevent any ink blowout.
It is also compatible with any liner needle between sizes 3 and 9.
Pros
Catchy shape and design
Extremely lightweight
Easy to use
Detailed work
Compatibility with various sizes of needle
Cons
It is not that affordable.
2. Micky Bee Professional Coil Tattoo Machine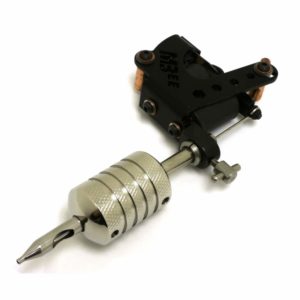 Micky Bee is a legendary figure in the arena of tattooing. He designed this liner machine by himself as per his specifications, which means it is bound to be a unique one. Let's see what the icon made for other tattooists.
Frame And Design
The Mickey Bee liner has a honey-styled frame with a configuration of a shader and color packer. It has ten wrap coils, a 47uf/63v capacitor, and a 57mm-4mm spring.
Mickey Bee produces each of the tattoo machines with high-quality materials and bindings in the UK. Except for the powder-coated finishing outlines, the liner is well-polished to deliver superior performance.
Performance
The reputation of this Mickey Bee liner is worldwide because of its smooth functioning. The quality construction assures you of reliable service.
Besides, it is unique that you will find other tattoo machines imitating Mickey Bee, but you will not find any duplicate. So if you want a device to spice up your tattoo procedures, you should resort to Mickey Bee without thinking twice.
Others
Buying the tattoo machine will not create a hole in your pocket, which is one of the most relieving facts about it.
Pros
Stylish and unique construction
Reasonable price
Superior performance
Cons
It is not entirely noiseless.
3. Mini Dietzel Liner Tattoo Machine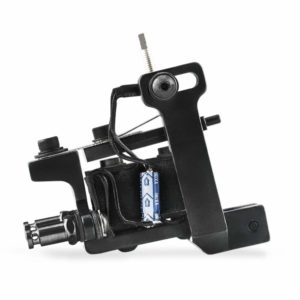 The manufacturing company of this tattoo machine is HM Tools & Dye, which the tattoo artist Roman founded. At present, it is a premium brand of tattoo equipment within Madrid, Spain. It earned its reputation for its expertise in designing and fabricating tattoo devices from solid metal blocks.
Frame
The liner has a structure of CNC-machined iron with silver contact screws and iron fittings of black oxide. There are eight wrap coils in it.
Performance
The liner hits the skin hard to make lines. It also aces at creating long strokes.
If you are a learner, you will get skilled at lining with this tattoo machine. However, if you are already a professional tattoo artist, the Mini Dietzel will enhance your skill and tattoos.
Others
The needle groupings of the liner fall anywhere between 3 and 7. It comes with a cord connection, and it is available in both copper and brass.
However, the weight of the liner is more than 300 grams, which is typical for coil tattoo machines but difficult to handle for some artists.
Pros
CNC-machined frame
Budget-friendly
Long strokes of lines
Suitable for both beginners and professionals
Cons
It is heavy and may trouble artists with balancing.
4. TrueLiner ALU Coil Tattoo Machine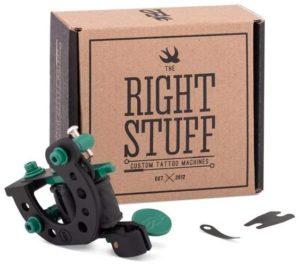 The brand Right Stuff makes the TruLiner coil lining machines. The company's proprietor was formerly employed to repair and maintain old tattoo devices. He was inspired at that point and decided to build a tattoo machine that would outperform all others. Wanna know if he made the right stuff for you?
Frame
The company constructed the coil liner machine entirely of aluminum. The liner is propelled by the nine coils that surround it.
Performance
Right stuff made the liner, particularly for power lining. It can give you long lines with the 135hz frequency at a voltage level of 6.6 only!
The performance of the liner is so impeccable that it has deservingly become one of the most trusted devices of many renowned tattooists around the globe.
Others
The tattoo machine weighs 150 grams, which is considerably lower than the Mini Dietzel I reviewed earlier. But starters may have to struggle to control it. However, it does not come at a high price.
Pros
Power lining
Less voltage consumption
High-quality aluminum
Not expensive
Cons
The weight makes it hard to carry.
5. Dragonhawk 2-Piece Coil Tattoo Machines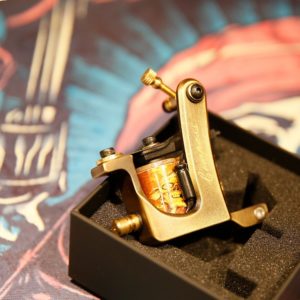 I think many of you have been waiting for Dragonhawk to show up in the scene because a tattoo discussion cannot miss this brand! So, here is Dragonhawk for you with two pieces of coil tattoo machines. Two, because the liner comes paired with a shader!
Frame
Both machines' frames were carved using a CNC cut billet brass frame. This stuff is pretty amazing and gives you a certainty that you can have a high expectation from them.
Performance
The Dragonhawk bundle includes a straight circle lining machine and a straight shading tattoo machine.
The shader contains eight wrap coils, while the liner has 10. They will assist you in creating the most delicate tattoo designs possible.
You will have to run both tattoo machines at 7v to 8v voltage levels.
Others
The coil liners are recommended for starters and apprentices. However, they will need some time to get used to them at the beginning. It will become easier if they are mentally prepared for that.
On the contrary, experts will find them worthy, too.
The price is also suitable. It will not cross your budget range. Nonetheless, if you purchase them but do not want to use them after a while, you can return them and get your money back from Dragonhawk. So you see, it's a risk-free purchase.
Pros
Great performance
100% money-back guarantee
Beginner-friendly
Fair price
Cons
They are weighty, but some getting used to will take the users a long way.
They are not the best choice for users preferring a higher voltage level.
6. Red Scorpion Liner Coil Tattoo Machine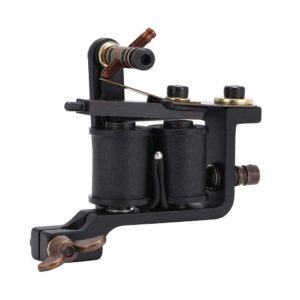 The performance of coil tattoo machines is the only reason they never go out of style, even when rotary and wireless devices are introduced regularly. Coil devices have always proven to deliver reliable and remarkable performance, precisely what you get from the Red Scorpion liner.
Material And Frame
Red Scorpion has an eight-wrap liner coil device with high magnetic absorption in the backseat.
The tattoo machine's substance is cast iron, amplifying its activity thanks to its excellent electrical conductivity.
What I find fascinating about the device is that its framework is crafted on a precise line. It ensures that the dimensions are proper to measure the tattoo area accurately. 
Performance
If you typically make tattoos with vast and detailed designs, the Red Scorpion liner can get you a long way in that regard. It hits the skin forcefully with lesser strength and generates fantastic tattoos.
It will last longer, saving the bucks that you'd spend on another liner.
Others
The device is powerful and works quickly. As a result, it will be a loyal companion throughout your lengthy sessions, operating for eight hours (minimum) without overheating.
The product, unlike many other tattoo machines, does not bring you itself only. It includes a paper box and a tool bag with grommets, O-rings, rubber bands, wrenches, and other items. The machine is incredibly cost-effective because it contains so many features.
Red Scorpion allows you to return your money within a month after purchase, regardless of the cause. It provides a six-month warranty in case of any quality issues. For that, you will either receive a replacement or a complete refund.
Pros
Robust and sturdy
High power and accuracy
Edgy lines
Inclusion of other tattoo items
Highly elastic
At least eight hours of continuous performance without overheating and making the user exhausted
Guarantee of refund
A six-month warranty
Cons
While the device will generate the best outcome when used by an expert, I don't think it would fulfill the purposes of a beginner.
7. Hawink Traditional Handmade Tattoo Machine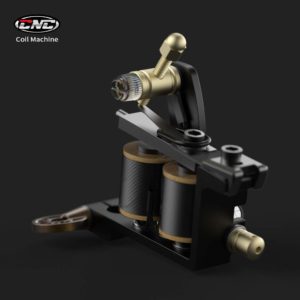 I call out everyone who has been delaying a liner purchase to save enough to introduce them to the best tattoo machine for the lining. I would like you to stop for a second and look at the price of this Hawink piece. It is one of the most budget-friendly products in the market. Your days of saving up have finally come to an end!
Material, Frame, And Design
The device has a front of pure brass. The frame is powder-coated, made of carbon steel.
There are ten wrap coils in the tattoo machine, which Hawink designed with 24 gauge magnet wire, all enamel-coated. The liner has a 47uf capacitor, and its maximum voltage level is 50v. That implies you get a liner with the capability of handling any load.
Performance
The Hawink liner highlights a throw of 3.5mm to make single lines with the maximum flow of ink. It is specifically handmade for traditional tattoo styles.
Whichever traditional technique you use for whichever tattoo design, the liner will handle it and give you the most impeccable art.
Others
There is a strong vice screw in the machine, and it will fit every grip in the market.  Also, it features a heavyweight armature bar that can run with needles even of the 18 RL size.
Hawink offers you a highly accommodating after-sale service for this liner device. If you have any query about it beforehand, contact them. They instantly reach their customers.
Pros
Sustainable frame
A very high voltage level
Can adjust to any load
A strong armature bar
Highly affordable
Cons
It vibrates while functioning.
Top 6 Best Rotary Liner Tattoo Machines Reviews
The next part of the article will concentrate on the rotary tattoo machines. Each of them is the best rotary tattoo machine for lining. The rotaries are the favorites of most artists because they are not heavy, their performance is quiet, and you can take care of them without putting in much effort.
Let's see what the rotary liners are.
1. Dragonhawk Extreme Rotary Tattoo Machine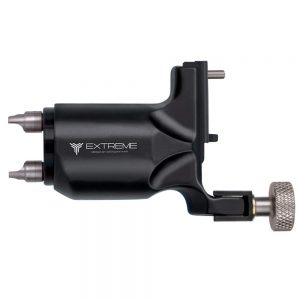 Dragonhawk is one of the companies focusing on improving tattoo guns so that users can have a better tattooing experience. And they've had increasing success in this endeavor. Dragonhawk goods are in handy when it comes to creating authentic and stunning tattoo artwork. Check out the Extreme Tattoo Pen in the video below.
Design
The pen is only 6.17 ounces and has an ergonomic shape. It's nearly weightless! As a result, a novice will have no trouble coping with it. Due to its minimal weight, the pen enables you to work on any tattooing technique or style.
Performance
The Extreme is a flexible rotary machine that can handle all of your tattooing requirements. Its lines and shades will take your breath away. It's fantastic for coloring, whether it's black filling or grey and light black shading.
For shading and coloring, keep the voltage between 7.5 and 8.5 volts. The voltage range for lining will be between 8 and 9 volts.
You can use it roughly for long periods without any issues. Therefore, it is suitable for users that require a tattoo gun for everyday use.
Take note that this tattoo machine can perform not only lining but also shading and coloring. So, if you want to enhance only your lining skill, you can only use it for that purpose. The other functions will remain as a bonus.
Others
The machine's structure is made of carbon steel. There's also a powerful Japanese motor to push the tattoo gun to its limits. As a result, you can work with it in peace.
It's available in three different colors: black, green, and red. It has a 3.5mm needle stroke length.
With the rotary gun, you may easily connect it to a clip cord.
Let's end this review on a good note: its price is very reasonable. Even if it is currently out of your price range, I am sure it won't take you long to save up a little more and purchase it for yourself!
Pros
Super lightweight
A powerful Japanese motor
Reasonable price
Versatile performance
Capable of coping with rough use
Capable of assisting in different tattoo styles
Cons
Some tattooists would like it more if the device had a higher operational voltage range.
2. Stigma Rotary Tattoo Kit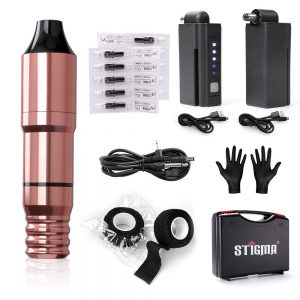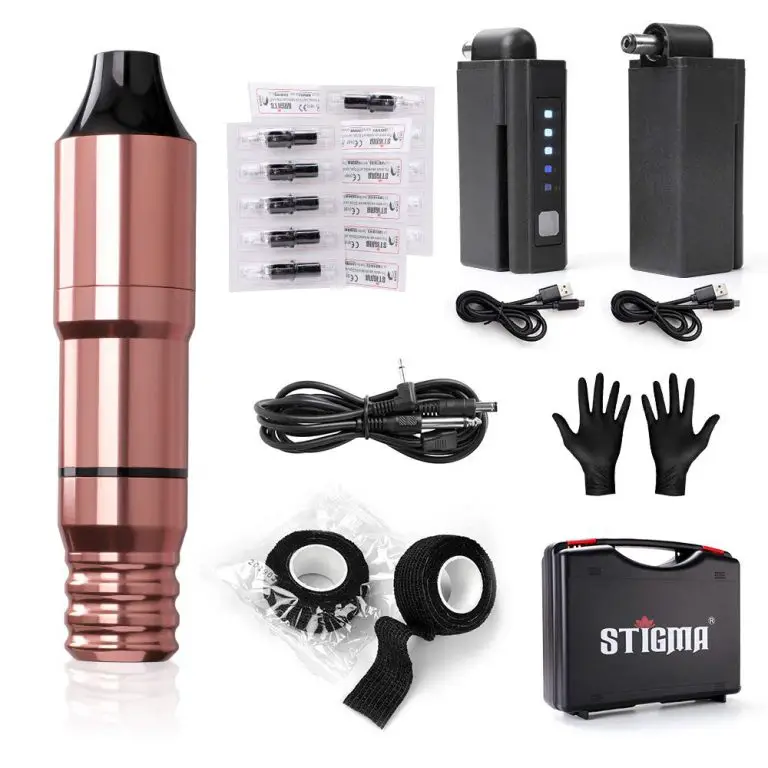 This one is distinct from the others you've seen thus far. It is, in fact, a rotary pen with various tools! It is, however, cordless. As a result, when you use the tattoo machine to generate tattoos, there will be no wire connected. If that seems quite interesting to you, have a look at its review.
Battery, Gear & Motor System
Every wireless gadget is powered by a battery, a motor, and gear. The device's performance will improve as the battery capacity increases. This one comes with two 1500mAh batteries, giving you the proper value of your money.
Because it has two batteries, you can charge one while working on the other. As a result, you won't need to take any uncomfortable breaks during the session.
The voltage levels are indicated on the batteries by indicator lights. For example, one light refers to the lowest voltage level, while the other 5 lights refer to the highest. These lights also act as a reminder that the batteries need to be replaced.
If you use the device at its highest level, the battery will last about 3 hours. Never exceed the highest voltage level to keep the device and its power unit safe.
In their gadget, Stigma used a powerful Japanese motor & gear system. Both guarantee a silent operation.
Performance And Design
Beginners will find the device easy to operate because of its ergonomic design. However, once you've got the hang of it, you'll be able to enhance your skills quickly.
The machine's capabilities are exceptional. Because of its enticing lines, it is fashionable. The Stigma pen will come in first if you need to get a hold of the lining.
The Kit
The Stigma rotary tattoo kit comes with a tattoo pen, a clip cable, two batteries, a carrying case, gloves, tattoo needles, as well as other accessories.
Everything in the box meets a decent quality standard. The needles, on the other hand, should have been more improved.
Others
The Stigma pen is manufactured of Space Aluminum and has a gorgeous rose gold frame. It's only about two ounces in weight. In no way will you be overloaded. You'll not become prisoned in a tangle of cables because it is wireless, allowing you to focus on your activity without being distracted.
Any cartridge needle can be used to alter the pen's needle depth, which varies from 0mm to 4.5mm. Stigma used gas to sterilize the needles before putting them in the kit. As a result, they're entirely risk-free.
This CE-certified device comes with a 12-month warranty. So, if you're seeking a lining device that will work flawlessly for a long time, the Stigma kit is a good option.
Pros
Compact and wireless
Two batteries with light indicators
Attractive frame made of high-quality materials
Remarkable performance
Silent operation
A year-long warranty
Cons
After some time, the batteries may start malfunctioning, leading you to replace them.
The quality of the needles may not meet your expectation.
3. Bronc Premium Rotary Tattoo Machine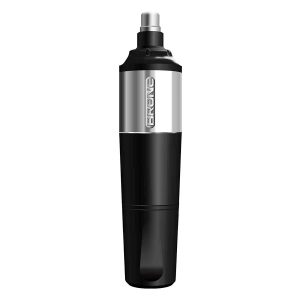 This rotary machine is one of the premium quality tattoo machines in the market and a masterpiece of its brand, Hummingbird. Its charismatic performance brings massive changes in tattoo procedures, which makes it a favorite of tattoo artists.
Motor, Frame, And Design
The Bronc tattoo pen is powered by a nanotechnology motor produced in Switzerland. The motor ensures that the pen runs quietly and efficiently for a long time.
The pen has the sensation of a fountain pen due to its aircraft aluminum body and ergonomic design. As a result, your writing will look to be written with a large fountain pen. It also won't make you feel uncomfortable for prolonged tattoo sessions.
Performance
Bronc is an all-in-one package. You get to make shades and colors, apart from doing catchy lining and blackwork. While working, it also keeps a low level of noise.
Artists who have worked in the field for an extended period utilize it frequently. That isn't to argue that it's only for professionals.
Give it a shot if you're a beginner. It's easy to set up the tattoo machine. It usually takes some time to get used to using a tattoo pen. This one, on the other hand, is one-of-a-kind. As soon as you start using it, you'll notice it.
Others
It includes a needle depth adjustment and works with most needle cartridges.
I wouldn't call it light, even though it weighs 154g and is simple to hold. Many devices trending in the market right now are more lightweight than it. Nevertheless, the weight will not be an issue concerning controlling the pen. You will have complete control over it sooner than you expect.
Here's what's so fascinating about it. The Bronc tattoo machine does not come to you alone, even though it is not a kit. It also includes EXTRA ACCESSORIES!
Needles, O-rings, a footswitch, lubricants, cartridge needles, a pencil tray, and other items are included in the tattoo machine for the users' convenience. These are the extras you'll need to utilize a tattoo pen.
It is the first time I've seen a tattoo machine with a collection of extra tools. With them, the pen will make the most splendid lines, being the best liner tattoo machine for apprentices and experts enough.
Pros
Simple setup
Premium quality
Refined lining work
User-friendly
Very low noise
Additional items included
Adjustable needle depth
Compatibility with most cartridges
Cons
Some beginners may have to struggle to establish control over the pen. Giving it some time should make it easier for them.
4. Stigma Premium Rotary Tattoo Machine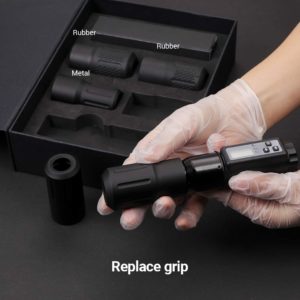 Here is another Stigma wireless rotary tattoo machine. It is a robust rotary machine with a solid construction that eases the process of tattooing for you by a long margin. Before I tell you all about it, there is a heads-up for you. It comes at a considerable price that you have to pay to get its premium service in return.
Material, Motor, And Battery
The material of the tattoo machine frame is aircraft aluminum alloy, which makes it easily portable.
I don't know if you have noticed, but tattoo machines with Japanese coreless motors are trendy for lasting long. Stigma also put the same one in its device.
The tattoo machine runs on a lithium battery with a capacity of 2000mAh, assuring you that it can provide you undisrupted service for hours.
Performance
Investing in a tattoo machine is always a big deal, especially if the investment is enormous and comes from your savings. But this Stigma pen is worth that deal.
The pen will speak for itself when it is in action. You will see that it pays off for each penny of yours when you get the polished lines it makes. It is also efficient at shades and colors. If by any chance, you are looking to spend on shading and coloring machines, you can buy this one and get all of the three functions from it.
Others
The LED display is one of the most sophisticated features of the Stigma pen, which the others I have just reviewed do not have. It shows you the running voltage level, the remaining power proportion, and the operational time of starting up.
You can adjust the voltage level by 0.1v using the plus and minus buttons.
Its needle length is 3mm, and the needle stroke is adjustable from 1mm to 4mm.
Pros
Wireless and portable
LED display
Premium performance
Low vibration
Adjustable needle stroke
5. Bigwasp Rotary Tattoo Machine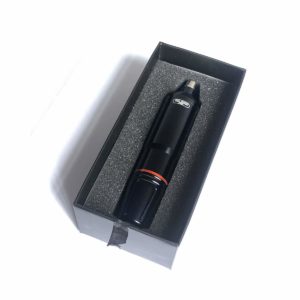 Because of its creative design, excellent appearance, and versatile performance, the Bigwasp rotating pen machine has many fans. The device's sleekness appeals to both novice and experienced artists. I know it's a bittersweet sensation to become more perplexed as you learn more about each best liner tattoo machine, but I'm confident you'll find it worthwhile.
Materials, Motors, and Gears
Space Aluminum was used in the construction of the Bigwasp pen. In addition, the machine is equipped with an unusual Japanese coreless motor and a gear system that allows it to operate quietly. That is to say that you can work in a tranquil environment while tattooing with it.
Performance
The pen works nicely with the ink and glides over your skin with ease. It achieves a fair balance of lines and shades, meaning it has just the perfect combination of caliber to line and shade.
It will serve you up to your expectations for the price you pay.
Others
It's compact and light, allowing you to have complete control and accuracy, even if you are merely a novice.
It can be used with any cartridge needle. The machine's operating voltage ranges from 5 to 8 volts.
Pros
Sleek and nifty
Beginner-friendly
Exclusive motor and gear system
Precision and silence in performance
Affordability
Cons
Lack of a higher voltage level
Some tattooists may not be comfortable using a pen of such a short size.
6. Red Scorpion Rotary Tattoo Machine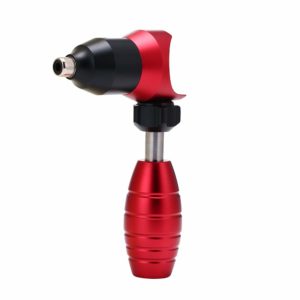 I am down to the last best tattoo machine for lining now. It is from Redscorpion, which has a distinct appearance from the previous rotaries. But that is not all. When you read it, you will find its performance different as well.
Material And Motor
The primary material of the rotary machine is aluminum alloy. The company machined it with CNC to ensure the consistency of all the components. It has an anodized surface that gives it a vibrant appearance.
The machine's motor uses Japanese technology, which facilitates it to use more power with less energy consumption.
Performance
The liner machine works at a uniform speed, lining the tattoo design smoothly. You can also pack color with it.
While working on the design, the liner ensures to reduce any skin damage. Using a machine like it guarantees that you will make great tattoo designs and get your clients satisfied with your overall service.
Others
The liner brings a tattoo grip of an aluminum cartridge, a DC clip cord, and two cartridge needles with itself as if it needed to top off its topnotch construction and performance!
For all of that, you have to pay a very meager amount. You will find it available in three colors – black, pink, and red.
3.5v to 5v is the operating voltage range of the machine. It has a stroke length of 3.5mm.
Considering it weighs nearly 100 grams, I can say that anyone can carry it effortlessly.
Pros
Well-built
High power with less energy consumption
Delicate lining
Reduction in skin damage
Not pricey at all
Cons
I would not suggest it to any artist who needs a machine to work at higher than 5v.
How To Choose The Best Liner Tattoo Machine?
As usual, I will write a buying guide for you to choose the best liner tattoo machine. Even if you have already selected one, I would recommend you read it before finalizing your decision. Why? Because It never hurts to look at a checklist and tick all the points you need to consider for an investment!
Material
The material of the liner you want to buy is an essential factor for two reasons. One, how long the machine frame will last depends on the material it is made of, and two, most of the weight of the liner comes from its material. For example, an aluminum frame weighs lighter than an iron frame.The first reason relates to preventing the machine from breaking down soon and during its function. The second one is associated with your comfort—the heavier the liner, the more problematic for the artist to handle.
To sum up, the best liner tattoo machine should not be heavy, while its frame material must be long-lasting.
Rotary VS Coil
I have put both types of liners on my best liner tattoo machine list because the choice varies from artist to artist. Also, there is no way to determine which one is the better option since they both have their uniqueness that outperforms each other.
So, I would recommend you gather knowledge about the machines, understand your expertise level in tattooing, and then decide on the type of machine you need based on that. 
If you take tattooing as an occupation, you may eventually need to use both types of tattoo machines. So, it is better to choose one that matches and can polish your skill further.
Needle Compatibility
Make sure the machine you choose is compatible with the type of needles you plan to use. Most liner tattoo machines are compatible with standard needles, but some may require special needles. You can also choose between fixed and adjustable needle bars.
Performance, Quality, And Price
These three variables impact each other in one way or another. If you want quality and performance, you have to be prepared to pay a standard price for that.
Many artists look for very inexpensive liners because they have a meager budget to get poor returns. But again, affordable does not necessarily mean bad. Most of the machines I discussed earlier come at a reasonable price. So, what I emphasize is that you should learn more about devices before choosing one hastily. It is better to wait for a little and get the best liner tattoo machine than make an impulsive purchase and settle with a poor-performing one.
The best tattoo machine for lining should be one with modest quality and quality that its price guarantees you.
Frequently Asked Questions
Below you see some questions that most artists wonder about lining machines. Read the answers even if you do not have any queries. I am sure you will get some insights anyway.
What is a liner tattoo machine?
A liner tattoo machine is a tool used by tattoo artists to create lines in tattoos. It is designed to create single, crisp lines with consistent thickness and depth.
What are the benefits of using a liner tattoo machine?
The benefits of using a liner tattoo machine include the ability to create precise and clean lines, faster tattooing time, and less trauma to the skin. Additionally, liner tattoo machines are often more versatile and can be used for both lining and shading.
What are the different types of liner tattoo machines?
There are several types of liner tattoo machines, including coil machines, rotary machines, and pneumatic machines. Each type has its own unique advantages and disadvantages.
What is a coil liner tattoo machine?
A coil liner tattoo machine is a traditional machine that uses a coil and an armature bar to move the needle in and out of the skin. It is known for its power and precision, but can be noisy and require more maintenance.
What is a rotary liner tattoo machine?
A rotary liner tattoo machine uses a motor to drive the needle up and down, rather than a coil. It is generally quieter and requires less maintenance than a coil machine, but may not have the same power and precision.
What is a pneumatic liner tattoo machine?
A pneumatic liner tattoo machine uses compressed air to move the needle. It is generally quieter than both coil and rotary machines and requires little maintenance. However, it may not have the same power and precision as other types of machines.
What is the difference between a liner and a shader?
Each of the liner and shader tattoo machines has its own set of technical specifications. The significant difference is that the liner creates the tattoo's outline and finishes any blackwork. The shader gives the tattoo color and shading. In many cases, the liner is the only piece of equipment used to make tattoos.
What is the appropriate voltage level for a lining machine?
That depends on you and your lining machine. Most tattooists prefer 7v to 9v, while some even use 8v. You can take some time to figure that out.
Can I make shades with my liner?
Yes, you can. How your tattoo will turn out is what matters. However, typically it requires a softer device with different settings and needles to make shades.
Will the tattoo lines become thicker once the tattoo heals?
When a tattoo blows out, it is mainly because of inefficient work. It often results in more extensive tattoo lines after healing or immediately after the tattoo. Other various factors might also cause tattoos to fade or lines to thicken over time.
How do I choose the right needle for my liner tattoo machine?
The type and size of needle you choose for your liner tattoo machine will depend on the type of tattoo you are creating and your personal preferences. Be sure to choose a needle that is appropriate for the skin type and area of the body you will be tattooing.
How do I care for my liner tattoo machine?
Proper care and maintenance of your liner tattoo machine is important to ensure its longevity and performance. This may include cleaning and sterilizing the machine, lubricating the parts, and replacing worn or damaged components as needed.
How can I troubleshoot problems with my liner tattoo machine?
If you are experiencing issues with your liner tattoo machine, such as needle skipping or uneven lines, there may be an issue with the machine's settings, needle, or other components. Consult the manufacturer's instructions or seek advice from experienced tattoo artists to troubleshoot the problem.
Can I use a liner tattoo machine for permanent makeup?
While liner tattoo machines may be used for some types of permanent makeup, such as eyeliner or lip liner, they may not be appropriate for other types of permanent makeup, such as microblading or eyebrow shading. Always consult with a licensed professional before attempting any type of permanent makeup procedure.
Final Verdict
As I have reached the end of my discussion, it is time for the final verdict. There are thirteen liner machines in total, categorized into coils and rotaries. So, the summary will be based on the categories.
Mickey Bee and Hawink get my preference for the coil machines because of their lightness and affordability. I will not abandon Dragonhawk. It is great. But I would recommend it if only you are okay with trying to handle heavy machines. They all are beginner-friendly. For professionals, Red Scorpion would be nice.
Among all the rotary machines, the Stigma premium is the best option who want to experience using a wireless pen and are ready to spend for the premium performance. For budget-friendly devices, you can consider Dragonhawk, Red Scorpion, and Bigwasp. Remember when I said you could get quality products at fair deals? They are those products.
The Bronc pen is awesome, too, especially for beginners if they settle with giving some time to learn to manage the device.
But if you change your mind and think a liner machine with additional items would help you more, check out the Stigma rotary pen kit.
Each of the thirteen is the best liner tattoo machines in today's market. You only need to match your budget and expectations with them to get down to the one. Good luck with that, and happy purchasing!
We are sorry that this post was not useful for you!
Let us improve this post!
Tell us how we can improve this post?