Hummingbird Bronc Pen Review: [Features, Pros & Cons]
Whether you are a seasoned professional or a rookie tattooist still learning the ropes, you need a high-quality machine to translate your skill into the skin. A machine that is not up for the job will not only make your job way more difficult, it substantially increases the risk of causing a severe injury.
Therefore, you need a tattoo machine that tics the right boxes, no matter how good of an artist you are. If you are looking to buy one to enhance your tattooing arsenal, we have a fantastic recommendation for you: The Hummingbird Bronc Pen.
Reading this Hummingbird Bronc Pen review, you can expect to learn what differentiates the Hummingbird Bronc Pen from the rest of the pack. How much of a toll will it take on your pocket? Is it a suitable pick for more detailed and complex designs? We will address all the frequently asked questions to meet your curiosity here.
Let's get to the details.
Additional Read: Top 10 Best Tattoo Pen Machines
Introducing The Hummingbird Bronc Pen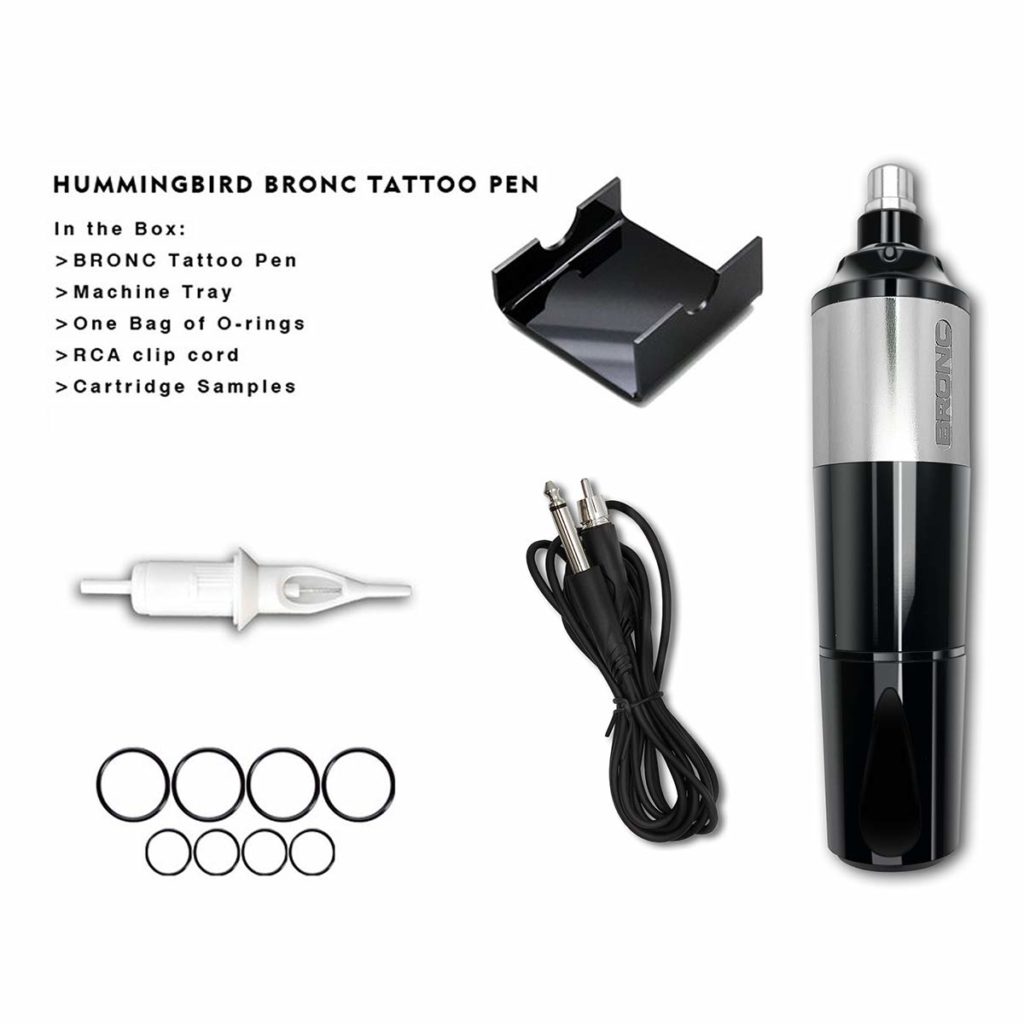 Hummingbird is a brand that has taken the modern tattoo industry by storm with its irresistible package of premium quality, unbelievably affordable price, and remarkable features. The Hummingbird product we will highlight today shares all these traits. So, we had to dedicate today's article to the incredible Hummingbird Bronc Pen.
Hummingbirds are famous for being the smallest birds in existence, but they are also known for the unique humming noise they produce while flying. The Swiss motor in the Hummingbird Bronc Pen emits such a low pitch, pleasant hum as it cruises through the skin, leaving a crafty trail of ink.
The pen-like design makes the machine very convenient to hold. It poses minimal stress on your hands, making it the perfect choice for extended tattooing sessions.
Hummingbird Bronc Pen Specifications
Manufacturer: Hummingbird
Operating Voltage: 5V-12V
No-Load Starting Voltage: 4V
Length Of The Stroke: 3.5mm
Adjustable Stroke Range: 4.5mm
Weight: 5.43 oz
Cartridge Needles: 2/4 pieces
Rubber O-Rings: 1 Bag
Who Is This Product For?
The Hummingbird Bronc Pen is worthy of a first choice consideration for tattooists of all calibers because of its unique functionalities. We will discuss those in more detail in the later stages of our Hummingbird Bronc Pen review, but first, let's point out the user profiles this item target.
You can take a look at the following list to evaluate whether or not the Hummingbird Bronc Pen would be a good buy for you:
It does have a learning curve to it, but once you get used to it, you will find that this device is very comfortable to operate for longer periods. If you want a plug and play item that feels easy on your hand despite lengthy operation, this is the one to go for.
If you are concerned about the health standards of the machine you are about to buy, you can choose this without a shred of a doubt. Hummingbird makes sure all its products are safe for their clients through rigorous protocols. This is one of the primary reasons that catapulted its popularity among tattoo artists in recent years.
Are you looking to buy a high-quality, but budget-friendly product? The Hummingbird Bronc Pen should be one of the best candidates for you, then.
The Problems You Might Face
We are quite fond of the offerings Hummingbird Broc Pen put on the table, but it doesn't overshadow the fact that it does come with some drawbacks. Then again, you won't find any tattoo machine that will not give you a reason or two to complain. Perfection is a myth indeed!
So, what are the factors that disappointed us?
As we said, you do need a bit of practice to master its controls. Since there are no practice skins included, it is not easy for rookie artists to familiarize themselves with the machine.
The small size of the machine makes the motor a bit vulnerable to premature malfunctioning.
Pros & Cons
Reasons to get
Tiny and lightweight.
Great price.
Fits a wide range of needle sizes.
Multiple color choices.
Smooth, low noise operation.
Maintenance-friendly design with removable motor bolts.
Reasons to avoid
Requires regular lubrication for retaining its performance. You would need to do this at least once every two weeks.
No cartridge packs included.
Hummingbird Bronc Pen Review: Features and Benefits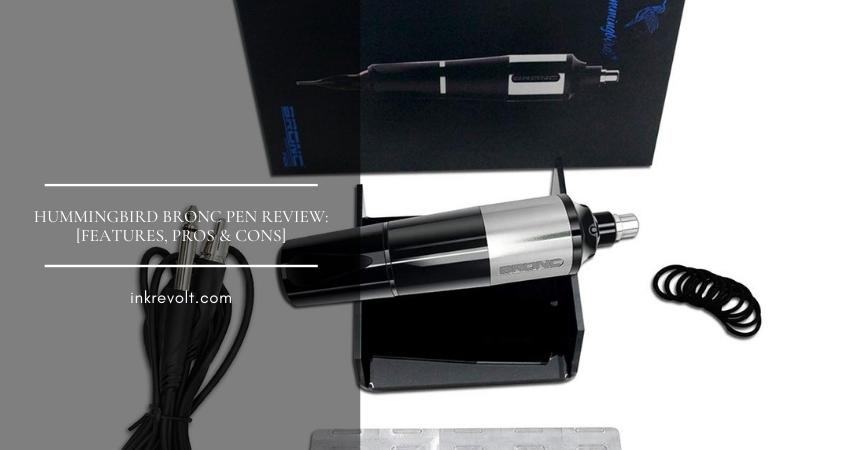 Unique Design
You might argue that there is nothing unique about pen-style tattoo machines anymore and the market has several top-quality alternatives. While that's true, the Hummingbird Bronc Pen still manages to set itself apart with some distinct features.
Its ergonomic grip is one of the several innovative features it has embraced to make drawing, shading, and lining as effortless as you would like. Hummingbird has used aircraft-grade aluminum to build this product, which explains why it is so lightweight. It also gives the Hummingbird Bronc Pen a bona fide gorgeous look.
Swiss Motor
The 5W Swiss Motor that comes with the Hummingbird Bronc Pen boasts a capacity of 11500RPM. So, it's quite a powerful machine and what makes it even better is that it emits much lower frequency noise. You will get the juice you need to bring your designs to reality, but you won't have to wake up your next-door neighbors while you are at it!
Comfort
After a few trial runs, you will fall in love with this machine. Thanks to its incredibly powerful but subtle engine, top-grade aluminum exterior, and lightweight design you won't even notice that you have been using it for hours. Very few of Hummingbird Bronc Pen's competitors can match the level of comfort it can offer.
Alternative Options
There are several alternatives available on the market. Here are a few options:
Overall, there are many alternatives to the Hummingbird Bronc Pen that offer similar features and benefits. It's important for tattoo artists to do their research and choose a machine that meets their specific needs and preferences.
Final Remarks
So, that's a wrap on our Hummingbird Bronc Pen review. We strongly recommend buying the product because of its top-notch Swiss motor that is a mini powerhouse, but operates very discreetly. The lightweight aspect is also a huge reason to go for it. For long, stress-free tattooing sessions, this can become your go-to tattoo machine.
We are sorry that this post was not useful for you!
Let us improve this post!
Tell us how we can improve this post?