10 Best Tattoo Pen Machines: [Reviews With Comparison & Buyer's Guide]
Rotary tattoo machines, specifically rotary tattoo pen machines are prevailing over the rest of the tattoo machines in the market at present. The main reasons are their ease to use and balance, low maintenance, quiet performance, and capability to perform more than one tattooing task.
Since they are the trendiest products nowadays, I wanted to write about some of the best tattoo pen machines that every tattoo artist would love. So, I have brought them to you here and will review each of them, focusing on every detail worth informing you.
There will be single tattoo pen machines and tattoo pen kits so that you can check out both types before deciding on one.
Best Tattoo Pen Machine: My Top 5 Compared
The table below is for you to glimpse over and have some idea about the machines. It has five of my favorites. But there will be more machines with detailed reviews in the following section. Don't miss them!
Product
Dragonhawk Tattoo Machine Kit Rotary Tattoo Pen Gun Kit 20Pcs Tattoo Cartridges Needles Foot Pedal Power Supply for General Tattoo & Smp Studio 1013-10
Stigma Tattoo Kit Rotary Tattoo Machine Pen 2 Battery 20 pcs Cartridges 2 Tattoo Grip Cohesive Bandage with Case EM125KITPRB20-8-US
Cheyenne Hawk Pen (Bronze Color)
BRONC Premium Quality Rotary Cartridge Tattoo Machine Gun Kit Pen Type for Professional Tattoo Artists (Black)
Dragonhawk Atom Rotary Pen Tattoo Machine Japan Motor for Tattoo Artists (Black)
Is it a kit?
No, but it comes with extra items
Users
Beginners and Professionals
Beginners and Professionals
Beginners and Professionals
Some Extras In The Kits
20 pieces of cartridges, 1  machine box, and foot pedal
2 batteries, 1 carrying box, 20 needles
Lubricants, needles, armature bars
As an Amazon Associate InkRevolt earns from qualifying purchases.
Top 10 Best Tattoo Pen Machines: Reviews
1. Hawink Rotary Tattoo Machine CNC-Q1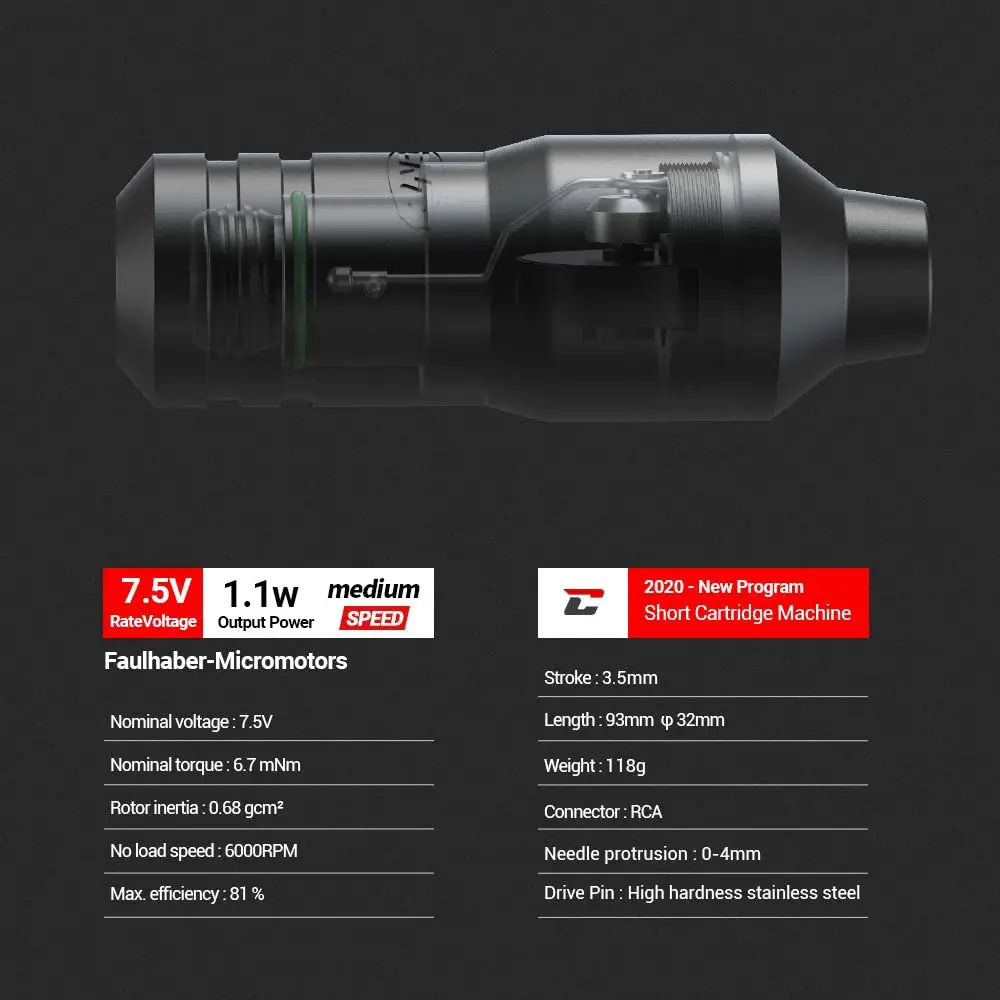 The first tattoo pen machine to be reviewed is the Hawink CNC-Q1. It is one of those that can serve both professionals and learners. It has impressive features that promise superior performance. Anyone with beginning skills will become more competent with it, and anyone with professional skills will get more happy clients.
Why We Selected It in Our Top List
Motor And Material
The German motor in this tattoo pen machine is quite powerful. Moreover, it raises the machine's level of sophistication above that of other devices.
It doesn't create a lot of noise, so it's ideal for tattoo artists who prefer to work in a peaceful setting. In addition, this machine will aid with their concentration.
The pen's frame is constructed from aerospace aluminum alloy. It's also relatively easy to handle, thanks to its pen-like design and lightweight. As a result, you may work with it for extended periods without becoming weary.
Performance
This rotating pen glides overall skin types gently and effortlessly. Thus, it gives you crisp lines. It also excels at coloring and shading. It works with most needle cartridges and has an easily adjustable needle depth.
Its operational voltage, 5V to 10V, has already been mentioned. It would be best if you didn't go any higher than that. It can lead to overheating and mechanical wear.
Others
Another critical aspect of the tattoo pen is that it does not irritate the skin and is less painful. So, if customers are happy with your service, don't forget to give some credit to this little machine, okay?
You can use the CNC-Q1 in a professional setting. Moreover, it is suitable for beginners because it has a simple setup to master. If you are new to this industry and want to start with a high-performing device, this is the one to consider.
Pros
Lightweight and silent operation
Excellent quality
Simple to use and clean
Does not overheat for an extended time
Slight irritation to the skin
Cons
The highest operational voltage is only 10V, which is a disadvantage.
The price may not agree with everyone's budget.
Additional Read: Hawink's Top 2 Rotary Pen Machines Compared
2. Dragonhawk Rotary Tattoo Kit (Mast Pen)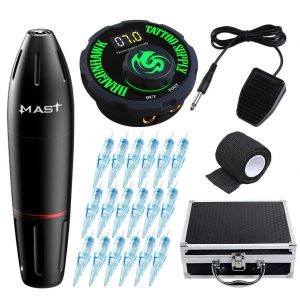 Anyone who has had the opportunity to utilize the Dragonhawk Mast pen has been blown away by its capabilities. However, before you see that, you can examine its construction. It has a dashing appearance, which is enough to guarantee its performance. But there's more to it than just the pen. By creating a kit with the Mast pen, Dragonhawk offered an excellent service to aspiring tattoo artists. Do you want to know more about it?
Why We Selected It in Our Top List
Motors And Design
The machine was created by Dragonhawk using a Japanese Mast motor. It is capable of providing you 3000 hours of smooth service. The device is also equipped with a sturdy gear system.
The motor and the gear mechanism ensure that you are not disturbed during tattooing by loud noises. The pen's frame is made of aluminum, which refrains it from overheating.
Above all, its pebble modeling and ergonomic design will make gripping and manipulating the pen a breeze for you, regardless of how inexperienced you are.
Performance
The Mast pen creates beautiful tattoos. It generates precise lines, eye-catching shades, and stunning colors while softly working on the skin. It performs admirably in every respect.
Furthermore, it is appropriate for all skin types. If you use this rotating machine to produce a tattoo, you won't have to worry about any skin reacting negatively.
The Kit
Aside from the tattoo pen machine, the Dragonhawk kit includes a power source, a carrying bag, a cord connection, twenty cartridge needles, a machine box, a foot pedal, gloves, ink colors, and practice skin, among other things.
As you can see, the kit includes everything you'll need to get started tattooing right away. You won't need to buy any other accessories, making it one of the most beginner-friendly kits available. The Mast kit is ideal for those who wish to begin learning with actual tattoo tools.
Others
The device is merely 82 grams in weight. That assures you that you can not only run it without exerting any effort, but you can also carry it around with you in your pocket. One of the benefits that artists who travel frequently seek is a travel-friendly tattoo machine. The Mast will be your favorite companion in that regard.
The pen's needle stroke may also be adjusted, which is a unique feature. Because you can customize it to your liking, you may try out different tattoo techniques, which helps you learn more and improve your tattooing skills.
The Mast's operating voltage range begins at 6 volts and finishes at 9 volts. To get it running, you may use any cartridge needle.
Finally, you do not have to doubt its safety. The device contains needle curvatures created by Dragonhawk according to a precise process. It is to prevent any damage and injury.
Pros
Lightweight, sleek, and portable
Quiet operation without any irritating noise
Nifty gear system and motor
Ability to function for long periods without overheating
Cartridge needle flexibility
Cons
There is a tiny vibration from the pen. However, if you can get used to it, it will not be an issue.
Additional Read: Dragonhawk Mast Pen Review
3. Bronc Rotary Tattoo Machine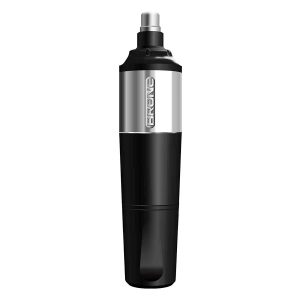 One of the most incredible Hummingbird tattoo machines is the Bronc Rotary Tattoo Machine. It's been nicknamed the "game-changer" by artists. Curious to know the story behind it?
Why We Selected It in Our Top List
Motor, Frame, And Design
A Swiss-made nanotechnology motor powers the Bronc tattoo pen. The motor guarantees that the pen runs smoothly and lasts a long time.
Thanks to its aerospace aluminum body and ergonomic design, the pen feels like a fountain pen. As a result, it will appear as if you are writing with a big fountain pen. It also won't make you uncomfortable throughout prolonged periods.
Even though it weighs 154g and is easy to handle, I wouldn't call it light. It has a little more weight to it than most other tattoo pen machines. Regardless, you will have sufficient control over the machine.
Performance
Bronc is a three-in-one bundle. You may use it to do all of your line, shading, and coloring. It also maintains a low level of noise while working.
It is widely used by artists who have worked in the field for a long time. That is not to say, however, that it is solely for experts.
If you're a beginner, give it a chance. The machine is simple to set up. To adjust to using a tattoo pen machine usually takes some time. This one, though, is unique. You'll notice it as soon as you start using it.
Others
It has an adjustable needle depth and is compatible with most needle cartridges. Weighing 154 grams, it is a little heavy.
Here is the fascinating stuff about it. Although it is not a kit, the Bronc machine does not come to you alone. It also brings ADDITIONAL ACCESSORIES!
For the users' convenience, needle bars, O-rings, a footswitch, lubricants, cartridge needles, a pencil tray, and other items come with the machine. These are the additional items required to use a tattoo pen.
It is the first time I have seen a tattoo machine paired with a bunch of random items. But even if I try not to be biased, I would have to label Bronc as the best tattoo pen machine.
Pros
Simple setup and adjustments
User-friendly
Very low noise
Extra supplies included
Quality materials
Adjustable needle depth
Compatible with most cartridges
Cons
Some of you may find it difficult to control. But don't be concerned. Allow yourself some time. You will wrap your head around it soon.
4. Dragonhawk Atom Rotary Pen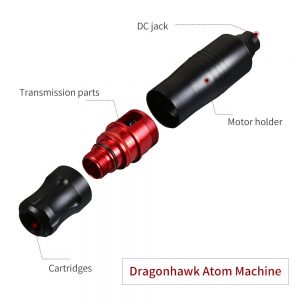 Dragonhawk appeals to both novices and experts since it provides innovative multi-functional products for everyone at a highly affordable price. In addition, Dragonhawk provides flair in all areas, from product making to product performance. And this Atom pen is just another fantastic signature-bearer of its brand.
Why We Selected It in Our Top List
Material, Design, and Performance
Dragonhawk made the Atom frame with anodized aluminum, maintaining an ergonomic design. The machine's design and substance make it durable and easy to balance. As you will notice, applying tattoos with it resembles drawing with a real pen.
Compared to coil machines, rotary machines work less loudly. When the Atom is running, though, it is nearly silent. However, this does not imply that it lacks sufficient frequency or puncturing power. Yes, it does. How could it offer you such a faultless performance if it couldn't? Its lines are acceptable. The shades and colors, on the other hand, are stunning.
Others
The Atom pen weighs 135 grams, which is not heavy for a tattoo pen machine. However, because you will have effortless control and balance, this will not deter you from self-improvement. It will also maintain its consistency after long periods of practice.
Pros
Solid frame
User-friendly
Fair price
Ergonomic design
High-performing
Suitable for beginners
Quiet operation
Cons
For beginners, cleaning the device may be slightly tricky for the first few times.
The lines do not have the same quality as the shades and colors.
Additional Read: Dragonhawk's Top 3 Rotary Pen Machines Compared
5. Stigma Rotary Tattoo Kit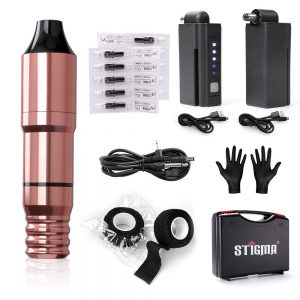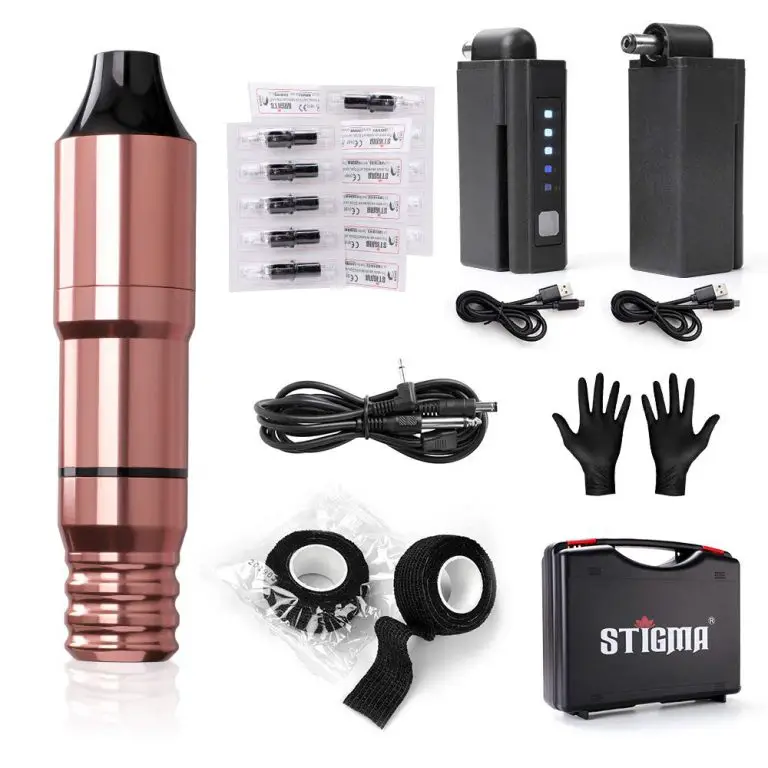 This one here is different from others you have seen so far. Yes, it is a rotary pen kit. But it is also wireless! So there will be no wire connected with the machine when you make tattoos with it. Sounds fun? How about you take a look at it?
Why We Selected It in Our Top List
Battery, Motor, And Gear
Batteries power every wireless device. The higher the capacity of the battery, the better the device's performance will be. This one includes 1500mAh batteries (yes, that is in the plural – you TWO batteries!), so you'll get a lot of bang for your buck.
You can recharge one while working on the other because it has two batteries. So you won't have to take any unwelcome breaks during the session this way.
The voltage levels are indicated via indicator lights on the batteries. One light, for example, denotes the lowest voltage level, while five lights denote the maximum. The lights also serve as a reminder to change the batteries.
The battery will last around 3 hours if you run the device at its highest setting, 12V. However, to keep the device and its power unit safe, never exceed the maximum voltage level.
Stigma included a powerful Japanese motor and a sophisticated gear system in their device. Both assure you of a silent operation.
Design And Performance
The device's ergonomic design makes it user-friendly for beginners. Nonetheless, once you've gotten the hang of it, you'll be able to improve your talent quickly.
The machine's performance is outstanding. It's fashionable because of its appealing lines. If you want to get a hold of lining quickly, the Stigma pen will serve you well.
The Kit
A tattoo pen, two batteries, a clip cable, a carrying box, tattoo needles, gloves, and other items are included with the Stigma rotary tattoo kit.
Everything in the package is of a reasonable standard of quality. The needles, on the other hand, may have been more durable.
Others
The Stigma pen has a stunning rose gold frame that is solid and robust, and it is made of Space Aluminum. It does not weigh more than two ounces. You will not be overburdened in any way. Because it is wireless, you will not become entangled in a tangle of wires, allowing you to focus on your task without being distracted.
The pen's needle depth may be adjusted with any cartridge needle and ranges from 0mm to 4.5mm. Before placing them in the kit, Stigma sterilized the needles with gas. As a result, they're perfectly safe to use.
A 12-month guarantee is included with this CE-certified equipment. So if you are looking for a tattoo pen machine which is able to perform flawlessly for quite some time, you can purchase the Stigma kit.
Pros
Compact and cordless
Two batteries with light indicators
Attractive frame made of high-quality materials
Remarkable performance
Dynamic motor and gear system
Silent operation
A year-long warranty
Cons
The batteries perform admirably, however after a while, they lose their ability to sync.
They also don't last very long, so you'll have to replace them.
The quality of the needles should have been higher.
6. Dragonhawk Essence Rotary Tattoo Pen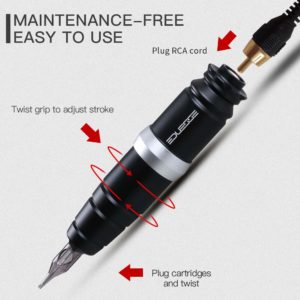 The Essence pen is another masterpiece of Dragonhawk. It has a durable construction with a user-friendly design. So if you are a fan of the brand, brace yourself to get fascinated by it one more time.
Why We Selected It in Our Top List
Design, Motor, And Performance
Dragonhawk gave the device an eye-catching aesthetic by designing it ergonomically with a Space Aluminum frame.
The machine contains a developed motor from Japan that keeps it from vibrating and producing noise. And this one machine can create tattoos of any size with exquisite lines, shades, and colors all by itself. You will get a stunning all-rounder performance from the Essence.
If you want to begin as a professional tattooist, this is the device to get. But if you are already a professional and thinking about upgrading your equipment, give it a try.
Others
As usual, Dragonhawk has maintained a high degree of quality in this machine while charging a modest price.
The pen holds 140 grams, which is a little more than the others I've mentioned, but it's still light and requires low maintenance.
The pen's operating voltage ranges from 6 to 9 volts. Some of you may like a greater voltage level. However, at this price, it is the best offer available.
Pros
Best value for money
High-efficiency in voltage activation
Ergonomic design
Capable of executing all three jobs
Cons
The motor, while powerful, may not be long-lasting.
A leaflet comes with the Essence kit that explains how to use the accessories. But it did not seem very helpful to me.
7. Bishop Rotary Liner Wand Tattoo Machine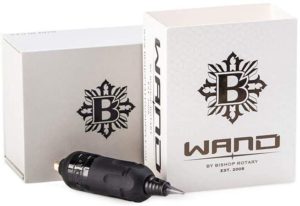 Before I go on with the review, I want to point out that this is a lining rotary machine. Most rotaries do lines, shades, and colors singlehandedly. But Bishop devoted a single machine only to the lining. So if you want to have a hold of lining, Bishop is your magic wand.
Why We Selected It in Our Top List
Motor
The device has a brushless Faulhaber motor that generates electricity via magnets. It indicates that the packer capable of performing efficiently and does not overheat soon. Besides, it features custom winding tailored to provide artists with the utmost speed and torque.
Performance
Using the Bishop wand will remind you of the HP universe because it will enable you to make lines so effortlessly that it will seem like magic.
In addition, it will produce the most precise line work. While it excels at classic lining, it can also do dotwork. Overall, you can rely on the machine for any traditional tattoo art.
Others
The stroke length of the Bishop liner is 5mm, and it is not adjustable.
On the other hand, it weighs 113 grams, which is lightweight for artists, even beginners.
Pros
Lightweight
Powerful motor
Maximum speed and torque
Amazing work
Cons
Some artists would prefer it if the stroke length were adjustable.
Additional Read: Bishop Wand – The Shader, The Packer & The Liner
8. Solong Rotary Tattoo Pen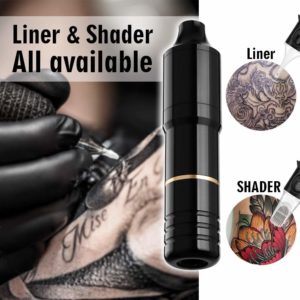 The Solong rotary pen is another wireless machine with the most comfortable design and control. If you have not ever used a cordless device, get yourself a piece of this pen. You may never want to shift to the regular ones!
Why We Selected It in Our Top List
Material and Motor
A strong 10-watt Taiwanese motor powers the rotary tattoo pen machine. It will last longer, stay cooler, and vibrate less than other devices when in use. Besides, it possesses a solid and long-lasting unibody.
On the other note, Solong made its frame with aircraft aluminum alloy. The pen will not scratch as a result of this.
Performance
You will get professional lining, shading, and color packing from the pen. It is a consistent performer.
In addition, the pen is not only useful for tattooing but also for applying permanent make-up. See, it is a versatile device!
Others
This machine is lightweight and features an ergonomic design. Thus, Solong ensured that you could run a high-quality machine in the coziest way possible.
Solong sterilized the needles and packed them separately, so they are risk-free. The needle protrusion is 0 to 3.5mm. As a result, their ink flow is more consistent and well-shaped.
The pen runs at a voltage range from 7v to 12v. Please do not cross the maximum voltage limit to sustain its lifespan.
I want to add to the ending note that if you are not a professional artist, read the Instruction Manual carefully before tattooing yourself or others.
Pros
Comfortable to handle
Quality materials
A year-long warranty
Beginner-friendly
Consistent ink flow
Proper functioning at every activity
Little to no sound or vibration
Applicable for permanent make-up
Cons
No mentionable cons! Yay!
9. Bigwasp Rotary Tattoo Pen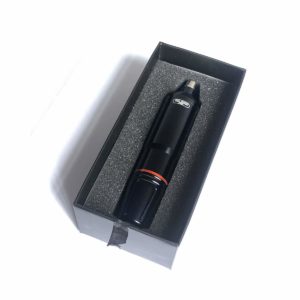 Bigwasp rotary pen machine has admirers because of its brilliant design, fabulous look, and flexible performance. Learners and skilled, every artist adore the device because of its sleekness. I know it is a bittersweet feeling to become more confused each time you get to know each best tattoo pen machines, but I'm sure you find it worthy!
Why We Selected It in Our Top List
Material, Motor, And Gear System
The Bigwasp pen has a build of Space Aluminum. In addition, there is an exclusive Japanese coreless motor and a gear system built in the machine to perform quietly. That is to say that when you make tattoos with it, you can work in a quiet and peaceful environment. Isn't that precious?
Performance
The pen works on the ink perfectly and runs on your skin smoothly. It maintains an adequate balance between lines and shades. You will find it hard enough to make lines as much as soft enough to make shades.
For the price you pay, it will serve you up to your expectation.
Others
It is small in size and weight, giving you maximum control and accuracy, even if you are only beginning.
You can use any cartridge needle to use it. The operational voltage level of the machine is between 5v and 8v.
Pros
High control and preciseness
Beginner-friendly
Exclusive motor and gear system
Performance without vibration
Reasonable price
Cons
A higher voltage range would have made it more preferable.
The shortness of the pen's size may make some artists uncomfortable to balance it.
10. Cheyenne Hawk Pen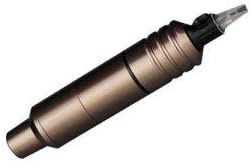 Cheyenne's most notable innovation thus far is the Hawk Pen. It's been created to look exactly like a genuine pen, allowing for more precise tattooing processes than ever.
Ladies and gentlemen, introducing you all to my showstopper today, the Cheyenne Hawk Pen!
Why We Selected It in Our Top List
Motor And Performance
The pen produces low sound and vibration when functioning, thanks to its strong motor. There is also a responsive setting that handles reactive stitch and hit frequency.
High vibration can cause your hands to get numb. However, because the Cheyenne Hawk Pen does not vibrate much, your hands stay firm even if you're working for a long time, and you can smoothly make tattoos.
Tattoo machines, such as pens, are not so new at present. But Cheyenne is different. It has made lines, shades, and colors pieces of art. It lets you work independently, delving into different tattoo styles and flourishing your talent.
Material And Weight
Anodized aluminum is the major component of the hawk pen's body, which should be enough to convince you that it is of exceptional quality.
It weighs roughly 130 grams, making it far lighter than traditional tattoo machines. As a result, it is less complicated to operate than others.
Others
The pen runs smoothly between 6 and 12.6 volts. You can constantly adjust the voltage for shading, line, and coloring applications.
Furthermore, it has disposable needles. Its 3.5 mm stroke appeals to visual artists. Its disposable grips may be customized, which is another reason the Hawk is Cheyenne's best tattoo pen machine. Additionally, Cheyenne offers you a great protective case that prevents it from rolling away from the user's grip during use.
It is needless to mention that the pen is user-friendly for every artist. To top it off, it requires deficient maintenance.
Pros
Lightweight
Medically tested and disposable needles and grips
Low vibration
Adjustable needle depth
Topnotch performance
A 12-month warranty
Available in six colors: bronze, black, orange, silver, red, and purple
Cons
High price
Difficult to balance for some artists
Despite being beginner-friendly, it is more suitable for professionals.
How To Choose The Best Tattoo Pen Machine?
If you are at a loss, wondering how you can choose the best tattoo pen from the ten best ones, calm down. I am writing a buying guide for you below to see what you should keep in your mind while selecting a tattoo pen. When you do that, you will automatically figure out which tattoo pen is the best one for you.
Material
The best tattoo pen machine should be made of durable and sturdy components like aluminum. Its needles and motor have to be adequately lubricated for its lifespan.
The outer part has to be handy and sleek. Overall, it has to be well-built to withstand any falls.
Weight
The best pen machine should feel like an actual pen. So, it needs to be very lightweight. If not, you will find it inconvenient to use it properly.
Artists mostly switch to pen devices to get the advantages of maneuverability and mobility. The standard weight of a pen machine has to be below 150 grams or 0.34 lbs.
Function
The most fantastic thing about a tattoo pen device is that it can perform many functions. If you are looking for a machine to make lines, shades, and colors, a tattoo pen will be the most cost-efficient investment for you.
Depending on tattoo designs, tattoo sessions can be long or short. You should get a tattoo machine that can perform efficiently during lengthy tattoo sessions.
User-Friendly
The manufacturers design the tattoo pen devices to offer easier handling and balance than traditional rotary tattoo machines and coil machines. The resemblance of a genuine pen makes a tattoo pen device highly demanding among artists.
So, when you look for the best tattoo pen machine, choose the most user-friendly one. It will provide comfort not only to you but also to your clients with its gentle tattooing process. That will eventually account for fewer scars and fast healing.
Price
Professionals may have sufficient funds to purchase a tattoo pen device, but most beginners do not. Even if you are not a professional artist, you need to begin with an efficient tattoo pen.
As pricing is an issue, you should do your homework; because more and more companies are producing various products at a low cost. Before placing an order, you can study their features and customer reviews.
Frequently Asked Questions
I am done with the reviews and the buying guide. It leaves me now with the second last part of the article, where I answer some of the most asked questions regarding the best tattoo pen machine. Read the answers and see if they satisfy your queries.
What is a tattoo pen machine?
A tattoo pen machine is a type of rotary tattoo machine that is designed to look and feel like a pen. This type of machine allows for greater precision and control, making it easier to create fine lines and delicate shading.
How does a tattoo pen machine work?
A tattoo pen is a hand-held machine usually used to make tattoos, a permanent form of body art made with indelible inking. Modern devices use coils electromagnetically to move an armature ring. It is attached to a group of needles to push ink into your skin.
Are tattoo pen machines only for beginners?
No. There are many tattoo pens made for professional use. Professional tattooists worldwide use them to create tattoos. They're becoming increasingly popular each day because of their uniqueness that other traditional machines lack.
Are tattoo pen machines any good?
YES. Tattoo pen devices transition to tattoo machines from regular pens in the most seamless and manageable way. Users with any level of skill can use a tattoo pen and get expected results. So, yes. They're good, very good.
What are the benefits of using a tattoo pen machine?
The benefits of using a tattoo pen machine include improved precision and control, reduced fatigue, and ease of use. Tattoo pen machines are also lightweight and compact, making them ideal for both professional and personal use.
Can I use regular tattoo needles with a tattoo pen machine?
Yes, you can use regular tattoo needles with a tattoo pen machine. However, it is important to choose a needle that is compatible with the specific tattoo pen machine you are using.
Can I use traditional power supplies with a tattoo pen machine?
Yes, you can use traditional power supplies with most tattoo pen machines. However, it is important to check the specific requirements and compatibility of the tattoo pen machine you are using.
How do I clean and maintain my tattoo pen machine?
Cleaning and maintaining your tattoo pen machine involves regular cleaning of the machine and other components. It is important to follow the manufacturer's recommendations for cleaning and maintenance to ensure that your machine remains in good working condition.
Can I use a tattoo pen machine for all types of tattoos?
Tattoo pen machines can be used for a wide range of tattoo styles and techniques, but it is important to choose a machine that is specifically designed for the type of tattooing you are doing. Some tattoo pen machines are better suited for lining, while others are better for shading or color packing.
Can I use a foot pedal with my tattoo pen machine?
Can I travel with my tattoo pen machine?
Yes, tattoo pen machines are designed to be portable and can easily be taken with you on the go. However, it is important to check the specific regulations and requirements for carrying tattoo equipment on flights and in other locations.
Can I use different needle configurations with my tattoo pen machine?
Yes, many tattoo pen machines are designed to be compatible with different needle configurations and needle depth, allowing you to use the machine for a range of different tattoo styles and techniques. However, it's important to choose the right needle configuration for the type of tattooing you are doing and to follow the manufacturer's recommendations for using different needles with your tattoo pen machine.
Final Verdict
The last part of the article will provide you a brief about the products so that you can narrow down your list of choices in a minute.
If you're a professional, and your primary concern is not budget but getting the absolute best tattoo pen machine, put the Cheyenne Hawk pen on the top of your list. As a second choice, you could consider the Dragonhawk Essence tattoo pen.
For beginners who are about to start learning, I would prioritize a machine with no complicated setup yet capable of delivering a notable performance. If you are on the same page as me, check out Dragonhawk (Mast), Bishop, Bigwasp, and Stigma.
Some starters have already done some tattooing and are interested in taking it one notch further. For them, Dragonhawk (Atom), Hawink CNC-Q1 would be better choices. The Mast pen comes with many tattoo items. And about the CNC-Q1, you can arrange it in a professional setting.
Bronc can satisfy both professionals and beginners. If you're a fan of wireless tattoo machines, you will love Solong.
But if you're running on a budget, go for Dragonhawk, especially the Mast kit. Other than that, you have Bigwasp as well.
When you've shortlisted your choices, match them with the buying guide's criteria. It's beneficial in clearing up the confusion and getting down to a single option. Hopefully, it will help you too.
Thank you for tagging along. Good luck and happy purchasing!
We are sorry that this post was not useful for you!
Let us improve this post!
Tell us how we can improve this post?