Best Dragonhawk Tattoo Pen Review: 3 Models Compared
If you are at a loss looking for a suitable tattoo pen that would meet both your requirement and budget, give yourself a pat on the back because at least you have got yourself here! A Dragonhawk tattoo pen might just be the thing you have been looking for all this time.
In the following sections of the article, I will discuss 3 models of Dragonhawk tattoo pens (Atom Rotary Pen, Mast Rotary Pen, and Mast Tour Rotary Pen) in detail to help you realize which one of them will serve your purpose the most.
I will review each of the tattoo pens. But before that, I will list their key characteristics. Lastly, I will tell you what your criteria should be for selecting the right tattoo pen.
So, without further ado, let's start with our Dragonhawk Tattoo Pen reviews!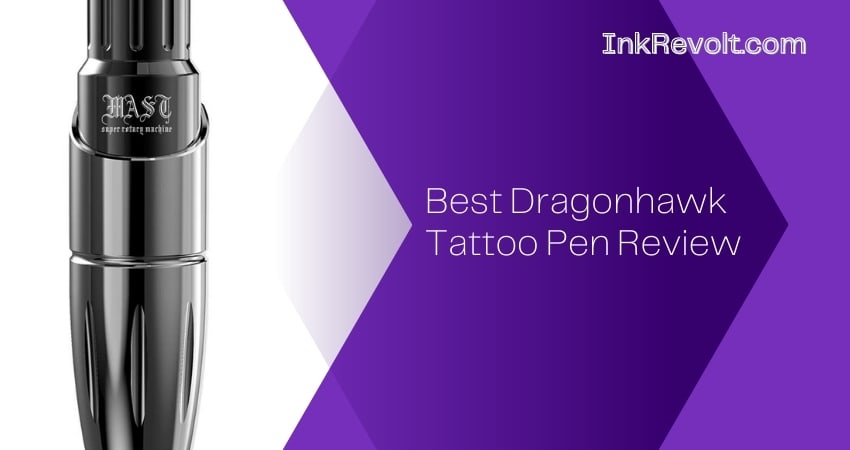 Best Dragonhawk Tattoo Pens Reviews: 3 Models Compared
The table below contains specific information about the models and displays the way I have ranked them. You can have a glance at it to get an overall idea.
Compatibility with Cartridge
Color Options
Black, Orange, Pink, Grey, Purple Camo, Green Camo, Light Blue
Package Dimensions
7.2 x 5.3 x 2.3 inches (13.62 Ounces)
6.73 x 5.47 x 2.52 inches (0.96 Ounces)
6.7 x 3.7 x 2.4 inches (3.21 Ounces)
Compatibility with Cartridge
Package Dimensions
7.2 x 5.3 x 2.3 inches (13.62 Ounces)
Compatibility with Cartridge
Package Dimensions
6.73 x 5.47 x 2.52 inches (0.96 Ounces)
Compatibility with Cartridge
Color Options
Black, Orange, Pink, Grey, Purple Camo, Green Camo, Light Blue
Package Dimensions
6.7 x 3.7 x 2.4 inches (3.21 Ounces)
As an Amazon Associate InkRevolt earns from qualifying purchases.
Additional Read: Rotary Tattoo Machine Buying Guide
1. Dragonhawk Atom Rotary Pen Tattoo Machine (Budget-Friendly)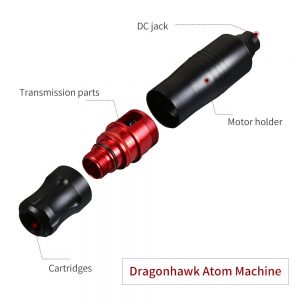 This Dragonhawk pen is a low-cost yet high-quality one. Let's have a look at what it has to offer you.
The frame of the pen is made of anodized aluminum. Its weight is only 135g.
Another versatile characteristic of the pen is its needle depth. You can adjust the needle whenever you want.
It is user-friendly because it is designed to feel like an actual pen when you hold it.
One of the drawbacks of most of the machines is the exhausting noise and vibration that they make. Guess what? This rotary pen works more quietly and vibrates a lot less than a lot of other machines.
Do not think that will give you any chance to doubt its power capacity. Its frequency and puncturing power both are high.
It is excellent for shading and coloring. It hits with enough power and works on colors efficiently.
The rotary pen has an easy setup. Within such a friendly budget, it is a perfect option for anyone.
Pros
Lightweight, efficient, and smooth
Low noise and vibration
High-quality shading and coloring
Cons
The lining, while not dissatisfactory, could be better
2. Dragonhawk Mast Rotary Tattoo Pen (Best Overall)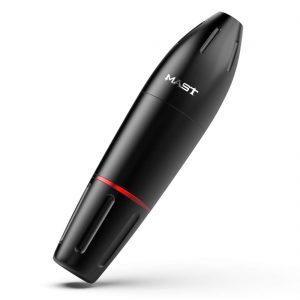 I hope the remark beside the title managed to grab your attention successfully. Among the three products I am reviewing today, this one is the best from every aspect. Why do I claim so?
Here you go.
Space Aluminum has been used to make the frame of the pen. Its length is almost 12 centimeters, and it is as lightweight as 120 grams.
It emulates the feel and grip of an original pen. It makes the process of doing tattoos precise and comfortable. For its ergonomic design and pebble modeling, you will not feel weary after working for an extended period.
The Dragonhawk Mast Pen has a tool for hard and soft adjustment. You will have to insert it into the hole of the needles and then rotate it to make the adjustment.
The tool has a maximum limit line on it. Remember not to cross it.
The pen also has a locator to adjust the depth of the needles. Rotating the grip will do it.
Two of the highlighted features of the machine are its powerful gear system and Mast motor. Both of them will guarantee you reliable and silent performance with no vibration.
It is designed to ensure absolute control and accuracy, and it allows you to explore different types of techniques and styles.
Pros
Fast, simple, lightweight, and efficient
It makes tattooing more pleasant for artists and less painful for clients
Precise tattoo designs
Little to no vibration
It can be used for trying different styles
Cons
The machine comes with a pamphlet that is not much helpful in telling you which part of the machine is for what.
It might become hot within a short time.
3. Dragonhawk Mast Tour Rotary Tattoo Pen (Premium Choice)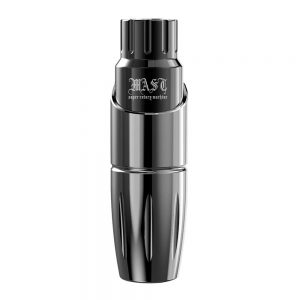 I saved the premium for the last. Reading the other two reviews, if you think you are looking for more, you should see this one.
Mast tour, another pen-style tattoo machine, is one of the shortest and superior performing tattoo machines available in the market.
With a build of space aluminum, it is 82 grams in weight and has a grip size of 25 mm. That should give you an idea about its ease of use.
Besides, you can change and replace the cartridge without putting in much effort.
It also requires low maintenance. And that's not the end of it.
The machine has an exclusive part in it that makes it exceptionally long-lasting. Its motor is a Japanese coreless motor that has been extensively tested and guaranteed to last for a minimum of 3000 hours.
It contains a special innovation system that pulls off perfect hits with adequate softness.
It delivers extraordinary performance by smoothly and gently transferring ink to the skin and assisting you to make an exquisite lining, grey and black shading, and solid colorwork.
Pros
Smart, small, classic, effortless, and efficient
Suitable for any type of skin
Easily packable and portable
Durable designs
Better control ensured by its flexibleness
Incredibly long-lasting
Dynamic innovation mechanism
Cons
Expensive compared to the other two
Not suitable for big-sized tattoos
Artists with large hands might find it difficult to handle
What is so unique about Dragonhawk Tattoo Pen
One unique feature of the Dragonhawk tattoo pen is its adjustable needle depth. This allows the artist to customize the depth of the needle penetration, which can be useful for different tattooing techniques and skin types.
The pen also has a sleek, ergonomic design that provides a comfortable grip and allows for precise control.
Additionally, the Dragonhawk tattoo pen is equipped with a powerful motor that delivers smooth and consistent lines, making it a reliable choice for both lining and shading.
Overall, the adjustable needle depth, ergonomic design, and powerful motor make the Dragonhawk tattoo pen a versatile and high-performance tool for tattoo artists.
Final Verdict
So, that's all about the Dragonhawk tattoo pens. Now, I'll try to simplify a little by providing my opinions on each of them.
The Atom rotary pen is undoubtedly a great choice if you have a limited budget. It is powerful and great for shading and coloring. You can go for it if you want standard quality at a good bargain.
About the Mast Tour pen, if you are a tattoo artist who has to travel often, this one is a must-have for you. It's an all-rounder package. If you strictly support the rule 'no compromise with quality', it's for you.
If the price of the Mast Tour is too much for you, don't worry. You got the other best – the Mast pen. From the overall perspective, it plays out the other two. It is the right combination of performance and affordability. You should seriously consider buying it.
Most importantly, the first step to taking this decision is matching your criteria with the product's features. Once you do it, you are halfway through. So, make sure you do it right.
Also, if you have further questions, don't hesitate to ask.
Happy Purchasing!
We are sorry that this post was not useful for you!
Let us improve this post!
Tell us how we can improve this post?