Best Dragonhawk Tattoo Machine Reviews [4 Models Compared]
Getting a tattoo has become so trendy nowadays, almost everyone wants to get one regardless of age. And if you are more into making it rather than taking it, this is the perfect place for you. As a tattoo artist, you need a great tool to make your art perfectly. You can go through our selected Dragonhawk tattoo machine reviews to see which one is suitable for you!
We all know that tattooing can be a bit hurtful, considering you are making a change in your body. But a little pain is always worth it when you see a beautiful design or pattern where you intend. However, you can not use a random tattoo gun to do such intricate work. It needs to be precise and safe because a small mistake can cost you much more than your money.
Hence, you will need a standard tattoo machine, no matter if you are a beginner or a professional tattoo artist. But the market is packed with several brands with great features. While Dragonhawk is one of the bests right now, finding the accurate model could be a bit troublesome. To make it simple for you, we have assorted the perfect list for you.
Best Dragonhawk Rotary Tattoo Machine Review: 4 Models Compared
As an Amazon Associate InkRevolt earns from qualifying purchases.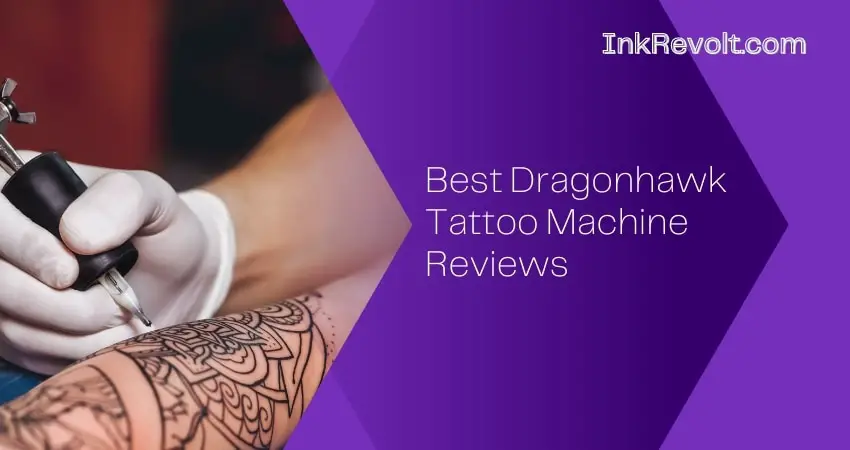 1. Dragonhawk Raven2 Rotary Tattoo Machine [Value For Money]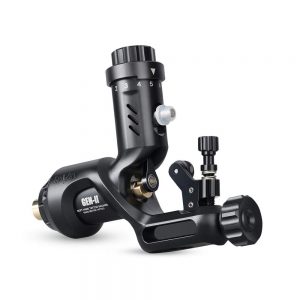 Dragonhawk has developed the mechanism and launched the Raven 2 to provide more ease and comfort to the artist. It uses quality technology and specs to ensure the creation of the perfect tattoo. From beginner to professional, Raven 2 is adored by all.
Features:
Well-Built: The Raven2 is built with ABS plastic, ensuring a robust structure that you can use for a long time. With the weight of 88gm, you can carry around this lightweight tool whenever you want to. The package includes a tattoo gun and one 304 steel tattoo grip. You will also get one year of warranty with the package.
Multipurpose: You can use the Raven 2 for various things like shading, lining, color packing. This machine is specially designed to work with different voltage ranges depending on the user's preference. You can adjust the voltage based on your tattoo type and the speed you need. You can connect the power source and the tattoo machine with a clip cord or RCA.
Hit adjuster: The one-touch hit adjustment feature of this tattoo machine allows you to choose the hitting style however you want. You can change the setting using the metal knob from the unit top. The range can vary from 1-10, depending on your preference. When you need the needle to hit the hardest, move the knob to number one. For the lightest hit, number 10 is what you need.
Powerful Motor: The Japanese coreless motor is powerful enough to increase the torque with low voltage. You can also use traditional needles and cartridge grip with the Raven 2. You can tighten and loosen the needle retainer with the adjuster knob. However, be careful to not overtighten the knob as it can strain the motor. You can replace the 0-ring in case the knob gets loose during the work. Just apply some lube to it, and you can attach the parts easily.
Pros
This machine is built with scratch-proof ABS plastic materials, giving it a lightweight yet sturdy frame.
The ergonomic handle design will help you to do your work comfortably without any pressure.
It is compatible with cartridges and traditional needles.
It provides variable voltage ranges for smooth operation.
Cons
It may vibrate a bit more than necessary.
2. Dragonhawk Falcon Rotary Tattoo Machine [Value For Money]
The Falcon rotary machine by Dragonhawk is another one of their most acclaimed tools. It has taken two years of continuous development to result in the Falcon. The brilliant craftsmanship of the Falcon is what sets it apart from the other models. This small yet powerful device can be a great addition if you are planning to expand your hobby as a tattoo maker!
Features:
Quality Design: The sleek design of Falcon doesn't only radiate artistry but also strength. This one is made with robust aircraft-grade alloy materials to give it a powerful structure. However, the weight of this machine is way less than it looks. This one is undoubtedly one of the most lightweight tattoo machines produced by the manufacturer.
Versatility: You can use the Falcon for new-school, black-work, dot-work, lettering, etc. Besides, it also provides you with benefits similar to the coil machine. It means, regardless of the voltage range, you can use standard needles with this machine to get a balanced performance. Create thick or thin lines with this rotary machine with ease!
Accuracy: This tattoo machine is designed to provide around 0.03mm of accuracy. With the stroke length of 4 mm, you can use both cartridge and standard needle settings with the Falcon. The unique design of the needle stabilizer makes sure no rubber bands are needed. The comfortable grip also helps you to hold the machine for a long time.
Quiet Operation: This machine's coreless motor produces less vibration, which means the noise level is much less. It ultimately makes sure you get to work in a quiet environment. The high-speed capacity helps you to make the most intricate tattoos within no time! The efficiency of the tool isn't compromised, even if the voltage is low. This one is the perfect tool for color packing, heavy black filling, gray and light black shading.
Pros
It is an extremely lightweight and easy-to-use tattoo machine.
The building material is an aircraft-grade alloy, giving it a sturdy yet handy appearance.
It doesn't make much sound during the operation.
You can make tattoos using both thick and thin ink.
Cons
It doesn't come with any power cord.
3. Dragonhawk X3 Rotary Tattoo Machine [Cheapest]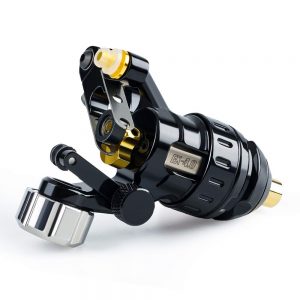 The next in this Dragonhawk tattoo machine review is a well-known model among tattoo artists. The X3 rotary machine promises to provide you with the smoothest tattooing experience ever! With sturdy build-up and standard operating features, you can create any tattoo using this powerful tattoo machine.
Features:
Easy to Use: The X3 tattoo machine includes custom 2 springs to help it run even with a low frequency. Thus, you can smoothly create the tattoo design without any trouble. During the operation, the custom coreless motor of the machine can increase the torque number using a low voltage. The ergonomic handle of this tool helps you to work effortlessly without feeling any fatigue.
Compatibility: You can use all types of tattoo needles with this one. However, make sure to get cartridge tattoo grips while you are using standard cartridges. You can also adjust the voltage from 7-9V depending on the task requirements. This RCA-powered machine is pretty easy to assemble. It also runs a smoother, quieter operation at a lower voltage without slowing down.
Quality Structure: With a weight of 92gm, this simple design of X3 is made of steel material. The strong construction of this tool helps you to perform the task with a balanced hold. The special design of the machine makes the needle-work much easier. Anyone can work with the x3 regardless of their skill and experience level.
Versatility: This ultra-light device fits in your hand perfectly. You can use it for color packing, gray and black-work, shading, linings, etc. This one delivers the precision and accuracy you want in your tattoo! The quality of the linings and color packing is top-notch.
Pros
It produces torque with low voltage as well.
You can create quality crisp lines using this one.
The price is fairly affordable.
You get a peaceful working experience.
Cons
It only works with an RCA connection.
4. Dragonhawk Extreme Rotary Tattoo Machine [Best Overall]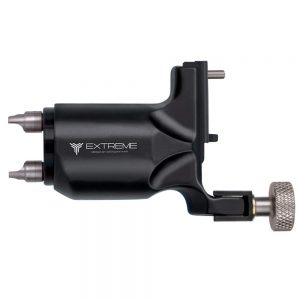 If you are looking for a rotary tattoo machine with the power and ability to make the perfect tattoos, you should check the Extreme rotary machine by Dragonhawk right now! With the lightweight structure and incredible features, you can get this machine at an affordable price as well. This one is pretty incredible, considering all the benefits you can get with such a low value.
Features:
Flexible: You can use this multipurpose rotary tattoo machine for different sorts of works like color packing, shading, lining, black filling, etc. The needles are easy to place in the position, and they remain firm throughout the process. Due to the use of sterile materials in its construction, you will have lower risks to face side effects like reddening, rashes, marks, etc.
Ergonomic Design: Built with durable carbon steel material, this sturdy machine is the perfect choice for your tattoo-making hobby. The ergonomic design of this model makes it feel almost weightless during the operation. The package comes with an extra tube, springs, wrenches, and a one-year warranty!
Clip Cord Connection: This machine can work well with multiple cartridge needles. You can easily assemble this tool before starting the work. With the voltage range of 7-10 V, you can set the power according to your work type. For example, the tattoo allocation will need a setting between 8-9V. Whereas for shading, it can be between 7-8V.
Slider System: The oily slider of this machine provides great control and precision. It also helps to create less friction during the operation. As a result, you get to work without hearing any noise. The powerful Japanese brushless motor ensures you get the perfect balance and control when the machine is in your hand. Not to mention the long hour operation it can pull through without any stalling.
Pros
This one is versatile, and you can use any technique with it.
Despite the powerful engine, it doesn't create much sound due to less vibration production.
You don't have to spend extra as the package includes all the accessories.
The slider system helps to fix the needles firmly.
Cons
This one is a bit extra weight compared to other tattoo machines.
Additional Read: Best Dragonhawk Tattoo Pen Review
Final Words
After going through all 4 Dragonhawk tattoo machine reviews, you must have gotten a clear understanding of what is best for you.
Hopefully, all this information is helpful enough for you. Once you have figured out which one is your ideal one, don't wait up and purchase before it stocks out!
We are sorry that this post was not useful for you!
Let us improve this post!
Tell us how we can improve this post?