12 Best Rotary Tattoo Machines: Reviews And Buyer's Guide
If you are a tattoo artist and love to create beautiful patterns on your skin, you would definitely know how important it is to use the proper tattoo machine. While most people are unaware of such devices' application procedures, almost everyone knows the significance of a quality instrument.
And choosing from the best rotary tattoo machines will be wise for you regardless of your skill level. Being an expert tattoo master is every tattoo artist's dream, but becoming one can be more complicated than your imagination. If you aim to improve your skill, you need to choose your tattoo machine carefully.
Because using an unsuitable tattoo machine can be hazardous as well as dangerous. You will find hundreds of brands that produce quality tattoo devices every year. While most of these tattoo machines are built following a standard procedure and guideline, they are not equal when it comes to performance and quality.
Therefore, you need to check the features, price, customer feedback so you can make the right choice for your tattoo-making career.
Best Rotary Tattoo Machines: 12 Models Compared
Before you go through each product's individual reviews, how about we go over all the features these rotary tattoo machines have? This will also help you to compare which one possesses the qualities you desire in your device.
While all this information may give you some basic ideas about what you want, these data are definitely not enough to pick the right one for you. Let's go through the reviews without any delay, shall we?
12 Best Rotary Tattoo Machines Reviewed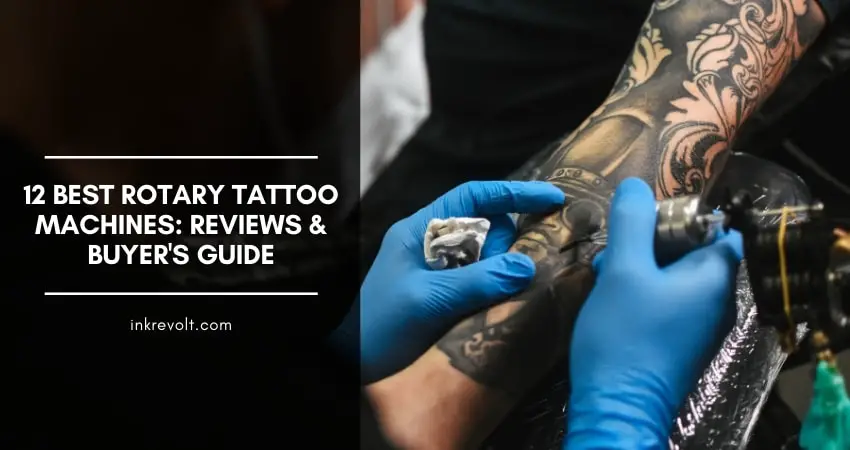 1. Dragonhawk Atom – Best Rotary Tattoo Pen Kit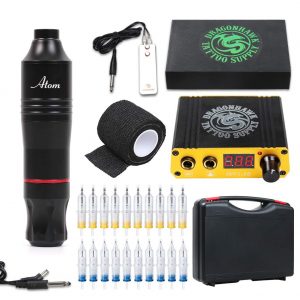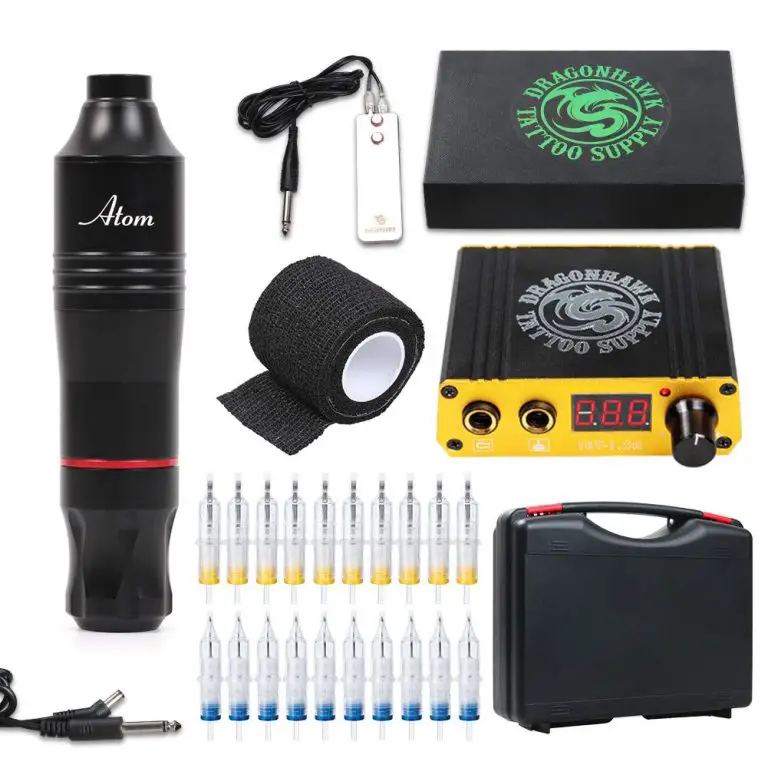 When talking about the best rotary tattoo machine for beginners, there is no way you can leave Dragonhawk out of the list. In fact, they are one of the best in their field. The Atom cartridge rotary tattoo machine by Dragonhawk is undoubtedly one of the most versatile rotary tattoo machines you can buy right now!
As the name suggests, this lightweight tool gives you a pen-like feel when you are holding it.
Why We Selected It in Our Top List
Quality Structure:
The atom pen kit weighs only 135gm, making it a very compact tool for easy holding. With this, you won't feel any pressure or strain even if you have to work for a long time. The high-quality anodized aluminum structure makes it a durable one for long-time use. You can also choose from the different styles according to your need.
Ergonomic Design:
The simple design of this tattoo kit lets you operate with ease all the time. You can adjust the needle depth from 0-4.5mm along with a 3.5mm stroke. Just rotate the grip to adjust the depth however you want. The package also includes 20 cartridge needles, making it one of the quality kits out there. This tool is also compatible with all types of cartridge needles.
Powerful Performance:
This rotary machine rotates with a speed of 9000 rpm, proving it to be petty powerful when it comes to the performance level. In fact, this is the best rotary tatto machine for lining and shading. For the best outcome, you can operate this RCA-connected tool using 6-9V.
Quiet Operation:
The advanced gear system with the powerful precision DC motor ensures the proper execution with no vibration, which means you get a quiet and calm environment during your work. The included built-in LED light power supply, grip tape, signing needle depth, needle bars, and clip cord connectors to make it suitable for all kinds of tattoo sessions.
Pros
This is a complete set with 20 pieces of needle cartridges.
This one works as an actual pen.
It has a sturdy construction that you can use for a long time.
The pen-styled tool is perfect for shading and lining.
Cons
The power supply could be better.
2. Dragonhawk Mast – Best Pen Rotary Tattoo Machine Kit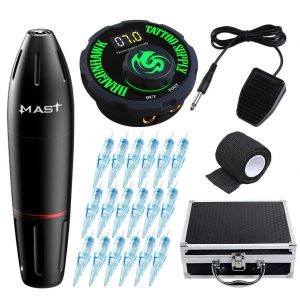 Another worthy of your pennies is the Mast rotary tattoo machine of Dragonhawk. Just like their Atom kit, you get the pen-like comfort holding this. The speed you get with this one is outstanding in every way possible. For the perfect color packing, precise outlining, black and gray shading, this can be an easy choice for your tattooing passion.
Why We Selected It in Our Top List
Durable Material:
The Mast rotary tattoo machine has aviation aluminum as its building material, turning it into one of the most sturdy tattoo machines out there. With a weight of 142 gm, this is a lightweight device that you can use without feeling any fatigue.
Low Vibration:
The Mast rotary tattoo machine is easy to set up. You just have to press the power button for 3-5 seconds. This also produces low vibration making it a quiet tattoo machine. It means, despite the high puncturing energy and frequency, you won't be hearing any disturbing sound.
50 Cartridge Needles:
With this rotary tattoo machine, you get 50 cartridge needles to suit your requirement. You can attempt various techniques and styles of tattoos without losing perfection and control. You can perform precise and more comfortable tattooing sessions with an ergonomic grip, unlike the traditional tattoo machine. Apart from the tattoo machine, you will also get needle cartridges, power supply, tattoo machine box, dc cord.
Brushless Motor:
This Mast tattoo pen kit has a powerful brushless DC motor that creates zero vibration while operating. Let's just say your hand wouldn't be shaking during the tattoo session! The operating voltage ranges from 6-9V, which is adjustable depending on your stroke depth. The closed-mouth tip of the cartridges allows the needle to strike steadily.
Pros
Built with airplane-grade aluminum.
You can set this up and use it with ease.
The package includes 50 cartridge pine needles.
You can use this tool with all types of needles.
Excellent customer service throughout.
Cons
Not ideal for getting a permanent tattoo.
3. Dragonhawk Extreme – Best Rotary Tattoo Machine For Color Packing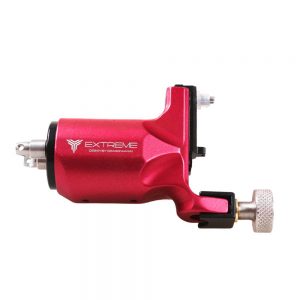 The extreme rotary tattoo machine by Dragonhawk has the power and stability you need to make a fine tattoo! This lightweight device highlights some extraordinary traits, which you can get at a meager price! Pretty much a winner if you consider all the benefits you get with this!
Why We Selected It in Our Top List
Sturdy Design:
This rotary tattoo machine is built with carbon steel, giving it a robust structure ideal for your tattoo art. This machine's ergonomic nature gives it a weightless vibe, making it very convenient when you are using it. You also get extra springs, wrenches, tubes, and a 1-year warranty.
Multipurpose:
Use this rotary tattoo machine for varieties of works like black fillings, color packing, lining, shading, etc. You can place and move the needle with precision due to its comfortable handling. To make sure the skin doesn't get rashes, reddening, marks, etc., manufacturers have used sterilized elements for building the structure.
Operating Voltage:
To make this device work properly, you have to keep the voltage power between 7-10V, depending on your task type. 8-9V is a perfect setting for tattoo allocation. For shading purposes, you have to keep it between 7-8V. Besides the easy setup process, you can use this rotary tattoo machine with various cartridge needles.
Slider System:
This rotary tattoo machine's oily slider allows you to have control and accuracy. As it produces less friction during the work, you can have a quiet environment for smooth execution. The Japanese brushless motor helps you to balance and handle the tattoo machine. No matter how long your tattoo session takes, you can perform constantly and effortlessly with this device.
Pros
This versatile rotary tattoo machine is ideal for applying different tattoo techniques.
Price is very affordable.
It doesn't create loud sounds as the powerful motor doesn't generate a lot of vibration.
This package has all the necessary accessories you may need.
The slider system is there to place the needles tightly.
Cons
This one can weigh a bit more than the other rotary tattoo machines.
4. Stigma Rotary Tattoo Machine – Best Rotary Lining Tattoo Machine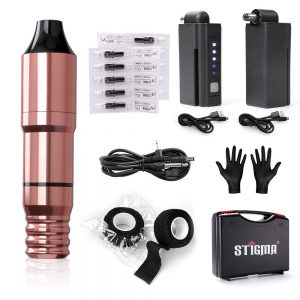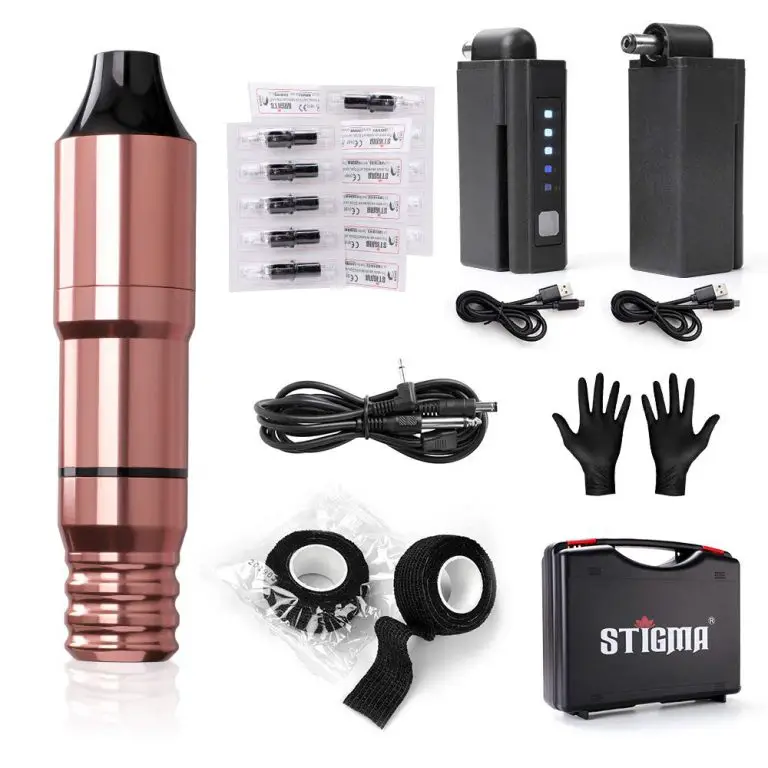 If you are specifically looking for the best Rotary Tattoo Machines for lining, the Stigma pen tattoo kit should definitely be on your list. While the aesthetics of this machine is eye-catching, it is not just the appearance. The performance of this machine is what makes it stand out among others.
With all the unique traits going on with this rotary tattoo machine, you can never really go wrong with this one.
Why We Selected It in Our Top List
Strong Built:
The robust structure of this Stigma tattoo kit is built using aircraft-grade aluminum alloy material, making it a durable one as well. While the exterior gives you a beautiful appearance with the rose gold color, this tool's performance is equally spectacular. Upon buying this rotary tattoo machine, you also get a one-year warranty.
Dual Batteries:
The tattoo machine's dual-battery feature is one of the best highlights of this rotary tattoo machine. You can use one battery until it fully drains and switch it off with the second one for another full-power tattoo session. And you can keep charging and switching in between for a constant operation. This way, no interruption will occur in between your work.
Additional Read: Best Wireless Tattoo Machines with Battery Backup
Cartridge Compatibility:
While it comes with 20 pieces of sterile cartridge needles with individual packaging, you can also use it with all kinds of cartridge needles. You can set the stroke length by simply adjusting the power supply. The operational voltage can be up to 12v, but you should not go further than that.
Needle Depth Adjustment:
With the needle protrusion of 0-4.5mm and a stroke length of 3mm, you can actually adjust the needle depth according to your need. This ergonomic tool is also comfortable enough for undisturbed tattoo sessions. You also get tape rolls, connecting cord, gloves, and a carry case for further convenience.
Pros
This rotary machine uses dual batteries to work more efficiently.
This rotary machine has a beautiful design that comes with a carry case.
It has a powerful motor along with an advanced gear system.
You can adjust the stroke length depending on your choice of work.
Cons
Battery life is not very impressive.
5. Solong Tattoo Kit – Best Rotary Machine Pen Tattoo Kit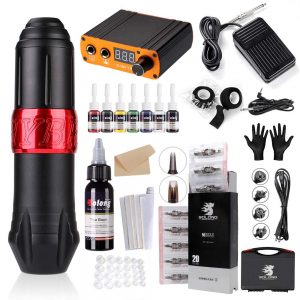 Solong tattoo kit is another pen-style rotary tattoo machine that you can rely on for steady performance. This one is pretty popular for its quality build and comfortability. For a tattoo expert who is looking for a rotary tattoo machine with standard features, this Solong pen kit is undoubtedly one of the best ones.
Why We Selected It in Our Top List
Strong Built:
The Solong pen kit is a CNC-machined product built with high-end aluminum alloy that has been given an anodized finish afterward. This sturdy tattoo machine is pretty lightweight with a pen-style design. It means you can use it conveniently without fearing exhaustion or muscle pain on your hand.
The Package:
The whole package comes with the necessary accessories like a pedal, eight inks, power supply, cord, etc. With a premium quality power supply, this rotary tattoo machine allows you to adjust to the accurate voltage setting quickly. It produces significantly less heat during the hour-long tattoo session, making it favored by most professionals.
Sterilized Cartridges:
To ensure the tattoo-making process is safe and secure, each of the 20 pieces cartridge needles is sterilized and packed individually. This also ensures a better ink flow and shape for the tattoo. The advanced tech of this rotary machine increases the work balance and efficiency of the power supply. This rotary machine is compatible with most cartridges available in the market as well!
Quiet Machine:
This tattoo pen kit is reasonably good for keeping the sound level low. The powerful rotary machine makes sure to produce less friction for a calm and peaceful working environment. While the operating voltage can be up to 12V for optimum result, make sure to keep it under 12V to protect both the rotary tattoo machine and the energy supply.
Pros
This rotary tattoo machine includes a pedal, 8 inks, and other tools.
You can control the voltage pretty quickly.
Built with sturdy material.
This rotary machine has an ergonomic and durable design.
Cons
The price can be a bit high.
6. Hawink CNC-Q2 – Best Rotary Short Pen Tattoo Machine

The Hawink CNC-Q2 is our following product in this best rotary pen tattoo machines list for obvious reasons. From the structure to performance, this promises a maximum level of user satisfaction! If you are a beginner yet want to use a standard tattoo machine for practical experience, Hawink is the 'It' for you!
Why We Selected It in Our Top List
Top-rated Material:
Made with aircraft-grade aluminum alloy, this rotary tattoo machine is one of the best quality rotary machines that most professional tattoo artists recommend. While it has high impaling frequency and power, this small grip design gives you a pen-like feel when you are making tattoos.
Faulhaber Motor:
The German Faulhaber motor is robust and stable but surprisingly doesn't make much sound. You will enjoy a peaceful work setting from start to finish, which ultimately makes your tattoo art more convenient. Perfect for an artist who prefers to work in silence.
Lightweight:
With a weight of 128g, the pen-shaped structure with the quality building material makes it pretty light and suitable for long-term use. While the operating voltage ranges between 5-10V, higher voltage power can overheat the motor. The functioning style function of this CNC-Q2 gentle and smooth, making it suitable for all types of skin. Also, the chances of irritation or pain on the skin with this tattoo machine are very trivial.
Continuous Operation:
With a stroke length of 4mm, this RCA-connected tool can run up to 12 hours without overheating the motor. This rotary tattoo machine is pretty simple to use and clean.
Pros
Constructed with aluminum alloy material for a robust build.
It has a German Motor for vigorous power, smooth and well-balanced, quiet operation.
Integrated with advanced tech for easy and smooth use.
Pen-like machine design with an operating voltage of 5-10V.
Cons
You can use a maximum of 10V for the tattoo operation.
7. YILONG 'L' – Best Affordable Rotary Tattoo Machine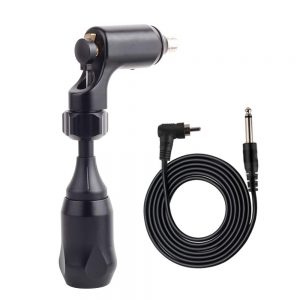 The Yilong' L' tattoo machine provides you control and balance during your work and can be used for different techniques and styles. Thanks to the pen-style design, this tattoo gun gives you the feel of holding a pen while drawing. It means you are not going to face any types of struggles overall!
Why We Selected It in Our Top List
Aircraft-Grade Material:
This tattoo machine's frame is made with space aluminum elements, providing it the strength and structure to balance up. While it delivers a solid performance as it promises, this tattoo machine's weight is surprisingly light considering the power it holds! This whole package comes with a tattoo pen, a connector line, 1 cartridge needle.
Cartridge Compatibility:
While this rotary tattoo machine comes with one cartridge needle, there is no restriction on using other cartridge needles. In fact, this one is pretty compatible with all the cartridge needles.
Precise Outcome:
The powerful Faulhaber motor with advanced gearing tech creates torque to make that exact tattoo pattern on your skin. However, you won't be having any problems regarding the tool vibration as the number is pretty low. Nonetheless, you get comfort without Compromising the quality of the work.
Steady Performance:
With a stroke length of 3.5mm and an operating voltage of 6-9V, you can rotate this device to adjust the cartridge needle accordingly. You can make great shading and linings with solid color packing. This tattoo gun's ergonomic style allows you to go on as much time you need without fearing any after-effect!
Pros
This tattoo machine has a robust structure for extra support.
The package is compact and easy to handle.
Compatible with all types of cartridges and needles.
You get a quiet environment during the tattoo session.
Cons
Upgrading this product can cost you a lot.
8. Kwadron Equaliser _ Best Rotary Pen For Shading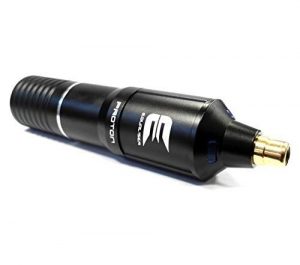 The Equaliser proton pen tattoo machine is manufactured by Kwadron, a very well-known company for producing some of the quality tattoo needles in this field. This ultra-light yet powerful tool ensures you get the accurate tattoo design you want.
Why We Selected It in Our Top List
Quality Structure:
This Proton Equaliser pen kit is built with high-quality aluminum with an anodized finish. With a weight of 130 gm, this one has stable and robust constructed to give you a solid working experience. You can easily use this kit for long-hour tattoo sessions without feeling any fatigue. This one is easy to set up and easy to clean as well. As it comes in different colors, you can choose your pick easily!
Versatility:
This multipurpose tattoo machine can be used for different techniques and methods depending on your tattoo style. From shading to filling, everything is easily achievable with this rotary tattoo machine. The pen-style rotary machine provides balance and comfort no matter what technique you apply.
Adjustable Needle Length:
The stroke length is 3.5mm, and the needle depth can be adjusted from 0-4.5mm pretty easily. You can also use this kit with various types of cartridges, making it a comfortable option you can use anywhere.
Motor Strength:
The powerful Japanese motor by Mubachi has a 5W engine, ensuring you get a quiet and trouble-free tattoo session. This RCA-connected tattoo machine can work with an operating voltage of 7-11V for a precise result. This easily manageable rotary machine helps you to work with a carefree mind, regardless of your skill.
Pros
This proton pen tattoo machine is pretty lightweight.
The noise level is minimum to almost nonexistent.
The accuracy of each hit is extraordinary.
You can use any type of power supply with this rotary machine.
Cons
This one is a bit high-priced compared to others.
9. InkJecta Flite Ultra-Lite – Best Lightweight Rotary Tattoo Machine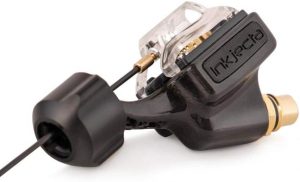 If you are looking for a tattoo device that you can hold and control quickly, a lightweight device should be your top priority. The InkJecta flite nano ultra-lite is the perfect one for you. In fact, this rotary tattoo machine is the most lightweight device you can find on the market.
Why We Selected It in Our Top List
Durable Frame:
The ultra-lite is the lightest version of regular cartridge rotary machines with some upgraded features. With a weight of 45 gm, this tattoo machine is built of carbon fiber. It also has a lock nut made of titanium that provides stability. The package also comes with caps, cams, side bumpers, and a needle bar.
NanoTech Motor:
The nanotech mechanism of this tattoo machine provides you the most comfortable experience ever. Due to the lightweight, holding the device for hour-long sessions also seems pretty effortless!
Operating Range:
It works with a wide voltage range from 4.5V to 18V, which is quite impressive! The 3.25mm excenter can be exchanged if you want to adjust the stroke length. It also comes with three types of torsion drive systems of soft, hard, and medium level.
Minimal Vibration:
The Ultra Lite is a relatively quiet rotary machine with the least vibration. There is a combo-grip thread to make it compatible with all the cartridge grips.
Pros
Built with quality and sturdy material.
You can use this tool for long hours.
This tool comes with multiple torsion bars.
The most lightweight rotary tattoo machine.
Cons
This tattoo device is pretty expensive.
10. Cheyenne Sol Nova – Best Rotary Pen Machine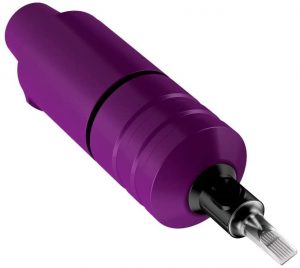 Cheyenne has been a pretty popular name when it comes to rotary tattoo machines. Among their many quality tools, the Sol Nova is built to deliver expert-level tattoo arts. As this one is also a pen-like machine, you can conveniently aim to create the perfect tattoo.
Why We Selected It in Our Top List
Lightweight:
With a weight of 150gm, this rotary machine is lighter than the famous Hawk pen by Cheyenne. You can use this multipurpose tool for different sets of work. The operating range from 25-150 Hz allows you to do dot work and color realism at a lower frequency or accurate line work at a higher frequency.
Gentle on Skin:
The BLDC motor tech of the Sol Nova makes sure you can make the perfect tattoo without irritating your skin. Due to the gentleness of this rotary machine, your skin heals rather quickly. This trait is quite incredible concerning the power-packed performance it offers.
Ergonomic Grip:
When holding the pen, this pen's ergonomic nature helps you feel the highest level of comfort. The rotating jack connector is also there to help you move with freedom! You can apply this tool using sleeves, grip variations, and cartridge needles. However, use this with Cheyenne cartridge needles to get the best result possible!
Safety Feature:
The Sol Nova's sleek design is effortless when it comes to protection and cover. Besides, this one is manufactured following the medical standard to maintain hygiene and safety measures.
Pros
You can do linings and shadings perfectly.
The roll inhibition feature to stop the unwanted movement of the pen.
You can easily adjust the needle depth from 0-4.0 mm.
It doesn't create much sound.
Cons
It may not be suitable with some voltage ratings.
11. Cheyenne Hawk Pen – Best Rotary Pen Tattoo Machine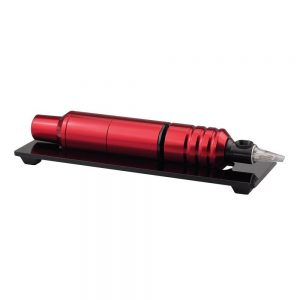 Out of all Cheyanne rotary tattoo machines, the Hawk pen is another terrific tattoo machine you can go for any issues. This bronze-colored pen tattoo machine is easy to set at any time. So, if you are contemplating over should you or should you not buy it, you are not going to regret purchasing it for sure.
Why We Selected It in Our Top List
Lower Vibration:
With the powerful DC motor, this pen tattoo machine produces comparatively lower volumes and vibrations than some other similar products. You can do perfect shading and lining with this multi-tasker machine as well. The operating voltage range is between 6-12.6 V, so that you can choose it accordingly.
Roll Inhibition:
With most pen tattoo machines, there is always a chance that the device may roll away during work. However, the roll inhibition feature of this Cheyenne Hawk pen helps to prevent any involuntary rolling away. Thus, you can draw the perfect tattoo without any hassle.
Quality Construction:
Made in Germany, this Hawk pen has the perfect stability and strength to support your tattoo art. The weight is also pretty light, considering the power performance it delivers. The quality building material of this tattoo device makes it durable long-lasting. Besides, it comes in various colors to suit your taste.
Ergonomic Grip:
This rotary machine provides you a quality grip so you can do your work with ease. You can also use this tattoo machine with different needle sizes, making it very convenient for a tattoo artist who uses several techniques. To be specific, you can achieve great perfection with the 25mm and 21mm sized needles.
Pros
It comes from a manufacturer with a high reputation.
It can work with various types of needles.
The grip of this tool is very comfortable.
Low chances of the problem on sensitive skin.
This rotary machine doesn't create much sound.
Cons
It may not be suitable with some voltage ratings.
12. Cheyenne Sol Terra – Best Premium Quality Rotary Tattoo Machine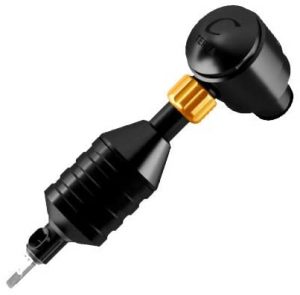 Are you looking for a quality angled tattoo machine for your tattooing passion? The Sol Terra by Cheyenne will give you the ultimate experience you are looking for. This one is also considered as one of the quietest tools created ever by the company.
Why We Selected It in Our Top List
Multi-Purpose Tool:
With the 4mm stroke length and adjustable needle length option, you can use this tool for rich color packing and saturated lining. You also get a one-year warranty with the package. The voltage range is from 6V to 9V, allowing you to choose the setting your work type needs.
Quietest Operation:
This rotary machine creates low vibrations, making it one of Cheyenne's quietest tattooing tools. The matte black grip gives you proper balance while outlining the tattoo. As it comes with a 3.5mm jack, you can use it with any power supply by Cheyenne.
Strong Performance:
The brushless DC motor allows this machine to deliver the powerful experience to create the perfect tattoo. It can operate at a lower frequency, making the tattoo session almost effortless. The different settings will allow you to control the motor to reduce the pain level, also quickening the healing process.
Innovative Technology:
This tattoo machine comes with two settings named Hard and Sensi. While Sensi allows it to work as a conventional coil machine, the Hard setting is to create the perfect lining. So, you can select between these two according to your work style.
Pros
You can do proper color packing and lining with this one.
The roll inhibition feature can prevent excess pen movement.
It comes with double settings for different purposes.
The gentle puncturing process doesn't harm the skin much.
Cons
It may not be suitable with some voltage ratings.
What Features Should You Look For While Buying A Rotary Tattoo Machine?
As a beginner tattoo artist, you have to make sure you get the one of the best performing rotary tattoo machines for the perfect outcome. However, you may find it challenging to pick one if you don't have the proper knowledge. You can go through these mentioned features to get an easy understanding of the subject.
Comfort Level
Tattoo making is a time-consuming task that requires the complete attention of the artist. If your machine is large-sized with a slippery handle, the possibilities of mistakes are pretty unavoidable at the beginner level. Hence, you shall always choose a lightweight rotary tattoo machine for comfortable handling.
To lessen the chances of slipping out, you have to make sure the tool's grip is sturdy enough. The machine weight also plays a crucial role here. A heavy machine may give you a tough time while you have to work continuously in a single sitting. Make sure you buy one that you can handle for long hours.
Fit For All
A tattoo pattern may need you to use multiple needles. Hence, you shall buy a rotary tattoo machine that allows you to use the same pen to insert different needles. If your device doesn't come with this feature, you may have to buy more devices separately. Try to invest in a multipurpose one if you don't want to waste your resources.
Speed Of Machine
The speed of rotary tattoo machines may range between 50-3000 rpm. You can choose a rotary tattoo machine that allows you to control the speed accordingly. It means you can increase or decrease the speed rate depending on your work requirements.
Features
The best rotary tattoo machines come with multiple functions like absorption, ink storage, flexibility, easy assembly, etc. You have to choose a tattoo machine that offers numerous features. It will help you to learn various features once you practice the basics.
Quality Product
You may have to carry around the rotary tattoo machine in different locations. All the movements and frequent usage can cause the machine to tear and wear in different parts. Hence, try to purchase one that is constructed with the best quality materials. You wouldn't want to chase the manufacturers for spare parts and replacements all the time!
Easy To Use
Always start the practice with a machine that you can easily use. A user-friendly tool will help to polish your skill-set and upgrade it with time as well. Try to avoid complex options that come with too many switches.
Price
The price of a rotary tattoo machine is relevant as it concerns your budget. Several budget-friendly rotary tattoo machines are out there. So, you don't have to worry about not getting a machine within your reach. A beginner should invest in a reliable yet affordable tattoo machine at first. You can initiate with a basic version to practice the basics.
As we know, tattoo machines can be broadly of two types, coil machines, and rotary machines. The coil one uses electromagnetic current, and the rotary tool uses a spinning motor. While the coil is very common in most tattoo shops, the rotary is preferred by many professional tattoo artists due to its numerous advantages.
The most significant difference might be that you can make shades and smooth lines with a rotary machine. Apart from this, there are many more points to consider.
Weight: Usually, coil tattoo machines have two iron rods and coils, making the coil machines pretty heavy to hold. A tattoo artist may feel tired after working a whole day with such a tool. However, a rotary machine uses a motor causing the device to weigh much less.
As a result, you will feel more comfortable holding it. Due to its handy nature, artists can work much longer in one sitting without any difficulty. It means the chances of mistakes during work also decrease a lot.
Needle Range: The needle is a crucial part of a tattoo machine. You have to consider the needle range while buying a tattoo machine. The needles of a coil machine have a hefty movement, whereas a rotary one has a more liquidy tendency.
Noise: When you make tattoos with a coil machine, the coils use electromagnetic force to switch in between. This method produces a certain level of noise, which can be a bit distracting for a newbie artist. As a rookie, you might feel nervous and tremble during the task, ultimately increasing the risk of skin damage.
On the other hand, a rotary machine tends to make less sound compared with the coil one. This provides enough comfort to both the artist and tattoo receiver.
Versatility: One of the prominent shortcomings of a coil tattoo machine is that you can not create both lines and shades with this one. You have to make either lines or shades at one time. Because of this restriction, you need to use both types of tattoo machines to create tattoos with a complex design.
With a rotary machine, you don't have to worry about such things. You can create both shades and lines with this device simply by choosing another needle when needed.
You can see how the benefits of rotary machines outnumber the coil tattoo machine. This is the reason most tattoo artists feel the rotary one is the better option. However, the opinion can vary from person to person. So, you should check yourself to make sure you pick the suitable one for your crafting.
Benefits Of Rotary Tattoo Machine
Tattoo making is all about your focus, ability to stay calm and precise all the time. The quality of the tattoo machine also plays a vital role. Once you start using a rotary tattoo machine, you would see why this one is much more comfortable making complex tattoos. In short, rotary tattoo devices are the perfect option for beginner tattoo artists.
This one is pretty quiet if you consider the sound level. Due to the spinning motor mechanism, it lacks movable parts, ultimately producing less noise. Rest assured, you won't be feeling nervous while doing your task!
Tattooing involves a minimum amount of pain, considering the needles will pierce through the skin. This machine causes lesser damage to your skin, meaning your skin will be healed in less time.
The rotary machine is a low maintenance one due to its simple construction. You don't have to upgrade it from time to time as there is no complex element involved.
This one is relatively easy to operate. You can be an amateur or an expert, but it won't make any difference.
If you want to work with color, the rotary tattoo machine is the ideal choice for you.
How To Use A Rotary Tattoo Machine?
Using a rotary machine is an easy task if you know all the basics. When it comes to tattooing, all you have to do is keep your hands clean and maintain accuracy.
Clean Your Hands
It is the first step when you are going to create a tattoo for someone. Clean your hands properly. Before you touch the machine with lubricant on your hands, make sure to sterilize your hands. Use antibacterial soap to wash them and put the gloves on.
When a needle penetrates the skin exposing the flesh to the air, that part can easily get infected with germs. Hence, this step is crucial as you don't want the exposed skin to get infected.
Full Examination
After cleaning your hands, check the state of your tattoo machine. Make sure each piece of the tool is present and in the exact place. Everything is okay, and you are ready to get going if you see the frame, cylinder, power supply. And if any part is damaged or not present, don't worry. You can replace that specific part with a new one.
Assembly Of Machine Parts
Next, you have to assemble all the parts to form the tattoo machine. Set the tube and tip to your preferred length. And when all things are ready, you have to tighten the handle screws. While the gap can be of any measure, the needle has to be less than 2mm and more than 1mm.
What's Next?
After that, you have to adjust the needle. Needles can be of various sizes, and you will need different types to make different designs. Having multiple needles is essential for tattoo artists regardless of their level of skill. Hence, try to keep all the sizes of needles like RS, RM, M1, M2, F, etc.
After installing a needle into the tube, you have to test its capacity to see the performance. To avoid the pain, make sure not to put out the needle during assembly.
Securing The Needle
Secure the needle with a nipple to connect it to the base. Thus, you can stop the needle from hanging. The blunt edge of the needle has to be closed as well.
Adjust The Needle
Once you are done collecting all the parts, it is now time to fix the needle's length. You can do this work by using the crucible of the tattoo machine that is present next to the needles.
Connecting To The Energy Supply
Tattoo machines come with a cord. If your device doesn't have one, there must be something wrong with the package. This cord will connect the device with the power source. Most of these cords have clamps for easy connection.
You can see the connection ports even with your bare eyes. The power supply usually has dual input, and you have to make sure all are properly connected.
Final Check
To prevent accidents, you have to debrief before starting the work. Switch on the tattoo machine to learn the mechanism once you have assembled and connected everything. If you see the tattoo machine vibrating after switching it one while the needle is not hanging out, your tool is ready to work!
How To Set Up The Rotary Tattoo Machine?
Before you start drawing with your tattoo machine, you have to make sure every part of the device is correctly adjusted and placed. One simple mistake can lead to blunders, which you surely wouldn't want! You can set up the rotary tattoo machine following these simple steps.
Detach all the parts of the device and clean them properly.
Make sure to clean the workspace and your hands using sanitizer.
Fix the rubber nipple with the needle bar. This step is unavoidable as it will prevent the skin from getting infected in the long run.
Get the needle and bend it while inserting it into the tube.
Put the needle bar and the needle together and attach them tightly.
Hold the needle bar and press it in the earthward direction.
Fix the needle bar and join it with the retainer ring. Make sure to adjust the needle bar retainer and tune the retainer screw as well.
Tighten the needles firmly. So, they don't sway from their position.
Adjust the power supply base on your preference.
Maintenance
Having clean hands is mandatory for tattoo artists. It also guarantees perfection and smoothness when you are working on one.
Your rotary tattoo machine must have adjustable pressure. However, you can use manual pressure and speed at first. It is necessary for you to set up task parameters.
Use lubrication on your tattoo machine as it will enhance the performance level. Add drops of lubricant on the front part of all sides. After doing the work on 10V for 60 seconds, the lube inside will decrease.
Make sure to clean the tattoo machine every 6 months. Make sure to lubricate it afterwards as well. However, if you use the machine more often, you have to clean it more frequently. Before you start the cleaning process, check the machine's status. Detach it and replace the parts if necessary.
Make sure not to tighten the screws overly. You can easily stab the engine!
Avoid using green soap, madacide, and other liquids in the tattoo machine. You can only use lube or oil to cleanse and lubricate it.
Put all the essential parts and cloth near at hand to prevent wasting time while you work.
Wrap the fabric around the wrist and go up to the elbow.
Whenever you use multi-color inks, make sure you clean the needles afterwards. Failing to do so will result in a dirty blemish instead of a tattoo. Besides, try to keep all the things close to your workstation. Thus, you won't get distracted from your work.
Necessary Equipment For Tattoo Making
If you are planning to be a tattoo artist, you have to know about the necessary items you will need during the task. Apart from the tattoo machine kit, you have to prepare some other elements as well.
Tattoo Machine: Getting a suitable tattoo machine is very important in making tattoos. You can find several renowned brands in the market, but not all of them are perfect for you. Make sure to check the type, specifications, etc., before you purchase one.
Ink: Quality ink is the first element you need to make the tattoo. It will help you to create good lines and shapes. Hence, research and choose an ink item most suitable for you.
Vaseline and Water: Vaseline on the skin will help the ink to stick on the skin. Water helps to maintain the consistency of the shades and linings.
Others: There are some other things you will need during the tattoo-making process. Paper towels to remove the excess on the skin, stencil supplies, antibacterial sanitizer for sterilization, gloves for extra protection, etc.
After Care: You will have to take some extra measures once you have created the tattoo. As your skin gets pierced using needles, you have to sterilize and wrap the skin with proper tools.
Important Tips
Before getting into tattoo making, you need to research a lot. These days, the market is crowded with numerous options for you to choose from. Hence, you have to gather knowledge about what you are looking for and what will be best for you based on your skill level.
Fix a budget. It will help you to limit your options to a certain extent. Once you decide the amount, you can quickly get great picks for that specific value.
If you are a newbie tattoo artist, you should get the basic level tattoo gun kit. These kits usually come with all the necessary fixtures and accessories to get yourself started.
You can always consult with an expert tattoo artist. You can get enough suggestions on how to use the machine properly. They can even suggest to you the type of tattoo machine that would be suitable for you.
Try to know about the accessories and the attachments beforehand. These additional parts will help you to advance your skills with time.
Are Tattoos Bad For The Body?
While getting tattoos can be a bit of a painful method, it is worth the effort once you get that beautiful design on your body. But can a tattoo affect your health in any way? Well, many people may say yes to it. But according to most specialists, it is not as bad as it sounds. Most research has stated that tattoos influence sweating in that particular spot.
It means the skin without any tattoo perspires double the amount the tattooed skin does. Besides, toxic ink and harmful substances can damage the skin as well. As a tattoo means breaching the skin, the chances of skin infections and other problems are also possible.
Allergic reactions: The dyes you use for tattoos can cause severe allergic reactions like itchiness, rashes, etc. Especially the blue, red, yellow, and green colors. It can happen suddenly, even if you got the tattoo a long time ago.
Skin infections: Occurrence of skin infection is a likely outcome of tattooing.
Other skin issues: Sometimes, a granuloma or a swelling area can develop around your tattoo ink. Tattooing also can result in having keloids — bumpy spots created by the scar tissue.
Bloodborne illnesses: If the machine used to create the tattoo is polluted with contaminated blood, you can catch several bloodborne diseases like hepatitis B, hepatitis C, and Staphylococcus aureus (MRSA),
MRI complications: Unusually, tattoos can cause burning or swelling in the concerned areas during an MRI exam. Tattoo pigments can even damage the image quality.
Frequently Asked Questions
Is a rotary tattoo machine good for a beginner tattoo artist?
Using a rotational tattoo machine is always a more straightforward approach to create intricate patterns in your body. This type of tattoo machine is relatively easy to operate, and the motor helps to move the needle however you want. However, you may find it an average one if you are an expert tattoo artist.
In simple words, a rotational machine is like a children's toy for a tattoo master.
You will have to use multiple types of machines to get the perfect result. But if you are a beginner, you can start practicing with a rotary tattoo machine.
Is a rotary tattoo machine better?
Yes, it is! You can make both lines and shades using it. Not to mention how lightweight and easily operable it can be. Most rotary machines make less sound while at work, which helps the tattoo receiver think the process is less painful. The tattoo artist can do his work peacefully without any disturbance.
What tattoo ink is better for a rotary tattoo gun?
To make a standard tattoo design, you need a good tattoo machine and quality ink. However, high-quality inks are found explicitly in renowned brands only. But even they can mix other elements with the ink as well. Hence, you have to make sure what the base of the ink is. Is it alcohol-based or water-based?
Some may mix glycerol components, ethanol, and methanol. These mixtures are organic and help to transfer the colors. Try to avoid other compositions as they won't be good for the skin.
Final Words
In conclusion, finding the best rotary tattoo machine for your needs can be a daunting task with so many options available. We have compiled a list of 12 top-rated rotary tattoo machines to help narrow down your choices.
Consider factors such as the machine's performance, durability, and versatility when making your decision. Some machines may be better suited for beginners, while others may excel at linings. Make sure to read through the reviews and check off the crucial features on your checklist before making your final choice.
Thank you for reading and we hope this guide has been helpful. Keep an eye on our site for more helpful buying guides in the future.
We are sorry that this post was not useful for you!
Let us improve this post!
Tell us how we can improve this post?