10 Best Coil Tattoo Machines: Reviews & Buyer's Guide
What is that one dream every tattoo artist has? The answer is straightforward, to draw the perfect tattoo with absolute precision. And if you are more into traditional techniques when it comes to the device, you have to know about the best coil tattoo machines to choose your pick.
The task may sound easy at first, but sorting out the bests among hundreds of products can be really tiresome! The same goes for the coil tattoo machines. As the market is crowded with different brands with quality coil tattoo machines, finding the proper one is pretty tricky.
But don't worry, we have conducted proper research to help you know about all the necessary data you will need.
5 Best Coil Tattoo Machines: Comparison Chart
It's always good to check the basic specifications of your desired tool at first. This method helps you to identify the most suitable one among the lot immediately. Let's see a comparison table for the top five coil tattoo machines as well.
As an Amazon Associate InkRevolt earns from qualifying purchases.
Now that you have gotten the basic idea about coil tattoo machines, it's time to check each machine's review individually.
What Is A Coil Tattoo Machine?
Tattoo machines can be of different types, known as coil tattoo machines and rotary tattoo machines. Usually, the rotary tattoo machines are more updated, while the coil machines have the traditional mechanism when it comes to drawing the tattoo. It basically uses electromagnetic force to move the needle up and down.
Usually, a coil tattoo machine comes with dual wire coils that keep vibrating and buzzing when you operate the machine. As the coil machines work using a spring, you can perform either shading or lining at a time. The coils of the tattoo machine work like a carrier of the electromagnetic current in the device.
This current runs within the coils towards the armature bar. And once the current connects with the bar, the needles start to move and transfer the ink.
Different Types Of Coil Tattoo Machine
A coil tattoo machine generally comes with iron rods and dual coils, which ultimately combine with the device's overall weight. The coil section is the most significant part, as they control the current input with the desired voltage power. On the contrary, these machines are pretty heavier than the rotary tattoo machines due to the extra operating parts of the device,
For this weight issue, you can opt for a tattoo machine with a single coil instead. This way, you can get the configuration with a lighter device. However, very rarely you come across such machines. One drawback with coil tattoo machines is that you have to use a single machine for a specific work. It means you will need multiple devices for multiple tasks.
The liner machines are particularly for making lines by spreading ink along with the marked design, wherein the shader machines fill up the space created by those lines. Usually, the shader has a large contact gap and a lower saturation point than the liner tattoo machine.
Among all types of tattoo machines, coil ones are relatively affordable and are more available with many brands.
Advantages of Coil Tattoo Machines
Coil tattoo machines are easy to adjust power and speed based on your task requirement.
You can switch and customize the coil machine parts to suit your needs.
You generally can complete a tattoo faster with a coil tattoo machine.
The heavyweight of the coil tattoo machine lets you have more control over your work.
Due to the loud noise it generates, you can keep checking the coil tattoo machine's performance level.
When it comes to making lines, coil ones are better than rotary tattoo machines.
For full-body tattoo making, using a coil tattoo machine is always better.
This type of machine is pretty much affordable for everyone.
Disadvantages of Coil Tattoo Machines
It makes loud noises, which can be distracting when you are focusing on making the tattoo.
Your coil tattoo machine needs more adjustments and high maintenance than many other types.
Due to the complicated mechanism, this type of tattoo machine should be handled by expert tattoo artists.
They are not easily movable during the operation.
You can not perform shading and lining work together with a coil tattoo machine at the same time.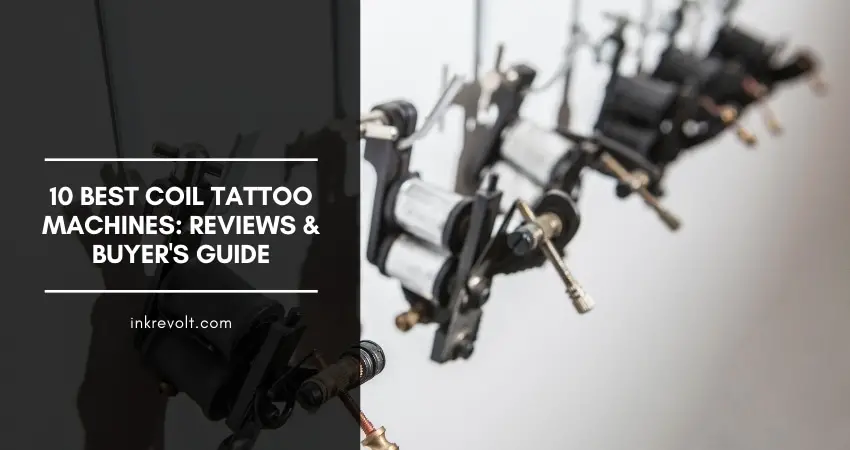 Top 10 Coil Tattoo Machines Reviewed
1. Dragonhawk Complete Kit – Best Coil Tattoo Kit On The Budget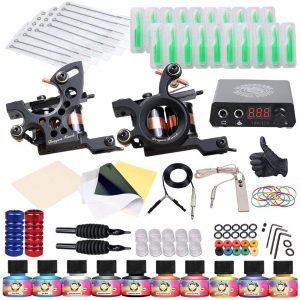 It's no wonder to find a Dragonhawk product in the first place, as the brand is already a prominent name for providing quality tattoo devices for ages. This complete tattoo kit with dual machines is the perfect combo of accuracy and quality you want to have in your collection!
Why We Selected It in Our Top List
Compact Design:
This tattoo kit has a compact structure with strong endurance quality due to its cast-iron building material. The package has two coil tattoo machines for shading and lining, along with 10 copper wrap coils. The composite building materials of the tattoo kit provide you comfort during work time.
Leak-Proof:
This coil tattoo kit includes a leakproof feature so you can work with ease during the tattoo session. It also comes with a short-circuit safety feature to ensure you a risk-free working environment. The package provides pigment patch tests to see if there is any skin reaction. The non-irritant ink colors ensure you don't get any allergies afterward.
Accessories:
This DragonHawk coil tattoo kit includes a LED digital power supply source to show you the voltage level. Besides getting a constant energy supply, you can adjust or activate the voltage however you want it to be. You also get a clip cord and foot pedal with these accessories.
Easy Installation:
This tool is easy to set and use regardless of your skill. There are 10 color inks and sterile tattoo needles, which is perfect for a tattoo artist.
Pros
The machine body is built with cast iron frame, and the wrap coils are of copper.
The gun is constructed from a superior composite element, whereas the spring contains high elasticity.
This set comes with 10 popular color inks from a well-known brand.
The power pack tool of this kit provides regular voltage outcome, running at 7-10 Volt.
Cons
It doesn't come with proper instructions.
2. Grinder Tattoo Kit – Best Coil Tattoo Machine Kit For Beginners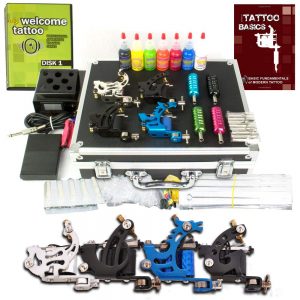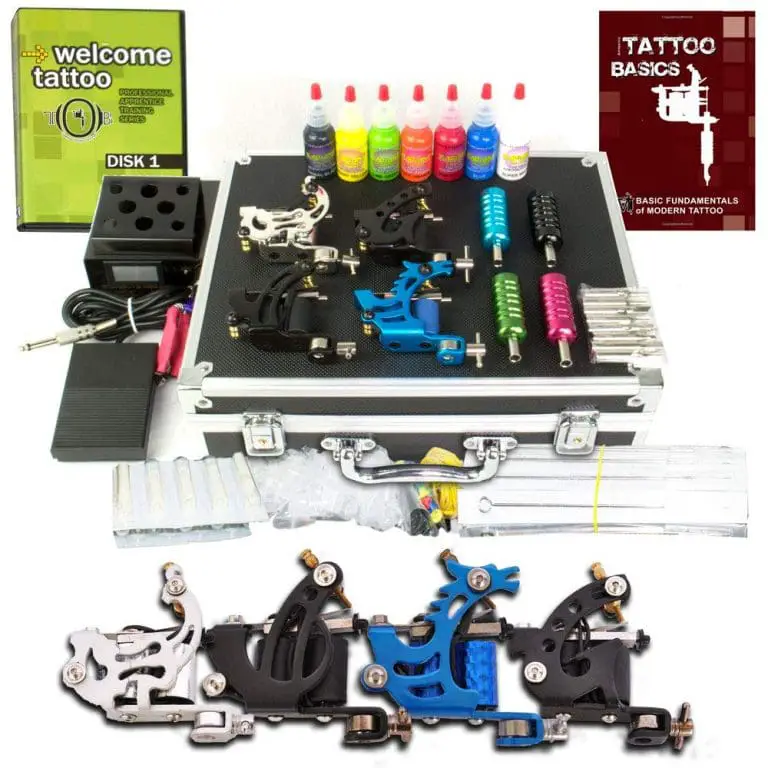 If you are a beginner and want to pursue your tattoo career with a simple yet efficient coil tattoo machine, the Grinder tattoo kit is the one you should go for. This one comes with a wide variety of accessories, which is pretty impressive considering your investing money.
Why We Selected It in Our Top List
Lightweight Construction:
This tattoo machine is a lightweight one if you consider the number of tools it comes with. Built with quality stainless steel material, the structure of this machine is quite durable and long-lasting. You also can enjoy a better grip feel during the work, making it comfortably work whenever you are on it.
Complete Package:
This one is a complete package with all the necessary equipment you may need for your tattoo machine. These include power, gloves, needles, case, grips, etc. After getting the package, you just have to tune the tattoo machine and start using it! Besides, you will get a 6 months warranty with this set.
Radiant Colors:
The 7 bottles of luminous color ink are made in the USA, allowing you to make beautiful tattoo designs. These colors have homogenized pigment, which is an updated version of the previous one. The instruction manual has all the necessary information you need to use the tattoo machine. There is also a carrying case that you can keep the tools inside safely.
LCD Power Supply:
This machine has a CE-approved LCD power supply to ensure the proper amount of power is being delivered. The digital system allows you to read the machine more smoothly than the analog one. The foot pedal and the clip cord let you control the tool easily.
Pros
A package of tattoo equipment, which includes almost 16 items.
You get a 240-pages manual and DVD to help you understand the operating procedure.
It comes with quality ink so that you can use it for a long time.
You can do line work with this tool perfectly.
Cons
The power supply is of poor quality.
3. Dragonhawk Complete Tattoo Kit – Best Coil Tattoo Machine Kit For Professionals & Beginners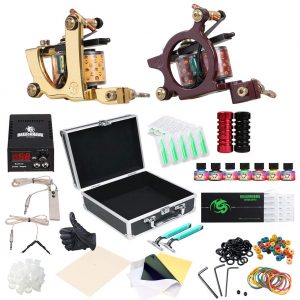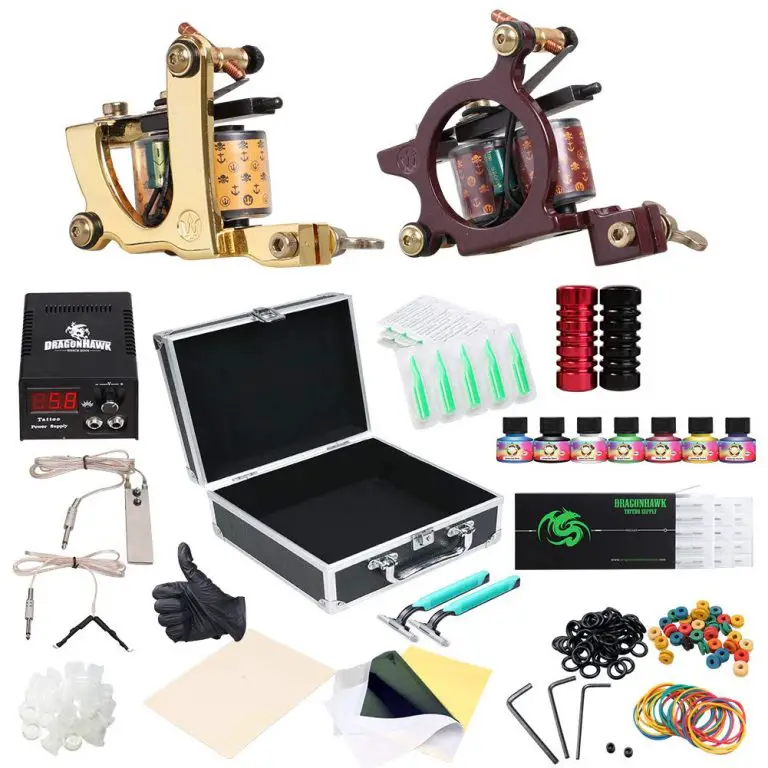 The next one in this list of best coil tattoo machine is another famous one from Dragonhawk! This tattoo set has all the things you need for starting your tattoo business. You can perform both shading and lining with the 2pcs of this package.
Why We Selected It in Our Top List
Sturdy Structure:
This kit is built with premium quality materials to ensure a long and durable life. There are 2 coil tattoo machines made with cast iron, one for line works and the other for shade works. Each of them comes with 10 wrap coils. The spring is built with high-end elastic, which is anti-fatigue and comfortable enough for long-time tattoo work.
Easy To Use:
This device has an easy setup process, and you can use it without any issue. The immortal ink comes in several bright colors that are safe to use on skin. The digital power supply with the clip cord and foot pedal aid you adjust or trigger the voltage accordingly. It also comes with 20 sterile needles with disposable tips.
Practice Skin:
This package comes with practice skin, a travel case, transfer papers, etc. For safety measures, you can always try out the device to see if any irritation occurs. All the Dragonhawk tattoo accessories are tested before going to the packaging. Hence, you don't have to worry about any possible defects in the product. You can operate this tattoo device with 7-10 V.
Safety Measure:
This kit has many safety features to save you from leakage or short-circuit problems during the operation. You can easily carry this compact kit even if you are traveling.
Pros
This kit is a complete package with several accessories to make your tattoo session more pleasing.
This lightweight machine is pretty easy to work with.
It has a LED power source to keep away the unwanted electrical issues that come with the automated voltage modifications.
It is a travel-friendly kit that comes with a case.
Cons
The quality of the ink could be better.
4. Solong Complete Tattoo Kit – Best Coil Liner & Shader Tatto Machine Kit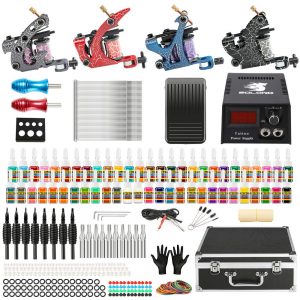 If you want an affordable yet efficient coil tattoo machine for your collection, Solong is there to make your quest super easy! This brand has already made a name for producing quality tattoo machines at a low price. The Solong complete tattoo kit with 4 machine guns is another popular product recommended by many tattoo artists.
Why We Selected It in Our Top List
Sturdy Material:
The coil tattoo machines' body is of premium quality carbon steel to give it a robust structure. You get 4 different tattoo guns for shading and lining works. With the help of a clip cord and foot pedal, the LCD power supply shows you the power usage.
Sterilized Ink:
With this kit, you get an impressive 54 bottles of tattoo ink. To make sure these are safe for applying on skin, all these positive colors and disinfected by gamma-ray beforehand. The high-quality ink decreases the scabs over your tattoo area, allowing the skin to heal faster after the session.
Whole Set:
The package has all the necessary tattoo supplies you need for a tattoo parlor. You will get tattoo guns, tattoo ink, tattoo needles, rubber bands, ink caps, etc. The coil tattoo machine's lightweight structure lets you work with ease no matter how long the work session continues.
Easy Setup:
Setting up this kit is pretty convenient as the package contains multiple tattoo designs and instruction guidelines. The ink cups make it easy to keep the ink during work comfortably. Moreover, you can put the cups in an ink cup holder that is made of stainless steel.
Pros
A complete tattoo kit at an affordable price.
You get various types of accessories along with the coil tattoo machines.
Premium-quality ink enhances the beauty of the tattoo.
The instruction manual is fairly simple to follow.
Cons
The packaging could be a bit better.
5. Dragonhawk Brass Coils Tattoo Machine – Best Liner & Shader Coil Tattoo Machine Combo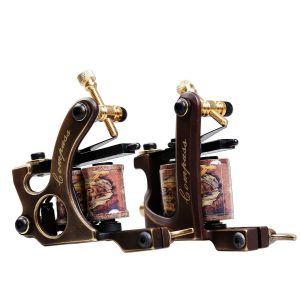 What if you get a coil tattoo machine that has all the standard requirements but at a relatively economical price? Well, this affordable brass coil tattoo machine by Dragonhawk contains everything a tattoo artist requires. You can do both lining and shading work with this package. Due to its multipurpose nature, this one can be a smart choice for a novice tattoo maker.
Why We Selected It in Our Top List
Convenient Design:
This tattoo machine's building material is CNC cut brass frame, which gives it a sturdy body to last many years. You also get a full refund guarantee in case the product doesn't satisfy you. While the weight may seem a bit heavy than the regular ones, it only adds more balance and stability while you are using the machine.
Operating Voltage:
You can use the shader with a frequency range of 115-120 Hz, whereas the liner tattoo machine will require 140-150 Hz. The voltage range for the former and latter one is 7-8 V.
Dual Machine Set:
This set contains a shader and a liner tattoo machine. Thus, eliminating your need to buy another machine. While both tools' outlooks are pretty similar, the slight difference in wrap coils helps to differentiate the machines. There is a fixed tube vise to provide you comfort when you are holding the coil tattoo machine. This device comes with two types of wrap coils, 10 for shading and 8 for the lining works.
Compatibility:
This tattoo machine kit is compatible with any sized tubes and needles. Hence, you don't have to spend extra time to find the proper accessories to work with.
Pros
The frame structure is durable.
The quality of the tattoo machine is extraordinary.
The price is quite reasonable.
It comes with a hundred percent money-back guarantee.
Cons
This tattoo machine can be a bit heavier than the others.
6. Redscorpion Liner & Shader – Best Cheap Coil Tattoo Machine Gun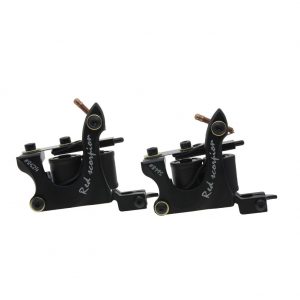 A coil tattoo machine without any disturbing noise? Seems a bit unrealistic, right? But to your surprise, it actually exists! The next coil tattoo machine in this list belongs to the Redscorpion brand, consisting of two coil tattoo machines in a pack. The well-built construction and decent price range make it lucrative to many people.
Why We Selected It in Our Top List
Robust Structure:
The machine material is quality alloy and copper, giving it enough durability for long tattoo sessions. There are 10 wrap coils for shader and 8 for liner tattoo machine. You also get a 3-months warranty and a full refund option.
Uniform Speed:
The coils are made of copper to provide a stable and solid connection throughout, which requires very little tuning. This machine runs at a smooth and uniform speed, helping you create the perfect lines and shades. You won't be facing any skin issues as it remains gentle from start to last. You can easily put color without risking skin damage while doing it.
Low Noise:
Unlike many other coil tattoo machines, this tattoo machine pack makes pretty low sounds during the tattoo session. It means you can work peacefully without losing your focus! Besides, you can work with this tool for 8 hours continuously without overheating the machine.
Flexible Gun Spring:
The gun spring has strong elasticity, which is hard to break. Due to its high flexibility, you can handle the tattoo gun without feeling and strain or fatigue. The ideal working voltage for this tool is 6-8 V. With the speed of 2500-2800 rpm, and you can get the perfect beautiful tattoo you want!
Pros
This set works great as both shader and liner.
Value for money product.
The built quality is terrific.
It creates much less noise during the work.
Cons
You have to purchase the ink separately.
7. Mast Tattoo Machine Traditional – Best Handmade Coil Tattoo Machine For Shading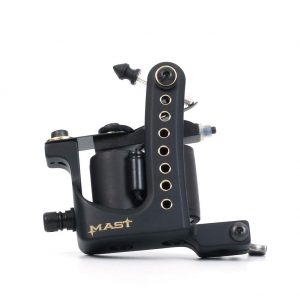 There is something special about a traditional handmade tattoo machine. The Mast coil tattoo machine is no exception. From the building structure to quality performance, everything about this device is noteworthy. The price may seem a bit extra at first glance, but you are going to love it once you use it!
Why We Selected It in Our Top List
Aesthetic Look:
This handmade coil tattoo machine has a beautiful exterior and a strong structure. This tool's iron frame comes with a quality tube vise, which helps the machine maintain balance during the tattoo session. You can create perfect lines with this liner tattoo machine. The contact screw and durable brass binding post provide the necessary backup to the device.
Risk-Free Application:
You can try this tattoo machine without fearing any risk. It has a medium operating speed with a hard hit and long throw. Besides, you get 10 wrap coils for the liner! Surprisingly, this one is pretty lightweight considering the heavy building materials it contains. The sturdiness of this device is sufficient to go on for a lengthy period.
Quality Performance:
Be it shading or lining, the Mast coil tattoo machine never fails to deliver the performance it promises. Your hour-long tattoo sessions won't be tiring as this tool provides enough comfort.
Smooth Lines:
Making lines with 47 uF capacitors and wrap coils of this tattoo machine is much easier. Not to mention the accuracy of this machine is top-notch.
Pros
The design is lightweight and attractive looking.
An all-rounder machine to create proper line and shade.
This machine is made of durable iron frames.
Quality performance throughout.
8. Professional Tattoo Coil Machine – Best CNC Carved Brass Coil Tattoo Gun For Lining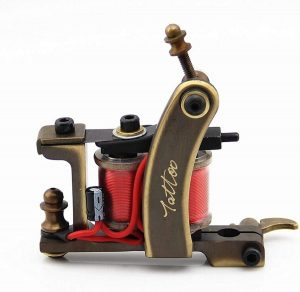 If you are looking for a coil tattoo machine specifically for linework, definitely check out this professional tattoo gun by TAONE. This one is ideal for a continuous tattoo session without feeling any pressure. As the name suggests, most professionals recommend this coil tattoo machine to have in their tattoo shop.
Why We Selected It in Our Top List
Sturdy Frame:
This tattoo machine's frame has premium quality brass, CNC carved, and wire-electrode cutting. The wrap coils are made of imported copper and are a hundred percent handcrafted. You can use this device with all types of tattoo needles and grips.
Continuous Operation:
This machine can run for 8 hours without overheating or creating any noise. It is one of the quietest coil tattoo machines you will ever find. You can adjust the operating voltage between 4-8 V to make sure your linings are created perfectly.
Easy Setup:
The uniform speed of this liner tattoo machine is easy to set up. You can color or make smooth lines without causing any harm to the skin. Using those wrap coils, you can easily hard-hit the skin surface and create crisp and clean lines.
Safety Measure:
To prevent any mishaps, the manufacturer makes sure to check and adjust each product before delivery.
Pros
It has high-end CNV carved brass material.
This one is ideal for professional tattoo artists.
It provides precise linework with smooth movement.
Heatless and noise-free operation for eight hours.
Cons
The shading quality is not the best.
9. Hawink M311 – Best Handmade Shader Coil Tattoo Machine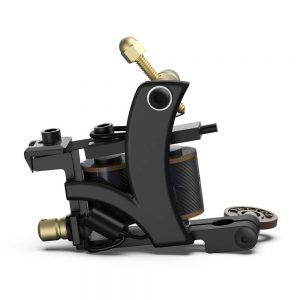 The Hawink M311 is a good quality traditional coil tattoo machine that you can use regardless of your experience level. If you want a standard coil tattoo machine with a budget-friendly price tag, this device is the perfect liner tattoo machine for you.
Why We Selected It in Our Top List
Easy To Use:
This one doesn't include any complicated steps to set up the device. You can just unbox it upon purchase and start working with it! This liner tool can make great blends of grey and black.
Quality Material:
The rear and front of the machine are made of pure brass material. The powder-coated frame has a carbon steel structure. The vice and vice screw are compatible with all grips you can find on the market.
Traditional Linework:
This tool is outstanding when it comes to traditionally styled tattoo work. The package comes with ten wrap coils with enamel-covered magnet wire. With the 47uf capacitor and the maximum 50 V, you can easily manage any load.
Powerful Spring:
The armature bar is heavy and can manage up to 18 RL needles. The front spring ensures the machine gets more power, speed, and stroke during the tattoo session. The rear spring absorbs the vibration and makes sure the execution is done with accuracy.
Pros
It is the perfect tool for making grey or black tattoos.
The front spring has excellent power.
A sturdy frame structure that can last for a long time.
It is compatible with all available grips on the market.
Cons
This one lacks versatility.
10. Thomas Handmade Brass Frame – Best Coil Liner & Shader Tattoo Machine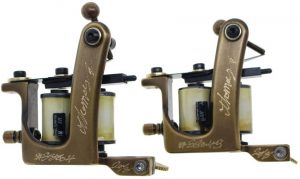 Looking for a durable and multipurpose coil tattoo machine? The final entry in our best coil tattoo machine list is the perfect option for this criteria. From lining to coloring, this Thomas coil tattoo machine does it all. For heavy-duty performance, you can easily rely on the coil tattoo machine to get your work done.
Why We Selected It in Our Top List
A Complete Set:
Besides the two coil tattoo machines, the set comes with a paper box, rubber band, grommets, o-ring, wrench, wrap coil. While the liner machine can hit hard and draw smooth lines, the shader can also shade with precision. You can also put color using this multipurpose tattoo kit.
Low Regulating Voltage:
You don't need high voltage to run this machine. In fact, 6-8 V is enough to get the desired result you want. You will get 10 wrap coils for the shader and 8 for the liner. The run cycle of the machine is pretty consistent and smooth.
Durable Structure:
Even if you keep using the machine for many hours, it won't get heated or disturb your work in any way. You also get a 1.6-month warranty with the package. The frame of this tattoo machine contains CNC carved brass material, ensuring the durability and strength of the machine structure.
Quality Wrap Coils:
The copper wrap coils feature hardness, wear resistance, powerful slap force, standard conductivity, and low carbon deposition. This device's spring exhibits a high-elasticity and anti-fatigue nature, making it suitable for a long duration of work.
Pros
It provides you a noise-free working experience.
It doesn't overheat even after a long tattoo session.
Durable and sturdy building materials.
Great tool for both line and shade works.
Cons
The binding post in the rear is short in size.
Best Coil Tattoo Machines: Factors To Consider Before Buying
Searching for the best coil tattoo machine is never an easy task. And choosing one from the best ones is a lot harder if you don't know what you need. As you have to check many crucial features before buying such a tool, things may get a bit confusing if you are at the beginner level of your tattoo career.
To make your quest for finding the ideal coil tattoo machine easy and smooth, we have assorted some relevant information regarding this topic. If you go through these details and keep them in your mind whenever you purchase a coil tattoo machine, you will never pick the wrong one for sure.
1. Purpose and Types of Coil Tattoo Machines
Before deciding to purchase a new coil tattoo machine, it's important to understand the purpose for which you need the machine. If you're just starting out or simply looking for a machine for beginner's practice, a cheap and lightweight machine may suffice. On the other hand, if you're a professional tattoo artist in need of a high-quality machine for your tattoo shop, you'll want to opt for a professional-grade coil tattoo machine.
There are two main types of coil tattoo machines available: liner machines and shader machines. As the names suggest, liner machines are used for creating lines, while shader machines are used for creating shading. It's important to choose the right type of machine for the specific task you want to perform.
2. Quality And Durability
Whenever you are thinking about buying a new tattoo machine for yourself, make sure to check the qualities and customer feedback beforehand. Try to get one from a renowned brand as you will get both high quality and durability. You can buy the cheap stuff from unknown brands as well, but there is no guarantee they will last long enough to serve you.
The sturdiness of your coil tattoo device is a significant aspect you can't ignore. A powerfully built coil machine can last a long time, even with minimum maintenance. Hence, you should always choose a good quality brand tool that comes with a minimum one-year warranty.
3. Coil Configuration
The coil configuration of a tattoo machine refers to the number of coils and the arrangement of the coils within the machine. The most common coil configurations are 8 wrap and 10 wrap. An 8 wrap configuration has two coils, each with eight turns of wire, while a 10 wrap configuration has two coils, each with 10 turns of wire. The number of wraps affects the machine's voltage, with more wraps resulting in a higher voltage. Higher voltage machines tend to be faster and more powerful, making them ideal for lining and shading. Lower voltage machines, on the other hand, tend to be slower and more suitable for fine details and delicate lines.
4. Stroke Length
The stroke length of a tattoo machine refers to the distance the needle travels up and down with each pass. The most common stroke lengths are 3.5 mm and 4.5 mm. A longer stroke length allows for greater needle visibility, making it easier to see what you're doing, while a shorter stroke length provides greater control and precision. The ideal stroke length for you will depend on your personal preference and the type of work you plan to do.
5. Spring Length
The spring length refers to the length of the springs that control the movement of the needle bar. The spring length can affect the tension and flexibility of the machine, as well as its overall weight and balance. Machines with longer springs tend to have more tension and be more rigid, while machines with shorter springs are more flexible and easier to control.
The spring length varies depending on the liner and shader coil machine. The spring on the machine's back is normally shorter in the liner. And on the shader ones, it is slightly larger.
6. Frame Material
The quality of the coil machine frame is something you should check twice before buying. There are various options like brass frames, zinc, aluminum frames, etc., for you to choose from.
The iron frames don't quiver while you are making tattoos. However, they tend to be a bit heavyweight.
The aluminum or zinc frames are pretty lightweight. So, you can choose to buy one with such material as well.
7. Grip Quality
The grip quality of your tattoo machine is pretty essential as an hour-long tattoo session can cause you strain or fatigue. Check if the handles are ergonomic enough for easy management of the device. Your coil tattoo machine should be easy to move and handle during the tattoo session.
8. Needle Compatibility
It's important to choose a tattoo machine that is compatible with the needles you plan to use. Most coil tattoo machines are designed to work with round needles, but some machines are also compatible with other needle configurations, such as flat or magnum needles. Before purchasing a machine, make sure it is compatible with the needles you plan to use.
9. Weight and Balance
The weight and balance of a tattoo machine can have a big impact on your comfort and control while working. A heavy machine can be tiring to use for extended periods, while a poorly balanced machine can be difficult to control. When shopping for a tattoo machine, it's important to try it out and make sure it feels comfortable and well-balanced in your hand.
10. Price
Before doing anything else, you have to know about the budget you want to spend on your coil tattoo machine. Price is an unavoidable factor for buying any product, including a tattoo device. There are coil tattoo machines of different arrays ranging from cheap to expensive ones. So, at first, you need to determine how much you are willing to pay.
If you have a decent budget, you can easily get a standard tattoo machine with quality features within the amount. But if you don't want to pay money on your device, you can get a cheap one to suit your budget. But it will not have a high-end finish or features like the reputed ones.
Why You Should Use A Coil Tattoo Machine?
Coil tattoo machines are the most commonly recognized tattoo machines among tattoo artists. Whenever you go inside a tattoo parlor, you can hear the buzzing sound of the coil machines. Not to mention the sound can be pretty loud sometimes. However, this type of device allows you to focus on your client's expectations from you.
Hence, despite the annoying sound you have to endure with a coil tattoo machine, this versatile machine can help you achieve the precise outcome. Although the needles of liner coil tattoo machines operate faster than the others, they are not as thick as a color packer or a shader machine. The main aim of such tools is to draw precise and fine lines, including the general tattoo outline as well.
The shaders have a deeper throw comparatively. It lets different shades of the tattoo go down a little further within the skin. Lastly, the color packer has a similar setup to the shader as it fills in blacks and colors. However, this device punctures even deeper and more complex than the shader ones. Besides, you shouldn't also use it for shading gradients and greyscale.
How Does The Coil Tattoo Machine Work?
At first, you need to attach the tattoo gun with the power supply to start the machine. When the electric flow runs through the machine's coil set, it automatically activates the armature bar. After that, the armature bar will move the needles back and forth whenever they go in and out on the skin.
The buzzing noise can be a bit annoying at times. You can always wear your earphones and listen to music to avoid it. You can adjust the voltage level of the tattoo machine accordingly. Precisely for this reason, a coil tattoo machine performs better while coloring or shading. You have to be careful so the wires won't get damaged or wet in any way.
Understanding Your Coil Tattoo Gun Voltage
Once you are done setting up the coil tattoo machine, you have to fix the required voltage depending on what type of tattoo work you want to do. You have to choose a different amount of voltage for shading, lining, or coloring. You can find the voltage managing switch on the power supply box in maximum units.
A clip cord, foot pedal, power switch, and two phone jerks should be there as well. Most tattoo artists prefer a range of 7-12 V for their work. When you plan to do lines, you should apply a voltage between 7.5-8.5 V. As for shades, and the range should be between 8-12 V. If you want the needle to move faster than it is, you would need more voltage.
Always keep in mind that your hand's weight and speed also influence the power you need for making tattoos. Different quality power supplies will cause different outcomes when you are attuning the voltage power. While some coil tattoo devices can be smoothly tuned, some may require a different approach.
However, you shouldn't worry about not being experienced about it. Give it some time, and after a few trials, you would understand how to fix all these tiny things by yourself!
Coil Tattoo Machine Installation
The setup process of coil tattoo machines entails a few steps. After installing the tattoo machine and attaching it with the energy source, the needle starts to puncture the skin gently at the required speed. The first step is to set up the voltage you want to work with later. After it is done, turn the device on and make it run for a few seconds.
You have to ensure the armature bar is adequately calibrated by adjusting the connection screw. Thus, you can improve or curtail the vibration. This step is crucial if you want to know how low the needles can pierce the skin.
Clean Area
Before setting up the tattoo machine, make sure both the workstation and your hands are properly clean and disinfected.
Needles
To start using the coil tattoo machine, you have to insert the needles inside the barrel.
Then hold it carefully and fix it to the frame of your tattoo machine.
The rear edge of the needle will go towards the armature bar. At that spot, you need to hook the needle.
Rubber Bands
To prevent the coil machine from wobbling during the tattoo session, take the rubber band and tighten the needle onto the tube.
Now uncover the needle to the proper size by fixing the tube.
Adjusting the Coil Tattoo Machine
Pitching a coil machine can be a complex process if you are new to tattooing.
Find the opening between the front spring and the tip of the contact screw.
Press down the armature bar, so it can reach the coils to create a gap.
To get the adequate gap length, regulate the thumb latch to release the contact lock and screw down. It will ensure a proper amount of gap for both marking lines or shading.
Once you have attained the gap, fasten the thumbscrew, and eject the armature bar. To provide your coil machine a nice jolt, operate it at a high voltage range between 10-12 volts.
Coil Tattoo Machine Maintenance
Working with clean hands is the first requirement for a tattoo artist. This makes sure you can complete your drawing with ease and without any infection.
Your coil tattoo machine needs voltage adjustments depending on the type of work. Make sure you have fixed the voltage to the specific amount required exclusively for a particular work type like shadings, color packing, or linings.
Always use lubricants on your machine to boost the performance level. You can lubricate the anterior sections of all sides. After a few moments of run time, the lube will gradually disappear.
You have to clean your coil tattoo machine every 6 months, and each time you have to oil it as well. But the cleaning frequency may vary with your usage rate. The more you use your machine, the sooner you need to clean it. Whenever you are cleaning it, inspect the tattoo machine's state to determine which parts should be changed.
Don't over-tighten the screws as they can damage the machine. Take out all the essential elements and clothes and place them close to your workplace. It will save your time from searching them in between your tattoo session.
Wrap the cloth around your wrist up to the elbow for proper safety.
If you are using multiple color inks for making a tattoo, you need to clean the machine needles after the work is complete. Forgetting to do so can lead to a messy blemish instead of a beautiful tattoo.
Possible Troubleshooting
Just like all types of tattoo machines, there is always a possibility to face some difficulties even with your best coil tattoo machines. However, manufacturers always provide an instruction manual to aid you fault finding and troubleshoot. Some of the common issues you might have to encounter are described below.
The needle declining to move up and down: When this occurs, you must examine the rear spring to see if there is sufficient tension. In case it is not enough, tune the part surrounding the rear spring, front spring, and armature bar. This will help you to tilt the back spring to produce proper tension.
Loose Grip: The loose grip is one of the most common occurrences when installing your tattoo machine. It may be because the hex bolt is not rigid enough or the lack of tension in the thumbscrew. You can add a plastic washer to make sure the hex bolt is tight.
Springs: At times, your tattoo coil machine can work only if you fix the voltage at its maximum level. It may be a consequence of insufficient tension on the rear spring, which requires you to attune it accordingly.
Voltage configuration: You may have to fix your voltage arrangement in case your machine tends to get excessively hot. Make sure no excess tension around the spring and armature bar setup. If you detect that the machine tends to lose power often, the capacitor, foot pedal, or clip cord might be at fault. Replace these parts with the new ones and examine them once again.
What You Need For Tattoo Making?
After you get one of the best coil tattoo machines, it's time to start the actual work. Preparing all the equipment beforehand will help you to perform the task more conveniently.
Tattoo Machine: First, get yourself a suitable coil tattoo machine. These days, several renowned brands are making quality devices. Before buying, just check the specs to make sure it fulfills your demand.
Quality Ink: Ink is a mandatory element for making tattoos. But the quality has to be really good. So, your skin doesn't face any damage afterward. Try to find out which one is harmless and reliable enough to spend your bucks.
Water & Vaseline: Applying water can help to preserve the density of lines and shades of the tattoo. You have to apply Vaseline on the surface to make sure the ink is properly stuck on the skin.
Extra: You may need a few extra things like a paper towel, sanitizer, stencil, gloves, etc. These kinds of stuff are essential to make sure you can complete the tattoo session perfectly.
After Care: After making the tattoo, your skin may feel some irritation. You need to disinfect and drape your skin with appropriate tools. Keep in mind, negligence or failure to take proper measures can harm your skin further.
Frequently Asked Questions
1. How does a coil tattoo machine work?
The working nature of a coil tattoo machine is pretty simple. You have to hold the tattoo machine with your hand and use it to draw a design on the selected skin part. The metal base comes with a needle that moves with the help of coils. The needle of the tool transfers the ink to the skin. The coil machine keeps pushing the tattoo needle to the skin and draws it back.
2. What is the difference between an 8 wrap and a 10 wrap coil tattoo machine?
The difference between an 8 wrap and a 10 wrap coil tattoo machine lies in the number of turns of wire in the coils. An 8 wrap configuration has two coils, each with eight turns of wire, while a 10 wrap configuration has two coils, each with 10 turns of wire. The number of wraps affects the machine's voltage, with more wraps resulting in a higher voltage. Higher voltage machines tend to be faster and more powerful, while lower voltage machines are slower and better suited for fine details and delicate lines.
3. What stroke length is best for a coil tattoo machine?
The ideal stroke length for a coil tattoo machine will depend on your personal preference and the type of work you plan to do. The most common stroke lengths are 3.5 mm and 4.5 mm. A longer stroke length allows for greater needle visibility, making it easier to see what you're doing, while a shorter stroke length provides greater control and precision.
4. Can I use a coil tattoo machine with any type of needle cartridge?
Not all coil tattoo machines are compatible with every type of needle cartridge. It's important to choose a machine that is compatible with the type of needle cartridge you plan to use. Some machines may only work with certain types of cartridges, while others may be compatible with a wider range of cartridges. Check the manufacturer's specifications for your machine to determine which cartridges it is compatible with.
5. How fast can a needle go on a coil tattoo machine?
A needle can move from 50-3000 times every minute. The rate actually depends on the tattoo maker's preferences and needs. As an artist, you can fix the needle for slower or faster work. You have to consider different facts like the intricacy of the tattoos, the tattoo receiver's skin, etc.
Remember that the fleshy part of the body needs more ink. Hence, the speed should be fast. As the mature skin is more gentle, you have to use the needle at a slow pace.
6. How do I adjust the needle depth on a coil tattoo machine?
The needle depth on a coil tattoo machine can be adjusted by turning the adjustment screw on the machine. The ideal needle depth will depend on the specific machine and the type of work you plan to do. Refer to the manufacturer's instructions for specific instructions on how to adjust the needle depth on your machine.
7. Is it hard to fix or assemble a coil tattoo machine?
A coil tattoo machine usually comes with many tiny sections that can unscrew after a while of application. You can simply replace the parts when it's necessary. Perform the same step for the small circular flat part as well. It will help you to maintain the machine for a more extended period. To evade extreme fixing or buying a new one, make sure to check the tattoo device regularly and correct them whenever necessary.
8. Does it hurt to get a tattoo with a coil tattoo machine?
Yes, getting a tattoo on your body is going to hurt regardless of the machine type. A tattoo is created by modifying your skin using needles. That specific needle pierces into your skin at around 10-15 drops a second, which is quick enough to stop the skin from getting punctured and bleeding. Our body skin has three layers called the epidermis, dermis, and hypodermis.
The top layer or epidermis keeps healing itself. So, the needle has to pierce the dermis or middle layer to make a permanent tattoo. Therefore, the tattooing process can hurt you based on how big and intricate the tattoo design is. You may feel the coil ones on your skin more than the rotary machines. However, the rotary tattoo machine would need more repetitions than the coil ones.
9. What is the price range for a coil tattoo machine?
The price of a coil tattoo machine can range from a few hundred dollars to several thousand dollars. More expensive machines tend to offer higher quality components and better performance, but it's important to choose a machine that fits within your budget. It's also worth considering purchasing a kit that includes everything you need to get started, as this can save you money in the long run.
10. Can I use a coil tattoo machine for both lining and shading?
Yes, coil tattoo machines can be used for both lining and shading. However, different machines may be better suited for different styles of work. It's important to choose a machine that is designed for the type of work you plan to do. Some machines may be better suited for fine line work, while others may be better for bold shading.
11. What is the difference between a coil tattoo machine and a rotary tattoo machine?
Coil tattoo machines and rotary tattoo machines are two different types of tattoo machines that use different technology. Coil machines use electromagnetic coils to move the needle up and down, while rotary machines use a motor to rotate the needle. Coil machines are typically heavier and have a more traditional feel, while rotary machines are lighter and often quieter. The choice between a coil machine and a rotary machine will depend on personal preference and the type of work you plan to do.
12. What is the warranty and return policy for a coil tattoo machine?
The best coil tattoo machine for beginners will depend on several factors, including budget, skill level, and the type of work you plan to do. Some entry-level machines that are often recommended for beginners include the Cheyenne Hawk Spirit, the Ego Rotary, and the FK Irons Xion. It's important to do your research and choose a machine that offers the features and quality you need to get started.
My Two Cents At The End
After going through the reviews, don't worry if you are still unsure of your choice. If you ask me about my favorite pick, the Dragonhawk Complete Tattoo Kit is the ultimate one among the lot. Apart from the affordable price, this tattoo machine kit is perfect for both beginners and experts.
However, for proper shading and lining works, the Grinder tattoo kit is definitely going to work for you. Not to mention the level of ease you feel while handling this device. But if you want a budget-friendly yet effective coil tattoo machine for your passion work, the Solong tattoo kit is what you need.
The Redscorpion Coil Tattoo Machine and Taone tattoo kit can be your ideal option for noise-less tattoo sessions. So, once you have decided what you want, don't delay, grab your one and start living your dream!
We are sorry that this post was not useful for you!
Let us improve this post!
Tell us how we can improve this post?