Dragonhawk Tattoo Kit Review: [Beginner Friendly Tattoo Kits]
When you become an expert tattooist, it is easy for you to know which tools you would need to perfectly execute your artistic vision on the client's skin. For newcomers, however, the choice is hardly that simple!
At the start of your journey as a tattoo artist, you might feel overwhelmed with the abundance of beginner's tattoo kits you would find in the market. Unsurprisingly, not all of those entry-level tattoo kits are worth buying, no matter how inexpensive they are!
In our Dragonhawk Tattoo Kit review, we will explain why Dragonhawk Tattoo Kit has garnered widespread trust among aspiring tattoo artists. What makes it stand out from the competition? And is it suited for more advanced users?
Stay with us for the next few minutes to find out!
Introducing The Dragonhawk Tattoo Kit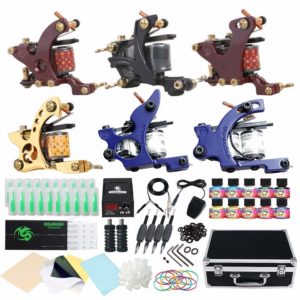 Over the past two decades, Dragonhawk has established itself as one of the most trusted names in the tattoo industry. The company has crafted some of the finest tattoo kits we have seen in recent years. This Dragonhawk Tattoo Kit review will focus on the brand's 6-piece beginner tattoo kit.
Besides the other components, this set packs three shading machines and three lining machines.  We have tried out the kit for ourselves and went through countless customer reviews to make a proper assessment. Is this a kit you should consider as an aspiring tattoo artist? Keep on reading to find out.
Dragonhawk Tattoo Kit Specifications
Manufacturer: Dragonhawk
Voltage: 7-10
Inks: 10 Counts of Immortal Ink
Practice Skin: Yes
Ink Cups: 10 Pieces
Sterilized Needles & Tips: 20 Pieces Each
Shading and Lining Machines: 3 Pieces Each
Who Is This Product For?
Despite being advertised as a ''beginners-level'' product, you would be surprised to discover the level of efficiency it has to offer. Therefore, even professionals will find this set useful. We have highlighted some of its best advantages that would help you understand even better who should benefit from buying this product.
Artists who don't have much experience in tattooing. This kit includes all necessary items to get your tattoo career rolling.
Six different machines make it an attractive package for those who regularly work with complex designs. You can work with separate guns, to make your designs more detailed and beautiful.
It would be a great buy for artists who frequently travel, and want to have a kit with coloring, shading, and lining essentials.
Challenges You Might Face
If you don't buy extra ink, you might find that the consistency of the ink provided is not satisfactory. Considering the price, the ink quality is decent. But, when you are trying to do something delicate, the ink might not make the cut. Purchase some additional ink, and you are good to go.
Pros & Cons
Reasons to get
Excellent price.
Contains all necessary items to get started.
Six different machines for better results and more convenience.
Pre-sterilized needles.
Reasons to avoid
The ink quality is not suitable for advanced designs.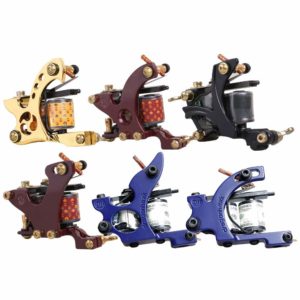 Dragonhawk Tattoo Kit Review: Features and Benefits
Here is a detailed breakdown of the Dragonhawk Tattoo Kit's specs and features. Before buying a tattoo kit, you have to go through its offerings and assess whether or not it suits your needs. The following analysis is the most important part of our Dragonhawk Tattoo Kit review and should help you reach a conclusion.
Six Tattoo Machines
The Dragonhawk branded coil machines included in this set are built of heavy-duty steel cast metal and feature pure copper tattoo 10-wrap coils. You will get three specialized machines for both lining and shading. You can be 100% confident that you're getting high-quality products because the machines have gone through thorough processing before packaging.
Both of these devices are simple and pretty fun to operate. A heavy-duty tattoo machine contact screw, premium copper tattoo coils, and a smart rear binding post-tapped thread make the lining and shading machines incredibly efficient at performing their tasks.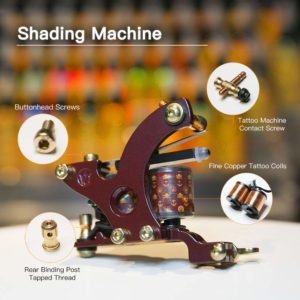 The shading machines produce a three-dimensional shading effect. Each machine works with the appropriate RL-sized needles. Altogether, the exceptional composite material, in combination with the highly elastic spring, provides an intriguing and long-term working experience for the tattooist.
The machines are top-grade, cast iron machines with excellent magnetic and electrical properties. These machines will not wear out anytime soon, so they are a pretty safe investment.
Once you start using the kit, you'll discover that having six machines is very convenient. These tattoo guns can handle a variety of tasks, and they will make covering large patches of skin a walk in the park.
For more complex designs, only one or two guns could be restricting. With an assortment of half a dozen machines, the Dragonhawk Tattoo Kit aims to make your tattoo pursuits simpler than ever.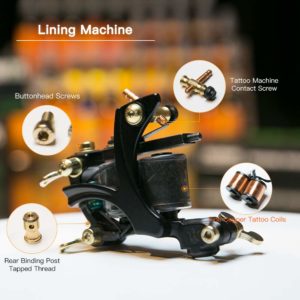 Immortal Tattoo Ink
The US-made Immortal Ink is absolutely safe for human skin application. The American health regulatory authorities are considerably strict about ensuring health safety in tattoo inks, so this ink comes with minimal risks. You'll receive ten mainstream shades that will cover most of your designs.
Immortal inks have a silky smooth consistency and a well-flowing, harmonized carrier composition. Thanks to the pure pigment content, you will get an excellent level of vibrancy. Tattooing with this ink should give you a decent level of consistency all the time. Overall, Immortal Ink is a dependable brand in tattoo parlors.
Dragonhawk Power Supply
The power supply comes with a handy LED display, a foot pedal, and a clip cable. You'll be able to activate and regulate the voltage quickly and precisely. It is completely leakage-proof and has the internal arrangements to prevent short circuits.
Dragonhawk power supply delivers on its word and ensures uninterrupted power supply along with the Dragonhawk Power Box.
Sterilized Needles
The EO sterilized tattoo needles reflect Dragonhawk's commitment to user comfort and security. When you don't have to waste time sterilizing your new needles, tattooing becomes a breeze.
Complete And Affordable
We have said it before, we will say it again: we love how complete the Dragonhawk Tattoo Kit is. You are ready to work on your first tattoo as soon as you buy the kit, you don't need anything else. It is far cheaper than the most expensive tattoo kits in the market, but it gives out the feel of a premium product.
Practice Skin
We consider the practice skin to be a genuinely thoughtful addition. It replicates the texture of real skin, so you will get to do enough practice without any actual skin damage. Once you feel ready, you can move on to the real deal.
TIP: You can try out vegetable and fruit skins once the practice skin runs out.
Final Verdict
Dragonhawk has exclusively designed this kit for meeting the needs of new artists. Its goal is to get beginning tattoo artists off to a great start. Despite being an entry-level kit, many professional artists have given this a tryout and their seal of approval afterward.
This kit strikes the mark with regard to assembling all the necessary components an amateur tattoo artist would require.
So, that's our Dragonhawk Tattoo Kit review! We believe it's an excellent choice for those who are still learning the ropes. It's also suitable for advanced applications, but you might have to make some upgrades.
We are sorry that this post was not useful for you!
Let us improve this post!
Tell us how we can improve this post?