Best Tattoo Kits For Beginners: Reviews And Comparison
Most of the review articles about tattoo kits include all types of tattoo kits, where some are for beginners, and some are for pros. And starter artists may find it intimidating to find a perfect tattoo kit for themselves among a bunch of different options.
That is why I wanted to write an entire article devoted only to beginners (You are welcome!). That means every tattoo kit here is for you – the brands designed and produced them according to your needs and demands.
The reviews will highlight the notable features of the best tattoo starter kits for beginners, telling you what you will get from them and what you should not expect from them while making your purchase decision a lot easier than you thought!
Here they come!
What Is The Best Tattoo Starter Kits For Beginners?
Before the reviews, I would like you to have a look at the comparison table. I made it with my favorite 5 tattoo kits that I found deserving of making it to your priority list. I think you will find it helpful.
Some Extras In The Kits
20 pieces of cartridges, 1  machine box, and foot pedal
50 needles, 60 tips, 100 cups, 1 paper manual, and 1 carrying case
50 needles and 1  introductory book on tattoo fundamentals
20 needles, 20 tips, 14 ink colors, and 100 ink cups
1 power supply, 1 device adjustment spanner, razors, 1 scriber pen, 7 ink colors, and 1 iron-made foot pedal
As an Amazon Associate InkRevolt earns from qualifying purchases.
Top 10 Best Tattoo Kits For Beginners Reviews
I have kept every type of tattoo machine here – rotary, coil, and wireless.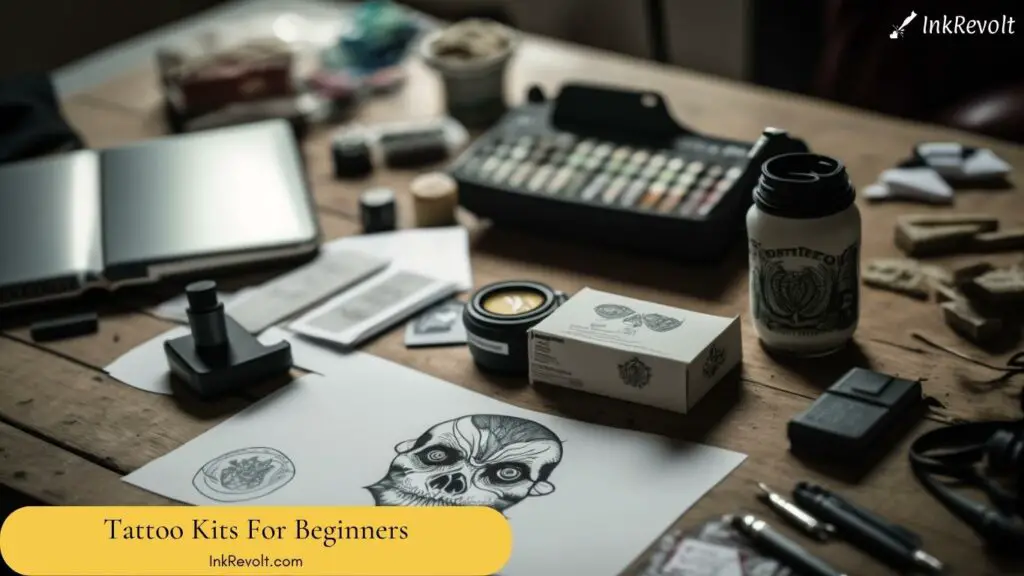 Rotary tattoo machines are usually lightweight, comfortable, and user-friendly. Coils are great too, but they are heavier than rotaries. From the aspect of performance, both are excellent in their area.
But as their characteristics say, rotaries are more beginner-friendly. However, I still included some coil kits because, first, I wanted to introduce them to you, and second, they are some of the best tattoo kits for beginners, which means they have the features to suit the requirements of aspiring artists. You will know more when you read the reviews.
I have also kept a wireless tattoo machine kit to keep you well-taught about how it works. The tattoo machine, being wireless, is very skillful. Newcomers can start with it since it does not require much skill.
In a nutshell, the article is a mixture of all types of kits. Do pay enough attention when you read it. I am sure you will learn a lot.
1. Grinder Coil Tattoo Kit By Pirate Face Tattoo – Best Tattoo Kit For Beginners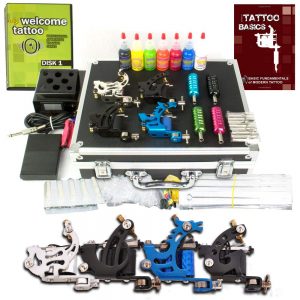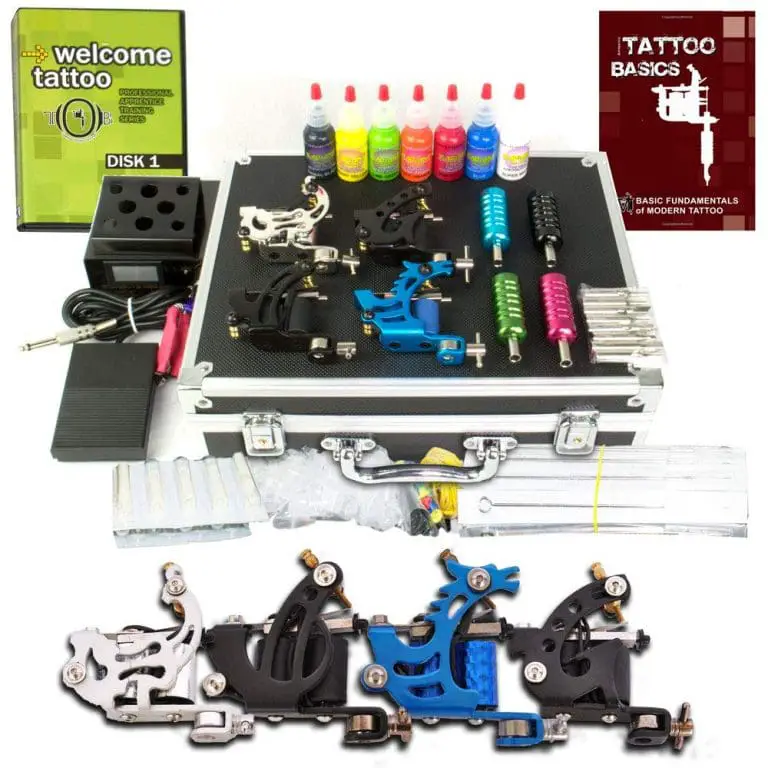 If you ask about my opinion, I prefer tattoo kits rotary machines. But then why am I starting with a coil machine tattoo kit? Because it is AWESOME. It is, hands down, one of the best tattoo kits for beginners. I would feel bad if I didn't start with it. And so, although I usually save my favorite ones for later, I am going different this time.
Why We Selected It in Our Top List
Design
The most crucial thing about coil tattoo machines is that they are hard to handle and balance, not to mention they weigh more than rotary tattoo machines. Here is where Pirate Face Tattoo did its magic.
The company designed its tattoo machines to be lightweight, user-friendly, and flexible. Even if you are a newcomer, you will find your way of handling it ideally soon enough.
Performance
Most of the coil tattoo kits come with one device, some with two. But you know how many the Grinder tattoo kit has? FOUR! Yes! Four coil tattoo machines in one package!
Each of them is efficient at its functions. You will learn to create mesmerizing tattoo designs with them. If you want to practice for long hours, they will support you without starting to overheat. You will treasure them when you see the change they bring in your skill and style.
The Kit
The Grinder tattoo kit includes four coil tattoo machines, a power brick, a clip cord, a foot pedal, seven colors, fifty needles, practice skin, cup holders, ink cups, disposable gloves, grips, a two-hour DVD, an introductory book on the basic stuff about tattooing, etc.
The power brick of the Grinder Tattoo Kit provides satisfactory performance. Of course, there are even better ones in the market. But it is well capable of serving the novices. It is LCD-styles, which makes reading the voltages easy for them.
There are fifty needles of different sizes in the kit, which come with needle tips. The tips are of two kinds – one you have to dispose of, one made of stainless steel. You can use both of them with the needles.
But I prefer disposable tips because they are easy maintenance. As a beginner, you want to start with something easygoing. So I think you should go for them. Nonetheless, you can also use the other ones that the kit offers you. They also get the job done pretty well. Also, remember that the tattoo guns run with most cartridge needles.
One of the best things about the kit is its colors. SEVEN DIFFERENT STERILIZED COLORS. They are bright, lasting, and easy to use. Pirate Face Tattoo used natural ingredients to make the colors and packed them in the USA. They are particularly great for beginners who want to create a professional color set for tattooing.
Others
The kit will provide you impeccable service. However, if you do have any problem with it, contact the company and avail of their six-month warranty.
Most beginners have a low budget for a tattoo kit. Thus, Pirate Face Tattoo charges an incredibly reasonable price for their gorgeous Grinder Tattoo Kit to give them a sigh of relief. Check out the price if you don't believe me!
Pros
Not expensive at all
Lightweight and user-friendly
Perfect choice for beginners
Silent functioning
Capable of performing longer without overheating
Seven unique colors – canary yellow, scarlet red, super white, blue, tribal black, and others
Cons
The practice skin is workable. But I think it could be a tad bit better.
If you are alien to tattooing, it will be hard for you to grasp everything from the DVD. However, you can watch YouTube tutorials to solve that problem. Besides, the introductory book will teach you the ABC of tattooing.
2. Dragonhawk Rotary Tattoo Kit (Atom) – Best Rotary Tattoo Kits For Beginners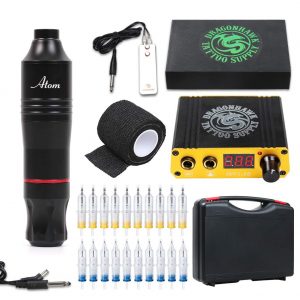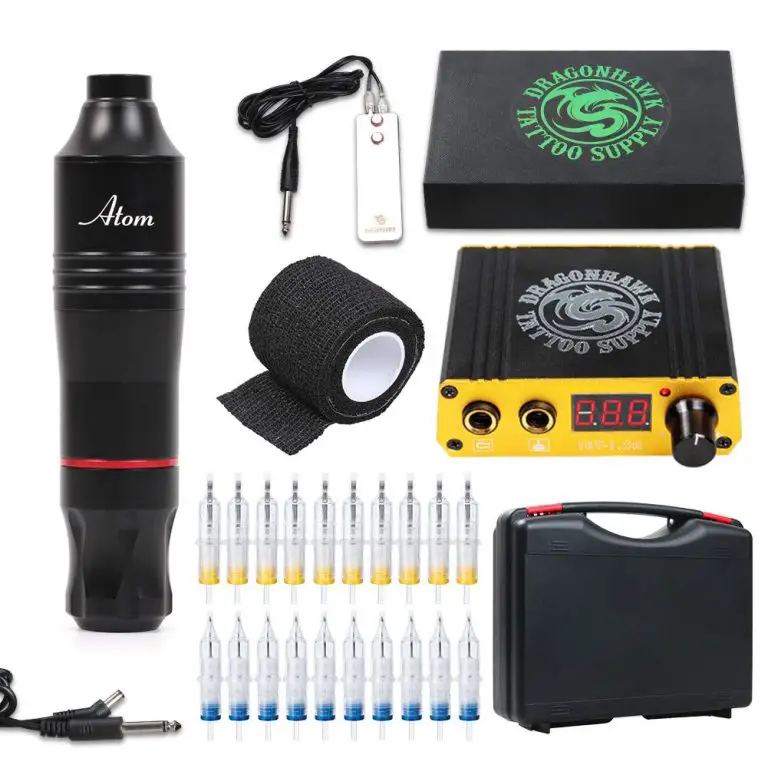 Learners and skilled, all alike, love Dragonhawk because it offers them the most innovative product at the most reasonable price. From design to performance, Dragonhawk ensures charisma everywhere. And this Atom kit is no different.
Why We Selected It in Our Top List
Design And Performance
Dragonhawk designed the tattoo machine ergonomically and used anodized aluminum to make it. That allows you to have a comfortable grip on it, feeling like using a real pen.
It does not create that irritating buzzing sound when you are at work, again, thanks to Dragonhawk. But before that gives you a misconception about its capability, I want to say that it has excellent puncturing power and frequency, enabling the device to make catchy shades and colors.
The Tattoo Kit
You will find all the essential accessories in the Dragonhawk Atom kit – a rotary pen, a power supply, a foot pedal, a clip cord, a carrying case, twenty cartridge needles, transfer papers, gloves, and artificial skin.
You will not have to spend extra money to buy more stuff since all of them are in it, and by practicing with it, you will become more competent sooner than you could have anticipated.
Others
The weight of the tattoo machine is 135g. Even if you have never touched a tattoo device, you will find it highly convenient to control and operate.
Due to its compatibility with cartridge needles, you can get it running with most cartridges. It has a needle stroke length of 3.5, with which it can make long lines, cutting down the time of tattoo making.
If you want to practice for long sessions, this tattoo machine will hold stable till the end.
Pros
Lightweight, steady, and user-friendly
Ergonomic design
Quality materials
Affordable price
Outstanding performance
Less noisy while operating
Cons
As a learner, it will be difficult for you to do the cleaning.
The lining, while decent, could be better compared to shading and coloring. But I think it will do just great for beginners.
3. Dragonhawk Rotary Tattoo Kit (Mast)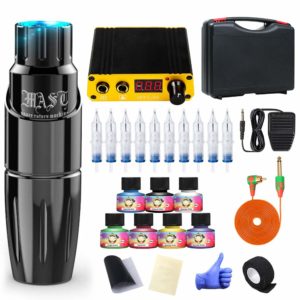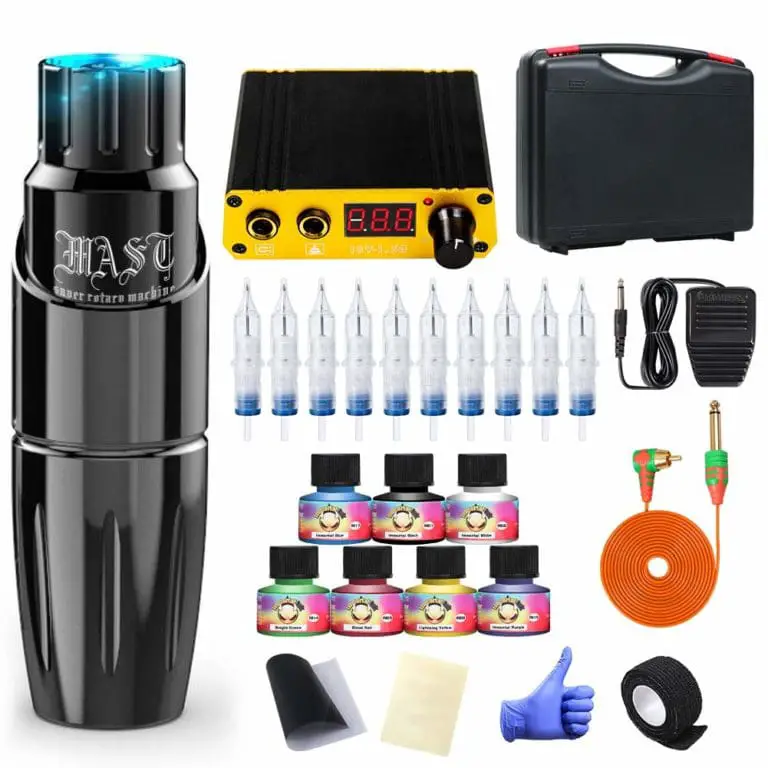 Anyone who has got to use the Dragonhawk Mast pen has loved it for its performance. But before you get to see that, you can look at its build. It has a dashing look that alone can guarantee its performance. But there is more than the pen. Dragonhawk did beginning tattoo artists an excellent favor by making a kit with the Mast pen. Care to know about it?
Why We Selected It in Our Top List
Design And Motor
Dragonhawk designed the tattoo machine with a Japanese Mast motor. It is so powerful that it can deliver 3000 hours of service. The device also has a robust gear system installed in it.
The motor and the gear system ensure that no loud noise interrupts you while you are making tattoos. The frame of the pen is aluminum which prevents it from overheating.
Most importantly, the pebble modeling and ergonomic design will make holding and controlling the pen a piece of cake for you, no matter how new you are at it.
Performance
The Mast pen makes flawless tattoos. It works on the skin gently and creates sharp lines, catchy shades, and beautiful colors. It functions satisfactorily in every area.
What's more, it is suitable for every skin type. You do not have to worry about getting a counter-reaction from any skin if you create a tattoo using this rotary machine.
The Tattoo Kit
Apart from the pen device, the Dragonhawk package has a power supply, a cord connection, a carrying case, a tattoo machine box, a foot pedal, twenty cartridge needles, ink colors, gloves, practice skin, etc.
As you see, the kit has everything you need to start tattooing. You will not have to spend on additional accessories, and that makes it one of the most beginner-friendly tattoo kits. If you want to start practicing with a real piece of tattoo equipment, the Mast tattoo kit would be just the right thing for you.
Others          
The device weighs 82 grams only. That means you can not only use it without putting in any effort but also roam around anywhere, keeping it in your pocket. That is one of the advantages tattoo artists look for who travel frequently.
Another highlighted characteristic of the pen is its adjustable needle stroke. Since you can adjust it as per your wish, you get to experiment with different tattoo styles, which makes you learn more and become an experienced tattoo artist.
The functional voltage level of the Mast starts at 6v and ends at 9v. You can use all cartridge needles to get it running.
Finally, the last thing you should worry about is safety. The tattoo machine has needle curvatures that Dragonhawk made following a strict protocol to prevent injuries.
Pros
Lightweight, portable, stylish, and sound control
Notable performance and quiet operation
Friendly with any skin type
Capacity to perform with no overheat
Workable with any cartridge tattoo needle
Cons
The pen vibrates a little. Some of you may not like that.
4. Hildbrandt Professional – Best Coil And Rotary Tattoo Kit For Beginners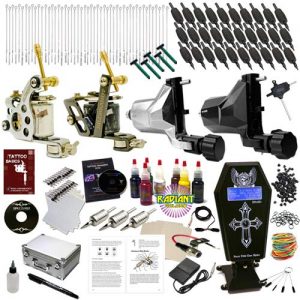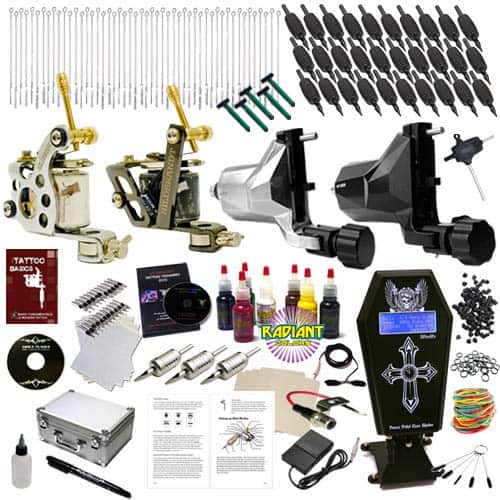 If you have only entered the tattooing field and want to practice a lot to become familiar with it, the Hildbrandt tattoo kit should be one of the best beginner tattoo kits for you. The reason is it brings you TWO types of tattoo machines – coils and rotaries! That makes this Hildbrandt tattoo kit stand out among the rest.
What's more surprising, it is available at a pretty reasonable budget. Besides, it will make the learning process easy and fun for you. Oh, I got to give you a heads-up, it is the ultimate complete tattoo kit!
Why We Selected It in Our Top List
Tattoo Machines
Two coil tattoo machines – a .44 magnum ten wrap liner and a .38 caliber eight wrap shader are there in the kit. Both are well-built. They will give you a comfortable grip, making no noise while functioning.
The names of the rotary devices are the Witcher and the Weaver. Both feature a JEX0 motor with an output of as much as 10,000 RPM.
Hildbrandt installed a dampening spring and a needle clamp in the tattoo machines. The dampening spring replaces rubber bands. And the needle clamp is for easing the tattoo needle on your skin.
The Witcher does lining and coloring, while the Weaver is for shades and colors.
Both types of tattoo machines are easy to hold and use because they are not heavy.
Performance
The performance of all four tattoo machines is fantastic. First of all, they work gently on the skin. You run them, and they bang the lines or shades and pack colors. The rotaries hit the skin with immense power to make smooth tattoo designs.
Every tattoo machine is adept at specific functions, and they maintain a high standard at their work. As a learner, you will not grow just by practicing making tattoos but by practicing making pro-level tattoos, just like the title says.
The Kit
Brace yourself for a long list! The Hildbrandt tattoo provides you all the tools to learn and practice to become a professional tattooist.
There are two coil machines, two rotary machines, a power supply, clip cords, aluminum grips with tubes, a pack of grommets, a pack of O rings, a device adjustment spanner, a pack of ink cups, a cup holder, a pack of rubber bands, a pen to scribe the skin, ink bottles, disposable razors, a carrying case, a set of seven ink colors, a foot pedal of iron, transfer paper, practice skin, premium needles, tubes of stainless steel, disposable grips, and latex gloves.
See? It has a lot of things that you will not even find in others. They all are safe to use and have moderate quality. And there are more which you will see in the following part.
Before I move on to the next part of the review, I would like to talk about the power supply, one of the mightiest ones in the market.
Hildbrandt manufactured the power unit with a digital display associated with fine-tuning. There is also a conveniently located toggle switch.
The unit also has a memory setting. Additionally, there are two ports in it. You will use one for shading and the other for the lining. That way, the power supply makes the process of tattooing a lot easier for you.
Others
When I told you that Hildbrandt would teach you tattooing and make a professional out of you, I did not exaggerate a bit. Apart from the hardware I mentioned already, Hildbrandt has a professional training system that provides you online support, a crash course about tattoo supply and equipment, a comprehensive book on modern tattoo fundamentals, and a training DVD.
Any tattoo kit with the essentials is a complete package, yes. But Hildbrandt took the word 'complete' to another level when it introduced its professional tattoo kit.
But before that gives you the wrong idea, I would like to point out one thing you should keep in your mind. Hildbrandt made this kit exclusively for beginners and learners to PRACTICE a lot until they are prepared to start tattooing as professionals. That said, they are to use it only for practice purposes.
You can make tattoos on fruits, pigskin, and artificial skin. Even if you are confident enough to pull off a tattoo on human skin, don't attempt to do that. The tattoo you will make with this kit is permanent, and if you make one on an individual's body, it may scar their skin for life.
Using this kit, you will not become skilled enough to become a professional overnight. But you will smoothly make your way to being one if you have this kit, that's for sure.
Pros
The ultimate complete tattoo kit
Topnotch quality of tattoo machines and power supply
Affordable and user-friendly
It makes a professional out of a learner.
Cons
With this many accessories, the kit is not easy to maintain.
You cannot use it to make tattoos on human skin.
5. Solong Complete Starter Coil Tattoo Kit – Best Budget Tattoo Kit For Beginners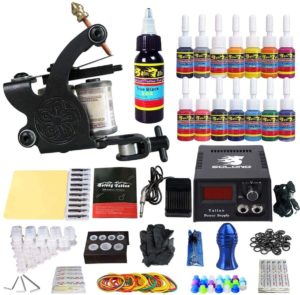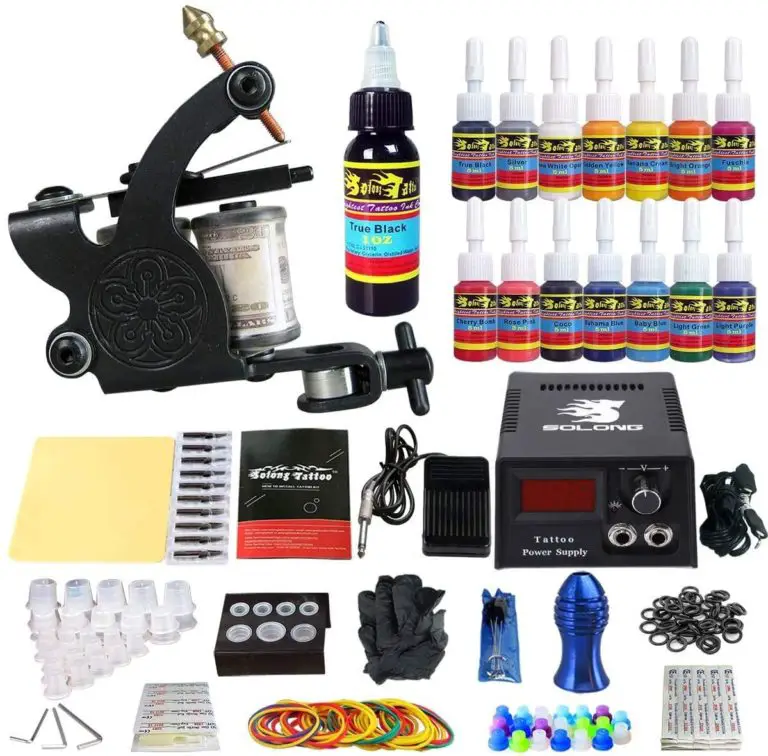 Now, we will move on with the Solong tattoo kit, made particularly for the starters. It is a coil tattoo machine kit. But do not be afraid of using a coil device. Being one of the most easy-to-use kits available at present, it found its place in our list of the best tattoo starter kits for beginners.
Why We Selected It in Our Top List
Design And Performance
There is a ten-wrap coil tattoo machine in this tattoo kit. Solong designed it using the latest technology, which enables the tattoo machine to deliver a sound performance. It can make both lines and shades.
A lot of you might prefer two devices for each function. But you can trust it to do both. The ambidextrous machine can tattoo amazingly with edgy lines and shapes, not to mention it will save you time and money.
The machine makes minimal vibration, so you get to make large tattoos without getting any breaks. Since you are a beginner, that will prepare you well enough for your professional career.
The Kit
The Solong kit has a coil machine, a clip cord, a foot pedal, a digital power source, practice sin, ink colors, twenty tattoo needles, twenty tattoo tips, a hundred ink cups, tattoo grips, a user manual, and other accessories.
The power source is digital. You can conveniently read and adjust voltage levels. The analog ones are hard to work with, particularly for beginners. This one will make it easy for you by constantly generating output and improving the reliability and overall performance of the tattoo device.
Another notable characteristic of the source is its capability to support both rotary and coil devices efficiently. That does not even require you to switch the modes for using different machines. It means if you have a rotary device or want to get one, you will not need to buy a new power unit for that. Highly cost-effective, no?
Even more, the kit has FOURTEEN INK COLORS! Imagine the variety of tattoos you will make with them! A 30ml black ink bottle will also be there for you. (Solong is killing it, I know!)
You will love the quality of the colors. They are pure and solid with a moderate level of color consumption. The skin will absorb them fast. With this set of colors, you will create fabulous and vibrant shades.
The practice skin has top quality, which plays a vital role in practicing correctly. There are one hundred ink cups, twenty needles, and twenty tattoo tips in the kit. Before you are up about tattooing, read the manual attentively. You will benefit from it big time.
Others
The Solong kit has a 12-month warranty which provides you a free replacement service. So, if your machine has any problem, there is no need to be panicked. You can contact Solong and have it replaced.
Finally, it has a CE certification. So you see, you can get it without any concern.
Pros
Simple setup
A digital power unit with the ability to support rotaries and coils
A 12-month warranty with a free replacement service
CE-certified
Fourteen colors with an additional black ink bottle
A single machine capable of pulling off both functions
Cons
NO CONS! It is a true gem for beginners!
6. Stigma Rotary Tattoo Kit – Best Wireless Tattoo Kit For Beginners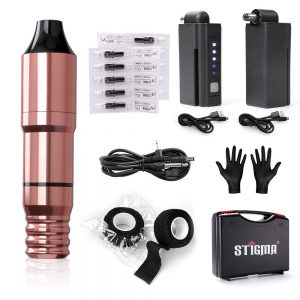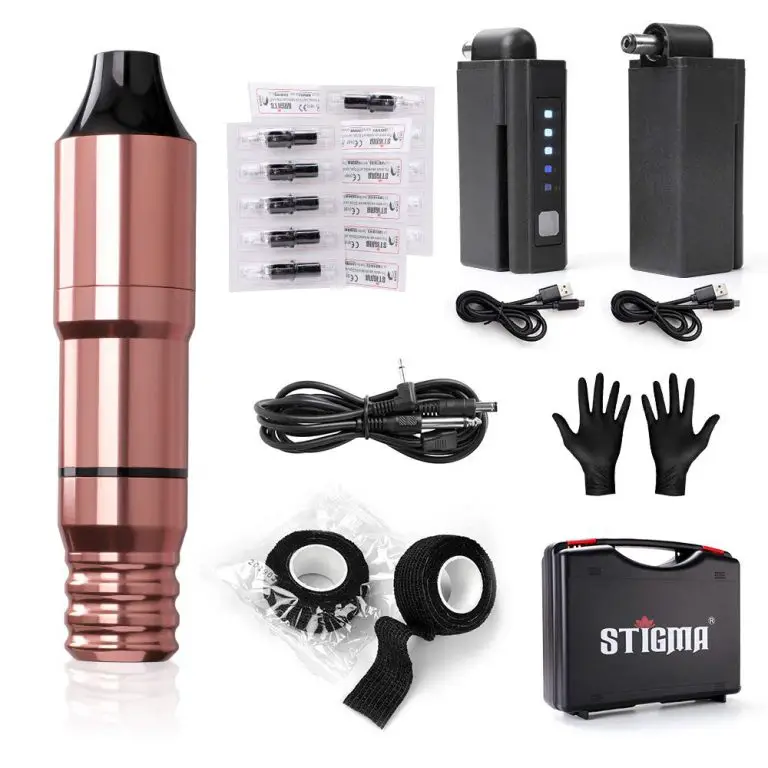 A common feature among all the five kits I have reviewed so far is that they have regular, wired machines. But the Stigma tattoo kit has a wireless device for you, one with no wire attachments. Sounds interesting? Then have a look!
Why We Selected It in Our Top List
Battery, Motor, And Gear System
Every wireless machine runs on batteries. The more capacity the battery has, the more satisfactory performance the device will provide. This one has 1500mAh batteries (Yes, plural – there are TWO!), which means you will get great value for money.
Since it has two batteries, you can recharge one when working with the other. That way, you do not have to take unwanted breaks during a session.
The batteries have indicator lights to signal the voltage levels. For instance, one light indicates the lowest voltage level, while five lights indicate the highest. The lights also remind you when to switch the batteries.
If you run the device at the highest level, 12V, the battery will last approximately 3 hours. Always remember not to cross the maximum voltage level to protect the device and its power unit.
Stigma equipped its device with a mighty Japanese motor and a sophisticated gear system. Both guarantee you a soundless operation.
Design And Performance
The ergonomic design of the device makes it beginner-friendly. You will develop your skill in no time once you learn to use it comfortably.
The performance of the machine is tremendous. It is trendy specifically for its attractive lines. If you plan to have a hold of lining at first, the Stigma pen will give you the best service.
The Kit
The Stigma rotary tattoo kit combines a tattoo pen, two batteries, a clip cord, a carrying case, tattoo needles, gloves, and other stuff.
Everything in the kit maintains a minimum level of quality. However, I think the needles could be better.
Others
The Stigma pen, made of Space Aluminum, has a beautiful rose gold frame that is sturdy and durable. Its weight is only two ounces. It will not be burdensome for you at all. Since it is wireless, you will not lose yourself in a clutter of wires, and hence, do your work without any stress.
The tattoo needle depth of the pen ranges from 0mm to 4.5mm, which you can adjust with any cartridge needle. And Stigma sterilized them with gas before putting them in the kit. So, they are safe to use.
This CE-certified kit has a 12-month warranty. If you want to get uninterrupted service from a device for a certain period, you can purchase the Stigma kit.
Pros
Lightweight and wireless
Two batteries having light indicators
An attractive frame of quality material
Impressive performance
Powerful motor and gear system
Quiet operation
A 12-month warranty
Compatibility with any cartridge needle
Cons
The batteries are great performers, but after a while, they do not sync anymore. They also cannot last long, which will require you to replace them.
The needles should have been better.
7. Dragonhawk Rotary Tattoo Kit (Essence)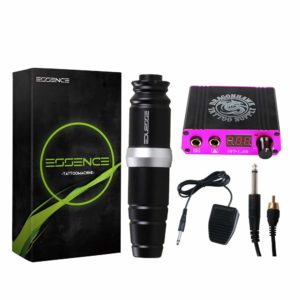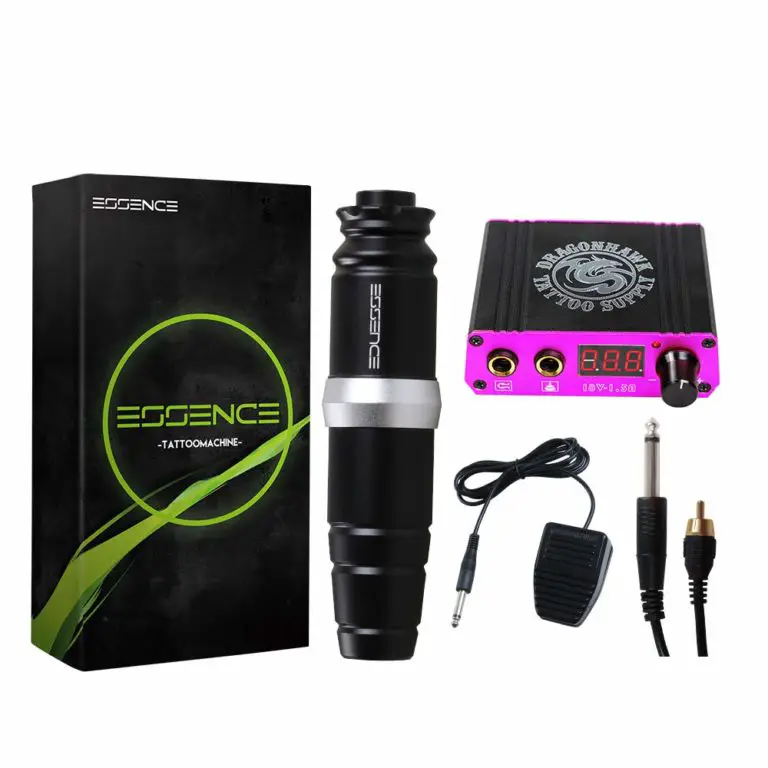 If you decide that you want to start with a rotary pen, Dragonhawk has the best options for you, two of which I have already discussed, and now there will be another.
Why We Selected It in Our Top List
Design, Motor, And Performance
Designing ergonomically with a frame of Space Aluminum, Dragonhawk gave the pen-style device an eye-catching look. (Go to the link below this review and see for yourself!)
The machine has a dynamic motor made in Japan, which prevents it from making any vibration and noise. And this one machine can singlehandedly pull off tattoos with magnificent lines, shades, and colors of any size.
If you plan to start as a pro, you want to start with this pro machine.
The Kit
The Essence kit has the Essence rotary pen, a power brick, a cord connection, cartridge needles, etc.
The power brick is efficient at providing accurate and quick voltage activation and adjustments. It also supports the tattoo machine by enhancing its performance with smooth and stable power output.
If you want to use different cartridges for the device, you can – the Essence functions with every cartridge needle.
Others
You have already read about some Dragonhawk products, including this one, and you will read more after it. Why have I kept so many Dragonhawk kits here? Because the company maintains a certain level of standard in each of its products and charges comparatively low. This Essence kit is also very much within your affordability.
The pen weighs 140 grams, a tad bit heavier than the rest I have discussed, but it is still lightweight and very user-friendly.
The operational voltage level of the pen varies from 6v to 9v. Some of you might prefer it if the voltage level was higher. But at this bargain, it gives you the best deal there is.
Pros
Best deal at the price
A power supply with voltage activation efficiency
Ergonomic design
Capable of performing all three tasks
Cons
Although the motor is powerful, it may not be durable.
The package comes with a leaflet that directs you on how to use the kit. But I do not think it is that helpful for learners.
8. Solong Tattoo Kit – Best Coil Tattoo Kits For Beginners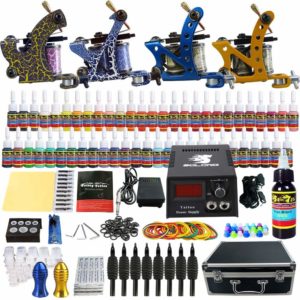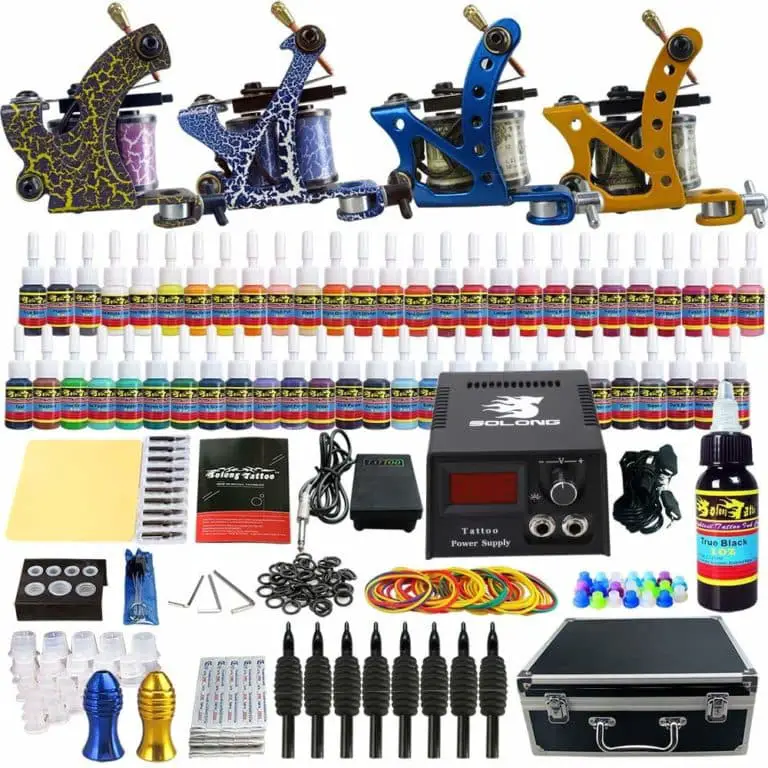 Practice is the only way for a beginner to become a skilled tattooist. The more you practice, the more your skill develops. That is why Solong has kept four machines in its kit, two for lining and two for shading, so there is no way to stop you from practicing and becoming the best!
Why We Selected It in Our Top List
Machines And Their Performance
Each of the tattoo guns, made of carbon steel, is a ten-wrap one. The brand handmade them, so they weigh less than other typical coil machines.
Their performance is quick and precise. The machines have sufficient power to go into the skin deeply. As a result, you get a solid and durable color.
Since there are two kinds of devices, each of them is concentrated on one function. Thus, they can pour their best into one area, facilitating you to make mind-blowing tattoo designs.
The machines are 250 grams each, which may be too heavy for some of you at first. But if you think you will get used to it if you give it some time, you will easily pull it off.
The Kit
There are four pro tattoo guns, a power supply, a foot pedal, a clip cord, ink colors, ten tattoo grips, sixty tattoo tips, fifty tattoo needles, a hundred ink cups, a manual, a carrying case, O rings, and others in the Solong tattoo kit.
The power supply is LCD-styled and has one clip cord and one top-foot controller. The settings will pop up on the LCD screen.
The chief responsibility of any power unit is to generate an accurate voltage reading when a tattoo device performs. You have to connect the cord connection and affix the device to the power unit to see your adjusted settings on the screen.
I did not mention the number of ink colors above to surprise you now. The kit has FIFTY-FOUR gamma-ray sterilized, positive, and micro-dispersed colors!
Besides (calling out all the vegans), the colors are natural, vegan-friendly, and have no harmful ingredients, and so, there is less scabbing, resulting in a scarless and faster healing result.
Everything in the kit box and the manual about them are easy to understand, which will assist you to practice until you are well-prepared to make tattoos on your friends and clients.
Oh, there is something more. I almost missed it. Solong gives you a black ink bottle AS A GIFT! It went the extra mile to make one of the best tattoo starter kits for beginners.
Others
You get all of that kit at the lowest price possible. It is incredible how Solong asked for such a low price that other companies had to decrease the price of their kits to keep their place in the competition.
Besides, you will find it everywhere, be it a wholesale shop or a retail shop. You can grab it from the shops and get on with making tattoos right away! And, as if you are confused about anything in the kit, contact Solong to get direct assistance.
Pros
High affordability and availability
Simple setup
Lots of color options
Organic ink colors with no harmful ingredients
Less scabbing, no scars, and faster healing results
Post-sale service available
Cons
Everything is great about the kit. But it would be perfect if the packaging were more improved.
9. Dragonhawk Complete – Best Starter Tattoo Kit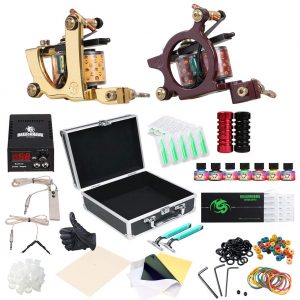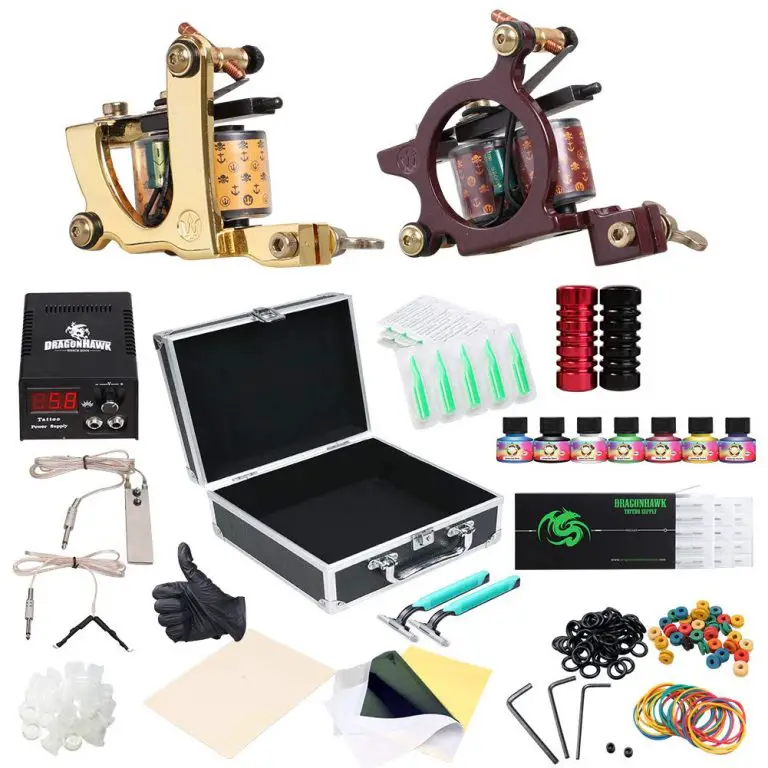 This Dragonhawk complete tattoo kit has a pair of coil machines. If you want to practice making large and complex designs, you will have to resort to coil devices. However, they can often be hard to balance. Some of them are not that affordable. But when it is Dragonhawk, you can be relaxed about all of that.
Why We Selected It in Our Top List
Machines And Their Performance
The materials of the machine are first-rated composite materials. Their spring is highly elastic, which helps you continue the longer tattoo sessions with no exhaustion.
Both of the coil tattoo guns are ten-wrapped. One will make your lines, and the other, shades. Due to their ease to control and balance, you will get a hold of them fast. And about quality – which Dragonhawk is all about – will reveal itself when you see the flawless designs.
The Kit
The Dragonhawk complete tattoo kit offers you two pro-quality coil tattoo guns, a foot pedal, a power supply, a clip cord, transfer papers, ink cups, twenty sterilized tattoo needles, tattoo grips, ink colors, practice skin, disposable tips, etc.
The power supply is LED-styled, an expert at giving the proper voltage readings. The colors are radiant and safe. You will have no countereffects from them.
The rest of the things are also of decent quality. They will provide you a long-term service, so you do not have to make intermittent investments in them.
Others
Waiting for a reply from the manufacturer after facing problems with a product only to get panicked is a situation all of us have faced at least once. But Dragonhawk promises you that you will get a whole different experience with it.
When you face a problem or need professional advice, knock Dragonhawk and get direct help.
However, there is no need to worry about getting a faulty tattoo kit, that's for sure because the brand scrutinizes all the tattoo kits before packaging.
Pros
Quality materials
Easy to balance
Helpful for doing long sessions
Remarkable performance
Budget-friendly
Amazing customer service
Safe ink colors
10. Dragonhawk Complete Tattoo Kit (Cast Iron Machines) – Best Tattoo Kits For Lining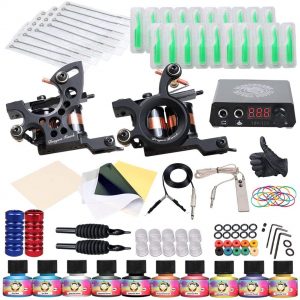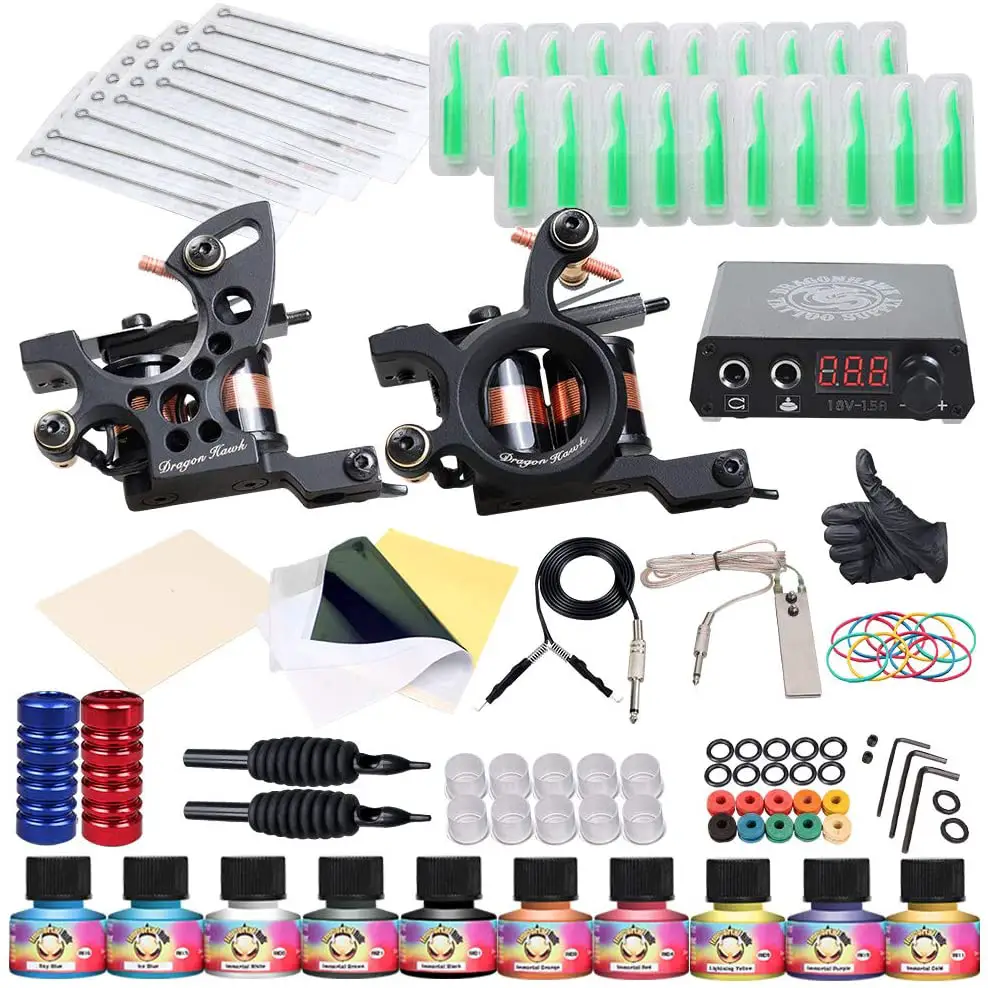 Another Dragonhawk Complete Tattoo Kit, which will be our final product to review today. Since you have already got acquainted with some Dragonhawk kits, I am sure you get a hint about how impressive this one will also be. Let's get on with it, then.
Why We Selected It in Our Top List
Machines And Their Performance
I mentioned the machine type in the title, so you do not get confused between this kit and the one before it. The coil devices, made of Cast Iron, have ten copper coil wraps.
The devices are well-built for delivering you professional service. If you want to ace at lining and shading, they will be your perfect companions for that. You can work with them for as long as you want, and you will not get tired. You will also become adept at handling coil devices, which will come in handy in your professional life.
The Kit
The kit, containing a bunch of tattoo things, has two anti-fatigue machines, an LED power source, a foot pedal, ten immortal ink colors, sterilized tattoo needles, tattoo tips, practice skin, gloves, O rings, ink cups, etc.
The LED power source allows you to change and adjust the voltage as per your needs. It also develops the performance of the devices by providing output from the power source consistently.
The ink colors are very long-lasting, and they are free of any harmful ingredients. You can apply them to human skin too. The needles are also safe for use.
Others
Coil machines are usually not for beginners because they are heavy and require skills to handle and balance. But these coil machines are mainly for beginners because Dragonhawk made them super comfortable and easygoing, so I did not hesitate to include it here and the other coil kits.
If you want to try it, do that. Dragonhawk has always amazed tattooists, and it will amaze you too.
Pros
Comfortable to use
Well-constructed
Professional performance
An LED power source
Quality accessories
Cons
No cons. But a warranty would be very appreciable since the kit is for beginners.
What Is A Tattoo Kit For Beginners?
A tattoo kit for beginners is a collection of essential tools and supplies specifically designed for those who are new to the art of tattooing. It typically includes a tattoo machine, power supply, various needles, a selection of inks, practice skin, and other necessary accessories such as grips, tips, and tubes. These kits are tailored to help beginners learn the basics of tattooing in a safe and controlled manner, offering the fundamental equipment needed to start practicing and developing tattooing skills.
How To Choose The Best Tattoo Beginner Kits?
Choosing the best tattoo beginner kit can be quite the adventure, especially if you're new to the tattooing scene. It's like picking your first set of armor in a quest – you want the best to start your journey! Here are some key points to consider.
1. Types of Tattoo Machines
The most salient thing, I repeat, the most salient thing for you to understand when you plan to buy a tattoo kit is the tattoo machine. First, decide on which type you want, rotary or coil, because you are a beginner, and how your skill will develop depends highly on the tattoo machine you choose.
Most rotaries are suitable for beginners. They are light, easy maintenance, and capable of performing lining, shading, and coloring. But if you want to have a comprehensive practice to learn about large-sized intricate tattoo designs, you have to use a coil machine.
The thing about coil tattoo machines is that they require you to have some competence beforehand. I mean, you can develop your skill with a rotary at any time, but you have to have some skill already to run a coil machine. They are also more professional-friendly.
However, you have seen that I have reviewed some coil kits here because their respective companies manufactured them thinking about you so that you have the option to practice with coil devices. They meet all the standards of being the best beginner tattoo kits. So, if you think you have the caliber, do not think twice to grab them.
2. Quality of The Machine: [Is it Beginner-Friendly?]
Not all tattoo kits are for beginners. Tattoo companies make tattoo machines and kits for professionals as well. So, when you look for the best tattoo kits for beginners, do not forget to check if it is really for beginning tattoo artists.
You might think the professional ones will provide you better service. They do, but you will not get the best result from them if you are just starting. You need to handle them with high-level skill and care, hence, professionally. As you are a learner, you will not maintain them properly and may fail to make tattoos properly, which will frustrate you.
So, always keep in your mind to find the most beginner-friendly tattoo kit that can escalate your confidence by improving your tattooing skills.
3. Variety and Quantity of Supplies
The more accessories, the better. Every tattoo kit comes with the most necessary things to practice. But some have a lot of things to make the tattooing process more exciting and safer for you. For example, look for a tattoo kit with sterilized needles, ink colors with no harmful substances, and gloves to keep yourself protected during work.
Besides, when you have a whole package, it saves you the hassle of buying tattoo items separately. Sometimes when you purchase something individually, it may not match the tattoo kit setup, which goes in vain. Therefore, it is cost-effective and helpful for learning if you research and find a complete tattoo kit box that carries most of the practice items, if not all.
4. Performance And Ease Of Use
The performance and quality of a tattoo machine and kit go hand in hand. By quality and performance, I mean it has to be well-constructed and efficient at what it does and provide durable and flexible service.
If that does not happen, it will malfunction soon, causing you to spend on another tattoo kit. More importantly, it will fail to support you with your practice and help you to improve your skills.
Investing in a tattoo kit is not something you plan to do once in a while. That is why you must buy one that will accompany you for a good time, preparing you to be a professional tattooist.
5. Price Vs. Quality
Look for a cost-effective kit. The best tattoo starter kits for beginners are not costly, yet they have quality because the brands make them for learners, most of whom cannot afford expensive tattoo kits.
However, you will see some cheap kits with many accessories but little quality. In that case, avoid them and look for others, which may be comparatively expensive and miss one or two items of the cheap ones, but they will guarantee you first-class service. You will go a long way with just one kit like that.
How To Take Care Of Your Tattoo Kit
Proper care and maintenance of your tattoo kit can help prolong the life of the equipment and ensure safe and effective tattooing. Here are some tips for caring for your tattoo kit:
Clean and sterilize your equipment regularly. This includes your tattoo machine, needles, and any other reusable equipment. You can use an autoclave, dry heat sterilizer, or chemical sterilization method to ensure that your equipment is free from bacteria and other harmful organisms.
Store your equipment in a clean, dry, and secure location. It is important to protect your equipment from dust, moisture, and other potential sources of contamination. You may want to invest in a sturdy carrying case or storage box for your tattoo kit.
Replace any worn or damaged parts. Over time, the needles, tubes, and other parts of your tattoo kit may become worn or damaged. It is important to replace these parts promptly to ensure safe and effective tattooing.
Follow the manufacturer's instructions. Different tattoo kits may have different care and maintenance requirements. It is important to read and follow the instructions provided by the manufacturer to ensure that you are using your tattoo kit safely and effectively.
Seek guidance from experienced tattoo artists or instructors. If you are new to tattooing, it is important to seek guidance from those with more experience. They can provide valuable tips on how to care for your equipment, as well as how to perform safe and effective tattooing.
By following these tips, you can help ensure that your tattoo kit is clean, safe, and ready to use when you need it.
Frequently Asked Questions
As a beginner, you will have more queries than anyone. So, I addressed some of the most asked questions and answered them below.
What is a tattoo kit?
A tattoo kit is a collection of tools and supplies used for tattooing. It typically includes a tattoo machine, needles, ink, power supply, and other accessories needed for the tattooing process.
What should I look for in a tattoo kit for beginners?
When looking for a tattoo kit for beginners, it's important to consider the quality of the equipment, the type of needles and inks included, the power supply, and any additional accessories such as gloves, practice skin, and instructional materials.
What is the main difference between a coil machine and a rotary machine?
The main difference is in their way of functioning. The current runs through the device's coils in a coil device and draws and releases the electromagnet or armature bar. Then, the bar injects and pulls the needles in.
In the case of a rotary machine, a small motor built in helps the needles move.
How do inexpensive kits differ from expensive ones?
Materials, performance, service are the aspects where they differ. If you have a budget, you should go for a kit with minimum quality.
What is the price range of a quality tattoo kit?
It may be anywhere between $50 and $1000, depending on its quality and functions. A tattoo gun might be cheaper. With the fundamental supplies, a decent kit may cost you around $50.
Is rotary better than coil?
That depends on a lot of things, as I discussed in the buying guide above. If you are entirely new to tattooing, you can start with a rotary. But eventually, you may need coil machines for various purposes. Read our in depth discussion about Coil Vs. Rotary Machines.
Can I use a tattoo kit without any experience?
It is not recommended to use a tattoo kit without any prior experience or training. Tattooing is a complex and potentially dangerous practice that requires knowledge and skill to do safely and effectively.
Do I need a license to use a tattoo kit?
The regulations for tattooing vary by location, but in many areas, a license or certification is required to legally tattoo. It is important to research the laws in your area and obtain any necessary licenses or certifications before using a tattoo kit.
Can I buy individual tattoo supplies instead of a kit?
Yes, you can buy individual tattoo supplies, but it may be more cost-effective to buy a kit that includes all the supplies and equipment you need.
Can I use a tattoo kit for permanent makeup or microblading?
While some tattoo kits may be marketed for permanent makeup or microblading kits, it is important to use specialized equipment and techniques for these practices. It is recommended to seek training and certification in these specific areas before attempting to perform permanent makeup or microblading.
How do I choose the right ink for my tattoo kit?
Choosing the right ink for your tattoo kit can depend on several factors, including the color and quality of the ink, your personal preferences, and the type of tattoo you are creating. It is important to choose a high-quality, sterile ink that is compatible with your tattoo machine and needles.
Can I use a tattoo kit to tattoo myself?
While it is technically possible to use a tattoo kit to tattoo yourself, it is not recommended due to the risks involved. Tattooing requires a steady hand, good technique, and a clear view of the tattoo area, which can be difficult to achieve when working on yourself. It is recommended to seek the services of a professional tattoo artist for best results.
Final Verdict
Every tattoo kit reviewed today is available at a reasonable price – that is my favorite fact about them, which also makes it confusing for you to choose one among them. But it should not be as hard.
If you have read the buying guide, I am sure you have come up with a list of kits of your preference. However, I would still take the liberty of expressing my opinions in that regard.
There are Pirate Face Tattoo, two Solong, and two Dragonhawk coil kits in the article. If you are confident that you can and want to master coil tattoo guns, go for any of them. The Pirate Face Tattoo kit is the least inexpensive, but it has four tattoos and many practice items. The Solong complete starter tattoo kit is a champ with no drawbacks. You can have a look at that one too.
The rest are the rotary devices, one of which is wireless. All of them are perfect for beginners, especially for newbies with little to no experience. Among them, the Dragonhawk Atom and Mast are the most popular kits.
I have also reviewed one with both rotary and coil machines – the Hildbrandt professional tattoo kit. If you want to use both of them to understand which one suits you, buy it. It has a large number of practice items that most of the kits do not have. It is also budget-friendly.
Hopefully, the article was helpful for you. Thank you for keeping up with me. Happy purchasing and good luck with a great beginning!
We are sorry that this post was not useful for you!
Let us improve this post!
Tell us how we can improve this post?