9 Best Tattoo Inks For Beginners: [Reviews & Buyer's Guide]
Tattoo ink is an integral component of tattoos. (Duh! Who doesn't know it, right?) But we started with this because its importance is twofold, and both are equally and highly important. First, your tattoo's outcome, appearance, design – all of it majorly depends on the ink quality. Secondly, the well-being of your health is a concern here, too.
The wrong ink can not only ruin your permanent tattoo but also cause fatal skin issues and other health problems. So, here in the article, we tried to present the 9 best tattoo inks for beginners by a range of criteria.
Any beginner will find what they need in our reviews. The same applies to professionals. If you fall under any category, join us!
9 Best Tattoo Ink For Beginners: Reviewed
1. Intenze Tattoo Ink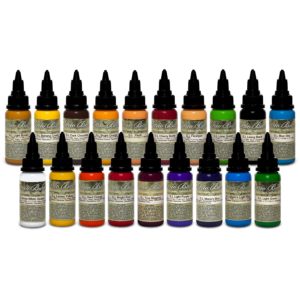 If you have already made a list of the best tattoo inks before reading this article, I am sure the list has Intenze Tattoo Ink. Intenze started the onset ins 1978 and has the best record of making the highest quality tattoo inks in the industry.
What makes Intenze an exceptional ink brand is its goal to provide organic products adhering to each industry standard. They even comply with the strictest ones.
The inks are entirely devoid of anything other than vegan products, matching both USA and EU safety requirements. Besides, they are pre-sterilized and come in sealed jars, so you get them perfectly safe and intact.
If it is your first ink purchase, and you want absolute assurance of standout quality and safety, trust in Intenze. These are the things that never go bad with Intenze.
Another reason you must check Intenze out is its wide array of products. There are at least 250 options for colors. In this package, you will get a collection of 19 different colors. They are as vibrant as it gets. Moreover, they will last longer than most typical inks.
But that is not all. Intenze tattoo inks are usable for every tattoo work, including color packing, shading, and lining, and that too for all skin types. Finally, the brand offers tips with helpful guidelines. That is something every beginner will find advantageous.
However, the price of the inks is relatively higher than that of other traditional inks. But once you use them, you will see that the pricing did justice to them.
Reasons to get
100% vegan and cruelty-free products
Dedicated to maintaining quality and safety standards
Workable for any tattoo purpose and any skin type
Lots of color options
Vibrant and lasting
Availability of guidelines
2. World Famous Primary Color Ink Set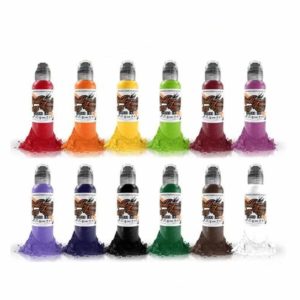 World Famous has literally become a world-famous tattoo ink brand due to its decent service in the industry. Customers love how trustworthy they are because they never fail to bewitch their customers with their quality products.
If you have budget constraints and think Intenze is not for you, World Famous will serve you right. The price is affordable, and the products are bright with high quality. You will not have to worry about the colors fading after some years because that will never happen.
This color set from World Famous has a dozen colors like napa valley, Everest orange, hoover dam, Vegas green, white house, galaxy purple, great wall yellow, Paul Rogers red, pitch black, rolls Royce purple, Northern lights green, and Nile River blue. The high-grade inks will give your tattoos a polished and impressive look.
The one-ounce bottles, with gamma-ray sterilization, have airtight seals to prevent air enter inside. Along with that, the production is wholly vegan without any toxic elements.
Anyone looking to buy safe, modest-priced, high-quality tattoo inks should put this brand on the top of their list. Their performance will be worth your consideration and trust.
Reasons to get
Vegan production and EU-approved
A dozen of various colors
Gamma-ray sterilized bottles with airtight seals
Budget-friendly and beginner-friendly
Overall satisfactory performance
Reasons to avoid
Some colors may take a while to heal properly.
3. Bloodline Tattoo Inks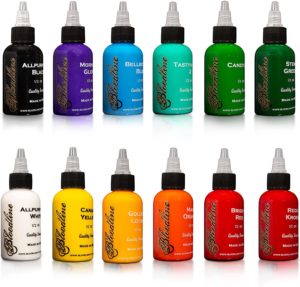 Bloodline, a USA-based tattoo ink company, started its journey in 1995. And since it has been successfully providing the premium and best tattoo inks all over the world.
The Bloodline colors are famous for their durability and longevity. They will never fade away. The brand tests the quality of each ink bottle before sending them to the market. So, packaging and quality should be the least of your concerns.
Professional tattooists recommend this Bloodline tattoo ink set for multiple reasons. First, the brand value and quality are remarkable. Second, comes the production. Bloodline uses water to make the inks instead of toxic carriers. That helps your tattoo recover fast. Third, the 12-color set has all-purpose black and white, stem green, redd kross, candy lime, bright red, bellbottom blue, canary yellow, marz orange, golden lotus, etc.
The brand continuously innovates to improve its inks, opacity, brightness, and color saturation. So, if there had to be one thing you could be 100% sure of, it is their relentless endeavors to provide you the best they can get.
Reasons to get
Lasting and durable colors
Improved packaging
No toxic elements
Fast recovery
Continuous innovation and improvement
Reasons to avoid
Inconsistency in the colors
4. Kuro Sumi Japanese Tattoo Color Inks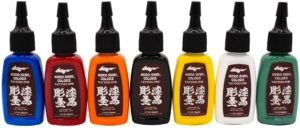 Ask a seasoned tattoo artist to recommend you the best tattoo inks for blackwork, and you will definitely hear the name of Kuro Sumi. The brand makes rich inks primarily produced in Japan for its traditional tattoo styles.
A defining nature of Japanese tattoo work is the colors' vibrant and deep presence that will instantly catch your eyes. With this collection of colors, you will get inks to embrace the aesthetic wholly.
There are seven colors in the Kuro Sumi set: red, green, blue, black, yellow, purple, and white. These colors will give you saturated grays, deep blacks, and the liveliest color schemes. You can use them for traditional Japanese styles or the regular trendy ones, in which case they will add a touch of uniqueness to the end result.
Moreover, the colors are vegan-friendly. They have no toxic substances. Their initial formulation was in Japan, but now the production is in the USA. So the brand maintains the safety measures sincerely.
Reasons to get
Safety maintenance ensured
Eye-popping, vivid colors with longevity
Aesthetically appealing
Value for money
Widely available in the USA
5. Radiant Colors Tattoo Ink Set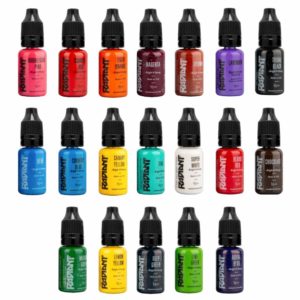 From their Los Angeles home base, Radiant Colors went big. That is because of their nationally and internationally famous premium tattoo ink colors.
Over the last decade, the company did so well in the industry that now it has got a reputation for being a premier supplier for sourcing top-notch tattoo inks.
A key reason behind its success is its partnership with professional and renowned artists. It helps the brand understand the ongoing trends and requirements to develop the best tattoo inks for professionals. Then comes the use of cutting-edge technology, which makes the products always sterilized, homogenous, free of irritants or pollutants, and secure.
Furthermore, the brand aids you in getting and retaining your customers because the inks are so accommodating that even people having sensitive skin will do just fine. Plus, the products are absolutely natural.
There are nineteen colors in the Radiant Colors tattoo ink set. Here are the names to let you know what you are in for: scarlet red, magenta, bubble gum pink, tiger orange, lavender, brown, blue, tribal black, teal, canary yellow, country blue, blood red, super white, medium green, chocolate brown, lime green, royal blue, deep green, and lemon yellow.
That's a LOT of colors! But do not let that scare you off. The price is surprisingly budget-friendly. Beginners and apprentices who have just begun their practice and want to do it like professionals will love the colors. And for professionals, they already know what colors can do to their work!
Reasons to get
NINETEEN DIFFERENT COLORS!
Professional-grade quality
Skin-friendly, organic
Free of pollutants
Suitable for all types of users
Very budget-friendly
Reasons to avoid
Some colors may dry out fast.
Additional Read: Radiant Tattoo Ink Review
6. Eternal Authentic Tattoo Ink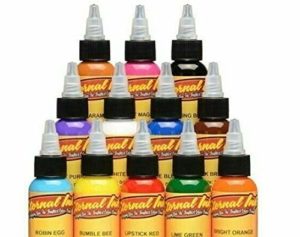 Eternal Ink is a leading tattoo company in the market. Whether you have just started or want to upgrade your colors, the brand has something for everyone. You will get a set of 12 colors while finding a set of 100 at the same time.
This set features 12 colors, each of half an ounce. The colors are white, lipstick red, lining black, bright orange, light purple, caramel, true blue, dark brown, lime green, robin egg, bumblebee, and light magenta.
The sterilized, pre-dispersed, and sealed inks have no glycol or toxic ingredients. Instead, they are organic and water-based.
They are safe for every type of skin. You can use them for most of your tattoo purposes. And as a bonus, you will not have to spend a fortune on the color set. It is available at an affordable price.
Reasons to get
Sealed, sterilized, and pre-dispersed
Water-based, no toxic elements
Skin- and budget-friendly
Availability of various colors
Usable for many purposes
7. Panthera Tattoo Ink (Light Sumy)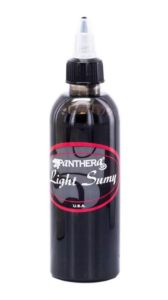 A lot of beginners start with learning outlines and shades. Besides, professionals also look for black inks only as they run out fast due to use. Hence, we listed the Panthera Black Ink. Since the beginning, the ink has been wowing users with its edgy and sharp lines and shades.
The ink comes directly from Italy in a tightly sealed bottle containing 150 mm of light sumy black ink. It is natural and non-toxic. You will love the consistency of the color. Besides, there is no risk of the ink drying out or fading away.
The beauty of the ink is it is not too dark. Panthera named it light because it wanted you to have options. Many brand inks turn out darker than they originally seemed to be. Panthera will solve this problem for you.
You will get the most accurate grey wash from the ink. Once you use it, there is no going back from Panthera. And about your budget? Let's just say the brand took care of that already.
Reasons to get
Not too dark
Amazing grey wash
Suitable for all users
Decent performance at a moderate price
Reasons to avoid
Durability could have been higher.
8. Millennium Mom's Tattoo Ink Set (7 Colors)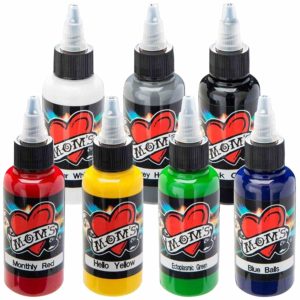 Contrary to how the name might sound to you, Millennium Mom's Inks are some of the most reputed and best tattoo inks at present. The brand has got fame for its fantastic color quality with unrivaled consistency in the 24 years of business.
For expert tattoo artists, ink consistency is a vital factor to consider while making a purchase decision. Consistent inks ensure that there will be no mismatches in the lines and shades. With Millennium Mom's inks, that is a given. You can safely expect that your designs will have normal vibrancy levels at each point.
The brand put immense emphasis on maintaining regular color flow rate, pigment durability, and regular flow rates. Thus, it got the recommendation from many artists for making reliable tattoo inks.
The seven colors in this MM set are power white, black onyx, hello yellow, grey hound, blue balls, and ectoplasmic green. The one-ounce, rich-toned colors will stand out when you apply them and stay that way even after a long time.
Before ending, we would like to remark on the pricing system of the brand. They already offered the colors at a very fair bargain. But even with that, they kept another option. If you want to pay less, you can get the same set where the bottles contain half an ounce of colors each. Now that is a deal nobody should miss out on.
Reasons to get
Remarkable color consistency
Made to stand out
Unique pricing system
Smooth, lasting, and rich tones
Suitable for different purposes and users
9. StarBrite Colors Sterilized Tattoo Ink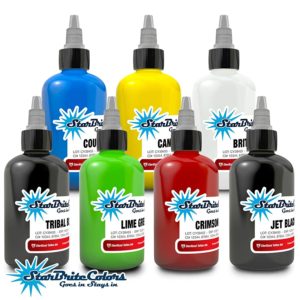 StarBrite offers its customers the best quality product within a budget. You will find numerous low-priced and attractive tattoo inks that turn out subpar in performance, not to mention the safety risk as an extra. In a market rife with so many options, StarBrite will give you some fresh air to breathe. And that is how we are going to end our reviews for today.
The brand operates its production in an ISO-certified cleanroom (Class A) to ensure the ink does not have any irritants or pollutants. It also uses gamma radiation for complete sterilization.
Each ink packs smooth textures with regular flows to ensure even distribution and healing. And that, as a matter of fact, makes the StarBrite colors easy to apply. So if you are a newcomer, you can try StarBrite without hesitating a bit.
Tribal black, lime green, jet black outliner, crimson red, canary yellow, brite white, country blue are the colors you will get in this StarBrite package. The brand will be a great head start for anyone looking to make a place in the industry.
Reasons to get
Smooth textures
Stable flow rate
Suitable for beginners
The best package within budget
Well-packaged and timely delivery
>>>StarBrite Tattoo Ink Review<<<
Buying The Best Tattoo Ink For Beginners: Things To Consider
Even with the best tattoo inks presented in front of you, you may end up buying the wrong one for yourself. Hence, we decided to talk about the factors you must look into before going ink shopping.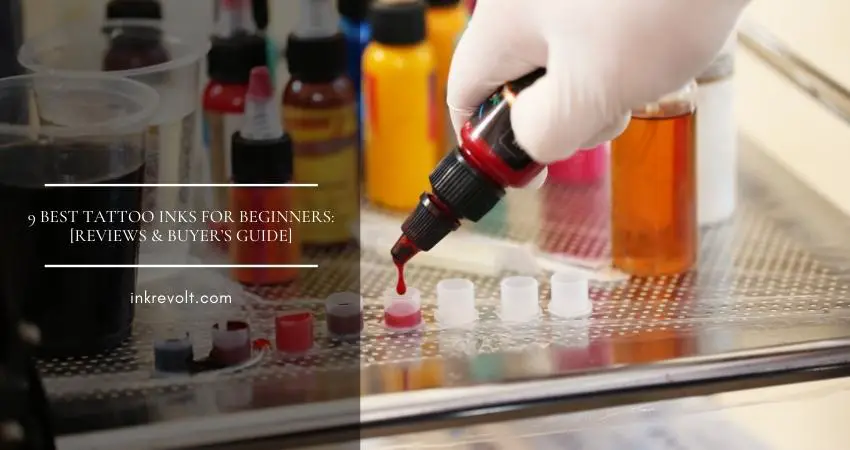 Let's have a look at them.
Standard VS Pre-Dispersed
If you are not an experienced tattooist, you should look for pre-dispersed inks. Then you will enjoy the best flow and consistency without risking over-dilution.
Usually, professionals prefer pre-dispersed inks to save mixing time. But if you have picky clients and time is not an issue, you can select standard inks.
We are not saying that standard inks are a bad choice. They offer many possibilities where you can select your desired carrier along with probable options like purified water or ethyl alcohol.
On the other hand, pre-dispersed inks are safer if it is about picking trustworthy color saturations. So, weigh the options and find the better one for your work purposes.
Vegan-Friendly Production
Although you might not think seriously about it first, you should definitely look for it during your purchase. Non-vegan tattoo inks have animal-sourced elements like hooves-derived glycerin, bone char, beetle-harvested shellacs, etc. Despite their effectiveness, the ingredients may not go well when you have vegan individuals standing hard against animal cruelties.
Thus, if you want to take part in the growing tattoo industry, you should incorporate vegan-friendly inks into the mixing.
Ink Reach
A tattoo device can puncture through the skin to introduce the ink into specific layers and positions. However, some inks can permeate through your dermal layer and reach the lymph nodes. Although your immune system will look after the accidental inclusions, it would be wise of you to use inks with natural and non-toxic components.
Other Factors With Brand Credibility
Additionally, you have to consider the brand popularity, ingredient list, ink color types, availability, and consistency. The best tattoo inks should abide by the necessary standards. Plus, you should also check if there is mercury or other dangerous heavy metals in the products. If the amount is negligible, you can buy the inks. Otherwise, look for other options.
Frequently Asked Questions
So we jotted down some of the most common questions asked by users and tried to answer them below, hoping you will benefit from them.
What is the best type of tattoo ink for beginners?
The best type of tattoo ink for beginners is usually a basic, reliable brand that offers consistent results. Some popular options include Intenze, Eternal, and Starbrite inks.
Are colored tattoo inks dangerous?
They are if they contain toxic ingredients. Many ink colors have nickel, cadmium, and chromium. Your skin might react to them, especially if it is sensitive. Therefore, if you have skin problems, do not get color-inked tattoos. At least check the ingredients and be sure before doing so.
Which tattoo inks are harder to fade?
Grey and black colors are usually the hardest to fade. They last longer than any other ink color. On the contrary, vibrant inks like light green, yellow, purple, and pink are the fastest to fade.
How do I make a tattoo ink thicker if it is too watery?
You can add a little glycerin mix to the tattoo ink and shake it. Then the color will thicken up without losing its quality.
Which ink color is the safest for skin?
Black is the safest ink color if you have a permanent tattoo. Manufacturers often source black carbon to produce this color, and it almost never causes any skin issues.
Why is it crucial to check if a color complies with regional safety standards?
It is crucial because it directly involves your health. Some ink colors have toxic ingredients that might even be cancer-causing substances. So when an ink color has your region's approval, it is an assurance that the colors are not harmful.
How deep do tattoo inks go?
On average, tattoo inks go as deep as 1.5 to 2 mm. If they do not penetrate the skin deep enough, they leave barely noticeable marks. Simultaneously, if they go too deep, the tattoo quality will suffer, and healing will be problematic.
How do I make the inks long-lasting?
You have to take care of your tattoo since the start if you want the inks to last longer. Unfortunately, colored tattoos will begin to fade from one point. But if you do not drink alcohol, protect your tattoo from direct sunlight, and use high-quality creams, the inks will sustain for longer.
What is the difference between traditional tattoo ink and organic tattoo ink?
Traditional tattoo ink is made of a combination of pigment, carrier solution, and preservatives, while organic tattoo ink is made of natural ingredients and is considered to be a safer option for those with sensitive skin.
What should I look for when choosing tattoo ink?
When choosing tattoo ink, it is important to consider factors such as the brand's reputation, the color and consistency of the ink, and the ingredients used. It is also important to make sure that the ink has been tested and approved by a reputable organization such as the FDA.
Can I mix different brands of tattoo ink to create new colors?
Mixing different brands of tattoo ink is not recommended, as it can affect the consistency and quality of the ink. It is best to stick to using a single brand of ink for best results.
Is it safe to use white tattoo ink for highlights and shading?
White tattoo ink can be used for highlights and shading, but it is important to make sure that the ink is of good quality and has been tested and approved by a reputable organization. It is also important to follow proper aftercare instructions to ensure that the tattoo heals properly.
How should I store my tattoo ink?
Tattoo ink should be stored in a cool, dry place, away from direct sunlight and heat. It is also important to make sure that the ink is stored in a sterile container and that the cap is tightly sealed after each use to prevent contamination.
Final Verdict
Our final verdict presents the summary of the reviews.
Based on all the criteria, the brand that won our hearts over is Intenze. Its inks have everything – durability, consistency, safety compliance, color options, guidelines, and natural ingredients. If we had to mark a downside, it would be the price. That may be a constraint for some users.
And that is where we bring in our next choice, Millenium Mom's tattoo inks. Their pricing system is so accommodating that every artist can afford the products.
But if you are more into exploring multiple colors, our suggestion would be Radiant Colors. It has nineteen colors. You can color up your art in every way and find your style in the process.
That is all about the best tattoo inks. Good luck with making tattoos!
We are sorry that this post was not useful for you!
Let us improve this post!
Tell us how we can improve this post?