Starbrite Tattoo Ink Review: Features And Benefits
One of the nicest things about getting a tattoo is that it feels so liberating sometimes. Many of us look forward to having tattoos for years before finally daring to get them. Professional tattoo artists understand this feeling and would do anything to ensure the customer's satisfaction.
That leads everyone to search for tattoo ink or ink sets that will come with safe ingredients, bright and bold colors, quick healing, and extended durability. As it turns out, the Starbrite tattoo inks have all these essential features and qualities.
But which tattoo ink or ink sets from this brand are worthy of your money? I urge you to read the entire Starbrite tattoo ink review if you want to find out.
Introducing Starbrite Tattoo Ink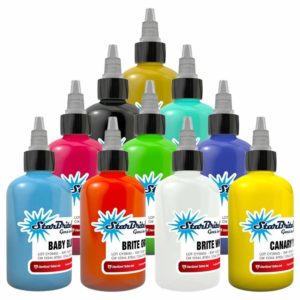 Product Features
Manufacturer: Starbrite Colors
Country Of Origin: USA
Users Type: Beginners to Professionals
Safety: 100% Safe & Vegan-Friendly
Before Starbrite was known around the country or became a brand, it was a homemade tattoo ink. In 1990, Tommy Sr. was a high-quality tattoo needle maker and seller. Then in 1992, Tommy Sr. discovered the pigment for Starbrite tattoo inks.
However, it wasn't until 2009 that Tommy Sr. and his son Tommy Jr. began testing the various ingredients for Starbrite tattoo inks. You should know that Starbrite is among the first tattoo ink manufacturing companies to get the inks gamma treatment to ensure maximum safety.
Now, the brand offers 180 color shades that provide excellent results. The inks from Starbrite are authentic and safe to use on any human skin without skin issues.
Who Is This Product For?
The thing about high-quality and famous brands is that they are not always beginner-friendly because their formula requires more expert hands to work on. So, who do you think are the suitable users for Starbrite inks? Depending on the type of inks the brand offers, here is the list of its suitable users.
Beginner tattoo artists
Intermediate tattoo artists
Professional tattoo artists
DIY tattoo artists
Practicing tattoo artists
Problems You Might Face
Does the Starbrite have any downsides? Yes, they do, just like every other product in the market. Here are the problems you are likely to experience with the Starbrite tattoo inks.
Comparatively Smaller Bottles
The ink bottles from Starbrite come in 1 oz and 0.5 oz bottles. These are pretty decent sizes compared to most other available robust tattoo inks. However, some users agree that the bottle sizes are smaller than expected for the money spent after these inks.
Packaging/Shipment Issues
While the Starbrite bottles are of decent quality, it is pretty much impossible to guarantee what the package will go through during shipments. There are a few complaints regarding receiving damaged ink bottles because of poor packaging and shipment.
Reasons to get
USA-made tattoo brand
Made with safe and environment-friendly ingredients
The inks go through gamma treatment to ensure users' safety
Certified by FDA and meets international safety standards
Smooth ink consistency
Does not fade quickly
Reasons to avoid
The price is comparatively high
Customers often receive damaged bottles due to shipment problem
Starbrite Tattoo Ink Review: Features And Benefits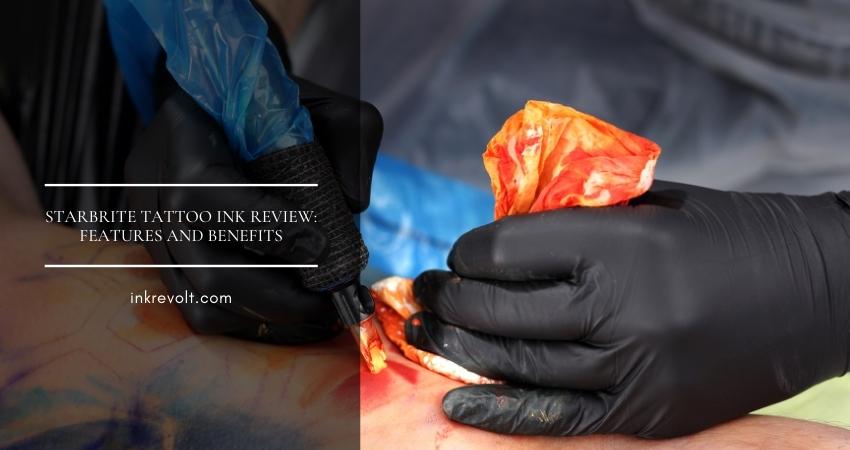 Starbrite is one of the globally known brands for tattoo inks. Since 1996 till now, the brand has introduced 180 shades for various tattoo artists. If you are not familiar with the brand or its inks, here are the features and benefits you need to know about before you purchase the inks.
Available Sizes And Colors
This Starbrite tattoo ink set comes in two available sizes: 0.5 oz and 1 oz. You can choose any size pack based on your requirement, but the price will naturally vary for different sizes.
And this 10-bottle pack comes with 10 different colors that will help you work on various types of tattoos. The colors you will get here are:
Zombie Puke
Tribal Black
Teal
Periwinkle
Baby Blue
Hot Pink
Brite Orange
Brite White
Canary Yellow
Lime Green
Consistency And Performance
When it comes to consistency, the Starbrite tattoo inks are somewhat thin. Professional tattoo artists can work with these inks pretty efficiently. The colors flow pretty smoothly and set on any skin easily.
However, it can be a little tricky to work on if you are a beginner. But if you look at the bright side, working with this ink as a beginner gives you something to test your skill on.
Skin Safety
Kudos to Starbrite for being the first brand in the tattoo industry to get the inks gamma tested to ensure users' safety. The manufacturer is known to maintain all the essential health and safety standards, and the inks are certified by FDA for meeting all its guidelines.
None of the inks contain any harmful ingredients that can cause skin issues. They are 100% vegan-friendly and did not go through any animal testing.
User-Friendliness
Starbrite tattoo inks are suitable for hobbyists, novice, and professional tattoo artists. So basically, it is made for all types of tattoo artists. Tribal tattoo artists can also work with these inks as they work excellently on tribal tattoo styles, especially the black ink.
Anti-Leak Bottles
The bottles you see are well-sealed so that there is no leaking issue. This feature is handy for storing the ink for 3 to 4 years without any problem. But there are unfortunate incidents of receiving damaged products. But the customers can always reach out for help if such things happen.
Durability
These inks settle in the skin very smoothly, and the color looks bright and beautiful once it heals. Starbrite ink colors are comparatively long-lasting. You can relax for years before you even need to think about getting the tattoos touched up.
Alternative Products
Don't worry if the Starbrite ink set does not meet your expectations. You can always find alternative inks to do the job. Here is my alternative recommendation if you need a different option.
Bloodline 12 Color Tattoo Ink Set
Bloodline claims to have the brightest and also fastest-healing tattoo ink on the market. That is not a lie because the users agree that inks from this brand offer some of the brightest colors and stunning outcomes.
Founded in 1995, the brand used to offer powders with a thick color pigment. But that was the old way of mixing tattoo ink colors. But since 2010, Bloodline has introduced UV inks and then dispersible ink.
Bloodline is a USA brand, and all the ink-making process is done at the company's location. The inks are cruelty-free and do not contain any toxic material or ingredients.
This recommended ink set comes with 12 vibrant primary colors. You can choose to purchase either 0.5 oz or 1 oz bottles depending on how often you use them. These are also USA-made tattoo inks and 100% authentic.
Wrapping Up
What I like about high-quality and professional-grade tattoo inks is that they are safe for the skin and last a long time. The tattoo inks from Starbrite will meet your expectations in such cases. Unless there is an issue with the shipment, you can stay stress-free regarding leakage and storage durability.
This Starbrite tattoo ink review was for the 10-color set mentioned above. But this can also help you understand other inks and ink sets from the brand. Make sure to read the product features and benefits before purchasing it. Nevertheless, I would say it is one of the best tattoo ink sets worth the money.
We are sorry that this post was not useful for you!
Let us improve this post!
Tell us how we can improve this post?