Radiant Tattoo Ink Review: [Updated 2022]
Going for high-priced tattoo inks does not always ensure reliable quality. So how about looking into budget-friendly tattoo inks that offer satisfying results like the expensive ones? There are plenty of excellent low-priced tattoo inks in the market. But only a very few come out with much positive customer feedback.
The Radiant tattoo inks are among the latter types. Like the brand's name, the colors are mind-blowingly vibrant, long-lasting, and easy to work with. Radiant ensures manufacturing sterilized and easy-to-apply tattoo inks so that the customers can work with them effortlessly.
What more does this brand offer? Well, why not take a look at this Radiant tattoo ink review and find out?
Introducing Radiant Tattoo Ink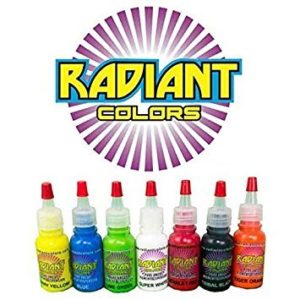 Product Features
Manufacturer: Radiant Colors
Country Of Origin: USA
Suitable User: Professional tattoo artists and beginners
Safety: 100% Organic and Vegan safe
Number Of Colors: 7
Weight Of Each Bottle: 0.5 oz
One thing that assures people of the tattoo ink's safety is its manufacturing country. And most users prefer the USA-made inks over others for their reliability and performance. The Radiant tattoo inks are among the best-selling brands and inks because of that.
These inks are made by Radiant Colors, which is a USA-made brand. The company has been manufacturing tattoo inks for over 10 years and is recognized globally.
Radiant Color has been supplying tattoo inks from Los Angeles, and they have customers around the world. You can get a single bottle or various sets of inks here.
Who Is This Product For?
This is an easy question to answer. But as some tattoo inks are not suitable for human skin, it is natural to wonder how you can use this color ink set. Well, to answer your question, here is the list of people who can use this Radiant Tattoo Ink set:
Professional tattoo artists
Mid-level tattoo artists
Beginner or novice tattoo artists
DIY tattoo artists
Tribal tattoo artists
Problems You Might Face
So, does this highly-praised tattoo ink have any flaws? I would not call them flaws, but like many other tattoo ink products, the Radiant Tattoo Ink set also has one or two downsides.
Not Great For Apprentice Tattoo Artists
Yes, I did mention a while ago that beginners can use these tattoo inks. However, I would say it is best if you avoid working with these inks until your skill gets better. The Radiant tattoo inks are more suitable for professionals as some of these colors require some extra effort to give them perfection.
Leakage Issue
This is an unexpected problem you might face but need to be aware of. Some customers received ink bottles with broken caps or some bottles have leaking issues. If you face any such problem, or receive damaged products, contact the seller immediately.
Reasons to get
The set contains 7 essential primary colors
Comes with enough color to last many uses
You will be able to mix multiple colors to create new ones
They are made with the professional-grade formula
The ingredients are organic and safe
Leaves a bold and vibrant finish
The price is budget-friendly
The ink flow is excellent, making them easy to apply
Inks bottles have balls inside to help you agitate the ink before use
Reasons to avoid
Some customers received ink bottles with damaged lids, making the ink leak
Not very suitable for beginner tattoo artists as some inks require more work
The green ink requires some touch-ups
As you can see, the Radiant tattoo inks come with more advantages than disadvantages. On top of that, it does not contain any harmful ingredients. This is what makes the ink set more user-friendly and reliable enough to use on people.
I urge you to check out the following features & benefits to know more about the Radiant tattoo ink set.
Radiant Tattoo Ink Review: Features And Benefits
All the inks from Radiant Color are versatile and professional-grade. This type of ink is made to be safe and lasts a long time. And the inks are made and supplied by an All-USA company, which says a lot about its quality.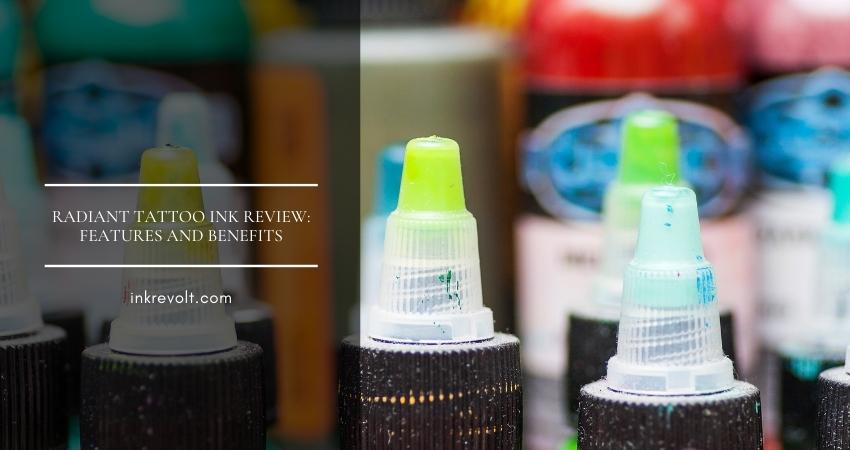 You can check out its features and benefits in the following parts:
Ingredients
The ingredients play a vital role in the safety of tattoo ink. It is essential to use toxic-free inks as they are inserted into human skin. As for Radiant tattoo inks, they contain 4 essential ink ingredients:
Water
Glycerin
Tattoo ink color
Isopropanol
These ingredients are not harmful to human skin. The colors are organic and vegan-free.
Color Variations
This ink set contains 7 primary ink colors. They are pretty easy to mix, making them more suitable to make new colors if needed. The colors that come in the package have some interesting names.
Super White
Tribal Black
Blue
Lime Green
Scarlet Red
Canary Yellow
Tiger Orange
Safety And Healing
All the inks by Radiant are sterilized, meaning they are safe and will not cause any skin reaction. As for healing, users found that the inks do not scar much and heal pretty quickly.
Recommended Users
This is the part where you need to think over before you purchase the ink set. The Radiant tattoo inks have a formula and consistency that cannot always be handled well by amateur tattoo artists. That is why it is recommended for professional tattoo artists rather than beginners.
Durability
An assuring feature of professional-level tattoo inks is that they are long-lasting and do not fade quickly. The colors are vibrant and do not require more layers to set well. However, some users found issues with the green color, which can be a little challenging to handle. That gives more reasons for the inks to be handled by professional tattoo artists.
Value/Affordability
This tattoo ink set is very affordable compared to many other brands in the market. Each bottle of ink weighs around 0.5 oz and lasts many uses. So I would say Radiant offers a money-worth tattoo ink set for its customers. On top of that, you can avail 7% to 15% discount if you purchase more than one set through Amazon.
Alternative Products
Not sure if this is the tattoo ink set you are looking for? No problem. Here are what users who used Radiant tattoo inks are also recommending:
Bloodline Tattoo Ink Set, 12 Colors
Bloodline is a famous brand for tattoo ink in the global market. The brand has been providing some of the best tattoo inks for more than 25 years. Made in California, USA, Bloodline is known for providing its users with some of the most vibrant color shades.
The Bloodline tattoo inks are serialized and well-sealed, making them safe to use. In this ink set, you will have 12 variable shades that any tattoo artist, including beginners, can use. The best part is that you do not have to dilute the ink for use.
As an Amazon Associate InkRevolt earns from qualifying purchases.
World Famous Primary Color Ink Set, 12 Colors
The tattoo inks from World Famous are famous for many reasons. The inks are manufactured in New York, USA, and are known for their mesmerizing results. And before you fall in love with the ink quality, you are bound to love the beautiful bottles they come in.
This color ink set has 12 primary colors that are serialized with gamma radiation to ensure safety. The crystal-flex bottles have twist caps that ensure zero leakage. All the inks are EU-approved and 100% vegan-free.
As an Amazon Associate InkRevolt earns from qualifying purchases.
Wrapping Up
So that was all for the Radiant tattoo ink review. I am glad that I came across this fantastic ink set because they do live up to most users' expectations. Radiant is one of the famous names when it comes to the tattoo industry. So you can expect nothing but perfection from this brand.
But let me say once more that these colors are more suitable for professional use. However, if you are a beginner who would like to explore something that comes with a challenge, go for it.
We are sorry that this post was not useful for you!
Let us improve this post!
Tell us how we can improve this post?