Bloodline Tattoo Ink Review: Long Lasting Bold Ink
Black tattoos never go out of style. From the beginning, black has been the most widely used tattoo color. And in modern days, from outline to filling in, this tattoo color has been famous among tattoo lovers around the world.
But confusion arises when you see many options and cannot decide which one to choose. That is understandable because there are many famous black tattoo inks available. While I can give you plenty of brand names, let's stick to one particular brand that captured the attention of many tattoo artists.
Bloodline is one of the most trusted names in the tattoo industry. The brand offers some bright and stunning pigment shades. But in this Bloodline tattoo ink review, I will discuss the black ink from Bloodline to help you get a better idea about the ink.
Introducing Bloodline Tattoo Ink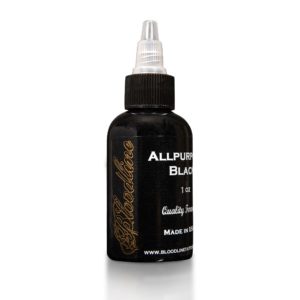 Product Features
Manufacturer: Skin Candy Tattoo Ink
Country Of Origin: USA
Color: Black
Safety: Cruelty and Toxic-Free
Bloodline has been in the tattoo industry for almost three decades now. Mark August Worchell founded the brand as the Skin Candy Tattoo Ink in 1995. Though it started as a company of primary ink colors, it introduced UV and dispersed inks for the users over the years.
The brand is now known as Bloodline Tattoo Inks and is popular among professional and DIY tattoo artists. This tattoo ink brand even supplies color pigments to other well-known brands, which further proves the brand's reputation and authenticity.
Bloodline provides the brightest and thickest color pigments. And its all-purpose black ink is highly effective for shading and outlining. We can all admire the brand because Bloodline hosts Food For Life, a charitable event in the Philippines, to help provide meals for the unprivileged people in Manila.
Who Is This Product For?
Everyone wants to use inks from famous tattoo ink brands. But are they all suitable for all tattoo artists? Let's look at the following list to know who this product is for.
DIY tattoo enthusiasts
Professional tattoo artists
Mid-level tattoo artists
Stick and poke tattoo artists
Tribal tattoo artists
Problems You Might Face
While this brand's black and other inks do what they offer, there are still one or two shortcomings. So if you plan to purchase and use the Bloodline ink, it is best to know the possible problems you can come across.
Consistency Confusion
The consistency of the ink often confuses its users. Some say it is comparatively thin, while others say it is too thick to work without diluting. It varies from user to user, making it difficult to say who would end up liking it more. However, if you do not want ink that requires dilution, it is best to avoid purchasing this tattoo ink.
Higher Price For Tight Budget Customers
Most of the inks from Bloodlines are in mid to high price ranges. But if you think about their quality and performance, it is a price many users are willing to pay. Unless you are on a tight budget, this tattoo ink can be an excellent option for you.
Reasons to get
Suitable for any skin type
Maintains safety standards and does not cause any skin irritation
More suitable for professional and mid-level tattoo artists
Made by an authentic and reliable company
Made with cruelty-free, organic ingredients
Excellent color pigment
Suitable for stick and poke
Stays on skin for years
Reasons to avoid
The price is comparatively high
Not very suitable for novice tattoo artists
Bloodline Tattoo Ink Review: Features And Benefits
Bloodline is one of the veteran tattoo ink companies in the USA. The company has always been known for its quality product and customers' positive feedback. And black ink is quite popular among uses as it is a perfect choice for shading and lining.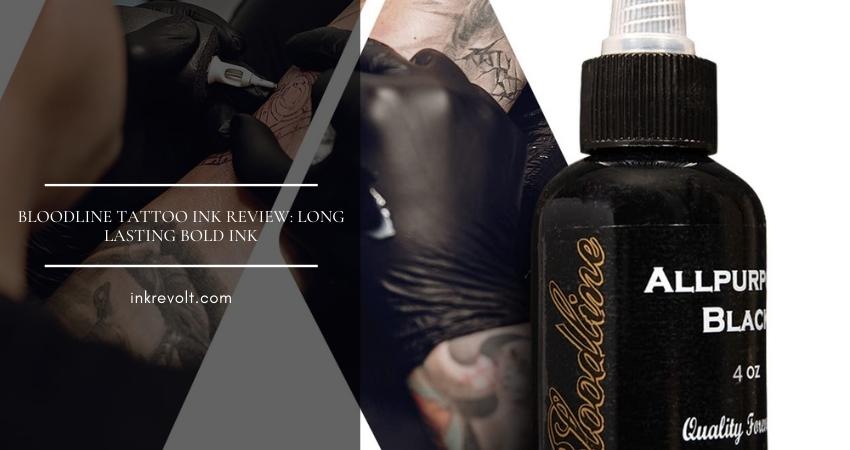 Let's learn more features and benefits of this tattoo ink through the following review.
Available Sizes
The perk of choosing the black tattoo ink from Bloodline is that you can choose from its two available sizes depending on how often you use the ink. The smaller bottle contains 2oz ink, while the larger one comes with 4oz ink. But remember that purchasing the larger size will naturally cost more money.
Ingredients
Bloodline claims to use safe and vegan ingredients to manufacture its tattoo inks. So why not look at their ingredients list to clear things up? The ingredient this ink consists of are:
Distilled water
Vegetable dyes
Organic pigmentation
Witch hazel
Benzenesulfonamide
Propylene glycol
All these ingredients are safe for human skin and do not cause any allergic reaction. So when it comes to safety, Bloodline does not compromise for the sake of its users.
Reliability
Safe ingredients mean the users can rely on the ink for getting tattoos on body parts. Bloodline is a USA-made ink, making it authentic and reliable enough. Besides, no animal testing was involved to ensure the product remains cruelty-free.
Professional Use
Professional tattoo artists find this ink efficient to work with. They have years of experience and can make the most challenging one look easy. So if you are only starting or practicing, maybe it is best not to go for Bloodline black tattoo ink.
DIY Stick And Poke
If you are into the stick and poke tattoo arts, this ink is the right choice for you. For many years, stick and poke tattoo art has been quite popular among teenagers and youngsters. However, not all inks can ensure the right color shade and thickness for it. Fortunately, the Bloodline black ink tattoo had received users' satisfaction in this regard.
Charitable Purpose
Bloodline hosts a charitable event called Food For Life in the Philippines. The people involved in the event go to the unprivileged areas in the country's city Manila and distribute food. So purchasing from a brand like that can easily make you feel like a part of that charitable purpose.
Alternative Products
If you are not willing to go for something expensive, you can always choose something good at a budget-friendly price. And what can be a better alternative than Mom's tattoo ink?
Mom's Black Onyx Tattoo Ink
Mom's Millennium or Millennium Mom's tattoo ink has been a part of the tattoo industry for a long time already. From color pigmentation to reliability, this brand has been offering some of the best tattoo inks at an affordable price range.
The brand has been manufacturing tattoo ink for over 2 decades, and the inks are USA-made. So they are reliable to use and safe for the skin as the ingredients are not toxic. This black in ensures an excellent pigmentation and lasts a long time.
The color might look a little lighter when applied but will turn into a darker shade after it heals. However, the customers often complain about poor packaging issues, which causes the bottles to leak and spill ink.
Wrapping Up
One can learn from this Bloodline tattoo ink review that it is one of those inks that you do not purchase or use just once. If you are a professional artist or work on tattoos regularly, you are bound to like this ink and use it again. And why wouldn't anyone?
The Bloodline black ink tattoo is 100% toxic-free and organic, ensuring the users' safety. The consistency might be an issue with some, but if you are well-experienced with tattoos, you will know how to handle the ink without hassle.
We are sorry that this post was not useful for you!
Let us improve this post!
Tell us how we can improve this post?