10 Best Black Tattoo Inks In The Market: Reviews & Buyer's Guide
If you are searching for the best black tattoo ink, I am happy to announce that you can stop searching now. A tattoo is an expressive and elegant art form, and if you have a thing for body arts, you must know that tattoos require high-quality tattoo ink.
Inserting tattoo ink in the skin is tricky, and applying any ink may lead to skin and health problems. Any user wants the best ink, which makes it overwhelming since the market has lots of brands claiming to offer the best. The confusion becomes more intense in the case of black ink as it is the most demanded color.
So, intending to clear your confusion, I found and wrote the best black tattoo ink reviews here, which will last longer to give your tattoos deep pigments.
Without further ado, let's get started with the reviews!
10 Best Black Tattoo Inks Reviews
1. Dynamic Black Tattoo Ink – Best Black Tattoo Ink For Lining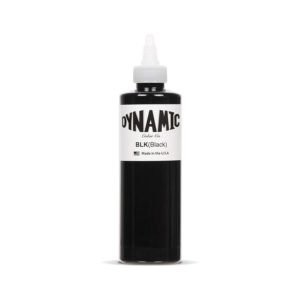 Being enriched with a glorious history that started in the 90s and earning appreciation for being particularly suitable for making durable tribal tattoos, the Dynamic brand has made it all through. Its signature black pigments go into your skin smoothly and maintain the darkness and boldness after ideal healing.
Featuring a 6 x 6 x 6 dimension with a weight of 8 ounces, this Black Ink from Dynamic will bring a lot to your table. Any tattoo artist intending to make tattoos with concise lines and perfect shades to last long has to consider it.
Besides, many tattoo artists have reported that they were satisfied with the ink quality and performance. The authenticity of the color durability is all they needed. If I am not wrong, that is also what you are looking for here.
The color is hypoallergenic, and its ingredients are vegan-friendly. What you will discover, to your surprise, is that the ink goes in and heals dark without causing allergic reactions. If you wonder about the consistency, know that it is not too watered up or too watered down.
Reasons to get
Hypoallergenic, vegan-friendly
Sharp lines and shades
High quantity, durability, color retention
Contribution to ideal tattoo healing
Beginner-friendly and budget-friendly
Reasons to avoid
The sealing of the bottle needs improvement.
Read Next: Dynamic Black Tattoo Ink Review
2. Kuro Sumi Japanese Black Ink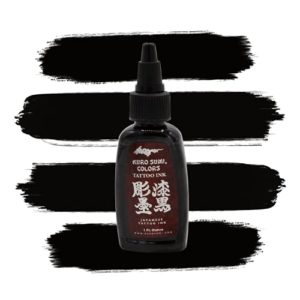 The first thing to pop up in my head when seeing the Kuro Sumi Japanese Black Ink is the taste of life it will add to a tattoo. But that was obvious. I mean, isn't this Japanese brand all about that?
Otherwise, newbies and pros would not be crazy about it. It is the best black tattoo ink of Kuro Sumi, which makes your tattoo creativity and style unique.
This ink suits every skin tone and does not cause any irritation. Kuro Sumi incorporates its traditional tattoo styles in ink with carefully picked vegan ingredients, having no place for harmful chemicals or animal-sourced materials.
You can create lines and shades with it. The color will not fade after healing. Instead, the ink will become even darker.
Kuro Sumi proudly claims to provide inks to stand out. And anyone who has tried them will not dare say otherwise. For those who have not, I ask you to call the shot. The unmatched brightness and consistency will prove the claim in no time.
On another note, if you make stick and poke designs, the ink will come in handy there too!
The quantity of the ink is one ounce. The price may seem a little higher for that. But believe me, the ink performance will make you want to have paid some bucks more for it!
The ink quantity is a single ounce, while the price can seem higher to some. But the performance will all have been worth it.
Reasons to get
A touch of Japanese history and background in each tattoo design
Brightness and color consistency
Suitable for every user and every skin tone
Usable for stick and pokes
Catchy and darker outcome
Reasons to avoid
The packaging should be more secure.
3. Intenze Professional Zuper Black Tattoo Ink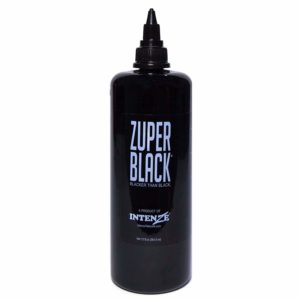 If traditional and tribal tattoo designs intrigue you, you must need the best black tattoo ink to do your tattoos enough justice. Intenze can lend you a big hand in that regard.
Used by professional tattoo artists like London Reese and Moni Marino, the Zuper Black Ink created a buzz the moment Intenze launched it in the market. The reasons are, first, the color tone is really gorgeous.
Secondly, the brand does not use any mutagenic toxins to manufacture ink. Finally, the color will suit every skin type – dark, light, rough, or sensitive – without side effects.
As per the name, the performance is also 'zuper,' which you will see in its dark and quick healing, exquisite lines, and shades. The ink bottle is tamper-proof to store the ink for longer. The formulation was also pretty thoughtful, preventing the ink from drying out soon.
If you think of bringing in the 'never out of style' tattoo designs in your shop, purchasing the Zuper black ink will be a timely decision for you.
Reasons to get
Enhanced color tone
Tamper-proof ink jar
Formulated in a way to prevent drying out
Suitable for every skin type
Available in two sizes: one ounce and twelve ounces
Intenze Zuper Black Tattoo Ink Review
4. Millennium Mom's Black Pearl Tattoo Ink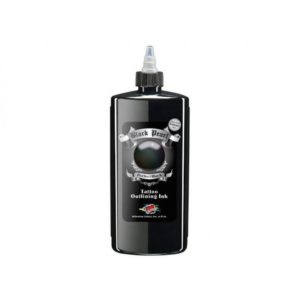 Black Pearl is one of the latest and most innovated inks from Millennium Mom's brand. Tattooists have fallen in love with the ink's tattoo outline and shades. The grey and black outcomes are exceptionally remarkable. You can differentiate them from other inks' work.
The ink has a thin consistency, which may not convince you of its promising performance. But MM managed to make the uniformity bold enough using pigments with high concentration. That will ensure faster absorption of ink.
The homogenized pigments will aid your tattoos in remaining bright. The color will stay as intact as new for years to come, regardless of how many times you apply it. Once you discover its performance consistency, there is no going back.
Sometimes uneven consistency causes jamming at the needlepoint, affecting the tattoo design. But if you use the black pearl, every bit will shine like pearls with their smooth and fast flow rate. Besides, the jar making is durable. It will not lower the MM ink quality.
Reasons to get
Performance consistency
Thin but bold consistency
Reasonable price range
Best for black and grey wash
Reasons to avoid
Delivery service is not that satisfactory.
5. Stigma Black Tattoo Ink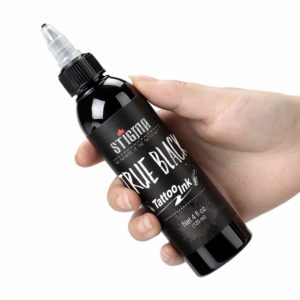 You get the Stigma black tattoo ink from the Solong producers. It has a bold and pure pigment with a formula of high concentration. It will not retire you to repeat your lines as the outcome is already the perfect shade of black.
Both the manufacturing process and the ingredients are renowned and certified. You can do lines and colors with the ink, and the result will leave you impressed. Relating to safety, the company irradiates and sterilizes the pigments using gamma-ray.
The color stability of the black ink is surprising. Well, not really. I mean, after all, thousands of artists tested the product and recommended it for its purity, imported materials, testing reports, efficient delivery, CE certificates, and convenience to apply.
But if you want to see it for yourself, visit the link below to place an order. A delightful inking experience awaits you. Thank yourself (and me) when you get to it.
Reasons to get
Not the best black tattoo ink for very dark black-only huge tattoo designs.
Imported materials, timely delivery
Concentrated formula with bold pigments
Great customer service
No fading problems
Usable for lines and colors
Reasons to avoid
Not the best black tattoo ink for very dark black-only huge tattoo designs.
6. Bloodline All Purpose Professional Tattoo Ink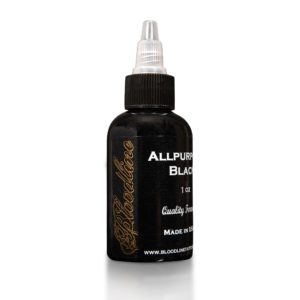 Are you not the one desperately searching for the best black tattoo ink that will NOT turn greenish after some years and cause no skin irritation for making tattoos with lines, shades, and colors?
If you have passed on the first five reviews in despair, here is your light of hope. You have just got the thing you need. Containing a thick and bold texture and weighing an ounce, the inks are suitable for multiple purposes, from outlining tattoos to designing tribal tattoos.
What buttresses the characteristics further is how the ink rests finely on the skin without leaking out or causing any reaction. I have also found it worth appreciating that the color tone is deep black, which gives you the option to use it for any purpose – all you have to do is dilute the ink.
Wouldn't you love that? PLUS, you can do stick and pokes with it too!
The brand claims to have approval from 10,000 tattoo artists. Why do you think those people vouched for the product? Because Bloodline carries out EVERY STEP of the production in its 400F clean space. Apart from the overall performance quality, the guaranteed safety gets their attention.
Reasons to get
An adjustable shade to support various purposes
Strictly maintained safety
Usable for stick and pokes
Thick texture
No chance of turning greenish
>>>Bloodline Black Tattoo Ink Review<<<
7. StarBrite Tribal Black Tattoo Ink
StarBrite is the best tattoo ink brand for newbies who want decently priced products with guaranteed, professional quality. When you get confused with a bunch of the same quality and same priced inks, choose StarBrite. It will show you it is not another brick in the world.
How is that? By operating the entire production in ISO-certified class A cleanrooms, StarBrite prevents its inks from contacting any toxic or pollutant ingredients. Then it applies gamma radiation to sterilize the products completely.
The black tattoo ink has a beautifully smooth texture flowing regularly, distributing evenly, and healing ideally. No users have to struggle with working the ink, even if they are rookies. The ink is the easiest to use.
Each ingredient of the ink is vegan-friendly. You will learn in the coming section that you must check your ink does not have certain components like nickel and iron. The tribal black tattoo ink from StarBrite comes fully free of those. It will also be sterile, so you can use it instantly.
Reasons to get
Smooth ink texture, even distribution, and perfect healing
Stability in the ink flow rate
Suitability for every user
Budget-friendly, professional quality
100% sterilized and ready to use
8. Allegory Premium Blak Tattoo Ink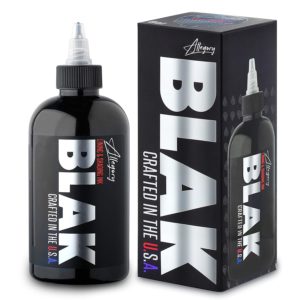 Allegory has become one of the fastest-growing tattoo brands by launching inks with a different texture and a balanced consistency.
The Allegory blak tattoo ink has nothing harmful like lead or nickel. It is vegan, irritation-free, and organic. The ink quantity is 8 ounces, and the round jar, made of high-quality and BPA-free materials, comes with a twist-dispensing top and an anti-tamper seal.
The brand gave its ink a shiny and silky texture, making it perfect for multi-purposes, designs, and techniques. Besides, you will see an agitator made of glass marble. It is there to keep the ink characteristics as fresh as new.
As the substances are entirely natural, the ink is not runny at all. Instead, the pigments are highly dispersed. The ink color is also hypoallergenic, being the best black tattoo ink for any skin type.
Notwithstanding that, you may find fake products in some shops. Me mindful of that while visiting a shop.
Reasons to get
Hypoallergenic and vegan
Beautiful shades and outlines
Tightly sealed and securely packaged
An agitator to prevent the ink from going bad
High quantity
Reasons to avoid
Since the quantity is high, the price is high too.
9. Millennium Mom's Black Onyx Tattoo Ink

You have learned about Black Pearl. Now get introduced to another MM gem: the Black Onyx, which is pretty much the same as the Black Pearl. So, I will only point out the differences without lengthening the review.
Remember the other review said that the Black Pearl had a thin consistency? While that thin consistency will break a leg with your tattoos, some of you might still prefer it if it was better and more solid.
MM kept that in mind and came up with the Black Onyx, giving it 100% perfect consistency. The balance between the texture and the used carrier will make you fall for it.
The quality of the MM ink needs no telling. What I will only say is that it will add value to your tattoo designs, your client's experience, and your occupation as a whole. Popular tattoo artists like Murphy and Marcus have used and admired MM for its Black Onyx. I am pretty sure you will soon join them once you make your shot.
Reasons to get
Highly pigment, not much ink is needed to make tattoos.
High durability, high color retention
Perfect consistency
A bottle with a safety lock
Vegan-friendly and toxicant-free
Reasons to avoid
It tends to dry out fast.
10. Viking Ink Black Dynamite Tattoo Ink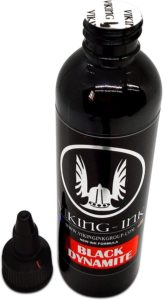 Here is the last review of the discussion. The Black Dynamite, the star of the Viking stables, offers ultra-smooth pigments to create solid fillers and realistic tattoos.
The ink penetrates the skin with ease and performs excellently at different requirements with its lightweight texture. The ink bottle features a safety lock to prevent leakage, and there is a sterility seal to ensure the ink's validity.
According to satisfied users, the ink gives no blowouts, no splatters, no drips, and clogs. The ink holds it really well when used. Also, it will retain for years after application.
The quantity of the ink is 4 ounces, compared to which the cost is pretty reasonable.
Reasons to get
Lightweight texture, easy penetration
Capable of fulfilling multiple requirements
Applicable for stick and pokes
A safety lock with a seal of sterility
No blowouts, clogs, or other skin issues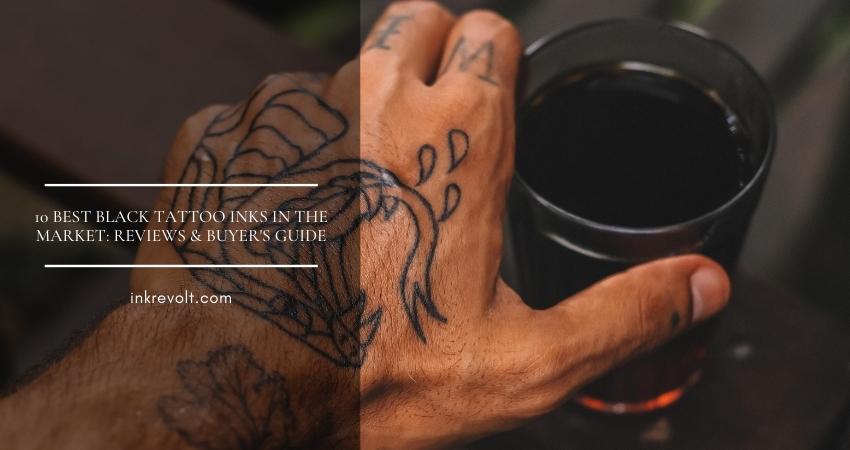 How To Buy The Best Black Tattoo Ink?
The buying guide will shed light on the best black tattoo ink features so you can match them with those of your chosen inks. Let's take a glance at them:
Ingredients
One piece of information I did not leave out in any review above is the ingredients of inks. You must have noticed that they are all vegan-friendly. If that is common, what is there about mentioning it?
Because you will find inks made of animal-based ingredients or harmful chemicals or substances like nickel and lead. They can be severely fatal for your skin and health.
If I am point-blank about it, the best black tattoo ink must have only natural ingredients and be free from pollutants, toxic materials, or artificial chemicals. It should also be suitable for every skin type.
Purpose Of Your Work
Beginning tattoo artists may not find the differences among black inks. But it is necessary because you cannot use them for every work purpose.
Some are peak performers for tribal tattoo designs. Others are more suited for black and grey wash. If you do not know which is for what, you will get the wrong product and blame the ink.
So, first, sit and fix your work purpose. Then go for tattoo ink accordingly.
Ink Consistency
Ink consistency involves the ink smoothness, the flow rate, and the evenness of distribution. If they are not balanced enough, or your ink is too thick or watery, your tattoo will not come out right. No matter how much effort you put into your work, something will go wrong because of the inconsistency.
You cannot know if the consistency balance is alright before using the ink. But you can research it before buying. That way, your possibility of getting a dull product will get slimmer.
Color Vividness
You could call this one a subset of the third factor I explained. While it is an established criterion that the blackness of the black ink has to be high, you cannot forget about the requirements of your art piece.
There are black pearl, pitch black, zuper black, and others, all of which guarantee you the appropriate darkness level of the ink. But the thing is, your design may not require the blackest black.
Maybe it needs something a notch down. In that case, you will not get your desired output. Again, stress on your tattoo design. Think of the black you need to pull off the best result before picking some ink without caring much.
Brand Reliability And Others
I have talked about the most well-established brands in the review section. You do not have to doubt their reliability. But it is still a matter of concern because sellers with poor intentions are mushrooming with the craze of tattoos.
So they launch replica products at lower prices and fool inexperienced tattoos with cheap quality inks. That is why it is essential to purchase from authorized tattoo shops.
Apart from these areas, think about quality and price too. Although they have a positive relation, it is not always true. You can always get the best black tattoo ink at an affordable rate from a leading brand. But again, premium quality asks for a premium price. As long as you can balance the equation, you can be sure of getting what you want.
See also: Best white tattoo inks
Frequently Asked Questions
What is the best black tattoo ink brand?
There are several popular brands that are highly regarded for their black tattoo ink, including Intenze, Eternal Ink, Starbrite, Kuro Sumi, and Dynamic Ink. Each brand has its own unique formula and quality, so it is best to choose one that aligns with your specific needs and preferences.
What is the difference between black and shading black tattoo ink?
Black tattoo ink is used to create solid black lines, while shading black is used to create shading and depth in a tattoo. Shading black has a softer, more muted appearance than traditional black ink, which makes it ideal for creating smooth gradients and shadows.
What is the best black tattoo ink for lining?
Intenze, Eternal Ink, and Starbrite are all popular choices for lining because of their high pigment concentration and smooth consistency.
What is the best black tattoo ink for shading?
Dynamic Ink, Intenze, and Eternal Ink are all popular choices for shading because of their smooth, rich consistency and ability to create smooth gradients.
Is it safe to use black tattoo ink?
When used properly and in accordance with industry standards, black tattoo ink is considered safe. However, it is important to choose a reputable brand and ensure that the ink is properly stored and handled to minimize the risk of contamination or infection.
Can black tattoo ink fade over time?
All tattoo ink can fade over time, especially if it is exposed to sun and other elements that can cause fading. However, black tattoo ink is less likely to fade compared to other colors because of its high pigment concentration. To minimize fading, it is important to care for your tattoo properly and avoid exposing it to harsh elements.
Which tattoo inks are more long-lasting?
Black and gray are more long-lasting than any other tattoo inks. You can make bold and dense shades with them, which have less proneness to fading. Pastel and vibrant colors like light green, red, purple, yellow, and pink generally fade faster.
What if one develops an allergy or rash after using tattoo ink?
That would mean they used unsterilized and contaminated tattoo equipment. It might also mean that the ink quality is not up to the mark. In any case like that, talk to your dermatologist ASAP.
Do I need to purchase different inks for various uses?
Yes. Not every tattoo ink can serve every purpose. You will need different ones based on your tattoo styles and techniques.
Will my black tattoos stay black forever?
No. After a certain period, the color will change. That is because the ink has various pigments, which your body removes at different times. Blue and green pigments are the last ones to get absorbed. So, when the ink starts fading away, fewer pigments will show. That is why old tattoos often turn green.
Can black tattoo ink be mixed with other colors?
Yes, black tattoo ink can be mixed with other colors to create custom shades and depths. However, it is important to choose a reputable brand and follow proper mixing guidelines to ensure that the ink is safe and effective.
How long does black tattoo ink last?
The longevity of black tattoo ink depends on several factors, including the quality of the ink, the skill of the artist, and the individual's skin type. In general, black tattoo ink is known for its long-lasting, rich color and can last for many years if properly cared for.
Is there a difference between organic and synthetic black tattoo ink?
Organic tattoo ink is made from natural ingredients, while synthetic tattoo ink is made from chemical compounds. Both types of ink have their own pros and cons, so it's important to choose one that aligns with your personal preferences and tattoo goals.
How do I store and care for my black tattoo ink?
To keep your black tattoo ink in the best condition, it's important to store it in a cool, dry place and to keep it away from direct sunlight. You should also follow the manufacturer's recommendations for care and maintenance, and use a sterile needle and autoclave when using the ink for a tattoo.
Can black tattoo ink be used for cover-ups?
Yes, black tattoo ink can be used for cover-ups, as it is a versatile color that can be used to conceal or modify existing tattoos. When using black tattoo ink for a cover-up, it is important to choose a high-quality ink with a high pigment concentration to ensure that the new tattoo will be opaque enough to effectively cover the old one. Additionally, it's important to choose an experienced tattoo artist who has a good understanding of color theory and cover-up techniques.
Final Verdict
Now, which is going to be your best black tattoo ink? While you brainstorm regarding that, I will talk about what I think.
I reviewed 10 inks. But if you catch me off guard and ask me to name the best black tattoo ink, I will probably spit out the Black Pearl from MM. It is the smoothest ink for grey and black wash. Moreover, the price will not empty your purse.
If you specialize in tribal tattoos, both Intenze and StarBrite will get you hooked. They have the darkest and safest black inks. Well-known artists have been using them for a while, and the brands never disappointed them. So, you can count on them, too.
But what if you want to create edgy lines and catchy tribal tattoos with the same ink? Then you get yourself the Bloodline tattoo ink. The customizability of the ink allows it to perform as an all-rounder.
At last, Kuro Sumi Japanese black ink is my personal favorite. Apart from the packaging, everything is perfect about it. You will have healthy healing because of the ink. The packaging is not poor. I mean, it is not like you will get leaked inks. However, it has room for improvement.
However, if you want to look for more inks, be my guest. But when you get engulfed by a wave of options, do not forget about quality and safety.
This is where I end for today. Thanks a lot for reading.
We are sorry that this post was not useful for you!
Let us improve this post!
Tell us how we can improve this post?