9 Best White Tattoo Inks: [Review & Buyer's Guide]
Most tattooists use black ink to make their tattoos, but it is not always that effective for highlights and details. That is where you have to look for the alternative – white ink. If you cannot use white ink, you cannot give your tattoos a well-shaded, detailed, highlighted, and realistic appearance.
So, while black ink runs the reign of tattoos, they cannot just rule white ink out. You might often need them to work on your tattoos. The reviews in the article will emphasize each best white tattoo ink, raising the craze in the market.
Without prolonging it, I will start the reviews below. Happy reading!
Top 9 Best White Tattoo Inks Reviews
1. World Famous Portrait White Tattoo Ink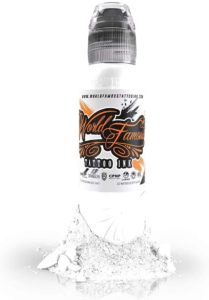 Famous tattoo artists have lovingly welcomed the Portrait White from World Famous for its beautiful and bold ink delivery. The high-quality ink has nothing but natural and vegan-friendly ingredients to standardize with EU quality.
The ink is pure and extra safe because the brand purifies and seals it in crystal-flex bottles with scan codes for authentication. That minimizes the probability of ending up with fake or low-quality replica products.
World Famous has vast ink collections, but the white one is unique. It is efficient with details and can handle everything you throw at it. When black does not do it anymore, the portrait white will be your savior.
Users always think of brand credibility as a wise thing to do. So, when you lay your eyes on World Famous, know for sure that it will have your back.
Reasons to get
Vegan ingredients
Suitable for professionals
Detail-oriented and unique output
Reliable performance
Reasons to avoid
It could have been more consistent.
2. Dynamic Color Heavy White Tattoo Ink

The Heavy White from Dynamic Color is the best white tattoo ink for overlapping your black inks. Its high saturation gives it the thickest texture, creating vibrant and rich white tattoos. However, if needed, you can utilize the option of overdiluting it by using less saturation and more liquid.
Since the consistency is thick, it has a creamy texture – just the perfect thing to do with the white highlights. You can apply it to both old and new school tattoo styles. The color richness and density let you make flawless tattoos that will stay longer while keeping the quality unaffected.
Both beginners and skilled users can use the Dynamic White Tattoo Ink. The all-purpose and cruelty-free white ink is a USA-made product, coming in frosted bottles with an expiration date and a lot number. You can see the printed seal with the company name after opening the jar.
There are different sizes available, varying with the price range. However, all of them are safe for your budget ceiling, that's for sure.
Reasons to get
Long-lasting and no smudges
Different sizes and reasonable price
No skin reactions
High density and sharp lines
Reasons to avoid
Hard to wash away from your body.
3. StarBrite White Tattoo Ink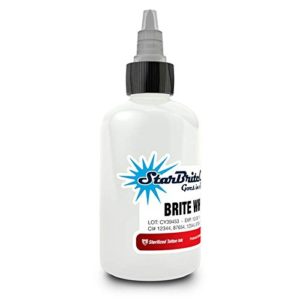 Produced by Tommy's Supply, the StarBrite ink offers you the purest, brightest, and best white tattoo ink in the current market. It boasts optimal consistency and high pigmentation and sends you the ink in protected and sterile jars.
The thickness of the white ink is moderate. So it is easy to apply for all users. You can use it or water it down as per your project requirements. The ink recipe has nothing like nickel or iron. Safety and sterility are the most guaranteed concerns here.
About healing – it can competitively beat its rivals in the market. The ink gives you the smoothest and fastest healing results with the lowest consumption. But yes, the post-healing color will be somewhat faded but to an acceptable extent.
Many professionals consider the ink the best white tattoo ink because of the brand image. So I can safely conclude that the performance is satisfying considering the premium quality and healing result. If you have not landed on a decision already, at least shortlist this one.
Reasons to get
Versatile and bright
The perfect combination of pigmentation and density
Sterile and safe
Value for money
Compliance with current regulations
Reasons to avoid
Sloppiness (complained by some users)
4. Intenze Snow White Opaque Tattoo Ink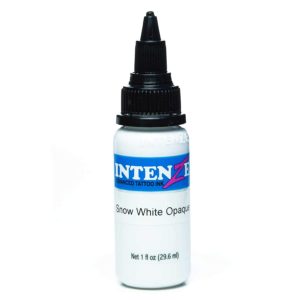 Just as the name, the Snow White Opaque ink is snow white with opaqueness instead of transparency. The highly consistent particles can bleach black inks, correct old pieces, and smoothen grays. Moreover, the saturation will be as fresh as new over the coming years. That is something only the best white tattoo ink can deliver you.
The ink will give you great results. Beginners can apply it comfortably on their first attempt. No skin irritation, excellent color retention, and optimal healing are the added characteristics of the ink.
The color compound is a little thicker. You can also use less thick colors like purple, dark green, or blue to mix with this white color.
If you prefer undiluted and thick inks, this ink is yours. If you do not, check it out anyway because the color adds a rich tone to your tattoos, which suits every tattoo style. You can use it as baselines, making it easy-peasy for you to have a great head start.
Reasons to get
Undiluted, thick, and rich
No dripping, slow consumption
Easy to apply, beginner-friendly
Moderately priced
Quickest healing
Vegan-friendly ingredients
Reasons to avoid
Availability of cheap replicas
5. Viking Ink White Ultra Tattoo Color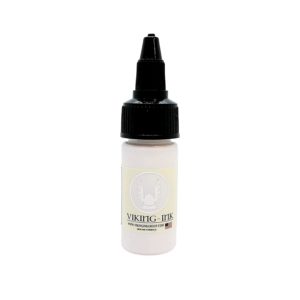 The company does not produce tattoo inks only. It has been manufacturing tattoo supplies like needle cartridges, thinners, stencils, stencil removers, creams, bandages, machines, and transfer papers for the last two decades. But why did I beat around the bush instead of reviewing the ink? Because I wanted to talk about brand reliability, something each best white tattoo ink should have.
What's more, the brand hires skilled and experienced tattooists to develop the inks, which are easy to apply, versatile, and light. The high-quality pigments have the consistency that will retain their quality for years.
Viking Ink offers the most secured control measures to protect the ink quality. The jars have double safety closures. There are protective membranes and screw caps to keep the ink sterility unaffected. With this extent of security and quality guarantee, you can be sure of pulling off bewitching tattoos. It can deal with every type of tattoo purpose.
The ink is available with other ink sets, combos, and packages. The manufacturer made sure you do not miss out on this must-have color in any way, not to mention the price affordability of the ink.
Reasons to get
High protection
Light, perfect consistency, easy application
Quality unchanged even after years
Affordable price range
Versatile performance
Reasons to avoid
The cap is so tight that you may have a hard time unsealing it.
6. Stigma Snow White Tattoo Ink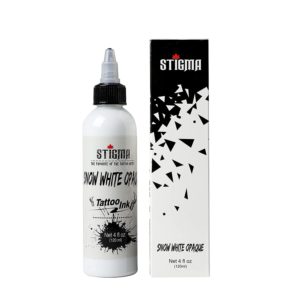 Thousands of tattooists recommend the Snow White Opaque Tattoo Ink from Stigma because of its convenience to use. The premium ink, at a budget-friendly price, offers lost-lasting, stable, and pure results.
The ink has high and solid pigments. Stigma used gamma rays to purify the ink and make it skin-friendly. In addition, the highly concentrated pigments blend so well that beginning artists do not have to put much effort into working the ink. Users of any expertise level can use the product, and anyone with a flat pocket can go for it.
You can also apply the ink to make both lines and shades. Since it is water-soluble, it will seep through your skin efficiently and stay there for a long time. Timely delivery, friendly customer service, and CE certificates are the added advantages to avail of the product.
Reasons to get
Pure, stable, safe, and durable color outcome
Highly concentrated, skin-friendly pigments
Perfect blending, convenient to use
Efficient delivery and customer service
Suitable and affordable for every user
Reasons to avoid
Best results only when used for practice purposes
7. Millennium Mom's White Tattoo Ink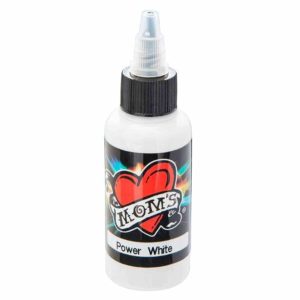 If you are looking for tattoo inks and have not heard of Millennium Mom, you are not looking in the right place. It is one of the most trustworthy brands for its rich-toned, reliable, and long-lasting colors.
Many users have the experience of throwing away ink jars because the ink loses color after one or two applications. But MM will change that for you. You can use it till it finishes, and each time you will get the best results. The vibrance of the colors will never fade away because of the color pigmentation and the homogenized carrier.
The time-tested tattoo ink has successfully won the trust of professionals. That said, you can apply it for both practice and work purposes. The precision of your white shades and lines will contribute to the finishing of your tattoos by assisting you in unleashing your potential.
Reasons to get
Precise work, perfect consistency
Usable for all tattooists
Homogenized carrier, highest color pigmentation
Vegan-friendly and non-toxic
Contribution to tattoo and tattooist's skill
8. Dynamic White Tattoo Ink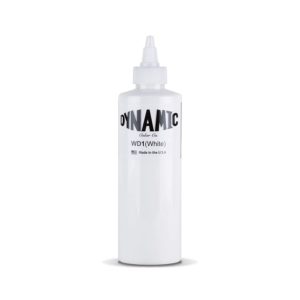 The second last review will be about another Dynamic product. The main difference between that heavy white ink and this white ink is the heaviness. If your project does not require that whiteness, you can switch to this one.
Besides, you can do lines, shades, even gray wash by mixing the ink with other colors. Note that you can combine the white with different colors, but they must be from the same brand. Using other brands' inks can result in mishaps. But if you use all Dynamic products, they will blend really well.
Other things being the same as the heavy white, the quantity of the ink is 8 ounces. The ingredients are vegan and have never been tested on animals.
Reasons to get
Natural ingredients
Smooth blending with other colors
Usable for lines, shades, gray wash
Bold and rich tone, durable for years
Reasons to avoid
Availability of fakes in the market
9. Kuro Sumi Japanese Samurai White Tattoo Ink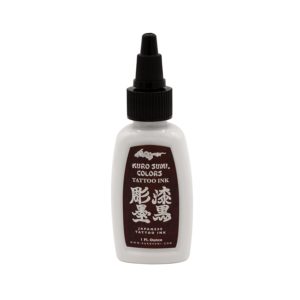 Kuro Sumi ink colors have high-quality molecular structures to give you transparent and lasting tattoos. The manufacturer formulates the ink with natural components to make it skin-friendly. Its goal is to hand down the traditional Japanese art form through generations.
You can see the exceptional consistency in the colors just by looking at it. You will also recognize the touch of traditionality and uniqueness in your tattoos too. The Samurai white tattoo ink is bold, bright, and it creates outstanding tattoos. It will settle smoothly into the skin ad stay fresh over the years.
The USA now widely produces this Japanese tattoo ink. So there is nothing to worry about its authenticity and availability. Also, the delivery system is as great as it gets. The packaging is well-made and secure so you never get damaged goods.
Reasons to get
Rich in tradition
Usable for Japanese traditional styles and trendy tattoo techniques
Amazing color consistency
Safe and smooth
Efficient delivery system
Reasons to avoid
The white one tends to fade out fast.
How To Buy The Best White Tattoo Ink?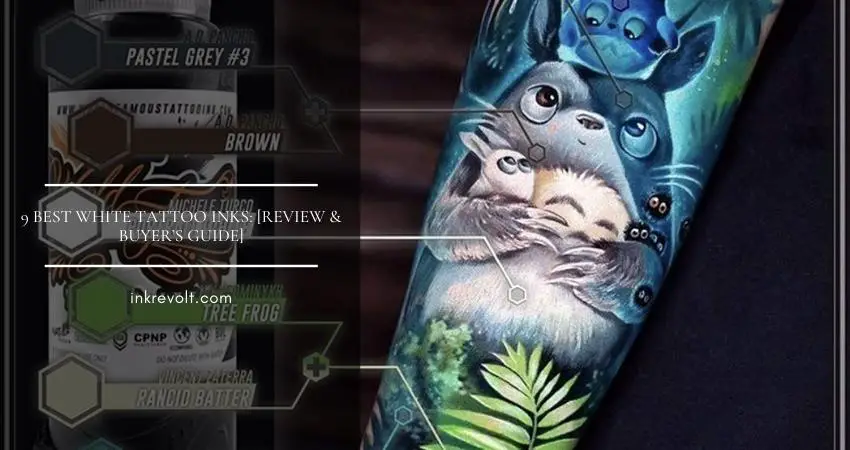 Choosing the best white tattoo ink requires considering some determinants, which I will mention below.
Ingredients
No matter what they say, never settle for inks made of artificial ingredients. They are fatal for your health. Creating white ink tattoos with them might give you your desired outcome, but you will have to pay for that in the long run.
The best white tattoo ink should contain vegan-friendly, authentic, non-toxic, and non-artificial ingredients. It will be safe for your skin. You should be able to apply it without fearing experiencing any skin irritation or health problem.
Certifications And Approvals
Authentic brands provide you with certifications and approvals, confirming that their inks comply with your region's health standards. Check that while deciding to make a purchase. If the ink does not have proper papers and documents, do not buy it. Chances are it is a fake.
Ink Consistency
The term consistency regarding tattoo ink refers to ink smoothness, flow rate, distribution evenness. If the consistency is not balanced, it will affect your tattoo result. The ink quality or your creative efforts cannot keep it from going blotchy.
But how do you know about it before using the ink? You don't. But you can always research and learn about tattoo inks. The insights will help you get the best white tattoo ink for yourself.
Your Work Purpose
Which color you need depends a lot on what work you will do. For example, you cannot use Dynamic Heavy White everywhere. Sometimes you will need something like the Dynamic White.
Some white inks are usable for blending with other colors. But the others are for individual use. So, you have to determine what you will do before looking for the white tattoo ink.
Yellowing
White tattoo ink can be prone to yellowing over time, especially if it is exposed to sunlight or UV rays. Look for an ink that is known for its resistance to yellowing, and take steps to protect the tattoo from sunlight or UV exposure.
Coverage
White tattoo ink can be more difficult to work with than other colors, as it may require multiple layers to achieve full coverage. Look for an ink that provides good coverage with minimal layering, and make sure to apply the ink evenly to avoid patchiness or uneven coloring.
Contamination
Tattoo ink can be prone to contamination if it is not stored or handled properly. Look for an ink that is packaged in a sterile container and that has not been exposed to air or contaminants. Make sure to follow proper sterilization procedures when handling the ink and use a fresh needle for each client to avoid cross-contamination.
Brand Credibility And Others
Some of the reviews told you about seeing replicas and fake products in the market. That is from where brand credibility comes. People with evil intentions offer cheap and poor-quality inks to fool inexperienced tattooists. You cannot fall into their traps. Always buy from authorized shops.
Then there is price and quality. While high price means high quality, low price does not necessarily mean low quality. Since people are becoming more interested in taking tattooing as an occupation, brands are trying hard to launch quality products at a moderate price range. But yes, if you want royal service, you have to pay the price. The thing is to match your budget and expectations with the ink characteristics. As long as you do that, you are good to go.
Frequently Asked Questions
How is the consistency of white tattoo inks?
It is usually thicker than that of other tattoo inks.
What are the benefits of using white tattoo ink?
One of the main benefits of using white tattoo ink is that it can create unique and striking designs on the skin that stand out from traditional black or colored tattoos. White ink can also be used to highlight certain areas of a design, add depth and texture, or to create subtle shading effects.
What is one drawback of using white tattoo inks?
White tattoo inks have a thick consistency, making it hard for tattoo artists to create clean and crisp lines. It may cause raised appearances, giving your tattoos a scarred look. In addition, they tend to fade and blur faster.
What can cause white ink tattoos to turn yellow?
Exposure to sunlight without skin protection can cause your white tattoos to turn yellow. But note that your ink quality may also be responsible for that.
How long does a white tattoo last?
The longevity of white tattoo ink depends on a variety of factors, including the quality of the ink, the skill of the tattoo artist, and the individual's skin type and care. In general, white tattoo ink may fade faster than other tattoo inks and may require touch-ups over time. within 1.5 to 2 months.
How costly are white tattoos?
Is it safe to use UV tattoo inks?
No, because UV ink is not FDA-approved.
Can I use black ink to cover up my white tattoo?
Of course. You can always use black ink to cover up an unwanted white tattoo. But it is a costly and time-consuming process.
Can white tattoo ink be used on all skin types?
Yes, white tattoo ink can be used on all skin types, but it may appear differently depending on the skin tone and texture of the individual.
How do I care for a white tattoo?
To care for a white tattoo, it's important to follow proper aftercare instructions provided by your tattoo artist. This may include avoiding excessive sun exposure, keeping the tattoo clean and moisturized, and avoiding tight or abrasive clothing that could rub against the tattoo.
Is white tattoo ink more painful to apply than other tattoo inks?
There is no evidence to suggest that white tattoo ink is more painful to apply than other tattoo inks. The level of pain experienced during a tattoo depends on a variety of factors, including the individual's pain tolerance, the location of the tattoo, and the skill of the tattoo artist.
Can white tattoo ink cause allergic reactions?
Yes, any type of tattoo ink can cause allergic reactions in some individuals, including white tattoo ink. It's important to consult with your tattoo artist or a medical professional if you have any concerns about allergic reactions.
Can white tattoo ink cover up existing tattoos?
Yes, white tattoo ink can be used to cover up existing tattoos, but it may require multiple sessions and touch-ups to achieve the desired result.
Can white tattoo ink be used for outlining?
White tattoo ink can be used for outlining in certain designs, but it may not be suitable for all types of tattoos or styles.
Can white tattoo ink be used for permanent makeup?
Yes, white tattoo ink can be used for permanent makeup procedures, such as eyebrow tattooing or lip tattooing, but it's important to choose a licensed and experienced permanent makeup artist to ensure safe and effective results.
How do I remove a white tattoo if I no longer want it?
White tattoos can be difficult to remove with laser tattoo removal due to the lack of pigment in the ink. Consult with a professional tattoo removal specialist to discuss your options.
Final Verdict
I will go for the Dynamic White Ink in a minute if you ask me what I think is the best white tattoo ink. My reasons are, first, the color is consistent and can perform different tasks. Secondly, you can mix it with other Dynamic colors to create new inks. Not every ink gives you that option. Thirdly, the price is affordable. I prioritize this criterion in everything.
The next best white tattoo ink I would vouch for is the Kuro Sumi Japanese White Tattoo Ink. It is exceptional, remarkable, and unique. You see 10 tattoos, and a Kuro Sumi tattoo will be the first one to grab your attention. Anyone trying to go out of their style and do something new should go with this one.
The others on my shortlist are Intenze and StarBrite. Both provide good value for money at a budget-friendly price with satisfactory performances. Plus, the ingredients are organic. You can choose which you need according to your work requirements.
That is all for now. See you in some other tattoo discussion.
Happy Tattooing!
We are sorry that this post was not useful for you!
Let us improve this post!
Tell us how we can improve this post?