11 Best Eyebrow Tattoo Ink: Permanent Makeup Pigments Reviews
Ink is the most critical part of making eyebrow tattoos because of pigmentation, durability, and safety. It is needless to mention that the true beauty of the eyebrow tattoo lies in the purity of the ink color. There are also other concerns associated with it. That is why many tattoo artists often find them confusing while selecting tattoo ink for permanent makeup.
If you are one of them, you can let me worry about it because I have researched for you the best eyebrow tattoo inks (patting myself in the back). Moreover, I will review and compare each of them so that you can decide which ink set suits your purpose perfectly.
Don't have the time to read all the reviews? Here is a summary for you –
11 Best Eyebrow Tattoo Ink Reviews
1. Mellie Medical Grade Pigments Set – Best Microblading Pigments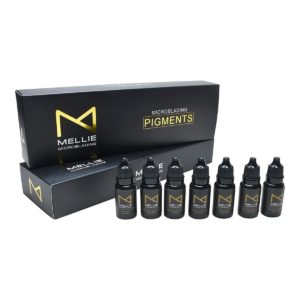 The M (Mellie) Microblading Pigment Set has a lot of ink colors to blow your mind. The colors are not only authentic but also completely hygienic. Have a look at its details.
Why We Selected It in Our Top List
Seven Different Colors
The microblading pigment set features a total of seven different color shades. You will get golden brown, jet black, soft brown, blonde, dark brown, medium brown, and warm effect. These microblading shades will suit everyone's taste, allowing you to try out different designs and styles.
The dark brown has a rich and sultry tone, whereas the golden brown will remind you of honey. The medium brown bears the vibrant color of mahogany. The jet black is a stunning and striking black that will make the art look classic.
Safety And Durability
If you expect modest-quality from the M set, don't. Get your expectations higher. The brand formulated its pigment colors aligning with excellent standards.
The colors contain non-irritant and pure colorants and are suitable for any skin type. There will be no side effects. M conducted scrutinized inspection for each pigment set to meet the EU standards. And we all know how strict they are.
Each of the shades will last a year. More importantly, they will not fade over time. The color will stay as fresh as the day you applied them.
Easy Application
The application process of the M ink colors is a cup of cake, which makes it a user-friendly practice ink set.
The colors do not require any mixing. Get the microblading disposable tool to apply them. If you need supplies, contact Mellie.
Pros
High-quality
Seven different shades
Sterilized, safe, field-tested, and medical-grade hygienic
Durable for a year
Pure ingredients
No side effects
Suitable for any skin type
Compatible with European standards
Color staying new and fresh throughout the whole time
Simple to apply
Cons
Some shades may not be very consistent.
2. Tina Davies Professional Tattoo Pigment Collection – Best Permanent Makeup Pigment
Tina Davies is on the top of the list of brands that provide microblading and permanent makeup products. If you are a professional or an apprentice planning to go pro, you should see this TD pigment collection set.
Why We Selected It in Our Top List
Seven Premixed Colors
There are seven colors in the TD microblading pigment set. They are premixed, varying from light to dark shades. Tina Davies developed them exclusively to make your color selection easy. Getting this one set will enable you to manage to fulfill all your clients' demands with them.
Vegan And Skin-Friendly
The first and foremost concern of Tina Davies is safety. It is the signature characteristic of its products because the brand hired experienced cosmeticians and chemists to ensure the Permablend is not harmful to anyone. It even sterilizes its ink colors with gamma-ray. It also passed the 2008 European regulations.
So, the colors are safe for any skin type. You can use them for hair too. Besides, they are vegan. The brand neither used any animal by-product to make them nor tested any color on them.
The colors are highly long-lasting. You will get massive retention of 90% after the first use. They are stable and ultra-concentrated, not requiring any guesswork.
Others
The colors will not need any modification. They will come ready for use.
On an important note, you are to use them on adults only, even if it is for hair.
Pros
Safely made by experts
90% retention after the first use
Vegan ingredients
No skin irritation
Seven colors with a combination of light and dark shades
No modification required
Compatible with European regulations
Stable and consistent
Cons
The colors should have been less watery.
3. Biotouch Micro pigment Pure Kit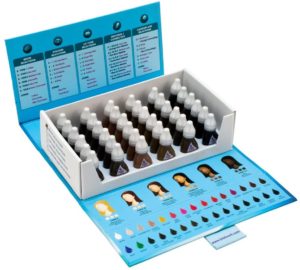 Professional artists often look to buy a bunch of ink colors at once. That saves the hassle of buying them every once in a while. Also, sometimes you may not even get your favorite brand's ink available. In that case, your solution can be the Biotouch Micro pigment Pure Kit.
Why We Selected It in Our Top List
Six Colors, Thirty-Six Bottles
The Biotouch product is a brow kit. It contains six different colors. In the kit, you will find six bottles of each shade, having 3ml of ink.
Biotouch pre-arranged the pigments in the set to facilitate individual use. Skin tones from one to six will suit them.
Safety And Durability
You can use the pigments safely for micro-pigmentation, colorants, and other cosmetic use in any part of the body. The company used Iron Oxides to formulate each pigment color. Every drop in the ink has many particles of Iron Oxide, which the skin absorbs fast and effectively. Plus, the ingredients are of premium quality that guarantees you high retention of color.
That they are not organic might give you the idea that they will cause skin irritation, but they won't. The ingredients are not harmful at all, and their durability is pretty impressive. Besides, the black shades of Biotech have carbon bases, something our bodies already have naturally. That will work as a shield in your skin to prevent any kind of allergic reaction.
Now let me go back to durability gain. Do you know how long it is before the pigments expire? 2 years, if not more!
How To Use
Using the pigments from Biotech is not as easy as I would like to tell you. There are several instructions that you have to follow while getting the colors ready.
First of all, always remember not to mix them with pigments of other brands. Before opening them, shake well. Do not touch them if your gloves are contaminated. That might lead to cross-contamination.
It is better if you do a spot test first before using it on your clients. After every use, store them in a dry and cool place with no direct sunlight.
This information may be too much to be aware of, but they are not hard to remember, right? After all, they are for ensuring top-class safety for your clients.
Professional-Friendly
The user must use the pigments for microblading and PMU purposes only. They generate the best output when used by professional artists.
Biotech advises against using its ink colors on pregnant women.
Pros
A large kit of 36 ink bottles
Use of premium quality ingredients
No allergic reaction
Pre-arranged colors to be used individually
Fast absorption
An expiry period of two years
Cons
Not much beginner-friendly
Wateriness in ink colors
4. SCALPA Superior Microblading Pigment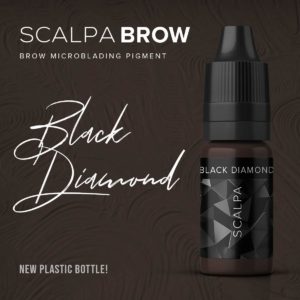 SCALPA is the top preference of many artists across the globe for its PMU, microblading supplies, and eyebrow microblading. And about this pigment, the company already gives you a heads-up that it is a superior product. Does this ink really live up to its name? Let's find out!
Why We Selected It in Our Top List
Black Diamond (10 ML!)
The product is not a set of ink colors. There is only one ink named Black Diamond, olive-based, warm, dark brown, and red-based.
The recommendation is that you use it when your clients want a dark output with no red shades. You can use Brown Velvet, just a drop of it to keep the Black Diamond from becoming gray after it heals. That will give the color a lively dark brown shade.
There is 10 ml ink in the bottle, enough to serve twenty to thirty of your clients.
Super Skin-Friendly
The entire procedure of applying the ink color is reliable. It can handle every type of skin without leaving any mark or putting your clients in discomfort. The consistency of the ink will amaze you, especially when it does its job flawlessly. And the color retention? Wait till you hear from your clients about it. You will see the brand gave its product the perfect name.
If you are only beginning or are an apprentice, you will take your artistry to a new height making this pigment your companion.
Money-Back Guarantee
I will not try to say it without saying it. The ink bottle is pricey. While I will not insist you try it because it will prove to be the best eyebrow tattoo ink, I will suggest so. That is because it would be a purchase with no risks.
SCALPA provides you a money-back guarantee. If the Black Diamond cannot meet your expectations, you can return it and get your pocked refilled.
Pros
Superior quality
Amazing consistency
The remarkable output of vibrant color with a natural look
Reliable procedure
One bottle serving around thirty clients
Money-back guarantee
Cons
Can be a bit expensive for beginners
5. Madluuv Microblading Ink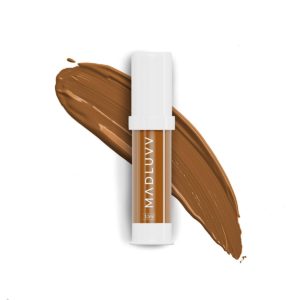 If you plan to beautify yourself with a revamped skin and black is not your color, do not worry because I got you covered! Here is the Madluuv Blonde Ink to change you with a new, unique, and natural look!
Why We Selected It in Our Top List
Blonde 110
The ink bottle is airless to ensure proper application and no wastage. Each bottle has 2.61 ounces of blonde 110 ink.
Best Of Both
Some ink colors have natural ingredients, while some have synthetic components. Here is where Madluuv appeared to be unique. It combined organic and non-toxic synthetic materials to make the best tattoo ink for eyebrows for you, the quality of which is above average. After completing each unit during production, the brand sterilizes it with gamma-ray.
The consistency of the ink is like that of a gel. It has the perfect amount of wateriness that promises you maximum color retention. Because of its being gel-like, it takes longer to dry. But that also helps to make less wastage and less dripping.
Others
The ink color also comes in a set with other colors. If you want to have a collection with variety, you can get that too.
Pros
Amazing color
Maximum retention
Gel-like consistency without too much wateriness
Combination of organic and non-organic ingredients
First-rate quality and long-lasting
Less wastage
6. Biotouch PMU Pigments For Micrblading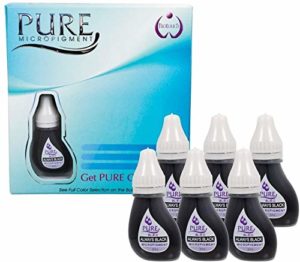 The previous Biotouch product in the discussion had a set of different colors. But this one, while also a package, has multiple bottles of the same ink.
Why We Selected It in Our Top List
The Purest Black
The color is Pure Always Black. Each box has six bottles of 3 ml black ink.
If you want a darker shade, apply multiple layers. If that is not enough for you, you can mix it with a Jet Black.
Globally Used
I discussed the process of manufacturing the colors and maintaining their safety in the other Biotouch review. So I will not repeat them here.
But here is a piece of information to let you know about the reliability of Biotouch: More than 65k technicians and artists use its products daily in over 40 countries across the world. That is how impressive the Biotouch pigments are.
Guidelines
The ink will last for a couple of years. If you maintain it properly, it will stay perfect for more than that, speaking of which there are several guidelines that you have to follow. Scroll up and find the other Biotouch review to learn them.
Make sure you don't forget to follow them up because they are essential for you and your clients.
Pros
Six bottles of black ink
Multiple layers for darker output
Two years of expiry
High color retention and utmost safety
Used daily by thousands of artists
7. PMU PRODUCTS Microblading Practice Ink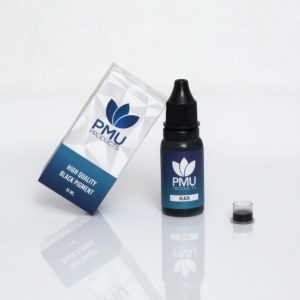 This one is another black practice ink from PMU PRODUCTS. The ink is so flexible to use that it will make things fun and simple for you. And in the process, you will get to perfect your skills!
Why We Selected It in Our Top List
10 ML Of Black Beauty
The pigment color is the dashing black, as you know it already. The quantity of the ink is 10 ml. It is exquisite, clean, and precise. There will be sharp lines when you work with it, without any blurry effect at all.
Vegan-Friendly
The ink is absolutely plant-based. Besides, it is hypoallergenic and odorless. There is no way it will give your clients any feeling of discomfort. It will keep their skin as natural as it was before the microblading. Plus, the practice ink will not damage any of your equipment or tools. It is as safe as it gets for you and your clients.
PMU PRODUCTS made the ink targeting beginners and experts both. So, it formulated the practice ink, maintaining the consistency and high quality of permanent microblading pigment. For that, when you practice with the ink, it will be the closest to working with the actual thing. Consequently, it will improve your techniques while getting you to satisfy your clients.
Flexibility
In the product intro, I mentioned how flexible the ink is. You can combine it with other pigments from the same brand. Not only that, you can use needles, pens, and artificial skin for inking with this pigment. Thus, it makes itself easy to use for any tattooist with any level of skill.
Guarantee
The brand already guarantees you that you will get the best it has made. However, that is not all. It also cares for customers' satisfaction. If the practice ink does not satisfy you 100%, you can contact the brand to get either a refund or a replacement without any hassle at all. PMU PRODUCTS gives you a month to do it.
Pros
Almost like the actual ink
Highly convenient and flexible
Workable with a wide range of other products
Suitable for any tattooist
Edgy lines with no blurriness
Money-back guarantee
Cons
The ink can be a bit watery
8. Doreme PMU Microblading Pigments – Best PMU Pigments For Professional Artists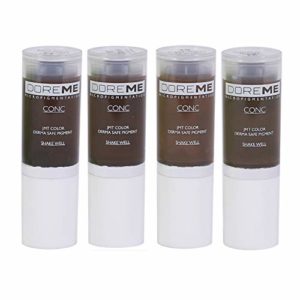 This one is a set of pigment colors made by the company Doreme. If you are a brown lover and would love to work on its different shades, check out the details.
Why We Selected It in Our Top List
4 Colors! 15 ML!
The set includes four of Doreme's most famous medium brown shades: cashmere, mink, cocoa, and hazelnut. You can mix a warm tone with a cool one, change a mid-dark shade to an earthy medium brown one to make a graceful look. The shades let you play pick-and-choose with them and bring out the best look of your clients.
By the way, each bottle has 15 ml of ink.
Dermatested  
Dermatest, a Germany-based certification laboratory, certified the Doreme brand and its products. The lab is well-reputed for researching and testing products to understand if they are safe. They do this from two aspects: if the product is safe for people and it is environment-friendly. They comply with strict rules and regulations to maintain the standard of their quality control. So, when you see a product certified by Dermatest, you can relax about its safety and quality.
Others
The price of the set is reasonable. I mean, it may still be beyond the budget for some, but when you see that the price is for four excellent colors with dependable performance, you will find it a fair bargain.
Lastly, you will get the ideal and desired result if you use it for manual microblading.
Pros
Four brown shades
Dermatest-certified
Reasonable price
Customizable shades
Safe for people and the environment
Best eyebrow tattoo ink for manual microblading
Cons
Not the best option for non-manual microblading
9. Charme Princesse Micro Pigment Color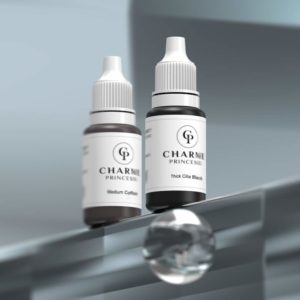 Charme Princesse has an eye-catching pigment color of coffee shade and plans to charm you in the blink of an eye when you see it. If you are interested in seeing it before you read the review, find the link below it.
Why We Selected It in Our Top List
Elegant Charm Coffee (15 ML!)
The practice ink has a 15 ml bottle of charm coffee makeup pigment. It is a rich color, easy to ink, and has a natural look.
You can use it with makeup tattoo devices. If you do microblading manually, you can grab it too. It will soon become your favorite ink for eyebrow PMU.
High Pigment Concentration
Charme Princesse divided the tattoo ink into the emulsion and aqueous pigments. The emulsion has a thick texture designed particularly for experts using hand tools.
On the other hand, aqueous has a thin texture that gives PMU artists some flexibility to use it for hand tools or tattoo machines.
Simply put, this practice ink is for professionals only. If you are a beginner or even an apprentice, I am afraid I cannot recommend it to you.
Huge Expiry Period
Well, if you have read the other reviews, you surely understand that all the safe products made it here. So yes, the Charme Princesse is no different. It is perfectly safe to use.
The coloring process of the ink is fast and durable. After the healing process, the vibrant coffee shade will add a touch of liveliness to your clients' complexion, which will hopefully make them your regulars.
I am ending the review with another attractive feature of the ink. Do you know how long it will last? THREE YEARS! YES!
Pros
Richness in color
Divided into the emulsion and aqueous pigments
Perfect for professionals
Usable with and without tattoo machines
Fast and durable inking
Three years of longevity
10. CHUSE Eyebrow Pigment For Microblading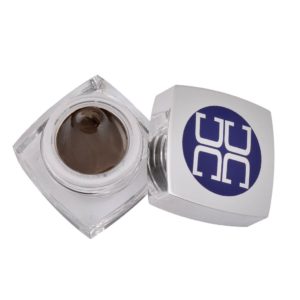 If you have just started as a PMU tattoo artist and cannot afford a high-priced pigment color, see this ASAP! It is the best deal you will get out there.
Why We Selected It in Our Top List
Go-To Grey Coffee
The ink bottle has 0.25 ounces of grey coffee pigment. The pigments are organic and biological both, deep in color, and suitable for different skin tones and procedures. For your clients who desire a different look without having too much of it, this is their go-to color.
Safety
The manufacturer adopted the latest grinding technology to prepare the ink so that it colors fast. Its color retention will impress you after the first treatment. The elements of the ink are non-toxic. What's more, it has an aseptic packaging that guarantees more safety for your health.
However, it may happen that some of your clients will experience allergic reactions. It is best if you do a patch test before applying the ink.
Long-Lasting  
The CHUSE eyebrow pigment will last for a minimum of 3 years. Keep it stored in a dry and cool area. Shake it well before opening it to use.
Check the price if you already haven't and tell me if it doesn't come with the best bargain ever. It does not have the supreme quality, but the company did its best at this price.
Pros
Use of the latest technology
Aseptic packaging
Easy to use
A color for everyone
The best permanent makeup ink at the most affordable price
An expiry period of 3 years
Cons
Possibility of allergic reactions
Not entirely natural ingredients
11. Biotouch Micro pigment Color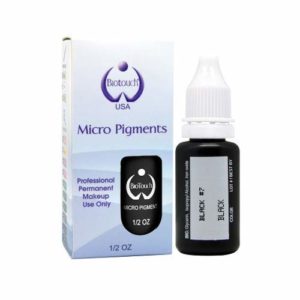 I hope you are not already tired of reading the reviews. Even if you are, it's alright. I will keep this one short. Plus, we are at the end of the section! Have a read and then dive into the rest of the article.
Why We Selected It in Our Top List
Super Dark Pigment
Most of the ink brands offer you 10 ml or less than that in each bottle. But this Biotouch has 15 ml of black ink to last lots of sessions and provide you the best value for your money.
It is ready-made for you to use instantly after unboxing, requiring no modifiers at all.
Maintenance
I reviewed two other Biotouch products previously. Those and this one have the same manufacturing and maintenance processes. So, I will not bore you with the details again.
But I strongly advise and recommend you go through the bits and pieces. You need to know about the product's quality, safety, and durability before making the purchase. Besides, using the Biotouch pigments requires you to maintain a somewhat strict protocol, which has paramount importance for your clients.
Pros
15 ml of black ink
Strict protocol for use and maintenance
High priority to clients' safety
No modifiers required
Value for money
Two years of durability
Cons
Poor design of the ink bottle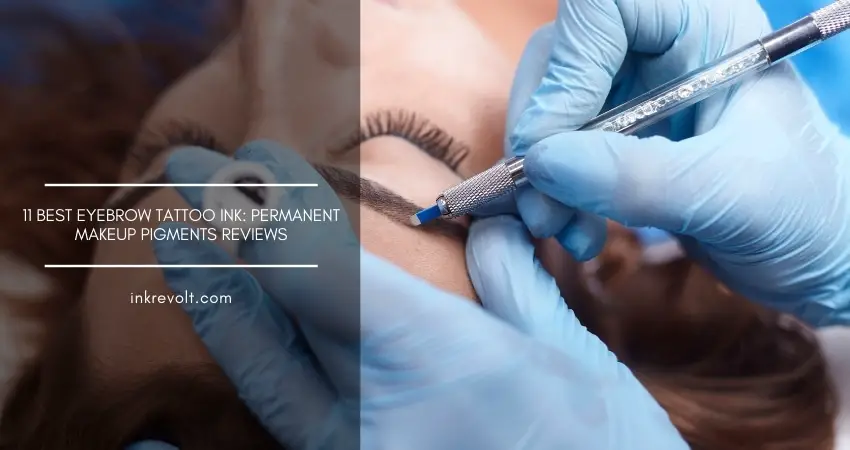 How To Choose The Best Eyebrow Tattoo Ink?
Reading the reviews thoroughly helps you set your demands and expectations by narrowing down your choice. However, choosing the best one from them is still a different and challenging task until you discover a buying guide ready for you.
Ingredients
Pigments made of natural ingredients are popular because they do not result in any allergic reaction or side effects. The ones made of non-organic are not unhealthy, but frequent use may affect the skin adversely. However, some brands ensure otherwise, guaranteeing the ingredients will not be harmful at all.
So, when you are about to pick a practice ink for yourself, check if its ingredients are 100% harmless.
Users
Trained users can mix pigments perfectly to bring the desired output. If you want to buy them for professional purposes, you should not use them at home. You should consider if you can use them manually or they need eyebrow tattoo machines, too. If it is the second case, it will require an expert.
Lifespan
Even the least expensive tattoo ink is costly enough. So, you must buy one with a longer lifespan. If it expires before a year, it will require you to spend a lot of money to make a replacement. The best practice ink should have a long and reasonable expectancy.
Consistency
The best permanent makeup ink has consistency with adequate wateriness. Otherwise, it will make your work challenging and unsteady. The skin will fail to absorb the ink quickly, leading to a slow healing process.
When you research and select the final ones, look for this characteristic. It is a must-have to gain your clients' admiration.
Safety
Safety is a chief concern about ink. The process a pigment color goes through before reaching you tell a lot about its hygiene. Therefore, one of the 'to-do' things before finalizing the best eyebrow tattoo ink is making sure how its brand made it. Usually, companies that hire experts to make pigments, sterilize them, and packs them individually provide the safest ink.
Frequently Asked Questions
Does getting an eyebrow tattoo hurt?
Yes. You will get an eyebrow tattoo, so yes, it will be painful. A numbing cream may help, but it makes the skin a bit slippery, making it hard for the tattooist to work on the skin.
Will the eyebrow tattoo stay forever?
No. It is semi-permanent. Cosmetic tattoos are superficial, and their ink is not as undegradable as that of body art. That, plus the immunity system of yours will digest the ink, causing it to fade as time goes.
Generally, it lasts for three years, requiring touchups once a year or two.
Is one sitting enough for eyebrow tattoos?
No. It takes more than a single sitting. Although most of the work finishes in the first one, the second session is essential for the final touch.
How much does getting an eyebrow tattoo cost?
That varies from one to another, depending chiefly on the procedure's complexity level. You can find a detailed analysis about the cost from this article.
After microblading, when can one use water in their face?
Give it at least ten days so that the pigment can attach properly. You can follow the instructions with it since they vary with their strength.
Additional Read: Eyebrow Tattoo Vs Microblading
Final Verdict
I hope you have jotted down your favorite ones by now. To help you confirm your choices, I will give my final verdict here.
If you want a blonde ink color, I think your first choice should be the Madluuv Blonde 110. Its flawlessness will simply amaze you. It has the perfect consistency like a gel without too much wateriness.
PMU Products, Biotouch (micro pigment color) should be on top of the list of black lovers. If one needs a set of black ink, Biotouch PMU microblading pigments would be the best.
For artists who want a set of different color shades, Biotouch kit, Tina Davies, and Doreme would provide great value. But remember that Tina Davies is expensive, and Biotouch is not that beginner-friendly. Contrarily, Doreme is pretty affordable.
CHUSE and Charme Princesse both have coffee color ink but of different shades. Charme Princesse is exclusively for professionals. If you are a beginner, my recommendation would be to grab the CHUSE. It is also available at a surprisingly budget-friendly price.
That'd be all. Thank you for reading, and good luck with buying the best eyebrow tattoo ink.
We are sorry that this post was not useful for you!
Let us improve this post!
Tell us how we can improve this post?