9 Best Eyebrow Tattoo Machines You Need To Try!
Pulling off perfectly winged eyeliners or blending makeup thingies can often feel impossible. Or not. I mean, not when you have the best eyebrow tattoo machine. Many tattoo artists purchase loads of accessories to get precise applications when in reality, even professionals overline the lips.
So you see, acing the game is sometimes tricky. So, there are more permanent and better options for users desperately looking to bring flawless looks to their clients.
Another point is squandering on makeup stuff when a single device can accomplish the goal. A PMU machine has a pen-style look like a tattoo device. Other than fixing eyebrows, it can also work on fine lines, acne scars, wrinkles, etc. The discussion below will walk you in on the details.
Scroll down to learn more!
9 Best Eyebrow Tattoo Machine Reviews
1. BIOMASER PMU Tattoo Machine Kit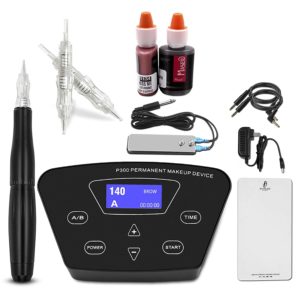 The first kit to be reviewed here is for beginners to perform multiple tasks, from fixing lips, eyeliners, and eyebrows to fixing acne scars, fine lines, wound healing, and improving wrinkles.
The machine has two microblading pigments – one for lips and the other for eyebrows. You can use it with and without a foot pedal. It features short circuit protection to stop working when the voltage level becomes too low or high.
Just so you know what BIOMASER delivers you: the pen is a lightweight, aluminum-bodied device. It has a speed of 12000 RPM with a maximum input of 12V.
It operates quietly with its powerful Swiss coreless motor. So, rest assured, you and your client will have a peaceful experience. There will be an artificial skin for beginners to practice. The kit comes with 2 tattoo inks, a PMU tattoo pen, 10 pieces of cartridge needles, and 10 pieces of ring ink cups.
Remember not to use the pen with other device adapters. Get the standard ones. Otherwise, the device may get burned.
Reasons to get
Lightweight and durable body
Powerful motor yet silent operation
Versatile performance
Usable with and without foot pedals
Best eyebrow tattoo machine for beginners
2. Intelli Digital PMU Machine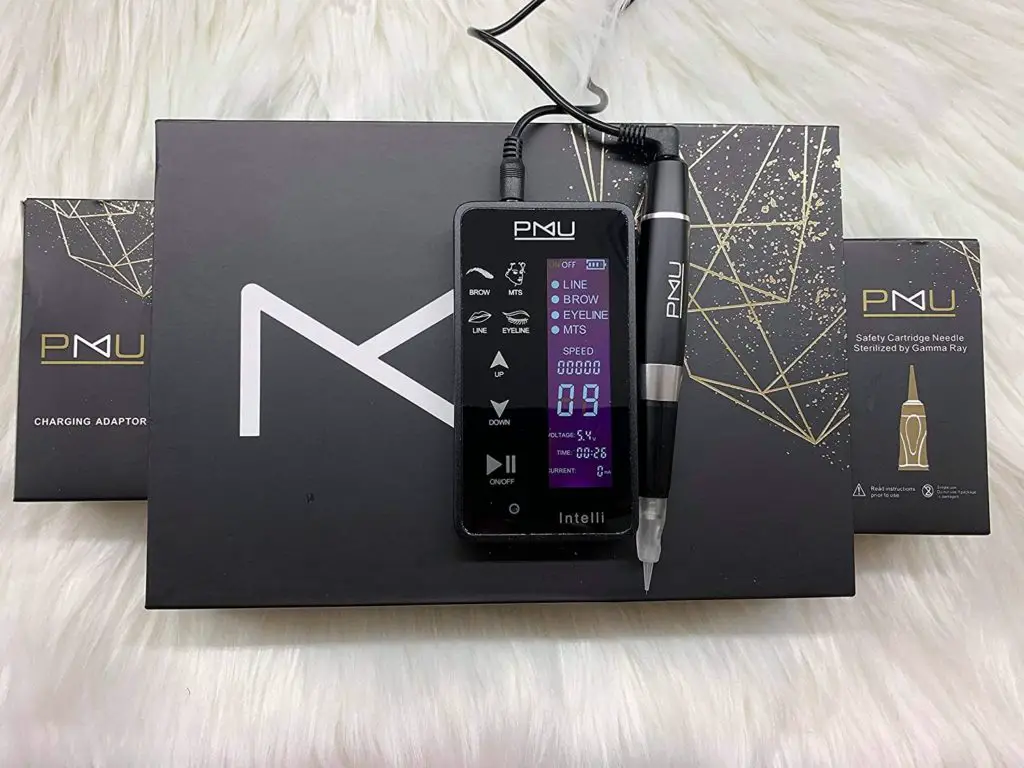 The Intelli Digital PMU Machine is the best eyebrow tattoo machine for professionals. But beginners can also try this high-speed equipment for the featured options of 15 speed adjustments. It also passes as a machine with many diversified features. Here is why.
The device has two pairs of modes you can use for lips, eyes, and brows, while comprising various techniques like ombre powder shades, microblading, nano strokes, and shading.
Let's talk about the physical attributes. It has an adjustable needle ranging from 0 to 3 mm. It can work for about 3.5 hours with a 100% charge. There is also an LCD screen coming with a touchscreen. That helps you keep track of the machine's movement while working.
If you look for an efficient device to handle it all, you can add it to your shortlist. Artists who have used it expressed their satisfaction with the needle length, speed options, and LCD features.
And talking from my perspective, the device feels lightweight to manage. I liked the touchscreen display. The innovative and attractive design made it user-friendly. However, the price seemed higher than some other devices currently trending in the market.
Reasons to get
Usable for lipliner, brows, and eyes
Capable of performing powder brows, nano strokes, shading, and microblading
Operable with and without a footswitch
15 speed options and 4 various modes
Quiet operation
Reasons to avoid
Not that beginner-friendly
Pricey
3. Charme Princesse PMU Tattoo Kit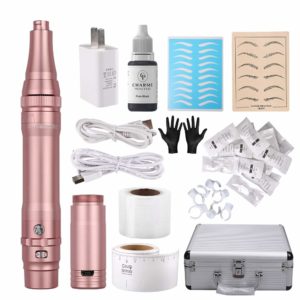 The name itself screams pretty stuff about the device. But give me the time to tell you why you should let it charm its way to your shortlist.
The Charme Princesse tattoo device has a 900mAh capacity with a control gadget, allowing you to keep working uninterruptedly by changing the batteries. You will find a German motor running in it to enable it to perform steadily and quietly at high speeds.
There is more to this charmer. While providing you with eye-catching lip, eyeliner, MTS, eyebrow, and even small designs for tattoos, it lets you do it at your convenience – by switching the scale ring to make accurate stroke adjustments. The three gear levels are 6840r/min, 6300r/min, and 7200r/min.
If that was not enough for you, I have good news. The pen can accommodate 3 types of needle sizes: 5rl, 3rl, and 1rl. It will come with 15 needles, 5 of each size. The kit also includes an adaptor, a connection line, a pair of gloves, a box, 2 pieces of practice skin, 1 piece of microblading pigment, and 10 pieces of ring ink cups. It is a complete PMU package for beginners.
Reasons to get
No necessity of using a foot pedal
Capable of creating tattoos designs
Three gear levels available to customize stroke adjustments
High battery capacity
Steady performance with no noise
The best eyebrow tattoo machine package for beginners
Reasons to avoid
The device may get warm when used for a long time.
4. Pinkiou PMU Pen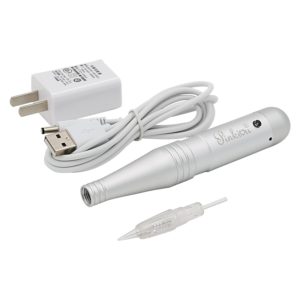 Pinkiou PMU pens are popular choices for everlasting makeup designs. You will get a pen device, a plug adapter, and needles in this package.
The one thing most novices want from devices is whether they are easy to use or not. Well, beginners, this one is sure to be one of the most user-friendly machines in your career. Let's jump into the details.
First, the lamination device is suitable for both novice and experienced users. The brand worked hard to give it a standard that everybody could find useful. You can do eyeliner, eyebrows, hairline, and lips with it. Microblading, scalp microblading, and micro shading – all are operable.
The quality of the device is notable from the outside. Pinkiou refined it with the best surface finish using aircraft aluminum alloy and anodized silver surface. Then comes what is inside – the lithium battery made for rough use. You can operate it for a couple of hours at a stretch. If you want to practice or work daily, it will be the best eyebrow tattoo machine for you.
Both speed and needle length are adjustable. But you have to use the brand's needles only. Apparently, the device cannot work with foreign brand needles. Doing so can cause defects in its performance.
Now, how much does it cost? You can tap the link below to find that out. But I am giving you a heads-up: the price is also beginner-friendly.
Reasons to get
High-quality construction with a perfect finishing
Adjustable speed and needle length
Beginner-friendly, professional-friendly, and budget-friendly
Lithium battery made for everyday use
Reasons to avoid
The brand needles are a little blunt.
5. Guapa Third Generation Tattoo Machine
The Guapa Third Generation device has been a massive upgrade to Guapa's wireless PMU pen collection. The much-advanced version lets you use four modes to fulfill every PMU purpose involving brows, eyes, lips, and medical tattoos.
Each has default operational voltage levels and speed rates for suited makeup works. But you can change them up and down to meet your demands.
Since installed with a lithium battery and a Swiss motor, the pen can perform 5 to 6 hours without diminishing the performance quality for a second. Its resilient body is tough enough to put up with everyday use.
The machine creates noise while performing, but that is too low to cause any disturbance. Combined with that, it has an ergonomic and portable design to help you work effortlessly without getting fatigued.
Now here is the part I am hesitating to bring up. The price is exceptionally high. It is probably the priciest product on my list today. But I still cannot say it is overpriced. The machine has a special transmission structure to achieve the perfect duo of high speed and quiet operation. Besides, the PMU pen can support you for 6 hours with a full charge, and that too for daily application. Not every brand can offer that, which should tell you the device will bring something unique and valuable to the table.
Reasons to get
A lithium battery and a Swiss motor
6 hours of uninterrupted service
Four modes to support different activities
A special transmission structure
Adjustable operational voltage levels and speed rates
50 pieces of needles
Ergonomic, lightweight, and portable design
6. Semme Electric Tattoo Machine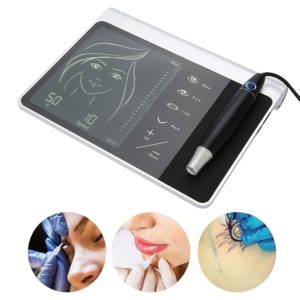 Here is another best eyebrow tattoo machine for beginners. The products I have reviewed above had four modes, but the Semme PMU machine has five options for PMU, MTS, lips, brows, and lines to work on different body parts.
The ergonomic and comfortable design, associated with an anti-skin handpiece, makes it easy to hold and run. High power and noiseless operation are also the strongest suits of the device.
My favorite part of the machine is the LCD screen because it is rich in features. It has an intelligent port, an intelligent panel, LCD color, and a full touchscreen to show you the machine's power, mode, working condition, and speed.
Operating and controlling it is very easy. You will have to use the up and down buttons to adjust speed. When the power goes too high, the screen will switch off automatically.
Semme sourced stainless steel materials to manufacture the pen to give it a durable and smooth shape. The pen head has an auto-lock mechanism requiring a simple installation method. The company also kept the pin inserting depth, speed level, and running time for adjustments to offer you a pleasant operating experience.
The price is high but not higher than the last one. Still, if it exceeds your budget, you can go for the other options and start saving to buy it later. It will have been a worthy investment in your career.
Reasons to get
Five separating modes
An auto-lock system
Adjustable features for smooth operation
Full and color touchscreen
Overall quality performance
7. Solong Rotary Tattoo Machine & PMU Pen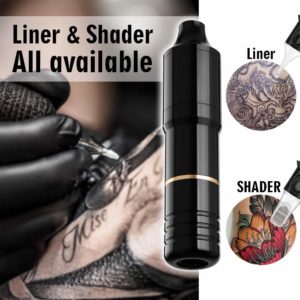 The Solong Machine is a hybrid tattoo pen because it is a tattoo machine and a PMU pen at the same time. Hybrid machines are usually not the first recommendation because they cannot perform both activities efficiently. I will not argue on that point, but I will for this one. It happens to be a remarkably well-built and well-performing hybrid device.
It has a frame of space aluminum alloy and a motor of 10W to keep it performing stably without getting hot during lengthy sessions. Plus, the design will make you feel like using an original pen instead of a machine.
The operating voltage of the device ranges from 7V to 12V with compatibility with Cheyenne Hawk and other brands' power units. Solong will send a plug adapter in the kit to make the pen support all power supplies.
You will also get a needle cartridge and a connection line with the pen and the adapter.
Reasons to get
An ambidextrous hybrid tattoo machine
Highly powerful motor
The feeling of using a real pen
Calm operation without getting warm
Workable with any power supply
A free plug adapter
Reasons to avoid
Some users complained to have received faulty needles.
Read More: Solong Tattoo Pen Review
8. M PMU Wireless Machine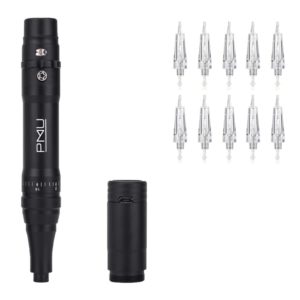 The makeup pen kit from M has an AC/DC adapter, a charging line, a battery, and a makeup pen. It is widely popular across the world among novices and masters.
A lithium battery is there to run the machine for approximately three hours. It requires a couple of hours to get wholly charged.
The M PMU pen is wireless and a premium device. If you are a PMU tattooist, have worked with wired machines, and are tired of it, give it a go. It will be the best change you can make in your work. The pen is apt at doing complex eyebrow tattoos, ombre powder brows, and all other PMU artworks. The functioning is soundless, meaning it will not distract you or disturb your client.
There is a customizable needle protrusion ranging from 0 mm to 2.5 mm. The speed limit begins at 5000 RPM, going as high as 7200 RPM. Users will have three levels for speed adjustments, while the voltage level varies from 100 voltages to 240 voltages.
Reasons to get
Premium quality and service
Capability to perform multiple tasks
Adjustable needle depth
Noiseless functioning
Lightweight, wireless
Availability of different colors: pink, silver, gold, black
Reasons to avoid
The battery does not stay on for long.
9. ZJchao Electric PMU Machine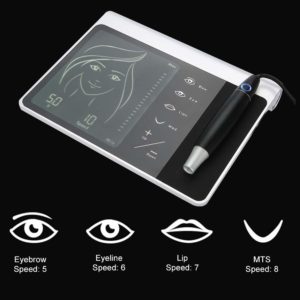 The last review of the day is about the electric PMU machine from ZJchao. I think you should scroll up and see the Semme electric PMU device before reading the details.
It was pricey and might not be equally affordable for everyone. That is the point of my telling you to look at that. If you liked that product but are not going to buy it for the price it charges, you can get this one from ZJchao because it is a lot less costly than the Semme one.
But yes, it comes with some differences. For example, the machine has four modes. You will not get the med mode here. The functions of the other four operations are the same.
Then we have the digital screen and its operation system, which are the same here. It is very convenient to use, and it has adjustable options. Then there are the ergonomics, the handpiece. It has got all of them. Its wide range of applications involves wrinkle removal, hairline and eyebrow spot, lips, eyeliner, etc.
So you get almost everything from the machine BUT at a much lower price! Isn't it better to get a decent quality product at a lower price with standard features than to get a fake one at an even lower price?
Reasons to get
Lightweight, ergonomic, and easy to use
Adjustable speed settings
Very budget-friendly
Suitable for all needles
Powerful and noiseless operation
Reasons to avoid
Although the operation is quiet, the machine vibrates a lot.
How To Buy The Best Eyebrow Tattoo Machine?
Now you know about some of the best eyebrow tattoo machines in the market. But how would you know which one will serve you the best?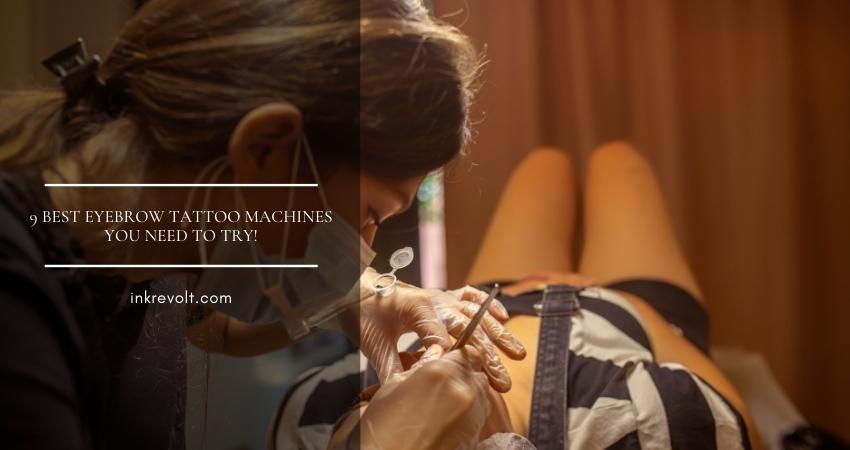 Features
I told you in the intro that you should not spend much on many items when a single device can handle multiple tasks efficiently. When you check a PMU machine out, see its features and performance capabilities. First, check if it does what your work requires.
Then see if it does more if it is flexible enough. That is because when you explore more techniques and styles, you will need your device to support you. And it will if it is the best one out there.
Machine Reliability
You don't buy a machine to serve you for a couple of months. You buy it to last you for a reasonable amount of time and provide you with the best output throughout its lifespan.
The best eyebrow tattoo machine should be durable, handy, and sturdy. It should be resilient enough to bear with rough use and heavy applications. If you cannot rely on it on your big day, you should not settle with it.
Product Value
The value of a product means how much worth it will be in terms of its service, quality, and performance. Will it add value to your creation, or will it downplay your creativity?
Know that the product price does not necessarily indicate the product value. Yes, great things come at a cost. But that is not always the case. Tattoo brands are trying hard to bring in the best products at an affordable price. Then again, there are poor quality replica products too.
The best eyebrow tattoo machine will refine your skill and creativity by assisting you in making quality art pieces. If you analyze your expertise level and match that with the characteristics of a given tattoo machine, you will know whether it will be a value for money purchase or not.
Tattoo Kit
During your visit to a tattoo shop, look for kits too, even if you intend to buy a machine only. That is more applicable to beginners and novices. Tattoo kits have a lot of accessories that will cost you a lot more if you buy them separately.
Besides, they have the stuff customized to accommodate the features of your tattoo machine. As a result, you will not have to look here and there to search for specific items. A complete package will come with all the necessities ready for instant use.
Research, Reviews, And Ratings
People purchase different PMU tattoo machines every day and share their experiences on various platforms. You can read them, ask your fellow tattooists, and take advice from experts.
If or when you are confused with your choices, research as much as possible. It is always easier to pick the best thing for yourself when well-aware and well-informed.
Additional Read: Best eyebrow tattoo ink
Final Verdict
Let's get down to it straight. Each of the items reviewed here can be regarded as the best eyebrow tattoo machine. But as you read the buying guide, you know what works best for you depends on some criteria.
So, based on that, I find the BIOMASER PMU tattoo machine the perfect one for beginners. As per the price, it delivers what it is precisely supposed to for the newcomers.
For professional artists, I would recommend the Intelli device. It is a multitasker with multiple options. Some may complain about the price, which they are bound to forget when they see its performance.
For professionals who want a machine within an affordable price range and for beginners opting for the best quality, Pinkiou is a fantastic choice.
The most premium and honorable mention-worthy candidate here is the Guapa Third Generation Eyebrow Tattoo Machine. It trumps the other devices regarding every aspect you can imagine – performance, quality, battery, design, weight – everything.
BUT it is too pricey and not for everyone. So it is here in case you want to make a lasting investment and upgrade your business, it should be the first one to cross your mind.
This is where I call it a day. Good luck with getting the best eyebrow tattoo machine!
Frequently Asked Questions (FAQ)
What are the differences between microblading and tattooed eyebrows?
Microblading and tattooed eyebrows are two cosmetic tattooing techniques used to enhance the appearance of eyebrows. Microblading involves using a fine blade to create hair-like strokes in the skin, while tattooed eyebrows use a tattoo machine to apply pigment to the skin. Microblading creates a more natural and subtle look, while tattooed eyebrows are more dramatic and long-lasting.
The choice between the two will depend on personal preferences and the desired outcome, but both techniques can provide a solution for sparse or uneven eyebrows. Read this article to know more in details.
Are there any risks associated with using an eyebrow tattoo machine?
Like any tattoo procedure, there are some risks associated with using an eyebrow tattoo machine. These can include infection, allergic reactions, and scarring. It's important to choose a reputable artist and follow all safety precautions to minimize these risks.
Will brow tattoos become darker after healing?
That depends on the pigments you use. Besides, the color will change if you do not do them correctly. However, never use black for this purpose. It will turn blue after some time.
How many years does PMU last?
Usually, they last for three years. But some can last for more than 5 years. In a decade, most of them fade away. If you want to retain them, you need regular touch-ups to keep them neat and fresh.
How many types of PMU are there?
The most popular types of PMU are micro-needling, lip blushing, permanent blush, permanent eyeliners, freckle tattooing, etc.
Is PMU safe?
Yes. But it has some risks. It can damage your skin by causing complications like skin infection, allergic reactions, bloodborne diseases, and inflamed tissues. So, it is paramount to be highly careful while picking your tattoo artist.
Can I use an eyebrow tattoo machine on myself?
It's generally not recommended to use an eyebrow tattoo machine on yourself, as it requires a high level of skill and experience to achieve good results. It's best to leave the procedure to a professional tattoo artist.
How long does an eyebrow tattoo last?
An eyebrow tattoo can last anywhere from 1 to 5 years, depending on factors such as the type of ink used, the skill of the artist, and the individual's skin type and lifestyle.
Is an eyebrow tattoo painful?
Like any tattoo procedure, there can be some discomfort associated with getting an eyebrow tattoo. However, the level of pain can vary depending on the individual's pain tolerance and the skill of the artist. Some artists may also use numbing creams or other techniques to minimize discomfort.
Can an eyebrow tattoo be removed or corrected?
Yes, it is possible to remove or correct an eyebrow tattoo using various techniques such as laser tattoo removal, microblading correction, or color correction. However, the process can be expensive, time-consuming, and may not always be successful.
Is there any special aftercare required after getting an eyebrow tattoo?
Yes, aftercare is an important part of the eyebrow tattoo process to ensure proper healing and long-lasting results. This can include keeping the area clean, avoiding certain activities or products, and applying aftercare products such as ointment or balm.
Can anyone get an eyebrow tattoo?
Anyone who is in good health and does not have any underlying medical conditions that could increase the risk of complications can generally get an eyebrow tattoo. However, it's important to discuss any concerns or medical conditions with a healthcare provider or tattoo artist before getting the procedure.
We are sorry that this post was not useful for you!
Let us improve this post!
Tell us how we can improve this post?