Microblading is a cosmetic technique that can give you fuller eyebrows in less than a few hours. The practitioner runs a microblading tool along your eyebrow lines to apply pigment and make your eyebrows appear thicker. The effectiveness and simplicity of the process have made microblading one of the biggest beauty trends in the world.
How much does it cost to get microblading on average? It seems like a simple enough question, but the answer is not as straightforward as you would think. If you have been wondering how much a microblading procedure would set you back, this article will be a helpful read for you. So, stay with us for the next couple of minutes and find out how much is microblading going to cost you.
How Expensive Is Microblading?
You can divide microblading costs into two categories. The procedure per se is one of them. Most people searching ''how much does microblading cost?''  online want to know how much they have to pay to get the procedure done. But that's only half of the story. You should not forget about maintenance costs.
Once you have your eyebrows microbladed, you will have to expect to go back to the practitioner's chamber once every month or every one and a half months for follow-ups. Microblading ink starts to fade away in four or six weeks, so you have to undergo touch-up sessions to keep your eyebrows in great shape.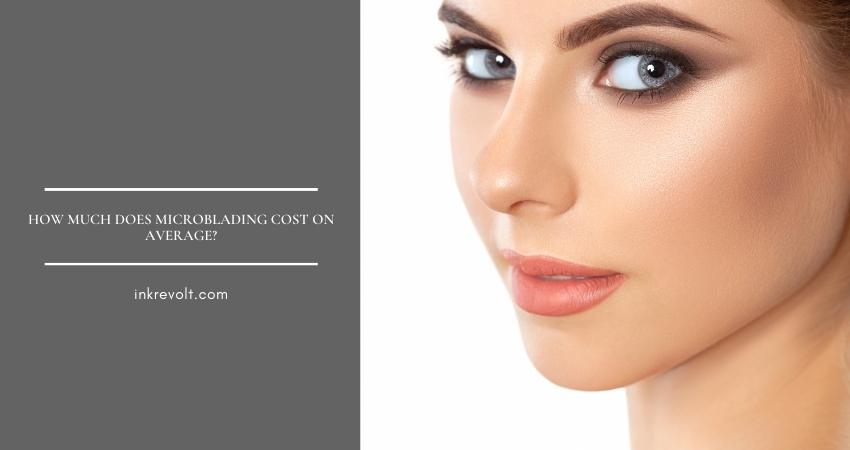 Beauticians consider the first touch-up after the procedure to be the most important. Many practitioners include the first touch-up in the amount they charge for the treatment. If they don't, they will tell you that you would need to pay extra for the follow-up. So, make sure whether a complimentary touch-up is on or off the table.
The procedure will cost you around $400 to $2000, depending on where you are going for the procedure and several other factors. A touch-up session would cost $50 to $200. The costs could be even higher if you have adverse skin conditions. On average, a microblading procedure lasts two years. You could spend $1000-$3000 in touch-up fees within that period.
Why Is Microblading So Expensive?
Microblading comes with a hefty price tag because the equipment cost is high. Disposable support tools like alcohol pads and wet wipes are relatively inexpensive, but the cost can add up quickly. Also, you have to factor in the rent. In some localities, business space is overly expensive. So, the artists have to make up for it with higher fees.
Then, there are the money artists put into their training. Professional training, which can include live workshops and online courses, can cost thousands. There are cheaper alternative options, such as internships or on-the-job training. But, you have to spend lavishly to avail services of a highly certified practitioner.
Why Do Microblading Prices Vary?
There is no defined pricing for microblading treatments because there are many variables at work. Here are the highlights:
The Qualifications Of The Esthetician
Rules and regulations regarding microblading vary across states. In Texas, for example, anybody can practice microblading, but in Tennessee, getting a license is mandatory. If you happen to live in a state which doesn't have strict microblading laws, you will find a lot of artists who charge modest fees for their services.
Most of these people don't have the right qualifications. What they lack in training, they make up for in meager prices, or do they? In comparison to certified practitioners, non-certified artists charge next to nothing. But, the expertise of licensed practitioners makes the process safer and more effective.
The Experience Of The Esthetician
The more experienced artists are at microblading eyebrows, the less likely they will make mistakes. Therefore, experience significantly drives up the demand for an esthetician. Artists who have been doing it for a while and have stellar reviews can command premium fees for their services.
Newcomers in the business will offer lower prices because they don't have the experience. They can have the necessary skill set to do the job right, but since they can't back up their claims with client reviews, you won't be willing to pay the fees seasoned professionals charge. A newbie can take half or even less than half the fee of an experienced artist.
Equipment
The materials the artist employs also have an impact on how much microblading costs. Because some tools and pigments are of higher quality and more expensive, artists who use those will command higher fees. Premium supplies will make your microbladed brows look better and last longer.
Location
Microblading prices can also vary from location to location. If you search ''how much does microblading cost in California'' and ''how much does microblading cost in Texas'', you will see that the prices are not the same. Smaller towns tend to have lower rates since property expenses are lower there.
Competition
The competition in the area is very important when it comes to how much microblading will cost. If there are only a small number of salons in the area, the prices will likely be high. We see bigger price fluctuations in big cities with a lot of salons. Some exclusive outlets charge astronomical fees, while others try to attract customers with competitive pricing.
There is no set price for microblading. The artist's profile, location, availability of salons, and equipment quality are the key reasons for this price disparity. But, if you round up the numbers and calculate an overall average, it would be around $700 for experienced artists. For new artists, the average price will be $300-$350.
What Is Microblading Price In The USA?
We have already mentioned the average price of microblading across the US states. The table below shows the local microblading rates for some US cities. The price mentioned here involves the procedure and the follow-up session.
| | |
| --- | --- |
| City | Average Microblading Price |
| Miami, Florida | $800 |
| Palm Beach, Florida | $550 |
| Jacksonville, Florida | $500 |
| New York City, New York | $900 |
| Albany, New York | $600 |
| Houston, Texas | $670 |
| San Antonio, Texas | $540 |
| Fort Worth, Texas | $585 |
| Dallas, Texas | $790 |
| San Francisco, California | $780 |
| Los Angeles, California | $775 |
| San Diego, California | $610 |
| Aurora Area, Illinois | $850 |
| Chicago, Illinois | $750 |
| Portland, Oregon | $700 |
| Salem, Oregon | $635 |
| Columbus, Ohio | $700 |
| Cleveland, Ohio | $650 |
| Seattle, Washington | $780 |
| Olympia, Washington | $640 |
| Tucson, Arizona | $520 |
| Phoenix, Arizona | $600 |
What Is The Cost Of Microblading Outside The US?
If you are a non-US citizen or want to have the procedure done outside the US, you can check the following table to compare microblading prices around the world. We would like to give you a friendly reminder to think about the cost of travel, the length of recovery, and the provider's and facility's reputation before taking an overseas trip to get microblading.
| | |
| --- | --- |
| Country | Average Microblading Price |
| Canada | $650 |
| Mexico | $200 |
| United Kingdom | $550 |
| Australia | $450 |
| Colombia | $180 |
| UAE | $400 |
| Japan | $350 |
Does Microblading Cost Differ Among Various Skin Types?
It's easier to microblade on dry skins since the skin retains the pigment better. But, the procedure costs the same across all skin types. The technician will charge you the same fee whether you have oily or dry skin. But the costs may vary throughout the lifespan of the treatment.
If you have oily skin, your microbladed brows will fade quickly, and you will need more frequent touch-ups, which are not covered by the initial cost. In that case, you will have to spend more money on touch-ups. Also, if you are physically proactive, your eyebrows could wash out faster because of more sweating. That would drive up your touch-up costs too.
Will Insurance Cover Your Microblading Cost?
No, your health insurance will not cover your microblading expenses. Your health insurance will pay for life-saving treatments. It will not cover cosmetic surgery or other beauty procedures. Since microblading is not a surgery or a medical procedure, your insurance company won't foot the bill.
Is Microblading Worth The Money?
Considering the returns, the cost of microblading is a minimal investment. Buying an eyebrow pencil seems like a much simpler solution. It's cost-efficient, and even superstars like Lady Gaga prefer to use them to perfect their brow game. But, unlike Lady Gaga, most of us don't have access to a personal stylist. So, we have to do it all by ourselves.
Unless you feel cool, calm, and collected 24/7, you won't be looking forward to doing your brows every single morning. Microblading significantly cuts down your grooming sessions. Even after a workout or a swim, your eyebrows will still be flawless. For rocking naturally lush eyebrows all day long with minimal effort, microblading is well worth the money.
Final Words
Microblading has brought about revolutionary changes in the brow care regime. Since microblading became available in almost all beauty salons, it has never been easier to perfect your eyebrow look.
Don't hesitate to spend the money on a high-reputation esthetician if you want your brows to stand out. If you don't feel comfortable breaking the bank, select an esthetician with a proven track record but who is yet to break into the elite class of the finest microblading artists in the area.