11 Best Tattoo Inks For Sensitive Skin [Expert's Choice]
More and more people are becoming interested in tattoos nowadays. But there is one thing that is stopping many from getting one. It is their sensitive skin. Allergy issues terrify them of having their dream tat on the skin. Some even have experiences like nightmares where their skin reacted so badly that the tattoos became scars.
Now, as a tattooist, your role is to find the best tattoo inks for sensitive skin, so everyone leaves your tattoo shop with a broad smile. How will you differentiate the best from the fake or subpar quality?
That requires gathering some fundamental knowledge about tattoo inks – just what I will do by introducing and reviewing 11 tattoo inks for you.
Are you all prepped to take the ride? Let's start, then!
11 Best Tattoo Inks For Sensitive Skin Reviews
1. Kuro Sumi Japanese Black Ink

The first thing about the first brand I am about to review today is that it immersed itself in its mission and vision: adding a touch of life to your tattoos by glorifying traditional Japanese style in the process. Professionals have been using and loving it, and beginners have been getting surprised at the charisma of Kuro Sumi tattoo inks.
This ink from the brand is the best for sensitive skin. All its ingredients are natural, and they contain nothing harmful. That means every skin type will receive the ink just fine. You can design your tattoo outlines and shades with black ink.
Kuro Sumi has always said that their inks stand out. And it does not exaggerate a bit. The clarity and consistency of the ink will show you that. The tightly sealed and protected ink bottle comes with 6 ounces of ink.
The price is pretty bearable for every user. Plus, it is widely available in the USA. Kuro Sumi could have charged more for the quality and quantity it offers through this ink, but the brand emphasized availability and accessibility. I could not help admiring it for that.
Reasons to get
A traditional Japanese style in your tattoos
Great quantity and price
Color uniqueness, consistency, and clarity
High availability and accessibility
Suitable for every user and every skin type
Reasons to avoid
The bottle lid needs betterment.
2. Millennium Mom's Tattoo Ink Set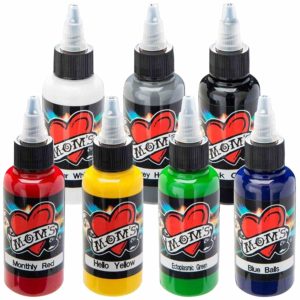 Ink colors can have every good thing there can be. But if they are not consistent, they are not worthy. That is one thing MM took to another level with its inks. The balance of water and pigments in the colors is beyond everything.
Another point is the consistency in the ink performance. You would think the quality will become poorer with each application, only to be amazed every time.
There are 7 colors in this MM set, each half-ounce: hello yellow, blue balls, monthly red, grey hound, power white, ectoplasmic green, and black onyx. Each color is purely natural and non-toxic. They created a crazy hype in the market by being the best tattoo inks for sensitive skin. When you apply them, you will become an MM lover too.
This color set comes at the best deal you will ever get. Plus, if your budget is high and you want a higher quantity, MM has that option for you too. That flexibility is something you will not enjoy with most brands.
Reasons to get
Seven primary colors
Long-lasting and non-toxic ingredients
Flexible price and quantity options
Best for sensitive skin
Perfect balance between pigment contents and flow maintenance
Reasons to avoid
Not that beginner-friendly
3. Kuro Sumi Japanese Tattoo Ink Set (7 Colors)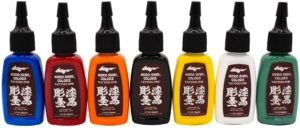 I have just discussed the black ink from Kuro Sumi. Here is a little history of the brand. It started in Japan by working on Japanese tattoo techniques and handing them down from one generation to another. Later, when the popularity went beyond the border, Kuro Sumi began to work internationally and became one of the top-performing tattoo companies by virtue of its extraordinary, skin-friendly, and long-lasting colors.
The colors will glow out of every skin type without causing the slightest problems. As I said earlier, Kuro Sumi is 100% organic about its ingredients. All the inks it manufactures are the best tattoo inks for sensitive skin.
Now come to talk about the colors: black, blue, red, green, orange, yellow, and rice-mixing white. You will get all of them in half an ounce bottles. Each will blend in with the skin, adding dimensions with a pinch of Japanese culture and history to the tattoo design.
The price is moderate. If your budget is too tight, it might not make your shortlist. But I would definitely recommend trying it whenever you can manage.
Reasons to get
A set of seven rich-toned colors representing Japanese background
Natural and superior ingredients, no harmful chemicals
Decent price range
Smoothness and consistency
Safest for sensitive skin
Reasons to avoid
Some colors may fade faster.
4. Dynamic Triple Black Tattoo Ink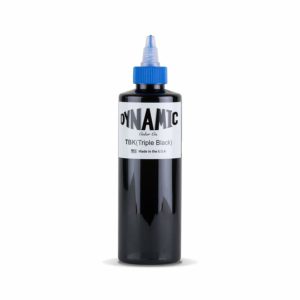 Using black ink is a must for designing tattoos. So every artist is extra-attentive to this ink. Even more, it is the color that suits every skin type. Dynamic can meet your demand if you are hunting for some black ink.
The brand offers you its triple black tattoo ink, the blackest black you can get. Its pre-dispersed pigments will shine right out of your skin, which are vegan-friendly. The company never used animals to examine them. You can style any lines and shades with this ink. The grey wash results from the triple black are more than worth trying.
Now, what about the fake inks available in tattoo stores? You do not have to bother thinking about that because Dynamic has a solution for it. The ink jars have an anti-counterfeiting-coated Dynamic logo. Check it when you are in the store. That way, you will always get authentic products.
The Dynamic inks enter the skin efficiently and contribute to optimal tattoo healing. The triple ink bottle has 8 ounces of black ink, determined to last you for a really long time.
Reasons to get
Vegan-friendly and pre-dispersed ink pigments
Desired grey wash results
High quantity
Efficient skin penetration
Ideal tattoo healing
Anti-counterfeit PET crystal clear jars
Reasons to avoid
The overall packaging system is not satisfying.
5. Intenze True Black Tattoo Ink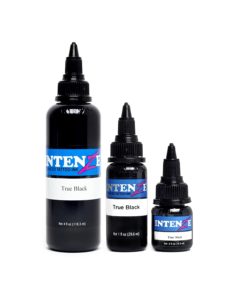 If you love tribal and traditional tattoo designs for which you need authentic black ink, remember the name: Intenze True Black Tattoo Ink. It is by artists for artists.
Some top tattooists like Boby Tyrell and Mark Mahoney tested the tattoo ink. Prominent tattooists like Steve Butcher, Mike Demasis, London Reese, and Mono Marino adore the brand for its rich and true black ink.
The chief reason that makes it one of the best tattoo inks for sensitive skin is that it has no mutagenic toxins. Thus, you can apply it to your client's skin without fearing side effects.
As the ink name says, it is true in color, and it heals very darkly, unparalleled for shading and lining. It also has a tamper-proof bottle to allow the user to keep it for longer. Besides, the company has formulated it thoughtfully, so it does not dry out anytime soon.
If you want your 'Old is gold' tattoos to be so dark that they start shining on the skin, you have got to try this insanely gorgeous tattoo ink.
Reasons to get
Best for tribal tattoo designs
Safe and risk-free formulation
Perfectly dark output
Tested by famous tattooists
Reasons to avoid
It could have been a bit thicker.
6. StarBrite Tattoo Ink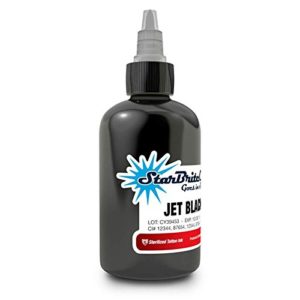 StarBrite offers the best tattoo inks for sensitive skin at a budget-friendly price. Now, you might get the message that it will cost you the quality, which is wrong. The market is fraught with low-quality products at cheap rates, but StarBrite is a light of hope and assurance there.
It compromises with nothing – not safety, not quality. It runs its production system in ISO-certified cleanrooms (Class A) to keep the inks from getting in touch with pollutants. Then there will also be gamma radiation to sterilize the colors completely.
In this review, I brought up the one-ounce black outliner that boasts a smooth texture and regular flow to distribute evenly and heal quickly. And that is what makes the ink so user-friendly. If you are a newbie, do not hesitate to try the brand. Using the ink will pave the way for you to learn to create flawless and edgy lines and shades from the beginning.
Reasons to get
Smooth texture with a balanced flow rate
Produced in ISO-certified cleanrooms
Strict maintenance of safety
Easy to use, hence beginner-friendly
Improved packaging with timely delivery
7. Element Tattoo Supply Black Tattoo Ink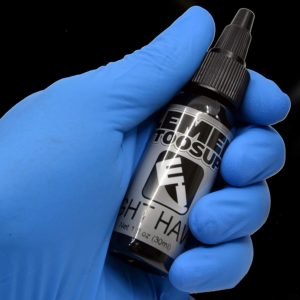 The color black is the timeless beauty of anything. The same applies to tattoos too. You can use it anywhere and everywhere, and it will never disappoint you. In the case of tattooing on dark skin, it gives you an edge. It suits darker skin tones beautifully.
Element tattoo supply has one of the darkest and best black ink for dark skin. It has a top-notch quality to accommodate professional tattoo purposes. You can apply the ink to every tattoo style for outlining solid and dark lines and shading various designs.
Moreover, if you want to mix it with other inks to make new colors, you can do that too! You can blend it with other brands' tattoo inks to add mesmerizing tones and shades to your tattoos.
The price of the product is reasonable. Element Tattoo Supply made this ink for the tattooists to depend on them with budgeting and without compromising with quality. The plain but trendy ink will be the classiest addition to your collection. Besides, it will stay permanent forever without any blue or purple tints.
Reasons to get
Dark pigments
Mixable with other colors
Professional-grade quality
Reasonable price range
No tints of blue or purple
Permanent tattoo ink
Reasons to avoid
The consistency could have been better.
8. Radiant Colors Tattoo Ink Set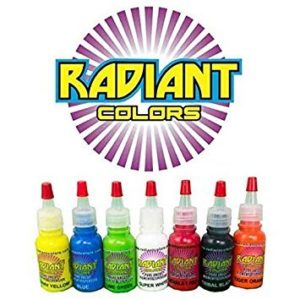 The company initiated its journey in Los Angeles. Radiant Colors went beyond the border. And the rest was history when the business got too hot in the hometown. Today, national and international tattoo artists recommend the brand for its premium quality tattoo inks.
It is no rocket science how the brand earned its reputation worldwide. It partners with renowned tattoo artists to analyze the current tattoo trends and styles to fulfill the demands of professional and emerging tattoo artists. Moreover, it cuts no slack when the concern is safety. It uses cutting-edge technology to keep the inks homogenous, sterilized, secure, and pollutant-free. To sum it up, Radiant Colors will get you loyal customers by offering the best tattoo inks for sensitive skin.
Some customer-favorite colors in the seven-color ink set are canary yellow, tribal black, and lime green. The quantity of each is half an ounce. Their price may not be as you would expect. You will, of course, find cheaper inks. But there will be no guarantee of quality that Radiant Colors will give you.
Reasons to get
Fast recovery and no skin irritation
Use of cutting-edge quality
Professional-grade performance
Skin-friendly, natural
Free of toxic ingredients
Suitable for every user
Reasons to avoid
Some inks may start drying out fast.
9. Bloodline Tattoo Ink Set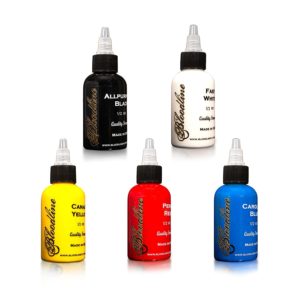 The durability of tattoo inks means how long they will stay unfaded. But an even more salient factor is longevity, meaning how long you can use the inks. In both cases, the Bloodline Tattoo Ink set is reliable. The colors will not fade – credit goes to the brand for testing each ink's quality before preparing them for the market. That also rules out the possibility of your receiving poorly packaged inks.
There are a handful of reasons why professional tattoo artists admire Bloodline. First, the quality and brand value are top-notch. Next, there is the production. The brand uses water as a carrier instead of toxic ingredients catering to speedy tattoo recovery. Third, this Bloodline set presents the 5 best tattoo inks for sensitive skin: all-purpose black and white, redd kross, bellbottom blue, and canary yellow.
The brand never stops its innovation to improve the inks, color saturation, brightness, and opacity. So, if there is one thing to be blindly confirmed about, it would be their dedication to providing you with the best products.
Reasons to get
Well-researched and well-innovated products
Meticulously packaged tattoo inks
Fast recovery and no skin irritation
Suitable for professional use
Long-lasting performance
Reasons to avoid
Need for betterment in the color consistency
10. Allegory Premium Blak Tattoo Ink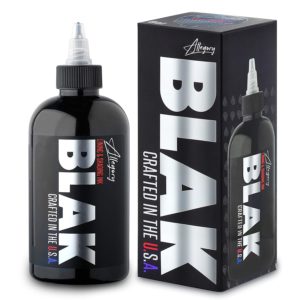 Top global tattooists widely recommend the premium quality black ink from Allegory. It has a smooth consistency and a unique texture, idealizing it for shading and lining.
The ink has no harsh substances like nickel and lead that cause harm to your skin. It is natural, vegan, and irritation-free. There are 8 ounces of ink in its round bottle made of BPA-free and a high-quality component, PET. You will find it in an anti-tamper seal with a twist-dispensing top.
Allegory gave the black ink a silky and smooth texture, perfecting it for different techniques and designs. The company also uses a glass marble agitator to keep these characteristics intact. The pigment dispersion is also high, thanks to the natural ingredients for not making it too runny. Also, the color is hypoallergenic, hence one of the best tattoo inks for sensitive skin.
However, there may be fake copies in the market, which may fool you with suboptimal performance. Be aware of that when visiting the tattoo shop.
Reasons to get
Vegan and hypoallergenic
Individual packaging with a PET jar and a twist-dispensing top
Ideal for outlining and shading
Use of agitator to maintain the overall quality
Smooth texture and application
Reasons to avoid
Leakage problem with the seal
11. Millennium Mom's Black Onyx Tattoo Ink

When I say MM is the boss of tattoo inks, I wholly mean it. It is the ideal benchmark for black ink. It is the blackest black in the market, offering a surprisingly smooth flow and consistency. You will see a visible difference between this color's richness and other mainstream ones.
We get what we pay for, so the price may seem suspicious to you. But the truth is MM went the extra mile with this one by charging so little. Plus, the highest pigment of the black ink will allow the users to get brighter tattoos flowing like dreams.
The tattoo will not fulfill the purpose of regular tattooing only. It works brilliantly for stick and pokes tattoo techniques too.
Now, moving on to the best part – the brand has a solid place in the industry, favored among uncountable tattooists worldwide, most of whom love the Black Onyx. The color's bold and lasting pigments will remain flawless for years.
Reasons to get
The darkest black color ever
High longevity
Highly affordable
Amazing flow rate
Reasons to avoid
Leakage issues with the bottles
Hypoallergenic tattoo ink: What should you know
Hypoallergenic tattoo ink is a type of tattoo ink that is formulated to be less likely to cause an allergic reaction in the skin. Many people are allergic to certain ingredients in tattoo ink, such as certain pigments or preservatives. Hypoallergenic tattoo ink is designed to be less allergenic, which may make it a good option for people with sensitive skin or a history of allergies.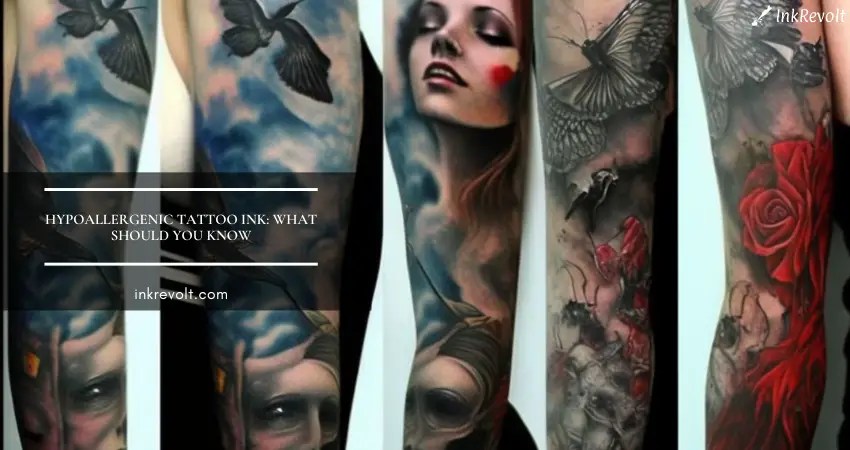 There are a few different ways that tattoo ink can be made hypoallergenic. One common approach is to use pure, organic pigments that are free of any additives or preservatives. These pigments may be derived from natural sources, such as plants or minerals, and are generally considered to be safer and less irritating to the skin.
Another approach is to use a special kind of carrier solution in the ink, such as purified water or a vegetable-based oil, which may be less likely to cause an allergic reaction than other types of carriers.
It's important to note that while hypoallergenic tattoo ink may be less likely to cause an allergic reaction, it's still possible for people to have an allergic reaction to any tattoo ink. If you have sensitive skin or a history of allergies, it's a good idea to talk to your tattoo artist about the ingredients in the ink they use and any concerns you may have.
How To Buy The Best Tattoo Inks For Sensitive Skin?
You buy the best tattoo inks for sensitive skin by learning some factors first. Many tattooists do not pay much attention to this until it is too late. It is best to take some time and contemplate the ins and outs first. Are you okay with going slowly but smartly?
Ink Colors
You cannot use every ink color on people with sensitive skin. Some tattoo inks can potentially cause their skin to react. For instance, red is more probable than others to irritate your skin.
That does not mean you cannot buy red inks ever. But you must be mindful that you cannot apply it to everyone's skin. The wise move is to make sure your clients have no skin-related issues before proceeding.
Ink Reach
Tattoo devices puncture through the skin to send the ink into specific skin positions. But they can often get into the dermal levels and reach lymph nodes.
Now your client's immune system can back the accidental inclusions. But you can not leave that at the chance. Instead, you can solve this problem by getting organic and non-toxic tattoo inks.
Ingredients
The biggest reason many people fear getting tattoos is the ingredients. If the inks have animal-sourced materials or heavy metals, they will cause skin irritation. And it is not something to mess with or neglect because harmful inks can make it so fatal that your client's health may be at risk.
Always, always look up the ingredients and check if they are natural. If they are not, or if there is only one toxic metal or material, search for something else.
Quality And Other Factors
Quality is a given factor associated with every product. Who does not look for it when checking something out? True, I know. But it still needs your attention.
Other than performance, quality involves some other things like consistency, color brightness, ink maintenance flow, etc. If you do not think of each factor, you will not get the best results. The best tattoo inks for sensitive skin must have these characteristics.
Price
What do we all want in life? Quality products within reasonable price ranges. While that rarely happens, ink manufacturers became wish-granting fairies. Most popular companies offer their best tattoo inks for sensitive skin at a pretty reasonable price.
However, you will also see fake ones at a low price. They may look glittery outside, but do not fall for them. Look for authentic products, and even if they charge higher than your budget, do not switch to the cheap ones only to pay for them later.
See also: Best tattoo ink for dark skin
Frequently Asked Questions
The QnA part below is there to satisfy your queries if there are any. I am sure they will add up to your knowledge. There is never too much to learn about something like this, is there?
What are the best tattoo inks for sensitive skin?
The best tattoo inks for sensitive skin are typically organic or natural inks that are made with safe and hypoallergenic ingredients. Some popular options include Dynamic Color, Karo Sumi, and Intenze Organic inks.
Can people with sensitive skin get tattoos?
If they suffer from skin conditions like eczema, psoriasis, or rosacea, they should consult a dermatologist first. If their symptoms are critical or allergic to tattoo inks, they may never get tattoos.
Which tattoo ink is hypoallergenic?
Every tattoo ink is hypoallergenic except red. If you use red for your tattoos, the pigments can give you allergies.
Can tattoo ink have heavy metals?
Yes. Some inks may have metals like cobalt, lead, chromium, nickel, and arsenic, potential metals to cause allergic reactions. So you should select non-toxic and organic ingredients because they are more skin-friendly.
Can tattoo inks bleed under my skin?
Yes. It means you are experiencing a tattoo blowout. If the tattooist injects the ink too deep into your skin, the tattoo may spread beyond its outlines, creating blurry effects. It usually happens if the tattoo artist lacks experience or your skin is thin.
Do tattoo inks cause cancer?
No scientific proofs are there to back this claim. But some inks may have heavy and toxic metals. Therefore, you should always resort to organic and natural metals to be on the safe side.
What are the differences between traditional tattoo inks and organic tattoo inks?
Traditional tattoo inks are made with a combination of pigments, carrier solution, and preservatives, while organic tattoo inks are made with natural ingredients and are considered to be a safer option for those with sensitive skin.
Final Verdict
I dearly hope you have already found the best tattoo ink for sensitive skin if you have gone through all the reviews. If not, don't worry yet! I will jot down the top 3 choices below to ease the process for you.
MM has the absolute best one with a highly affordable price for the black hunters. Its performance is unmatched.
Others who always want to stay up-to-date to flow with the latest styles and trends might find the Bloodline tattoo ink intriguing. The company never stops innovating and developing its products. Buying it will be a treat to your passion.
But if you are more into being unique in your own way, try the Kuro Sumi Tattoo Ink Set. Introduce Japanese tradition to your creativity and uniqueness and find your own style in the process.
However, if these 3 misses some of your criteria, you can always try the other ones. Remember that the goal is to find what works best for you and your clients. As long as you prioritize that, you will never fail to make it through.
That is all for today. All the best!
We are sorry that this post was not useful for you!
Let us improve this post!
Tell us how we can improve this post?