Moms Tattoo Ink Review [Updated 2022]
Are you a tattoo artist or someone planning to get inked for the first time? It is a curious question because people who get inked are concerned about their effectiveness as much as the artists. That is why tattoo artists always look for ink that will be safer to use and leave the expected color.
So, here is one brand that has been known for its effective and satisfying quality. The Mom's Tattoo Inks are well-known as they come in many shades and packs. The quality of the inks is excellent, and the quantity is good compared to the price.
In this Moms tattoo ink review, I will discuss the features & benefits and all the pros & cons of the inks. So feel free to give it a go if you are a tattoo enthusiast.
Introducing Millennium Mom's Tattoo Ink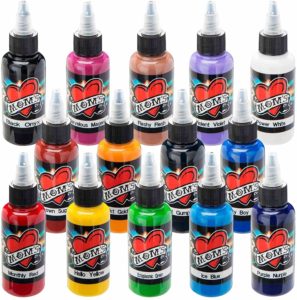 Product Features
Manufacturer: Millennium Colors, Inc
Country of Origin: USA
Suitable For: Beginners and Professionals
Safety: No Animal Testing and Vegan-Safe
Mom's Millennium or Millennium's Mom tattoo ink, people call it by both names. Made by Millennium Colors, Inc, it is an American-made brand and has been manufacturing tattoo ink since 1998.
This fact alone clarifies why the Mom's Tattoo Inks are so unique. You can find single-color bottles to 41-bottle sets of various colors. But the brand sells as many as 120 different color shades for the tattoo artists.
This 14-bottle pack is essential for creating a vast range of tattoo arts. All the colors have a deep texture and do not change their hue. Each bottle contains 0.5 ounces of ink, making them enough to explore your skill if you are a newbie.
Who Is This Product For?
Well, you can tell who are the users of tattoo inks. But the question is: is it suitable for any user? Millennium Colors did not limit the use of their inks, making them suitable for tattoo artists of any level. Here is a list of users for Mom's Tattoo Inks:
Professional tattoo artists
Mid-level tattoo artists
Novice tattoo artists
DIY tattoo enthusiasts
Additional Read: Best tattoo inks for beginners
Problems You Might Face
Even the best tattoo inks are not without some downsides. Here are some problems you are likely to experience.
Thin Ink May Not Be Durable
The inks are pretty thin. And if you have not worked with thin ink before, working with it can be a bit challenging at first. And you might need to use a second coating to make them last longer.
Clean After Each Use
The inks can sometimes clog, making them challenging to work on. So, you need to ensure cleaning them after each use. Watch out for the blue one, as it tends to dry pretty quickly.
Reasons to get
It is an authentic brand and made in the USA
You do not need a license to purchase this ink set
The colors are vibrant and make the tattoos stand out
The colors offer an excellent consistency
Suitable for all types of artists and allows you to work on any type of tattoo
The ink ingredients are not harmful to the skin and suitable to apply to any skin tone
This 14-bottle pack is cost-effective
Reasons to avoid
The colors are thin, making it a little challenging to apply for novice artists
The durability is comparatively lesser than inks of many other brands
Some customers faced packaging issues
Now that you know about the brand and bits & pieces of the color, let's dive in a little deeper. In the following part of this article, I have highlighted the best-known and essential features of Mom's Tattoo Ink.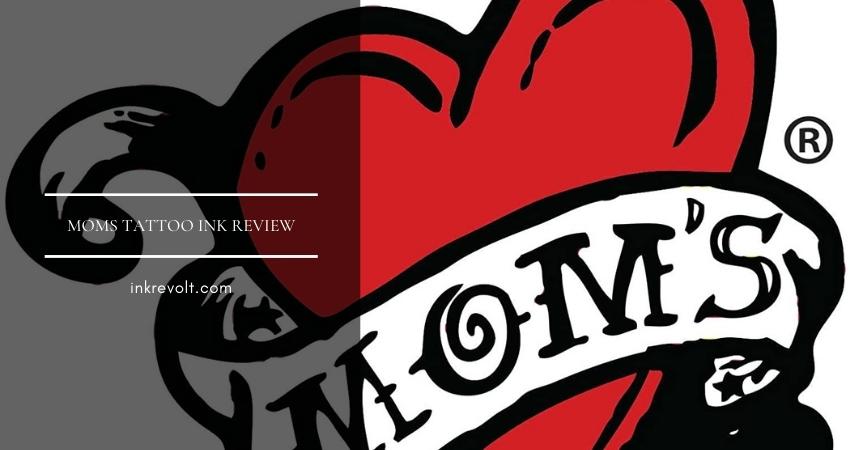 Moms Tattoo Ink Review: Features And Benefits
It is best to learn the features of Mom's tattoo ink in more detail than the small bits I mentioned above. Besides, learning about the features will also help you understand its benefits so that you can decide whether you are choosing suitable inks and colors.
14 Color Variations
Millennium Color brand offers a variety of color shades with many ink sets. While the highest set comes with 41 bottles, I believe a 14-bottle set will be an excellent choice for a start, especially if you purchase it for testing and learning. But what colors are you getting here?
Black Onyx
Marvelous Magenta
Fleshy Flesh
Violent Violet
Power White
Brown Sugar
14kt Gold
Forest Gump Green
Pretty Boy Blue
Monthly Red
Hello Yellow
Ectoplasmic Green
Ice Blue
Purple Nurple
Ingredients & Safety
The ingredients of the colors play a vital role in their quality and safety concerns. Mom's Tattoo Inks have a reputation for being 100% vegan-free product. So let's look at the ingredients the inks contain to learn if they are safe to use.
Tattoo ink color
Water
Glycerin
99% Isopropyl Alcohol
So you can see that the ingredients used in the inks are not toxic. They do not even cause any skin irritation or any other allergic reaction.
Performance
The inks are recognized among users because of their excellent performance and satisfying outcome. The brand manufactures a high pigmented mixture for each color that makes the tattoos look more vibrant and stand out for a long time.
Quantity
Each bottle from this 14-piece set contains 0.5 oz ink. They come with enough ink to last many uses. If you are a beginner or hobbyist tattoo artist, these inks will last longer as you might not use them all the time.
The bottle has a little something inside that you can hear when you shake them before use. It is a handy feature that ensures the ink gets agitated.
Durability
Mom's tattoo inks are for permanent tattoos. They will stick around for a good amount of time before you need a retouch. However, some artists found a slight issue with the consistency of the inks. According to professionals, the inks often require a second coat to make them long-lasting.
Alternative Products
If you are a professional tattoo artist, you need more color shades than these 14. On the other hand, if you are a DIY tattoo artist or a novice, you require the primary colors to experiment with your new skill. So here are two alternative recommendations if you think these 14 colors are too many or not enough for you.
Intenze 19 Color Tattoo Ink Set
Intenze is another popular brand name when it comes to tattoo inks. They are highly pigmented, leaving a bright and vibrant color without changing the hue. This ink set comes with 19 shades of ink bottles of white, blue, green, purple, black, brown, red, orange, magenta, etc.
The tattoo inks from Intenze are very reliable. Though many users would say the price is on the higher side, I would say it is pretty reasonable as each bottle contains 1oz ink.
INTENZE Color Tattoo Ink Sets 1 oz (19 Color Tattoo Ink Set)
19 Color Intenze Tattoo Ink Set - 1 oz bottle.
Sets cannot be customized.
Colors include: Snow White Opaque, Snow White Mixing, Lemon Yellow, Golden Yellow, Soft Orange, Hard Orange, Bright Red, Dark Red, True Magenta, Light Magenta, Light Purple, Dark Purple, Mario's Blue, Mario's Light Blue, Light Green, Dark Green, Dark Brown, Light Brown & True Black.
As an Amazon Associate InkRevolt earns from qualifying purchases.
Kuro Sumi Japanese 7 Tattoo Color Ink Set
Kuro Sumi inks are your best choice if you are into tribal tattoo art. The color consistency is thick enough to help create the perfect outline and fill-in. Some tattoo artists recommend using these inks for safer and organic ink use.
These inks saturate pretty well and last a long time. This particular ink set has 7 primary colors such as black, white, blue, red, green, yellow, and orange.
Kuro Sumi Japanese Tattoo Color Ink Pigments Set, Vegan Professional Tattooing Inks, 7 Master Colors, 1/2 oz
VIVID COLOR AND DIMENSION - Originally formulated in Japan, Kuro Sumi tattoo inks give your tattoos life and dimension. The molecular structure of our ink provides long lasting vivid color.
JAPANESE TRADITION– Tattoo artists around the world choose Kuro Sumi tattoo inks. We incorporate the art of Japanese tattooing and traditions handed down from generation to generation.
7 COLOR TATTOO INK SET – Our Master Set of 7 colored tattoo inks are vegan-friendly, and free from harmful chemicals. Blue, Black, Red, Green, Yellow, Orange color tattoo inks and 1 White Rice mixing tattoo ink.
SUPERIOR IN CONSISTENCY – Our tattoo color ink formulas incorporate organic elements and were not made not to blend, but to stand out. Superior ink consistency and bright, bold colors that go the distance.
PROUDLY MADE IN THE USA – Originally formulated in Japan, now made in the USA, Kuro Sumi takes the time to create the highest-quality tattoo inks by holding ourselves to the highest standards.
As an Amazon Associate InkRevolt earns from qualifying purchases.
Wrapping Up
Tattoos are like a visual language in bodies. It expresses individual taste and personality. So no one wants to mess up this perfection. The best way to ensure that is to use the right tattoo ink. And I'm sure this Moms Tattoo Ink review has answered all your questions regarding the safety and quality of the inks.
Millennium Color is a brand known for providing the best and some of the safest tattoo inks. You get some excellent color shades that make the tattoo look more life-like. But if you are not sure about this set, you can always check out the alternative recommendations.
We are sorry that this post was not useful for you!
Let us improve this post!
Tell us how we can improve this post?