How to Cover Up A Tattoo? [Beginner's Guide]
A tattoo is an important symbol and possibly a mark of a loved one, or an impactful event. But life takes many odd turns, and sometimes you can't proudly show off your tattoos. Instead of letting go of opportunities, or permanent removal methods, you can always learn how to cover a tattoo.
You can use regular makeup like correctors, concealer, and foundation to cover up a tattoo. You can also try tattoo cover-up creams, spray tanning, and stage makeup. Clothes, accessories, and skin-colored patches can cover up a tattoo very effectively too.
Tattoos hold personal value to most people. But sometimes you don't have a choice. I'll talk about how you can easily hide a tattoo with or without makeup, and a bit about what to do if you want permanent removal.
Why Hide a Tattoo?
A tattoo is an expression of your personality. It's an extension of your ideas or a reminder of something or someone important. So, it's normal that you want to display it proudly to everyone.
But there are times when tattoos can be problematic. There could be opportunities on the horizon, or some mishaps can force you to hide them. Here are some common reasons why people hide their tattoos.
You're going somewhere that doesn't appreciate tattoo culture. It can be your interviews, workplace, a friend's place, family gathering, parties, and more.
Your tattoo carries a message that selective people don't' appreciate.
You've grown tired of your tattoo and want to see how it feels living without it.
The tattoo is a sour reminder of something unpleasant.
You just don't like how your tattoo looks.
Whatever the reason may be, you should try covering your tattoo first. Like getting one, removing a tattoo is permanent. You shouldn't make a hasty decision. To cover up a tattoo, you can always try makeup.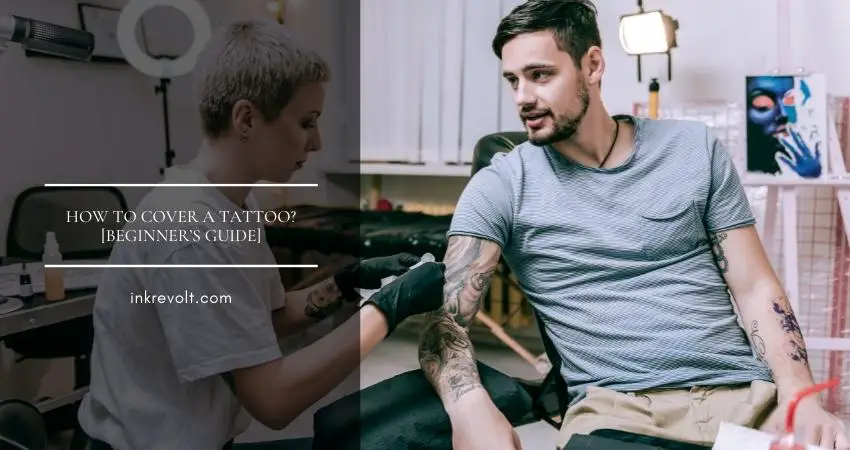 How to Cover a Tattoo with Makeup?
If you're thinking of how to cover a tattoo, then makeup is the first option. Makeup is easy to apply, wear and take off. It won't interrupt your daily life and won't come off suddenly.
Another benefit of makeup is that you don't have to change your attire. A sudden style change can make people notice, and you want to avoid attention.
Hiding tattoos with regular makeup is quite easy. You can do a trial run to see how effective it might be in your case if you feel interested. Here's what you'll need.
Facial wash and face wipes.
Two concealer brushes, one small and larger.
One large fluffy brush.
A makeup sponge.
Oil-free hydrating moisturizer.
Pore minimizing primer.
Corrector makeup.
Heavy-duty concealer of thick consistency and lasts long.
Full coverage, oil-free, matte foundation that matches your skin tone.
You can follow these steps to cover up the tattoo.
Clean up the tattooed skin. You can take a shower, or just wipe the area with facial wash. Clean skin will hold the makeup for longer.
Put a generous amount of moisturizer on the tattooed skin and rub in circular motions.
Take about a large drop size of primer and pat it over the skin. This will smoothen the skin and hold the makeup for a whole day.
Use the smaller concealer brush to apply the corrector on the tattooed skin. Dab corrector onto the skin and blend the edges. Start with a little and as much as you need to.
Use the larger concealer brush to pat the concealer onto the corrector. Cover any corrector that might be showing through or any tattoo outlines.
Use a large fluffy brush to blend out the edges.
Dab the foundation onto the area and blend it in using the kabuki brush.
Use the makeup sponge to blend in any rough edges that you can spot.
Corrector makeup won't be universally effective against any color your tattoo has. Specific colors will cancel out each other, so make sure to check for correctors that work for your ink colors. For example, pink correctors will work for black ink tattoos.
You can also use stage makeup to hide your tattoos. Stage makeup is meant to stay on under harsh light, heat, and sweat. If normal makeup doesn't feel up to the task, you can try using stage makeup that matches your skin tone.
If you want to cover up your tattoos with makeup, you should do a trial run. It's likely that you won't get it just right on your first try. You can also ask someone else if they can notice the makeup and adjust accordingly.
However, if you have a lot of tattoos, or have to hide them frequently, then makeup can be a hassle. There are other options for hiding tattoos that won't take as much effort. Like using clothes to hide tattoos.
How to Cover a Tattoo Without Makeup?
If you use makeup skillfully, you can make any of your tattoos invisible. But makeup takes time, money, and effort. And doing it frequently can be taxing.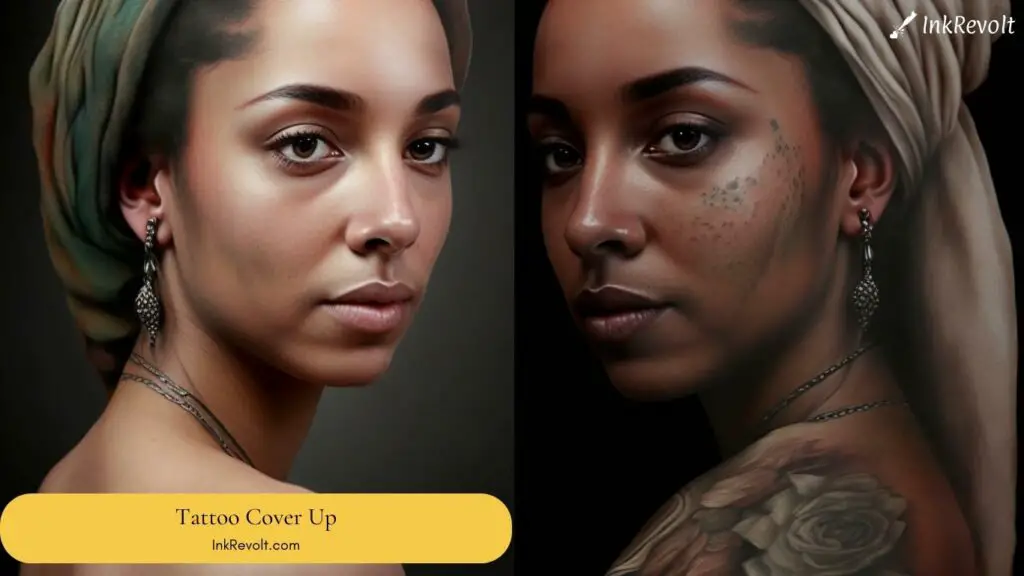 If you're sure that you won't be scrutinized, then you can choose a lower effort, time, or money-consuming option. If you want to know how to cover a tattoo without makeup, then you've got a few options.
Clothing and accessories.
Adhesive skin-colored patches.
Airbrush tanning.
Hiding Tattoos with Clothes and Accessories
Clothes and accessories can easily hide any tattoos on your body. You can hide just about any tattoos, so long as they aren't on or around your face, and your hands. Here are some ideas you can use to hide your tattoo with them.
You can use a high collared shirt, or a turtleneck to hide tattoos around your neck and upper torso. Wear a tie to hide any tattoo on your chest that might peek out otherwise.
You can also use necklaces, and scarves to hide neck tattoos.
You can style your hair to hide tattoos on your neck, specifically the back.
Full-sleeve shirts and tops can help cover arm tattoos.
You can hide tattoos on your wrist with watches, bangles, armbands, or any other accessories that go on.
Long pants, skirts, along with long socks, and darker pantyhose will cover any tattoos on your legs.
Make sure that whatever you choose to cover your tattoos with covers a larger area than needed. Pay attention to how the fabric or item moves as you move around. Some of these can move around slowly and expose your tattoos. With a snug fit and room to move around, you'll be a lot safer.
Adhesive Skin-colored Patches
You can find adhesive skin-colored patches or stickers that can cover up tattoos. These are made from breathable fabric, so they won't trap sweat nor come off from it. It's a very convenient and fast method to cover up your tattoos on the go.
However, most of these stickers come in tape rolls or small bandage sizes. So, you can only cover smaller tattoos. You can find stretchy sleeves of skin-color fabric for bigger tattoos, but they can be conspicuous. Another issue is that larger ones can be too visible for use at work.
The biggest pitfall of these stickers is that they come in limited colors. So, you might not find one that matches your skin tone. If you do, and it works for you, then it's a fast way to cover up for informal occasions.
Airbrush Tanning:
Airbrush tanning is another method you can try out. This type of spray tanning can smoothen and even out skin tones in addition to darkening the skin. So, it can cover up small and lightly colored tattoos.
You can try at-home spray cans to see if they are effective. Or you can consult your local tanning salon to see if they can hide your tattoos with an airbrush tan.
How to Cover a Tattoo for Work?
When it comes to hiding a tattoo at work, you need something fast and cheap. Many people rely on makeup or clothing to hide their tattoos. But makeup can be quite tedious to put on, and adds an extra cost to your budget, while clothing can be unreliable.
For work, you need to have absolute confidence that your tattoos are hidden. So, a fast, cheaper, and reliable solution is to use tattoo cover-up creams. You can simply apply it to your tattooed skin, and it will cover up the tattoo with ease.
These products also have a wide selection of colors, so you're almost certain to find one that matches your skin tone. This option is cheaper than makeup in the long run but offers the same safety will much less time for application.
It's possible that these might not work out for you. In that case, you should try to cover your tattoos with makeup. You can risk exposing your tattoo anywhere else but doing so at your workplace can cost you your means of living. So, it is best to choose the most inconspicuous means even if it can be tedious.
What About Permanent Removal?
If you're sure about permanent removal, then there are plenty of methods available. You can even try removing it at home. Here are some popular choices.
Tattoo removal cream
Surgery
Dermabration
Laser removal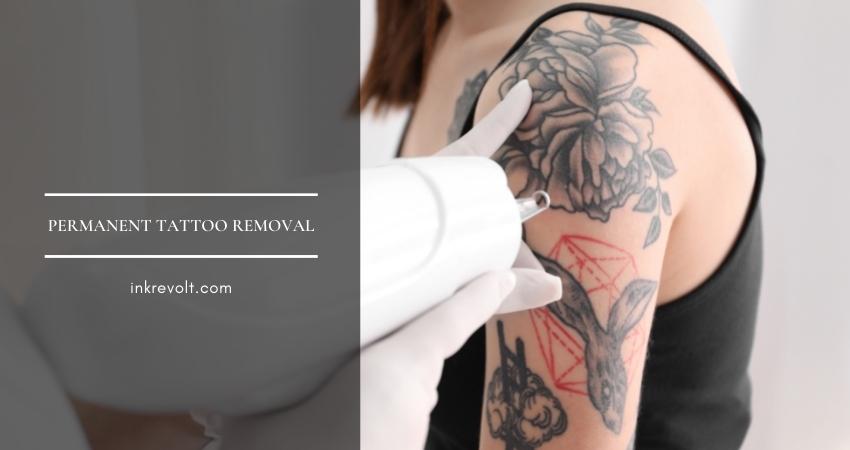 Tattoo Removal Creams:
Tattoo removal creams are at-home solutions that contain Trichloroacetic acid (TCA) and Hydroquinone. TCA eliminates the top layer and a bit of the underlying layers, while Hydroquinone works as a skin bleacher. Together these chemicals can remove skin layers and pigments to fade and maybe remove a tattoo.
There are many issues with these creams. It's almost certain that you won't remove the tattoo, only cause it to fade. And these products aren't well suited for darker skin tones, as they can destroy melanin and bleach your skin permanently. Also, many users have reported side effects such as scarring, redness, swelling, tight skin, burning, and pain.
Surgery:
You can try surgery for removing your tattoos. Small tattoos with extra skin around them can be surgically removed in one go. But this method will cost thousands of dollars, leave a scar, and isn't always possible.
Dermabrasion:
With this method, the outermost layer of your skin will be abrased by a rapidly rotating device. It'll effectively sand off your tattooed skin, so new skin can take over its place. Depending on your tattoo and skin condition, this procedure can take hundreds to thousands of dollars and possibly leave a scar.
Laser Removal:
Laser Removal is the most popular method for permanent tattoo removal. Q-switched lasers are used to send out strong pulses of energy that dissolve the ink pigments in your tattoo. This kind of treatment takes multiple sessions, but it hardly ever leaves a scar.
The downside of laser removal is that it can fade your tattoos, but not always completely get rid of them. Still, it is considered to be the safest, fastest, and most reliable method by many experts.
As you can see, most if not all methods for permanent tattoo removal are not perfect, and have downsides. But if you want to go ahead with it, then laser removal is the best option.
Conclusion
We tattoo ourselves to celebrate a part of ourselves, someone we love, or things we cherish. But tattoos are still not universally accepted as a method of self-expression. There are a lot of stigmas associated with tattoo culture, and sometimes it puts you in a bind.
If you face a situation like this, you should consider the reason, the duration, and the practicality. If you're hiding the tattoo at work, choose a foolproof method that won't require manual adjustment for hours. Use makeup or tattoo-covering creams. Remember to choose what feels natural and comfortable, so you don't seem off or fidgety.
We are sorry that this post was not useful for you!
Let us improve this post!
Tell us how we can improve this post?