Dynamic Black Tattoo Ink Review
How caring and expert you are as a tattoo artist reflects on what supplies and equipment you use. For example, using expired, unhealthy, or poor-quality ink says a lot about your work and impacts your reputation negatively.
And, with burgeoning suppliers selling subpar tattoo inks, it is difficult to distinguish between good and bad. The review article will introduce you to a reliable brand's signature tattoo ink. It is black, one of the most demanded colors. So many tattoo artists desperately seek the best option.
Well, your desperate seeking ends now and here with Dynamic Black Tattoo Ink.
Introducing Dynamic Black Tattoo Ink
With a glorious past beginning in the 90s and gaining accolades for providing high-performing tattoo inks, Dynamic has mastered the art of trade well enough. The black ink, its flagship product, is solid dark with edgy lines. The pigments will go into the skin smoothly, aiding in ideal tattoo healing.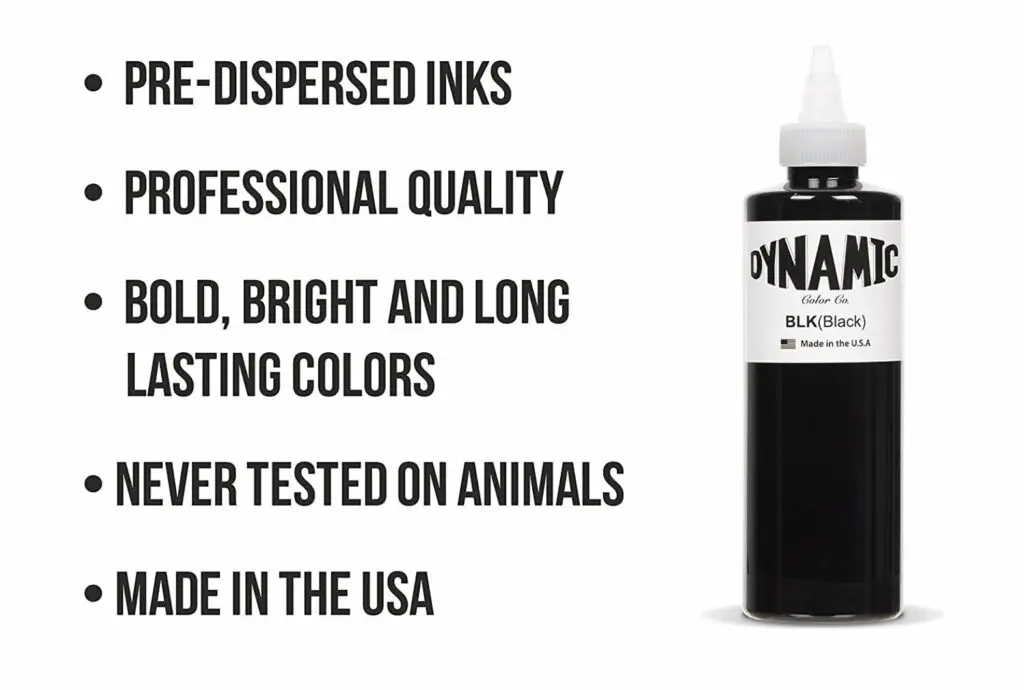 Here are the highlights of the product.
Dynamic Black Tattoo Ink Specifications
Brand: Dynamic Color Co.
Quantity: 8 ounces (liquid)
Product Dimensions: 6 x 6 x 6 inches
Product Model No.: Dynamic Black 8oz
Ink Color: Black
Container Type: Bottle
Used For: Tattooing
Who Is This Product For?
Read this section attentively. While I want you to buy the right product, I also want to ensure you do not end up with the wrong one.
Most of your work involves tribal tattoos, blackwork tattoos, and generic ones that require black ink.
You want professional-grade tattoo ink at an affordable price.
The ink has to be durable with boldness.
Safety is your number one priority. It is better if the ingredients are vegan-friendly.
You are a beginner, but you want to start big.
The better portion of your clients is dark-skinned. So the color must not cause them skin issues.
Problems You Might Have To Face: Pros & Cons
Before you see what the ink offers you, gain some knowledge about what problems it might give you to be better prepared. 
Reasons to get
Edgy shades and lines
High color retention
Higher quantity than many others
Suitable for professionals and beginners
Best for tribal tattoos
Long-lasting performance
Vegan-friendly and hypoallergenic materials
Helpful for proper tattoo healing
Reasons to avoid
Poor making of the bottle's sealing
Features And Benefits Of Dynamic Black Ink
It is the main body of the discussion, the product review. By now, you should know whether the ink is for you. Here I will tell you what it offers you if it is.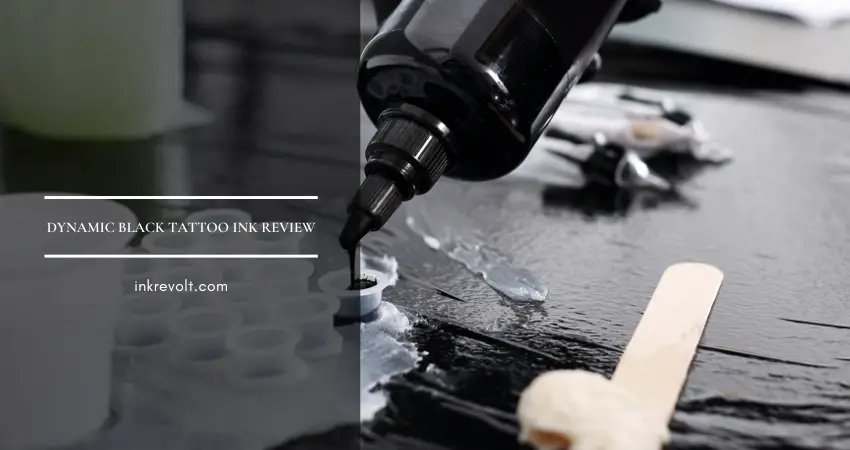 Satisfactory Performance
Each line and shade drawn by the Dynamic tattoo ink is an epitome of accuracy. You will see that in its sharp lines and precise shades. They will elevate your tattoo quality remarkably. Blackwork tattoos, blackout tattoos, even black outlines of regular tattoos – all become classier with this ink.
The next thing is color retention. This time-tested ink retains its color for too long. When people see they do not have to retouch their tats too often, they will be more likely to become your repeat clients.
According to many users, the color quality, performance, and durability are more than satisfactory. Isn't that all you want in tattoo inks?
Consistency
A desired tattoo outcome has a lot to do with its ink's consistency. Dense or watery tattoo inks deteriorate the tattoo result. Plus, the healing will have consequences too.
Dynamic has done an admirable job in this area. The ink flow is perfect, neither too heavy nor too liquid. You will not have to modify it before applying it. While that saves time and labor for professionals, it also makes things easier for beginners.
Ingredient Quality
The ingredients in the ink are as safe as they come. Besides, they are vegan-friendly, meaning no animal products were used to produce the ink, and it was not tested on any animals.
Also, it is hypoallergenic. Any tattoo artist knows the repercussions of poor-performing tattoo inks. You will not only suffer from prolonged healing but also experience severe skin diseases. There will not be a trace of those with Dynamic ink. It is that well-made.
Others
Dynamic brings you the real deal at a budget-friendly price. It is one a beginner can try without difficulty. Plus, the quality is perfect for a professional tattoo artist.
Moreover, do not be worried about the ink's suitability for clients with dark skin. The pure darkness of the color will sit in their skin and suit them just fine.
NOTE: Many customers have complained about getting fake products and thought it was a scam by Dynamic. But it is the local suppliers who make low-quality inks and sell them using the brand's name. Be aware of them while buying your ink.
Wrapping Up
To summarize the Dynamic Black Tattoo Ink review, it is dependable in every way. I will not deny that the brand could have done better with the ink's sealing. But I can tell you it does not nearly weigh down the many pros of the product.
If the product's purposes match yours, get it to give your clients an excellent tattoo experience and enhance your client base in return!
We are sorry that this post was not useful for you!
Let us improve this post!
Tell us how we can improve this post?