Intenze Tattoo Ink Review: Features & Benefits
Some people love to go all-black all the time, even with tattoos. Not only does it give a badass look, but it is also suitable for tribal tattoo art. So as a tattoo artist, it is essential to ensure you have the right tattoo ink to gain your customers' trust.
The tattoo inks from Intenze are among the popular tattoo inks around the world. Intenze inks are highly-effective, serialized, well-sealed, and made for professional use. While some people avoid using this brand as their inks are pretty expensive, it is hard to ignore the satisfying result they provide.
While searching for high-quality black tattoo ink, I came across the Zuper Black Tattoo Ink from the brand. It turned out to be one of the best black tattoo inks. So, in this Intenze Tattoo Ink review, I will discuss all about this best-selling ink.
Introducing Intenze Tattoo Ink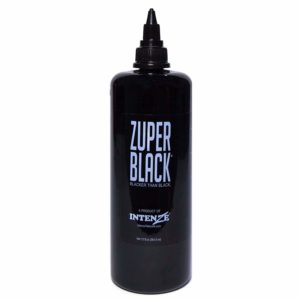 Product Features
Manufacturer: Intenze Products
Country Of Origin: USA
Color: Black
Safety: 100% Non-Toxic and Vegan-Free
Made For: Professional Use
When it comes to finding premium tattoo inks, Intenze is one of the first names you will come across. This brand has been providing some of the safest tattoo inks since 2002.
But the founder of the company Mario Barth had decades of experience in the industry before he started Intenze. He had been making his own tattoo inks and colors since the late 90s. So naturally, Mario needed what makes tattoo inks best, making the company a worldwide brand.
Intenze is the first tattoo ink company to use sterilized ink and FDA specification labels on its bottles. Even though the brand had 54 colors at the time, the range grew over the years. Now, Intenze is a famous brand that manufactures cruelty-free, safe, and high-quality tattoo inks.
Who Is This Product For?
The thing about professional-level tattoo inks is that they are not for all users. Unless you are skilled in your work, handling the ink will be pretty challenging. Here is the list of suitable users for Intenze Tattoo Inks.
Professional tattoo artists
Mid-level tattoo artists
DIY skilled tattoo artists
Professional tribal tattoo artists
Problems You Might Face
It is silly to think that the best brands come without any problem. While the problems users face with Intenze inks are not very serious, it is still better to be aware of them.
Poor Packaging/Shipment Damage
Unfortunately, the most commonly shared problem many buyers have faced is the packaging. In many cases, customers have received damaged ink bottles or spilled ink due to poor packaging. In that case, it is essential to contact the seller as soon as possible.
Not Suitable For Lines
Intenze tattoo inks have high consistency and bold pigment. Although the inks are suitable for all types of inking, it is best not to use black ink for the lining. The Zuper Black ink is pretty thick, making it challenging to create the best lining. However, highly-skilled tattoo artists can definitely make it work.
Reasons to get
The inks are made in the USA and are authentic
Made with safe and non-toxic ingredients
Suitable to use on human skin
Sterilized ink by a certified lab
Does not dry out instantly
Professional-grade ink is reliable and durable
The pigment is excellent, and the color is bold
One of the darkest shades available on the market
Suitable for tribal inking
Reasons to avoid
The price is pretty high
Not suitable for tattoo lining
Many customers received damaged ink due to poor packaging
Intenze Tattoo Ink Review: Features And Benefits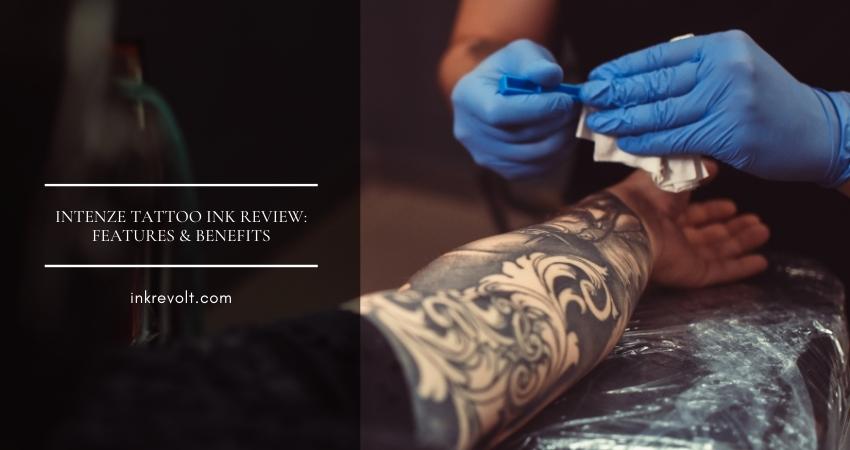 Choosing the suitable black tattoo inks might not be the most challenging thing in the tattoo world because there are so many brands with many color shades on the market.
However, professional tattoo artists mostly require a dark color shade for various tattoos, especially on tribal ones. Since the Intenze Zuper Black Tattoo Ink is known as one of the best and darkest shades of black available, let's see if it offers what they say it does.
Ingredients
The Intenze Zuper Black tattoo ink is made with all safe ingredients. The ink contains water, glycerin, black pigment, and isopropyl alcohol.
The entire ink-making process is non-toxic and safe for human skin. The most assuring part of the glue is that it is cruelty-free with no-animal testing.
Darkest Shade Of Black
This black ink from Intenze is known as the darkest available shade in the market. While you may not notice any difference when applying it, the color takes a darker shade once it heals on the skin. That is why tribal tattoo artists prefer it.
Performance
If you are looking for black color for lining, this is not the ink for you. The Intenze Zuper black has a thicker consistency, which makes the color spread out. This issue also makes it difficult to gray wash the color. On top of that, this ink does not dry out quickly, making it easier to work on and clean.
Reliability
It is an All-USA tattoo ink brand, which makes it reliable enough. The inks are packed in a tempered bottle that will ensure the ink's safety. It is suitable to apply on skin tone and any body part, except the face.
Safety
Intenze is a model for many new and upcoming tattoo ink brands. This ink brand maintains all the essential safety measures to ensure safe and reliable ink for the users. The inks are sterilized in a certified lab to maintain safety standards.
Alternative Products
It is understandable if the drawbacks of Intenze Zuper Black tattoo ink hold you back from purchasing it. But don't be disheartened because you can check out the following alternatives if you need a rich black tattoo ink.
1. Dynamic Black Tattoo Ink Bottle
Dynamic tattoo inks hardly require any special introduction because the brand has been famous since the 90s. It is an All-USA brand that contains safe and vegan ingredients. The Dynamic Black Tattoo Ink is a professional-grade ink with an excellent pigment content.
The best way to recognize an authentic Dynamic ink is to look at the bottle or container it comes in. The genuine ones come in crystal clear PET bottles. The inks are sterilized and sealed perfectly. On top of that, this ink is known for healing without any allergic reaction.
The consistency of the ink is neither thick nor thin, making it suitable for lining. And once the ink heals, it turns super black, making the tattoos appear dynamic.
Sale
Dynamic Black Ink 8oz Bottle
Professional Quality Pre-Dispersed Inks: Proudly made in the USA, Dynamic Color provides premium quality tattoo ink with the most impressive pigment content in the business. Noted for its smooth flow rate, our inks are up to piece — from precise detail work to outlining and shading.
Authentic and Hygienic: We're aware of the large volume of fraudulent products on the market, which is why all Dynamic Color inks arrive in crystal clear PET bottles with a Dynamic logo anti-counterfeiting coating. Even our heat seals, which secure your sterilized product, hold the Dynamic Color stamp of approval.
Dynamic Color tattoo pigment helps create noticeably vivid pieces that can stand the test of time. And while being in the game since 1990, we mean it when we say our inks are time-tested.
Bold, Bright, Long Lasting Colors: Every artist deserves high-quality tattoo ink. Available in an expanded range of 30 colors, our high-pigment inks can be mixed to create your own custom blend. Your only limit is your own imagination.
Vegan and Never Tested on Animals: Dynamic Color products contain zero animal products and are never tested on any furry friends. Our tattoo inks are safe on the skin, better for the environment, and ultimately preferred for your overall health.
As an Amazon Associate InkRevolt earns from qualifying purchases.
2. Kuro Sumi Double Sumi Tribal Black Japanese Tattoo Color Ink
Kuro Sumi is a famous Japanese tattoo ink brand. The brand got its name from the great Japanese warrior, Kuro Sumi Tangnuni. He was also known for using inkings on his body to distinguish himself from others. And now, this Japanese brand is known globally for its excellent performance, safety, and durability.
The most interesting thing about Kuro Sumi tattoo inks is that it is made using a secret formula that the Japanese artist generations have been making. The inks are 100% organic and safe to use on sensitive skin.
And this black tattoo ink is not different from the rest of the inks by this brand. The ink has a beautiful pigment and sets on the skin pretty effectively. Its affordability is another reason why users prefer this brand often.
Kuro Sumi Japanese Tattoo Color Ink Pigments, Vegan Professional Tattooing Inks, Double Sumi Tribal Black, 4 Fluid Ounce
VIVID COLOR AND DIMENSION - Originally formulated in Japan, Kuro Sumi tattoo inks give your tattoos life and dimension. The molecular structure of our ink provides long lasting vivid color.
JAPANESE TRADITION– Tattoo artists around the world choose Kuro Sumi tattoo inks. We incorporate the art of Japanese tattooing and traditions handed down from generation to generation.
TRIBAL BLACK TATTOO INK – The blackest tattoo ink that's vegan-friendly and free from harmful chemicals. The perfect black outline tattoo ink for shading and lines and tribal work, this tribal tattoo ink makes a great lining tattoo ink.
SUPERIOR IN CONSISTENCY – Our tattoo color ink formulas incorporate organic elements and were not made not to blend, but to stand out. Superior ink consistency and bright, bold colors that go the distance.
PROUDLY MADE IN THE USA – Originally formulated in Japan, now made in the USA, Kuro Sumi takes the time to create the highest-quality tattoo inks by holding ourselves to the highest standards.
As an Amazon Associate InkRevolt earns from qualifying purchases.
Wrapping Up
Just as there are many color shade options, there are options for black tattoo ink too. So it is essential to go through the top ones to select the right brand, shade, and quality. In that sense, the Intenze Zuper Black Tattoo Ink fills all the requirements.
As you have learned from this Intenze Tattoo Ink review, not only is the brand famous around the world, but it is also suitable for traditional and tribal tattoo arts. The price is comparatively higher than many other available brands' colors, but it will all be worth it. If not, you can look into alternative tattoo inks.
We are sorry that this post was not useful for you!
Let us improve this post!
Tell us how we can improve this post?