7 Best Tattoo Guns For Beginners And Professionals: [Reviews & Buyer's Guide]
When looking for suitable tattoo guns that can produce top-notch results, it can be difficult to tell which tattoo gun suits your needs the best. Setting the criterion in the first place can be much more difficult for some users.
Because, let's face it, sometimes even the most demanding product in the market does not have things we look for in it. To help tattoo gun users find the best tattoo guns in the market and the ones they need, I selected a handful of products to review.
While describing what the products can do and cannot, the reviews will also tell you if and why they are the ones you should pick for yourself. I am sure you will sigh with relief once you read the article and find the best-suited tattoo gun for your purpose.
Best Tattoo Guns: My Top 3 Picks Compared
You will see a comparison table below. It displays some essential characteristics of the three most suitable tattoo guns, according to my views. Although it is not a must to check it out, I think you'd want to benefit from it by getting some idea before reading the detailed reviews.
Users
Beginners & Professionals
Best Wireless
Users
Beginners & Professionals
As an Amazon Associate InkRevolt earns from qualifying purchases.
Don't stop just here! I am going to review seven products now, seven best tattoo guns. You would not want to miss out on them!
Additional Read: Best Tattoo Machines for Beginners
Top 7 Best Tattoo Guns Reviews
1. Hawink Short Rotary Pen CNC-Q2 – Best Rotary Tattoo Gun

HAWINK is the world's first company to develop and manufacture digital tattoo machines and power supplies. All of their products represent their inventiveness that makes them the first choice of tattooists around the globe. Furthermore, they have excellent after-sales support, which has made it a trustworthy brand to tattoo artists.
The Rotary Pen CNC-Q2 featured below is an outstanding example of Hawink's capabilities.
Why We Selected It in Our Top List
Material And Motor
The material of the machine's framework is aircraft aluminum. And it runs with a FAULBAHER German motor. Both features guarantee high quality and a perfect operating experience, meaning that you will get stable and quiet performance from the CNC-Q2.
And the best thing is you can work nonstop without its heat increasing or causing you exhaustion. And by that 'nonstop,' I meant 12 hours!
Design And Performance
The company designed the gun ergonomically to make you feel like using a real pen when operating this machine. As a result, you feel incredibly comfortable while making tattoos with it.
It also performs exquisitely, making sharp lines, terrific shades, and vibrant colors. But that is not all the things it will offer you. Like the users, the clients will also feel good when getting tattoos made by this Hawink piece.
That is because it is very smooth and gentle, and it suits any skin type. That way, it causes lesser irritation and discomfort in the skin. In a nutshell, the machine keeps your clients happy and satisfied with your service.
Voltage Level
The puncturing power of the rotary pen is high enough, ranging from 5V to 10V. Its starting voltage level is 4V.
However, always run the machine within its voltage range. If you cross the maximum limit, there will be mechanical wear, and the motor will begin to overheat.
Others
You will get it to work with almost all needle cartridges. And you can also adjust the needle depth.
The primary users of the tattoo gun are professional artists. But that does not mean that beginners cannot handle it. Any tattoo machine user can manage it just fine because of its tiny weight and ease of control. Many beginners that are sure to pursue it as a profession wants to start with a smart device. The CNC-Q2 would be the perfect one for them.
Lastly, other than the tattoo gun, there will also be an RCA cord.
Pros
Lightweight
Quality material
Powerful motor
Silent, stable, and smooth performance
Better healing result
Eligible for any user
Less skin irritation
Compatibility with needle cartridges
No overheating for a long time
Easy maintenance
Cons
It is available at a high price, which I think is well-reasoned.
2. Dragonhawk Extreme Rotary Pen- Best Tattoo Gun For Beginners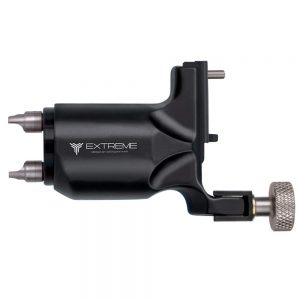 Dragonhawk is one of those manufacturers working hard to make modifications to tattoo guns so that users can enjoy an excellent tattooing experience. And they have been increasingly successful in this pursuit. Dragonhawk products are handy at making accurate and fantastic tattoo designs. Check out its Extreme Tattoo Pen below.
Why We Selected It in Our Top List
Design
With an ergonomic design, the pen weighs only 6.17 oz. It is almost weightless! So, a beginner faces no problem dealing with it. Also, the pen allows you to try out any technique and style of tattooing because of being so light.
Performance
The Extreme is a versatile machine, fulfilling all your tattoo needs. It will blow your mind with its lines and shades. It nails when it comes to coloring – be it black filling or grey and light black shading.
You will have to run it within 7.5v to 8.5v for shading and coloring. For lining, the voltage range will be between 8v and 9v.
It has a durable build that enables it to work daily without arising any problems. Users who need a tattoo gun for rough use can rely on it.
Others
The frame of the machine is carbon steel. And there is a mighty Japanese motor to power the tattoo gun to run to its extreme. Therefore, you get to work with it peacefully.
It comes in three colors – black, green, and red. The length of its needle stroke is 3.5mm.
There is also a clip cord connection available with the rotary gun.
Here's to ending this review with a positive note – it is super affordable! Even if it is out of your budget now, I bet it won't take you much time to save up a little more and get it for yourself!
Pros
Not heavy
A Japanese motor
Available at a low price
Versatile performance
Capable of handling daily work
Ability to assist in different tattoo styles
Cons
I think some users would find it more attractive if it had a higher working voltage range.
3. Dragonhawk Mast Archer Rotary Pen – Best Wireless Tattoo Gun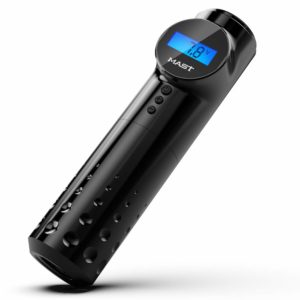 Have you been using regular tattoo machines for too long? Are you tired of cleaning up the mess of wires every time you make a tattoo? Do you think it's time for you to try the new wireless devices?
If your answer is yes to any of the above questions, you should give the Mast Archer a look. It is a wireless tattoo gun of Dragonhawk. I am sure it will bring a change in your professional life, one that you will appreciate a lot!
Why We Selected It in Our Top List
Battery And Gear System
The Mast Archer has a highly capable battery that can constantly run for 8 hours without any glitch. And guess how many hours you will need to have it fully recharged? ONLY TWO!
The manufacturer equipped the machine with a gear system of sheer sophistry. It will perform quietly, causing you no interruption during work.
Performance
The performance of the Archer is standard and satisfactory. It ensures absolute precision in its lines, shades, and colors.
It makes the process of tattooing less hurtful for people. Besides, any skin type can take it in without feeling any irritation.
LCD Screen And Voltage Range
There is an LCD screen affixed to the machine. Thus, you can see, read, and change its voltage level. It makes it convenient for you to monitor the voltage level while tattooing.
The starting voltage level of the device is 5v. It can work at a voltage level as high as 12v. Many artists look for a machine with a higher voltage range to work on different tattoo designs. The Archer would be the best option for them.
Other Features
The weight of the device is 186g, slightly heavier than others in the market. But you will love it because of its easy maintenance. Also, it is simple to keep it covered and protected.
It has a pair of substitutable grips. You can use an autoclave to sterilize them.
The length of the needle is 3.5mm, the ideal size. You can adjust its depth by rotating the grip. Quite simple, no? By the way, if you are wondering about its compatibility with needles – any cartridge needle would do it.
The Archer can provide service to both professionals and amateurs. And as usual, Dragonhawk made sure it is within the catch of anyone's budget.
Pros
Not high maintenance at all
Low price
Easy to interpret and adjust the voltage
High enough voltage range to do most tattoo job
High-capacity battery and gear system
Reliable operation
Customizable needle depth
Cons
It's difficult enough to see the plus and minus keys when covering the machine to prevent contamination.
New artists may have a hard time balancing with the Archer due to its weight at the beginning.
4. Red Scorpion Coil Tattoo Machine – Best Coil Tattoo Gun For Professionals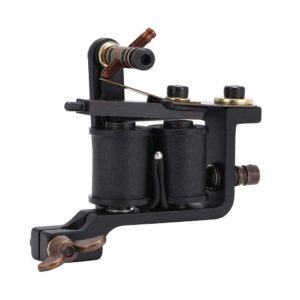 As I decided to include a wide variety of products, I kept coil machines here too. Hence, you see the Red Scorpion Coil Tattoo Machine I will review now. Let's see what it has for you, shall we?
Why We Selected It in Our Top List
Coil Machine And Its Material
Red Scorpion has an eight-wrap liner coil machine with a backseat having powerful magnetic absorption.
The material of the machine is cast iron that magnifies the activity of the device with its outstanding electrical conductivity.
Frame
What I liked best about the product is that there is a precision line processing its frame. It makes sure that the dimension is accurate for you to measure the space where you will make tattoos correctly.
Performance
The only reason coil machines never go out of demand even though rotary and wireless devices are coming out now and then is the performance. Coil machines have always shown dependable and trustworthy performance. And Red Scorpion is no exception here.
If you usually create large and complicated tattoo designs, purchasing this coil device will help you go a long way with your work. It hits the skin hard with lesser power and creates impressive tattoos.
Others
The machine is powerful with a high working pace. Thus, it will be a faithful companion during your long sessions by working for you for at least eight hours without any overheating problem.
A surprising fact about the product is that it does not come alone, unlike many other machines. It brings a paper box, a bag of tools like grommets, O-rings, rubber bands, wrenches, etc. The inclusion of these many things makes the machine very cost-effective.
Other than that, Red Scorpion lets you get your money back within a month of your purchase, regardless of whatever reason you have. For any issue regarding quality, it offers you a warranty of six months. You will get either a replacement or a full refund for that.
Pros
Solid and sturdy
High accuracy
Sharp lines
Inclusion of tools
Highly elastic
Nonstop service for a long time without overheating and making the user exhausted
Money-back guarantee
A six-month warranty
Cons
The device is undoubtedly fantastic from every aspect. While it will generate the best result when used by a professional, I don't think it would serve a beginner right.
5. Mast Tattoo Handmade Coil Machines – Best Tattoo Gun For Lining & Shading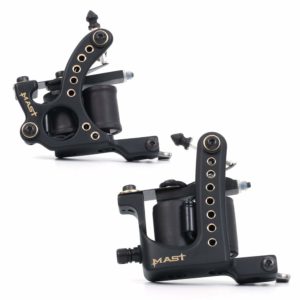 The machines have one unique thing about how their company makes them: they are traditional handmade coil machines! That makes them stand out among all other tattoo devices in the market. And that is why users, especially coil machine users love this pair of machines for authenticity and genuineness.
Why We Selected It in Our Top List
Machines And Their Build
There are two machines, a liner, and a shader, with ten wrap coils and a capacitor of 47uf. Their frame is of iron that is attached to a high-caliber tube vise.
Performance
Any user preferring machines to concentrate on a specific task will love these two. They are experts at what they do. They can handle heavy works with efficiency.
The liner creates lines with perfection while the shader lays out amusing shades. You don't even have to run them at their highest speed to get the best output. They will make long throws with hard hits if you operate them at medium speed.
Moreover, unlike many other coil machines, these two work in a much quieter manner.
Others
The manufacturer provides friendly customer service. If you buy the machines and they somehow fail to perform according to your expectations, you can contact their manufacturer and get a refund.
See, it's a risk-free purchase!
Pros
Two machines at a good bargain
Much quieter than others
Remarkable performance
Friendly customer service
Stable speed
6. Yilong L Rotary Tattoo Machine- Best Starter Tattoo Gun For Beginners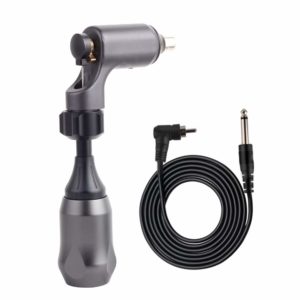 Beginners, brace yourselves. It is going to be one of the best tattoo guns for you guys. The Yilong L tattoo machine is handmade and budget-friendly. It is rare to find a product that can ensure maximum accuracy and quality at such a great bargain. The product has already become very popular for its good value and performance.
Why We Selected It in Our Top List
Material, Design, And Weight
Yilong made the machine's frame with Space Aluminum, a first-rate material that makes the machine long-lasting. And the company designed the pen with pebble modeling and kept its weight at 115g, prioritizing the ease of use so that the beginners can get used to it in no time.
Performance
Most new artists and enthusiasts want a machine that would assist them in exploring different tattoo styles to find their area of expertise. That often appears to be a problem since it requires them to buy an expensive machine with many capabilities.
For those artists, the Yilong L is the wisest choice. It comes at a reasonable price with high quality and assists you in delving into various styles and techniques of tattooing. That angle makes it fitting for professional use.
The device follows proper tattooing procedures during operation. Thus, its performance is more impressive than traditional ones. And the fact that it resembles a pen will help you progress faster.
Others
The L rotary machine operates with a highly developed gear machine and brushless motor. That means you will not have to be concerned about getting distracted by constant and loud noise.
Along with the machine, there will also be a cartridge needle and a connection line.
You can run the machine at any voltage level between 6v and 9v. You can use any cartridge needle for it.
Pros
From frame material to performance – quality all the way
Available at a very reasonable price
Magnificent performance
Beginner-friendly
Compatible with any cartridge needle
Cons
It has some plastic parts. But I wouldn't call it a flaw since it manages to do an admirable job at an incredible price deal.
7. Dragonhawk Essence Rotary Machine Kit – Best Tattoo Gun Kit For Beginners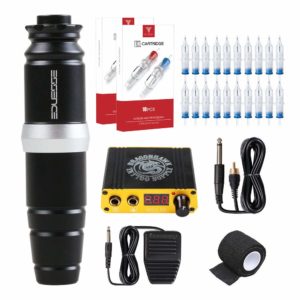 Yes! The last one is a rotary tattoo gun kit!
I know it was not supposed to be here. But wait for a little till this kit lures you into giving it a serious thought, and then you will find out why I could not resist keeping it here.
Why We Selected It in Our Top List
Machine And Its Performance
Before getting to the kit, I should tell you about the Essence rotary pen. It got me hooked the moment I saw it.
It has a dynamic Japanese motor, and its frame's material is space aluminum. It will create beautiful designs without making any noise. And you can use it for everything – colors, lines, shades, all. It is a pro machine that guarantees you professional service.
Voltage Level And Others
The machine can perform at 6v at the least and 9v at the most. You might have expected a higher range, but believe me, it is one of the best tattoo guns at this price when I say this. Just wait until it stuns you with its performance.
The weight of the device is only 140 grams. So, even if you are entirely new to this, you can be sure of facing no problems managing the Essence. It is neat and nifty.
What The Kit Includes
About the kit – why did I include the kit when I could review the pen? Because the kit is SO exceptionally great that I thought I would end the reviews with this one, my showstopper, an essential kit box you could buy for practicing if, by any chance, you were looking for one.
Then what is in the box that makes it so great? Okay, first, you get a power supply that will provide you with accurate and fast activation and voltage adjustments. While doing its job, it supports your tattoo device by improving its performance and reliability with steady and smooth power output.
Along with the power supply, you will get a cord connection and cartridge needles. The pen goes with any cartridge needle.
And how much do you have to spend to get all of that? An amount that won't make you scratch it off of your list!
Dragonhawk takes care of the users, making sure its product prices don't make a hole in your pocket. Therefore, purchasing the Essence pen means getting a budget-friendly and user-friendly product at the same time.
Pros
Lightweight
Affordable and easy to use
Compatibility with cartridge needles
Quick activation
Power supply supporting the device to perform better
Voltage adjustments
Ergonomic design
Cons
The motor of the machine may not last much longer.
There is a leaflet of instructions. But I don't think it will be that helpful, especially if you are a starter.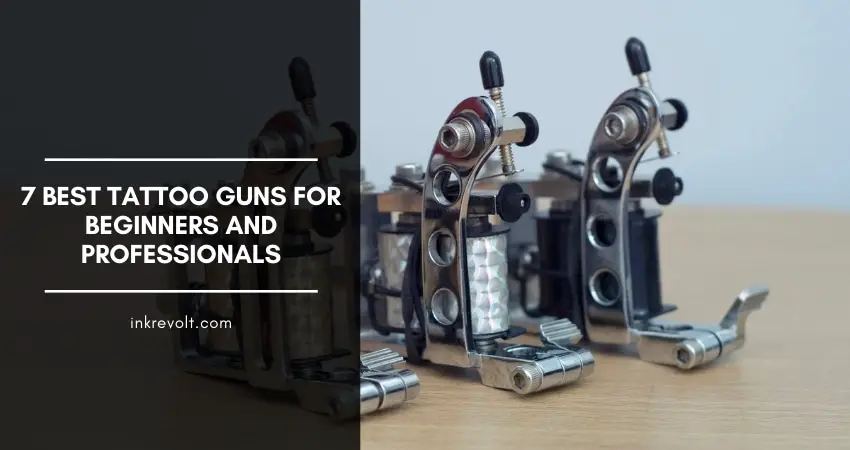 How To Choose The Best Tattoo gun?
Making the right purchase gives everyone a triumphant feeling. But being sure about purchasing the right product can be a daunting task to do. That is why I thought I could help you with this by discussing a thing or two that you must check before buying a tattoo gun.
It is more like a checklist containing some essential criteria that can primarily impact your purchase. If you assess each of them according to your situation and requirements, you will reduce the possibility of getting the wrong product by a large margin.
Performance
"Duh! Who doesn't consider the performance of a machine before buying it?" Maybe you are wondering seeing me talk about performance. I mean, it's obvious. Yes, it is. But there are still some things you need to learn about the performance of a tattoo machine.
Some of the best tattoo machines can make lines, shades, and colors with equal efficiency. But some ace only at a singular task. You need to figure out which one you would prefer.
Many tattoo artists prefer one machine for a particular function. Some do with one device for all operations.
Using one device saves time and makes the tattoo-making process easy. But using different devices for different functions guarantees finesse in all areas.
So, find a machine or machines that would meet your demands best, and then decide on the purchase.
Quality
Not every tattoo artist looks for a tattoo machine that is best from every aspect. Some need a machine to have the quality in specific elements. For example, some want a gun to be top-notch at lining, some at shading or coloring. Some artists look for one with a modest quality from an overall view. And others look for an ideal one to work with perfection.
So, whichever you are looking for, make sure your device has it. The best tattoo guns should be well-constructed with quality materials, and they should be capable of delivering expected performance.
When you search for the best tattoo gun for your needs and purposes, the main thing is to match its actual quality with your desired quality. That way, it will magnify your chances of making the right purchase.
Materials
Every artist expects a tattoo gun to be durable. And the durability of a machine depends highly on the materials used to make it.
Some tattoo guns have a frame of space aluminum that makes them lightweight. Some have a framework of brass or bronze that makes them heavy.
It is comfortable to use machines with a small weight. But they are not as durable as the bronze or brass ones, heavy and uncomfortable for some to use.
That means you have to make a balance between your comfort and your machine's durability. However, the latest lightweight devices made of upgraded materials also last long. And if you are okay using heavy machines, you can go for them as well.
Whichever you choose, remember that the best tattoo guns must serve you for some time without any malfunctioning. And that is not something to compromise.
Ease Of Use
I would say that this is the most crucial part of buying a tattoo gun for beginners, enthusiasts, and amateurs. Even if you are only into this as a hobby or pastime, you should prioritize ease of use nonetheless.
If you have to struggle to control the tattoo device, it will become impossible for you to make tattoos with it. The best tattoo guns are the ones you can use spontaneously. There should be some mutuality between you and your machine. You will run it properly to get the best out of it, and it will help you get your true potential out in the process.
Price
Although professionals have adequate budgets for buying a device, most beginners don't. But it is essential to start with an efficient device even if you are not a pro artist.
Since price is a matter here, you should research thoroughly because more and more companies are making multifaceted products at a low price. You can go through their features and reviews before placing an order.
Number Of Devices
While you look for a long-lasting device, do not hope that it will serve you forever. A single machine is never enough for a tattoo artist to perform all the functions. The further you progress, the more you will need to visit other areas of tattooing. And for that, you will need different types of tattoo machines.
So, the best thing would be to plan to find a machine that will excel at fulfilling your purposes now and help you move a step closer to your ultimate goal.
Rotary machines are the most suitable option for new tattooists. They are convenient to use, control, and maintain. They will help you to polish your skill and prepare you to enter the next level of your journey.
On the other hand, coil machines have a complex structure. That makes them difficult to handle. They are more suitable for professionals who often have to make complicated and tricky designs.
So, you should find the best tattoo guns for yourself as per your expertise level.
Frequently Asked Questions
I guessed you would have some queries after reading the reviews, and so I brought up some of the most frequently asked questions here, hoping you will find them helpful.
Is it better and more cost-saving to buy a tattoo kit than a tattoo gun?
It is more cost-saving, yes. A tattoo kit is, of course, costlier than a tattoo gun. But the kit comes with all the essentials so you don't have to spend on the extras separately, which would cost you more.
And I would say it is also the better option for practice purposes. A kit box offers you everything you need for practice. If you don't want to practice, you better buy a tattoo gun instead.
What is the price range of a tattoo machine?
Depending on the features and functions, its price ranges from $50 to $1000. Quality also matters here.
Why is durability important for a tattoo device?
If you use a device that is not durable, you will always run the risk of it breaking down when you are working. And that can lead to a catastrophe, as you can imagine. On the other hand, a durable machine will hold still and stable until you finish the session.
What is a characteristic a machine should have, regardless of its price and performance quality?
The ease of use of a machine. It's a must from the viewpoint of an artist. If he/she cannot use it comfortably, he/she will never be able to make perfect tattoos, no matter how efficient the device is.
However, it also varies from artist to artist. A beginner will not be comfortable with some devices that professionals can use effortlessly. So, the artist should assess his/her capability before buying a tattoo gun.
Final Verdict
Now that you are at the end of the discussion, I guess (and hope) you have already found and made a decision to buy your tattoo gun. But if you still doubt you made the right decision or if you are still confused to make a decision, read the final verdict. I have tried to put the entire discussion in a nutshell here.
A unique thing about this article is that it includes all types of tattoo machines – coil, rotary, regular, wireless, kit – each of them is here.
For coil machines, you can pick either Red Scorpion or Mast Tattoo. But Red Scorpion will get you a liner machine, where Mast Archer has both liner and shader. And Red Scorpion is more for professionals. So, choose according to your purpose and expertise.
The rest of the machines are rotaries. Among them, there are two Dragonhawk pens (Mast Archer and Extreme) that I loved. They are lightweight, easy to use, solid performers, affordable, and perfect for beginners and professionals alike. One difference between these two is Extreme is a regular machine, and Mast Archer is wireless. If you want to bring a new style to your work, Mast Archer is the way to do it.
Then there is the Yilong L handmade rotary device, a treasure for beginners. It is the most beginner-friendly device with highly developed functionalities.
But if you ask for a machine that would rule out all the others, I would name the Hawink CNC-Q2. It is one of the rarest tattoo guns that have the most remarkable features. It is a little costly, but I bet you will forget that once you get your hands on it.
Last but not least, there is a tattoo kit from Dragonhawk. Practicing with the kit will surely upgrade your tattooing skill if you're a beginner or apprentice.
Here's to the ending with a gentle reminder: check out the buying guide. It is mandatory, especially for newbies, so they don't end up with the wrong device. A well-informed decision will help them a long way toward their career.
Thank you, and happy purchasing!
We are sorry that this post was not useful for you!
Let us improve this post!
Tell us how we can improve this post?