Dragonfly X2 Tattoo Machine Review
Trying to pick the best tattoo machine can be a daunting task, given the overwhelming range of choices. There is no universal pick, of course, since different tattooists prioritize different parameters. You will have to weigh up the pros and cons to decide whether or not a particular model will be of use to you.
Today, we will talk about the Dragonfly X2, one of the best rotary tattoo machines you can buy for your business. It packs a bunch of impressive features that will benefit most artists. Will it kick up your tattooing game a notch as well? Read our Dragonfly X2 Tattoo Machine review to find out.
Here we will try to break down the technical details in simple terms so that newcomers can get a clear idea about the product before going for it. Even if you are an expert, you might find this piece a worthy read because of the depth of information we tried to provide.
Let's see what the Dragonfly X2 has in store for us.
Introducing The Dragonfly X2 Tattoo Machine
Dragonfly, a Swedish brand, has hit almost all the right boxes with its Dragonfly X2 Tattoo Machine. The machine's innovative design paired with its premium components has made it a favorite among tattooists.
Dragonfly's attention to microscopic details makes this machine stand out from the crowd. In the following sections, we will review the features that make tattooing a walk in the park for artists of all levels of skills.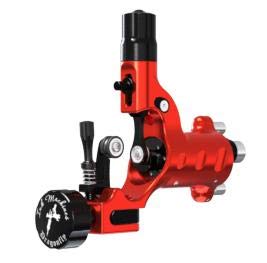 But before that, let's have a look at the specs.
Dragonfly X2 Specifications
Manufacturer: Dragonfly
Motor: Swiss X2 Motor
Power Input: 4W
Stroke Length: Adjustable between 2.6mm, 3.7mm, and 4.5mm.
Material: 7075 aluminum (airplane grade)
Colors: Crazy Lime, Seductive Pink, Demonic Blue, Evil Black, Deep Purple, and Devilish Red.
Who Is This Product For?
With an assortment of top-notch offerings and materials, the Dragonfly X2 deserves to be in the shortlist of anyone looking to buy a good quality tattoo machine.
That said, not all machines will suit every need of a tattoo artist. We all have our preferences, so let's shed light on the consumer base the Dragonfly X2 targets.
First and foremost, anyone who is on the lookout for a high-quality tattoo machine should consider buying the Dragonfly X2.
If you don't mind paying good money for a premium machine, the Dragonfly X2 can be a good buy for you.
The Dragonfly X2 is built following the highest health standards. If you are concerned about the health implications, the Dragonfly X2 can be a safe item to choose.
Since tattoo machines are handheld items, larger ones are difficult to operate for extended sessions. If you want a smaller but powerful machine that can take care of your tattooing demands causing minimal stress on your hands, the Dragonfly X2 is tailor-made for you.
Problems You Might Have To Face
No tattoo machine is perfect and the Dragonfly X2 is not an exception. Here are the shortcomings we would like to talk about:
This is not a tool for beginners. If you don't have enough experience of using a tattoo machine, you will not have a good deal of control over it. If you know someone who already owns the Dragonfly X2, give it a test run before getting one for yourself.
There is very little information about it. If you know your way around a tattoo machine, you will figure it out eventually. But, the learning curve would be steeper for newbies. So, rookie artists should chalk this off from their shopping list.
Reasons to get
Small, stylish, and ergonomic design.
Heavy-duty aluminum build.
Energy efficient.
Three stroke lengths.
Low vibration.
Reasons to avoid
You might find the motor obnoxiously loud.
Dragonfly X2 Review: Features And Benefits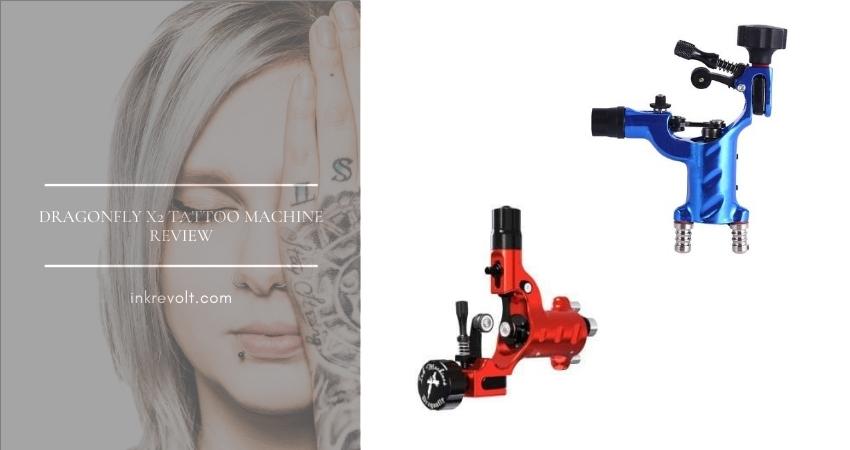 Let's get to the business end of our Dragonfly X2 review, where we will discuss the functionalities of the machine in more detail.
Stylish & Ergonomic
The aesthetics of the Dragonfly X2 is a stark reminder of the fact that tattooing is an art. You can't help admiring the beauty of the machine as soon as you lay your eyes on it. The shiny finish on the aluminum body makes it exquisite to look at. The tiny size has also added to the fashion appeal of the unit.
Once you look beyond the stylishness, you will realize that the design is incredibly ergonomic. The manufacturer has designed this machine for stress-free long-hour operations. It is very lightweight and easy to hold. So, you won't even notice that you have been running it for hours.
Energy Saving
The Dragonfly X2 has an energy conservation rating of 86%. Therefore, this would be a great option to switch to if your previous machine has been making you pay hefty electric bills every month.
Adjustable Stroke Lengths
The stroke length of a tattoo machine indicates the area the armature bar has to cover for performing a complete spin. Different stroke lengths are suitable for different tattooing scenarios.
Short stroke lengths can implement soft compositions on the skin without irritation. For lining, you can move to medium stroke lengths. Larger stroke lengths make your machine compatible with larger needle groups, which you need for thick linings.
On the Dragonfly X2, you can move between stroke lengths of 2.6mm, 3.7mm, and 4.5mm with ease. All you have to do is to loosen the screw and move the eccenter pin to set the machine at the stroke length you want.
Final Words
In our Dragonfly X2 Tattoo machine review, we attempted to highlight the features that justify the high price tag slapped on the product. It is a professional tool that comes with a host of functionalities for tattooists. The option to change stroke lengths substantially adds to the practicability of the device.
The motor is surprisingly powerful for its size, but it also makes its presence known with loud noises. However, it's an ignorable inconvenience, considering the abundant advantages you will get from this machine.
We are sorry that this post was not useful for you!
Let us improve this post!
Tell us how we can improve this post?