Stingray X2 Review: Worth The Hype?
The Stingray X2 is a rotary tattoo machine produced by Ink Machines, a Swedish company known for its range of high-quality tattoo machines. This device incorporates the best features of both coil and rotary tattoo machines, offering a versatile solution for tattoo artists. The machine is built with 7075-grade aluminum and is powered by a custom-made Swiss motor, capable of handling a variety of tattooing challenges.
This article provides a review of the Stingray X2, highlighting its premium features, benefits, and limitations, making it a top-of-the-line choice for skilled tattoo artists.
High level overview of Rotary and Coil Tattoo Machine
As mentioned already. Stingray X2 incorporates the features from both types of tattoo machines. I will not go into the details. Here is a high level comparison of Rotary Tattoo Machine and Coil Tattoo Machine –
| Feature | Rotary Tattoo Machine | Coil Tattoo Machine |
| --- | --- | --- |
| Weight | Lighter | Heavier |
| Noise Level | Quieter | Louder |
| Needle Size | Fixed | Interchangeable |
| Level of Difficulty | Easier to control | Requires more skill to control |
Read More: Rotary Vs. Coil Tattoo Machine
Introducing The Stingray X2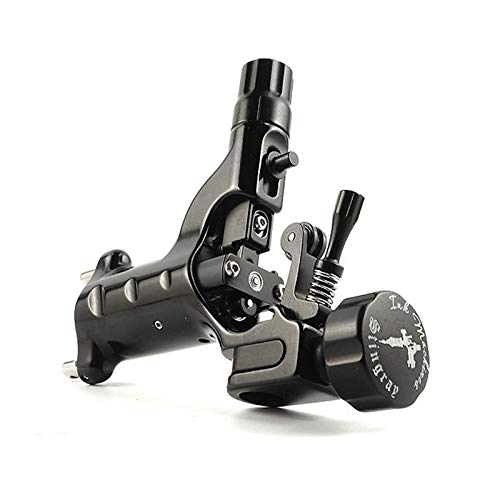 Ink Machines is a Swedish company that has produced an excellent range of tattoo machines over the years. It won't be an exaggeration to claim that the Stingray X2 is a culmination of Ink Machine's experience as it addresses most of the benchmarks tattooists seek in a machine.
In terms of build quality, you won't have any complaints with the Stingray X2's exquisite 7075-grade aluminum finish. In case you don't know, that's the same quality aluminum airplane manufacturers use to build their aircraft.
Apart from a solid construction, it packs some magnificent features. Before getting into the details, let's have a quick glance at the specs Stingray X2 feature.
Stingray X2 Specifications
Manufacturer: Ink Machine
Weight: 85g
Material: 7075 aluminum.
Stroke Length: 4mm cam
Suspension Stroke: 0-2mm
Motor: 6w Swiss motor.
Input Voltage: 13V max.
Maximum Needle Size: 50 mag.
Who Is This Product For?
Stingray X2 has a host of premium features that make it desirable to tattooists who are at the top of their game. Here's a shortlist of users who can expect to get the best out of this tool:
You are looking for a machine that is capable of doing intricate designs.
You want a tool that will be easy on your hands and allow you to work for hours without cramps.
You have a diverse clientele and need a versatile tool to cater to their needs.
You feel comfortable paying a high price for a top-of-the-line product.
Problems You Might Have To Face
Despite being blessed with some exceptional features, the Stingray X2 comes with its share of limitations.
This is not a tool that will help you learn tattooing. You need a certain level of experience to operate a tattoo machine of this caliber comfortably.
Using cartridge needles could be a bit problematic. You must get rid of the stay-up pin beforehand, otherwise you might end up damaging the motor.
The Stingray X2 may also be more expensive than traditional rotary or coil machines, making it a more significant investment for those who want to try it out.
Reasons to get
Compatible with both cartridge and standard needles.
The cams are exchangeable.
High efficiency design.
Lightweight
Minimal vibrations.
Reasons to avoid
Aimed at skilled users. Not suitable for aspiring tattooists.
Stingray X2 Review: Features and Benefits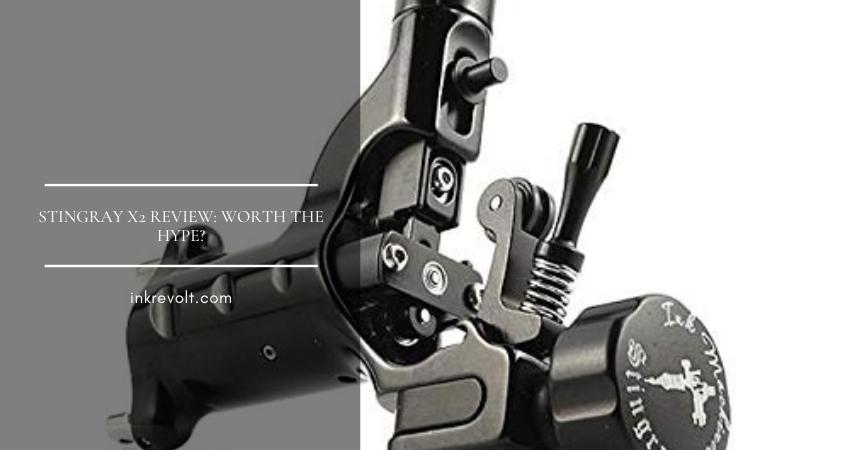 Now, let's get to the highlight of our Stingray X2 review. What features make the Stingray X2 special? In this section, we have focused on the aspects that made us fall in love with the Stingray X2.
Premium Swiss Motor
The first thing we would like to talk about here is the premium Swiss motor that powers the Stingray X2. Ink Machines have used a custom-made motor to make the machine capable of handling a myriad of tattoo challenges. Even though the Stingray X2 appears quite modest in size, it is an incredibly powerful tool that any artist would love to have in the parlor.
Proprietary Cam System
What makes the Stingray X2 a truly unique machine is its proprietary Desmodromic roller cam system. It makes the machine mimic the motion of a coil machine. Therefore, you can have more consistency in lining and shading. But, you will not have to deal with the drawbacks a coil tattoo machine generally comes with.
For example, coils in a coil machine are vulnerable to frequent carbon build-ups. Therefore, you would need to clean it regularly. While the Stingray X2 also requires maintenance, you don't have to do it as often as you would do in a regular coil tattoo machine.
Adjustable Give
Give is a metric that indicates the intensity of a needle's touch on the skin. A higher level of give would apply more force on the skin while lower ones will penetrate the skin more gently. Depending on the toughness of the skin of your client, you would have to adjust the give of the machine.
Stingray X2 is one of the premium offerings in the market that allows its users to tweak the give of the machine. There is a give cap on top of the machine, you can rotate it to decrease or increase the give and achieve the desired results. This eliminates the need for purchasing multiple machines with varying gives.
Damper
At softer gives, machines tend to make a cranky noise. To compensate for it, Ink Machines has used a damper in Stingray X2. It mostly nullifies the noise and makes the device quieter. This is a much welcome inclusion as it allows you to have uninterrupted attention to your work.
Final Remarks
Hopefully, our Stingray X2 review has given you a proper idea about the exclusive features that make the Stingray X2 a premium pick. It is a great choice for experts, as it gives them a range of options. It would be a tough ask to find a tattoo machine that can outsmart the versatility of this unit.
We are sorry that this post was not useful for you!
Let us improve this post!
Tell us how we can improve this post?