Hummingbird Rotary Tattoo Machine Review
A good tattoo machine plays a pivotal role in one's journey of becoming a professional tattoo artist from a mere tattoo enthusiast. Because a tattoo machine is a fundamental part of your work, if you don't have a quality tattoo machine, it may even ruin your chance of going any further with this profession.
To make sure you get yourself the perfect tattoo machine, we will review the Hummingbird Rotary Tattoo Machine, aka Hummingbird Tattoo Machine. It is a lining and shading tattoo machine that will get you a long way toward this career path.
This Hummingbird Rotary Tattoo Machine review will include the machine's important specifications, pros and cons, features and benefits, and other relevant information to give you a basic idea about it.
Without delaying anymore, let's have a go at it.
Introducing Hummingbird Rotary Tattoo Machine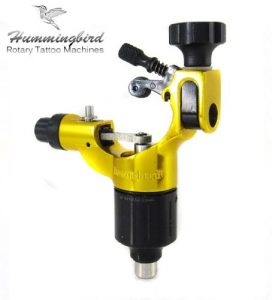 Hummingbird is one of the reputed brands in the industry. It produces high-quality and professional tattoo machines and equipment. The rotary tattoo machine is its popular lining and shading tattoo machine admired by many artists.
Some key specs of the machine are as follows:
Brand: Hummingbird
This rotary machine is made of aluminum.
It has a Swiss motor with high velocity.
It has an adjustable stroke.
It has got a needle bar stabilizer.
Operating voltage: 6V to 8V
Connection: RCA
It comes in two colors, red and yellow.
Who Is This Product For?
Are you still wondering if it is really for you? No problem. I am going to help you out with that too.
You are looking for a tattoo machine that will deliver you decent lining and shading work.
You want something you can handle easily.
You like to work in a quiet environment with no interruption.
Problems You Might Have To Face
One problem you have to face with the Hummingbird Tattoo Machine is that it does not come with a manual. If you are a beginner, you may find it challenging to manage it in the beginning.
Pros
User-friendly, lightweight
No noise or vibration
Low operating temperature
Hummingbird Rotary Tattoo Machine Review: Features And Benefits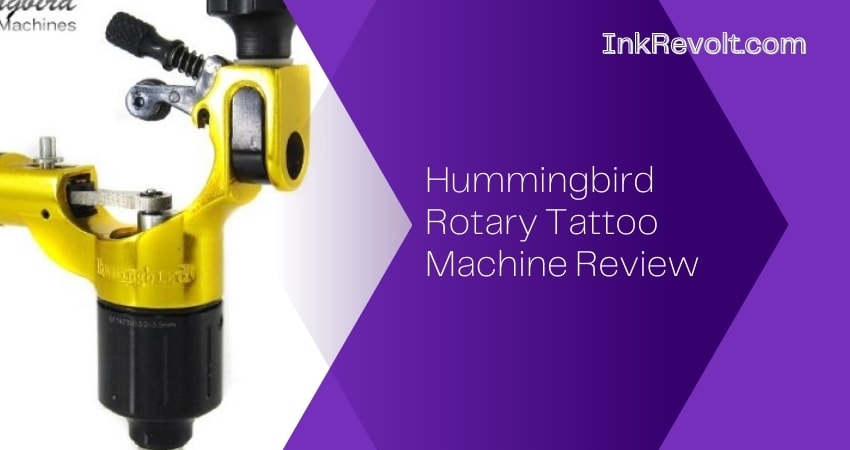 The Hummingbird Rotary Tattoo Machine has the following features that you will be benefited from.
Less Is More: A Proper 2 In 1 Package
Though there are many tattoo machines available to do both lining and shading, artists often prefer buying two separate devices for each of the functions. That is because most of the time, they worry about the shading and lining machines' performance. So, they do not risk buying one of them.
Here is where the Hummingbird Rotary Tattoo Machine shows up and comes to the rescue. It not only saves you the hassle of buying and handling two machines but also rids you of your worries. It is a lining machine and a shading machine at the same time.
What's more, this rotary pen delivers and maintains consistent performance in both areas. That makes it a proper 2 in 1 package.
You can take it with you anywhere. It saves both your time and effort. Even more importantly, buying two machines would require you to invest a considerable amount of money. But you can get an ambidextrous Hummingbird at a much reasonable price. How cool is that?
Comfort In Using
Since this tattoo machine is made of aluminum, it ensures better dissipation of feat. Thus, it creates low temperatures while working.
It works without making any noise. As a result, you can work with it comfortably for a long time.
Adjustable Stroke
You can adjust the stroke of this tattoo machine for both lining and shading. It can work smoothly at any length, from 2.6 mm to 5.5 mm.
Needle Bar Stabilizer
The function of the needle bar stabilizer is to hold the machine's loop bar down. And so, you can finally stop using rubber bands. That is why the stabilizer is the most highlighted part of the machine.
Additional Read: Dragonhawk Rotary Tattoo Machines Reviews
Wrapping up
To put the review in a nutshell, the Hummingbird Rotary Tattoo Machine is a tattoo machine that makes your comfort its first priority. It has other necessary features that will give you a great experience working with it.
I hope the review has been helpful enough for you to make a good decision.
Thank you for reading it. Good luck and happy purchasing!
We are sorry that this post was not useful for you!
Let us improve this post!
Tell us how we can improve this post?