When Can I Wash My Face After Eyebrow Tattoo?
Getting eyebrow tattoos is the easiest way to get picture-perfect eyebrows every time without spending rigorous time behind them. But these tattoos need special care for good maintenance and the safety of your skin. Most people don't know how to take care of them and spend too much time washing and moisturizing them.
But washing your eyebrow tattoo should be done on time and not when you can potentially ruin it by washing. So when can I wash my face after eyebrow tattoo?
There are no restrictions on washing your face after getting your eyebrow tattoo. But you must be careful around the tattoo area. And for the first 7 days, you should avoid a full wash of the tattooed eyebrow. Remember, a freshly tattooed area should be gently cleaned following all the instructions, not washed. Because the wash can damage your tattoo.
Let's dive into more details of the protocols for washing your eyebrow tattoos.
So How Do I Wash My Face After Eyebrow Tattoo?
There are a few precautions you should take. Water can ruin your freshly done tattoo. That is why you should clean the tattoos using a cotton pad or a q-tip that is barely damp, not wet.
Before cleaning your face or during showers, you must protect the tattoo area from getting wet. You can use protective gear and patches for your tattoo area online, or you can ask your artist for one.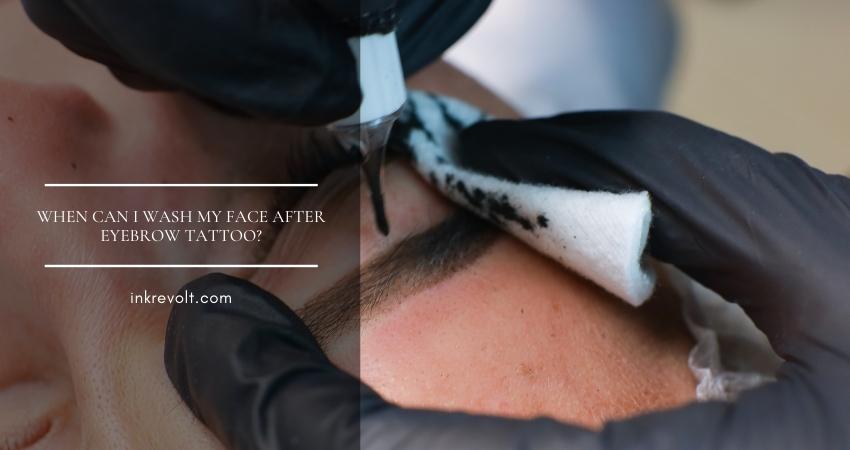 Let's look at all the other precautions you need to follow along with the washing restrictions:
Aftercare Of Day One
Brows will show redness, albeit the level of the redness varies from person to person. They may feel sensitive and appear irregular in appearance. At this stage, you have to keep the eyebrows very clean and dry. You should also avoid touching them! What more you should do is:
Caffeine and alcoholic beverages should be avoided over the next 24 hours.
Blot your eyebrow tattoos with gentle pressure every thirty minutes. Use a dry, fresh tissue. Repeat the process till the night to absorb excess fluid as well as lymph build-up.
Before going to bed, clean the tattoos with a sterile cotton swab and chilled water, then blot thoroughly with a clean tissue.
You can take a shower, but avoid using baths or swimming pools.
Aftercare Of Day Two to Five
In 2-4 days, you will see scabs forming. The scabs will become slowly dry and might feel irritable on the skin. And these days, you need to follow a pretty common routine. These instructions should be religiously followed:
Avoid activities or exercises that will cause excessive sweating in the first five days.
At least twice a day, you need to wash your eyebrow tattoos. Use cold water and a sterile pad. After washing, you need to blot dry.
If scabbing appears on your tattoos, you should not scratch, rip, or remove the scabs or skin away from your tattoos. If you do any of these things, you risk damaging the colors from beneath the skin's delicate layer.
If you see some regions becoming excessively dry or very itchy, apply a very small amount of Bepanthen to the tattoos. Be careful not to overuse and oversaturate the tattoos with oil or cream. Bepanthen should only be used on your dry skin.
Avoid applying other ointments, oils, or lotions to the tattoos that are not approved by a dermatologist.
Aftercare You Need To Do After Day Six
After the five days end, your tattoo is supposed to be dried. Now it's time to meet your artist for a touchup. The second session is very important in completing the eyebrow tattoo treatment because it will give you the final look.
The peeling of scabs is complete at around 12 days, and the brows appear lighter as a result of the peeling process. Each person's level of lightness will differ. After these days pass, you should always use sunscreen while going out.
General Aftercare For Two Weeks
After you are done with your first week of aftercare, you can't just leave your tattoos uncared for. Along with all the steps mentioned, for the first two weeks, you need to take and maintain additional steps, and those steps are:
For the next 2 nights, use clean pillows with a clean towel on top.
Don't use any skincare substances on your eyebrows. (retinol solution, AHA, moisturizer, vitamin A, C, or E substances)
If your eyebrows get wet, you should blot the tattoos dry with paper towels.
Don't touch your tattoos with unwashed hands.
Avoid using pools and deep water bodies.
After two weeks, the brow tattoos are not affected by the wash. You can continue your regular skincare practices. After the scabs are removed, the tattoos will appear quite light; however, the color will resurface and the brows will darken over the next week to six weeks.
Additional Read: Microblading Vs Eyebrow Tattoo
What If I Get My Freshly Done Eyebrow Tattoo Wet?
As mentioned earlier, water can damage your freshly done eyebrow tattoo. It inhibits the effective retention of pigments. So you must avoid showers, saunas, swimming, and excessive sweating for the first 7 days after getting your eyebrow tattoo. But if you have to take a shower, make sure the tattoo area is completely waterproof.
If your eyebrow tattoo gets wet accidentally, dry the tattoo area quickly and gently. If the situation starts to worsen, contact your artists as fast as you can.
When Can I Wash My Hair After Eyebrow Tattoo?
Well, washing your hair and keeping your eyebrow tattoo area dry can be very tricky. So it's better to avoid washing your hair for 7 days after getting your tattoo done, or 3 days at least, if you have to wash your hair for maintaining hygiene. Even after those three days, you must be very careful not to get your tattoo area wet.
There are some effective ways of washing your hair during your tattoo healing phase. The most commonly used measure is to use the protective patches made for eyebrow tattoos.
Some artists advise using a thin layer of Vaseline or other dense glycerin-based moisturizers to keep the area protected.
What Happens If I Don't Wash My Face & Brows After Eyebrow Tattoo?
Many tattoo artists advise avoiding water in the tattoo area. But you should wash the rest of your face the way you usually do.
However, the tattoo area should be cleaned in order to prevent bacteria and germ accumulation. Not cleansing your face and the tattoo area will lead to bacteria accumulation in that area and lead to infections. It can also lead to the formation of crusts.
Excessive scabbing can be caused by dryness of the area and a failure to clean the lymph nodes. However, some scabbing is normal.
Our faces are home to millions of bacteria and germs. Even if we avoid going outside for days, the sebaceous and sweat glands excrete many harmful elements which must be cleaned regularly.
How Can I Keep My Eyebrow Tattoo Area Dry In The Shower?
Keeping your eyebrow tattoo clean while showing might sound absurd to you. But when necessity comes, so does invention. So it may sound a bit awkward, but you can wear snorkeling goggles in the shower to perfectly protect the tattoo area from getting rinsed out by water.
Some artists advise using plastic sun visor hats, which can also be effective. Well, whatever you choose for the first 7 days, make sure you are not drenching your tattooed eyebrows with buckets of water.
Final Verdict
Having tattoos on your eyes is the best thing you can do as a makeup fanatic. But make sure you also know what comes with getting tattooed eyebrows. Most people often don't maintain their eyebrow tattoos as they should and end up losing the beauty of the tattoos.
Even when you ask them "when can I wash my face after eyebrow tattoo?" you will see that they have a little clue. But the aftercare of eyebrow tattoos is straightforward.
Carefully clean them, dry them and take care of them. Also, don't keep the area soaked. Always keep the area dry and clean. If you do these few things, your eyebrow tattoos will remain as good as new.
We are sorry that this post was not useful for you!
Let us improve this post!
Tell us how we can improve this post?