How To Become A Microblader In Texas?
Since thin eyebrows grew out of fashion in the early 2010s, microblading has been one of the hottest semi-permanent makeup trends in the beauty industry. So, microblading has become a rewarding career choice for many aspiring estheticians. Once you set up your mind to pursue a career in microblading, you need to know about the local regulations.
Like all other states in the US, Texas has its own laws to regulate permanent and semi-permanent cosmetic procedures. If you want to start a microblading practice in Texas but are not sure where to begin, this article can be a great starting point for your research. Read on to find out how to get certified in microblading in Texas.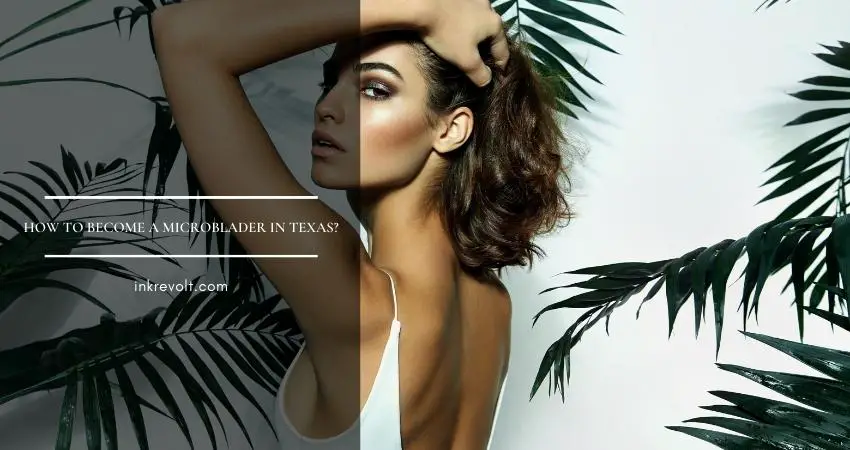 Do You Need A License To Do Microblading In Texas?
You need to have a tattoo permit to perform microblading in Texas legally. State laws in Texas consider any form of body art that requires skin penetration as tattooing. Even though microblading differs from tattooing in several ways, it is seen as a type of tattooing under the Texas Civil Service and Remedies Code, Chapter 146.
Anyone above the age of 18 can apply for a tattooing license in Texas after completing a proper training course alongside a bloodborne pathogen training course.
Additional Read: License requirements for microblading
How To Start A Microbladig Business In Texas?
Step 1. Get Certified
Getting certified is obviously the first thing you need to do. Some courses might come at incredibly low prices, which are too tempting to resist. But you might regret taking most of them. Don't hesitate to pay a bit extra to get in touch with the best instructors. Prioritizing quality over cost is the wisest decision to make here.
You also need to carefully choose between online and live courses. Online courses can be a great option if you don't have much time or don't have a big budget. But, practicing opportunities could be limited. We recommend taking live classes and trying hands-on approaches to master the craft.
Step 2. Practice, Practice & Practice
After completing your course and getting your certificate, you are free to apply for a tattooing permit. However, we recommend you to work as an understudy under a skilled microblading artist for 6-12 months. An internship is not mandatory in Texas, but it will help you become a skilled practitioner.
Step 3. Apply For A License
Submit your certificate and internship information to the Texas Health Department. You would also need a bloodborne pathogen training certificate to get permission to perform microblading in Texas. After the department reviews your documents, it will issue a tattooing license in your name.
Step 4. Set Up Shop
When you are about to start working as a professional microblading artist, you would need an upgrade in equipment. Ditch the training kit and invest in getting premium pigment, machinery, and needles. Remember you need to pass a Health Department inspection to start your business. Using high-quality equipment will make it easier to make a good impression.
You will need to pay $1000 in licensing fees to get a tattoo permit for your studio. Keep the studio clean 24/7. A sudden inspection from the authorities might result in a hefty fine or, even worse, a revocation of your license if you don't maintain the hygiene standards. Invest in décor and lighting to create a welcoming ambiance.
Your space must have a bed that fits the client and gives you room to move.  You require high-quality tools, pigments, and aftercare items the customer can use at home. For the highest level of precision, proper lighting is crucial.
Don't be shy about framing and displaying your certificate; your clients will appreciate it. You might charge more for your services the more well-known the institution where you received your training.
Step 5. Build Your Brand
Even if you have the right skill set to become the best microblading artist in the world, you must focus on building your brand properly to succeed. If you fail to create a buzz in the local microblading scene, you might attract fewer clients than someone else with less expertise but more branding sense.
That's why putting money on a trendy logo, an attractive website, and impressive business cards is so important. When selecting a logo, pick something that will make people think of you and your work. If you can do this right, your brand will flourish. You have to deploy some clever marketing tactics to beat the competition.
Step 6. Get Insurance
You need to get proper insurance coverage to tackle multiple undesired scenarios. Say you have done your best work, but the client feels you botched her beautiful face. Even if you made no mistakes, your client might file a malpractice lawsuit against you. Also, your equipment might get stolen or get damaged in an accident.
Your insurance company will worry about the expensive lawyer fees rather than you if you have legal expense insurance. Equipment insurance will allow you to get new equipment immediately after theft or damage. So, make sure to talk to an insurance agent and minimize the risk of your business.
Can I Do Microblading From Home In Texas?
You don't have to rent a property to set up your salon. It's possible to start your microblading studio in your house. Texas Health Department will give you the green light to start a home-based microblading service if you meet the requirements of launching a commercial microblading salon.
You might want to set up the studio at your home to save costs. Also, it allows you to stay home more often and take care of your children and pets. A home microblading studio makes it easier for artists juggling multiple obligations. Thankfully, there is no legal obstacle to operating a microblading business from your house in Texas.
Conclusion
Texas does not have the strictest microblading regulations in the country. You can become a successful microblading artist in the Lone Star State within a short time if you invest your time and money the right way. State laws allow you to practice from home as long as you adhere to the health standards.
We are sorry that this post was not useful for you!
Let us improve this post!
Tell us how we can improve this post?