What License Do You Need To Do Microblading?
Getting trained or passing exams on microblading will not enable you to work as a professional microblading technician. While they are mandatory, you will still need a license to make your business legal and official.
Working as a Microblading artist requires you to get a license approved by the Department of Public Health in your area by requesting an application. It can be for cosmetology, PMU, or tattooing. That depends on your region.
The procedure is short and simple in general. I will talk about it in the next part. I will also discuss how it varies within regions like Florida, South Carolina, Louisiana, and Massachusetts.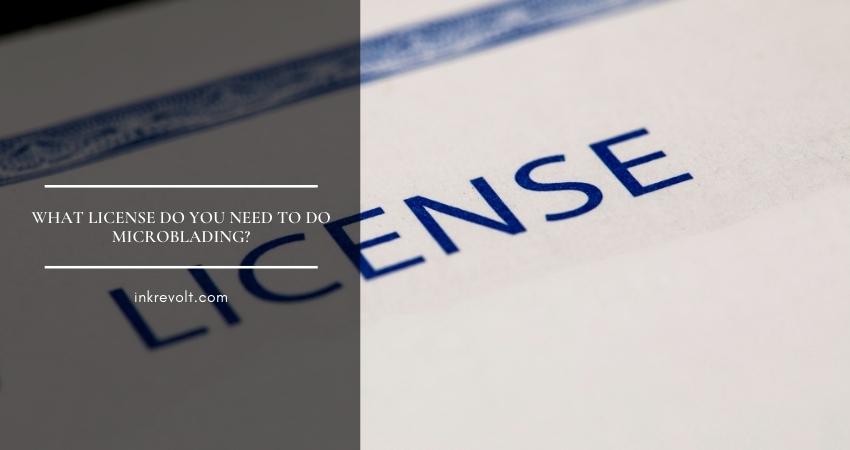 How To Get A Microblading License?
Before you send the authority an application requesting a license, ensure that you have met the required criteria for microblading equipment, hygiene, facility, and safety.
National government body like the Food and Drug Administration strictly follows cosmetic standards. You will find information about injury and infection prevention and ink and pigment requirements on their websites. Since customer safety is the top priority here, you must comply with the rules and regulations to prevent malpractice fines and lawsuits.
Local regulations usually define microblading as a form of tattoo or PMU. However, it differs from one state to another. The rest of the article will walk you in on the procedures of several regions and mention the differences for your better understanding.
Additional Read: How to become certified in microblading
How To Get Microblading License In Louisiana?
There are no particular training requirements for PMU artists in Louisiana. But that should not keep you from getting a proper education in this field, where knowledge and experience are essential to upgrade your skill.
You can enroll in beauty schools with microblading programs and learn more. Upon completing your education, you will have to go to the Department of Health & Hospitals to get your license to carry out microblading procedures and begin your career.
You need to complete the license annually in Louisiana and renew them each year by spending $100. It will be $200 if you are the manager of any facility.
It is important to know and understand the rules and regulations pertaining to hygiene and infection control. Therefore, although the state does not require specific training programs, you should not skip them.
Do You Need A License To Do Microblading In Florida?
Yes. You need a license to do microblading in Florida, and the process is pretty lengthy.
You must attend a course on tattooing covering communicable diseases and bloodborne pathogens. The Department of Health must approve that program. You are to pass it with a grade of 70%.
Afterward, when you start the application process, you have to provide a copy of your ID issued by the government that you fulfill the criteria of the minimum age along with proof that you passed the educational course with 70% marks.
The fee will be $60. The application will ask you to give information about the location where you will work. If you do not intend to work anywhere and want to open a parlor on your own, fix it first before applying.
When the application is ready, submit it with the fees and documents to the local County Health Department.
You have to renew the application yearly, which includes a fee of $60. The same applies to the license of a tattoo establishment charging $200.
How To Get Microblading License In South Carolina?
The artist must meet the minimum age criteria of 21 years and possess the certificate of successfully passing tattoo infection control and blood-borne pathology. You have to submit these documents during the application process, where the license will cost around $400 initially and $50 per facility station.
You can avail of the license for a year. The renewal costs for license and per station are the same as before. An inspection fee of about $350 will also follow with $200 more per return visit provided that you cannot pass. So, it is important that you get the right training program for the best preparation.
How To Get Microblading License In Massachusetts?
Massachusetts requires a 2,400 hour apprenticeship under a professional tattoo artist's supervision to apply for a professional license. Before that, you have to complete courses on first aid, basic CPR, and blood-borne pathogens.
After completing the apprenticeship, you will apply to the local public health department with proof of the required education and documentation certifying that you have fulfilled the work experience criteria. You will also have to provide information about your employer, a copy of your ID, and a passport-size photo with a specific fee.
Additional Read: Everything you need to do to start a microblading business
Final Words
I discussed the procedures of 4 states here. If you are from a different state, you can check out its health department's official website before applying for a license.
However, the message I want to give you is that it is paramount to learn about the requirements. Some states are strict and specific about training programs, and some are not. The time duration also differs.
It will be a mistake to apply without knowing the regulations first because if you do not have the documents and proofs ready, it will delay your professional career further. So, the more research you do, the more prepared and compliant you will become. And the path to becoming a licensed microblading technician will be smoother.
That is all from me. Best of luck getting licensed!
We are sorry that this post was not useful for you!
Let us improve this post!
Tell us how we can improve this post?