How To Start A Microblading Business? [Step by Step Guide]
The best way to make an idea come true is a solid and fool-proof plan. And if the idea is about a business, it is a must. Nowadays, permanent makeup has become a highly lucrative sub of the beauty sector. Many individuals are leaning on the prospect of opening their microblading shops. After all, what is more swag than being your own boss?
But again, it is more complicated than one would think, and planning is the most critical part of it. Once you know how you will walk toward your goal, you will be halfway through already. That is where I want you to lend a hand today.
The first step to starting a microblading business is to get educated and certified that you have acquired sufficient knowledge and training on microblading. Then you apply for a license and set up a shop after getting it. The final steps are about pricing strategies, marketing, and promotion.
Read below to understand more about starting a microblading business from scratch.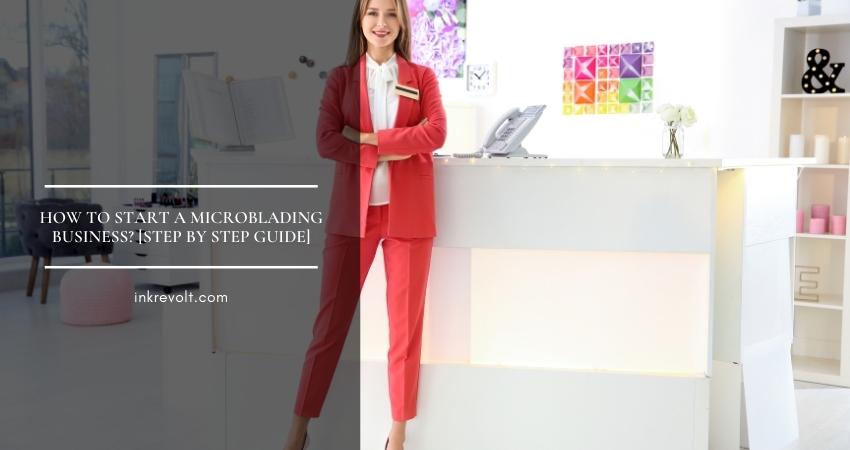 How To Start Your Own Microblading Business: 4 Steps
Step 1: Certification
The first step starts with mastering the skill of microblading. Mind you, there is no shortcut to that.
You have to attend a course to learn the theories, the pigments and devices, mapping, and color matching. You will also learn about the safety of your clients. Then the program will allow you to examine your progress on props and live models.
There are a lot of courses available, many of which are fake. So, when you get admitted into one, check if it is authentic.
Live programs generally take around a week, and you get the certification instantly. But students mostly carry on practicing until they obtain their certificates of completion.
Note that most courses offer students a beginner microblading kit with essential equipment. So you should look for one of those.
Online training programs are a bit lengthier than offline ones. Nonetheless, they enable you to keep track of your pace while offering constant assistance and supervision from the instructor.
Step 2: Getting Licensed
You have to get a license from your area's public health department to start your business legally and officially.
The process and its requirements differ from one place to another, but the one common criteria for starting a microblading business is having the certification of course completion ready. Moreover, it has to be from a registered academy or trainer. Some regions specify the institutions they require. Better check them before enrolling yourself somewhere.
In addition, some states can ask for more certifications like bloodborne pathogen training and first-aid training. Some might demand that you take an apprenticeship under a licensed technician for a specific period.
Step 3: Getting Your Shop Ready
You have to prepare your workplace to start your microblading business.
Choose the area of business wisely. Assess all the options. You can get a space for rent. Also, if your house has a spare room, you can make it your salon.
Take into account the cost of each option and select the cost-efficient one. However, do not do that at the expense of decoration. Your salon should be a place that feels comfortable and accommodating.
Besides, it should have quality devices to tell your clients that they are in the right place.
The must-have equipment consists of a bed, disposable supplies, proper lighting arrangements, and an array of pigments. A bunch of aftercare stuff is also necessary to serve your clients after the treatment.
Your shop and equipment must be clean and sterile at all times. It is not excusable. In fact, some states may make you pass sanitary inspections to get your license.
Step 4: Price Determination
If you are a newcomer in the field, you will have to charge less than usual because of your lack of experience. But that will not linger for long. You can increase your price range as you get more recognition and clients.
But many technicians start by working at other professionals' salons. If you are one of them and now want to set up your own business, see if there are more microblading shops in your area.
If the number is small, your skill will be more demanding. But if there are a lot of them, and the competition is intense, your only option is to ask for a lower price than your competitors' for the first few months.
Your goal during this period is to build your reputation. Once words get out about your service, you will get the upper hand in setting your price.
A crucial thing to bear in mind is that you cannot charge substantially less than your rivals. Potential customers might interpret that as poor service quality. Then again, do not set a price radically higher than your competitors'. That will cause you to lose prospective clients to less pricey technicians.
So, the rule of thumb is to determine a price range reasonably lower than the average in the area.
We are down to the last parts of the process. Advertising your business and building your reputation are the final two integral steps to establishing your microblading business. I will discuss them separately in the coming sections.
Additional Read: Average cost of microblading
How To Advertise For Microblading?
Getting customers frequently is the key indicator of every successful business. But you need thoughtful and practical advertisements to grab the attention of potential clients.
The first initiative is to develop an official website containing all the necessary details. Do not hesitate to invest in the website. Make sure the design is appealing and aligns with your brand identity.
You can also register it at different online platforms that work as a bridge between beauticians and their clients.
Creating social media pages and groups is also a good idea. It will enable you to grow a community where clients and potential clients can share their views and reviews about your service.
Furthermore, if you can stay active and post before and after treatment photos and make time to answer any queries, it will give people a positive impression. That, in return, will also keep you ahead of the competition.
How To Build Your Reputation?
When you finally start working as a professional microblading technician, remember that each procedure is a way to demonstrate your expertise and advertise your business.
Make use of every chance to show the clients that you know what you are doing and that they are getting the best service. Also, be humble and pay attention to them to build lasting relationships because you want your customers to come again.
It will also pay you back by getting you new customers that get recommendations from the existing ones. You can facilitate that by launching a referral program. Creating a friendly, professional, and reliable image will eventually assist you in expanding your business and increasing your price levels.
Is Microblading A Good Business?
Yes, it is a good business.
The main reason behind microblading being a profitable profession is that the demand is increasing, but the supply of skilled artists is not that much. So, if you approach with a good plan and are willing to work hard, you can succeed. The will to thrive for improvement and dedication to the art will take you to the peak.
Initiating a business needs an investment, which is comparatively little in the case of microblading. It will also pay off without taking long. The expense here implies spending on a prestigious training program at a registered academy or under a professional supervisor.
A live training program costs about $3000 on average. The online ones will take below $2000. Since the current price range of a microblading appointment lies between $300 and $1000+, you can expect to reimburse your investment quickly.
Additional Read: How much do you make microblading per year
How To Start A Microblading Business At Home?
Setting up your microblading business at home gives you the freedom to decorate it according to your plan and investment. But there are certain basic things you have to consider to work it out.
The room where you want to run your business should be isolated and private for your clients' comfort.
Another important thing is to ensure that your family members are alright when strangers are around. They should also know not to cause interruptions during your sessions. If your clients see that you have to pause now and then to run family errands, they will not like it.
The room needs to have a proper bed that is comfortable for the client and convenient for you to work around. Apart from quality pigments and devices, it should occupy aftercare products too. You have to arrange sufficient lighting to get maximum precision.
On another note, the clients will want to learn about your qualifications. So make sure you decorate the walls with your certifications. Again, the more reputable place they come from, the higher price you can ask for your service.
Do not forget about hygiene. At home or in a rented office, you must always sterilize your tools to take care of the safety of your clients. 
Your quality of service depends significantly on how well-maintained your workspace is. Plus, it is mandatory to be compliant with the health standards of your area's regulations. Therefore, do not think twice before spending on hygiene.
These are the fundamental requirements to start your microblading business at home. You can also add more decor to create a cozy ambiance and decide whether to bring a spa-like atmosphere or keep it more clinic-like. Whatever you want, prioritize cleanliness over everything else.
Final Words
When planning for a startup, most people's concern is about the risk and the investment return. But it is different with microblading because the way the demand is soaring up, getting your expense and then making a profit should not be your topmost worry.
What should make you worry is if you have what it takes and if you are willing to go the extra mile to make it work. Once you make up your mind and follow the steps, success will start coming closer.
Good luck with starting your own microblading business!
We are sorry that this post was not useful for you!
Let us improve this post!
Tell us how we can improve this post?