How To Become Certified In Microblading?
Microblading has been in high demand lately. It has popped up as one of the biggest trends in the beauty industry. So, becoming a trained and certified microblading artist is becoming more and more of a lucrative career proposition. If you have been considering getting a microblading license you need to be certified in the first place. This article can be a helpful read.
Where Can I Take Microblading Classes?
You will have to choose between the American Academy of Micropigmentation (AAM) and the Society of Permanent Cosmetic Professionals (SPCP) approved institutions. The microblading community holds both of these boards in high regard. So, no matter which one you decide, you can't go wrong.
That said, you need to be aware of the differences between these two organizations. The AAM is more common within the US, while SPCP-approved classes are preferred overseas. Pricing and terms of certifications might also vary. Browse AAM and SPCP websites to find out about approved trainers nearby.
Numerous profit-oriented training programs have opened up all around the world as a result of microblading's surge in popularity. Don't take classes that are less than a hundred hours. Even if they come with AAM and SMCP recommendations, they might not be the right fit for you. Three/four-day classes are often scams.
To find out how much experience the course instructors have with microblading and what kind of customer feedback they have had, you can carry out some research on them. This might convince you that you are learning from professionals with genuine experience and not some guy who is out to make some quick buck.
If there are fewer students in class, each teacher may devote more time to working one-on-one with each of them. You should keep this in consideration while choosing a microblading course. We are not saying that you can't benefit from enrolling in larger classes. But, in a less crowded classroom, instructors can communicate with students more effectively.
How To Get Certified To Do Microblading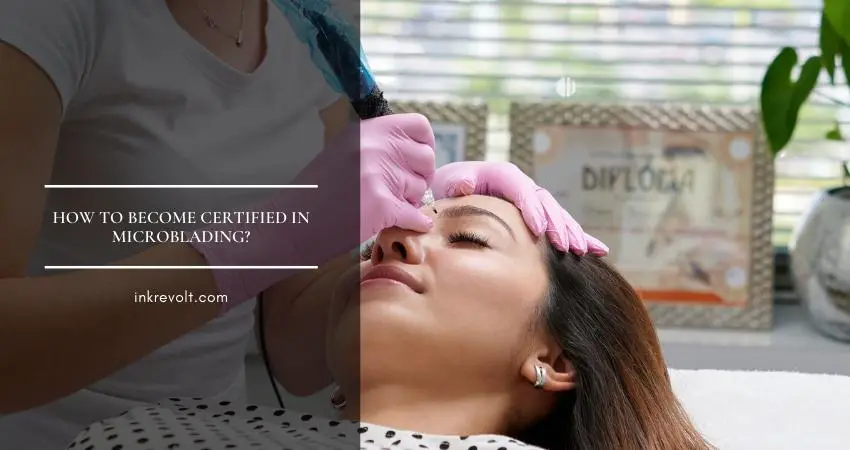 Step 1. Take A Course
After selecting a course, get enrolled. The admission fee should be around $5000-$6000. Clear a week in your schedule to concentrate solely on the classes. Your learning experience should include course materials, hands-on practice, and teacher demonstrations. The curriculum will cover skin anatomy, color theory, facial proportions, and other relevant topics.
After completing the course, the institution will issue you a diploma. It should state how many hours of classes you have taken and have an authorized signature of the course instructor. Make sure the spelling of your name on the certification matches your driver's license, passport, and other important documents.
Step 2. Seek Internship
Completing a 100-hour course is not enough to jump right into practice. After getting your diploma, try to get an internship under an experienced esthetician who is a member of the AAM or the SPCP. In most cases, you will not get compensation for the work you will be doing as an intern. Rather, some practitioners charge training fees for providing internships.
Some states require artists to complete an internship period after completing their regular course. A six-month internship should be enough. It's not only enough to cover regulatory standards, but it will also help you develop your skills in the right manner. After finishing the internship, you will get a letter of recommendation from the practitioner.
Step 3. Sit For AAM/SPCP Tests
Passing AAM or SPCP certification tests will add a valuable level of credibility to your name. But, to take these exams, you need to buy memberships from these organizations. The SPCP charges $325 annually, while the AAM will charge you $397 per year for its membership. After securing your board membership, sit for a BPS certification test.
BPS is an acronym for Bloodborne Pathogen Training. Why do you need to take this test? Since microblading requires skin perforation, an artist should know about the risks of blood-transmitted diseases. Passing the BPS test indicates that the artist is wary of this threat and knows what to do to minimize the risks.
You have to take a BPS course beforehand, which will cost you around $20-$30. After you take the BPS course, sit for the exam. Both AAM and SPCP encourage to appear for the tests physically. However, if you have time constraints, you can choose to take the test online. After passing the test, you will get a BPS test certification.
However, the BPS test is just a warm-up before you take the AAM and SPCP tests. These three-part tests include multiple choice, written, and practical tests. You can buy study guides for these tests. For practice, you can also purchase mock test questions and practice at home. You can also look at previous year's questions for reference.
Step 4. Get Your License
Obtaining a permit from your state's Department of Health or Public Health is required to practice any type of beauty technician. After getting your certifications, apply for a license. Provide copies of your certificates while submitting your application. Also, ensure you meet the hygiene, equipment, and office space requirements per state laws.
How Long Does It Take To Get Microblade Certification?
You can complete a microblading course in less than a week and get a diploma. However, that's not enough. You will have to work as an intern and pass board tests before applying for a license. In that sense, to get certified as a professional microblade artist, you might need 8-12 months.
Read More: How to start a microblading business
Final Thoughts
Training to become a professional microblading artist can require much effort and dedication. Not to mention, it can be pretty expensive. But, all the hard work and investment would be worthwhile if you want to build your career as a professional microblading artist.
A certified artist will attract more customers because of the trustworthiness that comes with the diploma. Therefore, accredited artists can charge more for their services, and their clients are happy to pay for them.
Also, certifications can help you connect with your professional community. You can get referrals from some of your peers if they are too busy with their work. Having a good relationship with the best in the business increases your credibility as an artist.
We are sorry that this post was not useful for you!
Let us improve this post!
Tell us how we can improve this post?