8 Best Microblading Kits for Beginners on the Market
Microblading is a common practice for creating realistic brow hair tattoos. The end product looks unbelievably realistic, even up close. It's a safe, semi-permanent option for those lacking volume, or losing brow hair.
It's also a good business that's based on skill. You don't have to worry too much about resourcing and other costs. You can base how much charge entirely on how skilled you are, and it doesn't take too long for that skill to develop. Depending on your experience, you can charge from $500 to $2000 and above.
Whether you want to start practicing at home or start working as a professional, you'll need a reliable microblading kit. To help you out, I've got a list of the 8 best microblading kits for beginners on the market. There's a collection of the best at-home microblading kits for every need on the list, whether you're concerned with cost, performance, or material.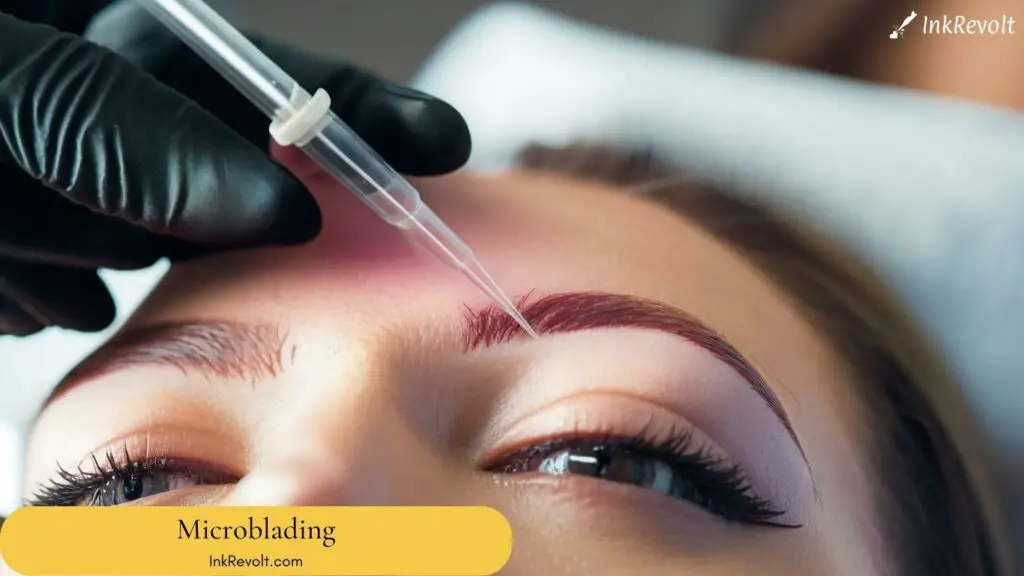 8 Best Beginner Microblading Kits: Reviewed
While the list covers the best microblading kits for PMU work or practice, they aren't universally the best choice for everyone. Each kit is the best match for a specific need.
I've sorted this list based on how friendly they are for beginners and practice work. So, my list will rank cheap but quality microblading kits over professional kits.
1. Anself Microblading Kit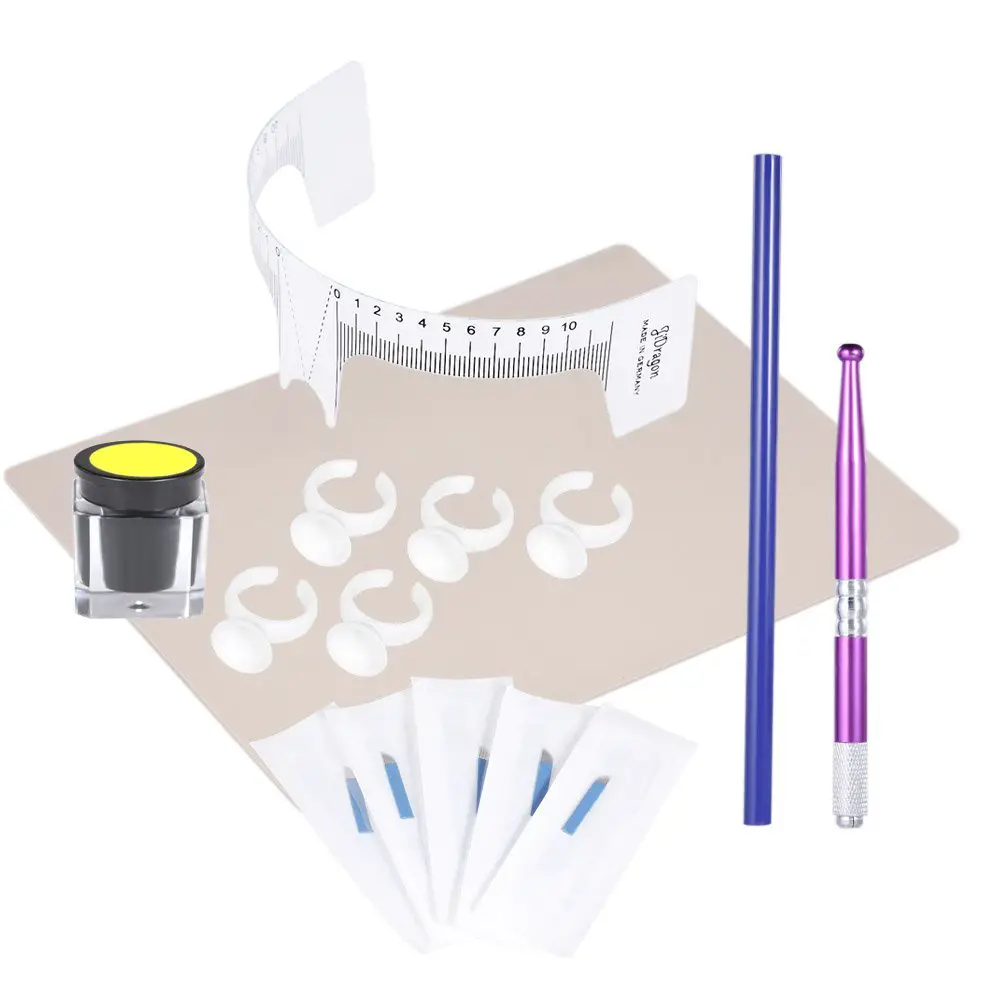 The Anself Microblading Kit is the perfect kit for a complete beginner to get started. This kit is a cheap option that anyone can afford, and it contains all the elements you need to start practicing immediately. This kit contains a total of 7 types of items.
5 disposable, sterilized, 14pin needles.
5 pigment rings.
1 eyebrow pen.
1 eyebrow tattoo pen.
1 tattoo practice pigment.
1 eyebrow ruler.
1 eyebrow practice leather.
The kit was designed primarily with practice in mind. However, many experts consider the eyebrow pen, eyebrow tattoo pen, and ruler to be good PMU instruments. The rest of the kit is only applicable for practice, especially the pigment.
The pigment is referred to as a practice pigment in the official description, and for good reason. The color of the pigment is coffee brown, and it's intentionally so that it's not used for actual PMU work. The pigment carrier is lacking in viscosity, and it's too thin to apply to the skin.
The eyebrow practice leather is of decent quality. It's not of the highest grade and doesn't mimic human skin's behavior perfectly. However, as a practice surface, it's capable of mimicking human skin layers roughly and simulating resistance. It holds its shape when it's nicked, and doesn't deform from the practice.
The eyebrow pen, eyebrow tattoo pen, and ruler are of professional grade. They are made of durable materials and have been made to be reusable. The tattoo pen is precise and even, and the scoring process is a smooth experience.
The Anself Microblading Kit is the cheapest kit on this list, costing around $10. The product has great value because it offers everything for microblading at a practically unfathomable price.
Pros
Cheapest microblading kit.
Comes with everything to get started.
The eyebrow pen, eyebrow tattoo pen, and ruler can be used professionally.
The practice skin is of good quality.
Cons
The pigment is unusable on human skin.
Verdict
The Anself microblading kit is designed to be a practice kit, and few others on the market can compare. The kit provides everything you need at a great value and outpaces many other kits at higher prices. You can even use parts of the kit professionally when you start, which saves you money at the most crucial point in your career. It's hands down the best microblading kit for beginners.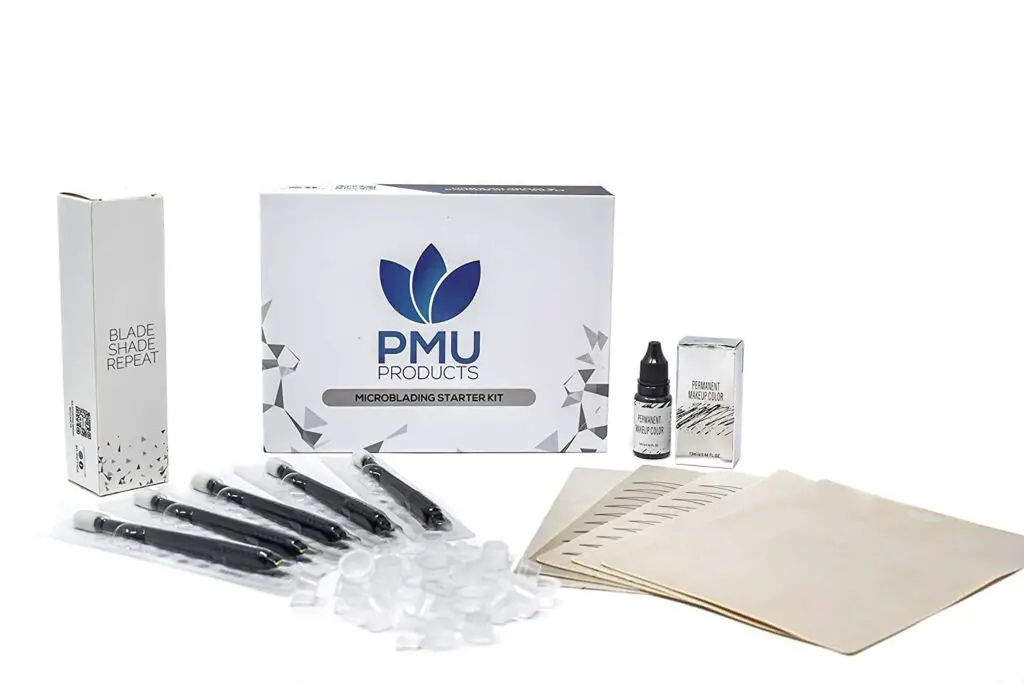 PMU Products made this microblading kit with value in mind. The kit is designed for both professional and practice use. It's also designed to provide quality and quantity for a low price, and PMU Products' effort shows here. The kit contains 5 types of items.
13 ml black permanent makeup color.
A pigment ring pack.
5 realistic practice skins.
18U blading pens.
15M1 shading pens.
The kit is meant to serve you from your day one practice to when you start working on clients. It's a pricier option, but it comes with quality material that far exceeds the value of the pack. Also, the quantity of the ink, pigment rings, and skins is not inconsiderable.
The pigment provided with the pack is of professional quality. The black is dark enough to provide a natural shade to your brows when it fades. The ink has viscosity due to the high concentration of pigments. This allows pigments to saturate and take hold of the skin easier.
The practice skins are all double-sided and have brow stencils etched onto them. The skins are highly durable, odor-free, and eco-friendly. These are high quality and mimic the human skin very closely. They can simulate the experience of working on human skin quite accurately.
The blading and shading pens are of professional quality. Even though these come in a value pack, their quality exceeds many pens that are sold for professional use on the market. PMU Products doesn't advertise them as more than starter pens. But these can last you till you need to update to kits that cost more than $100.
PMU Products Tattooing Practice Value Pack will cost you about $35. Within the pack, you get premium microblading kits, and enough materials to last you through your practice. The quality is much greater than what any other kit could provide, even above the price point. However, it lacks any eyebrow rulers in the kit.
Pros
Provides quality and quantity beyond price point.
Durable and premium blading and shading pens.
Realistic practice skins with eyebrows stenciled on.
Great quality pigment.
Good amount of pigment rings.
Cons
Does not come with eyebrow rulers or tapes.
Verdict
PMU Products Tattooing Practice Value Pack is the best pack at its price point in terms of quality and quantity. The kit is designed to provide premium microblading tools that will provide high performance consistently. If you can afford this kit, then there is no better choice.
3. Mcwdoit Microblading Kit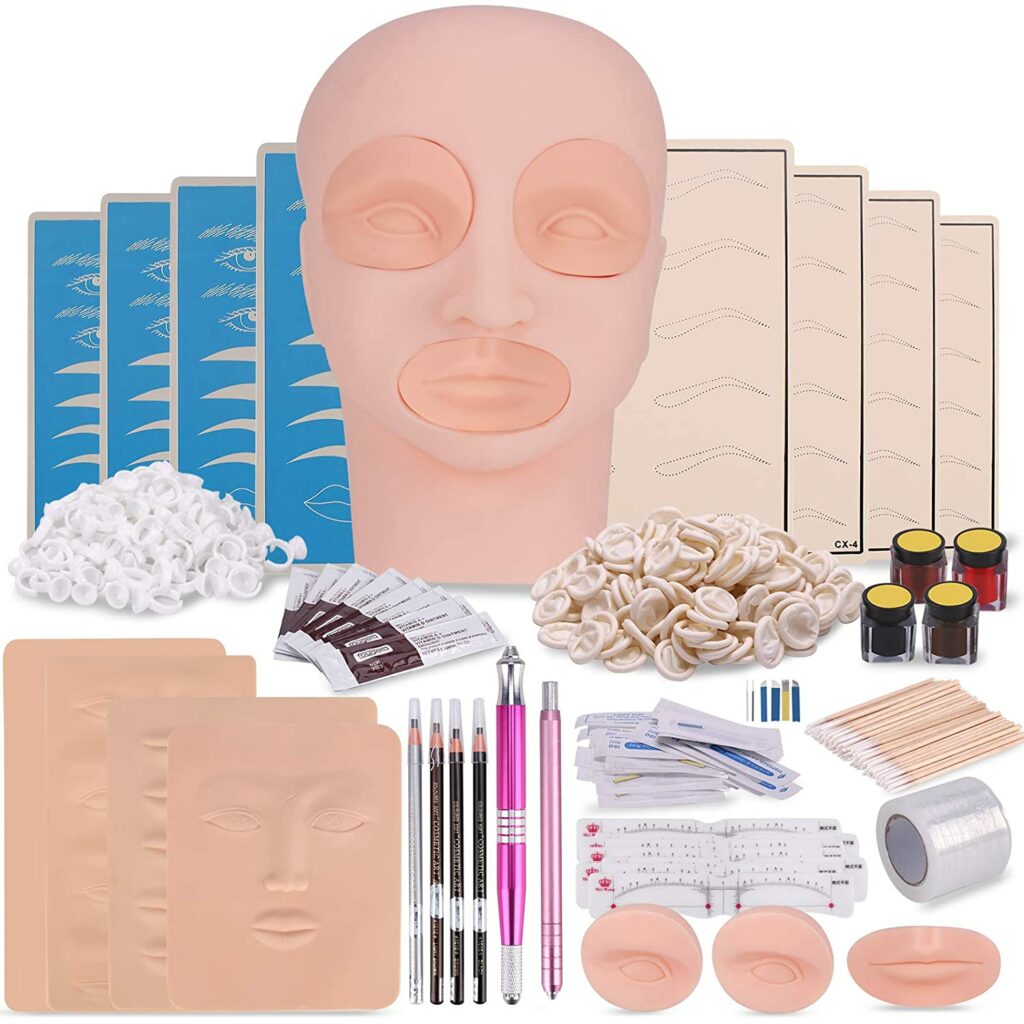 Mcwdoit is another company that targets quantity for the price. The kit is truly meant to cover every need that you could have, beyond that of typical users. The kit comes with over 21 types of items.
1 flat mannequin head with 2 replaceable sets of eyes and lips.
4 eyebrow pencils.
2 tattoo manual pens.
1 silicone tattoo plain practice skin.
1 silicone tattoo lip practice skin.
1 silicone tattoo face practice skin.
1 silicone tattoo eyes practice skin.
8 rubber tattoo eye practice skins.
4 tattoo pigment bottles.
10 18 pins needles.
10 14 pins needles.
5 15 pins double row needles.
5 23 pins needles.
5 R3 needles.
5 R5 needles.
1 Fresh-keeping film roll.
10 wipe strips.
12 eyebrow shape templates and rulers.
100 cotton swabs.
100 medium pigment rings.
300 finger cots.
While the entire package offers much more than microblading equipment, I'll only focus on them. Even only considering microblading tools, the sheer volume offered for the price is astounding. The kit comes with cotton swabs, finger cots, wipes, and other products that are crucial for microblading. These are typically not included in such large volumes in any kits.
There are pigments of multiple colors on this kit, but only black is applicable for microblading. But it's not a good option. The pigment itself is not dark enough, which will cause the ink to fade into an unrealistic color only months later. Another issue is the low viscosity, which makes the pigment too dilute to comfortably work with and the pigments stick to the skin.
Out of the practice skins, you can use the plain, and eyes practice skins. The silicone-made skins are good, but the rubber skins are mediocre. The rubber skins behave like a sheet of tough rubber, which makes it tough to practice with them. However, the set comes with stencils, and those are of good quality.
The microblading tools included have a wide selection of needles, blading, and shading pens. The blading pens provide moderate performance, but they become inconsistent after a period of use. However, the shading pens are the bigger issue. The black doesn't have the coloration needed to create realistic-looking volume on the eyebrows.
The Mcwdoit Microblading Kit will cost you $52 or more on Amazon. The cost is entirely justified through the sheer number of items you get, even just for microblading practice. However, this kit is completely limited to practice, as the microblading tools and pigment aren't up to the mark. There are issues with consistency, durability, and performance.
Pros
Highest amount of items for cost.
Comes with a large number of peripherals.
A large collection of artificial skins and stencils.
Variation in needles and blades.
Cons
Microblading tools lack durability and consistency.
A large part of the kit is not meant for microblading use.
Verdict
Although the price of the Mcwdoit Microblading Kit is higher than the first two on this list, it offers a lot for it. The value of the kit comes from the quantity. You can get this kit and get used to a wide range of microblading tools. While these aren't good for professional use at all, you won't find this range for this price in any professionally marketed kit.
4. Anghie 26pcs Eyebrow Microblading Practice Set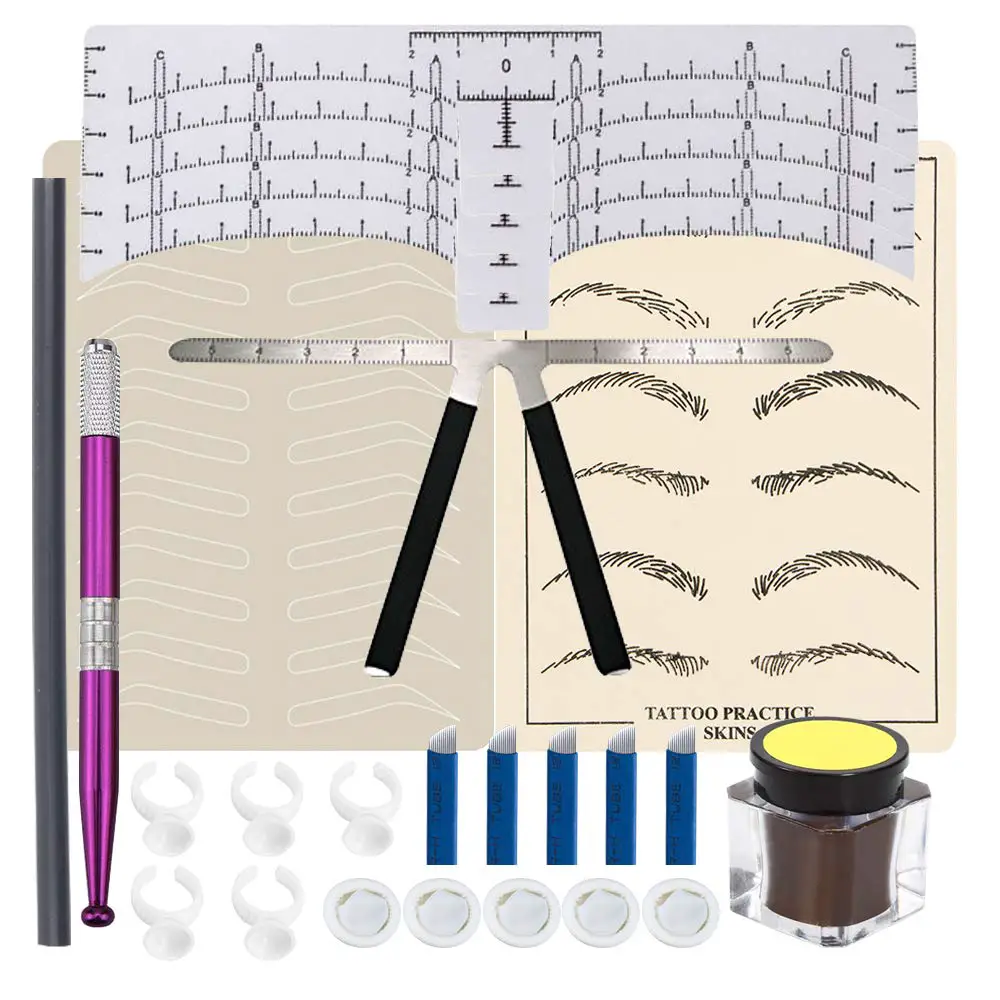 This is another great set that offers good value for the price. It tries to offer everything you need as a beginner to practice at a good price point. The pack includes the following items.
1 microblading pen.
1 microblading pencil.
2 tattoo eyebrow practice skin.
1 dark brown paint.
5 ring ink cups.
5 14pin Blade.
1 three-point eyebrow ruler.
5 plastic eyebrow rulers.
5 finger coats.
The kit comes with a pigment that is dark brown. The pigment lacks the darkness and saturation to be used professionally. However, the pigment has a high viscosity, creating a thick mixture that sticks on easily.
The silicone skins that come in the kit are of good quality. They have enough flexibility and softness for practicing, but not enough to mimic human skin. The skins also have stencils and guidelines etched on them, which allows for more guided practice.
The microblading tools included are mediocre. They perform well enough initially, but the consistency starts to suffer with time. Also, the blading pen comes with 5 14pin blades, which can come damaged. The official instruction is to not use them if the package is ripped, which signals the situation happens often.
Anghie 26pcs Eyebrow Microblading Practice Set will cost you around $20. This microblading set also focuses on quantity more than quality, providing more for your money. You get enough materials for your first 5 practice sessions.
Pros
Large quantity of items.
Good value.
Decent silicone practice skins.
Low cost.
Cons
Suffers from inconsistency over time.
Packaging isn't secure and protective enough.
Verdict
Anghie 26pcs Eyebrow Microblading Practice Set can't compare with the Mcwdoit Microblading Kit in quantity. Nor can it match PMU Products Tattooing Practice Value Pack in quality. But it's an acceptable mix of both at a lower price tag. For those who don't want to spend too much and get good practice materials, this kit is enough.
5. QMYBROW Microblading Kit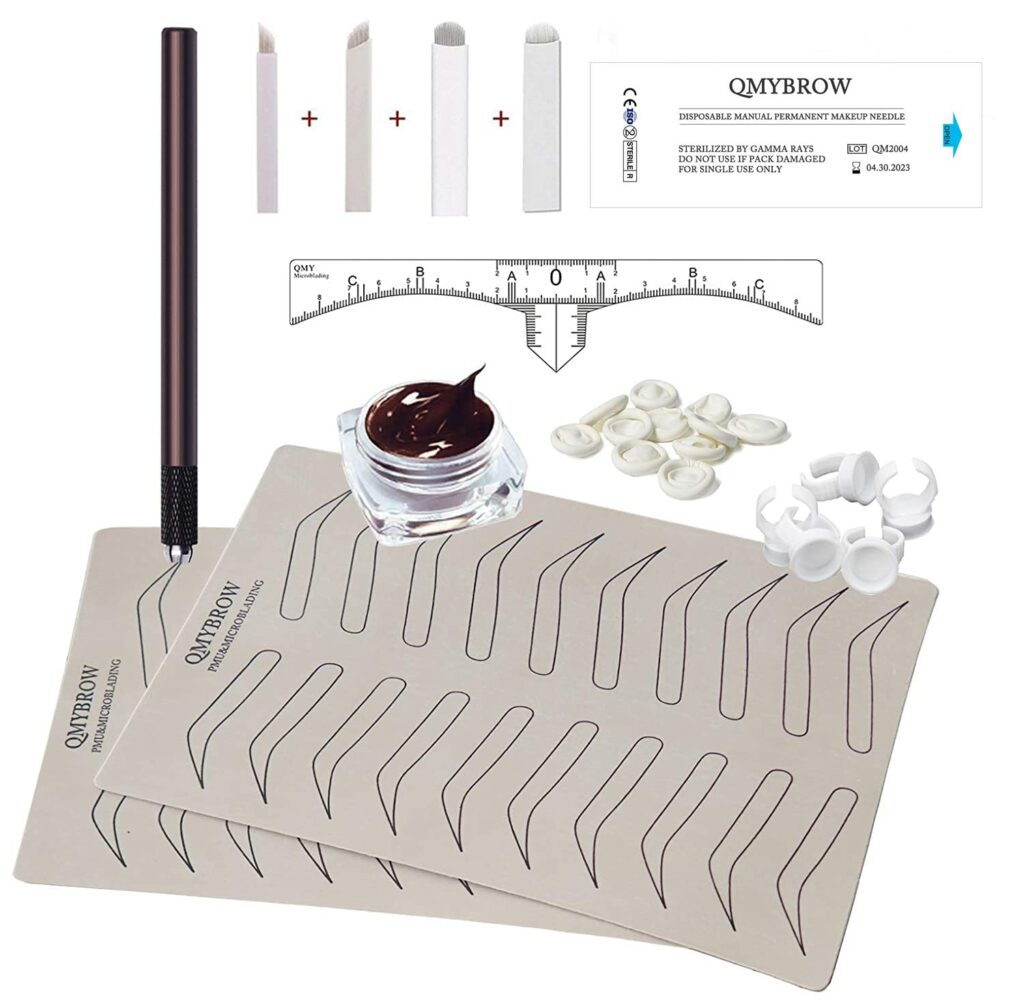 QMYBROW Microblading Kit is a kit that's more aimed at novice use than practice. The kit is aimed to produce consistent results, and provide enough variation for professional work in a limited capacity. The kit comes with the following items.
10 7pin needles.
10 12 pin needles.
10 14 pin needles.
10 18 pin needles.
50 ring ink holders.
A pack of finger gloves.
2 stenciled rubber practice skins.
1 blading pen.
1 eyebrow ruler.
1 deep black pigment.
The kit contains a deep black pigment that's meant for professional use. The pigment is of a dark shade, which can lighten to match human hair when applied. However, it lacks the viscosity and saturation necessary for comfortable use and great results. Overall, it does the job but only barely.
The kit only comes with 2 rubber practice skins, and this is its weak point. The skins are stenciled, but they aren't capable of simulating human skin. The practice skins are made from rubber, making them stiff and rigid. The skins are hard to work on and require force that would be considered violent on human skin.
The kit only comes with 1 blading pen. It doesn't have a shading pen, but the blading pen is of good quality. The pen is capable of consistent performance and holds the blade without any wobble. It's a blading pen that's fit for professional practice.
The QMYBROW Microblading Kit will cost you $35 or more. Considering the price, the kit offers almost everything you need, but not quite enough. The quality of the content is just acceptable for the price, except for the blading pen, which is spectacular.
Pros
Pigment can be professionally used.
Comes with almost everything you need.
Excellent blading pen.
Cons
The kit lacks a shading pen.
The rubber practice skins are disappointing.
Verdict
The QMYBROW Microblading Kit falls into an odd space where it should have been a good pick. However, it's competing with PMU Products in its price range, and getting beaten in terms of quality. Lacking a shading pen doesn't help its cause either. However, it's still a good microblading kit for novice use.
6. Biomaser Microblading Kit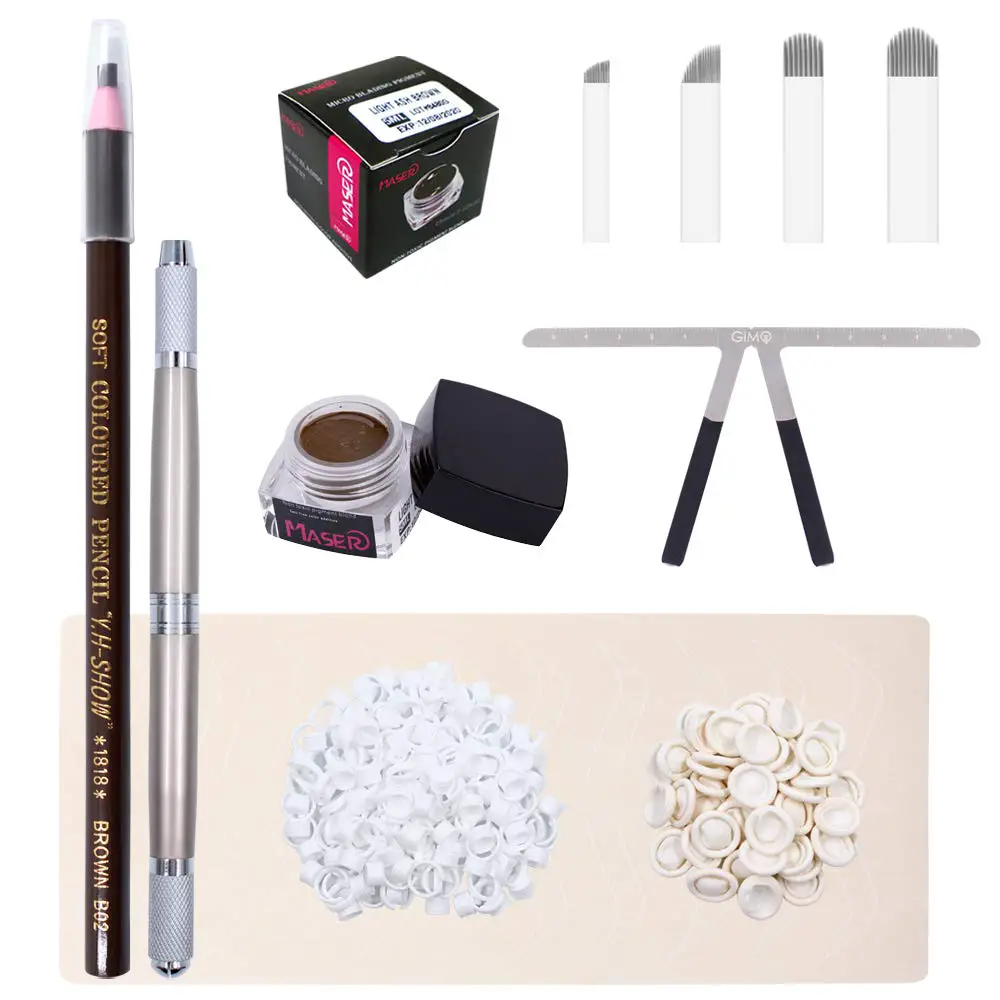 Biomaser Microblading Kit is a kit that is meant mostly for professional use. The kit contains tools made of higher quality material, designed to be durable and efficient. The kit has the following items included.
40, 316 medical grade stainless steel, 0.25mm diameter needles, 7CF, 14CF, 14U, and 18U.
1 stainless steel microblading pen.
1 inkless eyebrow practice skin.
2 dark brown pigments.
1 shading pen.
1 eyebrow ruler.
The kit features a dark brown pigment, but one that's dark enough for use on skin. The color is capable of blending in quite well with lighter and darker shades of hair. Also, the pigments have high saturation and viscosity, ensuring that it's easy to use and the result is amazing.
Despite the pricing, the kit only has 1 practice skin. The quality of the skin is good, but the inkless feature isn't that helpful. The skin gives quite a close feel to human skin, but it requires a bit more flexibility.
The shining points of the kit are the microblading pen and the needles. The pen is durable and holds on to the blades tightly without wobble. The needles are of excellent quality, uniform, and provide consistent performance. The shading pen, on the other hand, isn't up to the mark.
Another nice surprise in this kit is the eyebrow ruler. Most other kits provide an eyebrow ruler that's either single-use or structurally weak. But Biomaser Microblading Kit provides a ruler that's sturdy, and precise. You can easily create symmetrical eyebrows with the kit.
The Biomaser Microblading Kit will cost you $40 or so. Considering the consistency, build quality, and performance, the cost is well worth it. The blading pen, needles and eyebrow ruler included are professional-grade tools that you don't typically see in kits under $100.
Pros
Best blading pen, and needles under $50.
Good value.
Great, sturdy, eyebrow ruler.
Professional grade pigment.
Cons
Only 1 practice skin.
The shading pen is mediocre.
Verdict
Under $50, the Biomaser Microblading Kit provides the best quality blading pen, needles, and eyebrow ruler. The pigment is also good enough for professional use, producing stellar results. However, PMU Products outpaces the kit in overall quality. If you only care for blading pens, needles, or eyebrow rulers, you won't find any better at this price point.
7. Biotouch Design Microblading Supplies Kit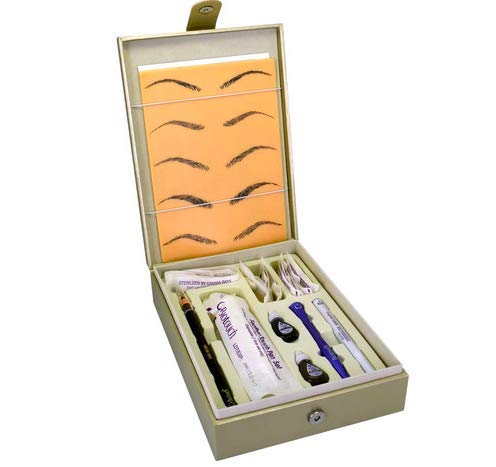 Biotouch Design Microblading Supplies Kit is the first to crack the $100 ceiling on this list. The kit aims to be a professional-grade kit for the experts but also leaves room for practice. The kit contains the following items.
Various styles of brow guide skin templates.
Microblading pen.
Single use, microblading pen (white plastic).
Microblading pigment samples.
3D eyebrow practice skin.
Eyebrow design pencil.
9 prongs slanted needles.
14 prongs slanted needles.
17 prongs U-shape needles.
18 prongs U-shape and slanted angled as well as straight needle.
Perfect guide brow ruler.
The kit comes with pigment samples, instead of a full pigment bottle. The pigment is of good quality, thick, and of high saturation. The pigments come in a range of colors, aimed to match the color of different hair types. Overall, the pigments are excellent in terms of ease of use, and performance but the kit comes with too little.
The practice skins are of high quality, mimicking the human skin quite well. The practice skins have raised and indented designs, with guidelines to train you for consistency. The quality and human skin-like feel of the skin is enough to compare to training with human eyebrows.
The single-use blading pen is an odd inclusion, considering the Feather touch blading pen is much superior. The build quality is superior to most brands, and its design makes it incredibly comfortable to hold. The needles are also meant to make your work efficient and easier, which they achieve very well.
The downsides to the kit are the liquid liner and brow ruler, which are inferior in quality compared to the rest of the kit. The liner doesn't help create volume as a shading pen would. The eyebrow ruler is also not great at creating a guideline to follow.
Biotouch Design Microblading Supplies Kit costs $165 or more. The kit offers premium tools at the price, with multiple choices in needles that make microblading efficient and consistent. The kit also offers one of the most realistic practice skins on the market. However, the pigments are not enough volume-wise, and the shading pen and brow ruler underperform drastically.
Pros
Collection of high-performance needles.
Durable tools with consistent and excellent performance.
One of the best practice skins in the market.
High-quality pigments for different hair types.
Cons
Not enough volume for the pigments.
The liner and brow ruler is atrocious.
Verdict
The Biotouch Design Microblading Supplies Kit is a kit that's a mixed bag. For over $100, this kit offers professional needles, blading pens, and realistic practice skins that easily trump the others on the list. However, the pigment samples barely contain disappointingly little, and the liners and brow rulers are worse than any kit on the list.
8. Sugar Eyes Best All-In-One Full Microblading Starter Kit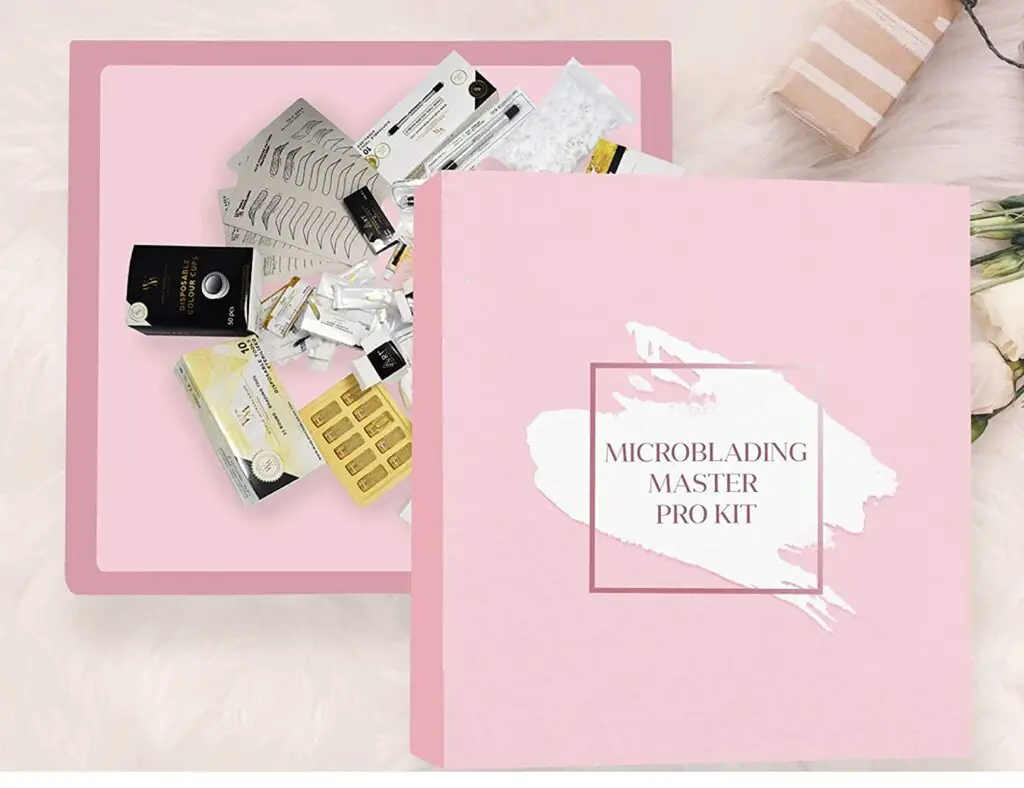 Sugar Eyes is a renowned microblading service provider with premium status. The microblading kit they provide isn't meant to be a practice kit only. The kit's your gateway to their online training service, which gives you a professional license once you're done.
The kit contains the following items.
10 Dual-sided Brow Master 2 tools.
4 practice skins.
20 self-adhesive rulers.
10 18U needles.
2 deep black pigments.
Microblading online training code.
1 black eyebrow pencil.
50 disposable color cups.
A pack of ring pigment holders.
Aftercare serum.
This is a premium starter kit that includes everything a professional would need. Although the kit is comprehensive, even for expert users, it's not where the package's value lies. You get a code that allows you to attend online 1-to-1 sessions with a World Microblading Certified Instructor. You learn the ins and outs of the profession from the best and get certification once you're done.
The pigment included are of premium quality. They are dark black of the perfect shade, creating the most natural look once some time has passed. The pigments are of the perfect viscosity and make the process much easier.
The practice skins are silicone made, and they are of excellent quality. The skins have stencils for different eyebrow shapes etched on, but they are not made to mimic the human skin like Biotouch Design's kit. You can still expect the layers to mimic the human skin layers and have great flexibility.
The microblading tools provided are also premium grade, made from surgical grade 316 stainless steel. The tools are made with precision and performance in mind, but not durability. Almost all of the materials included in the kit are meant to be discarded after a single use or a few uses.
Other than the guidance and certification that you get alongside the kit, there are a couple more unique items that make the kit special. There is an aftercare serum included in the kit that's meant to replace all aftercare products that you'd have to use. The eyebrow rulers are single-use, but they are designed to stick on perfectly and guide you while you work.
Sugar Eyes Best All-In-One Full Microblading Starter Kit will cost you about $300. The true value of the kit comes from the online training and subscription. However, the items included in the package are the best in quality save for the practice skins. Even the practice skins are only second in terms of quality on this list.
Pros
Highest quality tools on the list.
Provides the best value for the price.
Training and certification included.
Kit comes with aftercare serum.
Cons
Highest price on the list.
Almost everything on the kit is for limited use.
Verdict
Sugar Eyes Best All-In-One Full Microblading Starter Kit is a kit for someone who's looking to fast-track their training. This kit is meant for those who want to start working as an acclaimed professional right away. Considering the quality and training, the kit is worth every penny. However, the kit lacks durable, reusable materials and at this price point, it's a serious issue.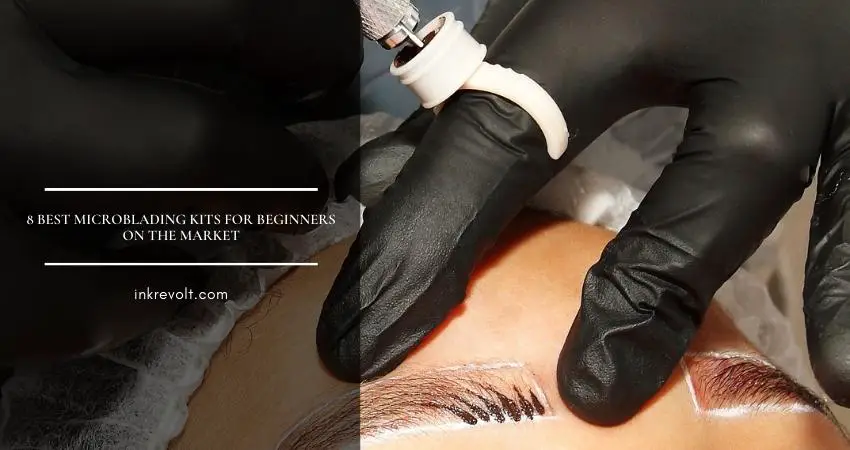 How Do I Pick My Best At-Home Microblading Kits?
As I've mentioned before, your best at-home microblading kits are completely dependent on your needs. Your preferences and needs vary from everyone else, and no one can predict what's perfect for you other than yourself. There are many kits on the market that are considered the best microblading kits for beginners. But they may be the exact opposite for you.
While I can't choose the perfect microblading kit for you, I can give a list of factors you should consider. How you choose to prioritize these factors will determine your best at-home microblading kits. I'll also throw in a TLDR about the kits I've mentioned, and the most recommended ones. So, here are the factors to consider when choosing the best microblading kits for beginners.
Preference
Everyone has their definition of value and needs. When you want to buy a microblading kit, consider these questions.
Do you prefer quality or quantity? Or both?
Do you care about durability and reusability?
Would you sacrifice certain tools or peripherals for the tools you need?
Are you willing to get a practice kit? Or do you want to start with a professional kit?
Once you can answer these questions, you'll have an idea about what you're looking for in a kit.
Value
Value is another important factor, and it is subjective. Not everyone will have the same concept of value, even in the same metric. If you want to understand whether a kit is valuable for you, then ask yourself these questions.
How much are you getting for your money?
Whether you care for quality or quantity, do you get enough of it?
Are the tools you need included in the kit?
Value is all about how you perceive your needs. If you feel that a microblading kit holds value to you for a specific reason, then you should research it. Even if the market doesn't share your opinions, you should go for a kit if you've made your choice.
Price
Price is another important factor. We don't have an infinite budget. Some of us are willing to spend more but most are not.
As a beginner, you'll typically want to save and go for decent starting kits. But for some becoming professionals faster is all that matters. And then for some, the high price of a microblading kit is an assurance of quality. You can't get a certain standard in terms of quality without breaking out of a price range.
Whatever your reasoning may be, see that your chosen kit gives you the best for the price you're willing to pay. Don't just pick one from the market frontrunners. Sometimes, new and upcoming brands will offer better quality or quantity for lower prices. Never hesitate to go for those opportunities.
I Don't Have Time to Read. Which Microblading Kit do I Pick?
If you don't have time to read, then here's a TLDR for the article.
Anself Microblading Kit is the best microblading kit if you don't want to spend at all. If you aren't sure about microblading or are a hobbyist then this is the best option.
PMU Products Tattooing Practice Value Pack is the best pack for those who are looking for an under $100 microblading kit. The kit comes with quality tools that you can keep using till you can afford a $100 kit. You will have to get other supplies, but the tools in the kit are near-premium quality.
If you want to become a professional as soon as possible, then grab a Sugar Eyes Best All-In-One Full Microblading Starter Kit. Don't care about the disposable nature of the kit. You're buying the training program and the certification. It's the cheapest premium training program you can get your hands on.
Biotouch Design Microblading Supplies Kit is for you if you're already a professional. The kit comes with premium quality reusable tools that will last you for a long time. The performance of the kit and the variation you get will aid you to do your work faster and with consistency.
Frequently Asked Questions (FAQ)
What is microblading?
Microblading is a semi-permanent cosmetic tattooing technique that involves using a small handheld tool to create hair-like strokes in the skin to mimic the appearance of natural eyebrow hairs.
Who can benefit from using a microblading kit?
Anyone who wants to improve the appearance of their eyebrows can benefit from using a microblading kit. This can include people with thin or sparse eyebrows, those with over-plucked or uneven brows, and those who simply want to enhance the shape and fullness of their eyebrows.
What comes in a microblading kit?
A microblading kit typically includes a handheld tool, needles, pigment, numbing cream, and other tools and accessories needed to perform the microblading procedure.
Are microblading kits safe for beginners to use at home?
While microblading is a semi-permanent procedure that can be done at home, it is recommended that beginners receive professional training before attempting to use a microblading kit on themselves or others. This can help ensure that the procedure is done safely and effectively.
What should beginners look for in a microblading kit?
When choosing a microblading kit, beginners should look for a kit that includes all the necessary tools and accessories, as well as high-quality pigment and needles. It's also important to choose a kit from a reputable brand with good reviews.
What are some tips for using a microblading kit as a beginner?
Some tips for using a microblading kit as a beginner include practicing on synthetic skin before attempting to use the kit on a real person, using a numbing cream to minimize discomfort, and following all safety and hygiene protocols.
Can microblading be reversed or removed?
Yes, microblading can be reversed or removed using techniques such as laser tattoo removal or saline tattoo removal. However, these methods can be expensive and may require multiple sessions. It's important to carefully consider the decision to get microblading before undergoing the procedure.
How long do the results of microblading last?
The results of microblading typically last 1-3 years, depending on factors such as the individual's skin type, lifestyle, and aftercare routine.
Can I use a microblading kit on myself or do I need a professional?
While it is possible to use a microblading kit on yourself, it is generally recommended to have the procedure done by a professional. This can help ensure that the results are safe and effective, and can also minimize the risk of complications.
How do I choose the right color pigment for my skin tone?
When choosing a color pigment for microblading, it's important to consider your natural skin tone as well as your hair color. A trained professional can help you choose the right color for your individual needs.
What is the recovery process like after microblading?
After microblading, the eyebrows may be red and swollen for a few days, and there may be some scabbing as the skin heals. It's important to follow all aftercare instructions provided by the professional or included in the kit to ensure proper healing.
Is microblading painful?
The level of pain experienced during microblading can vary depending on the individual's pain tolerance and the techniques used. Numbing cream is typically used to minimize discomfort during the procedure.
How long does the microblading procedure take?
The microblading procedure can take anywhere from 1-3 hours, depending on factors such as the individual's skin type and the level of detail required for the desired look.
Can I wear makeup after microblading?
It is generally recommended to avoid wearing makeup on the eyebrows for the first week or so after microblading to allow the skin to heal properly. After that, makeup can be applied as usual, but it's important to be gentle when removing makeup to avoid disrupting the pigment.
Last Words
Microblading is a profitable skill that essentially sells itself. If you have no qualms about working with tools that are reliable and cheap, then it's easy to create a successful venture.
So, as a beginner, you should consider your purchasing power, expectation, and urgency when you select your microblading kit. Don't fall for selecting a market-leading brand without checking.
We are sorry that this post was not useful for you!
Let us improve this post!
Tell us how we can improve this post?