How To Care For Microbladed Eyebrows? [DOs & DON'Ts]
Since microblading is about reshaping your eyebrows, which need time to heal after the procedure, it will bring changes to your daily skincare for some time. You have to alter your routine by concentrating on doing and not doing things to help your brows heal in time.
The first-week skincare involves using ointment on your eyebrows. You can wash them gently without moisturizer during the second one. When 14 days are over, you can return to your previous activities, provided that you avoid laser, chemical peels, or creams with retinol or glycolic acid.
Moreover, there are some activities you have to avoid throughout this period. Hopefully, this article will give you some insights about them.
How To Care For Microbladed Eyebrows?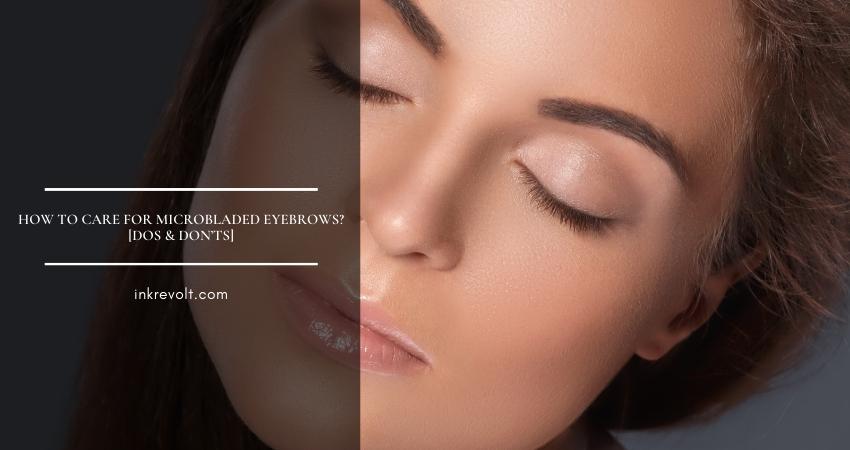 The First Day
You can care for your microbladed eyebrows by reducing scabbing. Take a piece of clean cotton ball, and dab the treated area lightly using distilled water. Repeat the drill several times each hour for the rest of the day of microblading your eyebrows.
The First Week
Wash the treated area two times a day during the first 7 days by using the aftercare ointment.
At each day's beginning and end, use your fingertips and some mild antibacterial soap (i.e., Cetaphil) to rinse your brows gently. Do it for 10 to 15 seconds. Remember to clean your fingers first.
Do not use any cleaning products with acids or exfoliants (AHA, lactic, or glycolic).
Note that the cleansing procedure is not supposed to be a scrub-down. You have to perform it by rubbing your eyebrows softly and smoothly.
When you wash the brows, never use soap. It is advised to avoid washing for the first week.
Dry the eyebrow area properly with a soft towel or tissue after that.
Then you need to put a little ointment on the brows. Do not use it unless they are dry.
When applying ointment, remember that using a lot of it will only backfire. The amount you should apply to each brow must be as small as half of a rice grain.
Apply the cream twice a day after the washes. It will help you prevent suffocating your skin and interrupting its natural healing.
The Second Week
After continuing the routine for a week, you will not need to apply the ointment. However, you will still need to wash the treated area as before.
What To Avoid During This Period?
I told you in the beginning that along with following some things, you will need to avoid some things too for 2 weeks following your microblading treatment. Here is the list.
Touching the area except for washing or using ointment
Scratching or picking because it can cause color loss
Using lotion, sunscreen, or moisturizer to your brows
Avoid sun tanning, sun exposure, and salon tanning at any cost.
Participating in activities and sports that induce perspiration
Using Vaseline because it may make the brows sweat. Antibacterial moisturizers are also on the list. Putting them on can remove the pigment.
Say no to showers and saunas without a second thought.
After The Second Week
You can go back to your previous routine after the second week. Notwithstanding that, you must steer clear of chemical peels, lasers, and creams with glycolic or retinol acid until you are done with the healing process and your touch up appointment.
What Ointment Can I Use To Care For My Microbladed Eyebrows?
Any skin-loving and thick balm will work. It is highly essential to ensure a sound healing process without hiccups. According to experts, you can use an antibiotic or aftercare moisturizer like Bacitracin.
Also, if your skin feels dry after about a week of recovery, you can use a few drops of coconut oil, vitamin E cream, or aloe vera on the area. But keep the quantity to a minimum.
Final Words
If you think of it, the aftercare routine is not that strenuous. But avoiding those particular things may be too hard for some of you. You have to come to terms with them to ensure the best healing for your eyebrows.
Caring for your microbladed eyebrows demands you to pay attention to them. If you are not careful during the healing phase, there will be scars or infections, or other consequences that you will regret big time. So, it is better to take care of them in due time. After all, a stitch in time saves nine, right?
We are sorry that this post was not useful for you!
Let us improve this post!
Tell us how we can improve this post?